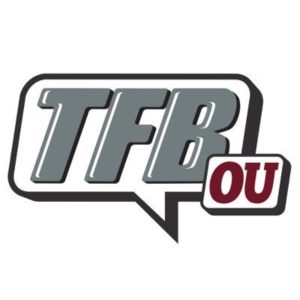 Open Post | Weekend, June 14th – 16th
Posted on: June 14, 2019
Tyler Baron | Sourced | Update
– Super K
Sooners hosted 2020 DT, Tyler Baron (Knoxville, TN) for an official visit this weekend.
In my previous update I noted the following…
As I've said, the father of 2020 DT, Tyler Baron (Knoxville, TN) is on the Tennessee football staff. So, I've continued to have my doubts about OU's chances in this one.
But I spoke to a source yesterday who tells me that the visit is going exceedingly well. I would describe this person as a bit skeptical themselves. As such, I was a bit surprised to hear how optimistic they were.
I'm going to have to dig around more after this visit but perhaps Baron making OU his first official visit was an indication of real interest.
Again, I'll be doing some more digging but whatever the case may be, the staff is putting on a show.
I was able to speak to a couple of additional sources, but this time folks in Tennessee who are around Baron, and here's what I've got to add to the above so far!
***I was told that while Baron originally planned on making a late decision, it sounds like part of the reason he is taking the officials this summer is because he is contemplating an earlier decision. One source said he's considering a late June or early July decision. That isn't certain but I'm told it's a possibility. And, again, that would line up with the fact that he's taking official visits in June.
***Now, to address the issue with his father's ties to Tennessee, all I can tell you is that folks around him insist that his father has repeatedly made the point to Tyler that he doesn't want Tyler to make the decision based on where he is. I remain a bit skeptical but the source I spoke to said it's really been a point of emphasis in the family.
***Source also said that Tyler has brothers who have played elsewhere (Virginia Tech) so it's happened. Now, I don't know if Tyler's brother was recruited by Tennessee or what the details of that situation are but it's worth noting.
***Was also told that Oklahoma has indeed been one of the schools Tyler has consistently mentioned. But source did say that Tennessee is very very comfortable for Tyler. Source also said a school that is very much in the mix is Ohio State. I'm told they've been in his top group of schools for quite some time. I suspect Tyler will take an official to Ohio State this month but I'll work to confirm that.
***I asked one source what is it that has been the draw to Oklahoma, especially when Tyler is surrounded by big time SEC programs. Source said that Oklahoma's brand name is national. It means something in the SEC and it means something everywhere.
***The other thing to consider is that unlike schools like Alabama or Ohio State, Oklahoma is in a position where they need defensive linemen in a bad way. And, with a new DC, it's a chance to be *that* guy and build something with a new staff to compliment an already explosive offense.
Again, we are going to continue to look into this situation. Despite my noted skepticism, Baron is too big of a prospect for us to just dismiss and Coach Thibs and co clearly believe he's worth their time as they've been recruiting him consistently for quite some time. Additionally, Baron made his first OV to Oklahoma. That tells me enough to know that we need to keep working the phones on this one.
---
Update | 2021 OL Offer Trey Zuhn
– Charlie S
Following the Sooners Elite Camp last weekend OU Offensive Line Coach Bill Bedenbaugh and Head Coach Lincoln Riley extended an offer to 2021 OL Trey Zuhn out of  Fort Collins, CO (Fossil Ridge HS).
James noted in his camp coverage that Zuhn was quite impressive and I was able to briefly catch up with him to get his thoughts on the visit to Norman.
The 6'5″ 260 lb rising junior tackle already holds around a dozen offers from some heavy hitters including Notre Dame, Michigan, Ohio State, Texas A&M, Penn State, and both of the home state Colorado schools.
I asked Trey about receiving the offer from Riley while on campus and he said "I'm really excited about the offer! It was my first time on campus at Oklahoma. So it was a lot to take in, and I really liked it."
He added, "They have amazing facilities and the coaches were all really nice, but you could tell they were ready to get after someone on the field too."
As for his thoughts on OU as a program, Zuhn said "All the success they've had is really cool. I mean they have multiple Heisman trophies and they showed me a hallway with all of the conference championships. It was pretty impressive".
Without hesitation, he added this note which you all will enjoy, "They told me how the senior class that just graduated has more conference championships than the next school in the history of the Big 12!"
As far as where his relationship with Bedenbaugh is at, Zuhn said "I actually only got in contact with coach Bedenbaugh a week or two before the camp. My trainer got me in contact with them and I look forward to building the relationship following the offer and visit!"
Zuhn is a name to keep an eye on and I have already set up a call with him next week to get a full spotlight feature on him to learn more about his football history, family, and goals.
---
Quick Hitters | Brandon Coleman & Connor O'Toole
– Charlie S
Couple quick notes here on a pair of athletes who recently visited Norman…
*** 2020 JUCO Offensive Lineman Brandon Coleman made his way up to Norman on Friday of last week.
Coleman is a 6'6″ 320 lb tackle out of Trinity Valley CC who currently holds a half a dozen or so offers from the likes of Florida State, Missouri, and TCU.
Brandon let me know that he and Coach Bedenbaugh have been building a relationship since March. Coleman said he really enjoyed the visit and while no offer was extended he is expecting to continue developing the relationship with OU.
Coleman is a name to know for sure as we have maintained a belief that once Coach B is satisfied with what he gets along the OL in the 20 class, he was likely to turn his focus to the JUCO ranks to provide his room a little more depth and experience.
*** Another visitor to Norman was 2020 Tight End Connor O'Toole out of Albuquerque, NM.
O'Toole was in town for Lincoln Riley and the Sooners elite camp.
Connor told me the staff was in contact with him a few weeks prior to the camp and let him know they would like to see him in person. He mentioned that Cale Gundy is his primary recruiter and the Sooners see him as an inside wide receiver.
O'Toole was more than happy to oblige and he made his way to Norman. He was not disappointed as he said "I loved Norman and OU'.
I asked him if an offer was discussed and he said the staff did not bring it up but they plan on speaking to him later this week.
I would say the likelihood of O'Toole getting that offer would be largely contingent on how things shake out with Jalin Conyers in the next month or so.
---
Fast Five | Sourced | Team Notes | Off-Season
– Super K
James got the behind-the-scenes summer notes party started on Monday. I'll add a few notes myself.
***It's early in the summer and the players just started player led 7v7 last week. The freshmen also did their testing. I'm told Grinch likes to get a baseline as soon the players come in, in order to monitor whether they are progressing or not. If you're not progressing, he's going to take issue with that.
***One of the main things I've heard is just how good this overall class is compared to recent classes. And what I was told that means at this point is that the bottom testing numbers are higher than the normal bottoms for previous classes.
***I asked for specifics and one source said, "all of them. I'm not trying to be an a**hole, all of them. This class has the right mindset. They're going to be good." Another quote, "This class doesn't look anything like the last class; just physically bigger. Look ready to go already.
***A few specific names on the defensive side that I did hear were David Ugwoegbu, Marcus Stripling and Kori Roberson. I think both Ugwoegbu and Stripling are freaks and they look the part.
***On Kori Roberson, one source said they wouldn't be surprised to see him be the biggest impact freshmen defensive linemen. Source said it was too early to tell but I think the initial word on Roberson is he moves incredibly well and he's actually coming off of a knee injury. Also, Roberson has good size to him.
***I can tell you that we saw Roberson in a workout before his knee injury last year and we were also really impressed with his COD and overall movement coupled with good size.
***Did hear that folks need to keep an eye on Marcus Major. Sounds like he's got a chance to be pretty darn good.
Fast Five is a feature where we pull five notes from our sourced team notes posts and share them with you. If you would like to read the rest of the sourced team notes, please check the Donor Board.
---
Quick Hitter | Commits On Visits
– Charlie S
***Already noted that Sooners DB commit, Dontae Manning is headed to Texas A&M this weekend for an official visit.
***But he isn't the only Sooner commit on the road this weekend. As we mentioned on the Donor Board, running back Jase McClellan will take an official visit to Texas this weekend.
***Also, as we noted Ryan Watts will be taking his visits and Penn State was up first this week which will be followed by a trip to Michigan.
Sooners will be playing defense on the recruiting trail.
---
Jalen McMillan | The Latest
– Super K
As you all know, 2020 WR, Jalen McMillan (Fresno, CA) took a visit out to Oklahoma earlier this year.
Immediately after that visit, I spoke with both Jalen and his mom and his commitment to Oklahoma seemed more a question of when not if.
In fact, they had already decided to take their official visit to Oklahoma for the game against Texas Tech (September 28th).
In April we got wind that McMillan was actually ready to pull the trigger and commit to Oklahoma but folks around him were advising him otherwise.
In May things were a little back and forth. OU had been in touch with him and people around him and I was told things were a bit rocky. In fact, at one point we were told OU had moved on. A day or two later, we were told that things were back on track.
It sounds like one of the issues that OU is dealing with is simply the distance from home. The problem, as I read it, is that distance from home isn't being articulated as the issue. Rather, other reasons are being offered as what sounds like a pretext to me.
This has created some frustration on the OU side. They are very aware of what they are able to do for a player on the offensive side of the ball. And, let's be honest, there isn't a team in the country that can do what Oklahoma can do or get players on that side of the ball paid as Oklahoma can. And, if there was a school or two with an argument to match what Oklahoma is doing, it's not on the West Coast.
Having said all that, the latest I have heard is that there has been a bit of a mutual parting of ways between OU and McMillan.
I don't know if it's completely dead. The reason I'm not ready to say that is because they had actually parted ways once before and there was, for lack of a better word, a reconciliation.
So, what happens if, when the season begins, the West Coast schools aren't doing well and OU continues to roll? Does that perhaps rekindle things? I could see that.
OU knows their worth so I don't necessarily see them being the ones who initiate anything. But, it wouldn't surprise me if, as the season plays out, McMillan reconsiders things. But that is admittedly speculation by me.
For now though, OU and McMillan are on the outs.
---
For multiple daily posts, Insider Notes, More Sourced Practice Notes, member chats with TFB staff, James Hale's Notebooks, TFB Sessions (5-minute audio talks) and much more, please check the Donor Board!