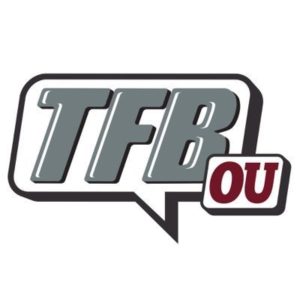 Open Post | Weekend, June 10th – 12th
Posted on: June 10, 2022
Official Visitors | June 10th weekend | Updated: 6:20 pm
– Charlie S – Posted on: June 9, 2022
The Sooners will be hosting a handful of '23 official visitors this week along with a ton of unofficial visits from kids largely in the '24 class.
Official visitors we have confirmed:
'23 RB Kalib Hicks – Denton, TX
'23 EDGE Colton Vasek – Austin, TX
'23 WR Cole Adams – Owasso, OK
'23 RB Chapman McKown – Norman, OK
'23 ATH Kade McIntyre – Fremont, NE – June 8th – 10th
'23 LB Lewis Carter – Tampa, FL confirmed he will be in
Some of the unofficial visitors expected in:
'24 QB DJ Lagway – Willis, TX
'23 TE Malachi Coleman – Lincoln, NE
'24 LB Payton Pierce – Lovejoy, TX
'24 WR Parker Livingstone – Lovejoy, TX
'23 DB Calvin Simpson-Hunt – Waxahachie, TX
'24 DE Nigel Smith – Melissa, TX
'24 DB Jordan Johnson Rubell – Bradenton, FL (IMG)
As usual, there will be additions and subtractions to the list of players we have and with the Sooners hosting camp, there will be a lot more unofficial guys on campus as well.
Anything that jumps out to us, we will let you know!
---
Derrick LeBlanc | Trending | Sourced
– Super K Posted on: June 7, 2022
As you know, the Sooners hosted 2023 DL, Derrick LeBlanc for yet another visit this past weekend.
We've said time and time again that this recruitment is pretty simple – it's currently a battle between OU and Florida.
You'll recall that I recently noted the following (here):
***I checked in with the same source and they seem to feel the same way – Florida's to lose but if they do lose it'll be to Oklahoma.
***Yesterday, LeBlanc tweeted the following:
***So, it would seem to be looking less promising for OU…
***Not so fast my friend. A second source in the Orlando area who is very tied in with a number of recruits in that region believes that while there may be a number of twists and turn in this one, the Sooners are actually the team to beat.
***I presented that position to my first source who said that he couldn't discount the possibility that it's true but said that Florida has the continued advantage of having LeBlanc on campus so frequently.
***Following the visit, I connected with a source and at based on what I've heard, I'm currently in the camp that this was one is trending OU.
***I have been told that Napier and company are set to pick up some pretty big defensive line commitments later this summer and I think both LeBlanc's strong interest in OU proven by his frequent return trips and the fact that the Sooners commitment list is going to look more inviting, is a recipe for the Sooners to win this one.
***I'm not saying that LeBlanc is any less of a priority for OU. My source at Florida continues to believe they are in a good spot but additional sources give me the sense that things are going to ultimately line up better for the Sooners and that Florida will have a strong enough haul over the course of the next couple months to feel good about their own defensive line class. A full belly makes you lazy, as it were.
---
Compliance Advising on new NIL Rules
– Super K – Posted on: June 7, 2022
As you know, the NCAA recently issued rules/guidance on NIL. There is very serious concern that the current use of NIL is extremely destructive to CFB.
I have yet to speak to anyone on any CFB staff that likes the direction this is going.
In case you missed it, I posted some thoughts on the NCAA's recent rules release here.
I want to let you all know that I have been reaching to friends who coach on different staffs to find out whether they are being advised on the new rules.
And while not everyone has gone through advisement by their respective compliance department, some folks have. So, the shift back to some semblance of rules and regulations does seem to be beginning. One friend told me that following their staff's meeting with their compliance department, the staff is treading very lightly and being much more cautious. And, really, that's all you want.
You just need the inducement stuff to go back under a rock. That will allow this recent cultural shift of pay for play to creep back into the shadows.
As long as that happens, any good program with a good coach who does things the right way and has a decent collective will be able to compete. And, it will bring back some predictability to the recruiting world.
As I've said to folks in my circle, recruiting is fun for the fans when it's dramatic but not when it's chaotic.
---
NIL Served Up at the BBQ?
– Charlie S – Posted on: June 7, 2022
To piggyback on K's previous post, I wanted to share a quick conversation I had with one of the highest-profile recruits who was on an official last weekend for the ChampUBBQ.
I wanted to get a sense of how much NIL talk there was among the recruits while in Norman.
The answer was eye-opening.
The recruit said, "I never heard any talk about NIL from the recruits I was around. That is probably because OU did have a super informative and impressive presentation about NIL that probably answered every question right at the beginning of the visit. I think OU made it clear that NIL is something they support and the opportunities are there".
I even asked if he had heard any talk about what recruits were saying the other schools are doing and he said 'Nobody really spoke about NIL at all outside of the presentation so that wasn't brought up".
So I think you can get the picture that OU is indeed supporting legit NIL deals and they have a very solid presentation for the prospective student-athletes.
I also think you can assume that not every school is still currently playing by the same rules that OU appears to be when it comes to NIL. As K noted in the previous thread, that is something that is beginning to spread from compliance departments to their staff as the vast majority of programs around the country know they cannot survive in the environment that was created immediately after the NIL legislation was passed.
It is never a bad thing to hear some high praise for the NIL situation at OU based on the fan base's concerns and while the NIL situation is not completely reined in, OU for their part is putting out a solid plan of attack for the prospective student-athletes.
---
New Faces Arriving In Norman | Projections for Playing Time
– James Hale – Posted on: June 8, 2022
OU is in full summer mode with the Brent Venables Football camp underway with little kids camp for four days. The summer program under Jerry Schmidt is also underway, with 16 new players going through workouts. Coach Venables is very high on the new additions but admits that all of them are a bit behind because they did not go through spring football.
Still, every year players arrive in June or even in August and make a big splash, and talk turns to how they may play a big role on the football team that season. The following are my thoughts on what OU is getting in these players and what kind of role they might play this year for the Sooners.
CB Gentry Williams (5'11, 170) of Tulsa (Booker T. Washington), Oklahoma: Gentry, a four-star athlete, tore his ACL his junior year and rehabbed and did return for his senior year at Booker T. He was not totally healthy and played with a big brace on his knee, and mainly played safety. The injury never derailed the Sooners' excitement about recruiting him. When Coach Venables came on board, he had to re-recruit Williams, but when OU hired Jay Valai to coach cornerbacks, Williams was back on board at OU. Williams will get a full year to rehab his knee and get bigger and stronger, and OU has so much depth and experience at corner that he will be able to redshirt this year.
RB Gavin Sawchuk (5'11, 190) of Littleton (Valor Christian), Colorado: Sawchuk is a four-star athlete that is one of the prized recruits of the class. At running back, the best players play no matter the age as long as they can pass block, and Sawchuk was a solid pass blocker in Valor Christian. Sawchuk is a fantastic runner who will fit into the Jeff Lebby offense perfectly. It will be interesting to see if he can break through with senior Eric Gray and junior Marcus Major ahead of him. Freshman Jovantae Barnes made quite the impression in spring, and it would not be surprising if Sawchuk makes a similar impression in the summer and training camp.
OT Jake Taylor (6'6, 285) of Las Vegas (Bishop Gorman), Nevada: Jake is a four-star athlete that is very talented, but like most offensive linemen, he will likely redshirt this year. Taylor has the length and size that offensive line Coach Bill Bedenbaugh covets in his offensive tackles, and he is very athletic. He has a great chance to be a potential starter in the future.
OG/OC Jacob Sexton (6'6, 285) of Edmond (Deer Creek), Oklahoma: Sexton is a four-star offensive lineman that played offensive tackle in high school but is expected to shift inside at OU. Interestingly, he is the same size as Taylor, but Taylor is projected as an offensive tackle at OU while Sexton expects to play inside. Most offensive linemen redshirt their first year, and Sexton will likely do that.
S Jayden Rowe (6'4, 220) of Tulsa (Union), Oklahoma: Rowe is a four-star athlete and one of the most intriguing prospects the Sooners have coming in this summer. Coaches Venables and safety coach Brendon Hall can't say enough good things about him. I have him listed him at safety, but OU is unsure where he will play. They are looking forward to finding out. Rowe could be a special teams demon, and he is so talented and versatile that he could break through and play this year.
Edge Kevonte Henry (6'4, 215) of Lawndale (Leuzinger), California: Henry is a three-star athlete that is projected as an edge rusher or a defensive end. He has the frame that he could grow into a legit D-end. Henry is very athletic and needs to get bigger and stronger, and with plenty of depth at the edge spot and defensive end, he will redshirt this year.
Edge R.Mason Thomas (6'2, 215) of Fort Lauderdale (Cardinal Gibbons), Florida: Thomas is a three-star athlete, another very talented potential edge rusher that the Sooners have signed. It's easy to see the priority of recruiting for Coach Venables is to load up with edge rushers, defensive ends, and defensive tackles. Thomas needs to get bigger and stronger, and like with Henry, OU has depth on the edge and at defensive end to allow him to redshirt this year.
CB Jamarrien Burt (6'1, 173) of Ocala (Forest), Florida: Burt is a three-star athlete that looks a lot more athletic than that. OU feels he can be a big, long, and athletic corner, but he could also play nickel and safety. Heck, if they need some help at receiver, Burt could help OU there. Burt is so athletic that he could find his way on special teams but will probably redshirt this year.
DT Cedric Roberts (6'3, 275) of Pflugerville (Hendrickson), Texas: Roberts is a three-star who played a lot of defensive end in high school, but he will be a defensive tackle at OU. He could double as a nose in a pinch, but he is tailor-made as a defensive tackle in the Venables defense. His versatility will play in the defense, but there is depth, but a young defensive lineman with talent could break through and play.
NT Alton Tarber (6'2, 305) of Deerfield Beach, Florida: Tarber is a three-star athlete that is a nose, and you can never have enough of these guys on the roster. He can slide over and play defensive tackle as well, but he is a big inside guy in a four-man front that can switch to a three-man in a hurry. Tarber is a very athletic defensive lineman and could find his way onto the field.
DT Gracen Halton (6'2, 272) of San Diego (St. Augustin), California: Halton is a four-star athlete that the OU defensive coaches love. He is a legit defensive end type that could also play inside at defensive tackle. Halton is very active, and Coach Venables considers him a prized recruit in the 2022 class. It would not surprise me if Halton finds the field this year, but depth may allow him to redshirt this season.
QB General Booty (6'3, 194) of Tyler Junior College, Texas: Booty was a late sign this year after leading JUCO ball in passing last season. Booty was not a heavily recruited QB out of high school, but OU feels they have signed a diamond in the rough and feel that Booty is very talented. Booty has three years left to play. Obviously competing for the backup QB job.
WR JJ Hester (6'3, 202) of University of Missouri, and Tulsa (Booker T. Washington), Oklahoma: Hester is a former four-star prospect that played sparingly last year for the Tigers. He did play in all 13 games, making one start and catching 12 passes for 225 yards and two touchdowns. Hester is a very good athlete and will contribute to the Sooner offense this year. He has three-years left to play.
WR: LV Bunkley-Shelton (5'11, 195) of Arizona State University and Compton (Junipero Serro, California: Bunkley-Shelton is a former four-star receiver that had somewhat of a breakout year last year, catching 33 passes for 418 yards and two touchdowns. Overall, he has 44 catches for 518 yards and two touchdowns. Bunkley-Shelton is more of a slot receiver that can also line up outside, but he is talented and will contribute to the wide receiver corps this year.
QB Davis Beville (6'6, 200) from the University of Pittsburgh and Greenville, South Carolina: Beville got some run at Pittsburgh last year, completing 17-22 passes for 207 yards and one touchdown against one interception. Beville is an intriguing quarterback prospect for the Sooners because of his great size. Beville has three years left to play and will battle Booty and the rest of the Sooner quarterback room for the backup job next year.
CB C.J. Coldon (6'1, 175) of the University of Wyoming and Belleville (Athoff Catholic), Illinois: Coldon will be a Super Senior coming to OU for a chance to win a ring and finish his career with a bang. Coldon was a three-year starter at Wyoming and played a lot of football at corner and nickel back. When he didn't come in early, I thought he would reconsider and go to another school with so much depth in the Sooner secondary. However, he is a very confident player, and he is expected to play quite a bit this year in the Sooner secondary. Despite being a 'Super Senior' he still has 2 years of eligibility thanks to a medical year to go along with the COVID year.
---
Wilkin Formby | Trending
– Super K – Posted on: June 9, 2022
As you know, Sooners hosted 2023 OT, Wilkin Formby (Tuscaloosa, AL) for an official visit this past weekend. This was a return trip for Formby.
Earlier this spring when I stopped by his school, you may recall I noted that this one is going to come down to OU, Alabama and Ole Miss. However, I did note that Lebby was one of the big reasons he was originally considering Ole Miss so the fact that Lebby is now at OU, helps OU, in my estimation.
I was already under the impression that the Sooners fight was more likely to be with the Tide. Based on what I've heard recently, I very much think this one is going to ultimately end up in the Sooners' direction.
Trending pick is for OU, right now.
---
They Aren't Scared of OU
– Super K – Posted on: June 9, 2022
In talking to folks around me who are fans of other programs – certainly Texas fans – it seems it isn't just the media members who are discounting the Sooners.
The sense I've gotten is that the fans of other programs feel like big bad OU is about to take a big step backwards.
I've had predictions thrown at me like 7-5. I've said before, I think the Sooners will run the table. So, clearly what I'm seeing and what folks on the outside are seeing are very different.
I've tried to find out what this is attributed to and perhaps those of you who have spoken to Texas fans or fans of other programs have had similar conversations but here are some of things I'm hearing and how I respond to it.
***Venables has no head coaching experience. I actually had one Texas fan tell me that Venables is just Charlie Strong.
My response: Folks said the same thing thing about Lincoln. And folks forget that before Lincoln, Bob didn't have any head coaching experience when he arrived at OU.
What folks forget is OU's administration does a dang good job of hiring folks across the athletic board. When a program gets it right as much as OU does, the default should be to trust their hires.
***Another thing I've heard is Venables could be good down the road but will need two or three years to compete.
My response: Stoops won a championship in his second year and Venables is inheriting a program in much better shape. As I've said before, Lincoln didn't leave the cupboard empty. In fact, he left the Sooners with quite a bit of talent but…
***The response to that has been…but he took the best players in Caleb and Mario!
My response: Whatever the Sooners lost in Mario, they may finally make up for in the development of the WRs on campus. The Lincoln Riley is an offensive guru narrative is so strong that very people actually look at the fact that the WR play has continued to decline.
And what OU loses in Caleb Williams is probably more so his ability to make plays with his feet but that should be more than made up with a return to OU's great run game – something they struggled with the past year or so.
Besides, Caleb wasn't going to give anyone Kyler Murray or Baker Mayfield level play as a sophomore and those two are still seared into the mind of so many. That's why Lincoln seems to many scarier than his current iteration really is, in my opinion.
As a passer, I won't be surprised if given all the other progress (WR, run game, etc), Dillon gives OU as much or perhaps more net production than Williams would have – especially considering he already knows Lebby's system.
***The Big 12 chews up DCs so Venables is going struggle.
My response: Venables was one of the poor souls who had to deal with the truly explosive Big 12 when the changes first started and still had a much better defense than Grinch put on the field last year. He's had a lot of time to personally develop his defensive philosophy at every level but more generally, so has everyone else.
Additionally, the Big 12 in general isn't as narrowly focused on offensive as it once was. The only Brilesesque offense in the Big 12 is going to be the one backing coach Venables up. And let's be real, Briles was the scariest offensive coordinator we've seen.
***There's a lot of growing pains for a new coach.
My response: Fair point but remember, this is an OU program with a strong administration and foundation who have been winning in the Big 12 at a ridiculously high clip. He has a lot of support both in that respect and in terms of just the overall standard and culture of winning.
But perhaps more importantly and something a lot of casual fans don't realize, the Sooners retained so key pieces from the previous staff. Coach Gundy has been at OU a long time and he knows what a winning program and culture looks like. His presence and counsel there are in my opinion huge. Add to that someone as seasoned as Bill Bedenbaugh with his success at such a vital position, and there are some strong pieces left over from the previous staff. Obviously the Sooners also held on to both Murray and Joe Jon
The Sooners held on to what appear to be the best coaches from Lincoln's staff (not including Cain). Most of you already knew that I was not pleased with a number of guys Lincoln had on the previous staff.
The season can't get here quick enough.