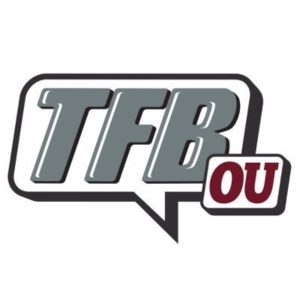 Open Post | Weekend, January 4th – 6th
Posted on: January 4, 2019
All American Bowl Practice Thread
– CJ Vogel
WR Jadon Haselwood
Haselwood did go down with a minor injury during 7 on 7 drills and did not finish the practice. I do think it's minor and he should participate in the All American Bowl.
The 5-star WR had a family emergency to attend to following the conclusion of practice so he was unavailable for a lengthy interview. Though he did say he is still on track to announce during the game.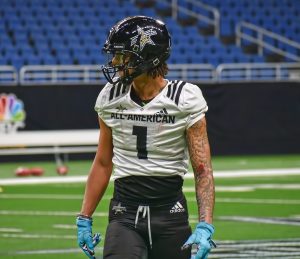 OL Stacey Wilkins
Wilkins is not participating in practice today. He has a small cast on his left foot and is gingerly walking around the sidelines.
UPDATE (2:12): Wilkins is practicing for the afternoon session.
QB Spencer Rattler
The OU signee has been very accurate early on in routes on air & 7 on 7.
It's weird to say but he and Texas signee Jordan whittington had a nice completion on the first play of the team period.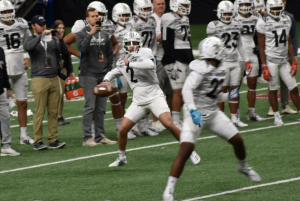 TE Austin Stogner
Stogner is much bigger than I imagined. He scored quite easily on a deep ball in 7 on 7.
He has easily been the best TE here.
WR Trejan Bridges
Bridges has been a go-to guy for what appears to be the second group. He's had two nice snags in the team period.
Spencer Rattler is still dropping dimes all over the field.
WR Trejan Bridges has been performing very well. At times has been borderline unguardable.
One of my favorite connections today was fr0m Rattler to Texas WR signee Jordan Whittington while being guarded by Texas DB signee Tyler Owens.
Austin Stogner
Stogner again has been a mismatch for DBs. He scored twice in 7 on 7 routes including a nice wheel route with the pass coming from Rattler.
EJ Ndoma-Ogar & Stacey Wilkins
So far Ndoma-Ogar been playing at left guard and Wilkins has lined up at left tackle. There wasn't much movement between the two at different positions on the offensive line in the individual drills.
But Wilkins did move over to right tackle during the live session. Looked like he belonged.
Wilkins said he weighed in at 286 pounds and hopes to get up to 300 by the time the season begins. He looks bigger than 286, but is quick with his feet. **
Ndoma-Ogar was real fluid on pulls and getting into the second level.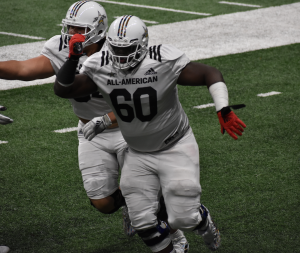 ---
In the scrimmage session of the West practice, QB Spencer Rattler, TE Austin Stogner and OL EJ Ndoma-Ogar all came out with the first offense.
– WR Trejan Bridges and OT Stacey Wilkins were with the second group.
---
Riley Flashes Some Eyes…
– Charlie S
Checked with my sources…nothing about a commit
Checked with James and his sources…nothing about a commit
K is at the UA Game…checking with his sources…hasn't heard anything about a commit yet
Two days ago, we were the first to mention that a DC hire could be taking place in the next couple of days…
This is where we are at right now.
Update: 7:23 (Thursday night)
Point blank, we have talked to all our sources…they don't know.
Only Lincoln knows what these are for…so…see previous update.
We know there are two sets of eyes out now…one you will find out in a short period of time…and then this set.
---
Justin Fields To Ohio State
– Charlie S
Georgia Freshman Quarterback Justin Fields has announced he will be transferring to Ohio State.
We are told that Lincoln watched film on three potential transfer quarterbacks and we were told that if OU were to take a transfer quarterback, it would not be Fields.
As we mentioned previously, if OU had pursued Fields, we believe they would have secured his commitment. However, in the end, the Sooners did not pursue Fields.
Now, while Spencer Rattler mentioned that Riley told him OU would not be taking any additional quarterbacks, should that change, sources say that out of the pool of quarterbacks, Riley prefers Jalen Hurts.
Super K will have more on this later.
https://twitter.com/Birm/status/1081215277373763584