Open Post | Weekend, January 3rd – 5th
Posted on: January 3, 2020
Quick-Hitters | More on Theo Howard & Gary Bryant
– Super K
***Earlier this week, I reported (here) on an exchange I had with UCLA grad transfer, WR, Theo Howard saying…
Earlier today, I exchanged a few texts with UCLA grad transfer WR, Theo Howard. Howard tells me that he has been communicating with the Oklahoma staff.
I asked Howard if he's planning on taking an official visit and he said he doesn't feel like he needs to take one. I took that to mean, OU is a no brainer.
Based on what I've heard from the OU side, the Sooners staff likes Theo and will likely take him.
Spoke with a source close to Howard today. Was told that Howard is expected to be in Norman for the spring semester so…
This morning (Friday), as James reported on the Donor side, there is one 'Theo Alexander Howard' listed in the OU student database. Good news indeed.
***Same source out in Cali told me that there are rumblings out that way that Gary Bryant is now reconsidering OU and the word is that it's USC and OU.
I honestly don't know if that's the case. I have heard that the OU staff may have made a late run at Bryant but we aren't sure just how far that got.
Just something I wanted to keep you all aware of as a possibility, even if it may be remote.
CJ will have more on that below.
---
2020 Outlook | Return of the Offense You're Accustomed Too?
– Charlie S
The Sooners 2019 season ended swiftly and decisively by way of an embarrassing blowout loss in the Peach Bowl against LSU.
The 63-28 loss was easy to pin on the defense as LSU appeared to be able to name their score against the outmanned and underdeveloped Sooner defense.
The Tigers offensive output was incredibly impressive and it may have reminded Sooner fans of past OU offenses with Baker Mayfield and Kyler Murray at the helm.
Jalen Hurts had a record-setting year as the QB in Norman during his one year and he was rightfully rewarded with a trip to New York as a Heisman Trophy finalist and he wound up being the runner up. This post is by no means a knock on Hurts, so please, do not turn it into that. Hurts was a fantastic college football player, a great leader by all accounts, and a class act.
Hurts could actually be looked at as having been the perfect QB for this year's squad which was also replacing four offensive linemen and Hurts' ability to evade opposing pass rushes and use his feet to keep the chains moving while being extremely durable and effective was key to the Sooners winning their fifth consecutive Big 12 conference championship.
Tanner Mordecai and Spencer Rattler could have been in for a world of hurt if not for…Hurts. Turnes out, Jalen Hurts may not have been the quarterback you wanted, but he was the quarterback you needed in 2019.
However, the 2019 Sooner offense was different than the previous editions based in large part on Hurts style and limitations as a passer.
You didn't see nearly as many deep throws or precision passes where the Sooners QB threw the OU wide receivers open. The 2019 offense was QB run based and it was not the quick strike, wide open, attack you from multiple positions style, which you have all become accustomed too.
I'm here to tell you that the 2020 offense will be more along the lines of a 'Back to the Future' movie.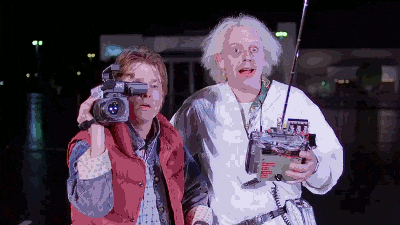 A quick look at the 2020 offense:
It all starts at quarterback. Near the end of the Peach Bowl, Lincoln Riley removed Jalen Hurts and put Sooners freshman Spencer Rattler in the game.
Riley will tell you that there was no method to his madness and as James reported in his 'Last Word with Lincoln' write up, he intended to get Mordecai into the game following Rattler's cameo. He talked about the reps they took during the year and whatnot and how he wanted to even them out…
I'm not buying it. As I wrote following the game in my Sunday Brunch post…Riley was sending a message. He was sending a message to his team, his recruits, and his future opponents which clearly implied: 'Hey, this is the future, we are not going anywhere but up, and you're either going to have to play with us, or deal with us.'
Rattler will be a redshirt freshman in 2020. Redshirt freshmen make mistakes, so I am not going to sit here and tell you that there will not be bumps in the road as he learns the system under live fire, but I will tell you that his skillset (arm strength, accuracy, football IQ, and athletic ability) will open up the Sooners offense to the point where it will more closely resemble the offenses under Mayfield and Murray as compared to the offense under Hurts.
Rattler will be the beneficiary of the lumps and lessons that the new offensive line took this year as well.
The Sooners will return all five starting offensive linemen. Yes, you read that correctly, as right now, sources around the program have indicated that All-American center Creed Humphrey is likely to return. Nothing has been finalized in regards to Creed's decision and I don't know if you will ever get a public proclamation or not, but again, right now, we are hearing he is likely to return.
So with Humphrey, Robinson, and Hayes returning along the interior, and Ealy and Swenson slated to be back at tackle, you have the building blocks for an improved offensive line. The tackles, in particular, will be pushed for playing time, which is a very good thing as tackle was the main weakness for the group this year.
Look for Stacey Wilkins to push for a starting spot at tackle and EJ Ndoma-Ogar and Brey Walker to vie to be first off the bench among the interior positions. You also have Bedenbaughs most talented offensive line class (on paper) coming in early and I would not be shocked at all to see a couple of them push for spots in the two deep.
Rattler will also benefit from what (at this time) appears to be a very deep running back room. Trey Sermon should be returning from his 2019 season-ending injury along with Kennedy Brooks, TJ Pledger, Marcus Major, and incoming freshman Seth McGowan. You also should have Rhamondre Stevenson back at some point and the timing of that will depend on how his appeal goes but I wouldn't count on him until the sixth game of the season at this point.
Could there be some attrition? Perhaps. Maybe TJ Pledger looks for some playing time elsewhere (which would be a shame) or there could be an injury, but on paper, the running back room should be well-stocked.
The offense will also return the entire HB/TE room which means you will have Austin Stogner, Brayden Willis, and Jeremiah Hall as weapons along with the additions of athlete Mikey Henderson and elite tight end Jalin Conyers. Weapons everywhere and we haven't even gotten to the wide receivers.
Now, at the wide receiver position which took a major hit with the departure of All-American CeeDee Lamb. You also lose Nick Basquine and Lee Morris. So numbers-wise, there isn't a lot there.
Lambs departure opens up opportunities for the elite trio of Jadon Haselwood, Theo Wease, and eventually Trejan Bridges once he regains eligibility due to suspension. The trio of 5*s will get their chances to shine and develop into focal points of the offense.
OU will also return Charleston Rambo who will look to continue his development and turn into an elite option along with Drake Stoops who got a bunch of snaps over the course of the 2019 season.
The Sooners will add three high school recruits in Marvin Mims, Trevon West, and Brian Darby to replenish the shelves and they are pursuing grad transfer Theo Howard (UCLA) who would bring some speed and experience to the young group.
The talent at wide receiver is there while the numbers are still a bit thin.
Overall, I would look for the offense to have close to the same production numbers wise in 2020 as it did in 2019 (which was still very good and among the best in the country) however, the yards and points will come through different means.
There is a lot to be excited about on the offensive side for 2020 and it all starts with the QB position.
---
Notes and Thoughts on the Vandagriff Decommitment
– Super K
As you know by now, 2021 5-star QB, Brock Vandagriff announced his decommitment from Oklahoma.
Here is what I can tell you…
***When we out to Georgia to shoot Vandagriff's video, I had a conversation with him that was off the record by caught my attention. I will divulge some of that conversation now as he is no longer committed to Oklahoma.
***Vandagriff told me that he was actually planning on committing to Clemson due to proximity. His mother wanted him close. However, the concern was the quarterbacks and recruits in front of Vandagriff didn't make it likely he would see the field for a while.
***Obviously he loved Oklahoma and coach Riley but the two things that made me raise my eyebrow a bit was what appeared to be serious concerns his mother had about distance and the concerns about who is in front of him.
***So, while this may seem like a surprise, I'm not entirely sure it is.
***And I will go on record saying this has nothing to do with Lincoln Riley going to the NFL and I'm very willing to own it if I'm wrong. He's not going to the NFL.
***Now, then, I understand it can sting to lose such a highly sought after prospect but let's be real here – this is such a non-issue in terms of what Oklahoma needs in order to get where they want to go.
***As I said before, the Sooners need to have concerns about certain position groups on this staff and QB and QB recruiting is not one of them.
***And based on conversations that I have had, Lincoln Riley isn't remotely worried about this. He is however, working to address the actual issues. That is why you should be optimistic.
***Optimism should come from having a head coach who sees the strengths and weaknesses of his program and is working behind the scenes to address them. And I believe Lincoln does.
***A few of you didn't like some of the posts I wrote after this past playoff loss and that's completely fine. But they weren't meant to be malicious. They were meant to say that, in my humble opinion, there are real issues that need to be addressed in order to take that next step and when they are, I believe OU will take that next step. Quarterback or a 2021 quarterback recruit isn't remotely one of those issues.
***This is especially a non-issue because Spencer Rattler will likely be the quarterback for the next two to four years at OU and had all things truly been open this past year – he probably would've won the job as a freshman. Perhaps more on that and some other behind the scenes stuff, later.
***In the 2020 class, if Spencer Rattler was not at OU, Bryce Young would be a Sooner.
***Lincoln offered three quarterbacks in that class. They were the three quarterbacks he liked: Bryce Young, DJ Uiagalelei and Chandler Morris. And, you'll find out where Chandler is going tomorrow – though I suspect you already know.
***Last note, I did cancel my trip to the UA Future 50 camp. I am a bit under the weather and we will likely be seeing most of these kids (some for a second time) in the coming weeks, anyway.
***CJ is down in San Antonio however. So, we should have some notes from him.
***But I think right now the recruiting stuff is great and all but we have been focusing our discussion and research on the program as we believe that is what is most important right now and for the next week or so.
***There are things going on behind the scenes – things I believe are good. The LSU game wasn't a sign that Riley had reached his peak in the past few years. He's just getting started but there just a few additional tweaks needed in order to continue to have the right foundation and bring in the right players at every position.
***And again, QB ain't one of the things that needs adjusting.
---
Gary Bryant Talks Sooners Ahead of Decision
– CJ Vogel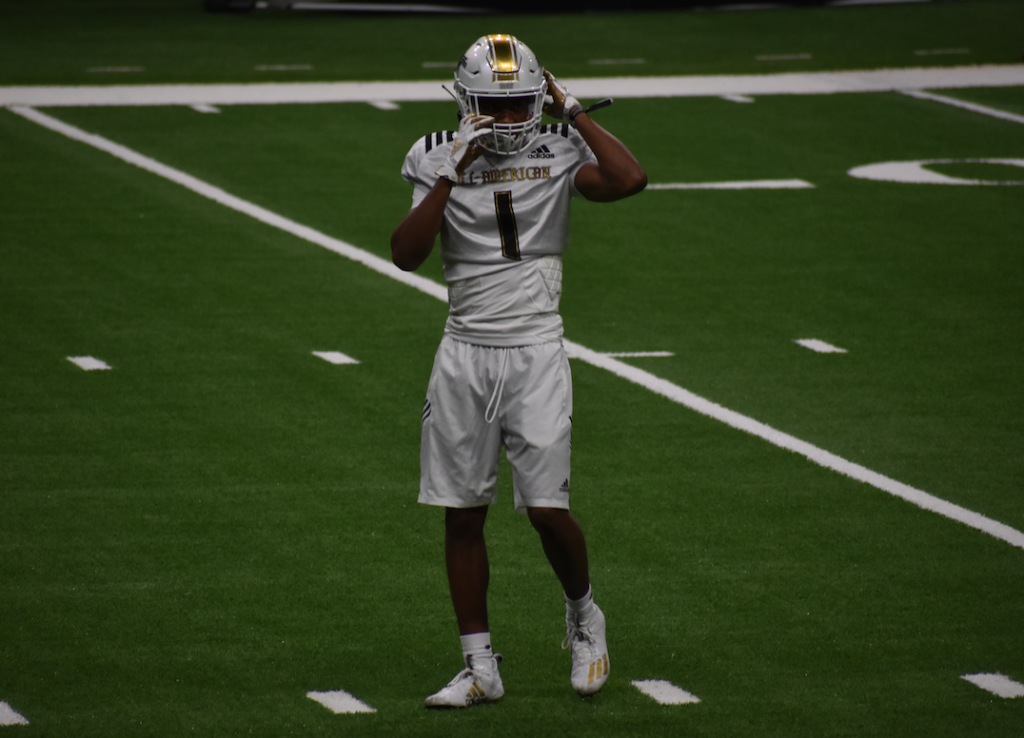 I caught up with 2020 WR Gary Bryant out of Corona, California at the All American Bowl practice Thursday morning. With a decision set to come during the NBC Broadcast of the game, Bryant has narrowed down his choices to USC, Oklahoma and Arizona State.
While the current crystal ball count favors the Trojans, that didn't stop Bryant from voicing his affection for Lincoln Riley and the Sooners.
"(Oklahoma) breeds offensive players and I'm a big offensive player," Bryant said. "Their receivers are big time. 'Hollywood' Brown, CeeDee Lamb is coming out, Dede Westbrook all came out of OU. So just for me to go in and fill a spot like that and be the next player (drafted)."
The Oklahoma offense is unmatched across the world of college football and Lincoln Riley has done a great job of pitching that to Bryant during his recruitment.
"Playing in the slot and being explosive," Bryant said when asked where Riley plans to use him. "I'm a speed guy and his offense is obviously a vertical offense that likes to take shots with smaller receivers, so that's what really stood out to me."
In his last conversation with Riley, the OU head coach told Bryant he planned on using him like Marquise Brown.
Despite being in USC's backyard, the Sooners are combatting proximity by pairing Bryant with former Cali stars that picked Norman instead.
"That campus was amazing. I took a trip there and I shadowed Bookie (Radley-Hiles). We had a great time and he's a west-coast player. He was telling me 'You come here and work. It's going to be all work, and it's hard work.'"
"The goal is to make it to the NFL and get a good degree, and I feel like Oklahoma can do that."
Bryant added TJ Pledger and Bookie as guys that have been in his ear about the move from Cali to Norman.
On the USC side, Bryant called the decision for Graham Harrell to return as OC plays "a big factor" in his decision. He added, "I want everything to play out, (Harrell and Helton) obviously came back so that was a big role in SC and playing into their benefit."
Unfortunately, I didn't get much of a read with this being my first interaction with Bryant, all while he was trying to keep his commitment under wraps with a decision in two days. With that said, USC should feel good about where they stand despite some question marks with the coaching staff.
---
Notebook | Corey Wren, Alfred Collins, QB & More
– Super K
***The highest priority remaining target for the Sooners is Alfred Collins. CJ spoke with Collins yesterday down in San Antonio at the Adidas All American Game prep.
As CJ has changed his tune a bit and now believes Texas is perhaps higher than originally thought, I wanted to offer some brief commentary on this.
CJ has been by Collins' school a number of times. The last time he stopped by to see Collins' before speaking with him yesterday was back in November. After that particular conversation, CJ offered the following "My Take" on November 18th (HERE)…
It really feels like Collins favors the Sooners and the lifestyle surrounding the OU football program and campus. Lincoln Riley has done a great job of instilling a "family vibe" during Collins' recruitment and that's paying off at the moment.
If I had to rank the top three for Collins (and this is entirely off of my read of him) it'd go:
Oklahoma
Texas
Baylor
Baylor is getting back to back unofficial visits, though this is also a chance for Collins to get one more look at Texas and OU on the field. But the Bears are also likely to get the last OV in his recruitment and can really roll out the red carpet for him as it seems like he'll OV during a time where the coaches won't be occupied by game-week and can focus all attention on the 6-foot, 6-inch monster from Bastrop.
Collins mentioned above that on-field success won't be a big factor in his decision, but he couldn't help but point out the Bears' season this year. Not to mention they'll be hosting him three times in a month. Baylor could make this thing all sorts of interesting.
A couple of weeks later on December 3rd, I followed up by noting the following (HERE)…
Was told that the Sooners were looking to set up a time to visit Alfred this week and were told by Collins' parents that a visit wasn't necessary.
Why?
Apparently because the Sooners are in such a good position with Alfred and the family.
In other words, based on what I've been told, OU is the outright leader.
Alfred did tell me that OU did stop by the school yesterday for a visit, anyway, which is obviously the right move. But things are looking extremely good for OU.
However, keep in mind that Alfred says he doesn't plan on signing until the second signing day which means Texas will have hired a new defensive staff. And, with Collins' ties to Texas, who knows how a new pitch from a new defensive staff could change things.
I believe Texas was very aware of the Sooners surge and the primary thing they were preaching to Collins was to be patient with the process.
I will defer to CJ on the latest since he has spoken with him and his read on Collins so far has been good. He did tell me that Collins still wants to take unofficial visits to his final four schools – now Alabama, Baylor, OU and Texas.
But CJ also noted that Collins wants to have a final decision made in about two weeks, though he doesn't plan on announcing till signing day. So, it'll be interesting to see if he actually fits all those visits in.
While I have been told that Bama is going to begin to push again – they had previously pulled off – my gut continues to tell me that it'll be an OU vs Texas decision.
Primarily because I do believe OU is a place he is very comfortable in and had it not been for his ties to Texas and growing up a Texas fan, the Sooners would win this battle. But what has always lingered in the back of all of our minds is just how strong his ties are to Texas.
I remember one source telling me that just a few years ago, Alfred was in line waiting to get autographs from the Texas players. I also remember when some of the Texas media actually thought UT had a chance for Robert Barnes (the son of Reggie Barnes) and I thought how absurd that would be.
So it's difficult to discount the ties to Texas. I do believe that the circumstances here are much different than, say the situation with Barnes in that OU is in a much better position in terms of the program health right now. Texas is replacing both coordinators this offseason and there will be more changes on the way. So, it's not apples to apples.
I think Riley, Grinch and Thibs have all done a great job in this recruitment and it's clear that the Sooners have a very real shot and certainly more real than I would've given them a few months ago.
We will wait and see if Alfred does indeed make a return visit to OU. Even if he doesn't make the return, it may not be all that telling as he may have already made up his mind and knows where he belongs.
***Last week, the Sooners offered 2020 RB, Corey Wren. Wren had one official visit remaining and over the weekend he said that he would take that visit to Florida State. He added that he would likely take an unofficial visit to OU and Oklahoma State.
However, it now sounds like Oklahoma may be backing off Wren. I'm told that the numbers are limited. Theo Howard gets a spot and they know he's taking it. Alfred Collins has a spot saved and they may not know anything there for at least another couple of weeks. And I'm told they want to reserve another spot for a possible additional grad transfer or JUCO.
I will say that I won't discount the idea that they could circle back to Wren, just yet. Wren's father had some concerns about Riley leaving for the NFL but said that outside of those concerns, OU would be the front runner.
***Ever since Brock Vandagriff decommitted, there has been some discussion of 2021 5-star dual threat QB, Caleb Williams. Williams said via text that he did speak with Riley, yesterday.
I don't yet know what they talked about but if Williams emerges as the next true offer at 2021 QB, we will work to bring you the skinny.
What I do want to note however is that I'm told Riley is still reviewing 2021 quarterback film. So, while Caleb may very well be the guy, it sounds like Lincoln wants to first continue to review quarterback film. Whether that will be wrapped up today or take some time, we don't know.
---
Quick Hitter | Texas Gaining Ground With Alfred Collins
– CJ Vogel
I dropped this note on the Texas side and I wanted to keep you guys in touch with the latest on what I'm hearing on Alfred Collins.
The players participating in the 2020 All American Bowl spent last night at Dave and Busters, however, the group of Texas commits consisting of Bijan Robinson, Xavion Alford, Prince Dorbah and Andrej Karic opted to stay back a the hotel and watch the game as a group.
** Joining the four committed players in the room was DE Alfred Collins who is down to Texas, Oklahoma, Baylor and Alabama and will be deciding in January.
From what I've seen in the only practice session I've attended is the group of commits has created solid relationships with Collins through the camp, especially Andrej Karic, who spends the most time of anyone with him when the OL and DL practice together each day.
** I talked with Collins a little following practice Wednesday where he said he was impressed by the Texas bowl performance.
Having talked to Alfred throughout the fall, it appeared that Oklahoma was right atop of the list with Baylor surging in. However, at the moment, I have no reason to believe Texas would be behind either school.
*** I'm sure Super K will probably chime in on this pretty soon, but he has a number of other write ups he is working on.
Hope you all have a great New Year,
---
Trimming the Roster | Transfer Discussion
– Super K
Alex Grinch was pretty vocal early on in his hiring about the need to upgrade the roster and build better depth. While Grinch made his name at Washington State, he had a stop at Ohio State prior to arriving at Oklahoma where he saw, first hand, what a talented defensive roster looks like.
Once the season started, you stopped hearing much about the personnel and the lack of depth. In true Grinch fashion he built up the players he had, praised his players when they played well and shouldered the blame when they fell short.
But the Sooners are turning to year two and word is that the staff is going to put an end to some of the free rides and strongly encourage some players to begin to look elsewhere. As such, don't be surprised to see a number of guys enter the portal.
When that happens – whether it's in the next few weeks or after spring ball – I don't know. But, it sounds like it's going to happen.
Oklahoma had a rude wake up call on Saturday. The defense has certainly improved and anyone who has been on this site knows that even after bumps early in the season, we were adamant that the defense was moving in the right direction and is under the right guidance.
We still maintain that.
But, I also think they saw that it's going to take a quicker upgrade and that's harder to do when you have guys sitting on scholarships that simply can't play at a championship level.
---
For multiple daily posts, Insider Notes, Our TFB 'Pick Em' Contest, More Sourced Practice Notes, member chats with TFB staff, James Hale's Notebooks, TFB Sessions (5-minute audio talks) and much more, please check the Donor Board!