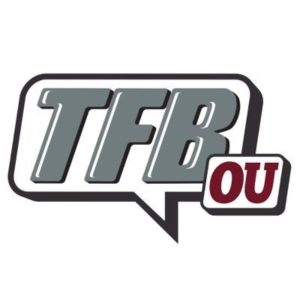 Open Post | Weekend, January 31st – February 2nd
Posted on: January 31, 2020
Sourced | Notes on New Defensive Hire
– Super K
***I spoke with a source on the staff at Arizona State. It sounds like the Sooners went after Jamar Cain pretty hard earlier this month. Source said confirming the departure of Cain, "Yeah, we fended them (OU) off the first time about two weeks ago".
***So, it appears the Sooners targeted Cain around early to mid-January but Arizona State fought back to keep him.
***Source said Cain was hired to coach OLBs "but then help with the DL".
***As I previously mentioned, I expected it to be someone up front. But this a straight DL hire. This hire along with a few other things tells me that we could be looking at yet another two-year plan here.
***ASU staff source also said about Cain, "He's a good technician. Been on successful defenses. Good feel for run fits and he improved our pass rush".
***I also chatted with a source close to Cain who said, "He's good. The players will like him but he hasn't recruited in this type of environment yet so it will be new to him".
***One of the things that isn't talked about much how much the Sooners need a player's coach up front. So, in my estimation, if Cain can be that and help with retention, that's a big positive.
***Cain hasn't coached at big schools but he has coached under some excellent coaches.
***This hire gives Lincoln and Grinch some flexibility to see how things go over the course of this year and still have room to make moves, if necessary.
---
Camar Wheaton & OU Running Back Coaches & More
– Charlie S
*** A couple weeks ago, Super K was on the road visiting some recruits, one of which happened to be 2021 running back Camar Wheaton (5'11" 190) out of Lakeview Centennial (Garland, TX).
Wheaton is one of the top backs in the country and following K's visit with him, he and I were talking about Wheaton and OU's chances and he mentioned something that stood out to me.
K said that after speaking with Camar, he felt that Wheaton was a recruit that OU would have a much better chance at landing if he was being recruited by a guy like Gundy (at that time, the Boulware move had not been made although we believed it was coming). He said there was something in Wheaton's personality which led him to believe that.
Some of you are going to take that as a shot at Boulware. It is not meant to be. K's opinion was based on how he felt that Wheaton would respond to various styles of recruiting.
Now, with DeMarco Murray as the running back coach and Cale Gundy serving as his mentor, you would assume Murray will rely on Gundy's opinions on how he would go about recruiting a back like Wheaton.
I spoke with K this morning while he is on the road again, and as we were talking, he again mentioned that the combination of Gundy and Murray is going to work strongly in Oklahoma's favor with Wheaton.
The visit today won't be the first time that DeMarco Murray has been to Lakeview, but on his previous visit, he was not able to meet with Wheaton as he just spent time with the staff.
K said that Wheaton should have an OU and an LSU visit coming up soon.
*** Another running back to potentially keep an eye on is Brandon Campbell (5'10 190) out of Lamar Consolidated (Rosenberg, TX) . Murray had been in touch with Campbell quite a bit while at Arizona.
Campbell just picked up an Ohio State offer yesterday.
---
Quick Hitters | Weekend Visitors
– Charlie S
Just a couple notes of interest on guys who I have confirmed will be visiting Norman this weekend…(there should be more)
*** Touched base with 2021 offensive lineman Bryce Foster (6'4.5″ 320, Katy, TX) earlier this week and he confirmed he will be on campus this weekend.
Foster is one of the top priorities for Bedenbaugh in the 21 cycle and the more you get him on campus, the better (captain obvious statement there) and Lincoln Riley was down at his school to see him earlier this week.
Foster is heading to town with his parents and brothers. OU will be in the fight for him throughout.
*** Many of you caught 2021 linebacker Kendrick Blackshire's (6'2″ 250, Duncanville, TX) tweet which indicated he plans on visiting Oklahoma this weekend.
I have reconfirmed with him that he still plans on making it to Norman on Saturday to unofficially visit with the staff.
Blackshire remains high on the Sooners and once again, the more you get him on campus, the better.
Sooners linebacker coach Brian Odom has had back to back weeks with high profile prospects on campus and you have to like the direction he is going in regards to recruiting.
---
4-Star WR JoJo Earle Set to Visit Sooners
– Charlie S
*** The Sooners are set to host 2021 big time wide receiver JoJo Earle (5'9″ 170) out of Aledo this weekend.
Earle is one of the top targets in the class. Super K was out to see him and he came away very impressed with him. Oklahoma will be looking to take a big class at receiver this cycle and as I mentioned above, Earle will be a focal point.
K will have more on his recruitment and the teams to watch.
*** OU is also set to host 2021 wide receiver J.Michael Sturdivant (6'2″ 183) out of Flower Mound, TX (Marcus)
We are hearing that Sturdivant is a guy that the Sooners are very high on and while he does not yet hold an offer, don't be surprised if he picks one up this weekend.
*** Another visitor of note will be 2022 DB Bryan Allen (5'11" 180) out of Aledo.
I know 2022 is a long way off, but Allen is one of the elite young defensive backs in the state and it will be a good opportunity for OU to make a solid impression on Allen as he makes his first trip to Norman with his father and little brother.
I'll be compiling the full list of confirmed visitors for this weekend, later on, I just wanted to get these guys out to you.
---
Quick Hitter | Alfred Collins Update
– Charlie S
*** Touched base with Sooners 2020 defensive line target Alfred Collins who confirmed that OU head coach Lincoln Riley and defensive line coach Calvin Thibodeaux visited with him Tuesday evening.
Sounds like the visit went well, but as we mentioned prior, we don't think these visits with OU, Alabama, and Texas will make any difference as we believe the decision has already been made.
---
Murray the Recruiter
– Charlie S
Just a really quick note here on something I came across while trying to confirm additional visitors for this weekend…
*** I know you all are curious as to how the recruits are taking to being recruited by Demarco Murray 'The Coach'.
With that in mind I touched base with 2021 running back Brandon Campbell (5'10" 190) out of Rosenberg, TX (Lamar Consolidated.
Super K noted that Murray was going to drop in on him yesterday in a post on the board as well as over Twitter:
I was checking to see if Campbell would be headed to Norman this weekend and he mentioned he was still trying to confirm his plans, but with Murray stopping by to see him yesterday, I took the opportunity to ask him to share his thoughts on Coach Murray's recruiting pitch.
Campbell said, "Coach Murray is a really laid back and straight forward guy. I can see myself playing for him because he's been there before at OU as an actual player. He's not just trying to sell me on a place because he's just working there. He knows what it's like to be a running back at OU!"
Murray as a lot of weapons at his disposal on the recruiting trail, and what Brandon Campbell described above is just one of them.
If Murray continues to develop into a dedicated and energetic recruiter who will continually work at it, he really has a tremendous ceiling with a lot of different angles to put in front of the young men he is recruiting.
I don't think recruiting will be an issue at the running back spot in Norman. Very anxious to see how he develops his backs and what type of rotation he will employ.
---
Sooners Making an Impression | 2021 DB Notes
– Super K
***In 2021 there will be no excuses. The Sooners have a scheme to recruit to. They have a playoff berth and they have defensive stats.
***I stopped by Lyndon B. Johnson High School in the Austin area yesterday and spent some time with coach Fenner.
***You may know that LBJ has a couple of elite 2021 defensive backs in Alabama commit, Latrell McCutchin and Andrew Mukuba.
***The Sooners have had Lincoln Riley, Roy Manning and Chip Viney all stop by there. Latrell and Andrew are probably the best combination of defensive backs in the state at one school.
***I've been a little underwhelmed so far with the defensive backs in Texas. I've seen some of the "4-star" kids and no one has really blown me away just yet (I'm still evaluating).
***But the guy I think is going to really blow up is Mukuba. Latrell is en elite guy but Mukuba may have more long term upside.
***Coach Fenner said that Mukuba has really only played one year of varsity ball due to multiple high school transfers.
***Most would think I went by to get more information on Latrell but I actually really was interested in learning more about Mukuba. As I said, I've been a little underwhelmed with some of the higher-ranked DBs, so far but when I came across Mukuba's film, I got excited.
****Coach Fenner confirmed a lot of what you see on film. He's a truly explosive athlete but that translates in every direction. He's not a one direction guy. As you know Oklahoma doesn't recruit safeties. They recruit DBs – meaning, you have to be able to play any position including corner. And while Mukuba is raw, I have little doubt, he has the explosion and bend to play corner.
***Check out his film and you'll see part of the reason why I think Mukuba's offer list will blow up.
***I'd personally like to see the Sooners go in with an offer. Mukuba visited Oklahoma a couple weekend's ago and I was told that the Sooners are the team to beat right now. But if you hold off an offer too long, you can make your job much more difficult.
***I also got the sense that Latrell is really intrigued by Oklahoma. Coach Fenner said that despite the injury that sidelined Latrell his junior year, Nick Saban and company have continued to push to hold on to him.
***I could be wrong here but something tells me Latrell may end up opening things up and if the Sooners play this right, I think they'll have a real shot at both.
***So far, they are two of my favorites in this 2021 class in TX. I've been paying attention to Latrell since he was in ninth grade. I remember seeing his Manor varsity film from his freshman year and it was obvious right then he was a monster.
***Again, I think these are going to be two names to really watch in the 2021 cycle for the Sooners.
---
Early Look | 2020 Quarterbacks
– Charlie S
Heading into the 2020 season, the Sooners will once again be looking at a new 'QB1' following the departure of Jalen Hurts. Hurts spent his last year of eligibility as the quarterback of the latest Big 12 Conference Champions and playoff participant Oklahoma team.
So for the third year in a row…QB1 will be a new face on opening day.
Let's cut right to the chase…below is how I see the 2020 depth chart playing out from sping all the way up to game one.
QB1 : Spencer Rattler (6'0″ 191) RS Freshman
QB2 : Tanner Mordecai (6'2″ 208) RS Sophomore
QB3 : Tanner Schafer (6'3″ 215) RS Junior
QB4 : Chandler Morris (5'11" 178) Freshman
There should be little to no pushback on that.
The last offensive snap taken by the Sooners in 2019 will be the same guy taking the first offensive snaps for the Sooners in 2020. In the Peach Bowl against LSU, with the game already decided, Sooners head coach Lincoln Riley put Spencer Rattler in the game.
Was it a message being sent by Riley? I believe so.
What was the message? I believe the message was something along the lines of 'Just Wait On It'.
Who was the message intended for? I would make a case it was meant for just about everyone. You, me, the entire fanbase, opposing teams, and perhaps most importantly…his own team.
Yes, I know Riley said all the correct things about why he put Rattler out there instead of the guy who was QB2 all year in Mordecai. He told us that Mordecai was going to go in if Rattler had moved the chains and gotten a first down and he was simply trying to 'even out snap counts'.
I'm here to tell you…I don't buy it. I didn't buy it at the time and I certainly am not buying it today.
Spencer Rattler is the future and even the odds makers in Vegas know it as some of them even have him listed among the top 3 in regards to odds for winning the 2020 Heisman Trophy.
The kid has never taken a meaningful snap in college yet here we are. (Quite the amount respect for Lincoln Riley I would add).
So while there will be a quarterback competition, the deck is pretty stacked against Mordecai and could this be the first year in Lincoln's tenure in Norman that he officially names a starting quarterback (aside from Mayfield returning in 2018) prior to August? I doubt it.
Mordecai could have transferred this offseason (still could I suppose) but he made a wise decision to stay and he will get his chances in spring ball, summer workouts, and fall camp. He has a big arm and is familiar with the system. He will get equal reps right up until about two weeks prior to game one. At the very least he will be one snap away from being QB1 and should he stay all the way through, he would then likely have the ability to transfer next year at some point as a grad transfer who would have learned under Riley for a full three years and be able to handpick the next stop should he choose to leave.
We are likely to hear how close the competition is and whatnot. It won't matter. This is Spencer Rattler's show going forward.
Rattler has a tremendous connection with the trio of wide recievers who came in with him (Wease, Haselwood, and Bridges). He is very familiar with Austin Stogner and to this point all we hear is that he has that 'it' factor. Rattler carries himself with a certain swag and is more along the lines of Baker Mayfield than Jalen Hurts personality-wise.
Schafer and Morris will provide depth this season and they will be very capable leaders of the scout team which will prep the Sooners defense throughout the season.
With that being said…I can't tell you how excited I am for the Sooners offense to move back away from the QB run game and more closely resemble the offenses of Mayfield and Murray.
The quarterbacks will have a ton of talent surrounding them at the skill positions as OU has incredible talent at wide receiver, tight end, H-back, and running backs.
Rattler should also benefit from having an improved offensive line which went through some growing pains last year as Bill Bedenbaugh had to replace four starters from the previous year who were lost to the NFL.
Rattler is young, he is not going to be Baker and he is not going to be Kyler right out of the gate There will be some 'rookie' mistakes, bad reads, bad decisions, errant throws etc…but as he grows under fire, the potential for absolute stardom will only increase.
Rattler will be the first quarterback to be QB1 in Norman who Lincoln Riley recruited, landed, and developed out of High School. As the kids say 'It's gonna be a movie'.
Lincoln Riley sent a message at the end of the Peach Bowl…he put everyone on notice and when game one rolls around, we will all finally get to see what it was that he was trying to say.
---
Weekend Visitors | Junior Day Number Two
– Charlie S
The Sooners are hosting their second Junior Day this weekend and they have some really nice prospects coming in. As usual, the list of those who make it in can and will change:
Guys we already mentioned:
2021 Offensive lineman Bryce Foster (6'4.5″ 320, Katy, TX) – OU Offer
2021 linebacker Kendrick Blackshire's (6'2″ 250, Duncanville, TX) – OU Offer
2021 wide receiver JoJo Earle (5'9″ 170, Aledo, TX) – OU Offer
2021 wide receiver J.Michael Sturdivant (6'2″ 183, Flower Mound, TX (Marcus)
2022 DB Bryan Allen (5'11" 180, Aledo, TX)
Guys we are expecting to make it in:
2022 LB Kobie McKinzie (6'3″ 227, Lubbock, TX) – OU Commit
2021 OL Trey Zuhn (6'5″ 272, Fort Collins, CO) – OU Offer – Will be his third trip to Norman, first trip with mom in tow.
2021 LB Terrence Cooks (6'2″ 210, Pearland, TX) – OU Offer *Possibly
2022 QB Alex Orji (6'2″ 205, Dallas, TX) – OU Offer
2022 LB Justin Medlock (6'1″ 200, Manvel, TX) – OU Offer
2021 RB Brandon Campbell (5'10" 180, Rosenburg, TX) *Possibly
2021 OL Savion Byrd (6'5″ 265, Duncanville, TX) – OU Offer
2022 WR Christian Driver (6'1″ 180, Argyle, TX) – OU Offer
2022 WR Armani Winfield (6'2″ 180, Lewisville, TX) – OU Offer
2022 QB Quinn Ewers (6'3″ 195, Southlake, TX)
2022 WR Jordan Hudson (6'1″ 180, Garland, TX)
2022 RB Emeka Megwa (6'0″ 200, Ft Worth, TX) – OU Offer
---
For multiple daily posts, Insider Notes, Our TFB 'Pick Em' Contest, More Sourced Practice Notes, member chats with TFB staff, James Hale's Notebooks, TFB Sessions (5-minute audio talks) and much more, please check the Donor Board!