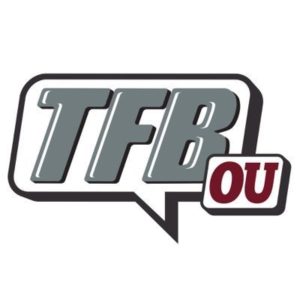 Open Post | Weekend, January 21st – 23rd
Posted on: January 21, 2022
Weekend Visitors | '22 and '23
– Charlie S – Posted on: January 20, 2022
While Portal Madness rages, the Sooners will turn their attention towards trying to finish up the '22 class in style.
As we have reported over the last month or so, we expect the following players to be in Norman this weekend:
Official Visitors:
'22 DT Ahmad Moten – 6'3 290 out of Fort Lauderdale, FL
'22 EDGE R Mason Thomas – 6'2 215 out of Fort Lauderdale, FL
'22 DL Gracen Halton – 6'3 270 out of San Diego, CA
'22 DB Gentry Williams – 6'0 170 out of Tulsa, OK
'22 DB Jamarrien Burt – 6'1 175 out of Ocala, FL
With Moten and Thomas you are looking to impress them enough to maintain a perceived lead prior to their potential visits to Miami next week. Sounds like Moten is locked into visiting Miami following the OU visit and Thomas is a guy who gave me the impression that he would be interested in visiting Miami, but that has not been solidified yet.
With Halton, I think you are feeling him out in terms of where he fits and if there is a match at OU and deciding if you are going to push there. As you know, he is very excited to be visiting.
With Gentry, I think you're trying to make a closing statement with he and his family with the hopes of him shutting things down prior to the February 3rd signing day.
As I first mentioned back on January 10th, the Sooners were expecting to host '22 DB Jamarrien Burt (6'1 175) out of Ocala, FL.
'Burt let me know that he is planning on visiting Norman for the January 21st weekend. He also let me know that OU is recruiting him as a safety/nickel and that he has been speaking with OU Safety Coach Brandon Hall for some time now. So there is a familiarity there.'
A couple '23 visitors of note:
As Darius was first to report back on January 12th,'23 LB Anthony Hill (6'2 225) out of Denton, TX will be making his way to Norman.
This is a new one for us, as James has also heard that OU will be getting a visit from '23 DL David Hicks (6'4 250) out of Allen, TX. Some heavy hitters on the OU staff made their way down to see Hicks this week as Todd Bates, Brent Venables, and Jay Valai all made the trip.
I am checking with a few in-state kids to confirm if they will be heading to campus this weekend as well.
Will update as we get additional names.
---
TFB Randoms | Trelon Smith & Caleb Williams
– Charlie S – Posted on: January 20, 2022
Couple quick randoms for you…
***As you know, we mentioned that Arkansas running back Trelon Smith was a guy to keep an eye on in regard to the Sooners having interest should he enter the portal. As you know, he officially put his name in the portal yesterday and I was able to catch up with him following his entry. Smith let me know that he has not heard from OU at this point (this morning). That does not mean OU will not pursue, but nothing has been initiated yet. Will continue to keep an eye on him.
***On the Caleb Williams front, as you know, James was tracking a meeting between the OU and Williams camp which was supposed to take place yesterday. James was told that no meeting took place, but there was communication between OU and the Williams. Sounds like the discussion was just a formality of what Super K reported HERE which was basically saying that OU was not waiting around and they were all in on pursuing other options, the latest being Jaxson Dart. By all appearances, you all are one step closer to being done with the QB situation with Dillon Gabriel on board and OU solely focused on their pursuit of Dart.
---
Mining the Portal | Returns to This Point
– Charlie S – Posted on: January 18, 2022
It's been a busy portal season for the Sooners.
The following players have been added/subtracted to/from the program since the end of the regular season which coincided with the former head coach fleeing to California in the middle of the night following Bedlam.
To this point, Brent Venables and his staff have brought in 9 new faces from the portal.
They have lost 8 players to the portal, 4 of which are currently committed/enrolled to new programs.
Sooners additions from the portal:
TE – Daniel ParkerJr – (Missouri) – 1 year of eligibility
OL – Mckade Mettauer – (Cal) – 2 years of eligibility
QB – Dillon Gabriel – (UCF) – 3 years of eligibility
DL – Jonah Laulu – (Hawaii) – 2 years of eligibility
LB – T.D. Roof – (Appalachian State) – 1 year of eligibility
DL – Jeffrey Johnson – (Tulane) – 1 year of eligibility
DB – CJ Coldon – (Wyoming) – 2 years of eligibility
DB – Kani Walker – (Louisville) – 4 years of eligibility
DB – Trey Morrison – (UNC) – 1 year of eligibility
Players in the portal currently being pursued by OU: (That we are aware of)
QB – Jaxson Dart – (USC)
TE – Mike Trigg – (USC)
DT – Mekhi Wingo – (Missouri) – Transferred to LSU
OL – Tyler Guyton – (TCU)
Sooners players who are in the portal or have landed elsewhere:
QB – Caleb Williams – ?
WR – Jadon Haselwood – (Arkansas)
WR – Mario Williams – (USC)
DB – Latrell McCutchin – (USC)
QB- Spencer Rattler – (South Carolina)
TE – Austin Stogner – (South Carolina)
S – Pat Fields – (Stanford)
LB – Jamal Morris – (Houston)
Some quick takeaways:
***Rattler was always going to go following this season. No harm there.
***Mario Williams leaving probably stings the most when all is said and done.
***Caleb Williams leaving hurts more perception-wise than production-wise (right now) particularly if OU can close on Dart. If OU heads to the '22 season with Dart and Gabriel in the fold, they actually upgraded the QB 'room' for next year, IMO, while perhaps not having quite as high of a ceiling had Caleb Williams stayed.
***McKade Mettauer is a huge get for OU. Really a big need filled as OU lost Hayes and Robinson and their main backup, Swenson, to the NFL/end of eligibility. Mettauer is an experienced starter at Cal and he plays very physically which is something that has sorely been missing along the offensive line for OU in recent years, He is an upgrade, IMO, over Hayes and Robinson. Will compete immediately for a starting spot.
***Kani Walker is the guy I am paying close attention to from the 3 DBs in regard to having a high ceiling and replacing the potential of McCutchin. That's all McCutchin was at this point (potential) as he did not have a great year when given the opportunity. There are layers to that and I do believe McCutchin could be a very good corner, but I also believe Walker is a guy who can make the loss of McCutchin forgotten about down the line. Coldon and Morrison obviously impress the staff in Norman and I expect them both to contribute next season.
***The guy who will have the most impact for the Sooners next year, in my opinion, is Jeffery Johnson. Yes, obviously Gabriel and Dart (if he comes) will have the most obvious impact, but heading into the season, we do not know which one would start if Dart does choose OU. If Dart doesn't choose OU, you know Gabriel is the QB and you go from there. But Johnson was an incredibly important addition as he is a proven interior defensive lineman who is added to a room that is very blah aside from Jalen Redmond at this time. Johnson had 29 tackles last year. Isaiah Coe, Josh Ellison, Jordan Kelley, Kelvin Gilliam, and Kori Roberson…had 27 tackles…combined. (Stats per PFF). Winfrey had 12 tackles and Redmond had 11. On the surface, and statistically, Jeffrey Johnson brings something to Norman that hasn't been there for years…a true interior presence.
***The addition of Daniel Parker will likely fly under the radar, but I think he will have a really nice impact for OU next year, much in the same vein as a guy like Jeremiah Hall. Parker has not been a pass catcher, and whether he will get some targets in Norman or not is yet to be seen, but he is a very, very good blocker and that is something we really can't say OU had at the 'True TE' position with Stogner. Brayden Willis really improved his blocking as the year went on and he will be back along with talented freshmen Jason Llewellyn (who I think plays immediately) and Kaden Helms. If you get lucky and add Trigg to this room, it's pretty loaded after looking quite pedestrian.
***Jonah Laulu is another big pickup for OU as he comes in at another position of need (DE) with the loss of Isaiah Thomas. OU has some talent at DE and at his size, Laulu could actually play the same role Isaiah Thomas did by bouncing inside and out. Really think this one has flown under the radar a bit as he was pursued by some big time programs. Love this addition.
---
So the portal season is not over, but as things stand right now, I feel like OU came out of the portal better than they were going into it.
I am not diminishing the potential loss of Caleb Williams. He is the QB with the highest ceiling. But where the program is at, and the fact that they will be installing brand new offensive and defensive schemes under a new staff, I have very few worries about the offense not being 'better' (more consistent may be a better choice) than it has been over the last two years no matter which of the 3 QBs mentioned above is at the helm.
I think OU helped themselves a lot defensively and the pick-up of the offensive pieces they made are all solid at the very least and as I said, I believe Mettauer is an upgrade.
Still, a few big targets left and if the Sooners can pull in 2 or 3 of Dart/Trigg/Wingo, I think it will clearly be a big win for the portal season for OU.
The spring will bring a whole new round and if OU does not pull a RB or WR in the next few days, those are spots I would be paying attention to down the line in particular.
---
Quick Hitter | '22 DL Kevonte Henry
– Charlie S – Posted on: January 19, 2022
K spoke to a couple sources following '22 EDGE Kevonte Henry's official visit last weekend.
Henry (6'4 225) out of Lawndale, CA really enjoyed the trip to Norman and the Sooners are squarely in the mix.
Source told K that OU is in 'As good of a place as they want to be' in regard to where they stand in this recruitment.
K was also led to believe that it is more likely that Henry winds up as an Oklahoma Sooner as opposed to a Michigan Wolverine (the program he is currently committed to) or a USC Trojan.
Henry is currently out at the Poly Bowl in Hawaii and will likely make his final decision just prior to the February signing day.
---
Sourced | Team | First Workout
– Super K – Posted on: January 19, 2022
A few notes here on yesterday's workout with Schmitty. This was the fella's first workout with the big dog.
***The team didn't actually lift yesterday. Yesterday's workout was just some stretching and running.
***The team will be doing testing this week – 40s, verts, etc. So don't expect things to get too intense till next week.
***It does sound like the aerobics portion of OU football is over though. I'm told it was a noticeable difference from Wiley's workouts as Wiley and his staff were very vocal about constantly encouraging the guys.
***Schmitty's staff is more…you either ran through the line or you didn't and if you didn't, walk your tail back and do it again. You don't need me to clap and say "let's finish" for you to know to do your job.
***One person described it as a way to get the guys to find motivation internally without having to constantly hear coaches in their ear telling them to do what they should know they're supposed to do.
---
Quick Hitter | Josh Conerly Visit Note
– Charlie S – Posted on: January 19, 2022
K will have more down the line on Sooners 5 star offensive line target Josh Conerly down the line, but I do want to pass along an interesting note that K told me about that he picked up from Conerly's father.
This should be music to your ears.
One of the things that the Conerly's were most impressed with throughout their meetings was the NIL presentation that OU put on.
Hopefully, K will pull some details on that topic, but that is a good sign from one of the top recruits in the country that they were impressed with Oklahoma's NIL presentation.