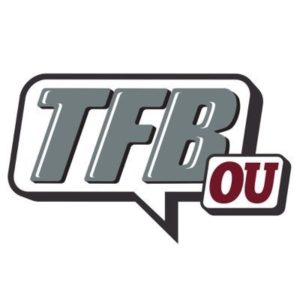 Open Post | Weekend, January 18th – 20th
Posted on: January 18, 2019
Sooners Spring Game & Junior Days
– Charlie S
Earlier this week, OU sent out a 'Save the Date' announcement for their spring football game…
Last year the spring game turned out to be a recruiting bonanza for the Sooners as they secured a bunch of commitments both during the weekend and shortly thereafter…
April 13 – WR Arjei Henderson decommitted) WR Theo Wease , S Jamal Morris, 2020 RB Jaylan Knighton
April 14 – DT Derek Green
April 15 – S Jarrian Jones flipped to Miss State
April 15 – Grad transfer DL Jay Hayes (flipped to UGA)
April 17 – LB Jonathan Perkins
April 17 – OG E.J. Ndoma-Ogar
May 26 – DE Marcus Hicks
June 2 – DE/OLB Joseph Wete
July 18 – DB Jaden Davis
Dec. 18 – WR Jadon Haselwood
You also had Chris Steele who silently committed to OU that weekend so it would not be an understatement to say that the Spring Game is a massive event for the Sooners and we expect this year to be no different.
Each of the players above attended the 2018 spring game either on an official visit or an unofficial visit. The Sooners had so much momentum on the recruiting trail they actually were turning commitments away (Not saying 'no' to the kids, just holding them off at that time).
It will be interesting to see if Lincoln Riley goes all in on the Spring Game again this year and use it as his biggest recruiting event of the year. Based on last years success…I would bet he does.
Junior Days:
As we previously noted, the first junior day will be held on January 26th. We will have a full list of visitors as the date approaches but some names who have told us they will be in attendance are guys such as:
2020 OU RD Commit Jase McClellan, 2020 OL Offer Seth McLaughlin, 2020 RB Offer Kendal Milton, 2020 DL Offer Vernon Broughton (maybe), 2020 WR DJ Graham, 2020 RB Offer Zach Evans.
Again, those are just a few of the names we expect to be in Norman for the January 26th Junior Day.
The second junior day appears to be on February 23rd. I came across that date after speaking with 2020 OT Turner Corcoran who let me know that is when he plans on making his next trip back to Norman. I have also received confirmation on that date from a few other recruits who plan on being in attendance such as 2020 ATH Mikey Henderson and 2020 DL Alec Bryant who is not sure if he will make the January date or the February date.
Again, as the events get closer, we will have a more complete list of attendees.
---
A Look at What OU is Getting With Jalen Hurts | Statistically Speaking
– Charlie S
Earlier this week, former Alabama quarterback Jalen Hurts announced his intentions to transfer to The University of Oklahoma.
Hurts lost his starting job at the beginning of the 2018 football season to sophomore, and Heisman Trophy runner up, Tua Tagovailoa.
In 2017, Hurts guided the Crimson Tide through the regular season and the college football playoffs and started the National Championship game against Georgia but was replaced by Tagovailoa in that game (which Bama went on to win).
Hurts compiled a 26-2 record as the Crimson Tide's starting quarterback.
While his record is quite gaudy, his statistics are pretty modest.
Lincoln Riley will have some different tools to work with in Hurts and he will most likely make adjustments to his offensive scheme in order to put Hurts best skills on display.
You would also expect Riley to have an impact on Hurts' proficiency as a passer, how much impact will be what we will all be looking for.
Is a 3,500 yard passing season for the Sooners in 2019 possible? Is it probable?
Here are Jalens career stats…
Passing
Year School Class Pos G Cmp Att Pct Yds Y/A AY/A TD Int Rate
*2016 Alabama FR QB 15 240 382 62.8 2780 7.3 7.4 23 9 139.1
*2017 Alabama SO QB 14 154 255 60.4 2081 8.2 9.3 17 1 150.2
*2018 Alabama JR QB 13 51 70 72.9 765 10.9 11.9 8 2 196.7
Career Alabama 445 707 62.9 5626 8.0 8.6 48 12 148.8

One thing to keep in mind about that 2018 season. While his stats mostly came from 'garbage time' in games where Bama was well ahead, I look at the yards/averaged and the yards/attempt.
Both of those numbers were significantly higher than his first two years. Was that because of the more wide open system Alabama installed to suit Tua, or was it just the fact that most of his action was in games which were already decided.
I would tend to think the numbers were a combination of both and since I have yet to really go back and watch much of his film, the one game I did see was the SEC championship game where Hurts came in and saved the Tide's bacon by engineering a comeback win with his passing skills more than his running ability.
One other benefit of Hurts heading to Norman, in my opinion, is that by all accounts he is a tremendous leader and he will provide Tanner Mordecai and Spencer Rattler with a good example of how to go about your business as a quarterback at a blue blood program.
---
Jaylan Knighton Decommits
– Charlie S
The Sooners have lost a piece of the 2020 class as running back Jaylan Knighton out of Deerfield Beach, FL. has decommitted.
The Sooners are in good shape with a number of other backs and still have Jase McClellan (Aledo Tx) still committed.
Zach Evans and Kendall Milton are two elite backs who are both very high on OU as is Seth McGowan.
We will get in touch with Jaylan to get some additional thoughts.
I will add that the south Florida kids were heavily recruited by both Mike Stoops and Kerry Cooks. I have previously mentioned how much they actually loved Mike, even the offensive guys.
While I wouldn't close the door on Knighton, I would look at the other backs I mentioned as all being serious candidates. Again, we will have more on that.
---
2020 OL Name To Know | Roger Rosengarten
– Charlie S
Sooners Offensive Line coach Bill Bedenbaugh made his way out to Colorado earlier this week. Reece Atteberry out of Aurora, CO (Eaglecrest) holds an OU offer and while he got some facetime with Coach B, a new name to know in the 2020 class also got a visit from him.
Roger Rosengarten is a 6'7″ 275 lb junior from Littleton, CO (Valor Christian) and he let me know that Bedenbaugh took some time to stop by and check on him. Rosengarten currently holds offers from UCLA, Utah, and Nebraska, among others, and the Sooners have shown increased interest in the big man.
In my brief conversation with him, Rosengarten expressed a lot of interest in the Sooners and he said "It was really great seeing Coach Bedenbaugh and things are picking up between me and OU. I am going to try to get myself out to Norman here in the near future."
While no offer has been extended to this point, after watching his film, I believe OU will make a move here sooner rather than later and I wouldn't be surprised to see an offer come out during the spring evaluation period. The athletic big guy plays both offensive and defensive tackle for his high school and he shows good athleticism and a bit of that nasty streak that Bedenbaugh loves in his guys. When you take into account the fact that you can't coach a kid to get to 6'7″ with great length, you come to the conclusion that Rosengarten is pretty much a Bedenbaugh prototype.
We will have much more on all the position groupings in 2020 as things wrap up in the 2019 cycle but I just wanted to give you all a new name to keep an eye on.
---
Quick-Hitters | Team Note, Knighton & Vimahi
– Super K
***I am told that Robert Barnes hamstring issue was serious enough that he will miss spring ball. Expect him back sometime in the summer. I plan on doing a write up about the safety position as it's gotten quite thin despite the number of bodies on the roster.
***After his decommitment, I checked with Jaylan Knighton and his father. Both told me that they plan on taking an official visit to Oklahoma this spring.
I can tell you that when I spoke to Knighton's father at the Buford game in the fall, he did say that Jaylan is the one who pushed to commit to Oklahoma. Jaylan's father said that it seemed a bit early to commit.
So, this one doesn't come as a huge surprise.
I'll also say that when I saw Jaylan at the Under Future 50 event in Orlando a couple weeks ago, he was throwing up the horns down sign like it was built into his DNA.
***Call me crazy, but I think the Sooners moved ahead of USC for 2019 OT Enokk Vimahi. At least, that's the vibe I'm getting from people around Vimahi.
---
Sourced | Grinch's Defense & Recruiting
– Super K
A couple things I found interesting that I heard today in a conversation with a source.
***Grinch's defense is very simple. It's an attacking style defense but its apparently something where the most important thing is recruiting and culture. It's not particularly complicated to teach or learn. Hence the hire of guys who don't have a ton of experience.
It'll be interesting to see if this kind of Air-Raid philosophy defense can do well in a league like the Big 12 where they're going to find your weakness.
If the recruiting is good, then there won't be one.
***Also sounds as though under Grinch the Sooners are going to be targeting bigger guys across the board. One source said secondary is going to look like trees.
Have to imagine Ohio State had an impact on Grinch in that regard.
I will add though that Kerry Cooks wanted the same thing but found it difficult for those guys to cover in the Big 12.
But, the old defense was obviously more conservative. If you're going to force guys to get the ball out of their hand then you'll want guys who can stay square from a press position or a guy who can get downhill in a hurry from an off coverage position and smack you.