Open Post | Weekend, January 11th – 13th
Posted on: January 11, 2019
Defensive Coaches Interviews
By: Super K
****As we first reported Tuesday, UCLA OLB coach, Roy Manning interviewed with the Sooners Wednesday.
***Per sources, the Sooners were expected to interview at least two additional candidates. That will bring the total number of interviews this week to three.
***In addition to Manning, Missouri OLB coach, Brian Odom was expected in Norman this week to interview with the Sooners. To this point, that has not occured.
***As for the third candidate, it was a defensive backs candidate. As far as we know, this was the first defensive backs candidate to be interviewed. I happen to know someone from the candidate's camp and was asked not to report the name of said candidate. We will respect those wishes. I will tell you that it is an elite coach. Please do not request any hints or otherwise in the comments section. We must respect our source's wishes. Once I'm given the go ahead from the source, I'll pass the name along. The important information to take away from this report is Riley interviewed a defensive backs coach and this first candidate is, as I said, elite…very elite.
***I previously noted that I fully expect Riley to hire an additional defensive backs coach to take the cornerbacks while Grinch takes the safeties. I continue to hear that that will be the case. So again, the breakdown will be two back end coaches and three front end coaches.
***Related to Manning and Odom above, I am still unable to confirm whether they are both interviewing for a single position or if both are candidates for separate positions. My gut tells me it's one or the other but that's conjecture on my part.
***We are still waiting to see if this is just a first round of interviews that will be followed by additional interviews next week or if these are the only three candidates that will be interviewed. I would imagine there will be additional interviews next week but I am not able to confirm that at this point.
***Finally, if it wasn't clear before in our many previous reports, we are able to report definitively via our sources that Kerry Cooks, Bob Diaco and obviously Tim Kish will not return to Oklahoma next year. The question mark at this point is whether or not McNeil will remain on the field or take an off-the-field position.
---
Offensive Line Recruiting Update
– Super K
As the February signing day approaches, offensive linemen will be the priority for the Sooners.
***First, expect Oklahoma to keep their eye closely on the grad transfer market. I am told that they are already in touch with Alabama graduate transfer Richie Petitbon.
***Also, I won't be surprised if they continue to try to turn Butler grad transfer, Tommy Kennedy back in their direction. With both their OTs declaring, OU is now going to have an even better pitch.
***As we've previously reported, 2019 OT, Danielson Ike (Rockhurst, MO) will take his official visit this weekend. Very real possibility that Ike will pull the trigger this weekend.
***Also, as you all know, OU will host 2019 OT Enokk Vimahi (Kahuku, HI) this weekend. My source on the USC side tells me that Vimahi gave USC a bit of a silent commitment when he was on his visit to USC before the dead period. However, with Kingsbury leaving for Arizona and Vimahi coming out and clearly saying he's still open, USC may not have as tight of a grip on this one as it once appeared.
***Outside of the graduate transfer, I have yet to hear many new names but again, offensive line will be the highest priority for the next three to four weeks. In fact, it's not outside the realm of possibility that the Sooners don't sign another defensive prospect in 2019.
---
Quick-Hitters | Candidates & Quarterbacks
– Super K
***The defensive backs candidate made it to Norman Wednesday evening. He was scheduled to interview on Friday. However, with Odom's interview presumably being canceled, or temporarily put off, his interview was fast-tracked to Thursday
***I know many of you have asked about any interest OU may have in Texas State co-DC and linebackers coach, Zac Spavital. James spoke directly with someone from Spavital's camp so he may have more for you in his write-up. But on my end, I've heard that, at this point, Spavital is simply a name that has been mentioned by a current staff member to Lincoln. However, as of yet I'm told Lincoln hasn't made a serious push to bring Spavital in for a full interview.
That may be because things are still undecided regarding whether Ruffin will remain on the field or take an off-the-field position or it could be because Lincoln has other candidates in mind. My sense is that both reasons apply.
***As you know by now, Kyler Murray is entering the NFL draft and Jalen Hurts has entered the NCAA transfer portal. You will recall that earlier in the week, in regards to Jalen Hurts, we noted the following…
***First, I'm told that Riley watched a few transfer quarterbacks and ultimately it seems Fields wasn't necessarily head and shoulders above everyone else.
***I'm told part of the consideration was the fact that Riley absolutely loves and believes in Spencer Rattler. So, bringing in a guy who would have multiple years of eligibility didn't make much sense unless he saw in Fields something he didn't see in the others.
***I confirmed from multiple sources, including one close to Fields, that the Sooners did not offer Fields.
***I was told that if the Sooners do pursue a transfer quarterback it is likely to be Alabama's Jalen Hurts. Riley, for good reason, believes he can get the most out of Hurts. Hurts would also allow young Spencer Rattler a chance to grow over the course of Rattler's true freshman year.
***James Hale spoke with a source who has informed him that the Sooners have indeed been in touch with Hurts' camp. James also added that it shouldn't surprise anyone to see Hurts visit OU in the near future.
We are working to see if and when Hurts may be on campus for a visit. Because Hurts has graduated, I wouldn't be surprised to see this one go quickly. While there are some schools out of the area being mentioned as possible destinations for Hurts, I'd keep my eye on TCU.
---
2020 Notes | New Wide Receiver Offer & Junior Day
– Charlie S
Earlier this week, the Sooners extended an offer to 2020 wide receiver LV Bunkley-Shelton out of Gardena, CA (Juniper Serra HS).
Shortly after he tweeted out his offer, I caught up with him to get some quick thoughts about the Sooners.
Through text, LV said "This is a HUGE offer for me. OU is kind of a big deal to me."
So, that caught my eye and I asked him who sent the offer and why was the OU offer such a big deal to him. LV replied by saying "Coach Simmons hooked me up, and I'm a fan of OU, not as huge of a fan as Dari is, but one of my favorite football players is Kenny Stills. I play WR cause of him and I dyed my hawk blonde like him! I love his game!"
Took me a second to figure out who 'Dari' was, but then I put it together and realized he was talking about OU Commit Darion Green-Warren. So I asked him if he and Darion were close and if he was thinking about heading to Norman for a visit, he said. "Close??? He's my cousin! We gotta come out, that's mando (mandatory) lol"
He went on to say "Darion and I, we grew up playing youth ball together! He's number 2 and I'm number 6!"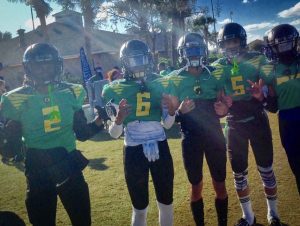 It appears safe to say that the Sooners enter into the race for his services in a good spot. I will have a full spotlight piece on LV in the near future.
---
Junior Day:
As I have mentioned in threads previously, the Sooners will host their first Junior Day on January 26th. We will be working on a list over the next couple of weeks for you all as we shift from covering the 2019 class to covering the 2020 class.
There will be a lot of big names headed to Norman for the initial junior day and we will have you covered on all things you will want to keep an eye on.
---
Additional Updates | Manning
– Super K
***On Roy Manning, I've had people ask about this tweet he sent out yesterday…
I asked a source via text whether that was meant to indicate he'd be staying at UCLA and the response I got back was a simple, "It doesn't mean that".
So, until I hear something otherwise, my latest information remains what I reported yesterday – that the interview went very well and both parties are extremely interested in one another.
---
Brian Odom | Update
– Super K
With Football Scoop's report the other day, we've done some additional checking on the Brian Odom situation.
***Again, I spoke with someone at Football Scoop and was told directly that they were unable to confirm whether an offer by OU was made.
***Every source we've spoken to has been adamant that an offer to Odom was never made. And, again, he was scheduled to interview with OU on Thursday.
***Now, interestingly, we are told that Riley spoke with Odom after Football Scoop report and Grinch continues to communicate with Odom.
***Much of what you are currently hearing about Odom is coming from Odom/Missouri camp and obviously they want to make sure that if an offer from OU does not come, it doesn't jeopardize his standing.