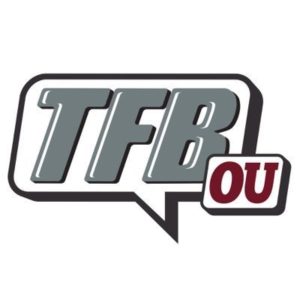 Open Post | Weekend, February 7th – 9th
Posted on: February 7, 2020
TFB Talking Point | Comparing Classes | 2019 vs 2020
– Charlie S
In the signing day thread, our member @FirstGenSooner said "Here's to recruiting trending back in the right direction for pretty much every position expect OL in 2021′ and while he went on to clarify (rightfully so) that he was talking more about 'momentum' and that there were 6-7 non-playoff teams in front of Oklahoma in most of the services, that prompted me to do my own comparison between last years class and this year's class.
So, with that said, I am going to take out the momentum of the recruiting cycles and focus on comparing the two classes head to head.
Just having some fun with it:
QB: 2019 Spencer Rattler – 2020 Chandler Morris – 2019 by technical knockout
RB: 2019 Marcu Major, Rhamondre Stevenson – 2020 Seth McGowan – 2019 with the split decision
WR: 2019 Haselwood, Wease, Bridges – 2020 Mims, West, Darby – 2019 by knockout
TE/HB: 2019 Stogner – 2020 Conyers, Henderson – 2020 with the split decision
OL: 2019 Wilkins, Ndoma-Ogar, Alexander, Felix – 2020 Raym, Anderson, Parks, Harrison, Nelson – 2020 Unanimous Decision
DL: 2019 Stripling, Stokes, Roberson, Hicks, Green – 2020 Winfrey, Grimes?, Ellison, Arinze – DRAW? Maybe split decision for 2019 if Grimes ends up at RUSH for the long haul?
RUSH/OLB: 2019: Ugwoegbu, Wete – 2020 Walker, Grimes? – 2019 Unanimous decision (Unless Grimes ends up there, then split decision/maybe draw?)
ILB: 2019 Perkins – 2020 Whitter – 2020 Unanimous decision – as long as Whitter lasts a full year.
DB: 2019 Criddell, Washington, Davis, Morris, DeArman – 2020 Washington, Eaton, Dennis, Harrington*, Graham – 2020 Split decision – So many questions here in both classes but I like the 2020 pieces a lot.
That's my scorecard. I have it as four rounds for 2019 and four rounds for 2020 with one draw.
Odd how that worked out.
2019 had more decisive wins though with routs at QB and WR while 2020 wins big with the OL.
How do you see the classes when compared with each other?
---
Quick Hitter | 2021 QB Caleb Williams
– Charlie S
Just a quick note here on 2021 QB Caleb Williams since a couple of you have asked over the recent days…
*** Since Brock Vandagriff decommitted from Oklahoma, much of the focus at quarterback for the 2021 class has been on Caleb Williams (6'2″ 209) out of Washington DC.
*** As I have mentioned previously, Williams plans on getting back out to Norman at some point in the near future.
*** Just checked in with him again a few minutes ago and nothing has changed. He still plans on getting out to Norman this spring, but there is no date set at this point.
---
Thursday Notebook | Talking Linebackers
– James Hale
*** With spring practice set to begin in early March, the team continues the grind in the off-season with the goal of getting seven weeks of work in.
*** With spring break running from the 14th through the 22nd of March this year you can bet that OU will start spring practice the week before, around the 9th. OU typically likes to get three to four practices in before spring break starts and their seven weeks of offseason work should be completed by the first week in March.
*** OU generally takes the final day or two of off-season workouts for testing and we will see just how much bigger and stronger the Sooners were able to get through the seven-week period.
*** At linebacker, the Sooners believe that in the Speed D, 'speed' is the main asset and they want players that can run and cover but who are also smart enough to fill run gaps and attack the run when need to. So, speed over bulk and weight, and just how big OU is at inside linebacker will be proven out when OU starts spring ball.
*** Senior Caleb Kelly (6'3, 225) at one point was up to 238 pounds and I thought he looked fantastic. He was looking good in practice and then tore his ACL in spring ball forcing him into rehab. Through that process, it was decided that Kelly was a little too big and thus worked off about 15 points by the time he was back on the field for four games starting with the TCU game on November 23rd.
*** Kelly is now up to 225 and you can figure he will be at 227 or 228 for spring ball, but 230 is about as heavy as he is going to play at in 2020.
*** Junior DeShaun White (6'0, 228) played under 230 all year and is not looking to get much bigger going into 2020.
*** Sophomore Brian Asamoah (6'1 224) worked his butt off during his redshirt year to get over 220 pounds and at 224 he may be at peak weight at least for 220.
*** Junior Robert Barnes decided to redshirt at midseason and has been working on his body ever since. He currently is at 215 pounds and has put on 12 pounds since he shut it down during the season. The feeling is that Barnes can get up to 220 with the most he can get up to is about 225 while at OU.
*** Freshman Shane Whitter (6'0, 222) of Burlington (Walter M. Williams), North Carolina came to OU ready to go. Invariably these guys always turn out to be a little smaller once they get to OU and get to running in the off-season program but you can bet that he will be around 220 which is becoming apparent in regards to where Brian Odom wants most of his linebackers at OU.
*** OU has also decided to consider moving sophomore David Ugwoegbu (6'4, 231) from rush end to inside backer. Ugwoegbu has never played inside before so this position will be totally foreign to him and how quickly he can pick up the fits and technique needed will be key on how much he will be counted up next year. He played quite a bit this past season at Rush End and alternated with Nik Bonnito (6'3, 231) when senior Jon Michael-Terry (6'3, 230) went down with an ACL injury. Ugwoebu had an outstanding freshman year playing in all 14 games finishing with 19-tackles, four tackles for loss, one sack, and one pass breakup.
*** "For our defense to work as well as we need it to guys have to be able to run," said Coach Odom during prep for the Preach Bowl. "Where we need our guys at is for them to be as big and strong as we can get them where they are still running their ultimate speed. If a player is a natural 245 and can run well then great he can stay at 245 and play there, but if a guy is 240 and is sluggish and not running well then we will try to get him down to a weight where he can run and still play in our system."
*** "I know the question always comes up if you are keeping guys weight down to get them to their best speed can they defend the run. The answer is yes, because in our system if they play their run fits and run our defense the way it's supposed to be run then we will be quick off the ball hit those gaps and stop the run. Yes, we will play some big, physical teams especially in the postseason but don't mistake us not being tough just because we are keeping a few pounds off to get guys to their maximum speed. Our guys will always be plenty tough and they will be able to handle those big, physical teams."
*** For the most part, OU's front seven played well last year but LSU's talented offensive front did handle OU's front group pretty well in the Peach Bowl. Now, OU's best linebacker Kenneth Murray is taking his talents to the NFL where he is projected as a first-round draft choice leaving OU still with some experience but nobody with his size and speed. Murray was s freak and he is what OU is looking for in recruiting and he came to OU around 218 and built his way into a 243 machine still running 4.5 forties.
*** White is the Sooners most productive returning backer ranking fourth on the team in tackles with 52 along with 3.5 tackles for loss, one sack, and a fumble recovery. White is expected to move to the MIKE where Murray flourished all last year. In the Speed D defense, I'm not sure there's a real difference in the MIKE and the WILL because they looked pretty balanced up to me most of the time.
*** I love Kelly but I'm still not convinced that he is an inside backer. When he was cleared to play Coach Odom did not hesitate to get him on the field and he actually got more reps than White at the WILL during the four games that he played. Kelly looked pretty comfortable when he was in there as he was even helping Murray call signals. However, he was not very productive in those four games finishing with only seven tackles, three in the Big 12 Championship win over Baylor. I still think that Kelly is a natural outside backer and a good pass rusher off the edge and I wonder with junior Ronnie Perkins (6'3, 251) still expected to miss the first five games next season maybe Kelly will line up more as an outside rusher than we think right now.
*** Whether that becomes more of a factor may come down to just how good Barnes is or how quick Asamoah can continue to come on. At times at Southlake Carroll High, his junior and senior year the coaches there would dial Barnes down from free safety and play him at inside backer against big, physical prep teams they would face. So, playing inside is not foreign to Barnes and he has looked good in pass coverage so far in 7v7 drills. You can bet that Coach Odom is working hard this offseason to get Barnes up to speed on the run fits because Barnes has played pretty well in the box at times at OU and looks pretty instinctive when in the box.
*** I thought Asamoah played well when he got a chance, but once Kelly got back all of his raps were taken on special teams. Still, Asamoah played in 13 games a year ago and finished with 23 tackles making five on special teams where he was a key player for OU all year. Asamoah also had 3.5 tackles for loss and two sacks that covered 19-yards in losses. With OU getting blown out in the Peach Bowl Asamoah came off the bench and flashed finishing with two tackles in limited time on the field.
*** We don't know much about Whitter yet but he is going to get a ton of reps this spring and OU will find out if he's ready for primetime or not.
*** The good thing about this unit is that they have players back that have played quite a bit of football and played pretty well. However, they don't look like they have a Murray even though Kelly has a big rep. Can Ugwoegbu, Barnes or Asamoah become a great player at inside backer at OU? White struggled for the first half of the season a year ago before finding his game and finishing pretty strong. Can he step up and play up to his press clippings that he garnered while at North Richland Hills High School.
*** While a number of players return at linebacker for the Sooners they are optimistic about a couple of newcomers joining the group. It will be interesting this spring to see if any of them can become an NFL talent this spring or who steps up to be the next great linebacker at OU.
The Departed
*** Two former Sooner linebackers have apparently found new teams to play for. Junior Levi Draper (6'1, 234) of Collinsville visited Arkansas this past weekend and liked Coach Sam Pittman's program so much that when he got an offer he jumped on it. Fayetteville is about an hour's drive from Collinsville and they had a big need for linebackers in their program. The irony here is that Draper could not even sniff playing time under Brian Odom at OU but he is likely to be a starter for his brother who is the Hawgs new defensive coordinator, Barry Odom.
*** I'm hearing athletic junior backer Ryan Jones (6'2, 231) will sign with South Carolina.
---
TFB Talking Point | Recruiting Budgets
– Charlie S
Saw the tweet below in one of the previous threads and found it pretty interesting.
The college arms race is exploding in regards to recruiting budgets (some would believe both on the books and off the books as well, but that's an entirely different story) and it only looks to be expanding.
People always wonder aloud why the SEC consistently brings in such highly-rated classes by the powers that be, and for me, it comes back to one simple fact…'It's all about the Benjamin's'.
What is not shown in the tweet above is the fact that OU, one of the top 'blue blood' programs in the history of college football and owner of the Big 12 Conference, devotes less than the 'average' funds of the entire South Eastern Conference.
In other words, according to the website "Football Scoop" the entire SEC averages spending $1.3 million on football recruiting (2018) while OU spent $1.28 million this past year. The SEC includes football powerhouses along with programs like Vanderbilt, Mississippi State, and Kentucky.
This isn't about support staffing (which, again, is an entirely different story which I feel OU needs to address) the monies for a recruiting budget are for "transportation, lodging, and meals for prospective student-athletes and institutional personnel on official and unofficial visits" according to the NCAA.
The budgets represent a stark difference on how schools value the on campus experience. I will be very interested in seeing the OU 2020 budget considering the very visible differences they have begun to implement. OU looks to have turned up the volume for visitors in regards to the new photo shoots (full pads and studio photos) and things like the trip to the 'Peake' last year.
The recruiting budget arms race is exploding. It will be very interesting to see how, and who, keep up, steps up, or falls off.
---
For multiple daily posts, Insider Notes, Our TFB 'Pick Em' Contest, More Sourced Practice Notes, member chats with TFB staff, James Hale's Notebooks, TFB Sessions (5-minute audio talks) and much more, please check the Donor Board!