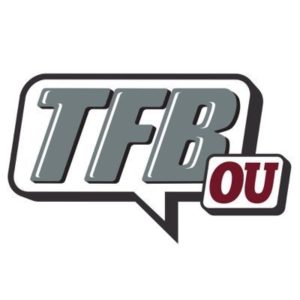 Open Post | Weekend, February 14th – 16th
Posted on: February 14, 2020
Quick-Hitters | Grad Transfer Positions & Dontae Manning
– Super K
***In order to remedy some numbers and depth issues, the Sooners have already brought in a couple of grad transfer wide receivers.
***Per sources, if the Sooners go back to the portal, it will likely be to bring in an offensive tackle and/or a cornerback.
***The Sooners feel good about the younger offensive linemen but depth is a bit of a concern. The Sooners were playing two injured tackles for a good portion of last year.
***In terms of defensive back, I think that will likely come down to whether it's a) a great fit or b) if there are issues getting Justin Harrington on campus. Keep in mind, the Sooners signed him believing he would arrive in January so there remains some concern.
***As you may have seen, Oregon defensive backs coach, Donte Williams has left Oregon to accept a position on the USC staff. This is perhaps relevant to OU since one of the big reasons, Sooners DB target, Dontae Manning signed with Oregon, was because of Williams.
***This obviously prompted a number of people to reach out to Manning (we were not one of them)…
***But the reasons are obvious. Again, it was well known that Williams was a prolific recruiter and a big reason Manning ended up signing with Oregon.
***The Sooners came in second or third in Manning's recruitment. Manning was seen as the most likely among the freshmen defensive backs they were recruiting to play immediately.
***Over the last couple of days, Manning has given public indication on Twitter that he is not looking to make a move at this point. However, I've checked with sources on whether Manning would still have a place at Oklahoma, should he want one. Was told it's too early to say but the Sooners do have the numbers. So, I'd venture to say that after a staff powwow, the answer would be yes.
***Again, Dontae has publicly refuted the speculation so at this time, it does not look like anything will come of it.
---
Visit Note | TreVeyon Henderson
– Super K
Over the course of the next few weeks, you'll be getting familiar with the 2021 prospects of importance to the Sooners.
One you'll want to keep in mind is 2021 RB, TreVeyon Henderson (Hopewell, VA).
I love Henderson's film. He makes guys miss, quick to and through the hole and he's gone. Sooners haven't had a guy like Henderson, as of late. The presence of guys like Henderson on the other playoff teams rosters and the absence on Oklahoma's roster was noticeable. LSU, Clemson and Ohio State had guys who hit the hole with such explosiveness that there was this constant threat of a big play.
Henderson tells us that he will take an official visit to Oklahoma for the Spring Game and last night he appeared to confirm as much on Twitter while interacting with 2021 OL commit Cullen Montgomery.
More on him later.
---
Team Note | Sourced | Bryson Washington is Fast
– Super K
Heard that in testing, freshman safety, Bryson Washington blew a 40 in the 4.3's!
That's mind-blowing speed for someone his size and that young. I heard he didn't even get a good start.
When you're that big and that fast, it's usually just a matter of time before you make an impact on the field.
I believe the first team run through will be coming up pretty soon. Hoping to hear more after that.
---
Quick Hitter | 2022 LB Commit Kobie McKinzie
– Charlie S
Earlier this week, Sooners 2022 linebacker commit Kobie McKinzie tweeted out that he is planning on graduating next May (2021) which would leave him eligible to be part of the 2021 class.
I have spoken with a source very close to him and I can confirm it is his plan to reclassify and be part of the 2021 class. He will be doing the necessary course work and if all goes smoothly, he will enroll as a 2021 student.
Really big development for the recruiting efforts of OU at linebacker for 2021. His inclusion to the class will put a premium on the remaining spot(s) at linebacker.
---
Casting a Wider Net | 2021 Defensive Line Recruiting
– Super K
The Sooners are hoping to capitalize on the new defensive scheme, the playoff appearance and the impending draft pick in Neville Gallimore.
One of the traits of Bill Bedenbaugh's recruiting has been casting a wide net. He's a hard-working recruiter who scours the country for talent. So, no one really worries when he misses on a few kids. They know that Bedenbaugh is going to recruit so many kids that he will get the guys he can develop.
Bedenbaugh is a rare recruiter though.
The Sooners now have another defensive front coach and the recruiting duties are being split. Cain is recruiting the DEs and Thibbs is recruiting the interior guys. You're seeing more offers and more actual recruiting.
Last cycle the Sooners got their numbers but a wide net wasn't cast and a couple of guys OU focused on in Alfred Collins and Tyler Baron had strong ties to the their local schools.
We've reached out to a number of the offered defensive linemen and it's clear that the Sooners aren't just throwing offers out around the country. They're actually recruiting these guys.
I have checked with a number of them already (we will bring you names over the course of the next few weeks) and almost everyone of them has talked about both being recruited by the Sooners and setting up a visit.
Will all of those materialize? Of course not. But that's the point. You may have to offer and recruit 50 defensive linemen to get a couple. The Sooners now have the manpower to do that.
---
Visit Note | 2021 OL | Connor Tollison
– Super K
Another 2021 name to familiarize yourself with is, 2021 OT, Connor Tollison (Jackson, MO). Tollison was offered by the Sooners, earlier this month.
Tollison says he's planning on visiting Oklahoma on March 1st. Bedenbaugh back at it!
---
For multiple daily posts, Insider Notes, Our TFB 'Pick Em' Contest, More Sourced Practice Notes, member chats with TFB staff, James Hale's Notebooks, TFB Sessions (5-minute audio talks) and much more, please check the Donor Board!