Open Post | Weekend, February 12th – 14th
Posted on: February 12, 2021
Jake Taylor | In-Person | Quick-Hitters
– Super K
Recently, I stopped by to see Sooners 2022 OT target, Jake Taylor (Bishop Gorman).
A few quick notes to start you off…
***He's obviously a coach Bedenbaugh recruit but communicates regularly with Lincoln Riley and Demarco Murray.
***Jake and his family seemed to have grown up OU fans. His father is tied in with some former OU folks. Jake is very familiar with OU's program and his father has been watching this Sooners since at least the Bosworth days.
***As I noted the tweet above, they made a trip out this past fall for the Baylor game. They are hoping that the April dead period ending date holds. If so, they plan on getting back out to OU right away.
***I know a lot of folks seem to see Notre Dame as the biggest threat to OU. My sense is that the biggest threat is USC.
***Lastly, this young man is sharp and mature and extremely quick and well put together. Definitely a Bedenbaugh type guy.
***More later but if you haven't been paying attention to Jake, it's time to. He's a high priority guy for OU and the interest seems very much mutual.
---
2022 DB Avyonne Jones Picking up Steam
– Ryan Lewis
Back in the summer of 2019, James Hale and I attended the Lincoln Riley Elite Camp. A talented group of young recruits were there to run drills and interact with the coaching staff. One of the players to catch my eye was DB Avyonne Jones out of Southlake Carroll High School.
The camp occurred shortly after his freshman year, with plenty of time left in high school and his recruitment journey. I had the chance to speak with both Avyonne and his father, Derron, shortly after the camp; you can read more about Avyonne and his family here: TFB: A New Name to Know – Avyonne Jones.
Southlake had a phenomenal 2020 football season. Despite losing 19 starters after the 2019 season, the Dragons lost only one game in the regular season, led by QB Quinn Ewers (Ohio State commit). They were projected to lose in almost every round of the playoffs, but made it all the way to the State Championship against Westlake. While the Dragons fell just short in 2020, Avyonne is optimistic about 2021, when the team returns all but four starters.
Jones played mostly corner this season. As a DB who works with the Clay Mack group skills group, he has excellent ball instincts and good closing speed. He has watched guys trained by Clay Mack, such as Jamal Adams and Jalen Mills, to see how they use their skillset at the next level. Listed at 5'11" and 165 on 247, he told me that he's sitting at 6'0″ and 180 these days.
Avyonne has been exploding on the recruiting scene recently. Thanksgiving of 2020 (two and a half months ago), Avyonne Jones had one D1 offer – Rutgers, which he had received in the summer of 2019. Now, he has double digit offers, with three rolling in within a 24-hour timeframe earlier this month. It's fair to say that coaches are really starting to take notice of the Texas DB.
2020 obviously presented a lot of challenges in the recruiting process, specifically regarding visits. While football visits have been hard to come by due to COVID, Avyonne is already starting to map out schools to see via academic visits. Recently, he has been in the contact mostly with Kansas State, Arizona, Oklahoma State, and Arkansas, all of whom have offered the DB. I asked him if OU had been in contact; he mentioned that he had a brief conversation with Coach Manning recently, but that contact hadn't yet picked up from the Sooners.
As more offers continue to flood in for the talented young man, Jones will be one to watch in the 2022 cycle.
---
Big Kat Bryant | The Latest
– Super K
By now we expected Auburn transfer defensive end, Big Kat Bryant to have announced. Bryant would be the final piece to an excellent off-season transfer haul.
I'm told that Big Kat is ready to announce and the Sooners are in a good spot for him. However, I am also told that there is a hold up on Oklahoma's side.
So, until that issue gets cleared up, Big Kat is in limbo. I would assume the issue on the OU side should get decided this week, one way or another.
---
The Latest | 2022 Lexington ATH Jarred Kerr
– CJ Vogel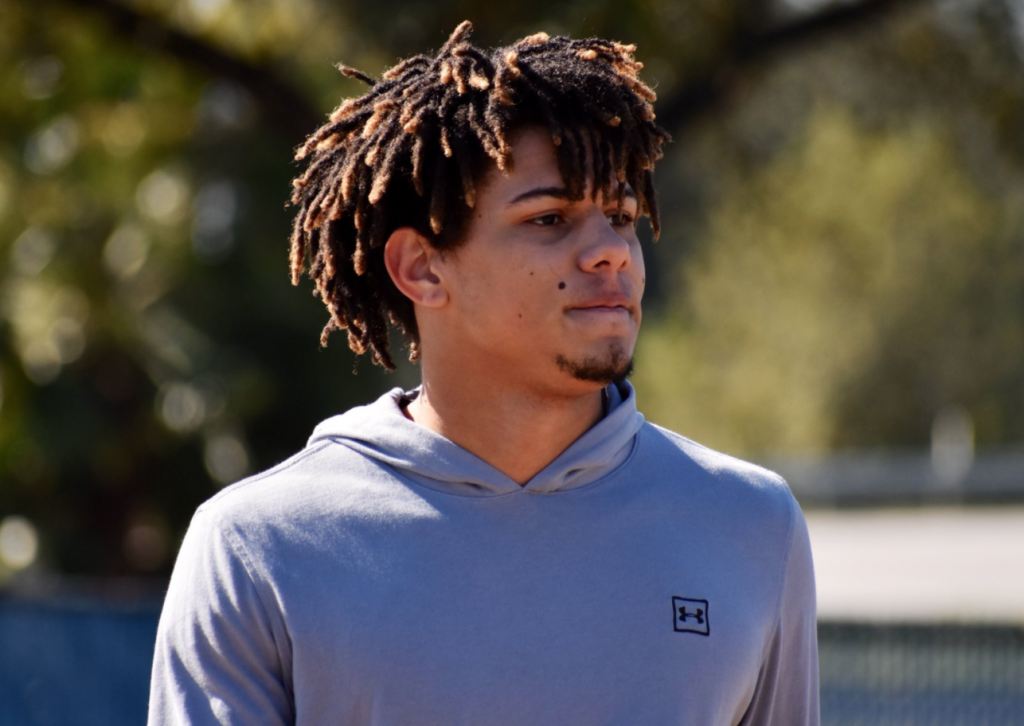 I caught up with 2022 Lexington ATH Jarred Kerr yesterday during his workout with skills trainer Bernard Blake at Bam Performance to see where things stood in his recruitment as the calendar turned in favor of the 2022 class.
The first time I saw Kerr was in November. He had already earned an offer from the Oklahoma staff and had expressed interest back in the Sooners during the conversation I had with him.
Kerr told me he is hearing most from six schools: Texas, Oklahoma, Notre Dame, Texas A&M, Florida and Baylor. I get the sense that Baylor and Texas are after Kerr very hard.
It's worth noting that Oklahoma's offer is on the defensive side of the ball. Back in November, Kerr told me Texas Tech offered him on both sides of the ball, but most of his recent offers have come as a safety.
"(OU) and Texas offered the same day, so them two have been going back and forth," Kerr said.
I think, even with the new staff, that Texas is in a really good position for Kerr. As I mentioned earlier, Baylor is going to be firmly in the mix as well and currently, they are in favor of the lone crystal ball forecasted for Kerr, though with a pretty small confidence level. But I wouldn't discount the Sooners in this recruitment.
"I haven't talked to him recently since they've been closing up the '21 class," Kerr said about OU head coach Lincoln Riley. "But I have been on with him a few times."
Kerr said the Sooners are the only school he has taken a virtual visit to so far. "I went and talked to all the coaches, went through all of the academic stuff and living too." He added he was a fan of what he saw from his virtual visit.
Kerr said he hopes to have a decision around the end of summer. He will be an early enrollee so he will be signing during the first NSD.
I do think OU has some work to do in this recruitment but they are certainly in the mix. By the sounds of things, Baylor, Texas and A&M are going to really be after Kerr.
---
Chace Biddle | Discussing a Previous Update
– Super K
We've been getting questions about Chace Biddle and Oklahoma so I wanted to point you back to a previous update we had from January 26th (well before any of the Biddle to OU talk was going around). Here is CJ's update from Biddle back in January (full post here):
I caught up with 2022 Garland safety Chace Biddle (6'0″ 190) at the Dallas Pylon event a few weeks back to see just where things were sitting in his recruitment. Biddle has been racking up the offers over the last few weeks and it appears things will turn into a Texas, Texas A&M and Oklahoma battle when it is all said and done.
"(Recruiting) has been great, it's been real quiet though," Biddle said, reiterating a common theme from many of the 2022 guys at Pylon.
Biddle, who is high school teammates with Oklahoma commit and 2022 wide receiver Jordan Hudson, said the only school he has virtually visited so far is the Sooners. Biddle said the visit was "great" and that he "loved" his time talking with the Sooners' staff.
"I love OU," Biddle said. "Coach (Lincoln) Riley and Coach (Alex) Grinch, I am definitely high on them. They contact me about more than football. About school and life. It's been great."
Biddle told me he was able to catch a little bit of the Cotton Bowl matchup between Florida and Oklahoma and added that "it didn't look too good" for the Gators. "The Sooners were playing together, they wanted to beat them and they did. They came out and played as a team, they did everything the coaches expected them to do."
When it comes down to it, a family feel will be the ultimate deciding factor for Biddle when he announces his college decision.
"I am a very big dude on family, like I want to be able to be myself whenever I am around them." Biddle added he wants his coaches to hold education in a very high regard and to be able to push him off the field as well.
With college visits still sidelined, it is unlikely to see much movement in Biddle's recruitment until he is able to step foot on campuses once again. He said he is hoping to visit schools as soon as possible once the dead period is lifted.
Biddle said the plan is to be committed right around the start of his senior season, and to early enroll in January to the school he commits to.
Since CJ's update, I have been over to Garland to speak to Biddle. I was there about a week and a half ago…
Based on my conversation with Biddle, not much has changed since CJ spoke to him but I'll add some notes and clarify some things.
***First, Texas isn't currently a player in his recruitment. Biddle told me he hasn't heard from the new staff.
***The schools to watch are OU, TCU, Texas A&M and Michigan.
***He reiterated how close he is with his family so I don't see him going very far which is why despite the fact he obviously really likes Michigan and has visited, I think it would be a tough pull for them.
***He does speak with Grinch regularly and really likes the OU staff. He's been up there on a visit. I can pull some quotes later.
***Lastly, as CJ said, unless something has changed, I didn't get the sense he wants to make an immediate decision. Biddle told me the same thing he told CJ, that he wants to re-visit some schools before making a decision. We will see if that sticks.
---
Update | 2022 TE Oscar Delp
– Charlie S
2022 tight end Oscar Delp (6'5″ 220) out of Cumming, GA (West Forsyth HS) was one of the first offers for Sooners new TE/ST coach Joe Jon Finely back on January 25th.
As I mentioned on the Big Board yesterday, the Sooners are a bit late to the party here for Delp, but they certainly hope to make up ground quickly…
'Another recent offer for Finley (January 28th). Delp holds dozens of offers and is a hot commodity. Again, the Sooners will be coming from behind and it will be largely about playing catch up here and hopefully getting a visit from the talented tight end.'
I caught up with Delp and exchanged a few messages after I saw him tweet about the talk of the NCAA extending the dead period through the end of May.
I asked Delp to share his thoughts with me about the potential of an extended dead period, and if there was any way he felt he could make a well informed decision regarding his future should that come to pass.
He said, 'I truly don't. It's much harder to get out to the places I want to go without being on a planned visit. I don't feel like a self guided visit does the same justice as an actual visit.'
The class of '21 had it rough, but at least some of those kids had an opportunity to make some junior day visits and game visits the year prior. The class of 2022 has not had any of that and right now, nobody knows when they may get the opportunity to resume visits.
I asked Oscar about the programs he has actually been able to visit out of the dozens of offers he has, and if an extended dead period would be more likely to extend his decision making process or shorten it. Delp said, " I have only been to Georgia and Auburn. If the dead period is extended, it would definitely extend my process."
With the Sooners recently throwing their hat in the ring, I asked him his initial thoughts on Joe Jon Finley and Lincoln Riley. Delp said "I really like him as a coach (Finley) and he is a person I look forward to building a relationship with. I have zoomed with him and Coach Riley multiple times and spoken to coach Riley on the phone a bunch of times."
As you can gather, getting Delp on campus will be vital for the Sooners chances here. One potential positive about an extended dead period for the Sooners could be the opportunity to build a solid relationship prior to visits happening which could go a long way in getting the highly sought after tight end to visit Norman.
---
2021 OU Football Schedule Released
– Charlie S
Sept. 4 • at Tulane
OU won only meeting (56-14) in 2017 in Norman
Sept. 11 • vs. Western Carolina
First meeting
Sept. 18 • vs. Nebraska
Sooners lead series 45-38-3; OU leads nation with 50 conference titles, NU ranks second with 46
Sept. 25 • vs. West Virginia
OU leads 10-2 and is 8-0 since Mountaineers joined Big 12
Oct. 2 • at Kansas State
OU leads 76-21-4 and is 1 of just 2 Big 12 programs with winning record vs. KSU since league was formed
Oct. 9 • vs. Texas (in Dallas)
Texas leads 62-49-5; Sooners have won 9 of last 12 and 15 of last 22
Oct. 16 • vs. TCU
OU leads 16-5 and has won 7 straight
Oct. 23 • at Kansas
Sooners lead 78-27-6 and have won 16 in a row (all by at least 14 points)
Oct. 30 • vs. Texas Tech
OU leads 22-6 overall and has won 9 straight; has scored at least 38 points each of last 11 meetings
Nov. 6 • Bye
Nov. 13 • at Baylor
Sooners lead 28-3 and have won last 7 matchups
Nov. 20 • vs. Iowa State
OU leads 77-7-2 and is 39-4-1 in Norman
Nov. 27 • at Oklahoma State
Sooners lead 90-18-7 (41-7-5 in Stillwater) and have won 16 of last 18
Quick takeaways:
*** Iowa State and Oklahoma State that late in the year…whew. Could be a pretty quick rematch in the Big 12 Championship game.
*** Kansas State game falling right before Texas is dangerous…again.
*** Only having one built in bye week for the conference seems a bit optimistic and perhaps shortsighted at this point of the pandemic.