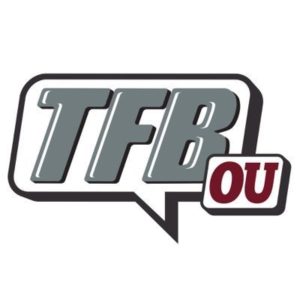 Open Post | Weekend, August 5th – 7th
Posted on: August 5, 2022
Quick Hitter | Spots Filling Up on the Trail | Wide Receiver
– Charlie S – Posted on: August 3, 2022
Just wanted to pass along a quick note we stumbled across while planning our our fall.
As a group, we were discussing whether it would be worth it or not to send Super K out east to see '23 wide receiver Cayden Lee in Georgia early in the season.
After checking in with some sources around Norman, we made the collective decision that it was not a priority to get K out to Georgia as we got the distinct impression that OU feels as though they are 'done' at wide receiver.
The Sooners currently have Jaquaize Pettaway and Keyon Brown committed and are in a very good spot for Anthony Evans (5'11 167) out of Converse, TX.
---
Team Notes | Sourced | Is This a Championship Team
– Super K – Posted on: August 3, 2022
You already know how optimistic we are about this team's potential. For those of you who have read our sourced notes, you've been able to gather that the optimism is high inside the program. And, if you've had a chance to listen to the interviews with coaches and players, that should only add to that optimism.
I've had some lengthy conversations with a couple sources, this week. Based on what we've previously heard and what we've recently heard. I want to go over where some of that optimism comes from as it relates to the talent on the team.
***Let's start with the offense. I really think the offensive line is stacked. It may not be as proven but the potential is as good of potential as you'll find anywhere in the country.
***The word around the program is that Anton Harrison has the potential to be a high draft pick. But when you add athletic guys like Tyler Guyton and Wanya Morris, not to mention Savion Byrd, you have some physical freaks at tackle. Add to it the effort that they've put in and I don't see a team in the Big 12 that can come close to the Sooners potential at tackle. The interior line has tremendous upside as well.
***If the OL comes together the way we think it can, you should have a playoff-level OL and certainly conference championship level.
***Folks are very high on Dillon Gabriel. I know that a lot of you really wanted Caleb Williams to stay but as Charlie said back when all of that hoopla was happening, Dillon is the right guy and more and more I believe that will prove to be true. DG is a special leader but there are a lot of people around the OU program who saw the talent Lincoln had at QB and there are a lot of people who believe DG is up there with those guys.
I think DG is certainly all-conference level and it won't surprise me if he is playoff level.
***I haven't asked about the running back room much. I think we know the Sooners have talent there but more importantly, if DG and the OL are good, then with Lebby calling the plays, the RBs will eat.
I'll give them conference championship level play but should the Sooners find themselves in the playoffs, I think the RB room will impress.
***I've been hearing really good things about the wide receiver room. You already know Marvin Mims is a dude and Drake is a steady guy. You've also been hearing a lot about Jalil Farooq. And while it may be premature, I was told that Jalil has broken out so much that it's really expected that he will be that dude come the season. I hear him basically mentioned in the same sentence with Marvin and Stoops.
But that isn't to say there isn't additional talent. There is apparently a lot and I haven't been able to pin down who will be the next guys after those three because I've heard good things about a lot of guys from Theo to LV to the big freshman to Tre West.
This is what happens when everyone is buying in. Everyone's talent is being maximized and there is a sense that anyone could potentially break out.
I'll give the WR room a solid conference championship level and if Jalil becomes what we think he can, then you'll have the compliment to Marvin to be playoff level.
***The secondary has the potential to be special. I've been told that the talent in the secondary room is so deep that the sense is there will be future NFL guys waiting their turn.
***At safety, a guy like Key Lawrence will be the best athlete at that position no matter who the Sooners face and that includes Alabama. Obviously, he has to put everything together and as coach V says, play fast. But the talent at safety is there. The corner room is very deep. If they take to what they're taught, in terms of talent there might be four or five draft picks in the room. That room is probably going to point to some of the ineptitudes of the previous regime like perhaps no other. We shall see.
***Similar to the CB room, the linebacker room is absolutely stacked, as well. They also have some of the best LB teachers in the country. When Stutsman and Ugwoegbu are competing for playing time, you know it's a talented room. Ugwoegbu can absolutely be a pro but the fact that I hear things like Danny "is just different" tells you that the potential there is really off the charts.
If the secondary can put it together, the talent is there to be conference championship and playoff level.
***I don't want to guzzle the Kool-Aid but even the word I'm hearing about the defensive line is positive. To be candid, I haven't heard the same rave reviews about the interior line that we've heard about other positions but I keep hearing things like, "they're going to be fine." Again, between Coe and Redmond and Johnson and others and the steps they've taken forward in terms of technical ability and strength, some guys should emerge. I was told that Coe is the strongest of the bunch.
I think the interior line can help the Sooners win a conference championship. I think in the playoffs, their impact is going to have to do with how the entire defense around them is playing.
***The DEs have a lot to prove but the talent is there. There has been a lot of talk about guys like Ethan and Reggie and for good reason but as a pure pass rusher, keep an eye on Stripling. Stripling kind of got lost in the previous culture but I can tell you this – the old staff knew that Stripling was the best pure pass rusher on the team and that included Bonitto. The problem was that Stripling needed the kind of culture that Brent has brought to get him right off the field so that he could make an impact on the field. And, I get the very strong sense that that is happening.
Conference championship level and playoff level potential.
---
Recruiting Updates | Bowen, Hicks & Johnson
– Super K – Posted on: August 4, 2022
***Sooners 2023 DB target, Jacobe Johnson (Mustang) has set his commitment date for August 13th.
Feel good about this one.
***Here's what we've heard on Sooners safety target and current Notre Dame commit.
Source said it's unlikely he remains a ND commit.
If all things were equal (as in no "NIL"), I get the sense the Sooners would have this one.
But, was told that he was given a pretty significant "NIL" offer from the TAMU side.
So, it's basically anyone's guess as to what impact that will have.
***Stopped by to see DJ Hicks for a second time this week.
You'll recall that earlier this week, I noted (HERE) that Hicks told me he is reconsidering his original commitment plan (committing at the UA game) for a possible – and again, still just possible – commitment in September.
It does seem like this reconsideration was recent – as in the visit to OU prompted it. I say that because when I was in the office with DJ and his head coach, his head coach seemed to be under the impression that DJ was still solely considering committing at the UA game. The fact that DJ's head coach didn't know of the possible change as of this past Monday, especially considering that DJ's father coaches on the staff, tells me that this reconsideration just happened.
I did ask DJ, yesterday, how important NIL is and I got the sense that the family is playing the long game – development. He wants to be a first-round defensive lineman and Bates has the skins on the wall. I also think the Sooners culture and of course his relationship with Bates and BV are playing a big part in this.
I like where OU is in this one. If it's a September decision, I like the Sooners' chances even more. I've got this one trending OU but just continue to take a cautiously optimistic approach.
---
OU has a Defensive Line Standard
– Super K – Posted on: August 4, 2022
Heard an interesting story from a high school coaching friend of mine who has a quite few top recruits who play for him.
Among the players on his roster, said friend has a big 2024 defensive lineman. He told me that this lineman was out of shape in the spring and has recently transformed his body.
Apparently the Sooners had stopped by in the spring and saw the defensive lineman. Coach told me that the Sooners coach told him that the defensive linemen (being out of shape) didn't look like "an OU defensive lineman."
Coach wasn't offended by this. In fact, it seems he used it to motivate the kid and now the kid has trimmed up and even picked up a UGA offer.
In the past, we talked about how the Sooners defensive linemen, for the most part, just didn't look the part.
But as coach Venables might say, you can't change things unless you recognize something is wrong. You have to have a standard. And it's been a while since I've heard it articulate so clearly – so and so doesn't look like an OU defensive lineman.
I've said it before, the Sooners should have a good enough defensive line that teams like Iowa State and Kansas State, simply cannot score because the front four can do most of the heavy lifting in terms of stopping the run.
I think that's the direction the Sooners are headed.
---