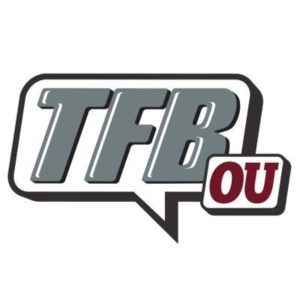 Open Post | Weekend, August 16th – 18th
Posted on: August 16, 2019
Thoughts on the O Line for 2019
– JY
Hey all. I hope you've all had a great summer. If you're anything like me you're chomping at the bit to get this season started, and two weeks from this coming Sunday it's game on. If you read James' Hot as Hale post on Monday, he broke down who the front runners are to start along the offensive line so far, so I won't spend too much time there. To recap who's running with the ones right now you have:
Left Tackle Erik Swenson (4th year)
Left Guard Marquis Hayes (3rd year)
Center Creed Humphrey (3rd year)
Right Guard Tyrese Robinson (3rd year)
Right Tackle Adrian Ealy (3rd year)
Pushing these guys, you have a lot of 2nd year players who are all extremely talented and a grad transfer in RJ proctor with a ton of experience coming over from Virginia. You may be scratching your head a little bit as to why I listed how many years in the program the guys who are running out front right now have instead of whether they are Juniors, Sophomores etc. I want to talk about the psychology of growing up and becoming a man, specifically for big guys.
To qualify, a big guy is anyone at or over 6'4″ 270. If you aren't that big…to me, and a lot of guys my size, you're small. So with that, you've been told your whole life to play nice…you don't know your own strength etc. In every town across the country you hear about some big kid who's a monster, but they can't get him to be aggressive. Well, this is why. People expect these kids who have been told their whole life to be nice and not hurt anyone, all of a sudden to become animals with the flip of a switch. It's not that easy.
For some guys, it comes easier than others, but for some, it happens in waves. For me, I recall two distinct instances where I didn't want to be the nice guy anymore. First was between my sophomore and junior seasons of high school. I had come into my sophomore year out of shape and not ready to go. I ended up getting hurt, but not hurt that bad. I kind of wussed around about it, and we ended up losing a 3 game stretch when I knew I could have helped the team. I don't know if we win those, but I think I could have helped. I worked my ass off all spring and summer, came in in really good shape, and needless to say, had a much better year. My physical conditioning allowed me to be nastier.
The second instance happened between my 2nd and 3rd year in college. I had projected to be a starter in my 2nd year at tackle after redshirting. I worked hard, but it was still just not clicking for me. When we came into fall camp, a 3-year starter at left tackle moved over to right, and a guy who was more ready at the time came in at left. It was something I hadn't considered. Needless to say, I wasn't a starter. It pissed me off, but it was all on me. I played and lettered as a 2nd-year freshman, but I didn't start until year 3. The coaches told me they were recruiting more guys who if were better would start over me. It motivated me. I thought I was working hard at the time, but I just went bat shit crazy for lack of a better term. From January to August I was possessed. I went from benching 225 in the fall in year 2 only 13 times up to 22 times at the start of year 3. I also came in in the best shape I had ever been in my life.
I think that's what's going on now with guys like Swenson, Hayes, Robinson, and Ealy. Their time is now. For Swenson, he has this year, next year and that's it. For Hayes, Robinson, and Ealy, they were "the man" back in their home towns. The self-doubt, the naysayers and everything else you think about as a man starts creeping into your mind. Then you look in the rearview mirror and see guys like RJ Proctor, Brey Walker, Darrell Simpson and Michael Thompson who made the switch over from the defensive side of the ball. There is absolutely no shortage of talent at Bedenbaugh's disposal, and that's a good thing. For these guys, however, everything will become a competition.
In years past, when the Sooners had a BCS run, the cupboard was left somewhat bare upfront the following year. Looking back at 2004, The Sooners graduated, Jammal Brown, Davin Joseph, Vince Carter, Wes Sims, and Kelvin Chaisson was the only returning Starter in 2005. The Sooners dropped the opener to TCU, and the offense was terrible that day. Even the great Adrian Peterson couldn't save the Sooners that day.
Fast forward to 2008, and the Sooners had, at that time an offense that was the most productive in the history of college football. The Sooners graduated, Phil Loadholt, Duke Robinson, and Jon Cooper. While they still had Brian Simmons and Trent Williams up front, the Sooners struggled to find replacements for those guys. Some very talented guys were on the roster like Donald Stephenson, Ben Habern and Brandon Braxton, but right out of the gate, the OL gave up a sack and a collar bone to the reigning Heisman Trophy winner Sam Bradford, and the rest is history.
To see what Bedenbaugh has done since taking over is to watch a master craftsman. In 2015, the Sooners made a run with two freshman starters up front in Orlando Brown and Dru Samia at tackle. In 2016, an incumbent starter in Jonathan Alvarez was beaten out by Erick Wren at Center, add Ben Powers and Bobby Evans to the mix, and you've had a pretty much set OL for three years. In the meantime, Coach B has been stockpiling talent and developing talent. In years past an all-everything guy like Brey Walker would be counted on to come in and wow the masses. Now he's scratching for playing time in year two and could have gone anywhere in the country.
These guys know what's at stake, they see the upgrades that Riley has made at Defensive Coordinator, and they see the talent that Jalen Hurts has brought in. They understand that they have to carry the team, and none of them, while friends with each other want to lose their spot. Bedenbaugh has shown that he will replace you if you aren't playing well, or if you are playing well and someone is just better. Erick Wren did it to Alvarez at Center. Ben Powers came in as a juco guy and beat out some others to be a 3-year starter. Cody Ford got hurt and wasn't back to himself until really last year, bumped out to tackle and got drafted higher than any of the other four that went. Now you've got not a two deep, but a three deep talent pool. Guys like Walker, Simpson, and Thompson are gonna start itching soon if it hasn't happened already. That lightswitch if you will, will come on for these guys and you may see some shuffling and rotation until someone takes the job from another.
The good news is that for us as fans, I don't think there will be a drop off between the 1's and the 1a's that will be very noticeable. A bunch of those 7 or 8 guys that Bedenbaugh will count on will be able to play multiple positions. Proctor is learning all of them to show he can learn a new system and play anywhere. That's becoming more and more important to NFL teams as they can only carry 53 guys in season. The ability for him to play any position up front will help him so much to make and stay on a roster. Cody Ford was drafted as a tackle, and due to injury, he's already bumped down inside to guard for the Bills because another guy couldn't do it.
Anyway, sorry for the long-winded rambling rant, but I don't think we have anything to worry about up front offensively.  Just watching these guys compete and seeing who emerges initially, mid-season, and as the year wears on will be one of the more interesting story lines out there.
---
Sourced | Scrimmage & Team | Quick-Hitters
– Super K
As you know the Sooners had a scrimmage, Tuesday evening. Here are a few sourced notes from the scrimmage and on the team, in general. As I mentioned earlier in the week, Riley is keeping things pretty tight so there are no telling how many droids had to die to bring you this information…
***Was told no side really dominated the scrimmage. It was, apparently, pretty balanced. Source said it was very competitive and the offense was dominant early but the defense won the second half of the scrimmage. So, it was a tale of two halves but the end result sounded even.
***Was told that Trejan Bridges had a monster day. One source said that if there was a "player of the game" award, Trejan would've won it. That's no small thing for a true freshman wide receiver at OU. Sounds like the Sooners got themselves a good one. Heard his name from multiple sources following this scrimmage.
***The quarterback opinions should be taken with a grain of salt. Everyone has a different take. I will tell you that I was told Mordecai had the better scrimmage on Tuesday.
***To that point, I pressed a little bit on how Jalen Hurts is doing. I was told he hasn't had much fluctuation throughout camp. He's been steady. No real bad days but no real amazing days, either.
***However, a source added that when you throw in his ability to run, "it takes him to another level". A source said, "yeah it's kind of unfair when he tucks the ball".
***I asked how effective he is running the ball compared to Kyler. Not surprisingly, was told, "two different running styles. Nobody could touch Kyler but Jalen will run through guys and he's going to break a lot of tackles". I imagine this will be especially effective in the Big 12 when you're facing smaller opposing defenses.
***The reports we are getting on Hurts feels a lot like the reports we got on Kyler last year. Again, I'm going to wait and see if Hurts has that big scrimmage like Kyler did at the end of camp. I just want to hear that there is continuous steady improvement and it sounds like that is the case.
***Was told John Michael Terry had an interception. Was also told that Motley had one as well. Motley's was off a tip by Bonitto. Glad to see guys from South Florida getting a little shine. Anything that can help the Sooners recruit down there is a win in my opinion.
***In terms of young guys on defense that are flashing. Continue to hear Jaden Davis (another South Florida guy). Specifically was told, "he's starting to get it". Also Kori Roberson was mentioned. Was told he's been doing well but still working through simple things like getting lined up correctly. But the ability seems to be there. You'll recall, he was a guy we mentioned hearing good things about in the summer time.
***Did ask about the offensive line. Was told that they're looking good. I asked how they compare to last year's group and was told, "I mean, they're good but I wouldn't say as good as last year. But last year's line was about the best you'll see".
***Heard praise of Bookie, as well.
***I did ask for some thoughts on the back up safeties since Grinch seemed rather critical of the lack of competition behind Turner-Yell and Fields. I was told that that some of the struggles are stemming from guys who are fighting through injuries. In other words, it sounds like even the guys who are practicing are dinged up which may be effective their play on the field. It's that time of camp though where you've got to just push through.
***Lastly, was told some positive, albeit general, stuff on Rhamondre Stevenson and Marcus Majors. Was told Rhamondre is just a load and he's doing really well right now. Was told that Majors is going to be good down the road. With OU's backs and the kind of offensive line and QB they may have, I think they're going to have a pretty nasty and creative run game. Hurts doesn't mind contact and I imagine Rhamondre can savor the flavor, as well.
---
Tuesday With the Coaches | Media Availability
– James Hale
*** OU is in their second week of training camp and will have two major team sessions or scrimmages before they break camp when they start school on Monday, August 19th.
*** On the offensive side of the ball, jobs are still on the line at quarterback and the offensive line. Today we had a chance to talk with Head Coach Lincoln Riley and coaches and players on the offensive side of the ball.
*** Coach Riley says with all the competition going on for playing time that the second week of camp is not as much of a drag as we might think. He says that bodies are sore in some cases, but the players have to take care of themselves and OU has the greatest resources medically to rejuvenate them and keep them on the field.
*** Coach Riley says relationships are starting to gel between players and coaches on both sides of the ball which he is very happy with because he says that is what great teams have to have. They must communicate with each other.
*** Coach Riley says Jordan Parker is having a fantastic camp at corner. He has come back strong and has become a great leader for the team.
*** He also says Jon Michael-Terry has had a good camp and has looked good at the 'Rush End'.
*** Coach Riley says Jalen Redmond is an exciting guy and he really appreciates the fact that he can now get some contact and play the game again. He has been going through inside drills at practice. He said that Redmond is a natural player and picks up things quick. He is good in space and doesn't play like a 270-pound defensive lineman.
*** Coach Riley says they will end a five-day session tonight and take a day off tomorrow and then go through another four-day session before school and they will be taking Monday off the first day of school. During that time he will have two more scrimmages or two major team sessions and by that time he should have a pretty good idea who his starting quarterback is going to be.
*** By the end of the second session, the coaches really look at the entire roster and determine what that roster is going to be and who is going to be playing on special teams. They will start to get a better idea as well who they will try to redshirt next year.
*** Coach Riley says Jalen Hurts passes the ball well enough, and has good arm strength and is accurate throwing the ball. He says Hurts biggest issue is just picking up all the nuances that are in the offense and get to the point where he's recognizing them fast so the offense is going fast.
*** Coach Riley says when it comes to quarterbacks he has to make a decision off more than stats. He says the competitive nature of the guys, who can really lead the team, is really the most important issue when it comes to quarterbacks because all of them have the talent to be good. It will come down to his gut feel as to who's the best guy to be the quarterback this year.
*** Coach Riley says Spencer Rattler has proven that he's a very good quarterback. He has been hurt by the fact he did not go through spring ball but he has quickly learned the offense and is not afraid of the moment and believes that he should be the starter. He did say that Rattler is in the competition to be the starter this year.
*** Coach Riley says he has never had a quarterback get hurt in his offense but he will find out how to use Jalen and Tanner in the run game in the offense. That also means Rattler as well. He's not afraid to run his quarterback but he wants to be smart about it.
*** Coach Riley said that running back Kennedy Brooks was a little behind because he missed part of the summer. However, he said he was mature about his situation and came back in shape and now looks like the same player.
*** Coach Riley says new running backs Rhamondre Stevenson and Marcus Major have looked good in camp and the next few days should determine just where they stand in the pecking order at running back.
*** Coach Riley says Austin Stogner has really come on and is a big guy that has grown into his body since he has been at OU becoming a very good player in camp. That big inside receiver position is a great position for OU right now. He compares him to Mark Andrews but says Stogner is a much better blocker than Andrews at this point in their careers and is going to be a bigger and stronger player.
*** As far as the grad transfer Austin Jackson; things just lined up for OU adding another defensive back type that has played some special teams before at Clemson and might be able to help them. They look forward to getting a long look at him over the next week or so.
*** Riley said left tackle Erik Swenson is going to play a big role for the Sooners this year and he is glad things didn't work out for him at Michigan because they are working out for him at Oklahoma.
*** Coach Riley says the rivalry between him and Coach Grinch and his defense during training camp is fun and something that he appreciates is how the defense is running and flying around.
*** Coach Dennis Simmons says his group has made some explosive plays in camp and that they all came back in shape and have played well. As far as the young group he says they are still evaluating what they have and what they can do for the team. The scrimmages will tell them a lot about what they have in the group.
*** Coach Simmons says he admires Nick Basquine so much and he would want his son to grow up and be just like him. He says Basquine has been great in camp and will play a big role for the Sooners this year.
*** Coach Simmons says CeeDee Lamb has been more consistent every day in camp and has picked his game up a notch. He said he has become a leader but he wants him to lead his way and not like somebody he has seen. He says Lamb can lead by his actions and can be a great leader on the team.
*** Coach Simmons says it does not matter who the quarterback is to the wide receivers at all. Whoever it is, it's the receiver's job to make that guy right.
*** Coach Simmons says that for the young guys they are still learning what their overall role is and how they really fit into the offense.
*** Coach Jay Boulware says the running back room is doing well and everybody in that room has improved. Protecting the football is a very important aspect of training camp this year, especially with the defense being more aggressive trying to get the football. He points out that the running backs have only fumbled the football once every year for the last three years.
*** Coach Boulware says the position is wide open in training camp and while Trey Sermon and Kennedy Brooks got most of the carries last year, right now in camp it is a wide-open room and everybody is still fighting for carries. Of course, that is coach talk for camp in some ways but they have been very impressed with Stevenson and Major and would not be afraid to play anybody in that room.
*** Coach Boulware says that Sermon and T.J. Pledger both came to camp off great off-seasons and are better players both physically and mentally. He said Sermon is in the best shape of his left and has improved his speed. He bragged on Sermon's footwork and said for a big running back he is very nimble avoiding tacklers.
*** Coach Boulware loves the fact that Coach Grinch and his defense are trying to strip the ball and trying to create turnovers and he has enjoyed the competition in camp up to this point.
*** Coach Boulware says that Stevenson is a load to tackle because he is wide but he does not move like a 231 pounder and he has great feet. He is very mature and will get a big look over the next few days.
*** Coach Boulware says the kickers Gabe Brkic has looked good in camp and that Reeves Mundschau is punting the ball well.
*** Nick Basquine said that he watches NFL film of Sterling Shepard, Jarvis Landry, and Antonio Brown to try to pick up some things about them and how they play in the slot.
*** Bansquine says that Chanse Sylvie and Tre Norwood could not and can't cheat the rehab process. That they have to own it and put everything into it or they will not come back as good as they were, but if they attack it the will come back better than they were before.
*** T.J. Pledger says he feels he is having a great camp and has put his game together. He said he did not get discouraged last year not playing much. He tried to take advantage of the times he did play and feels the fact he traveled and played on special teams really helped him get ready for this year.
---
Updates | Marvin Mims & Tyler Baron
– Super K
***In case you missed it, Sooners 2020 WR target, Marvin Mims announced his commitment to Stanford.
However, what is noteworthy is in speaking to source on Mims, I'm told that the Sooners actually ended their recruitment of him earlier this summer.
That would seem to indicate that the remaining targets you'll see the Sooners push for are outside wide receiver targets…
***Although, interestingly, it sounds like they also pulled off of 2020 outside wide receiver target, Quentin Johnston (Temple, TX). Johnston was a priority target early on.
I'm told that the decision to pull off of Johnston was made earlier this summer.
Johnston is expecting to announce a commitment later this week.
So, the question now is with Rome Odunze committed to Washington and the Sooners having made the decision to stop recruiting the above-mentioned players, where will they turn next?
I suspect we will get a clearer picture of that once the season starts.
***As you likely noted, Sooners top defensive line target, Tyler Baron announced his top five last week.
Baron's top five included: Oklahoma, Tennessee, Oregon, Ohio State, and Kentucky.
Really, however, I believe this to be a top-three consisting of Oklahoma, Tennessee and Ohio State.
There were a couple of notable omissions from his top five. Baron's older brother played at Virginia Tech. So, them not being on the list was noteworthy. Also, very big was the omission of Alabama. When I saw Baron earlier this summer, it seemed very much like they were going to be a big threat for him.
Baron has previously told me that he plans to make a return visit out to Norman for a game this season. If that does indeed happen, and the Sooners are playing good defense this season, AND Gallimore or Mann are being talked about as possible draft picks…watch out.
OU could really make it interesting.
What Baron sees in Oklahoma is a place where he can come in and instantly be the center of the defense but also be part of a team that is within reach of the national championship.
Tennessee offers comfort and instant playing time but they aren't anywhere near a national championship run.
Ohio State may offer the opportunity to be part of a playoff or national championship run but they've been recruiting good defensive players and playing good defense for a while.
Most of you know, I was extremely skeptical earlier on when OU was recruiting Baron. Him being from SEC territory and having a father on staff at Tennessee made it hard for me to see how the Sooners had a real shot in this one.
I'm not ready to wave the victory flag yet but as I said after I saw Baron this summer, I'm a little more optimistic. And, now, with both Alabama and Virginia Tech being out, I think that gives even more reason to continue to watch this one.
Again, the next step here is 1) play defense and 2) get him back on campus.
---
Under The Radar | 2020 WR Name to Keep an Eye On
– Charlie S
With it being a dead period for recruiting and the Sooners staff in the middle of fall camp and fully focused on preparing their squad for the start of the season, recruiting talk has taken a spot on the back burner.
Things will ramp up in regards to finishing up the 2020 recruiting class once the opening game weekend rolls around as the dead period comes to an end and recruits and commits can resume taking official visits.
In the meantime, I spent some time kicking over some rocks and looking for a couple under the radar type of recruits at the wide receiver and defensive line spots who may come into focus as the cycle progresses.
I was able to come up with a wide receiver that OU has shown some interest in. He doesn't hold a Sooners offer yet, but there has been some communication there. I also came up with a defensive lineman, but I'll save that for another post down the road.
*** I touched base with was 2020 wide receiver Tyree Saunders (6'0″ 174) out of Jacksonville, FL.
Saunders is committed to Charlie Strong and the University of South Florida. He has a couple Big 12 offers from Kansas State and Iowa State and he also holds a Virginia Tech offer among his 20 or so other offers.
Even before I was able to touch base with Tyree, I sent his film over to Super K as I was very impressed by what I was seeing and I wanted to get another set of eyes on him. K agreed with me and said 'Saunders film looks great, what's the story on him?'.
So here is the story…I made contact with Tyree and introduced myself and told him I wanted to see where things are at between him and OU, if there even was anything there at all. Saunders told me "I talked with coach Simmons a couple of months ago, and I thought it was getting serious but then it kind of fell off".
I figured that was it but then he added: "But they recently invited me to their game on September 1st against Houston".
That grabbed my attention obviously so I asked him if he was going to make the trip up and he said "I don't know at the moment because they haven't offered me and it isn't like Oklahoma is just around the corner from me, you know?".
Jacksonville, Florida to Norman, Oklahoma certainly is a long trip to make for an unofficial visit when one doesn't have an offer, he isn't wrong. So we will see how that plays out.
We talked a little about his game and I mentioned his ball skills stood out to me as I watched his film and I asked him what he considers his strong suit. Tyree said, "I appreciate that and I would say my speed (4.57 40 – 4.50 shuttle at The Opening regional) and ball skills are the strongest parts of my game."
Both K and I would agree with him. I think you will as well as you watch his film.
Now, I asked Saunders if he preferred playing outside receiver or in the slot and he said "I prefer the outside, but I would be willing to play slot or anywhere else to help the team." Love that attitude.
So with K's news from earlier this morning about OU stepping back from Marvin Mims at the slot and OU seeming to want to focus on the outside receiver for their remaining spots, a guy like Saunders would make sense.
Now, again, Saunders does not have an OU offer and he may not even wind up getting one but based on what we saw on his film, and his communication with the Sooners, in my eyes, he is a name to keep an eye on going forward at receiver.
---
TFB Randoms | Team & Recruiting
– Super K
As I mentioned, you'll probably be getting a lot of these TFB Randoms over the course of the next two or three weeks because of the dead period.
***On the team front, was told that another freshmen defender cracked the first-team rotation recently. As I noted earlier, Marcus Stripling was the only true freshman taking first-team reps on the defensive side – not as a starter but rotating in.
Was told that with Norwood down, Jaden Davis is now getting some first-team reps.
***On the running back front, OU got a little good news via Texas of all teams. Not only did they pick up Bijan Robinson but they're about to land another back which should fill their RB class and *finally* get them off Jase McClellan.
However, the team we are going to have to continue to monitor is Alabama. I spoke to a source close to the Tide program and was told that if they miss on Zach Evans, it's likely they'll push harder for Jase.
***Recently, I spoke with Clayton Smith (Texarkana), one of OU's top 2021 OLB targets.
He took his first visit to OU last month for the BBQ. Seems to have his eye on OU, Texas, LSU and Arkansas. Sharp young man. His older brother played in the NFL so he knows the business.
Really hit off with Odom on his trip to Norman. In this 2021 class, Odom is going to be swinging for some bigger targets and he's off to a good start with Smith. I think Texas will be the team the beat in this one – but it's a bit early to say too definitively.
He said he will definitely be at the Red River game in Dallas.
***Also, have been working on to get a sense of where things are with OU and 2020 Cali OLB/DE, Jordan Banks.
I'm gathering that OU has things a bit on hold till the season gets started and they can see what they want.
Banks told me that Odom has talked to him about playing both OLB or ILB. But there are three questions for OU to answer…do they have the numbers, do they need more LBs (or are some of these young guys going to impress Grinch) and can Banks really play both ILB and OLB. The answer to the first two questions will play a role in answering the third.
Banks tells me he still hears from OU but I get the sense there isn't the kind of a push that he gets from Washington. When he talks about Washington, there's a lot of a passion about how that staff is recruiting. It's clear he's feeling how much the Huskies want him.
Should know more on this as the season unfolds and OU resets their needs to close out 2020.
***Also, been keeping our eye on DBs as the Sooners still have two or three spots they need to fill there.
One of the guys I checked with is Alabama commit, Jahquez Robinson. With the way Alabama recruits and keeps recruiting players, he continues to be one to watch.
Jahquez was a guy who planned to take an OV back in the spring but decided against because he wanted to see how OU's defense improves.
He still said he isn't locked in for an OV but continues to keep it in consideration.
---
Late Night | Team Note on Position Change
– Charlie S
From Last Night (August 15th)
*** We have confirmed through sources that Sooners wide receiver Jaquayln Crawford (5'10" 175) made the move today to the defensive side of the ball as a defensive back.
*** We are not sure yet if it is a permanent move or something that is just being given a look based on the loss last week of Tre Norwood for the season.
*** Source said today was only the first day, but after day one, he is already making some people believers.
*** Source said he looked very comfortable.
*** If you recall, when he was being recruited, several schools offered his as a cornerback. OU gave him the opportunity to try his hand at wide receiver.
*** This could be a very good move for all involved if he is hungry and eager, which appears to be the case.
---
For multiple daily posts, Insider Notes, More Sourced Practice Notes, member chats with TFB staff, James Hale's Notebooks, TFB Sessions (5-minute audio talks) and much more, please check the Donor Board!