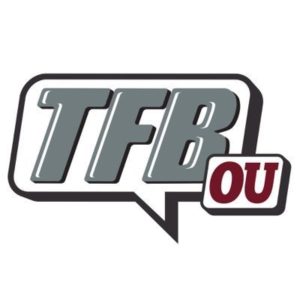 Open Post | Weekend, April 8th – 10th
Posted on: April 8, 2022
Dillon Gabriel | Sourced Update
– Super K – Posted on: April 5, 2022
***As you know, we've been trying to continually get feedback from sources on how Dillon Gabriel is doing in Spring Ball. We know coach Venables is going to improve the defense.
***But what most outsiders believe is that OU will have a drop off on the offensive side of the ball and more specifically in terms of the QB position and QB development. Riley was known to the outside world as a QB guru. Regardless of whether you believe that or not, I think we can all agree that for the Sooners to be successful they are going to need to be good at the QB position. In modern football, the quarterback play has become more and more central to a team's success or lack thereof.
***So far, everything we've heard has been great but through winter that was Gabriel throwing on air and during the early part of spring, the Sooners still hadn't scrimmaged. They had their first scrimmage last week.
***But there has been enough time now for Gabriel to show his true colors and you'll be happy to know that the latest reviews I've heard are even better than the previous ones.
***Hearing words like "elite". People are complimenting his decision making process. Am told he "never forces the ball. He always remains calm and takes what the defense gives him."
***But that doesn't mean the Sooners are just going to be a dink and dunk team, "He has the arm to make the big throws, it's just that he uses it when it's there, he doesn't feel like he has to use it just to show it off."
***That last quote fits in line with what we've seen from him early on as a team player. When the Sooners were still recruiting Caleb Williams, he was supportive of it. He has a quiet confidence about him. He may end up being a star but it won't be because he puts himself first.
---
Cayden Green | Quick-Hitter | Timeline
– Super K – Posted on: April 5, 2022
***As you know, 2023 4-star OT, Cayden Green (Lees Summit, MO) is a high priority target for the Sooners.
***Green has multiple ties to OU including growing up a Sooners fan, having parents who plays at Oral Roberts and a head coach who played at OU. For those reasons, among others, I've had the Sooners trending in this one.
***Green has been back to OU a number of times.
***I checked with Green this week on whether they've narrowed down a decision timeline and he tells me that they are actually working on that this week. It's starting to look like July will be their likely target date for a decision.
***July would be right after Green took his official visits, so, it makes sense.
***That will be a huge month for OU with the possibility of not only Green announcing but 2023 DL Derrick LeBlanc and 2023 OL Payton Kirkland, as well.
---
Trending | '23 DL David 'DJ' Hicks
– Charlie S – Posted on: April 5, 2022
The big news that many of you are talking about in regard to '23 DL David Hicks is that he is transferring out of Allen and heading to Katy (Paetow).
On that note, the move back to Katy is family-driven as his father took a job at the school and while DJ has been at Allen, he and his father have been there while the rest of his family remained in/around Katy.
On the trending front, we have received corroboration from a source that this recruitment is still trending towards a battle between OU and Texas A&M.
Furthermore, with that said, if all things are equal, or close to it, we believe this one would further trend in OU's direction.
---
5-Star DL set to Visit
– Super K – Posted on: April 6, 2022
5-star 2023 DL, Peter Woods (Alabaster, AL) recently dropped a top four which included Alabama, Clemson, Florida and Oklahoma.
I was able to confirm via a source that Woods is set to take his official visit to Oklahoma in June.
I've mentioned this but it's worth reiterating. The general feeling down in Alabaster is that Woods ends up at Alabama. He is a high priority target for coach Saban. But with a defensive line class in the state of Alabama that is absolutely stacked, this will take a spot from Alabama opening doors for Oklahoma.
The Sooners made a number of defensive line offers in Alabama. In fact, that seemed to be Coach Bates first priority, when he arrived at OU. I was told the reason they moved on things so quickly wasn't just because of the relationships they have in the state. They also wanted to force Alabama's hand – to make them prioritize.
There are plenty of guys in that state with potential NFL talent. So, if Bama takes Woods and the Sooners end up with any of the other top five or six DL, I imagine they will be pleased.
Again, watch for a guy like Kelby Collins. He is being recruited by Bama but if you count Woods as one of their interior linemen and you assume they only take two or three in the class, then he's another top target in the state with a very strong relationship with this current Sooner staff. As I previously mentioned, Collins had visited this staff two or three times at Clemson and plans on visiting OU in the near future.
I saw Collins recently and like a lot of those DL down there, they are built different.
---
Sourced Team Notes | Quick hitter
– Charlie S – Posted on: April 6, 2022
Just wanted to pass along a note I got from a source last night in regard to the secondary this spring…
Note read: "Buy stock in Kani (Walker) and Kendall (Dennis) they been going hot in practice'.
Now, that is a note from one source, and K, James and I are doing a little digging around to see if we can get more detail on it, particularly in regard to Dennis.
I will say, it is refreshing to actually hear the young man's name on multiple occasions already to this point of the spring under the new regime.
The note on Walker doesn't surprise me too much. If you recall, a source I value in the Atlanta region shared his thoughts on him HERE.
'He's LONG! Uses his size to his advantage with him being so tall and having the ability to play corner. He has soft hands and was never scared to strike. He's very good at using his hands and strength to redirect WRs who are not aggressive. Love his mentality and would take 11 of him on my squad'.
As far as Dennis goes, hopefully, this is a case of 'New staff – new lease on life' in regard to an impactful college career.
As I said, we are still trying to corroborate this note, but it is definitely different in the fact that we are actually hearing his name. I am not saying he will have a huge impact or whatnot at this time, but just hearing his name multiple times is encouraging…in my opinion.
---
Quick HItter | '23 DB Tyler Turner
– Charlie S – Posted on: April 7, 2022
Last night, Sooners '23 DB target Tyler Turner confirmed that he will make it back to Norman next week.
The last visit to Norman for Turner had a hand in his de-commitment from Baylor as OU offered him shortly after his visit and he decided it would be best if he opened up his recruitment.
Following his tweet last night, I reached out to confirm a few things with him.
First, it will be a one day visit.
Second, Turner is planning on taking several of his official visits this summer, including one to Oklahoma.
Turner told me he is excited to get back up to Norman and catch a practice.
---
Team | Sourced | Defense Potential
– Super K – Posted on: April 7, 2022
***Earlier this week, I spoke with a source about the potential of this year's defense and whether there was a sense the talent is there to make a massive jump.
***The short answer is, I'm told, is that the defense has a lot of talent but was told that given the severe lack of development, it's hard to make an assessment of just how good they can be.
***Can they improve over last season? That wouldn't be saying much. But I get the sense that the staff feels there are certainly excellent pieces to work with.
***But as I've heard repeatedly now, Grinch's defense was so exceedingly simple that it has left guys with a lot to learn. Was told things as simple as guys making basic pre-snap reads (something I noted and was critical of under the previous regime).
***I'll give you an example as a follow up to something Charlie noted yesterday. He had mentioned that he'd heard Kendall Dennis was a guy to watch out for. I did ask about Dennis and was told that in a recent practice, Dennis made one of the best interceptions this staff had ever seen.
***But I always continue to hear that while Dennis' has freakish ability (something you remember us raving about when he was in high school), he still has to continue to improve his understanding of the defense and what they want him to be doing and watching for.
***One source said the guys are still working through understanding their roles but also the roles of those around them.
***Again, I've said it before but there is a lot more to learn.
***The feeling I get is that the staff is excited to see how these guys perform in the spring game. Again, I'm told the talent is there but there has been a lot of need for development and they want to see who will display it when it counts.
***Also wanted to note, I continue to get a very very strong sense of the buy in. As I've mentioned before, there was tension under the previous staff as a number of players at certain positions felt they weren't getting developed. I gather that the players are growing and most of the time, that's what guys want. They want to know they can trust you to maximize their potential and give them a fair shot.
---
TFB Randoms | Thursday Evening | Renaud and Edwards
– Charlie S – Posted on: April 7, 2022
Just a couple random notes that weren't substantive enough to stand on their own, but felt you all would like to hear about…
***First, a source on the OU side tells James that '23 RB Dylan Edwards (5'9 164) out of Derby, KS, is scheduled to visit unofficially tomorrow. We have not confirmed that with Edwards, so we cannot say for certain that the visit is 100% a go.
If the trip does go down, that would just further cement our belief that OU is in a very good spot with Edwards. If there is another postponement, like there was the last time he was scheduled to visit, you begin to wonder.
***Second, and keeping in theme with this week's DL notes, we have received further corroboration on OU being in a good place with '23 DL Jordan Renaud (6'3 245) out of Tyler, TX.
If you recall, following his trip to Norman in March, CJ caught up with Renaud HERE.
'OU made a really strong impression on the four star Tyler prospect. Renaud spoke very highly of his time with Brent Venables and Todd Bates while on campus. Bates is building a great relationship and ultimately doing a tremendous job in this recruitment.
Originally, I had expected Texas A&M to be the team to beat here, though that is no longer the case and it appears that the Aggies have fallen out of favor.
I believe this recruitment will last a bit longer, but right now, I have to imagine OU is in a very good position to land Renaud.'
This week, both CJ and Darius continued to hear that the Sooners are in a good spot with Renaud. We are expecting him to visit Norman again this spring, just waiting to confirm the date.