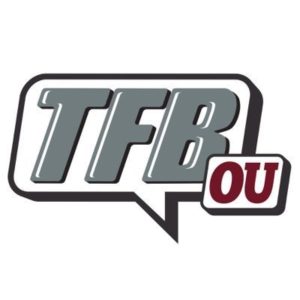 Open Post | Weekend, April 8th – 10th
Posted on: May 8, 2020
New Linebacker Prototype
– Super K
As you know by now, the Sooners picked up a commitment from 2021 LB, Danny Stutsman (Winter Garden, FL).
Stutsman is listed at 6'2.5.
We recently heard that at the linebacker position, like the DB room, the defensive staff wants to get taller and longer.
The days of making 6'0 or even 6'1 guys primary initial targets may be over. Obviously, there can be exceptions and you don't always get what you want.
But I'm told the new standard is 6'2 and up. Think more Kenneth Murray and less…guys who are shorter.
This is also why you may see more offers to tall, big framed safeties like Kendal Daniels or Donovan McMillon. They still want guys who can run and even cover but they want that height and length as well. So, like Murray, sometimes these big safeties are the way to get that without losing speed and change of direction.
---
Update | Sooners Still Working on David Abiara
– Charlie S
*** Checked in with 2021 DL and Notre Dame commit David Abiara (6'4″ 248) out of Mansfield, TX. Abiara was one of the top defensive line targets for the Sooners entering the 2021 cycle.
*** I wanted to see if OU was still actively recruiting him and he answered that the Sooners still are working on him in a rather emphatic manner.
*** If you recall, the Sooners hosted Abiara back in January and they were feeling pretty good about where things stood.
*** However, as K had mentioned prior to the visit, if Notre Dame were to offer, they would immediately insert themselves as a player in the recruitment and it likely would come down to whether he was willing to venture that far from home.
*** Shortly after his OU visit, Notre Dame did in fact offer, and eventually, in March, he verbally committed to the Irish.
*** Now, while Abiara did confirm that the Sooners are still recruiting him, he did not respond when I asked him about if he had taken, or was planning on taking, a virtual visit to Norman at this point.
*** But the fact that OU is still recruiting him and he is listening is a good thing and if the Sooners can get him back on campus at some point this season, along with the reality of distance being a factor, they could once again emerge as contenders for his signature.
*** We will continue to check in with him.
---
Updates | Johnson & Jackson
– Super K
***This past weekend, the Sooners extended an offer to an under the radar 2021 ATH prospect out of TX in Caleb Johnson (Greenville, TX).
Johnson had picked up an LSU offer just before the Sooners offered. I spoke with Johnson over the phone and it does clearly sound like schools with closer proximity to home will have the advantage. In other words, you'd think OU has a really good shot here.
His film is primary WR highlights but he tells me he was offered by OU as a cornerback. He is an absolute burner. He sent me an unofficial time sheet from 100m track meets and he has a 10 flat 100m time from a March 5th event! Now, I understand that's likely an unofficial time but bottom line is he's fast.
***It does look like the Sooners will resume the virtual visits next week when they return to the office.
I checked in with 2021 LB, Ian Jackson (Prattville, AL) and he tells me that he's scheduled to virtually visit Oklahoma when the staff gets back from break.
The Sooners did make the top ten for Jackson.
---
Quick Hitter | First Impression – Caleb johnson
– Charlie S
As you know, K mentioned that he spoke with 2021 DB Caleb Johnson (5'10 170) out of Greenville, TX, who was recently offered by the Sooners.
He will have a write up on that conversation, but I wanted to share an interesting note I got from him when I reached out to him following his offer.
I wanted to see how long OU had been in communication with him prior to making the offer and he said: "We just started talking today, but you know, it's always about the first impression that leads to where things go".
So how did that first impression go? Johnson told me "The first impression was great, they definitely hit the right notes".
I found the fact that OU once again started to build a relationship after offering (or at the time of offering) with a recruit interesting. That is one way to make a strong first impression.
The Sooners continue to aggressively chase speed, and Johnson has plenty of it.
---
Finding out who Your Team is
– Super K
I was chatting with one of my Texas sources yesterday and was told something that really caught my interest.
Source told me that somewhere in the vicinity of 60% of the Texas players are already back in Austin and they are training at private locations in small groups. It sounds like it's being led by Sam Ehlinger.
That strikes me as a huge percentage of their players.
Keep in mind that under normal circumstances, players are regularly monitored. They go through spring ball and then the difficult grind of the summer.
But without spring ball and summer likely, at best, being shortened, how self motivated the individuals on your team are is going to potentially have a significant impact on this season.
It will also potentially have an impact on the depth chart.
I saw this video earlier of freshman, Seth McGowan…
And, as you know, Ronnie Perkins was down here in the Houston area training earlier this summer.
So, we've seen, in person or via social media, that some of the Sooners are putting in some work.
But I want to try to get a sense of how pervasive this is. With guys like Neville Gallimore and Kenneth Murray gone and no established upperclassman quarterback, I do wonder how that process is being managed.
It may not be a huge deal right now since we still haven't made it to the summer. But I think if OU isn't going to report in the summer then how your players are working on their own and who with could prove to be a very meaningful metric for how the early part of the season goes.
---
More on Player's Working out
– Super K
***To follow up on my previous post regarding the importance of players working out on their own during this period, I've checked with a couple of sources to see what the OU players are doing.
***As I mentioned, this topic came into focus for me recently when a Texas source told me that about 60% of their players are already back in Austin and are working out in small groups together at private facilities.
***Based on what I've heard there are only about 10 guys from the team in Norman. They aren't allowed to work out at the school and the S&C staff cannot coach them even through zoom.
***What the S&C staff can do, however, is deal with private trainers who may be overseeing the players in workouts.
***So, I'm told that the players in Norman are working out at a gym in Edmond. The S&C staff could have workouts sent to the trainers at those facilities.
***From what I gather, OU has been proactive about connecting with trainers around the country. Just because OU doesn't have as many guys in Norman, currently, doesn't mean they aren't working out at their home bases.
***Additionally, it must be kept in mind that OU recruits more nationally. They have a lot more players who aren't from this area than a school like Texas.
***But the important thing I was told is that the S&C staff can be in touch with private trainers and I surmise they are doing that.