Open Post | Weekend, April 2nd – 4th
Posted on: April 2, 2021
Offensive Line Visit Notes | The Washington Trio
– Charlie S
Go (North)West Young Man!
Has Sooners offensive line coach Bill Bedenbaugh heard the call?
This week, I checked in with a trio of offensive line targets out of Washington State to see where things are at with them and their recruitment.
Josh Conerly (6'5 275) out of Seattle, Malik Agbo (6'5.5 320) out of Federal Way, and Dave Iuli (6'5 315) out of Puyallup all have OU among their top interests.
While it is never easy to pull kids to Norman from such a distance, Coach B has shown the ability to take guys from all over the country so there is no reason to doubt his chances with this group.
The first thing the Sooners need to do is get them on campus.
***Conerly tells me he 'wants to take a visit to Norman, but not sure when'.
***Agbo says 'Yeah they are on my mind. I haven't gotten a chance to set any officials yet, but I am thinking of those guys'.
***Iuli told me 'My parents and I are figuring out dates for the visit, but we will definitely be going to visit the Sooners in June'.
K has spoken with Agbo at length as he caught up with him on his west coast swing and he will have a full write-up on him at some point, but OU is putting in the work on each of these guys and will likely host each of them at some point.
Iuli is a guy who I believe would likely be the one who the Sooners are in the best shape with right now pre-visit as he told me he has a great relationship with Bedenbaugh and seems quite enamored with the Sooners.
Will visits be enough to pull any of the three away from the Pacific Northwest? We will see in time, but you have to like Coach B's style of casting a wide net and looking for his guys from coast to coast.
---
The Latest | 2022 DB Jayden Rowe
– Charlie S
You may have seen Super K's tweet earlier this week about 2022 DB offer Jayden Rowe (6'3 210) out of Tulsa locking in his OU visit for June 18th.
That is obviously good for Oklahoma.
Rowe also told K he is set to visit Baylor following the OU visit.
We continue to believe that Baylor is a legitimate threat to Oklahoma in this one so it will be important for OU to really fire on all cylinders when they get him on campus.
Will have more on Rowe later.
---
2022 Pilot Point LB Ish Harris Sets Return Visit
– CJ Vogel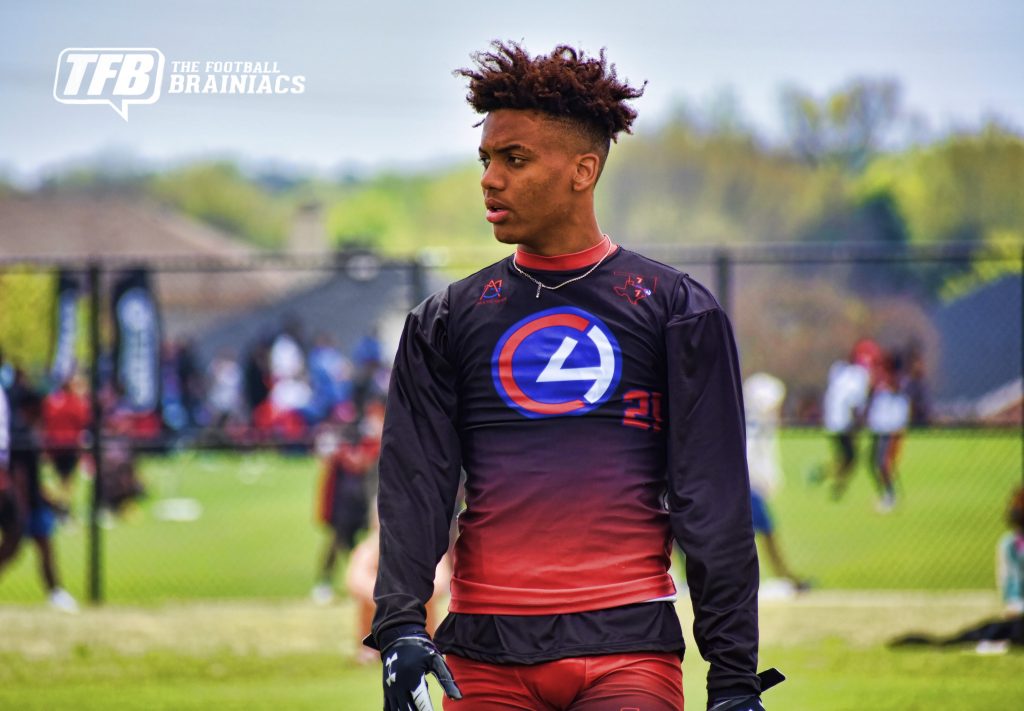 2022 Pilot Point ATH Ish Harris has been rather proactive in making self-guided visits before the dead period ends.
A quick look at some of the visits Harris has made in the last 2+ weeks:
Oklahoma: March 12
Texas A&M: March 18
Baylor: March 18
Harris will be back in Norman for an unofficial visit on June 19 for the Champ U BBQ.
Obviously, Harris visited Norman for a self-guided tour on March 12, though I really think getting him on campus with a big group of targets and commits could have a really, really big positive influence for the Sooners in this recruitment. In fact, I think it would be counteractive to an extent to have him on campus in a smaller group setting or by himself.
Harris told me he is really looking forward to meeting the OU coaching staff in-person and see the inside of facilities on the visit.
I get the vibe Harris will wait to use his official visits until closer to the season to get a sense of gameday vibes and overall atmosphere at each school. I would be shocked if OU did not get an OV.
I believe the OV's will look something like this for Ish – Texas, Texas A&M, OU, Miami and Utah.
---
Jovantae Barnes & Gavin Sawchuk | Visit Updates
– Super K
The Sooners are still in the market to land their first running back commit in 2022 (Raleek is really an ATH in the Sooners' book).
***Jordan James – Sooners were recruiting 4-star TN RB, Jordan James (Oakland). I had seen James a couple weeks ago in Atlanta and it was clear OU was very high on his list but it was also clear that they were sitting a little behind UGA. He ultimately did end up committing to UGA.
***The Sooners two primary targets, however, remain on the board. Their ideal class will consist of Jovantae Barnes (Las Vegas) and Gavin Sawchuk (Littleton, CO).
***Barnes is high on the Sooners and USC. He's basically just been waiting on the opportunity to visit OU, in order to decide where it is a good fit. He's very close to DeMarco Murray.
***Barnes was planning on taking his official visit on June 11th-13th. However, he tells me he has moved his OV to the big weekend (June 18th—20th).
***Sawchuk is also very high on Oklahoma. He recently took unofficial visits out to USC and Stanford. Given his academic background, Stanford was a school he really wanted to see and I felt like they were really the only school that could offer something a little different. But I get the sense that even following that trip, Sooners are still in pole position.
***As of now, the Sawchuk's tell me they haven't set an official visit date yet but they are working on setting one up for June. The fact that he's taking an official visit to Notre Dame is certainly notable as he did visit Notre Dame, prior to Covid, unofficially.
***When I spent some time with the Sawchuk family, I got the sense that the family atmosphere and the people at Oklahoma really made a big impact on their unofficial (pre-Covid). Considering that, I do wonder if it might be better to have Sawchuk in on a different weekend than the big event and split things up with Barnes. That would allow DeMarco to really focus on each individual.
***However, Barnes, like Sawchuk, is a very very sharp young man – high academic guy. So, I also could see the case for both those guys coming the same weekend and bonding. Both Barnes and Sawchuk are both aware of the fact that the Sooners want both in the class.
---
Devon Campbell Details Interest in Oklahoma
– CJ Vogel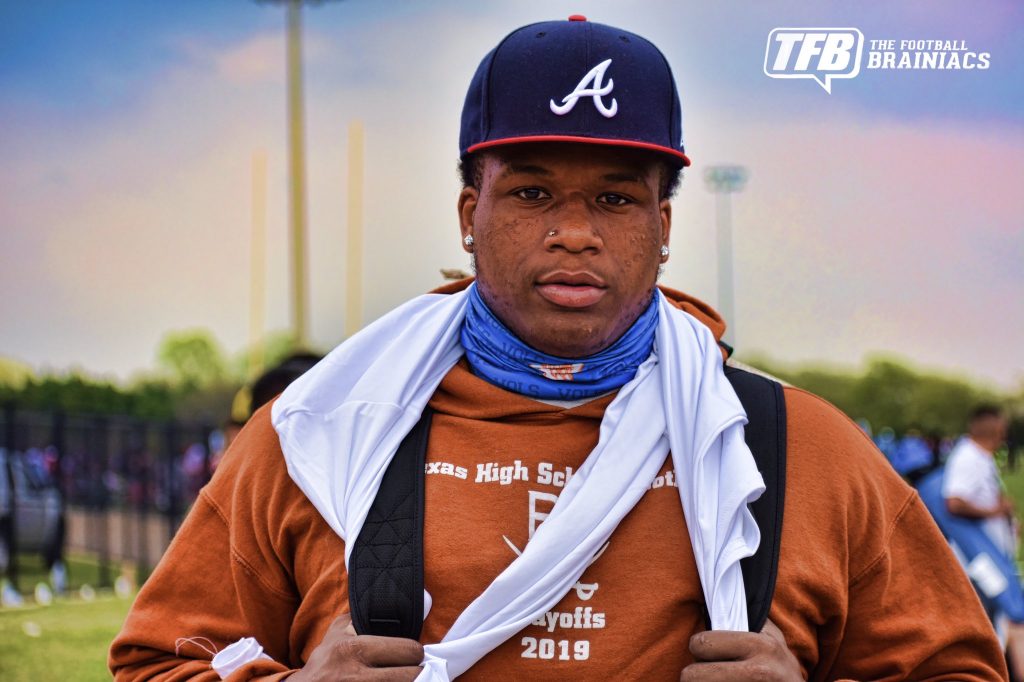 As I mentioned on Saturday in my quick hitter, 5-star Arlington Bowie OL Devon Campbell currently only has one visit scheduled so far and it's with the Sooners on June 16-18. (Though he has added USC since then)
OL coach Bill Bedenbaugh, as I have heard with a good majority of his offensive line targets, has been doing a very good job of creating a strong relationship with Campbell and making him feel like a priority.
"They constantly remind me that I am a key player for them and their future teams," Campbell said. "They have a winning tradition and OU gets their O-line to the league. That's what I like about them."
Campbell has taken a liking to Bedenbaugh's ability to produce NFL offensive lineman. The two have been in very strong communication so far.
"Oh, its' great. We contact each other every day. He's constantly staying on me."
Campbell is looking for a coach that can maintain a strong relationship on and off the field and the way he spoke about Bedenbaugh made me think that he believes he may have found something along those lines with Coach B.
As for other official visits, Campbell will be out west to visit the Trojans on June 4 and has nothing currently in place with Texas. Though, he mentioned the Longhorns as the only other school who will for sure get a visit at the moment.
As for a timeline, there is nothing in place for Campbell who said it could stretch out to NSD or wrap up after the visits closer to the season.
---
One of the questions I got about Campbell during the weekend quick hitter was if it was really a closer race than many other sites have drawn it up so far. I do think OU has a good shot at landing Campbell. Clearly, being the first to land an OV from Campbell shows that the interest is there. Campbell believes Bedenbaugh can put him into the NFL and develop him at a high level and ultimately, I think this is going to help the Sooners a lot in this recruitment.
I am not saying to pencil Campbell into the Sooners' class, as Texas has long been in the picture and believes they are at the very top for him right now, but things are certainly closer than they appear from the outside in my opinion. There's a long way to go on this one.
---
Oklahoma Standing Out to Omari Abor
– CJ Vogel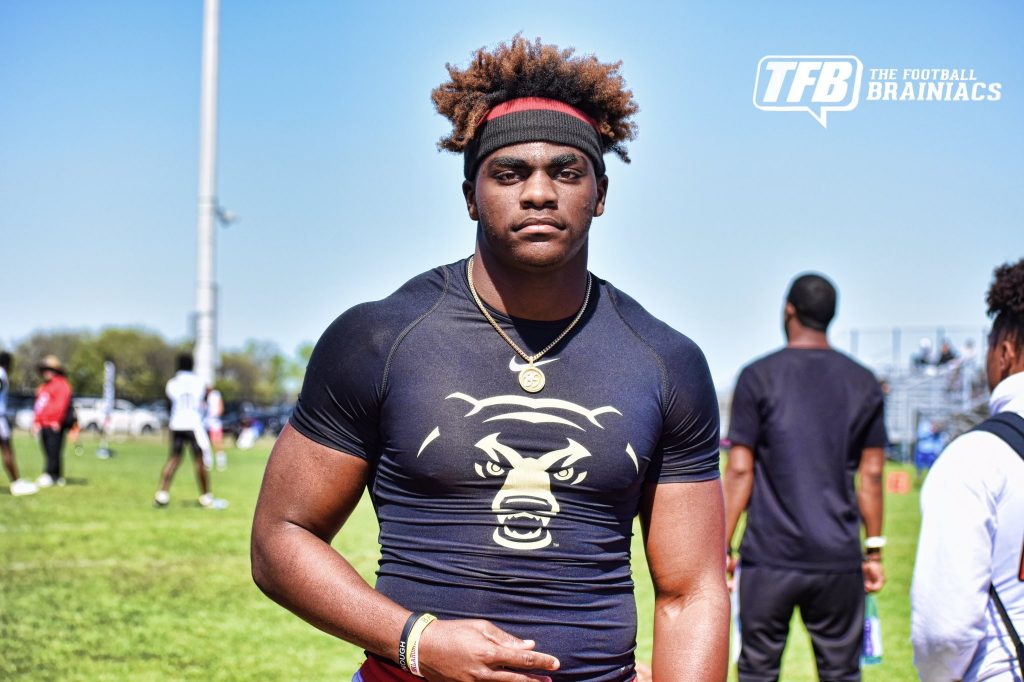 Abor was at the True Buzz Invitational to watch some high school teammates and friends in action. Fortunately, I was able to catch up a little bit with him to see just how his recruitment was progressing and to finally get some information on his contact with the Oklahoma staff.
Oklahoma has been making a very good impression on Abor who listed the Sooners as one of the schools he hears from the most along with Ohio State and Alabama.
With official visits being the hot topic of discussion for most recruits, I asked Abor where he thinks he will be spending most of his OV's. He said he will likely use the officials on schools that he is unable to drive to. So that means schools like Texas, Texas A&M and TCU most likely will not receive OV's.
I found it interesting when I asked him if Oklahoma would receive one, he said they most likely would, despite it being just a 2.5 hour drive north.
The others in contention for an official were Ohio State (June 4-6), Alabama, Arizona State and LSU.
I got the sense that Ohio State is the leader here. Abor raved about the Buckeyes' ability to develop defensive ends like Chase Young and the Bosa Brothers in recent years. He also mentioned their staff has been after him the most of any stuff so far.
Though, the Sooners are making things interesting. He said DL coach Jamar Cain has been really hammering the success of Ronnie Perkins and Isaiah Thomas this past year. Abor said he could envision himself being the next in line for the Sooners there.
Again, I get the sense that Ohio State is likely in the lead, but the Sooners are running right with them. Alabama will also be in the mix but I didn't get the sense that any other schools had much of an impact with him at the moment.