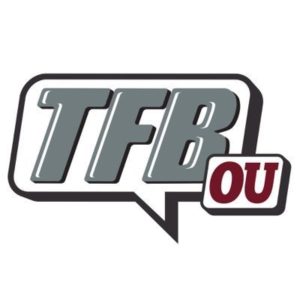 Open Post | Weekend, April 29th – May 1st
Posted on: April 29, 2022
Wide Receiver Room | Lots of Vacancy
– Charlie S – Posted on: April 27, 2022
Yesterday, the Sooners lost depth in the wide receiver room as RS Freshman Cody Jackson submitted his name into the NCAA transfer portal.
The loss of Jackson leaves the Sooners with eight scholarship wide receivers in the program:
1 Jayden Gibson 6'5″ 191 – Freshman
3 Jalil Farooq 6'1″ 205 – Sophomore
4 Nic Anderson 6'2″ 202 – Freshman
10 Theo Wease 6'2″ 201 – RS Junior
12 Drake Stoops 5'10" 192 – RS Senior
16 Brian Darby 6'0″ 210 – Junior
17 Marvin Mims 5'11" 179 – Junior
81 Trevon West 6'0″ 173 – Junior
Not going to sugarcoat it as I have been crowing about the WR room for the last 3 years but as captain obvious would now say…that is a problem.
Some may feel 'OU will be fine at WR' and many still subscribe to the notion that 'WR is the last position we have to worry about'.
Newsflash: OU is not fine at wide receiver and that group is likely the main position that OU has to worry about throughout the entire program.
What makes the lack of quality depth so glaring this year is the installation of Jeff Lebby's scheme which is high tempo. You would like to have 12 wide receivers in a perfect world but 10 capable pass catchers is the bare necessity.
How did OU get here? Easy…the last staff was incredibly overrated as recruiters of receivers and worse at developing them.
You can read about the path OU took to get in this position HERE in the 'Behind the Scenes | WR Room: A Lot of Credit Without a Lot of Results' piece I wrote back in December.
Right now you have:
***One proven game breaker in Marvin Mims
***One proven possession guy in Drake Stoops
***One veteran who you expect (hope may be a better word) to be able to excel in the new system in Theo Wease
***One guy that has all the buzz coming out of spring in Jalil Farooq
***Four guys who have had some moments or are freshmen in Brian Darby, Trevon West, Nic Anderson and Jayden Gibson
Thank goodness Anderson and Gibson sort of fell into their laps.
If ONE of Mims, Wease, or Stoops go down for any lengthy time…that is trouble.
OU has some walk-ons to alleviate some of the strain on the upcoming fall camp in regard to practices but in my opinion, they desperately need to do work here before summer camp and find two scholarship worthy guys either currently in the portal or guys who are thinking about getting into the portal.
I know other places talked about Billy Bowman switching sides. That was never going to happen and that was just nonsense from the beginning. Now some have moved on to the possibility of DJ Graham switching sides and by all accounts, we have been told that this is not even in discussion (nor should it be).
The Tight End room has Brayden Willis in it so that will help and the addition of Daniel Parker could be huge for the Sooners. Jason Llewellyn (still not moving to OT despite some nonsense thrown about) and Kaden Helms could make gains throughout the year and have an impact, but again, they are freshmen and you cannot rely on them for anything right now.
I am actually pretty surprised that the Sooners have yet to add a transfer or two to the room. I expect they are working overtime to come up with another body or two. We had heard a few names they were looking at when the season ended, but they did not work out.
It is badly needed. Right now the wide receiver room has a huge flashing vacancy sign on the door.
Coming out of spring ball, they are at the top of my list of concerns for OU and the '22 season. More than QB2, more than interior DL…more than any other position.
I think they will be in better shape by the time '23 rolls around, but if they do not add any impact players to the depth…the '22 season is going to be a 'hold your breath' type of year.
---
Update | '23 RB Tre Wisner
– Charlie S – Posted on: April 27, 2022
So last week '23 RB Tre Wisner (5'11 180) pulled up to Austin and surprised just about everyone in the recruiting world when he committed to the Longhorns following an unofficial visit.
Let's sort through what we know about that recruitment:
***We know Tre has an official visit to Norman set up for June 3rd to 5th. He told me that prior to him committing to Texas.
***We know that OU is still pursuing Wisner and they currently still have him listed as an official visitor for that weekend in June.
***Source told K that Wisner was very impressed with Texas running back coach Tashard Choice and his approach to Tre's recruitment. That is no swipe at DeMarco, we know how he and his mom feel about Coach Murray.
***Source tells James that OU believes there is 'Plenty of time' and 'It's not final, he will be here June 3rd'.
In other words, OU does not believe they are out of this recruitment by any means at this time.
---
Quick Visit Note | '23 LB Anthony Hill
– Charlie S – Posted on: April 28, 2022
The Sooners will be hosting '23 linebacker Anthony Hill (6'2 225) out of Denton, TX (Ryan) once again.
Sources confirm that Hill is locked in for an official visit for the Sooners June 3rd BBQ weekend.
Brent Venables and Ted Roof will get to take their shots with the talented backer.
---
TFB Randoms | Renaud and McVay
– Charlie S – Posted on: April 28, 2022
Couple random notes…
***Sooners were expecting to host '23 DL Jordan Renaud (6'3 245) for the spring game. That visit did not take place as Renaud was not able to make it to campus last weekend.
As you may recall, Super K recently noted that while we felt that OU was in a very good spot throughout the spring, Alabama made a serious push after a recent visit. HERE.
'With all that said, K touched base with his sources at Bama and it appears that the Crimson Tide, following a recent visit, has made a big move here and some around the program (Alabama) are feeling confident that they could be in the driver's seat and a decision could be near.'
We are working to see if there is another visit in the works for Renaud and the Sooners, but just wanted to let you know he did not make it in.
***In regard to '23 OL Miles McVay, the news is much more encouraging.
McVay let me know that he is planning on taking an official to OU and is hammering out the details of when that visit will take place.
He visited the Sooners back in March and OU made some pretty big gains in his recruitment as they went from the periphery to the top group on his list. HERE.
'The conversation then turned to his recruitment. I mentioned that OU seemed like a school that was a nice offer to have but they were outside the top group in his recruitment and if that may have changed following his visit. He said 'Now that I have had a chance to visit, I would say they are a very serious contender. I loved what I saw down there and it was just an amazing feeling like none other. I will most definitely get down there for an official visit."'
OU currently has Josh Bates committed as the lone representative of the OL class and they are in good shape with Cayden Green as well. It is pretty imperative that Bedenbaugh gets a bunch of his priority targets in this class after having a couple less than stellar classes (numbers wise) over the last few cycles.