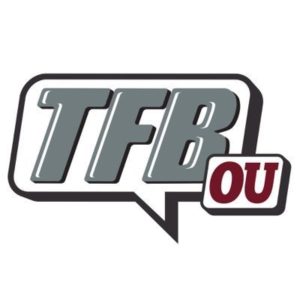 Open Post | Weekend, April 23rd – 25th
Posted on: April 22, 2022
Spring Game Visitors | Working List
– Charlie S – Posted on: April 19, 2022
The Sooners are set to host some exciting prospects this week for their spring game!
Below is a working list of those who have either announced they will be coming via social media or those we have confirmed independently.
There will be many more additions to this list and, as usual, there will be some kids who will not make it in.
We will update this post and bring it to the top every few days!
---
'23 QB Jackson Arnold – Denton, TX – OU commit
'23 OL Josh Bates – Durango, CO. – OU commit
'23 RB Dylan Edwards – Derby, KS. – OU offer
'23 WR Jaquaize Pettaway – Houston, TX- OU offer
'23 OL Cayden Green – Lee's Summit, MO – OU offer
'23 OL Jaydon Chatman – Harker Heights, TX – OU Offer
'23 OL Payton Kirkland – Orlando, FL – OU offer
'23 OL Trevor Goosby – Melissa, TX
'23 OL Logan Howland – Princeton, NJ
'23 DL Jordan Renaud – Tyler, TX – OU offer
'23 EDGE Caleb Otlewski – Melissa, TX
'23 EDGE Bai Jobe – Norman, OK – OU offer
'23 DB Tyre Young – Kingsland, FL
'23 ATH Jacobe Johnson – Mustang, OK – OU offer
'24 OL Daniel Cruz – North Richland Hills, TX
'24 DE Kavion Henderson – Leeds, AL. – OU offer
'24 DT Tyler Moore – Locust Grove, GA – OU offer
'24 DL Nigel Smith – Melissa, TX – OU offer
'24 EDGE Colin Simmons – Duncanville, TX – OU offer
'24 DB Jaylen Mbakwe – Pinson, AL – OU offer
'24 ATH Mario Craver – Pinson, AL – OU offer
'24 QB Michael Hawkins – Allen, TX
'25 QB Emile Picarella – Madison, MS
'25 LB Kelvion Riggins – Dallas, TX
---
Update | Jordan Renaud | Update: 2:55 pm
– Charlie S – Posted on: April 19, 2022
K passed along a note he asked me to drop on '23 DL Jordan Renaud (6'3 245) out of Tyler TX.
We have reported that things were trending very well for OU in their pursuit of Renaud for a while now.
CJ had a note back on March 14th and we had picked up additional corroboration as recently as April 7th.
Renaud is expected to be in Norman this week for the OU spring game, we just have not confirmed that with him at this point.
With all that said, K touched base with his sources at Bama and it appears that the Crimson Tide, following a recent visit, has made a big move here and some around the program (Alabama) are feeling confident that they could be in the driver's seat and a decision could be near.
The Sooners could really benefit from a visit this weekend with the hopes of slowing that momentum and potentially creating some space between the two programs. We do believe he will make the trip, OU is expecting him in, but again, until we confirm with him, we can't say it is set in stone.
Update: 2:55 pm
K just let me know that a source close to Renaud indicated that the plan is for him to be in Norman for the spring game. That is a good thing.
---
Sourced Notes | Last Team Period Ahead of Spring Game
– Charlie S – Posted on: April 20, 2022
I came across some sourced notes from this week's practice. OU only had one padded practice this week, and that was yesterday.
***Was told the offensive line had a very good day in team period. On Tuesday they were dominant. Harrison, Mettauer, Congel, Murray and Morris got the most reps with the 1's. Raym back in there rotating with Congel.
***Said Cody Jackson got a bunch of run and made a few nice moves after the catch. Source said he made a nice one handed catch as well.
***Eric Gray stood out on his snaps running the ball and noted he is a weapon in the pass game. Always seems to find the open space. Was told 'Jovanate was quiet, which is news because that is the first time he has been held in check'.
***Jayden Gibson learning how to use his body to his advantage. Source said it looked like he caught a second wind this week.
***DL struggled to get pressure but when they got it, it came from the edges. Reggie Grimes flashed.
***Source said 'Key (Lawrence) and Billy (Bowman) already have a ton of chemistry working together, they look like they have been out there together for years, not weeks.'
***Was told Stutsman is the most consistent LB and he made a couple nice plays but looked like something clicked with Uggy (David Ugwoegbu) this week and his energy and intensity was really high. Source said he had one of the best defensive plays of the team period on a run fit that got everyone fired up.
***Daniel Parker buried a man in a short yardage situation during team period. Was the biggest hit of team period
***Kani Walker and Jaden Davis each had a couple PBU, didn't see any interceptions though.
***Source said Ralph Rucker is not going away, getting 3rd reps but will battle for QB2 and right now, he deserves it. Threw a great ball to Mims in team period. Source said Evers has a lot of talent, but right now it looks like Rucker has picked up the offense a little quicker.
***Was told Brayden Willis 'walking the walk' and is leading the TE room by example and had several big plays. Source said that right now he is undoubtedly the 'safety blanket' of the spring for the QBs as he is catching everything they are throwing up to him.
The next set of notes you get…will be from your own eyes as the Sooners get on the field, in front of fans, and on your TV in the spring game!
---
Spring Game Preview | 5 Things I'll Be Watching
– Charlie S – Posted on: April 21, 2022
With the spring game just two days away, I thought it would be a good time to bring up some of the things I will be watching.
Brent Venables has indicated he will be splitting the program up into 2 teams.
He also noted that Dillon Gabriel will get time with both of the teams.
That tells us it will not be 'good on good' all the time so you have to take that into account.
Here is to hoping he keeps the units intact (like the 1's on the OL, DL, etc) which will allow the rooms to work together in a 'game' type setting.
1. First thing I will be watching is the offensive line. Yes, we have all seen practice videos, James has seen them live, but I want to see them line up as a unit to see how they look physically. We have talked about the gains of Wanya Morris and Chris Murray but I am eager to see how they look as a unit…physically. In regard to what I want to see during the game play…show me comprehension of the calls and play relatively penalty-free. Throughout the spring we have heard how dominant McKade Mettauer has been…show me a pancake or two big fella. I will also be focusing on the tackle play and I am looking forward to seeing Savion Byrd get his reps.
2. After the offensive line, I will be watching the QB play, and I will be particularly interested if Lebby dials it up and goes somewhat close to 'full speed' with the tempo. We aren't really going to learn too much about Dillon Gabriel and yes there will be over reactions no matter what following his performance. Gabriel is either going to be the Heisman Darkhorse to OU fans if he shines or the fan base will be in their feels should he have a rough day. Let me caution all reactions to the QB play by saying the spring game will dictate nearly nothing in regard to how Gabriel will look snap one of game one during the regular season. All I will be looking for from Gabriel is his command of the offense and the decisions he makes. After Gabriel, we have heard that there is a rather large gap in terms of play from the QB room. I will be watching Nick Evers, Ralph Rucker, Micah Bowens and Ben Harris to gauge their physical attributes more than their command of the offense at this stage. Hoping to see a few tight window throws on basic plays and how they command the offensive line and the calls for protection. I know there are those out there beating the drum that OU will take a QB from the portal. We (TFB) still have not heard that is a high priority, or even something that is being actively pursued. Yes, Venables and staff will always be looking to upgrade their roster, I just don't see how a QB fits in at this point because I don't see the type of QB you would want looking to come to OU right now with Gabriel locked in as the unquestioned starter and Evers in camp and Arnold committed. That is a fine line to walk.
3. The secondary has had my curiosity for a while based on the underdeveloped talent in that room…now I want them to get my attention with their play on the field. Throughout the spring, sources have talked about the play of the DBs and how physical and disruptive they have been. I need to see it. I need to see the strides that have been made. I need to see a lot fewer receivers running 5 yards open downfield than we did all of last year. I expect there to be some coverage busts, but I also expect to see more contested balls. I'm not all that interested in Woodi or even Key Lawrence. I am very interested in seeing Billy Bowman, Jaden Davis, DJ Graham, and Kani Walker. I am very curios to watch the body language of the DBs and see if Josh Eaton and Kendall Dennis actually get a lot of reps and what they do in those reps. I'm looking to see hands on footballs from the DBs and different techniques at the LOS as opposed to the one technique that the former regime tried to make work for every situation (it didn't work). If the OU back up QBs are not up to par, I want to see the DBs make that very noticeable by taking advantage of them. This was a malnourished group for the last three years…they had not been provided with the number of tools nor the proper tools for the job. Just looking for glimpses of progress here.
4. The interior defensive line is something I will be keeping my eyes on. I am pretty confident that we know what OU has on the edges…they should be good to very good out there. The interior of the defensive line is more of a question mark in my mind. Jeffrey Johnson was probably my favorite portal pick up by the Sooners this offseason and I want to see him live in a Sooners uniform. I want to see if someone not named Jalen Redmond is able to create disruption against what we have been told is the strength of the OU offensive line the spring (the interior OL with Mettauer and Murray). We have heard Todd Bates publicly praise Jordan Kelley…well, let's see some disruption there Mr. Kelley. This is another group I will be interested in seeing physically as they get to the LOS. I will be looking for someone to show some development as an interior pass rusher instead of watching Perrion Winfrey just slam himself into the line with his head down (not ragging on Perrion, ragging on what they had him do) trying to be disruptive. Let's see some little technique improvement and see if Coach Bates has put a few more tools in their tool box.
5. Tempo and physicality. I expect this spring game to be much different than the two hand touch games we have seen over the last 4-5 years (aside from getting to the QB of course). Venables and his staff have preached the notion that there is no depth chart and it is an open competition. This is an opportunity for every player on the team to make an impact in a game setting. If the competition is as open as we are told, I would expect there to be some overzealous players on the field on Saturday and I expect there to be some physical play. I want to see the energy on the play and on the sidelines. I will be watching Coach Chavis to see how intense he is on the sideline. I will be looking to see if Venables needs a get-back coach for a spring game (I do not expect that but that would be fun). I want to see the passion that the recruits and their parents talk about coming from this staff on display on the field through it's players. Show me that football is still a fun and physical game. Let the players make a moment for themselves. I'm pumped.
What will you all be paying attention to?