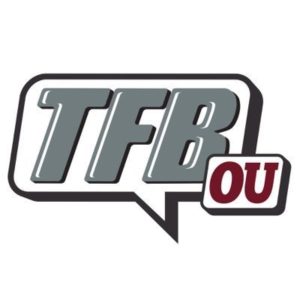 Open Post | Weekend, May 10th – 12th
Posted on: May 10, 2019
Seth McGowan | A River of Inspiration | Recruiting Update + Insider Note
– Super K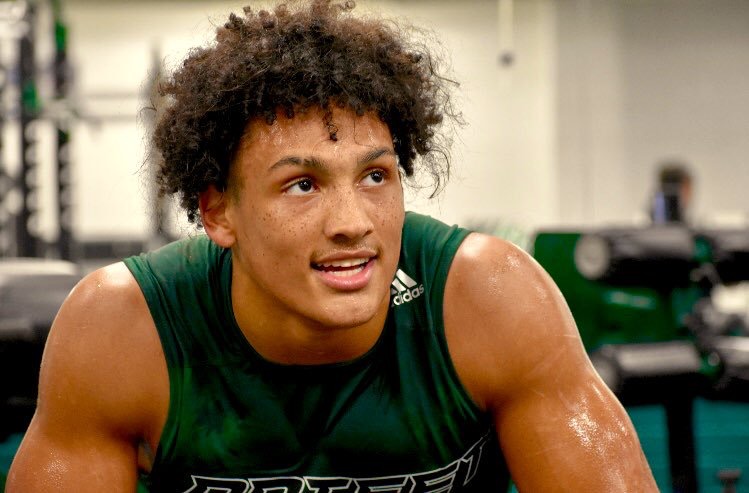 This past weekend, the Sooners hosted 2020 running back, Seth McGowan (Mesquite Poteet) for an official visit.
As you know, the Sooners are still in the market for one more running back to go along with Jase McClellan in this 2020 class.
McGowan recently dropped his top four schools which included: Oklahoma, Georgia, USC and Texas A&M.
Earlier this year, I stopped by Poteet High School to visit with Seth and head coach, Kody Groves.
I went in thinking it was just another school visit and just another interview. I came out thinking of the saying, "You can find in rivers what you can't find in oceans". I came away inspired by this young man.
A simple story that coach Groves told me about Seth really stuck with me. The story is about Seth McGowan from his freshman year – he would've only been around 14 years old.
"He (Seth) started for us a freshman. We played five rounds and lost to Aledo in the fifth round. You know, it's a long season and it's the week before Christmas. Everybody is gone but the coaches came in on Saturday. We came in to clean up the locker rooms. The season's over."
When the coaches arrived, who did they find on this December Saturday?
"Seth is out there by himself flipping tires".
Coach Groves continued, "If the weight room is open at 5:30 in the morning, he's going to be here at 5:30. He's going to work out with his team at 7:30. He's going to go to school. He's going to come back and do offseason and then go run track and then he tries to sneak back in the weight room after track practice. We literally have to tell him to go home sometimes. He's the hardest working kid I've ever been around".
But Seth's almost superhuman dedication and athleticism aren't limited to sports. He is a star student, as well.
"Academically, he's the same way. After his freshman year, he was on track to be valedictorian".
The reason McGowan isn't able to graduate valedictorian is due to the fact that he has athletic block during school. So, other students are able to add an AP course which gives them a gpa advantage. But as coach explains, outside of his athletic block Seth, "takes all AP classes. GT student. Easily could get into schools like Stanford and Vanderbilt"
I asked coach Groves where that level of focus and dedication comes from, especially in someone so young. Coach Groves seemed to imply that it's always been in Seth.
"I remember him in seventh grade he would sit up there with a notepad drawing plays and taking notes off of what we were doing while his other friends were running around…Seth was just in the stands as a seventh and eighth grader with a vision and a desire. He was focused. He had a goal. Who knows what that internal twitch is that makes a kid think, this is what I want to do?"
"He's got a drive that I've never seen in anyone before."
As I listened, I was inspired but even coach Groves admitted that he himself is motivated by Seth's unique dedication, "I'm inspired. I learn something from a young kid about desire to want to be successful. We've actually had to teach him over years that less is more and sometimes rest is important".
While some players may shy away from competition, seeking what they deem to be a path of lesser resistance, Seth feeds off of the competition and rises to it, "Here's what I love about him. It doesn't matter whether a school has already got two to three kids committed at his position, he's going to walk in there thinking, nobody is going to outwork me. That doesn't intimidate him at all…he's going to go to the best school for him regardless of who else is there".
As impressive as Seth is off the field, his coaches emphasize that who Seth is as a person and how he impacts a team and conducts himself, is personally as important, "I'm telling you the things that ought to speak volumes about him is the fact that he's an even better kid off the field. He's truly a leader. He was a captain as a junior. We do don't do that in high school…He would've been a captain as a sophomore but that's a lot of pressure to put on a young kid".
Coach went on, "He raises the bar for his teammates. He expects them to be successful".
I witnessed this leadership quality myself as I watched him during what would've been his third workout of the day stop to help show a younger player, who was staying late, how to perform certain lifts.
"Whether he ever stepped on campus and played one snap at any college he'd go to, he would immediately walk into a locker room and whether he ever played or not, the entire team is better just by the fact that he walked in that locker room. People around him are going to look at how he works and think, oh I better get after it! There ain't a college in the country that he would walk into that isn't immediately better when he walks in."
But rest assured, the chances of Seth not being a major contributor on the field in college are slim, at best. As a player, Seth is a complete back, as coach Groves says, Seth has the speed to outrun, he can run around you but he "runs angry and doesn't shy away from contact". In other words, he likes to punish opponents. "He runs like he's mad at the world even though he's not".
When I spoke to Seth himself, I had to ask him what's behind his unique dedication and drive. His answer was, as expected, beyond his years and he offered it up so quickly that it was clearly something he's thought about.
"[My work ethic] is probably something inherent. But there are three reasons I think about it to make me work like I work. A man is supposed to take care of his family. I work hard so that I'll be able do that. The second reason is I feel people are given gifts and time goes by and whether you got the most out of those gifts or not is about whether you used that time. I don't want to look back and feel like I wasted my time and wasted my gifts. And the last reason is to inspire others."
As I've moved into middle age, that second reason, really struck me. It was a great reminder to take advantage of what I've been given even if only the good health to get up and visit friends and family or to do something kind for someone.
Recruiting
Seth recently released his top four schools which included Oklahoma, Texas A&M, Georgia, and USC.
The inclusion of Oklahoma did not surprise me as Seth has had a long-standing relationship with the OU staff.
This past weekend he took his first official visit which was to Oklahoma.
I spoke with Seth about the visit. This certainly wasn't Seth's first visit to Oklahoma. He's been there on multiple occasions.
However, Seth said he still got plenty of out of this visit,
"Primarily, the target was, going into my official, to see a lot more of the academic side of it. To see what I want to do. I talked with specialists who have previously taken my major. I talked to coach Bennie Wylie, the strength and conditioning coordinator. I talked to the team therapist. I talked to the lady who runs the kinesiology program and we dove in and she showed me what I needed to take…"
Seth went on and added, "I got around the players to see the familiarity and see how they carry themselves outside of the academics and athletics. Also, getting around the coaches more and being on campus for an extended period of time helped get a good feel for things".
Seth remains pretty private in general about his recruitment so he didn't go into detail about a lot of what was said between himself and the staff but he said that it was clear to him that the Sooners see him as a priority and on his end, OU is a priority for him, as well.
"I had a really great talk with coach Riley at the end of my visit just to kind of conclude everything…it left off on a good note".
Seth noted that Oklahoma checks all the boxes for him and added that his "comfort level is very high" when it comes to Norman, OU, and the coaching staff.
Seth and I also spoke a bit off the record about his plan moving forward and he did say that he will take his official visit to Georgia in a couple of weeks. Beyond that, he prefers to keep his plans off the record but I can tell you that an announcement could come earlier than might be expected and the Sooners absolutely put themselves in contention here.
If you would like to read Super K's 'Insider Note' which accompanies this article, please check the Donor Board.
---
Nate Anderson | Additional Thoughts On OU Commit
– Super K
***In case you haven't seen some of the comments that Charlie and I posted regarding the newest OU commit, 2020 OL, Nate Anderson out of Frisco (Reedy HS), I wanted to share those here.
A) It sounds like the Sooners went by to see Anderson last week and were extremely impressed with him. This may be a recent offer but based on what we've heard OU is very excited about this commitment.
B) Our sources on the Texas side had recently seen Anderson, as well. And, I was told that despite the fact that they already have three OL commits and lead for Chad Lindberg, they were on the cusp of offering Anderson themselves. Again, I don't point that out to bolster Anderson's credibility. Based on Bedenbaugh's talent identification and development, his evaluation should be the standard. I do point it out so that those of you who may be concerned that OU isn't getting their top guy, may find some solace in knowing that even the flagship TX in-state program was late to find Anderson and we are being told they were also extremely impressed.
C) Some of you are familiar with our TFB contributor, Darius Terrell who was himself a former 4-star WR and Texas player. He has contributed on our OU side before but primarily writes on our Texas side.
Darius is an excellent talent evaluator. He not only played the game at a high level, but he's coached, as well. He's also very sharp and observant. You'll recall, he was one of the first people to point out to us that Sanders naturally position was as a linebacker on the defensive side of the ball.
Darius also brings an objective voice. Despite the fact that he played for Texas, he's a straight shooter when it comes to his thoughts on the programs and the recruiting.
In our TFB writers group text message last night, Darius sent us the following note about Anderson…
"He's going to kill Texas for four year for not offering [sooner]. Best 2020 OL in Texas. He's been playing TE. He's just killing people. Just wait until he gets in the weight room".
High praise and it was unprompted.
---
Oklahoma Is QBU | Lincoln Tells No Lies
– Charlie S
Earlier this week the topic of 'QBU' was brought up.
Coincidentally, in what was a case of great timing for us, Lincoln Riley tweeted out about that very topic…
So I went in and did a little investigating.
Below is a list of every quarterback taken in the first round of the last ten NFL Drafts.
2010
Pick #1 OU – Sam Bradford *Heisman Trophy Winner (2008)
Pick #25 FL – Tim Tebow *Heisman Trophy Winner(2007)
2011
Pick #1 Auburn – Cam Newton *Heisman Trophy Winner (2010)
Pick #8 Washington – Jake Locker
Pick #10 Missouri – Blaine Gilbert
Pick #12 FL State – Christian Ponder
2012
Pick #1 Stanford – Andrew Luck
Pick #2 Baylor – Robert Griffin *Heisman Trophy Winner (2011)
Pick #8 Texas A&M – Ryan Tannehill
Pick #22 OkState – Brandon Weeden
2013
Pick #13 FL State – EJ Manuel
2014
Pick #3 Central Florida – Blake Bortles
Pick #22 Texas A&M – Johnny Manziel *Heisman Trophy Winner (2012)
Pick #32 Louisville – Teddy Bridgewater
2015
Pick #1 FL State – Jameis Winston *Heisman Trophy Winner (2013)
Pick #2 Oregon – Marcus Mariota *Heisman Trophy Winner (2014)
2016
Pick #1 Cal – Jared Goff
Pick #2 ND State – Carson Wentz
Pick #26 Memphis – Paxton Lynch
2017
Pick #2 NC – Mitchell Trubisky
Pick #10 TTU – Pat Mahomes
Pick #12 Clemson – Deshaun Watson
2018
Pick #1 OU – Baker Mayfield *Heisman Trophy Winner (2018)
Pick #3 USC – Sam Darnold
Pick #7 Wyoming – Josh Allen
Pick #10 UCLA – Josh Rosen
Pick #32 Louisville – Lamar Jackson
2019
Pick #1 OU – Kyler Murray *Heisman Trophy Winner (2019)
Pick #6 Duke – Daniel Jones
Pick #15 Ohio State – Dwayne Haskins
Lincoln tells no lies. For the last decade, OU clearly has been 'QBU'
Schools with quarterbacks taken number one overall in the last 10 years:
OU – 3 – Bradford, Mayfield, Murray
Auburn – 1 – Newton
Stanford – 1 – Luck
Fl State – 1 – Winston
Cal – 1 – Goff
Schools with Heisman Trophy Winning quarterbacks in the last 10 years:
OU – 3 – Bradford, Mayfield, Murray
FL – 1 – Tim Tebow
FL State – 1 – Winston
Auburn – 1 – Newton
Baylor – 1 – Robert Griffin
Texas A&M – 1 – Johnny Manziel
Oregon – 1 – Marcus Mariota
Schools with multiple first-round quarterbacks taken and their average pick number in the last 10 years:
OU – 3 – Average Pick – 1
FL State – 3 – Average Pick – 8.6
Texas A&M – 2 – Average Pick – 15
Louisville – 2 – Average Pick – 32
Pretty wild when you look at it. OU is one of only four schools to have multiple first-round picks at quarterback. Only Florida State has as many first-round picks at quarterback in the last decade but their average pick number was 8.6 while OU's average pick number is 1.
OU is the only school with multiple Heisman Trophy Winning quarterbacks in the past 10 years as they have three separate winners.
Numbers don't lie, OU is 'QBU'…but you all knew that already.
---
Updates | Recent Offers | Fryar & Crawford
– Charlie S
The Sooners have extended a bunch of new offers recently which include offers to 2020 OL Josh Fryar (Beech Grove, IN) and 2020 DB Kitan Crawford (Tyler, TX)
*** In regards to Fryar, the Sooners came through earlier this week with an offer for the 6'5″ 295 lb center.
Fryar told me that OU has been in contact with him for three months or so and Coach B stopped by to see him recently. Yesterday, Bedenbaugh reached out and offered him.
He currently holds 20 plus offers from the likes of Penn State, Alabama, Ohio State and Wisconsin.
OU is playing from behind on this one right now, but should they get him on campus, they obviously give themselves a chance. I will stay in touch with Josh and let you know if anything further develops between him and OU.
---
*** 2020 DB Kitan Crawford (Tyler, TX) announced via Twitter that OU has extended the offer earlier this week.
We at TFB are very familiar with Crawford as while he did not hold an OU offer until today, the Sooners have been talking to him for some time. Super K wrote an article on him for the Texas side when he was offered by the Longhorns. In the article he said:
"By now I'm sure many of you are familiar with 2020 CB, Kitan Crawford (Tyler). He's a prospect who Darius and I were able to see live at the UA camp in Dallas. We came away impressed.
I hadn't even seen Kitan's high school film at that point. But watching his ability to mirror receivers, his eye discipline, his controlled physicality and just how all around smooth he was in and out of transitions coupled with obvious speed, size and strength really intrigued me.
I went home and watched his film. I came away thinking, this is one of the best defensive backs in the state and would at least have an argument for that top spot. He's that good in my mind.
Crawford is a 100m and 200m sprinter, as well. Track runs in his family. He tells me his aunt ran track for Baylor. Crawford also says he has some familial relations to former Texas Tech quarterback and current NFL quarterback, Pat Mahomes.
I'd say that's pretty good pedigree.
As you can see on film, Crawford is a two-way player. He's a talented running back and defensive back. Like most athletic kids, when he starting playing ball in little league, he was a running back. And despite his apparent comfort with the defensive back position, Crawford only recently transitioned to that position.
"I started playing DB my junior year. So, last year was my first year playing DB. The coaches, they saw something in me and tried to put me on defense and it ended up working".
When we saw Crawford at the UA camp, his technique did not look that of a person who has been playing for such a short period of time. He appeared advanced in his recognition and technique. He credits his high school coaches at John Tyler for spending the time to get him up to speed.
"My coaching came from my high school coach, coach Moore… every day we stay after school working on my skills, my eyes, working on everything to get me right. So, it mainly came from my coach, coach Moore".
At this point, OU will look to get him on campus for a visit and work on continuing to build that relationship.
We will connect with Crawford to get his thoughts on the Sooners offer.
---
Jalen McMillan | Update | + Wide Receiver Numbers
– Super K
***As you know, one of the Sooners top outside wide receiver targets in the 2020 class is Fresno (CA) native, Jalen McMillan.
Jalen, accompanied by his mother, took an unofficial visit to Oklahoma earlier this year and the family came away very impressed.
They have already let me know that they will officially visit Oklahoma for the Texas Tech game.
For quite a while it's seemed Oklahoma and Oregon were at the top of McMillan's list but I spoke with a source and it appears that has changed.
I'm told Oregon is no longer much a contender. Instead, I've been told that Oklahoma is in a battle here with Notre Dame and Washington.
According to my source, Oklahoma still appears to hold the top spot, at the moment.
***Also, I've been checking on the wide receiver numbers in this class and was told that the Sooners "May take three or four". The hot names continue to be Jalen McMillan, Gary Bryant JR, and Marvin Mims.
If Oklahoma isn't able to swing things back in their favor with Chris Tyree, it'd be a great pick up to grab Gary Bryant as the Sooners would really like to add an elite speed guy to the roster. They're used to having a guy who can really take the top off with that next level speed and they don't have that guy on campus, right now.
Bryant brings that kind of speed. No one has Tyree's speed…kid ran the fastest SPARQ 40 time I've ever heard of (4.23)…but Bryant will be a 4.3 guy by the time he's in college. Tyree is and will continue to be faster than Hollywood. Bryant will end up being somewhere near Hollywood, I'd surmise.
Bryant really likes Oklahoma.
Marvin Mims is another burner who also has the short area quickness to go along with a lot of flexibility. Last I checked with Mims he said he's working to set up some official visits. He also said Oklahoma will certainly be one of them.
If I had to guess, I'd say Oklahoma is his top school with TCU somewhere up there as well.
---
In Person | 2020 LB Brynden Walker
– Ryan Lewis
We've brought you some updates on 2020 LB Brynden Walker over the spring. Walker has seen his offer sheet blow up recently, with most Big 12 schools offering. The Sooners offered in late April, despite Walker's commitment to Oklahoma State in early March.
---
First Impression
I went to see Walker at Bishop McGuinness in Oklahoma City recently. The first thing that popped into my head when I saw him in person: "This guy is built like Kenneth Murray." 17 year old Murray and Walker are roughly the same size (6'3″ and 230). What stood out was how strong his frame was, similar to Murray. This is a linebacker that a college strength program would turn into an athletic animal, even more than he already is.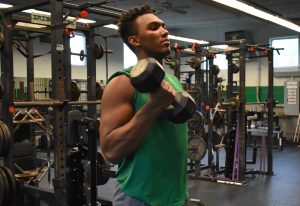 Another stand out moment was my discussion with head Coach Bryan Pierce. While the team finished their workout, we discussed Brynden. The first thing out of Pierce's mouth was, "He's a leader in this school." He didn't say team, he said school; I took that as a great thing. Walker is involved with student council, among other activities. Lots of football players can be vocal on the field; not as many are leaders off the field as well. Pierce described a hard-working leader who had a huge impact both on the field and off.
---
Recruiting
Walker's recent flurry of offers drew a commitment to Oklahoma State. He described oSu as an "amazing community and the coaches are great. Coach [Mike] Gundy is a genuine guy."
When interacting with the Oklahoma staff, he has spoken with Coach Grinch and Coach Odom. This won't surprise OU fans, but he noted that, "Coach Grinch is a very intense dude. He means business, you can just tell his whole demeanor is really business-like… But he can cut up some. He has a really callused exterior, but you can tell that he can have fun too." Several recruits, including Princely Umanmielen and Ryan Watts, have used almost those exact same words when describing the new defensive coordinator. Walker said that the intensity is something that he likes.
Walker's father, Denard Walker, played at LSU in the 90's and spent nine seasons in the NFL. Denard has been supportive and given guidance, but hasn't pushed Brynden to follow his steps. While Brynden did grow up a Tiger fan, he hasn't let that control his recruiting journey.
If you would like to read Ryan's 'My Take' which accompanies this article, please check the Donor Board.
---
Antonio Doyle Visiting OU & He's Bringing a Friend
– Super K
Sooners will finally get 2020 LB, Antonio Doyle (St. Louis, MO) on campus. Doyle announced he will visit Norman this weekend…
Doyle is not only one of the top linebackers in the country, he was also one of coach Brian Odom's first offers.
This is a big visit because two of Odom's other early linebacker offers, Mohamed Kaba and Trenton Simpson appear to no longer be considering Oklahoma.
Doyle isn't coming alone though. He tells me that he will be coming down with teammate and highly coveted 2021 DE, Travion Ford. Ford also holds an OU offer.
If Odom could land Walker and Doyle…would be a huge start for the young coach.
---
Quick Hitters | Running Backs & Visitor News
– Charlie S
Just a couple quick notes here…
*** I know several of you have asked about the status of JUCO RB and Oklahoma signee Rhamondre Stevenson and the fact that he is not yet listed in the OU student database.
I checked with James and sources have told him that OU is not overly concerned about that right now as it sometimes takes a bit longer for transcripts to pass through the NCAA process coming out of JUCO.
Now, with that in mind…
*** Several of you have also seen reports about the Sooners kicking the tires on Clemson Grad transfer running back Tavian Feaster.
Again, I touched base with James to get a sense of what he is hearing and sources tell him that, yes, OU has been in contact with him, but right now it appears that this is nothing more than OU doing their typical due diligence on a grad transfer.
Even if something were to pop up with Rhamondre Stevenson down the line eligibility-wise, Feaster would still be looking at an uphill battle for playing time as OU has Trey Sermon, Kennedy Brooks, TJ Pledger, and Marcus Major in their running back stable.
So in short, I do not believe there is any connection between OU talking to Feaster and Rhamondre Stevenson not being enrolled yet.
*** One last note, not running back related, but sources also tell James that along with the St Louis visitors, 2020 LB Antonio Doyle and 2021 DE Travion Ford this weekend, OU is looking to host 2020 LB target and Oklahoma State commit Brynden Walker.
---
Chris Steele | Schools Being Considered | Sourced
– Super K
As you know by now, Florida defensive back, Chris Steele has entered his name into the NCAA Transfer Portal.
I have been told via a couple separate sources that Steele is currently interested in four schools: Oregon, Oklahoma, USC and Texas.
Oregon and Oklahoma were two schools that were in the running for Chris' services until very late in his recruitment.
Sources on the Texas side tell me that so far, Texas is not in pursuit of Chris.
I do believe Oklahoma has spoken with Chris, already.
---
For multiple daily posts, Insider Notes, More Sourced Practice Notes, member chats with TFB staff, James Hale's Notebooks, TFB Sessions (5-minute audio talks) and much more, please check the Donor Board!