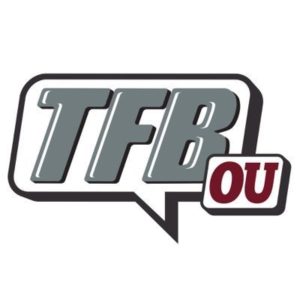 Open Post | Wednesday, September 7th
Posted on: September 7, 2022
OU vs UTEP | Post Game Thoughts
– Super K – Posted on: September 3, 2022
***Sooners did what they had to do for coach Venables in his first game. Got a decisive win against a team that wasn't as bad as I thought. I thought their QB1 looked good. Live arm and accurate.
***Some of the best moments of the game came when OU's defense was struggling a bit and they refused to fold and would end up sacking UTEP out of FG position or only giving up a FG. Those are big mental wins for these guys.
***DG had some nice moments but it's clear he hasn't played in a while. Farooq ran some good routes for him and got separation but DG missed him. But he certainly had some nice smooth clean throws. And even showed off some of his quicks on that first running TD.
***OL was a bit shaky to start but it was pretty clear as the game went on that they are the strength of the team. That is what we expected.
***What we'd heard in the off-season about the running backs running with a lot more violence proved to be true. Gray had a few moments where he was trying to wiggle around guys unnecessarily. But when he and any of those other backs took it north to south, they did it with acceleration and power.
***Interesting decision by Venables to get his backs up reps early on. Clearly wanted to get them reps when the pressure is real. That's a good idea and it's probably the best way to get a real sense of how much someone is ready to compete.
***Defensive line was pretty good early on. They're going to need a pass rusher to emerge. Reggie and Ethan have the balance and power but don't have the same burst as guys like Stripling and R Mason. But those quicker guys are going to need to learn the difficult task of turning speed to power which is what makes a good pass rusher at this level and beyond.
***Linebackers had some good moments but are still working on their spacing and the additional assignments they have. That's very different than what Grinch was asking them to do.
***Watch out for Broiles. This zone scheme seems to suit him and Bowman. Love the way the back end guys are breaking on the ball. And how about Jaden Davis with a couple nice triggers and tackles.
***The pressure is going to need to get there for these back end guys because as I've said before, in a zone scheme, there is always a weakness but you're betting on the inability of the other team to consistently find it.
***Definitely some good stuff in here and I love that they're continuing the competition in the season. Kent State has had a pretty good offense as of late so it'll be a good next step for the Sooners as they work to take that next step.
---
Sunday Brunch | What a Difference a Year Makes
– Charlie S – Posted on: September 4, 2022
The Sooners opened the Brent Venables era with a convincing win over the UTEP Miners by a score of 45-13.
While the Sooners by no means played a perfect game yesterday, the result and the product on the field were much more impressive than the 2021 season opener in which they beat Tulane in a nailbiter that ended in a 40-35 score.
The opener in the 2021 season was the beginning of a pattern for the entire season…let's hope the opener of the 2022 season is the pattern setter for the entire season to come.
With that in mind, in the immediate aftermath of the game, it is common practice for fans, commentators, and casual observers alike to point to the things that went wrong or could have been done better. I'm going to take Sunday morning to point toward some of the many positive occurrences to come out of yesterday's game and leave the nitpicking and constructive criticism for my progress report later in the week.
Let me start with the most important positive, in my opinion, that I took away from yesterday was solid tackling. It was nice to see multiple OU defenders make multiple tackles which caused the opponent to go backward. I haven't looked at the stats yet (they aren't posted at the time I am writing this) but I cannot count more than a small handful of missed tackles and I can come up with an overflowing handful of aggressive tackles completed by the Sooners. OU tackled well in space in one on one situations and they rallied to the ball as a team more often than not. I know it was UTEP, but again, it was Tulane last year. So you can see real tangible improvement from year to year and staff to staff already.
The next positive that comes to mind is the level of effort shown by both the offensive side of the ball and the defensive side of the ball. Right now, the Sooners team of '22 is not as talented as the team of '21. They just aren't. OU lost a lot of talent, especially on the defensive side of the ball to the NFL. They are breaking in 2.5 (I count Raym as .5) new offensive linemen and most of their skill positions are talented, just not proven in Norman at this point. With the effort they put on the field, from start to finish with only a small glitch (middle of the second quarter) that talent is developing at a rapid pace. Take Reggie Grimes as the perfect example on the defensive side. That young man laid it all on the field yesterday and he was rewarded statistically with a career day. Look at Gavin Feeman, the freshman walkon offensively, who got one touch and he refused to be denied his destiny…which was the endzone. Uncommon effort was on display on both sides of the ball.
Another positive I took away from yesterday's game was the fact that Brent Venables's words rang true. When he was first hired, Coach Venables said "We will employ an exciting, fast, explosive and diverse offense, combined with a physical, punishing, relentless, suffocating defense." All of what he said was on display yesterday. Was it a perfect product? No. Was it a finished product? No. Was the defense physical? Yes. Punishing? Yes. Relentless? Yes. Suffocating? In regard to the run game, it sure was. Was the offense exciting? Yes, from play one through the rest of the game it was. Fast? Yes, warp speed at times. Explosive? Yes. Diverse? Indeed, seven pass catchers and seven rushers indicate the offense was plenty diverse. Turns out Brent's words are already coming to fruition, that's a damn good thing.
The last positive I will focus on is the offensive line. Earlier in the week, I said I need to see domination from this offensive line, and I needed to see it early in the game. I mentioned that on the podcast and I mentioned it in my 'One on One' writeup. Did the offensive line completely deliver the performance I 'needed' to see? No. But after watching the game, I realize I didn't really need to see it the way I thought I did. I saw enough flashes that I am feeling very encouraged by the direction of the offensive line. When called upon, they delivered the goods. They were extremely effective in run blocking which is a 180 from the beginning of last year and while they were a little less than stellar in pass pro, I can chalk up both the sacks allowed to help from Gabriel who was a little hesitant to pull the trigger. The line was a revolving door all day (assuming due to the heat and Wanya's absence) but they still paved the way for 259 yards on the ground AND, in short yardage situations, they got the push needed. Were they perfect? No, But they played with great effort and showed me that they weren't going to be the ones bullied this year. Remember what Tulane did to the offensive line last year? I do.
Yesterday, the Oklahoma Sooners dispatched a team that was inferior to them very easily, They beat UTEP by 32 points and covered the spread. Good teams win and great teams cover…right?
Seriously though, what a difference a year…and a new staff makes. This is the way OU is supposed to take care of business when playing a team such as UTEP. I expect an even more impressive performance against Kent State next week. The margin may not be as big, but I would bet they are cleaner and even more focused when they take the field next Saturday!
---
By The Numbers | UTEP | Game 1 of 2022
– Charlie S – Posted on: September 4, 2022
Let's take a look at some of the PFF numbers from the Sooners season opening 45-13 win against UTEP…
Offensive Snap Counts: 63 Total Offensive Snaps
1 Brayden Willis #9 – 54
2 Andrew Raym #73 – 53
2 Anton Harrison #71 – 53
2 Dillon Gabriel #8 – 53
2 Chris Murray #56 – 53
6 Marvin Mims #17 – 51
7 Tyler Guyton #60 – 49
8 Jalil Farooq #3 – 48
9 McKade Mettauer #72 – 35
9 Theo Wease #10 – 35
11 Eric Gray #0 – 34
12 Drake Stoops #12 – 24
13 Robert Congel #66 – 23
14 Marcus Major #24 – 18
15 Jason Llewellyn #87 – 10
15 Jacob Sexton #76 – 10
15 Savion Byrd #59 – 10
15 JJ Hester #13 – 10
15 Davis Beville #11 – 10
15 Marcus Hicks #78 -10
21 Jake Taylor #79 – 9
21 Jovantae Barnes #2 – 9
21 Jayden Gibson #1 – 9
21 LV Bunkley-Shelton #6 – 9
25 Nate Anderson #69 – 5
26 Aaryn Parks #55 – 4
27 Tawee Walker #29 – 2
27 Gavin Freeman #82 – 2
29 Kyle Ergenbright #63 – 1
Top 5 PFF Offensive Grades
1 Gavin Freeman – 95.1
2 Eric Gray – 77.2
3 Dillon Gabriel – 75
4 Andrew Raym – 73.5
5 Brayden Willis – 72.1
Bottom 5 PFF Offensive Grades1
1 Robert Congel – 51.5
2 Jovantae Barnes – 51.7
3 Savion Byrd – 51.8
4 McKade Mettauer – 51.9
5 Tawee Walker – 52.1
Surprised me:
First thing that jumped out to me was McKade Mettauers grade…have to say, I'm intrigued to go through my rewatch as PFF really banged him on pass pro (23.7). Not sure if this is accurate of how his day went or a typical poor assessment from PFF as they used to kill Creed all the time. The snap counts pretty much fell in line with what we would have assumed although I am still kinda surprised LV Bunkley Shelton only got nine snaps. Andrew Raym being the highest graded OL is a very, very good thing for OU as the rest of the OL was a bit shuffled due to Wanya being out and the heat causing a different rotation. Overall, nothing shocking to me in the snap counts and the grades offensively.
Defensive Snap Counts: 85 Total Defensive Snaps
1 Danny Stutsman – #28 – 72
2 David Ugwoegbu #2 – 60
3 DaShaun White #23 – 59
4 Billy Bowman #5 – 53
5 Key Lawrence #12 – 48
5 Woodi Washington #0 – 48
7 Jaden Davis #4 – 38
8 Reggie Grimes #14 – 37
9 Jordan Kelley #88 – 36
10 Ethan Downs #40 – 35
10 Jalen Redmond #31 – 35
12 Marcus Stripling #33 – 32
12 Trey Morrison #6 – 32
14 R Mason Thomas #32 – 30
15 Isaiah Coe #94 – 29
16 Jeffery Johnson #77 – 26
16 Jonah Laulu #8 – 26
18 D.J. Graham #9 – 25
18 Justin Broiles #25 – 25
20 Jaren Kanak #7 – 23
20 Justin Harrington #37 – 23
22 Kelvin Gilliam #44 – 21
22 Josh Ellison #90 – 21
24 Joshua Eaton #1 – 20
25 Damond Harmon #17 – 15
26 Shane Whitter #13 – 13
26 C.J. Coldon #22 – 13
28 Kendall Dennis #21 – 12
29 Gentry Williams #24 – 10
29 Clayton Smith #20 – 10
31 Gracen Halton #56 – 6
32 Jake McCoy #41 – 2
Top 5 PFF Defensive Grades
1 Jordan Kelley – 83.5
2 Justin Broiles – 78.8
3 Jeffery Johnson – 76.1
4 Jaden Davis – 73.7
5 D.J. Graham – 72.8
Bottom 5 PFF Defensive Grades
1 Gracen Halton – 33.1
2 Trey Morrison – 37.5
3 Marcus Stripling – 40.1
4 Gentry Williams – 48.4
5 Key Lawrence – 50
Surpised me:
Danny Stutsman getting the most snaps is a welcomed change as Pat Fields and DTY, your safeties, previously had that honor on lock for the last two years. As far as grading, Key Lawrence drawing a 50 was a bit of a surprise to me and PFF had him excelling in Run Defense (67.7) and tackling (80.9) but banged him on coverage (44.9). PFF bears out what we all saw, Jordan Kelley had a very good game but I do like seeing three DBs in the top performer group and as K mentioned in his post-game thoughts, Justin Broiles seems well suited for this scheme, good for him! But as with the offense, no real shockers as far as the grading and snap counts go!
Y'all have a great rest of your Sunday!
---
One on One Review | UTEP
– Charlie S – Posted on: September 5, 2022
Let's take a look at how things went with last week's One On One's | UTEP.
For our first one on one, we had:
One on One Number One:
OU Cornerback Jaden Davis (#4) vs UTEP Wide Receiver Tyrin Smith (#1)
Smith earned his place on our 'One on One's' based on his performance in week zero when he hauled in 7 catches for 127 yards and a touchdown which included a long reception of 49 yards in the Miners loss to North Texas. He averaged 18.1 yards per reception.
Against the Sooners Smith had 8 catches, which led the team, but only 71 yards and no touchdowns. Smith averaged 8.9 yards per reception and had a long of 15 on the day.
We know Davis was not the only guy covering him, but the Sooners still managed to keep everything in front of them and held Smith largely in check and limited his YPC and YAC. OU cut his average in half.
Job well done. Chalk this up as a win for OU.
Our second one on one was:
One on One Number Two:
OU Running Back Eric Gray (#0) vs UTEP LB Tyrice Knight (#10)
While Knight had a solid day with 7 tackles, 1 assist, and only 1 miss, Gray had his best day as a Sooner.
Gray had 16 carries for 102 yards which was good for a 6.4 yards per carry average and a long of 35. Gray also hauled in 2 passes for 33 yards which was good for a 16.5 yard per reception average.
Count this one as another win for the Sooners in the head to head matchups.
Last week I included a bonus one on one:
Bonus One on One:
Oklahoma head coach Brent Venables vs Oklahoma offensive coordinator Jeff Lebby
This one gets a little murkier.
In the original writeup I wrote: 'The tempo offense, against an inferior team like UTEP likely will have periods where it is boom or bust and it will happen quickly.'
We saw that play out to a 'T' as they say. OU's time of possession was minimal, particularly in the first half. They either scored in seconds, or went 3 and out in rapid fashion.
I added 'Brent will have a lot of opportunities to watch his defense being guided by Ted Roof and one of the things he will begin the process of learning as a head coach will be pacing. Pacing his team through both his offense and his defense as the games will eventually become more competitive.'
Pacing was off initially and the OU defense was showing signs of wilting in the scorching heat. They lost a little focus at times in the second quarter and were a bit on their heels at times. However, they rallied and made some plays when they needed to, but it was less than smooth for a hot minute there.
I concluded the original one on one by saying: 'I will be watching to see how much Lebby changes pace after what I expect to be a frantic start.
How long it takes for them to get in sync with each other will be a one-on-one that will carry us all the way through the season because there very well could be a time in the first two games in particular where the defense will need a breather and this is when both of the coaches will be taking notes and trying to adapt.'
It was, and will remain a learning process. I really liked seeing Lebby put a drive together which was very run centric. I want to think he learned something when they went 3 and out two drives in a row without really trying to run the ball at that time.
Call this one on one a 'push' or a 'work in progress' and I expect the 'pacing' to improve from week to week. A large portion of the burden was placed on Lebby during week one and I have no doubt that he will be able to get a better feel for what the defense needs from his offense as the season progresses.
---
Kent State Visitor Notes
– Charlie S – Posted on: September 5, 2022
We will have more on visitors for the Sooners game this weekend later in the week but there's a few notes I wanted to pass along…
***Sooners will officially host '23 DL Jordan Renaud (6'4 245) out of Tyler, TX. Renaud is down to OU and Alabama and our most recent update him HERE has him trending towards OU. He is set to commit on September 19th so the Sooners getting an official visit just about a week prior to his announcement can't hurt. Bama is still Bama so you can never count them out and they may be able to finagle an unofficial prior to his announcement still as they have a home game on the 17th.
***OU is expecting to host two unofficial visitors from Denton, TX in Guyer teammates QB Jackson Arnold and S Peyton Bowen. As you know Arnold is an OU commit and Bowen is a Notre Dame commit who has visited OU numerous times unofficially already. As we reported weeks ago on August 12th HERE their other teammate Ryan Yaites reaffirmed his commitment to LSU and he let me know this afternoon that he will not be in Norman this weekend.
***Super K let me know that '23 DL DJ Hicks (6'4 270) out of Katy, TX, let him know that he may be able to make it up to Norman for the Kent State game but they are not sure at this point. Hicks will officially visit OU in November for the Bedlam matchup.
---
Position Group Progress Report | 2022 Game 1: UTEP
– Charlie S – Posted on: September 6, 2022
Checking out how the position groups performed in the Sooners win against UTEP. Coming into the game, OU was the heavy favorite over the Miners.
This will be the first progress report of the season and as you can all imagine, the Sooners set a much higher mark than they did in last years opener against Tulane.
Let's see how things shook out against UTEP.
---
QB: Low 4*
Dillon Gabriel put in a workman-like performance. His stats weren't gaudy as he went 15/23 for 233 yards and 2 touchdowns. He also added a rushing touchdown to open the scoring for the Sooners.
He didn't really make any 'wow' plays but he also didn't turn the ball over or put his team in bad positions with his decision making.
What he did do was serve as a coach on the field and an effective game manager, which is all the Sooners would need against UTEP.
He gets into the 4 star range simply because of his leadership and his knowledge of the scheme alone.
Yes he missed on a couple shots that would have put the game even further out of reach for the Miners, but all in all it was an above-average performance for the OU signal caller.
RB: 4*
Solid if not spectacular day for the backs.
Eric Gray led the way with 16 carries for 102 which was good for a 6.4 yard per carry average and a long of 35. I thought he looked very comfortable in the new scheme and his added weight will pay dividends as the year goes on. Gray looked a lot more decisive against the Miners and while he did try to go east to west on a few occasions, he spent most of the day going north and south.
Marcus Major added 54 yards on 7 carries and 2 touchdowns and looked strong and Jovantae Barnes got his first 4 carries which went for 25 yards. Barnes burst stood out, but the young man has to keep the rock off the turf if he's going to see his reps increase.
TE/WR: 4*
Let's give Brayden Willis and Gavin Freeman conditional 5*s ok? I think we can agree with that!
Willis was a standout both receiving the ball and in the blocking game. The dude had the best game of his career and you have to feel good for him as he made the decision to come back and rip it up with his boys one more time.
All Freeman did was score on one of the more memorable runs you will ever see on just his second snap of the walk-ons career. That still has me juiced for him!
The best of the rest was Marvin Mims who had 3 catches for 81 yards and got the offense going early with a long reception.
In all, 7 players caught passes from Gabriel and there were a few drops mixed in there so Willis, Mims, and Freeman really carried this group to their 4* ranking.
OL: High 3*
The offensive line is going to be the hot topic this season, I can already tell.
All they did on Saturday was come out and impose their will on the Miners when given the chance in the run game. They were very effective in that respect as they not only paved the way for 259 yards in the ground game which was good for 6.8 yards per carry including lost yardage for a pair of sacks…but they did it on the goaline when asked as well.
They did it with a patchwork group of starters as Anton Harrison played the first game of his career at right tackle and Tyler Guyton saw the first offensive line time of his career as the starting left tackle on Saturday.
There were some misses as you could expect with the moving pieces and that was particularly noticeable in handoffs (of defenders) and switches between Guyton and McKade Mettauer/Robert Congel on the left side of the line.
I thought Andrew Raym played perhaps the best game of his career in Norman and his improved strength showed up. Also felt like he had a good command of his responsibilities and he worked very well with his guards.
Chris Murray and Anton Harrison had solid days, just not spectacular. But credit to Harrison for being able to make the switch to RT.
The issues I saw on the OL can all be fixed. I didn't see anything alarming, which is a nice change from last year, but the sacks and the penalties keep them in the high 3* range for this game. Last year Tulane came in and bullied the OU offensive line who looked soft and timid. You didn't see that this year, you saw a few missed assignments and switches, but the OU OL was the bully at times, not the bullied.
I think you will see a much more cohesive unit this week even if Wanya isn't back.
DL: 4*
Early in the game it looked like the defensive line was going to dominate. They were shedding blocks and getting into the backfield at will. They generated 6 sacks and helped the Sooners record 9 tackles for loss and they limited UTEP to a total of 28 rushing yards…how can they only draw a 4* ranking you may ask?
Simple…they can and will get better.
The sacks they recorded were largely coverage sacks which is not a knock on them, it shows the effort is there, but they weren't getting to the QB in record time for the most part.
The interior flashed at times with Jordan Kelley in particular, but Jeffery Johnson played a huge role in controlling the run game. Thought Redmond had his moments, as did Coe inside but no real consistent domination.
Ethan Downs played with his usual energy but you didn't hear a lot from any of the other EDGE guys aside from…
Reggie Grimes had himself a 5* day! He played a brand of ball which was very reminiscent of Isaiah Thomas last year as he willed his way to making clutch plays for the Sooners. I counted 3 sacks but somehow he only got credit for 2.5…whatever it was, Reggie was a joy to watch.
LB: 3*
I mean…I saw some nice things and I saw some not so nice things…pretty average day.
Felt like Danny Sutsman was 'close' all game to making some game-changing plays. He had a nice hit in the hole on a UTEP RB which is always welcome but he also took some bad angles in the coverage game and when he was in position, he let an interception go right between his hands.
David Ugwoebu, much the same as Stutsman…some good flashes, some bad angles, some nice tackles but largely non-descript.
They looked like they were still thinking out there…as one would expect for the first game in a new scheme.
Jaren Kanak looked like a ton of fun when he got in there and if he continues to pick up the scheme, he's going to be difficult to keep off the field as he is just a different animal with his speed and athleticism.
Cheetah: 3*
Really didn't know where to include the Cheetah spot so I made it a category of its own.
It wasn't great with DaShaun White. It wasn't terrible. Just felt like a lot of the same we have seen for the last 3 years with him. Kinda 'meh'.
People want to push for Justin Harrington to play the position more, but to be fair, he didn't look like a big difference compared to DaShaun when he was in there. Feels like people saw what they wanted to see on that one. Perhaps most think that Harrington has a higher ceiling, which I agree with, but time will tell.
In my opinion, White looked better in coverage and pressure, and Harrington looked better in tackling and run defense…kinda opposite of what you would think would be the case.
Regardless though…Jaren Kanak is the guy that I would like to see take a crack at Cheetah but it doesn't feel like that is in the cards at this point.
DB: 4*
People are going to focus on the negatives, and in this case, people are going to point to all the 'easy' receptions that UTEP took advantage of.
That was largely by design by Ted Roof and Brent Venables. OU ran a lot of zone on Saturday and UTEP took advantage of it.
What you DIDN'T see is much more important, in my opinion, than what you did see. You didn't see WRs running free all over the place. They had some space in front of the secondary, but nothing behind them or down the sidelines.
UTEPs longest pass play was 24 yards.
Guys and gals…you should be very encouraged by this group.
Billy Bowman is a menace and he is getting his timing down and when he does, look out. His anticipation is next level and he WILL be making game changing plates here shortly.
Key Lawrence had a quiet day…and quiet is good when you're a safety.
Davis and Washington looked good. Jaden made a really nice early tackle for a loss and Woodi defended one of the few deep balls very well and got the PBU.
Yeah the second and third string guys had some lost moments, but again, the zone play will come to them.
Expect OU to tighten the spacing issue this week. 8 yard holes in the zone will soon become 4-5 yard holes in the zone and when that happens, turnovers happen.
Very encouraged by what I saw here.
ST: 3*
Kicks were made.
Returns were caught.
Nothing exciting…yet. But it feels like Bowman as a KR is going to be fun!
---
TFB Sooners Radio Ep. 2 – UTEP Postgame Show
– CJ Vogel – Posted on: September 7, 2022
Charlie and Ryan are back on the mic to discuss Oklahoma's season opening victory to begin Team 128's 2022 campaign.
A look back at the good, the bad and the ugly from the first contest of the season.