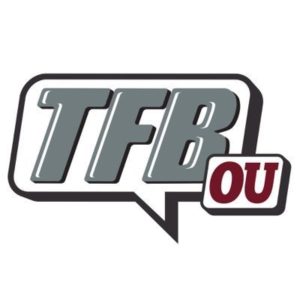 Open Post | Wednesday, September 21st
Posted on: September 21, 2022
Post Game Thoughts | OU vs. Nebraska
– Super K – Posted on: September 17, 2022
***Good game for the Sooners and a good win. You knew Nebraska was going to come out with a lot of emotion and with the upgrade in player talent, it was good to see OU dominate.
***Still plenty to clean up as the team continues to grow.
***First, let me congratulate the TFB readers for not crapping all over the offensive line.
***Last week, in a posted we titled, "Accentuate the Positive and Enjoy the Process", I said the following…
When Lincoln Riley left, a large contingent of the fan base and almost all of the media said it was over for the Sooners. We preached patience.
When the "NIL" payments were rolling out like pizza dough, some said the NCAA won't do anything and the Sooners can't compete. We preached patience.
Back in June, when recruiting was dry, there were a lot of folks thinking BV can't recruit. Again, we preached patience.
And now here we are again, where the doubters and the naysayers are out in droves. To be fair, our community has for the most part remained optimistic.
The biggest target so far has been the offensive line. Last weekend it was the offensive line and the missed tackles.
Certainly not saying that fans and media shouldn't criticize. But some of the negativity is premature and in many cases unwarranted.
***Given all the changes, and all the issues on the offense that were and will continue to get worked out and given how vanilla the offense has been, the extreme criticism of any aspect of these players and the team in the first two games was just uncalled for. This is especially true when the team being criticized blew both first two opponents out and the OL that was being criticized was part of the reason the Sooners ran for over 100 yards in three of the fourth halves in the first two games.
***But now I'm sure the negative Nellies will become positive Petes. And what I would say here is, relax either way. You liked what you saw from OU's offense but again, there is still a lot more out there.
***As well as OU was running, I want to see DG hit some of those missed passes to pay off the great running. As I said in the first two weeks, his consistency will continue to grow.
***Love to see that Lebby has the DG run game in his pocket.
***Although DG missed Farooq on a pass that could've gone for a TD, we finally got to see Farooq get to make some plays and get a TD and what we really saw is an abnormally smooth player, given his size. He was getting actual separation against man to man coverage.
***Was glad to see the backs starting to be less hesitant and more north and south – making their side to side movements as they move downhill and not stopping their feet. You've got to do that in this offensive run scheme. Vision and timing is critical.
***Defensively, there were a few zone calls where the back end played it so well that it gave you a glimpse of how blanketing Brent's defense can be. It wasn't always like that but when it was, Casey simply couldn't find the open man. And to do that a high IQ guy like Casey tells you that they're spacing and passing the zones very well. Again, it wasn't always like that but you want to see the glimpses and then you want to see them grow in consistency.
***Still some missed tackles that need to be cleaned.
***DL was on skates on the first couple drives and then really settled in. Great to see that and great just to see OU have that mental toughness and response in them – again, that was something we talked about this past week.
***More to say later but for now, again, good next step for OU.
---
Sunday Brunch | The Toolbox is Full
– Charlie S – Posted on: September 18, 2022
The Sooners went into Lincoln Nebraska, which was at one time one of the most nerve-wracking road trips for Oklahoma, and dismantled the hapless Huskers by a score of 49-14.
To be completely fair, the score could have been 70+ to 7.
Nebraska earned their opening score as they came out playing fast and fearless as they knew they had nothing to lose.
The Huskers caught the Sooners off balance defensively for one drive and one drive only as Brent Venables and Ted Roof quickly rallied their troops and began to make the necessary adjustments.
Read that again…'Brent Venables and Ted Roof quickly rallied their troop and began to make the necessary adjustments.'
How nice is it for Sooner fans to have a staff that actually can make in-game, real-time adjustments and not just hope to put a band-aid on a gaping wound at haltime with the hopes that the band-aid will stop the bleeding…and when it doesn't work, just throw up the hands and say 'They need to practice better on Tuesdays and Wednesday'.
No matter how this season goes for Oklahoma from this point forward, they got through their out-of-conference schedule by beating three teams they should beat by 30 or more points…by 30 or more points. What a welcome difference from the nailbiters y'all have experienced over the last five years which were brought on largely by the teams own mentality and culture.
Things are different in Norman, and it's a damn good thing.
You can see the adjustments on both defense and offense. The Sooners have a staff that not only has the tools in their toolbox to fix the issues that pop up, but they have the knowledge and the desire to pass along those tools to the players which has greatly expanded their toolbox.
You see the offensive and defensive line making strides weekly. You can almost see the progress from snap to snap. You see a secondary, that was just a steaming mess of confusion and delusion last year playing very solid football. You see linebackers making their run fits and taking angles that are not something coming out of a bad MarioKart race. You see defensive linemen making adjustments to their technique in real time in order to improve their effectiveness. You see running backs making the necessary adjustments to get in cohesion with their offensive line. You see a QB who even when he is a bit off, leading his team and acting as a coach on the field. You see wide receivers and tight ends improving from week to week and in some cases from play to play.
Many people are going to remember the Nebraska game largely for the performance of the offensive line. While they were good, they still have room to grow. The bigger story in my opinion (as you know I believe the offensive line has been much better than the narrative out there) was the running backs and tight ends showing up with an improved performance.
The defense completely shut down a 'good' offense. Do not be fooled into believing the naysayers, the Nebraska offense is 'good'. They are not elite but they had some weapons and they have put some stats on the screen over their first 3 games. Oklahoma just absolutely shut them down.
The Sooners head to conference play 3-0. They did the same last year…but the difference this year is that they beat their opponents convincingly and got better each week. You cannot say the same about the '21 team who struggled with Tulane and Nebraska.
There may be struggles down the line for OU, nobody knows what the future holds, but one thing is for certain in my opinion and that is that the current staff in Norman has already shown me that they are charting a different course for this program, and you are already seeing those results.
OU lines it up against Kansas State this week in a game that many people have pointed to as one that could be a big challenge. Kansas State lost a game to Tulane yesterday…were they looking ahead to Oklahoma and taking Tulane for granted? We will never know.
What we do know is that OU was not looking ahead to Kent State when they played UTEP. We know they were not looking ahead to Nebraska when they played Kent State. They were not looking ahead to Kansas State when they played Nebraska. You get the point.
Do yourselves a favor this week, don't take the bait about Kansas State being any less of a challenge for OU than they were before they lost to Tulane. Things are not transitive in football and Kansas State will do its best to be ready to take on Oklahoma.
The thing is…Oklahoma has an upgraded toolbox this year…and so far they have shown the ability to dig into that tool box and pull out the right tools for the job at hand.
It is a lot of fun to watch.
---
Sooner Standouts vs Nebraska
– Charlie S – Posted on: September 19, 2022
Was just going through a rewatch of the game and trying to match what I was seeing up with some advanced stats to give a couple of guys a shoutout for their performance.
There were a number of players who really stepped up for Oklahoma, but two that really caught my eye on the rewatch were Key Lawrence on defense and Eric Gray on offense.
Let's start with Key Lawrence:
Lawrence didn't technically get the 'start' as he was coming back from injury but he still played more snaps at safety (43) than anyone but Billy Bowman (46) so he got the lion's share of reps.
As you know from the 'By the Numbers Post' he was the highest graded defensive player (87.7) by PFF for Oklahoma and the advanced stats back that up.
Lawrence not only recorded the Sooners interception and forced a fumble, but he was the best defensive back in coverage on the day to go along with his 6 tackles and 1 other pass defended.
Key was targeted 4 times in coverage and was charged with giving up 2 receptions on those 4 targets.
On those two receptions, the Huskers gained a total of 6 yards (3.0 yards per reception against average).
Overall Key Lawrence led the team in Overall Defense (87.7), Run Defense (80.9), Tackling (85.8) and Coverage (85.8).
Dare I say…Mr. Lawrence was the 'Key' to the defense?
Now let's check out Eric Gray:
Gray was the second highest rated offensive player by PFF at (86.1) which came in just below TE Brayden Willis' team high offensive grade of 86.6.
Eric was on the field for 29 snaps. 16 of which were passing plays and 12 of which were running plays.
Gray carried the ball 11 times which went for 113 yards with 2 touchdowns on the ground. He averaged more than a first down every time he carried the ball with a 10.3 yard per carry average.
What stood out to me was his decisiveness in the run game and that really helped the offensive line look more like you all have been hoping they would look like.
Gray led, or tied for the team lead among the running backs in overall offense (led at 86.1), running production (led at 88.9), and pass blocking (tied at 60 with Jovantae Barnes).
The left side of the line was a place where gray found a lot of consistent success. He ran 4 times behind Anton Harrison and McKade Mettauer which went for 49 yards (12.25 yard per carry average).
So on 12 running plays while he was in the game, he carried the ball 11 of those 12 plays and was pretty much flawless.
Really nice day for Mr. Gray.
---
Position Group Progress Report | 2022 Game 3: Nebraska
– Charlie S – Posted on: September 20, 2022
Checking out how the position groups performed in the Sooners win against Nebraska. Coming into the game, OU was a 10 point favorite over the Huskers.
This will be the third progress report of the season and I will be including the prior games ranking for each position in their header.
Let's see how things shook out against Nebraska.
---
QB: High 4* (Last week Low 4*)
Another week, another solid performance from Sooners QB Dillon Gabriel.
Gabriel was 16 of 27 for 230 yards and 2 touchdowns through the air, but his biggest play of the game was likely his 61 yard scoring jaunt down the sideline that tied the game at 7 for the Sooners in the first quarter.
The Sooners could have named the score on the day, but Gabriel did leave some points of his own on the field as he missed a couple of throws you will likely see him make the majority of the time.
I will say his touchdown pass to Jalil Farooq was a thing of beauty and there are not a ton of QB who can make that throw and make it look that easy.
The biggest positive I continue to take away from Gabriels play is that he has yet to put the ball in jeopardy. Yes, he has left some point on the board in each of the first three games, but he has also played turnover free football on the year.
Over the past two seasons, we have seen the OU quarterback send out some prayers when they found themselves in a pinch…several of those prayers wound up coming true for OU, but more than a handful resulted in turning over the ball. Gabriel, to this point, is not about that life…not a big risk reward guy when he doesn't have to be. Maybe down the line there will be some situations where he has to take a chance, but I really like the way he has managed the games thus far.
If he had completed that slant/post to Farooq, this likely would have been the first 5* grade of the season for Oklahoma.
RB: High 4* (Last week 3*)
On Saturday, everything came together for Eric Gray, the leader of the OU running back room. Gray ran the ball 11 times for 113 yards which was good for a gaudy 10.3 yard per carry average and he reached the endzone 2 times.
He was decisive, strong, twitchy, and difficult to bring down. It has been reported that several Huskers found themselves going in for X-rays to make sure their ankles were still functioning following the game.
Freshman Jovantae Barnes was second in carries for the game. Barnes had career highs in carries with 13 and yards with 77. He averaged 5.9 yards per carry on the day and those carries will pay dividends for the Sooners down the line. Feels like he is 'this close' to breaking one.
Marcus Major found some tough sledding against the Huskers running the ball as he had 12 carries for 35 yards which was only good for 2.9 yards per carry but he did have a pair of scores as he caught a pass for a TD and he ran one in. He just seemed a bit less decisive than he had been in the previous games.
Overall, very good day for the running back room as they appeared to be in better cohesion with the offensive line and the style of running that this offense calls for.
WR/TE: 4* (Last week 4*)
Marvin Mims was the leading pass catcher as he hauled in 4 passes for 66 yards.
However, the bigger story, in my opinion, was the fact that Gabriel got both Jalil Farooq and Theo Wease involved as each of them had multiple catches and each scored a touchdown.
As we have talked about, Farooq was a guy who was getting open all season, but he and Gabriel just were never really able to get on the same page until Saturday. Gabriel led Farooq just a bit too much on a slant that likely would have gone to the house at one point but Farooq's touchdown reception came on a beautiful toss from Gabriel and hopefully that is just the start of big things to come for the duo.
Overall, the receivers had a strong day with no passes recorded as drops.
The tight ends caught 3 balls on the day but their real impact was felt in the blocking game. Daniel Parker was just mauling people out there and Brayden Willis was solid in pass pro and the run game as well.
Gabriel (and Willis and Beville) completed 19 passes to 10 different receivers. Good day.
OL: High 4* (Last week High 3*)
The Sooners offensive line faced, on paper, the most talented defensive line they have played to this point and they put forth their most complete performance.
While Wanya Morris returned to action to bolster the depth and talent of the line, it was the left side of the unit that absolutely dominated the day.
McKade Mettauer was the highest graded run blocker on the day and Anton Harrison was nearly perfect in pass protection. The pair were playing in concert and there were very few 'what the hell' moments, if any, on the day.
Communication appears to be working itself out and Eric Gray and Jovantae Barnes certainly appeared to be more in synch with the guys up front which always makes them look better.
I wouldn't call this an elite performance by the group, and it was not a lot different than what they had done previously, but there is no denying, the 'look' factor played a big part in alleviating some of the concerns from the fan base, at least for the time being.
It is amazing what happens when there aren't obvious missed assignments and a ton of penalties for the perception. This was a very good step toward getting this line to where we think it can go, but there is still work to be done.
Betcha thought they were gonna get a 5* didn't ya?
That will come if they continue to get better, but this was Nebraska after all and they did still have a few small issues, but things are pointing in the right direction.
DL: 4* (Last week High 4*)
The defensive line put in another very solid performance.
I thought Ethan Downs and Jalen Redmond, in particular, had really strong outings.
It was nice to see Johan Laulu get some shine on him as he had a big sack for the Sooners.
There really wasn't a lot of glory for this group as the 3 man front limited their opportunities to make the highlight reels, but they were strong up the middle and they did a really nice job of setting the edges for the backers and defensive backs to clean up.
They did a good job of controlling what they were able to control and that was quite an impressive workmanlike performance.
LB: Low 4* (Last week 4*)
Not a flashy day for this bunch but still a solid day.
Stutsman (4) and Ugwoegbu (6) led the group in tackles as expected and Ugwoegbu, in particular, was making some hard stops. Love to see it.
Shane Whitter returned to the field at the linebacker position and he made 4 tackles in his 32 snaps.
Jake McCoy also saw extended action, but he did not record any stats.
Solid day for the group.
Cheetah: 5* (Last week 2*)
This is the one that has everyone talking this week.
The Cheetah position was excellent against Nebraska.
DaShaun White was ejected late in the first half for targeting, but before he went out, he was playing the best game of his career for the Sooners. White had 6 tackles, 1, sack, 1 tackle for loss and 1 pass break up before heading off to the sidelines for the targeting penalty. To be honest, I don't think many, if any, Sooner fans were upset by the targeting call because, really, how long has it been since we have seen a defense aggressive enough to even be considered for targeting?
Anyway, once White went out, true freshman Jaren Kanak took the majority of his snaps and boy was that fun to watch.
Kanak finished with a team high 10 tackles, a forced fumble and was credited with a QB hurry.
Mind you, he did that while 'Not knowing what he is doing' according to head coach Brent Venables.
White is the present at Cheetah, but Kanka is the future and if he continues to progress, the future may not be too far off. Great showing from the Cheetah position.
Kanak had a few too many missed tackles for my liking, but 16 combined tackles, 1 sack, 1 forced fumble and a QB hurry between the pair is tremendous production from the spot and they deserved the first 5* ranking of the season.
DB: 4* (Last week High 4*)
It's interesting how quickly I forget just how bad this group was over the past 3 years as I probably gave them too low of a grade here…but there was so much more out there for them that I couldn't rank them any higher at this point.
Key Lawrence was the best of the DBs on the day in my opinion, but Billy Bowman played another terrific game…it just seemed like Nebraska did their best not to test young Billy. Bowman got in the backfield and made the stop on 4th and 2 at one point and if you blinked you would have missed him being responsible for the play.
Lawrence had a forced fumble and an interception, but he dropped what likely would have been a pick six so the group gets docked a bit.
Damond Harmon and Justin Broiles gave us all flashbacks to ghosts of the past on the first drive of the game for Nebraska as they looked absolutely lost and got split and badly beaten for the Huskers first score.
Unlike years past, they didn't hang their heads or point fingers, they went out and played a pretty solid game from that point forward.
The corners looked solid even without being tested all that much, but I really liked what I have seen from the starters (Davis and Washington) as well as DJ Graham. I'm happy for Graham as he seems to have found a nice role and is really playing with a lot of energy and good technique.
Could have gone high 4* here again, but the dropped pick 6 held down what was a solid performance all the way around.
ST: High 3* (Last week 4*)
Can't miss a field goal and get a higher grade than average if you don't have a return or a block or something.
Mims returning punts is something I am here for all day though! Also like the way Bowman attacks kickoff returns.
---
Kansas State | Sourced | More Time on OU
– Super K – Posted on: September 20, 2022
I know some of you probably guessed that KSU may have been looking ahead to the OU game.
I was able to confirm via a source very close to the program that simply put, Kansas State was not prepared for Tulane.
So, for those of you who guessed that KSU decided to get an extra week of prep for OU, you're probably right.
As such, you should expect a much better KSU team than the one they fielded against Tulane.
If the front seven is as advertised, the Wildcats should give OU's run game and pass pro their best test so far and perhaps one of their best tests, this season.
As coach Lebby said in the presser, things are rarely as good or as bad as they may seem.
The first two weeks, there were a number of folks saying OU wasn't very good.
Now, like clockwork, some want to anoint OU a playoff team.
I said well before the season, this team has a chance to be good. But there is going to be a growing process and part of that process is playing each game one at a time.
This will be a good next test for OU especially because it appears they are going to be exceptionally prepared for OU.
---
Kansas State Visit Note
– Charlie S – Posted on: September 20, 2022
Touched base with '23 DB Ryan Yaites and he let me know that he will be back in Norman for the Kansas State game this weekend.
Yaites told me that his father promised Sooners safety coach Brandon Hall that he would make it to a game. This will be the first time the LSU commit is visiting Oklahoma with a parent.
Promise made, promise will be kept.
Yaites visited Norman with Peyton Bowen for the Kent State game and he has taken numerous other trips to OU since he was offered.
Back in August Yaites reaffirmed his commitment to Brian Kelly and Kerry Cooks at LSU and he was in Baton Rouge last week for the Tigers win against Mississippi State.
While Yaites continues to say the right things about his commitment to LSU, it would be disingenuous to not see that there is something about Oklahoma that keeps bringing him back to campus.
---
Quick hitter | Injury Update
– Charlie S – Posted on: September 20, 2022
Many of you have asked about the availability of freshman EDGE R Mason Thomas following his absence from the Nebraska game.
Thomas sustained a lower body injury in the Sooners game against Kent State which kept him off the field against Nebraska.
Sources indicate that the young defender has been practicing this week and he should be ready to go against Kansas State on Saturday.