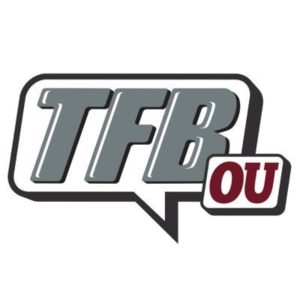 Open Post | Wednesday, November 7th
Posted on: November 7, 2018
Bedlam Visitor List 
– Charlie S
The Sooners are set to host Oklahoma State this weekend for Bedlam at 2:30 on Saturday.
Here is an early list of visitors for the game and we will continue to update it throughout the week!
The list should grow substantially (unofficial visitors) as the week progresses.
Official Visitors: 
Evan Neal – OL – IMG Academy, Bradenton, Fla.- OU Offer
EJ Ndoma-Ogar – OL – Allen, Allen, TX. – OU Commit
Spencer Rattler – QB – Pinnacle HS, Phoenix, AZ. – OU Commit
Trejan Bridges – WR – Hebron, Carrollton, TX. – OU Commit
David Ugwoegbu – DL – Seven Lakes, Katy, TX. – OU Offer
Marcus Alexander – OL – Sunnyvale, TX – OU Commit
Marcus Major – RB – Millwood, Oklahoma City, OK. – OU Commit
Jeremiah Criddell – DB – Mater Dei, Santa Ana, CA. – Oregon Commit 
Marcus Stripling – DL – Mayde Creek, Houston, TX. – OU offer
Unofficial Visitors:
Chris Morris – 2020 OL – Freedom Prep Academy, Memphis, TN. – OU Offer
Stacey Wilkins – 2019 OL – Camden Fairview, Camden, AR. –OU Commit *Possibly
Drew Sanders – 2020 ATH – Ryan, Denton TX – OU Commit
Thomas Grayson – 2019 RB – Booker T Washington, Tulsa, OK.
Davon (DJ) Graham – 2020 ATH – Keller Central, Keller, TX – OU Offer
Jamal Morris – 2019 DB – Fort Bend Bush, Richmond, TX. – OU Commit – *possibly
Miles Brooks – 2020 DB – Trinity Christian Academy, Jacksonville, Fl – OU Offer
Marcus Hicks – 2019 DL – Northwest HS, Wichita, KS – OU Commit
Quentin Johnston – 2020 WR – Temple HS, Temple TX – OU Offer
---
Conversation with 2019 IMG OT Evan Neal's Mom…
– Alex King
I recently was able to catch up with Neal's Mom to find out a little bit more about their history along with their interest in Oklahoma. For those that don't know Evan is originally from Louisiana but moved to Florida while he was too young to remember the Pelican State. He was born into a family with impressive football bloodlines as his father played football at Tulane, his uncle played at West Virginia, and his cousin played at Miami.
Mrs. Neal said she knew Evan would grow into a talented football player at a young age but said he would have to stick to it which he obviously has. Evan attends IMG Academy which is around three hours away from his home but Mrs. Neal says she can tell it has definitely helped him mature as a young man.
Coach Bedenbaugh and Oklahoma have been involved with Neal for a while now like we reported recently, Mrs. Neal confirmed that the Sooners will receive their first Official Visit for Bedlam this upcoming weekend. When it came to making the decision to visit Norman, Mrs. Neal let me know she actually suggested it to Evan after she had a conversation with Noah Cain's Mom who talked glowingly about what she took in during their time on campus. But when it comes to the visit and what she is looking forward to seeing, Mrs. Neal said the main thing you look for is just that 'feel' to it.
Obviously, the Sooners already have a couple of former IMG attendees on their roster which includes Bookie and TJ Pledger but they also have former IMG OG, EJ Ndoma-Ogar committed to them in the 2019 class. Neal and EJ are friends as you are already well aware of so will be interesting to see if the three headed monster can also help convince him that Norman is the right fit for him.
When you look at the roster, if Evans and Ford return next year they are both SRs and then you have all young guys with basically zero starting experience behind them on the depth chart. I will try to find out how the visit went after it wraps up this weekend and get you what information I can.
I fully expect Oklahoma to roll out the red carpet for Neal, who is a mountain of a human being but surprisingly athletic that dominated at The Opening Finals in July. Again, my comparison for him is an easy one, a more agile Orlando Brown…. which is a scary thought.
---
Couple Quick Notes…
By: Charlie S
– 2020 DL offer Alec Bryant will not be visiting for Bedlam. He told me he has a game on Saturday but he is planning on getting to Norman next weekend for the Kansas game.
– Nothing new on the Bru McCoy front as of right now in regards to a visit this weekend. As K said last week, we are still under the impression that McCoy will not be visiting OU due to family conflicts this weekend. K will continue to monitor this situation and should something change, we will let you know. The potential is there for McCoy to visit for Kansas, but right now, nothing concrete.
– What I can tell you is that while I was checking in with the rest of the Mater Dei kids, 2020 DB Elias Ricks let me know he will not be visiting for Bedlam. He does hope to visit Norman at some point, if not this season then potentially in the spring.
– Talked briefly with Stacey Wilkins and while we have him on the list for unofficial visitors this week, he let me know that he has a playoff game 3.5 hours away from home on Friday and that could impact his travel to Norman on Saturday. He is currently planning on getting up to OU, but again, that is subject to change.
---
Final Exam | Texas Tech
– The Professor
Honestly, it was mean what Oklahoma did to Texas Tech on Saturday. Kyler Murray threw two interceptions to start the game and let the poor folks of Lubbock, Texas feel like they had a shot. As it turns out, they didn't. Oklahoma's firepower was just too much for the Red Raiders to handle.
Here are some of the stats and facts that stand out after the game out west on Saturday.
The Offense
The Oklahoma offense was completely outmatched…for seven plays. Kyler Murray threw two interceptions that gave Texas Tech the ball on the Sooners' three-yard-line and 25-yard-line respectively.
After that, Oklahoma went on to score 51 points and gain 660 yards on 72 plays. Kyler Murray major adversity for the first time this season. His response was to throw for 335 more yards and three touchdowns.
Jesus was said to recount the Beatitudes, the eight blessings, during his Sermon on the Mount. Trey Sermon now has eight touchdowns on the season. Coincidence? Maybe. But, only maybe.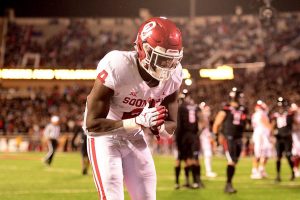 Sermon had Oklahoma's first 200-yard rushing game in Big 12 play since Samaje Perine took a knee (yeah, I know what week it is). He also had his first game with 3 rushing touchdowns of his career. He's also been remarkably consistent over his career so far. In his career, he has averaged 6.2 yards per carry. In 2017, he averaged 6.1 yards per carry. So far in 2018, he's averaged 6.3 yards per carry. Amen.
The Defense
The defense gave up 46 points. But…did they? Oklahoma started the game by giving the Red Raiders two short fields to score touchdowns. So, maybe the defense played better than that. Maybe the defense only gave up 32 points. That is honestly not bad, especially when you are going to score 50.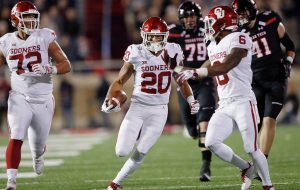 The defense has been addressing the real issue they've had all season. They've allowed too many plays, and as a consequence, too many yards. Consider this. In the last three games, Oklahoma has held all opposing offenses to below their average plays run and yards gained. The chart below shows the percentage of plays and yards Oklahoma has allowed compared to the opposing offenses' season averages.
The gray area is with Mike Stoops. The rest is after Stoops was let go. It's beginning to seem like the defense has made a significant change. Is it Ruffin's play calling? Is it the new scheme's simplicity allowing the athletes to use their physical talents more effectively? I don't know, but whatever it is it's working.
Special Teams
The special teams actually showed some aggression and went for a couple of punts, which was nice to see.
Austin Seibert needs just 5 points to become the all-time leading scorer in Oklahoma history. Something tells me Oklahoma will score at least 5 touchdowns this week…
That's it for this lesson. I hope you're as excited for Bedlam as I am. The next lesson is going to be a master class…