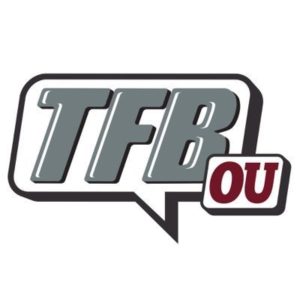 Open Post | Wednesday, November 23rd
Posted on: November 23, 2022
The Good News
– Super K – Posted on: November 19, 2022
***OU won against their rival and are bowl eligible.
***Earlier in the season, the problem was we couldn't pinpoint OU's issues because depending on when you looked at the game, everything was broken. It's pretty clear now what the issue is…
***The pass game. A lot of it is clearly on the wide receivers. DG needs to be pushed by Arnold and I think that will happen. But whoever takes over this wide receiver room needs to revamp and I think that can be done.
***The defense continues to grow and develop and you're starting to see the consistency more and more. You're starting to see the vision and that's very refreshing.
***Just knowing that you can go into the off-season knowing that with a good DL class and some returners, you can expect a pretty nasty defense next year.
***The pass game will absolutely need to be the priority in the off-season. Fix that and you're probably good to go.
***Later this week, we can get into how that can end up happening.
***Also, Brent needs to rip Lebby for not burning the clock. I know there isn't much Lebby can do when guys aren't getting open or when guys are dropping the ball. So, at this point, I suspect Brent knows he just doesn't' have a passing game and it's hard to blame Lebby. But you can blame him for not burning the clock.
***As frustrating as that game was at times, you have to feel relieved to finally start to see the vision of OU's future under Brent and what clearly needs to be fixed. That's significant.
---
Sourced Visit Notes | Hicks and Bowen
– Charlie S – Posted on: November 20, 2022
***The long anticipated official visit for '23 DL DJ Hicks is still currently ongoing.
The Texas A&M commit got into town Friday and will leave Norman later today.
By all accounts, the visit has gone very well and OU continues to have reason to feel good about where they stand in this recruitment.
If I was writing a 'Trending' piece here, I would say it was trending OU.
Source who was in direct contact with Hicks said "He looked like he knew this is where he belonged. He looked really comfortable".
The defensive fronts performance did not go unnoticed by Hicks and the other defensive recruits either as source said 'The defense getting all that pressure and all those picks could not have come at a better time"…which leads us to…
***OU also hosted '23 DB Peyton Bowen who is currently committed to Notre Dame.
Bowen has been to OU more times than one can keep track of, but this time was a bit different as he brought his father, Winston with him.
Not only was this the best overall defensive performance that he witnessed during his many visits, but the OU secondary was basically getting nearly as many opportunities to catch the ball as the Oklahoma State receivers were.
We have never moved off the position that Bowen has been trending to OU and we won't be moving off at this time as our sourcing has remained consistent here and I was told that last night's game only further helped OU's cause.
---
Quick Postgame Thoughts | Bedlam
– Charlie S – Posted on: November 20, 2022
Ok, I needed to settle down and take a breath last night before I could write anything that would not be emotionally fueled by venom.
***HUGE win for Oklahoma. Perhaps the biggest win for the Sooners since…maybe…I don't know, the Big 12 Championship Game against Iowa State?
***OU needed that win for so many reasons…and they got the job done. It will help with the fan base, the donors, the mentality of the player, recruiting, national perception…it was a big, big win. Do not be fooled and think it was a crappy win against a crappy Oklahoma State team.
***For that, I was grateful.
***My thoughts about the game itself are pretty simple…the offense was poo and the defense was excellent.
***Even when the offense was putting up 299 yards in the first quarter, they were still shooting themselves in the foot. THAT part was not on Jeff Lebby, that part was on execution problems. Fumbles, drops, missed assignments…OU conceivably should have been leading by a score of 42-0 by the first series of the second quarter but the players just couldn't get out of their way.
***Lebby…he had a bad second, third, and fourth quarter calling plays and I really do not want to dive into that as we all agree…he was bad and bordering on insanity. The last two weeks showed that he has a lot of work to do in regard to calling an entire game. Thats about all I have to say about that.
***The defense. Phew. They flashed at every level at times. They also left 5 potential interceptions on the field while actually coming up with 4 interceptions. Work to do and you need to capitalize on opportunities when you have them.
***The defensive line was disruptive, the linebackers were generally assignment sound (yes, there were some horrific angles) and the secondary provided really good coverage and they were pretty good in run support.
***Bottom line is the defense won the game for OU as they faced 102 plays and gave up exactly one touchdown. I don't care who you are playing, when you face that many snaps, and only give up one touchdown, you did really well.
***I loved seeing Brent get into the defense even though they were playing really well and they were repeatedly not being paid off for their good play by the offense.
***Brent didn't care what the score was, he stayed on top of his defense and made it clear to them that they were not going to be the ones to lose the game and he was counting on them to win the game. That is something we have not seen in Norman in a long, long time. Which made that game all the more infuriating I suppose as I began to feel bad for the defense as they kept getting hung out to dry by the offense…but they did not cave. That my friends is progress.
***I cannot stress how important I believe this win was for OU enough. It gave the entire program a leg to stand on as this recruiting cycle comes to a close and for the first time, really since Nebraska, it gives the defensive coaches an opportunity to point to something tangible and say "This is who we are right now and if you come here we will be even better".
***It WAS a good win for OU. The offense really did a number on the perception of the game, but overall it was a really nice win and a big win.
***I will have more this week on the offense, as well as the defense, but the lack of speed and difference makers on the offense is apparent and the play calling was abysmal. Thats not a good combination and it has to be remedied and remedied now. Again, more on that later.
***Hope your Sunday is going well, there is finally a lot to be excited about in Norman and you will see an almost immediate impact on the recruiting trail as I mentioned earlier this morning.
---
By The Numbers | Bedlam | Game 11 of 2022
– Charlie S – Posted on: November 21, 2022
Let's take a look at some of the numbers from the Sooners victory over Oklahoma State…
---
Offensive Snap Counts: 76 Total Offensive Snaps
1 Anton Harrison #71 – 76
1 McKade Mettauer #72 – 76
1 Dillon Gabriel #8 – 76
1 Chris Murray #56 – 76
1 Brayden Willis #9 – 76
1 Robert Congel #66 – 76
7 Marvin Mims #17 – 74
8 Drake Stoops #12 – 67
9 Wanya Morris #64 – 57
10 Eric Gray #0 – 56
11 Jalil Farooq #3 – 49
12 Theo Wease #10 – 27
13 Tyler Guyton #60 – 19
14 Jovantae Barnes #2 – 18
15 Gavin Freeman #82 – 8
16 LV Bunkley-Shelton #6 – 2
16 Marcus Major #24 – 2
18 Jason Llewellyn #87 – 1
Top 5 PFF Offensive Rankings:
1 Wanya Morris – 75.6
2 Jovantae Barnes – 74.0
3 Dillon Gabriel – 72.2
4 Marvin Mims – 71.1
5 Anton Harrison – 69.8
Bottom 5 PFF Offensive Rankings:
1 Jalil Farooq – 41.3
2 Brayden Willis – 48.4
3 Theo Wease – 53.5
4 Tyler Guyton – 54.3
5 LV Bunkley-Shelton – 56.6
Surprised me…
Feels like this is one game where I have very little disagreement with what I watched with respect to rankings. The dropoff from Wanya to Guyton was obvious on the offensive line. I am a little surprised that Gabriel scored as high as he did, but PFF does take drops into account. Was a little surprised seeing Willis rated that low, aside from the fumble I thought he played ok. Not a lot to pick on here. I did think it was interesting that Jacob Sexton and Jake Taylor did not get any snaps…guess they scrapped the OL line change portion of the program.
Defensive Snap Counts: 103 Total Defensive Snaps
1 Danny Stutsman #28 – 103
1 DaShaun White #23 – 103
3 Woodi Washington #0 – 102
4 David Ugwoegbu #2 – 101
4 C.J. Coldon #22 – 101
6 Billy Bowman #5 – 96
7 Justin Broiles #25 – 68
8 Ethan Downs #40 – 59
9 Jalen Redmond #31 – 52
10 Reggie Grimes #14 – 45
11 Jonah Laulu #8 – 42
12 Key Lawrence #12 – 35
13 R Mason Thomas #32 – 34
14 Jordan Kelley #88 – 32
15 Trey Morrison #6 – 30
16 Isaiah Coe #94 – 29
16 Jeffery Johnson #77 – 29
18 Marcus Stripling #33 – 26
19 Damond Harmon #17 – 24
20 Josh Ellison #90 – 9
21 Gracen Halton #56 – 8
22 Gentry Williams #24 – 3
23 Jaren Kanak – 2
Top 5 PFF Defensive Rankings:
1 Isaiah Coe – 80.2
2 Jonah Laulu – 79.9
3 Ethan Downs – 77.7
4 Jordan Kelley – 76.2
5 C.J. Coldon – 74.6
Bottom 5 PFF Defensive Rankings:
1 Reggie Grimes – 47.5
2 Damond Harmon – 55.9
3 Justin Broiles – 56.9
4 Danny Stutsman – 57.4
5 Jaren Kanak – 59.2
Surprised me…
Was not surprised at all with the top ratings, each of those guys showed up and played well. The bottom 5…I was a little surprised to see Grimes on there as I thought he played well at first glance, but PFF banged him for his tackling (29.6) and I'll have to go back and see how accurate that was. 5 guys playing over a hundred snaps on defense is something. I thought Kanak and Gentry would get more run and I was surprised to not see RSJ in at some point for either Morrison or Harmon.
---
DJ Hicks | Sourced | Update
– Super K – Posted on: November 22, 2022
I know Charlie mentioned that the word around DJ Hicks from this past weekend was pretty solid.
I want to add to that a bit. Spoke with a source close to the program and got a sense of how they feel about their chances with Hicks post visit.
Was told the staff feels they have at minimum a 50/50 shot. In other words, if they were doing the trending picks, they'd pick themselves. Not sure by how much but there is some confidence.
I've previously noted that we have heard there are a lot of folks around DJ who want to see him at Oklahoma.
Also, while DJ may still visit TAMU, the word out of College Station is that there are a lot of players looking to bolt. That kind of instability obviously doesn't help TAMU.
I'll roll with Charlie on this and continue to say this one is trending OU. For now, I'll give it 55/45.
---
NIL Note to put Things in Perspective | Sourced
– Super K – Posted on: November 22, 2022
Recently, I've noted that behind the scenes, the Sooners NIL collectives haven't had the kind of impact you might hope for. I also noted that the new collective is better positioned to resolve some of those issues.
Additionally, I noted that the Sooners have yet to begin receiving any payments for the team wide NIL deal that was announced earlier this year.
But I want to add a couple of points worth noting. These should keep things in perspective:
***Sooners are recruiting well regardless. If OU was having the kind of season we expected, this already good class might be even better. So, the NIL stuff doesn't seem to be having a huge impact just yet. It may play more of a role in the transfer portal as the Sooners do have some targets there.
***But here's the piece of information that I received this past weekend that I felt would really put things into perspective. I have been told that in terms of the team wide NIL commitment that was made at Texas, the players there also have yet to receive payments. Individuals have received money for individual deals (same at OU). But according to a source, the team wide NIL deal that was promised is not paying out yet.
***So, OU's situation isn't that much different than others.
---
Position Group Progress Report | 2022 Game 11: Bedlam
– Charlie S – Posted on: November 22, 2022
Checking out how the position groups performed in the Sooners win over Oklahoma State. Coming into the game, OU was the favorite and they won the game 28-13.
OU successfully tried to lose the game last year against OkState as Riley was on his way out and try as they may offensively this year, the defense saved the day and OU came out with the victory.
This will be the eleventh progress report of the season and I will be including the prior games ranking for each position in their header.
Let's see how things shook out against Oklahoma State.
---
QB: Low 3* (Last week: Low 3*)
Dillon Gabriel started out hot as hell.
He finished with a line of 20/40 for 259 with 2 touchdowns and 1 interception.
He sailed a few passes, missed late on the interception that Stoops flung in the air, and made a few poor reads on options.
That being said…he didn't get a helluva lot of help from his receivers in regard to keeping drives going.
Wasn't a bad day statistically for him…the first quarter was special in fact…but the last three quarters were below average QB play overall.
RB: Low 4* (Last week 5*)
Again…Gray started out like he was going to have a huge day as he was ripping off chunk runs and making people miss.
That all stopped when OkState focused on stopping the run and it felt like he (Gray) was thrown off timing wise by the snap issues between Congel and Gabriel.
Still, Gray put 90 yards on the board on 20 carries and he added a touchdown.
Jovantae Barnes appeared to have been able to adjust to the timing issues better as he averaged almost 10 yards per carry on his six carries.
Really impressive outing for Barnes and it is pretty clear he will be RB1 at the start of the season next year if Gray heads to the NFL as expected.
WR/TE: High 2* (Last week 1*)
Drops and fumbles held this group down but there were a couple nice perfomances.
Drake Stoops had a big game with a couple really nice catches and one touchdown. Stoops finished with 6 catches for 89 yards.
Mims added 5 for 68 for a decent showing.
Jalil Farooq had a nice touchdown reception but it was his turn to go through the dropsies as he botched 3 passes that would have resulted in moving the chains. Cannot have that.
Willis added 3 catches but he had the fumble that cost OU points and possession.
This group continues to find a way to disappoint.
OL: 3* (Last week: 4*)
Tough one to grade here but they obviously were not the same group without Andrew Raym out there.
Congel had done well in his limited snaps throughout the year, and he actually did fine in the first quarter, but then all of a sudden his snaps and his blocking went sideways.
They only gave up 1 sack and 3 tackles for loss to a talented OkState defensive front, but they were not consistent in any facet.
They were average at best, which was a step back from how they had been progressing.
Congel will be back at center to start against TTU as Raym has undergone surgery, so lets hope the snaps get fixed or we get a chance to see Nate Anderson.
DL: 5* (Last week 3*)
Loved their performance across the board.
Was really nice to see for a group that has been much maligned this year.
OU was getting pressure against a weak OkState offensive line from all across the defensive line.
They did a superb job in the run game as well.
Kudos to these guys, lets hope they take some confidence out of this game as they go against a slightly better OL against Texas Tech.
LB: Low 4* (Last week: 3*)
Ugwoegbu and Stutsman played well.
That was nice to type.
They were very good in coverage and more often than not, they were in the right places with their run fits.
The glaring issue was the angles they took and the indecisiveness they showed when Sander took off.
At one point, Stutsman actually ran away from Sanders as he came through the line…not sure if he was looking to keep outside contain, but it sure looked janky.
They were better, and that's a good thing.
Cheetah: High 4* (Last week: Low 4*)
Who would have thought prior to the season that everyone would agree that they will miss DaShaun White next year?
Kid has really developed and credit Brent and Hall for finding the right spot for him.
He had an interception by simply being in the right position, which is notable because for so many years OU defenders were rarely in the right position.
Really nice to see how far he has come.
DB: High 4* (Last week: Low 4*)
Simply put, they dropped their opportunity to pull in a 5th star.
Bowman, White (who was in the secondary at the time), and Coldon all pulled in interceptions but OU left 5 turnover chances on the field.
Have to capitalize when you get the opportunities.
Woodi was really physical in run defense once again and Coldon filled in nicely for Jaden Davis.
Was really impressed once again with Bowman, he is the heart and soul of that secondary and Key and Broiles played well.
Spencer Sanders threw for almost 400 yards (381) but the average was only 5.7 yards per attempt. Thats impressive.
ST: 5*
Turks punting was OU's best offensive weapon after the first quarter, plus the dude got engaged to Grace Lyons.
How could I not give them a 5*?
---
TFB OU Radio | Week 11 2022
– CJ Vogel – Posted on: November 22, 2022
A win in Bedlam is a win for everyone! Charlie and Ryan recap the Oklahoma victory over Oklahoma State from Saturday as the regular season winds down with one week remaining.