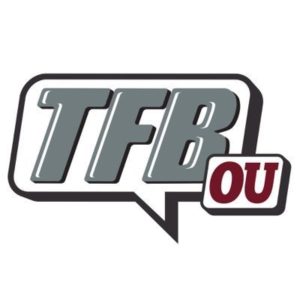 Open Post | Wednesday, November 16th
Posted on: November 16, 2022
Apparently Winning is Hard
– Super K – Posted on: November 12, 2022
***Ridiculous. Embarrassing. I don't know how else to describe it. OU was clearly the more talented team.
***Sooners and perhaps more than anyone, the coaches, did everything they could to give this game away.
***The story of OU's team was that period at the beginning of the 4th quarter where they have multiple chances to get off the field on defense and did everything to give WVU a TD.
***WVU executes a successful fake punt for a 1st down. Why? Because all three defenders are trying to be spill players and no one is just putting their foot in the ground and going straight at the ball carrier.
***Then on 4th and 16 later, offsides. Classic.
***Yada yada yada and TD
***Later on, they stop WVU on a 3rd and short but surprise surprise, the defense is lined up in the neutral zone. Wow.
***And here's the thing, despite all that, the defense actually played decently well.
***When I say that period summed up this team, I don't mean to say the defense was the primary problem. I mean to say that it's always some problem.
***The offense once again ran the ball well but Lebby cannot make the right decisions at the right time.
***There is one point late in the game when the running game is absolutely clicking, it's raining and you need to stick with that. He comes out with three straight passes.
***And what was worse is on 4th and 7 he decides to go for it but doesn't design a 7 yard route!! Two deep routes and trusts an inaccurate quarterback to throw the ball in the rain to an unreliable receiver corp.
***Then later on 4th and short, Brent decides, let's kick a FG in the rain. I don't know, man.
***Even when they knew the run game was coming, why not mix it up with some QB run? Just one of those can be enough to keep the run game loose and the defense honest. But no, the Sooners can't do what's obvious.
***It's just unfortunate because it feels like this team has the potential to dominate but there is always something in the way.
***The sad part is everyone of us can see that this team is beating itself. Don't recall a team so close to winning so many times and refusing to do so.
***Brent better win out. If he doesn't he needs to take a hard look at his staff because I'm telling you Brent's bosses and the folks who keep the lights on will be taking a hard look at him.
---
Quick Postgame Thoughts | Sooners Lose to WVU 23-20
– Charlie S – Posted on: November 12, 2022
Very quick…
***OU had a 200 yard rusher.
***They had a 100 yard (98) yard receiver.
***OU won the turnover battle 2-0.
***They returned a PAT for points.
***The defense held the opposition to 23 points in bad weather.
***OU forced 2 sacks and 12 tackles for loss.
***You forced the opposition to switch QBs
…and they still lost.
***Undisclipled, unfocused at the most inopportune time, horrendous clock management, incredibly poor analytical decisions, and the inability to put your team in the position to win time after time…that is on the staff.
***OU is in the habit of bringing the bar down even further every game so we are left to expect nothing from this team.
---
Addressing Issues | Mentality, Recruiting and Patience
– Super K – Posted on: November 12, 2022
A few things I want to address:
***The reason we are emphasizing the need for Brent to recruit well isn't because we don't recognize the issues on the field. It's because, again, the most important thing is that the recruits believe the narrative that the issue is the players (whether we agree or not).
It is absolutely imperative that Brent bring in great players and recruits believing that they are the missing link helps that happen. If Brent brings in good players it helps him win. And, in the case he doesn't win then the next coach will be set up to win right away.
***I know a lot is made of this team not having the mentality to win and that perhaps that was inherited. I know there are a lot of ways to look at this team but I don't see that as the issue.
This is a team that (and OU general) has had a winning culture for a long time. And while Caleb Williams may have left, most of the team remained intact and have won a lot of games.
There are a number of things you can attribute these losses to but I don't think we can say it's a player inherited mentality.
Now, you could argue that the defensive mentality needs to continue to grow and I would agree. But the defense wasn't the primary reason for the loss, today.
***Also, on the topic of patience, I've made my position clear. Good coaches positively impact a team. You can even see it currently within the position groups. The DBs are getting better and the wide receivers are getting worse.
My point is very simple. If you talk to folks at Oklahoma and folks that support Oklahoma, the notion that this was a major rebuild…they aren't buying that.
So, while folks will be patient for the moment and allow you to upgrade the talent and get the current guys up to speed, that dog aint gonna hunt next year.
He needs to make a run at the Big 12 title, next season. And nothing about this season says he shouldn't be able to. He's been close in most of these games. He's going to have a chance to bring in talent via recruiting and the portal. His ability as a coach needs to close the remainder of that gap.
So, if you're preaching patience for right now, sure. But the notion that this is a three or four year rebuild, I can't agree with that and I don't think the powers at be buy that either.
---
Eric Gray | What It Is Supposed to Look Like
– Charlie S – Posted on: November 12, 2022
All year, from the offseason, through the spring practices, through summer workouts and into fall camp, one name was consistently talked about as a guy who was going to shine on the field for OU this year.
His name is Eric Gray.
Gray was praised for his work ethic and leadership and he is one guy who has showed up.
He has racked up 1,113 yards on 165 carries which is good for 6.7 yards per carry. He has 10 rushing touchdowns.
Gray has also added 28 catches for another 189 yards.
One truly bright spot on the season for the Sooners in an otherwise disappointing season.
---
Not Catching On | WR Room
– Charlie S – Posted on: November 13, 2022
The Sooners lost again yesterday and are now 5-5 on the year.
Offensively, I think it is fair to say that the largest issue currently plaguing the program is the lack of a top-shelf passing game.
You can blame part of the issue on the quarterback, and that will be/is being addressed by bringing in one of the top high school QBs in the country in Jackson Arnold.
However, the larger problem is and has been the wide receiver room.
A common chorus that emanates from the fan base is 'This is OU, the last thing we worry about is getting wide receivers! They are a dime a dozen, you can always get guys!'.
Not only do fans believe that notion to be true, but it also appears like the former staff wholeheartedly believed that. I won't rehash my thoughts on Simmons and Riley in this piece, but I covered that topic pretty in-depth HERE 11 months ago.
Bottom line, is right now, at this very moment, the OU Wide Receiver room stinks.
There needs to be changes made and made now.
The personnel in the room has shown few signs of progression and, in fact, there have been serious signs of regression.
Your WR1, Marvin Mims, is dropping balls at an alarming rate and he's also getting caught from behind…while being your fastest starting receiver. That ain't a good combination folks. The drops are incredibly concerning because it's not like he is dropping contested balls or anything…he is dropping passes that hit him in the hands in stride and screens with nobody around him.
Your number one guy is dropping balls and being chased down from behind…that is no way to go through life.
Mims does have a career high in catches and yards already at this point, but that may be a further indication of how poorly the rest of the group has developed.
Theo Wease, who was considered WR2 coming into the year has been a complete non-factor and his snap counts have dwindled over the course of the season.
Jalil Farooq is the one guy who has shown progression, and he is tied for second on the team in recpetions (along side RB Eric Gray) but averaging 2.8 receptions a game is certainly nothing earth-shattering or something that would be considered to be a breakout season.
Drake Stoops is Drake Stoops. He is a solid role player who gives his all on the field, but let's face it, he will never be confused with one of the Lockett brothers in the slot.
After that…you have some guys who may have talent but have not yet developed to where they have any sort of impact on the field.
OU brought in four scholarship wide receivers last year in transfers LV Bunkley Shelton and JJ Hester as well as two freshmen in Nic Anderson and Jayden Gibson.
Those four additions have combined…COMBINED for three total catches. Hester and Anderson have spent some time on the shelf with injuries and LV rarely gets on the field as he is playing behind Drake Stoops who gets all the snaps. Gibson is a guy that was raved about through spring, summer, and fall, but when given the opportunity and targeted, he literally dropped his chances.
The 2022 Sooner wide receiving room could be viewed as a room that is paying for the sins of the past regime…or it could be viewed as a room that has not developed at all under the new staff.
The staffing situation is another topic. As you are all well aware, not only was there a new system installed but just before the season, there was a new wide receiver coach installed as Cale Gundy abruptly resigned and L'Damian Washington was elevated to interim wide receiver coach from his analyst role.
Washington is a guy who recruits speak fondly of and seems like a nice enough guy, but he is also a guy who is in his second year coaching (was WR coach at Southern University in 2021) and his first year in Norman.
When you ask yourself one question, the answer becomes crystal clear…the question is: Is the wide receiver room at Oklahoma anywhere close to where it should be?
No. No it is not. No, it has not been, and no it currently is not.
The room lacks playmakers. The room lacks speed. The room lacks size. The room is perhaps the worst-performing WR room in the conference…and has been for a number of years.
Oklahoma is currently trying to remedy their woes in the wide receiver room as they are recruiting speed. Jaquaize Pettaway, Anthony Evans and Keyon Brown are badly needed. It is imperative that OU keeps them all on board as they bring the speed that the Sooners desperately need to make the offense hum.
I also expect the Sooners to at least look for a difference maker at WR in the portal. So will everyone else in the country, so that's a crapshoot as to if they can accomplish anything of note there.
The revamp cannot stop there. Yes, adding players who bring something to the table that is needed is stop number one on the road to recovery, but they also need to address the coaching situation.
Now would not be the time to stand pat and take the comfortable route and remove the interim tag from Washington's job description. We know OU went after TCU coach Malcolm Kelly in the immediate aftermath of the Gundy resignation. Kelly declined the invitation (rightfully so based on timing) but OU knew then that there were better options that they needed to at least try to get on board.
The Sooners need to make a move and make it soon. You have recruits who are being pursued by other programs and you need to do everything in your power to keep them in the fold or you get set back personnel-wise once again. In a perfect world, the Sooners make a splash the minute the season ends in two weeks and bring in a guy like Ra'Shaad Samples prior to early signing day.
Before anyone pours water on that happening based on how OU has gone about their coaching changes in the past (akin to molasses being poured out) keep in mind that this is not the past regime and we have seen some pretty stealthy and swift decisions made when to comes to coaching hires. There is absolutely a chance they could make something happen here if they feel there is a need to move swiftly in order to help solidify the recruiting class. I am not saying it will happen, but OU has to try to make a change here for the better in a short time frame.
My advice to OU…do not hesitate. Be bold. Go get your guy and get him now. Every second you wait is another opportunity for the bad guys to spoil your best-laid plans.
The passing game needs to be upgraded.
You kind of are stuck with what you have at QB for the time being but help is on the way.
Do yourself a favor OU…make sure the help is on the way both in terms of personnel as well as coaching in the wide receiver room.
---
Position Group Progress Report | 2022 Game 10: West Virginia
– Charlie S – Posted on: November 14, 2022
Checking out how the position groups performed in the Sooners loss to West Virginia. Coming into the game, OU was a sizeable favorite and they lost the game 23-20.
They tried to lose the game last year against WVU, they accomplished the feat this year.
This will be the tenth progress report of the season and I will be including the prior games ranking for each position in their header.
Let's see how things shook out against West Virginia.
---
QB: Low 3* (Last week: 2*)
Gabriel was average.
He didn't turn the ball over in poor conditions.
He missed a couple throws early.
He got no help from his receivers throughout.
Just very 'meh'.
17 for 28 for 190 yards and no TDs could have looked a helluva lot more impressive if Mims and Willis help him out.
RB: 5* (Last week: 4*)
Eric Gray continues to shine and he is the lone consistent bright spot for OU on the year when you are talking about skill position players.
Gray had a monster day as he ran 25 times for 211 yards and two touchdowns.
Jovantae Barnes returned and got all the remaining snaps in the running back room as he had 4 carries for 22 yards.
As I mentioned on Saturday night, Gray crashed the thousand yard barrier and has to games left to add to his impressive year.
WR/TE: 1* (Last week: High 3*)
Only three wide receivers caught passes on the day.
Marvin Mims had the best stats, but his drops proved more costly than what he contributed in the game.
Farooq had 5 catches and Stoops had 4 and neither one cracked the 50 yard mark.
Poor performance from the room once again.
OL: 4* (Last week: 4*)
Once again the offensive line put out a solid performance.
The left side still better than the right side and while Raym played well prior to going out with an injury, Congel actually came in and did a nice job.
Chris Murray had a bad penalty when he was playing fullback which drives me insane…why not just use your TE (Parker) there instead of trying to reinvent the wheel.
Aside from that, they had a pretty clean day.
DL: 3* (Last week 1*)
The defensive line actually played better than they had over the last 4-5 games.
Felt like they were getting some pressure and if you take out the stupid penalties, Coe, Downs, and Grimes played pretty well.
Is average this groups true ceiling? Maybe.
Johnson was just there and Redmond couldn't go more than a few plays so it was good to see the effort from this group.
LB: 3* (Last week 2*)
Over the last few weeks Ugwoegbu has been the better of the pair of backers, but Stutsman was better this week…until he whiffed on Garret Green.
Overall, they played 'OK' and had a few moments, Stutsman in particular.
Danny had 14 tackles including .5 sacks and .5 tackle for loss along with an interception.
Ugwoegbu didn't flash much at all and seemed a bit hesitant far too often.
Cheetah: Low 4* (Last week: Low 3*)
DaShaun White was solid, not spectacular.
He and Billy Bowman are the most comfortable guys from play to play on the entire defense.
White put in a solid outing in coverage and run support as he finished with 11 tackles including 1.5 tackles for loss.
DB: Low 4* (Last week: 3*)
Woodi had a really good game, particularly early on. He was very good in coverage and was very solid in the run game. Yes, he gave up the touchdown on the fade, but he was even in good position there. Was impressed with the intensity he played with as well.
CJ Coldon did fine in his duties while stepping up for the injured Jaden Davis.
Bowman was solid and active, it's just nice having him back there and not really worrying about a bust as often as OU fans have become accustomed to.
Feel bad for Justin Broiles who got injured (I do not have an update) but it was beneficial for RSJ who got to see extensive action and you can see flashes from him as he shows off his skills.
ST: 1* (Last week: 2*)
Nothing went well here.
Missed field goals, long returns allowed, no notable returns of your own.
Bowman did have a PAT returned for points, but that's about the only bright spot.
---
The Latest | Wein Visit
– Charlie S – Posted on: November 15, 2022
Just wanted to catch you all up to speed on where things stand with '23 EDGE offer Taylor Wein…
***Last week, I reported Wein would be unofficially visiting, even prior to receiving his OU offer HERE.
***The very next day, Wein was offered by Oklahoma and when he and I touched base, there was some thought that there was a possibility the visit could change from an unofficial to an official HERE.
***Last night, he let me know that nothing has changed and this will remain an unofficial visit…which is not a bad thing for OU.
***Following the OU offer, Wein picked up offers from USC, Virginia Tech, Ole Miss, Missouri, Kentucky, and Cincinnati…have yourself a week young man.
***Anyway, Wein plans on committing and signing in the early period, which is just about a month away, so getting him on campus unofficially is a good deal for OU as they would also be able to host him officially closer to signing day if things go as I believe they will.
***Wein has options to take additional visits but right now, the only visit set is to Norman. So having extra bullets in the chamber is a good thing for Oklahoma.
---
Quick Hitter | Possible Bedlam Visit for Anthony Evans
– Charlie S – Posted on: November 15, 2022
Super K was in touch with Sooners WR commit Anthony Evans this morning and Evans let him know that there is a possibility he will make it to Norman for Bedlam this weekend.
However, nothing is finalized as Evans has a playoff game on Friday night and his HS team takes priority so there could be a chance he has obligations on Saturday that could keep him from making the trip to Norman.
---
The Latest | JUCO DB Kendel Dolby
– Charlie S – Posted on: November 15, 2022
***As I reported back on November 2nd JUCO defensive back Kendel Dolby will be in Norman for Bedlam.
***I caught up with him this morning to confirm the visit and to find out if OU has remained steady in their communication.
***Dolby confirmed both the visit and the continued pursuit by Oklahoma.
***The visit will be an unofficial visit and he remains very excited about the trip.
***I continue to believe OU is in a very good spot here and this recruitment, along with Weins recruitment, is definitely something to keep an eye on for OU this weekend.
---
'23 OL Commit Cayden Green Will be at Bedlam | Update 6:20: Arnold and…
– Charlie S – Posted on: November 15, 2022
Just wanted to pass along a note that Sooners offensive line commit Cayden Green will be back in Norman for Bedlam.
It is also his birthday, which is why I hit him up in the first place today!
Always a good thing to have your commits come through frequently.
Update: 6:20 pm
Jackson Arnold confirmed he plans on making the trip up to Norman for Bedlam.
He likely will not be the only Denton Guyer player at the game as I am told the plan is for Peyton Bowen to also be in attendance.