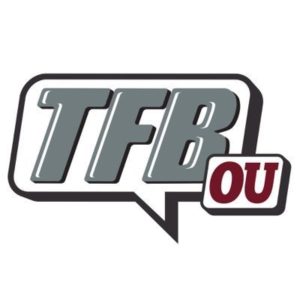 Open Post | Wednesday, May 25th
Posted on: May 25, 2022
Quick Hitters | '23 RB News
– Charlie S – Posted on: May 21, 2022
Couple quick notes on '23 running backs.
***First, the Sooners hosted Sergio Snider (5'10 190) out of Arlington, Texas.
Snider picked up his OU offer in late April and made his way to campus today. Will check in with him later on but I touched base with him briefly and he was liking what he was seeing (as one would expect) at that point.
***Then, the Sooners offered '23 RB Kalib Hicks (5'11 195) out of Denton, TX (Ryan).
I have not touched base with Hicks since he announced his offer, but if you remember, back on May 5th, I mentioned that he would be a name to keep an eye on:
'***On to the running back name to keep an eye on, that would be one Kalib Hicks (5'11 195) out of Denton, TX (Ryan).
I have been in touch with him to see if OU has reached out to this point and he mentioned he has not spoken to OU but Coach Murray and Coach Venables recently followed him (and Coach Roof was by the school and had a quick word with him) and he is interested in hearing from OU. Hicks's exact words were, 'I hope to hear from OU, they are a great program'.
So James and I did a little digging and it sounds like OU has done their homework on him and checked in with his coaches and such and I would not be surprised to see them begin to build a relationship there.'
I will check in with him this week but I will include his film here once again for you all:
---
Update | '23 RB Kalib Hicks Post Visit and Offer
– Charlie S – Posted on: May 23, 2022
Chatted briefly with '23 RB Kalib Hicks who made his way to Norman and picked up an OU offer.
***First off, he was obviously very excited to get the offer. It is one he had been waiting on a bit.
***I asked him what stood out about his time in Norman and he immediately brought up Coach Venables's energy and his message.
***Said he was very grateful to have finally met coach Murray in person as well and really enjoyed the visit.
**As for where things are at with his recruitment, Hicks told me he will be narrowing down his final schools 'very soon' (OU will make the cut) and then start talking about his officials.
***I would not expect the turnaround here to be a June 3rd BBQ official for Hicks as OU already has 3 RBs coming in that weekend in Richard Young, Daylan Smothers and Dylan Edwards.
***I expect OU to be ramping up their recruitment of Hicks and look to get him on campus for an official visit in the second half of June or for an early in season game.
---
Ashton Cozart and the Recruiting Landscape
– Super K – Posted on: May 24, 2022
***Yesterday, I spoke to a well connected source in the DFW area about the Ashton Cozart decommitment. I've been trying to get a sense of what all went into the Cozart's decision and how much "NIL" (again the quotes are meant to indicate that this NIL stuff for high school kids isn't NIL) may have played into it.
***Source could not confirm how much "NIL" played into the decision but did note that Cozart, as we know, is originally from that area.
***Source said that Cozart grew up a fan of Oregon but wasn't being heavily recruited by the previous staff.
***Source also noted that Cozart's ties to FSP 7v7 program who have good connections to Oregon may have played a role, as well. It's probably worth noting that when FSP was down in the DFW area for a 7v7 tournament a few months ago, they planned on visiting OU. As Charlie has previously noted, that visit was abruptly derailed and we still aren't exactly sure why.
***Something that did catch my eye though as I was looking through Oregon's commit list yesterday was the fact that they secured a commitment last month from Kyler Kasper (Gilbert, AZ). This shocked me. Why?
***Kasper's father was a record-breaking WR at Iowa. Kasper's father literally has the Hawkeye's logo tattooed on him. I know Kasper's father and I know people they know and I don't know if there are bigger Hawkeye fans anywhere. Obviously, Kyler would've been given the freedom to choose where he wants to go but even if he chose not to go to Iowa, why Oregon? A new staff led by a defensive head coach?
***My point is, if Oregon can pull Kasper, I don't know that the Sooners had any chance of holding on to Cozart.
***With Cozart flipping that puts the Sooners 247Sports team ranking at 37. Does that matter? Not unless you think Alabama's current ranking at 38 matters.
***The recruiting cycle this year is going to require a bit more patience than it did in the past. You'll start to see things begin to open up this summer but my hunch is you'll really see it take off this fall once the Sooners are destroying teams (and they will be IMO – more on that later).
***As I said last week, it's going to take a month or two of the kids (and especially their parents) not hearing direct NIL offers everywhere they go or having boosters waiting at the doors to figure out that it's now illicit activity and they shouldn't be holding up their commitments waiting on bigger and bigger offers. The kinds of things that need to be rooted out are to the degree that I've heard multiple stories of player's whose family's are charging "appearance fees" just to show up for a visit on campus.
***Additionally, in talking to some recruits, I get the sense that while Sooner nation knows what they have in coach V as a potential NC coach, there are still recruits who want to see what it all looks like.
***And in my opinion, the recruits and the rest of the country are in for a massive shock this fall. Of course, they'll all claim they knew BV was going to be a monster all along. Again, more on the topic of why I'm extremely bullish on the Sooners and the lull in recruiting, later.
---
CHO23N | Wide Receiver Big Board Updated
– Charlie S – Posted on: May 24, 2022
Taking a look at the CHO23N WR Big Board I posted in January and figured it was time to give it an update.
Ashton Cozart – Marcus (Flower Mound, TX) – 6-3 190- Committed to OU – Flipped to Oregon
Brandon Inniss – American Heritage (Fort Lauderdale, FL) – 6-0 190 – Offered: 3/6/20 – Not going to OU
Jalen Hale – Longview (Longview, TX) – 6-2 175 – Offered: 1/13/21 – Hasn't shown any renewed interest in OU
Johntay Cook II – DeSoto (DeSoto, TX) – 6-0 170 – Offered: 2/25/21 – Nothing between Cook and OU
DeAndre Moore Jr. – Los Alamitos (Los Alamitos, CA) – 6-0 185 – Offered: 2/3/20 – Nothing to see here
Hykeem Williams – Stranahan (Fort Lauderdale, FL) – 6-3 195 – Offered: 1/20/21 – No news of a visit to this point and it looks like OU would have to wait till the season to get him on campus if ever.
Lamar Seymore – Northwestern (Miami, FL) – 6-0 170- Offered: 1/26/22 – Committed to Miami – Nothing new here
Edward Schultz – J Serra Catholic (San Juan Capistrano, CA) – 6-1 / 195 – Offered: 12/17/21 – Very quiet recruitment, really have no idea where things stand on this one, will keep checking.
Jalen Brown – Gulliver Prep (Miami, FL) – 6-1 170 – Offered: 2/8/22 – Nothing of substance at this time here, I do know OU is still trying to get more involved. Has an official to LSU set up.
Aidan Mizell – Boone (Orlando, FL) – 6-2 180 – Offered: 2/3/22 – OU is in top 8, no visit set, this is one OU needs to keep working to get on campus to have a chance
Anthony Evans – Judson (Converse, TX) – 5'10 160 – Offered: 5/15/22 – Decommitted from Arkansas shortly after OU offer and subsequent visit and scheduled to be in Norman for the BBQ. Really picking up speed on the recruiting trail though.
Cayden Lee – Kennesaw Mountain (Acworth, GA) – 5-11 180 – Offered: 1/10/22 – OU will be getting an OV, not set yet. Has been to Norman a few times already.
Jaquaize Pettaway – Langham Creek (Houston, TX) – 5-11 170 – Offered: 2/23/21 – Scheduled to be in Norman for the BBQ. Has a lot of big offers and will make multiple officials this summer. Sooners really need to make a lasting impression as more visits will follow.
Jaden Greathouse – Westlake (Austin, TX) – 6-2 206 – Offered: 3/2/20 – Scheduled to be in Norman for the BBQ, always has felt like a battle OU will be in, but on the backend of his top group. That could change.
Mikal Harrison Pilot – Temple (Temple, TX) – 6'0 190 – Offered as a WR 1/24/22 – Has been to Norman several times, expect him to unofficially be at the BBQ as well in June. OU is squarely in the mix, some would say leading, I would not say that right now (I don't feel like there is a clear leader) but they could certainly win this one.
So since the time the Big Board was initially put up, the Sooners lost Ashton Cozart and added a couple more targets in Evans and MHP at WR.
I expect you will see some additional offers in the coming days and weeks. Following the decommit of Cozart, Cale has been active on Twitter in regard to following recruits. If anything develops there, we will get the information and let you know.
Currently, I would not say OU is the outright leader for any of the WRs listed, but they are in good position with several of them as I mentioned above.
Cale Gundy, in his first year as the sole WR coach has his work cut out for him and it will likely take a group effort between him and Lebby and the rest of the staff to cobble together this WR class.
I have seen some pretty harsh takes on Gundy and the situation with the WR class and I believe that is very reactionary and unwarranted at this point. Remember, this is the first cycle under the new staff and it absolutely takes time when you start from scratch because the other guys bolted and left you holding the bag.
Cale Gundy has shown his chops on the recruiting trail throughout his career. He probably has as many 'wins' as any coach on the staff on the trail which include Hollywood Brown, Marvin Mims, Austin Stogner, Brayden Willis, and Grant Calcaterra to name a few and that is not even talking about his time as the RB coach. He has also shown the ability to develop players and Drake Stoops is an example of that. Cale will get himself right and I would hope the fan base shows him some grace before calling for his removal.
Get three good receivers in '23, coach them up, and start those '24 and '25 relationships.
As you know, the WR room has been a concern of mine for the last 3 years. I will say Cale Gundy was not my reason for concern, Dennis Simmons was. Gundy has basically been recruiting 1 or 2 guys a year for his room previously. I have to see where things go with Cale, but I have little doubt he will get the job done adequately in '23 and progress from there going forward.
***Right after I posted this article yesterday, OU added a new offer, one which many of you have been debating for months now…
Cole Adams – Owasso (Owasso, OK) – 5-10 180 – Offered: 5/25/22 – Adams has an OV scheduled to Alabama for the BBQ weekend, but I do not think it is out of the question that he will make it to Norman multiple times this summer and that may include an official later in June.
---
Derrick LeBlanc | Sourced
– Super K – Posted on: May 24, 2022
***You'll recall in my most recent update on Sooners 4-star DL target, Derrick LeBlanc (Osceola, FL) a source had indicated to me that LeBlanc's was "Florida's to lose" (link).
***I also noted that per my source it was primarily a battle between Florida and OU. As you know, LeBlanc has been on campus multiple times and has plans to visit again.
***I checked in with the same source and they seem to feel the same way – Florida's to lose but if they do lose it'll be to Oklahoma.
***Yesterday, LeBlanc tweeted the following…
***So, it would seem to be looking less promising for OU…
***Not so fast my friend. A second source in the Orlando area who is very tied in with a number of recruits in that region believes that while there may be a number of twists and turn in this one, the Sooners are actually the team to beat.
***I presented that position to my first source who said that he couldn't discount the possibility that it's true but said that Florida has the continued advantage of having LeBlanc on campus so frequently.
***LeBlanc did push his committment date back. It was originally scheduled for July. If I had a to guess, I would imagine given the Gators and the Sooners both have new staffs, LeBlanc may be interested in seeing how both teams fair to start the season.