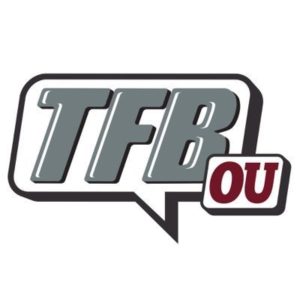 Open Post | Wednesday, May 10th
Posted on: May 10, 2023
Sooners Scholarships | Keeping Track
– Charlie S – Posted on: May 3, 2023
Below is my accounting of the scholarship numbers for OU right now.
My list includes the designated year of player with the remaining years of eligibility included should they not redshirt this season. So for instance, every freshman comes in as a (F +3).
Right now, with the additions and subtractions from this last round of Portal Activity, I have OU at 88 scholarships (with the addition of Near and Everett) which includes the freshmen and transfers who are expected on campus in June.
OU is still looking to add a couple of pieces through the portal, so there will need to be some creative steps taken to get to the 85 man scholarship limit.
I expect there to be some errors here and I ask you all to take a look and note any discrepancies you see in the comment section!
---
QB (3)
Dillon Gabriel (Sr +1)
Jackson Arnold (F +3)
Davis Beville (Sr + 1)
RB (5)
Jovantae Barnes (So – +2)
Gavin Sawchuck (RsF +3)
Marcus Major (Sr +1)
Kalib Hicks (F +3)
Daylan Smothers (F +3)
TE (5)
Austin Stogner (SSr)
Jason Llewellyn (So – +2)
Kaden Helms (RsF +3)
Taylor Heim (F +3) – Incoming
Kade McIntyre (F +3) – Incoming
WR (13)
LV Bunkley Shelton (Sr +1)
DJ Graham (Sr +1)
Drake Stoops (Sr)
Andrel Anthony (Jr +1)
Jalil Farooq (Jr +1)
JJ Hester (Rs So +2)
Major Melson (Rs Jr +1)
Jayden Gibson (So +2)
Gavin Freeman (So +2)
Nic Anderson (RsF +3)
Jaquaizie Pettaway (F +3) – Incoming
Keyon Brown (F +3) – Incoming
Brenen Thompson (So +2) – Incoming
OL (14)
McKade Mettauer (SSr)
Andrew Raym (Sr +1)
Walter Rouse (SSr)
Caleb Schaffer (SSr)
Nate Anderson (RsJ +1)
Tyler Guyton (RsJ +1)
Aaryn Parks (RsJ +1)
Savion Byrd (RsSo +2)
Jake Taylor (So +2)
Jacob Sexton (So +2)
Cayden Green (F +3)
Josh Bates (F +3)
Heath Ozaeta (F +3) – Incoming
Logan Howland (F +3) – Incoming
DT (11)
Isaiah Coe (Sr)
Jordan Kelley (SSr)
Jonah Laulu (SSr)
Marcus Hicks (SSr +1)
Jacob Lacey (RsSr +1)
Davon Sears (RsJr +1)
Kelvin Gilliam (RsSo +2)
Gracen Halton (So +2)
Derrick LeBlanc (F +3)
Ashton Sanders (F +3)
Markus Strong (F +3) – Incoming
DE/EDGE (8)
Rondell Bothroyd (SSr)
Marcus Stripling (SSr)
Trace Ford (RsSr +1)
Reggie Grimes (Sr +1)
Ethan Downs (Jr +1)
R Mason Thoms (So +2)
PJ Adebawore (F +3)
Taylor Wein (F +3) – Incoming
Linebacker (9)
Shane Whitter (Rs Sr +2?
Danny Stutsman (Jr +1)
Dasan McCullough (So +2)
Jaren Kanak (So +2)
Kobie McKinzie (RsFr +3)
Kip Lewis (RsFr +3)
Phil Picciotti (F +3)
Lewis Carter (Fr +3) – Incoming
Sam Omosigho (Fr +3) – Incoming
Defensive Backs (16)
Woodi Washington (SSr +1)
Key Lawrence (Sr +1)
Reggie Pearson (SSr)
Billy Bowman (Jr +1)
Pierce Hudgins (RsJ +1)
Kendel Dolby (Jr +1)
Gentry Williams (So +2)
Kani Walker (RsSo +2)
Robert Spears Jennings (So +2)
Jayden Rowe (Rs Fr +3)
Makari Vickers (F +3)
Jasaiah Wagoner (F+3)
Peyton Bowen (F +3)
Erik McCarty (F +3)
Jacobe Johnson (F +3) – Incoming
Daeh McCullough (F +3) – Incoming
Specialists (2)
Josh Plaster (RsSr +1)
Zach Schmidt (RsJr +1)
Additions since this post was written (2)
Troy Everett OL (RsF +2)
Konnor Near LB (R +1)
---
Sooners Looking for a DB
– Super K – Posted on: May 4, 2023
***When Jaden Davis announced he was leaving, sources inside the building indicated that the Sooners were likely to stay pat and ride into the season with what they have.
***Since then a couple additional DBs have entered the transfer portal. I can't say how much that impacted the Sooners decision to possibly reverse course but I spoke with a source yesterday about the recent transfer offers that have gone out.
***As you may have noted the Sooners offered a Michigan State DB transfer (very talented one btw) but he has since withdrawn his name from the portal. They also offered East Central University DB, Keonte Lusk…
***I asked about the Sooners interest in Lusk and was told the Sooners are focusing their efforts on a possible DB who wouldn't have a ton of eligibility left – maybe a guy with one or two years left and Lusk fits the bill.
***That isn't to say the Sooners don't like the guys they've got – they do. But it sounds like they are open to taking a guy who can offer some immediate and short-term help.
---
It's Rarely About Talent at Oklahoma
– Super K – Posted on: May 4, 2023
I get it. Fans want to believe their problems are solvable. So, the easiest thing to do is go along with the "we need more talent" speak. Talent is a convenient excuse and it leaves fans with the optimism of knowing that a couple jimmies and couple joes and you're back in business.
But at Oklahoma, talent is rarely the problem. I think in recent years some Oklahoma fans have lost sight of just what kind of recruiting advantage the Sooners have over most teams they play.
And no matter how many times fans see it play out, many are still ready to jump right back on the convenient "we need more talent" excuse.
Let me be clear, when I say talent is rarely the issue, I don't mean that there aren't sometimes major roster changes needed. What I mean is that the right coaches will get the most out of what they have and will make personnel decisions to bring in the right talent. Meaning, even if it's technically a talent issue, the issue is still on the decision makers.
So, for example, it was very obvious that under the previous staff a guy like Isaiah Thomas was being overlooked until the right coach – Coach Cain – came in. It was clear that Kenneth Murray wasn't being put in position to succeed under the defensive staff before that and then Odom enters and the young man gets drafted in the first round.
Think about that, really. Thomas can't get on the field, is on the verge of quitting football and a new coach turns him into a staple on the field and a draft pick. In a single season, Murray goes from being lost on the field to a 1st round draft pick.
Last season, Texas Tech and TCU had major turnarounds with minimal roster changes.
Then there is the technical lack of talent that really shouldn't be blamed on a lack of talent. That is the case where a staff is simply bringing in the wrong guys – making poor recruiting decisions. Oklahoma is so close to fertile recruiting territory that, again, talent should never be the issue.
If a staff has an eye for talent, they can find it. Bedenbaugh plucks a kid out of the DMV and within three years the kid is a first rounder. In recent years, TCU has taken two 3-star Texas DBs and turned them into Thorpe Award winners (Moehrig and Hodges-Tomlinson).
One of things I like about Brent is he believes he can win with what he's got. Last season there was a lot of confidence in the building that the Sooners could win. That confidence was coming from the belief in the building that they could put those guys in position to succeed. To me, that means that, while Brent may upgrade the talent behind the scenes, he isn't going to blame the talent today.
And to be honest, I think in a lot of ways he was right. Think about the offense.
The offense wasn't in the top 30 in scoring. But the talent on the offense consisted of at minimum…
***Two tops three round draft pick tackles – very few teams in the country ever have that.
***A second round WR
***A draft pick at RB
***A draft pick at TE
Given OU's schedule, that was more than enough talent to score more points and win more games. And Brent knows that. That's why you don't hear him blame the talent. He blames the coaches. He made a change at the WR coaching spot. And I guarantee you he is expecting a lot more out of Lebby and the offensive staff, this season.
And even though the Sooners didn't have draft picks on the defense, 1) I guarantee you Brent believes there are draftable guys on this team and 2) he still believes that if the guys simply play the defense the way it's meant to be played (be in the right place, fit the proper gap, etc.) they would have fielded a better and more consistent defense.
I know fans love to blame the talent because it gives them solace that the problem can be fixed quickly but to me, it's knowing the kind of talent that Oklahoma has or has access to when they get their evaluations right that should always give OU fans optimism.
If Brent is the guy, I suspect you'll see it this year. And if he isn't, you really think there aren't guys (like perhaps a McGuire or whoever) who can't come in and win right away at a place like Oklahoma?
Either way, it's a win win for Sooner fans. And I can tell you, I've spoken to sources and there are coaches already watching how things unfold with Oklahoma this season because a lot of people would love to sit on the throne in Norman. Why? Because if they can win wherever they're at, they know their job is going to be a lot easier at OU.
---
Keonte Lusk | Transfer DB Visit
– Super K – Posted on: May 6, 2023
As you know, the Sooners offered East Central University DB transfer, Keonte Lusk.
Was finally able to get a little information on Lusk. We have been trying to confirm whether he will visit Oklahoma.
It turns out, per a source, he has already visited. Sounds like he quietly made it campus about a week ago.
I'm told he's also visited Cincinnati and I'm told Lusk has a teammate who is transferring Cincinnati.
I'm still trying to gather what other visits he has or will take and what kind of timeline we are looking at. Will report back when I have more…
---
Venables Finds an Anchor
– James Hale – Posted on: May 8, 2023
As the students and players prepare for finals next week, OU goes into the summer off-season feeling good about their linebacker corps. The linebacker group is the most athletic group on defense, and OU has starters and several players who can fly around.
In starters, junior Danny Stutsman (6'4, 235) and sophomore Jaren Kanak (6'2, 227), OU has two players that the coaches are very high on and two outstanding players and athletic linebackers. At Cheetah, OU looks in great shape with senior Justin Harrington (6'3, 215) and sophomore Dasan McCullough (6'5, 222).
OU also has depth with redshirt freshman Kobie McKinzie (6'2, 243), who is battling Kanak for the starting MIKE. Junior Shane Whitter (6'0, 220), sophomore Kip Lewis (60-203), and now Division II All-American and two-time National Champion Konnar Near (6'2, 234) of Ferris State, who transfers to OU with two years of eligibility remaining, will be in the mix for depth and playing time. Throw in talented freshman Phil Picciotti (6'3, 236), and incoming freshmen Sammy Omosigho (6'1, 208) and Lewis Carter (6'0, 205), and OU is three deep at linebacker.
So, this group is loaded with talent, and there is a leader within the linebackers in Stutsman. The OU coaches feel that Stutsman is one of the best linebackers in the country, and last year Stutsman lead the Big 12 in tackles with 126. That's 9.6 tackles per game, and that is pretty active. It also placed him fourth in all of college football. He also put together 70 solo tackles, three sacks, and two interceptions as a first-year starter.
Stutsman was named to the Lott IMPACT Trophy Watch List for 2023, the foundation announced on Thursday. The IMPACT trophy awards the defensive player that showcases the best combination of character and performance on and off the field in college football. IMPACT stands for Integrity, Maturity, Performance, Academics, Community, and Tenacity.
The Trophy, named after NFL Hall of Famer Ronnie Lott, is the only major college football award that considers character, according to the foundation. Alabama's Will Anderson Jr. won the 2022 award, while Michigan's Aidan Hutchinson won it in 2021.
Just how good is Stutsman? If you ask OU Head Coach Brent Venables or any of the Sooner coaches and players, they will tell you he is one of the best inside backers in the country, but nationally Stutsman is not universally recognized as one of the nation's best to this point.
Stutsman must at least be among the best linebackers in college football this season. Forty-two players are on the Lott watch list. This season it includes 16 linebackers, 13 defensive backs, and 13 defensive linemen. There are nine players from SEC schools, eight from the Big Ten and Pac 12, and six from the Big 12 and ACC. There are also five from non-Power 5 conference schools.
"In our bowl game, I think it was quite obvious, he was the best player on our defense," said Coach Venables. "I say that because I'm not worried about Danny getting full of himself. I'm also going to recognize a guy that I think we can build a defense around. "He's got a lot to improve at, physically, fundamentally, understanding, but he's a guy that has been putting in the work, and he's fanatical about putting in work and improving. He's got a great sense of desperation."
"Danny didn't get real serious about football until about halfway through our season last year, but since then, he has been one of the most dedicated football players I have ever been around. Danny has a great sense of humor about him, and I think that gives off a false sense of how serious he is about football."
"Once he actually got our playbook and started taking seriously how we were coaching him up, he grew incrementally every practice and game. By the time the bowl game came around, he was playing his best football, and he was playing so well that we felt we had our anchor on defense."
"I don't know how people look at him nationally, but I know a good linebacker when I see one. We have an outstanding linebacker in Danny Stutsman, who can potentially be a great linebacker. This was the first spring that he actually worked on the fundamentals of the game and worked on his fundamentals as well as spending time learning the defense better."
"This summer is going to be critical for him as he needs a great summer with Schmmitty (Jerry Schmidt), but he needs to watch film and study the game, and by the time training camp rolls around, he needs to be playing better football than he was playing last year. I think he will do that, and we will have a better football player next year, and that will be a very good football anchoring our defense."
Coach Venables either has always told us that Stutsman needed to be more serious about football or that he was excelling as one of the best in the game. He has consistently said one of those two things, and lately, it has been the later. So Stutsman has taken a significant step forward as a player."
Nationally, outside of the Lott award, Stutsman was not getting that kind of run. Pro Football Focus recently rated the country's top 10 linebackers, and Stutsman didn't make the list.
The Pro Football Focus Top 10 Linebackers:
Jeremiah Trotter, Jr., Clemson Tigers:
Harold Perkins, Jr. LSU Tigers
Tommy Eichenberg, Ohio State Buckeyes.
Jamon Duman-Johnson, Georgia Bulldogs.
Barrett Carter, Clemson Tigers
Cedric Gray, North Carolina Tar Heels
Jaylan Ford, Texas Longhorns.
Addul Carrter, Penn /State Nittany Lions
Maema Njongmeta, Wisconsin Badgers
Ty'Ron Hopper, Missouri Tigers.
There is nothing to say that Stutsman won't be on that list by the end of the year. Coach Venables and the coaches on the Sooner D believe that Stutsman can be among the best linebackers in college football and that he can be a first-team All-American next year.
If he is, then the OU Defense will take a significant step forward next season.
---
Portal Talk | Clarifying a few Things on Defense
– Super K – Posted on: May 9, 2023
A few things I want to go over and in some cases review in terms of OU's movement in the portal.
***I know many of you have been perplexed by the Sooners going into the portal for a transfer LB. We've discussed it at length. I've asked a well place source about it.
There seem to be some folks in the building who are also confused by the move. But I'll tell you my sense of it…
Brent is learning what I think many OU fans have not yet learned – this administration is extremely cutthroat. I don't mean they'll fire you if you don't win a natty. But I don't think people really understand how jarring that 6-7 was for the administrative and money folks.
We can talk all we want about how Lincoln was holding things together with his quarterbacks, etc. All that doesn't matter. The people in charge did not see this thing as a rebuild.
I say all that to say this, I really think Brent doesn't want to take any chances this season…
***It has become pretty clear that especially on defense, he wants to add layers and layers of redundancy.
They don't seem to want to go into this season with any inexperience. The easiest way to see this is at the cornerback spot. Right after Jaden left, we were told by a well-placed source that they were confident in their room (as they should be) and that with Woodi manning one side and plenty of competition on the other, they were not going to take another cornerback.
I feel very confident in saying that that was the decision made.
Then, that changed. And they started offering transfer guys. I asked why those guys were offered and was told that they were like for a one-year stop gap type guy. Has anything changed with their current roster? No.
But I believe, again, Brent doesn't want to go into the season without experience at every position and redundancy.
***And if you take this same logic and apply it to the LB position then you see why they took a guy out of the transfer portal with a lot of snaps.
We all know the LB position is the key position in Brent's defense. It's a difficult position to learn and many of you still remember what happened in the RR game in 08.
Like the corner room, Brent has a LB room stacked with potential – smart kids (for scheme) and super athletic across the board. But only one guy has a lot of snaps and that's Stutsman.
Again, like corner, in any other year, I think Brent trusts what he has. But again, I think he is coming to understand that he needs to field a really competitive defense this season. And it's not that he didn't know that. Every coach wants to field a great defense and a great team. But sometimes that sense of urgency can become even more present.
***You can look at the cheetah position which is also a critical one in this defense and see that they have added layers of redundancy there as well. They've added experience and a diversity of skill sets.
***If the Sooners are able to land a cornerback out of the portal, they will enter the season with experience at every single position on the defensive side of the ball. And that doesn't mean the experienced guy will be the starter. But in a certain way, it puts a floor under the defense and strengthens the experience, football IQ and maturity in each room.
***So, while it may lead some to scratch their head, to me, I think it's what you have to do when you're going into your second season following a 6-7 season at a place like Oklahoma where a record like that hadn't been seen in over two decades! Add to that, perhaps the easiest schedule OU has ever had which will then be followed in 2024 by one of the most difficult, and you can see how they don't want to leave anything to chance.