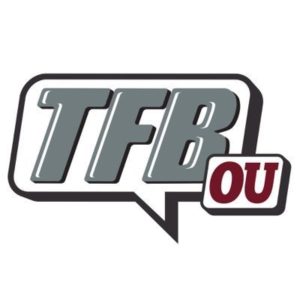 Open Post | Wednesday, June 29th
Posted on: June 29, 2022
Joe Moore Award Winners | Do Stars Matter?
– Charlie S – Posted on: June 24, 2022
Since the Sooners offensive line recruiting and development seems to be a major topic for some in the community, I figured I would do some research about the topic.
I focused on the Joe Moore Award-winning lines.
'The Joe Moore Award for the Most Outstanding Offensive Line Unit annually recognizes the toughest, most physical offensive line in the country, making it the only major college football award to honor a unit or group.'
So agreeing that the Joe Moore Award winning lines is the type of offensive line you are looking for, I think it would be beneficial to see those lines and compare the 'Star Rankings' that comprised the units.
Below you will find the list of the 7 units that have received the award. The starters are listed and their high school ranking follows.
Let's have a look:
Michigan 2021
T Ryan Hayes – Low 4* (.8958) – Still in school
G Trevor Keegan – 4* (.9288) – Still in school
C Andrew Vastardis – 2* (.7709) – UDFA
G Zak Zinter – Lowish 4* (.9064) – Still in school
T Andrew Stuber – 3* (.8860) – Drafted NFL
Alabama 2020
T Alex Leatherwood – 5* (.9981) – Drafted NFL
G Deonte Brown – 4* (.9258) – Drafted NFL
C Landon Dickerson – 4* (.9814) – Drafted NFL
G Emil Ekiyor – 4* – (.9496) – Still in school
T Evan Neal – 5* (.9946) – Drafted NFL
LSU 2019
T Saahdiq Charles – Lowish 4* (.9039) – Drafted NFL
G Adrian Magee – 3* (.8772) – UDFA
C Lloyd Cushenberry III – Low 3* (.8238) – Drafted NFL
G Damien Lewis – 3* (.8656) – Drafted NFL
T Austin Deculus – 4* (.9772) – Drafted NFL
OU 2018
T Bobby Evans – 4* (.9260) – Drafted NFL
G Ben Powers – 3* (.8647) – Drafted NFL
C Creed Humphrey – Low 4* (.8962) – Drafted NFL
G Dru Samia – Low 4* (,8986) – Drafted NFL
T Cody Ford – 3* (.8674) – Drafted NFL
Notre Dame 2017
T Mike McGlinchey – 4* (.9280) – Drafted NFL
G Quenton Nelson – 4* (.9707) – Drafted NFL
C Sam Mustipher – 4* (.9123) – Drafted NFL
G Alex Bars – 4* (.9484) – UDFA NFL
T Tommy Kraemer – 5* (.9835) – UDFA NFL
Iowa 2016
T Cole Croston – 0* (unranked) – UDFA
G Boone Myers – 0* (unranked) – UDFA
C James Daniels – 4* (.8909) – Drafted NFL
G Sean Welsh – 3* (.8575) – UDFA
T Ike Boettger – Low 3* (.8262) – UDFA NFL
Alabama 2015
T Cam Robinson – 5* (.9980) – Drafted NFL
G Ross Pierschbacher – 4* (.9657) – Drafted NFL
C Ryan Kelly – 4* (.9010) – Drafted NFL
G Alphonse Taylor – 4* (.9133) – UDFA
T Dominick Jackson – 4* (.9403) – UDFA – NFL
***What jumps out at me…
– On the 7 units, there were only four 5* guys (Bama having 3 of them on their 2 award winning teams). So out of 35 players on the Joe Moore Award-winning units, 4 were 5*.
– Only one unit had multiple 5* guys…the 2020 Bama line which is easily one of the best OL groups I have ever seen.
– There were nearly as many 2* or below guys as there were 5* guys in the collection of players and it took Ben Powers from OU getting a late 3* ranking (he was unranked by many out of JUCO until OU came through) to keep the '2* or below group' from containing the same amount of players as the 5* group.
– With the above data in mind, I view it as if there were a couple of anomalies…obviously the 2016 Iowa line with two unranked guys and the 2020 Bama team with two 5* guys.
– To this point, Bedenbaughs award-winning line is the only line that has seen each of the players drafted by the NFL (I expect the 2020 Bama line to join them with that distinction).
– The goal of blossoming into the 'Best Offensive Line' in college football is not contingent on the rankings as the offensive line remains the most difficult position to evaluate in respect to high school players.
– Iowa consistently has some of the better lines in the country year in and year out yet they are nowhere near as talented, on paper, as the majority of the other teams who ascended to that level.
Now, let's take a look at what OU and Bill Bedenbaugh will trot out onto the field this season…
OU 2022 Projected Starting Offensive Line – 2 deep
T Anton Harrison – 4* (.9271) – Savion Byrd – 4* (.9707)
G McKade Mettauer – 3* (.8642) – Marcus Alexander – 3* (.8859)
C Andrew Raym – 4* (.9567) – Robert Congel – 0* Unranked – Nate Anderson – 4* (.9612)
G Chris Murray – 4* (.9119) – Brey Walker – 5* (.9836)
T Wanya Morris – 5* (.9871) – Aaryn Parks – 4* (.9199)
So yeah, the talent is there, and that is not taking into account a number of other players not listed in the two deep who are currently on the OU roster.
Some of you may feel like Bedenbaugh has something to prove, and I get it and you are absolutely entitled to that opinion and nobody should diminish your opinion.
I, personally, just do not see the OU offensive line coach or players as one of the larger issues that have popped up within the program in the past 5 years. I went through that in chat last week and easily listed 9 things about the program that needed fixing before I even considered the OL.
Bedenbaugh has not recruited in a sexy fashion aside from the 2020 class. He has been getting very good, but limited numbers of players in the last two cycles and the addition of the two Jake's in the '22 class was big. But he has navigated the portal well and developed his players at a far greater clip than ANY coach at OU over the last 7 years and he has produced many more draft picks (from OU) than ANY other position over the last 7 years.
You want Joe Moore Award Winning type lines…Bedenbaugh has already proved he can do it. He is the only coach of the 7 recipients of the award to have each of his guys drafted from the award winning line.
I truly believe, starting with the '22 season and the return of Schmidt, that you will see the line take a big step in returning to their former dominance. Yes, they have not been up to par for the last 2-3 years, but you have to take into account the sort of S&C and culture they have been dealing with. The players spend far more time with the S&C coaches than the position coaches and that affects everything from physical ability, mental fortitude, and group cohesiveness. Billy Blanks wasn't the guy to get that done…I think Bedenbaugh benefits more than any other coach with the return of Schmidty and I think you will start seeing it this year. I don't expect them to be all the way back immediately, but by '23 the OU OL culture should be completely back.
Average
A rough average of the ranking for the each of the above starting five is shown below, with a rank out of the seven shown as well. Unranked starters are excluded from the average.
Michigan 2021: 0.8776 [6]
Alabama 2020: 0.9699 [1]
LSU 2019: 0.8896 [5]
OU 2018: 0.8906 [4]
Notre Dame 2017: 0.9594 [2]
Iowa 2016: 0.8582 [7]
Alabama 2015: 0.9437 [3]
OU 2022 (Projected starters): 0.9294 [would be fourth-highest in group above]
---
New '23 DB Offer
– Charlie S – Posted on: June 23, 2022
In light of Tyler Turner choosing Oregon, the Sooners have sent out a new '23 DB offer…
OU has offered LSU commit Ryan Yaites (6'0 190) out of Denton, TX (Guyer).
If the high school sounds familiar…that is because Yaites is teammates with OU QB commit Jackson Arnold as well as OU DB target and ND commit Peyton Bowen.
You may recall I mentioned him as a potential defensive back target back in February when I wrote about OU putting in work in the DW area.
While he was offered yesterday, Yaites told me 'I wanted to do an edit and not just a regular post, so that's why it's taking so long' (to announce it). Seems good.
Yaites has been committed to LSU since mid April but he has been taking visits and after touching base with him, I expect OU to be players here if they choose to pursue aggressively.
Update: Since this post, Yaites has announced his offer publicly and we had CJ out to see him yesterday. Story to come at a later date!
---
Quick Hitter | Timeline and Trending for '23 LB Samuel Omosigho
– Charlie S – Posted on: June 23, 2022
Just talked to Super K who passed along a note on Sooners '23 LB target Samuel Omisigho (6'1 208) out of Crandall, TX.
Omisigho told K that he will be making his announcement on June 30th.
He just came off a Florida visit and it sounds like the Gators are really high on him, and while they made a good impression, we have this one trending towards OU.
Update: Samuel will be announcing his decision at 3:00 tomorrow.
---
TFB Randoms | Recruiting Notes
– Charlie S – Posted on: June 27, 2022
Wanted to pass along a few notes that I picked up over the weekend…
*** First let's start with '23 OL Logan Howland (6'7 280) out of Princeton NJ. I touched base with him following his Iowa visit and he let me know that he is done with the process and will be making his decision in short order. He said he would like to make an announcement in the next few weeks. Howland was in Norman for the ChampUBBQ for his official visit and he visited earlier in the spring unofficially at which time he picked up his offer from OU in person.
He has also officially visited Miami, Michigan, Vanderbilt and Iowa.
He didn't really tip his hand too much, but he did speak glowingly of his trips to Norman and his relationship with the OU staff. With him playing it so close to the vest, we will be checking with OU sources to see how they are feeling, but I believe this will come down to an OU vs Michigan deal on the surface. Will continue to check though.
*** Was checking in around Denton (Guyer) following the Ryan Yaites (6'0 190) offer and I touched base with Notre Dame safety commit Peyton Bowen (6'0 185). As you know, Bowen had been on campus in Norman multiple times in late winter and early spring. What I did not know, until yesterday when he mentioned it, was that he has been back to Norman on multiple other occasions rather quietly throughout the late spring and early summer. He also confirmed that OU is continuing to keep the communication at a high level with him. Still something to keep an eye on.
Here are a couple significant tweets from this morning as well that I may as well throw in here…
***As Super K first passed along, Sooners LB target Samuel Omosigho will be making his announcement on Thursday…
As we have mentioned multiple times we like where OU is in this one at this time.
*** Sooners DL target Derrick LeBlanc has put out his final 3…
As you know LeBlanc has been to Norman numerous times for extended unofficial visits. He currently plans on officially visiting Norman during the season and is set to make his commitment near the end of July. OU is in a good spot right now, still a ways to go here.
---
Quick Hitter | Latest On Howland
– Charlie S – Posted on: June 27, 2022
As I mentioned we would be checking on the OU side about how they are feeling about their prospects with OT Logan Howland…and I'm going to use this recruitment as an example of the way we (TFB) have been changing our approach in regards to covering recruiting in itself.
The latest info we got from a source on the OU side was pretty simple and it's summed up in two sentences directly from the source:
"Feel good, but we will see". That is the first sentence.
Now, in past years, we would have pretty much run with that and sent Mr Banderas out to you all. Based on the source and their opinion, that would pretty much have locked Howland to OU down.
The issue is, since last summer and the NIL introduction, we have seen some crazy things happen on the way to the commitment.
This leads us to the second sentence from the source:
"Just not sure who is telling the truth anymore".
Now this is not casting any shade at Howland and he probably is one of the least likely guys to be influenced by NIL as he comes from a very stable background, his family is well enough off, and he has not only tremendous athletic opportunities, but he has some great academic opportunities as well. The mere fact that we have to pause with the level of confidence from a very good source is something I thought you all would like a little insight on.
Even people very connected to the recruitments of these targets rarely 'know' until they 'know'…you know?
You have seen kids give silent commits and then publicly commit elsewhere with no heads up. You have seen kids tell schools they have not signed early when they did in fact sign early. You have seen kids entire recruitments uprooted with one NIL promise. These coaches and staffs must have some real scars.
So bottom line on Howland, who is serving as the example in this case: OU feels very good about him…but you never know. He could wind up at Michigan or Iowa still and it may have little to do with the NIL, but nobody is confident to the degree they used to be no matter what the case is for the vast majority of kids.
---
LeBlanc | Sourced | Drops top Three
– Super K – Posted on: June 28, 2022
As you may know, yesterday, Sooners 2023 DL target, Derrick LeBlanc (Kissimmee, FL) dropped his top three which included OU, Florida and Penn State.
Also, you'll notice that LeBlanc also announced his commitment date as July 28th.
LeBlanc was originally planning on announcing in early July but later delayed his decision. We had been told he wanted to see OU and Florida play and was going to announce sometime closer to October. However, that does appear to have been changed…yet again.
His decision to announce comes almost immediately after a pop trip he took, last week, to Florida. That was like the tenth time he'd been on Florida's campus. And per sources around the Florida program, LeBlanc wasn't even expected on campus, that day.
Like you, our immediate assumption was that Florida had taken a lead. However, in speaking to a source I was told…
***Penn State is not legitimately in the picture. While he dropped a top three, the fight remains between Florida and OU.
***And, I'm told Florida has no idea where LeBlanc is going. Meaning, that if the last minute trip sealed the deal for the Gators, LeBlanc did not inform the Gators of this fact.
***In other words, with all the visits he's taken to OU, his recent trip to Florida could have just as easily shown him that Florida isn't the school and sealed the deal, instead, for the Sooners.
***I still don't know at this point but it was a significant piece of news for me to hear via my source that the Gators remain in the dark, as well.
***Sooners remain alive in this one.
***If I had to pick right now, gut tells me 55/45 Sooners. I just find it odd that Florida, being the in state program, isn't more confident. But in this NIL era, we have to tread pretty lightly with these picks so, as always, I'll update you if there are any winds of change (Scorpions!).
---
Quick Hitter | The Guyer Guys
– Charlie S – Posted on: June 28, 2022
As I mentioned earlier today, CJ was out at Denton Guyer earlier this morning to see a pair of Sooners '23 DB targets in Notre Dame commit Peyton Bowen and LSU commit Ryan Yaites.
CJ will have a full write up on the pair this week and he was not able to see Jackson Arnold who is out at the Elite 11 QB camp, but he is playing a prominent role in OU's pursuit of the pair.
On Peyton Bowen…he confirmed his quiet visit this summer that I mentioned earlier this week to C and said OU is definitely among the school that are keeping his eyes open in regard to his commitment to ND. Again, CJ will have more insight on this in the coming days, but while the visit was quiet, Bowen now telling two of us about indicates that he is not going out of his way to hide his trips.
As for Yaites, CJ mentioned that it felt like a big deal for him when he got the OU offer. While he is committed to LSU, from what CJ told me after speaking with Yaites, he is pretty open to OU and the Sooners could certainly become legit threats in this recruitment.
Again, CJ will have more in the coming days on the pair of DBs from Guyer but it sounds like Brandon Hall is putting in some good work there.