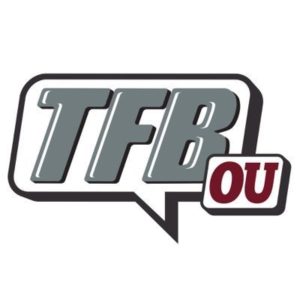 Open Post | Wednesday, June 1st
Posted on: June 1, 2022
ChampU BBQ Official Visitors
– Charlie S – Posted on: May 31, 2022
Below please find the updated ChampU BBQ Visitor list…
Added a few, subtracted a few (like Ashton Cozart and Xzavier McLeod…Cozart for obvious reasons and McLeod has not reconfirmed).
Also removed RB Tre Wisner who still has not clarified if he will be in Norman following him telling me he would be a day before he committed to Texas. I would not count on him, particularly with OU hosting 3 other running backs along with the recent RB offers as well.
Again, this list will change so if you don't see a guy on there, he may still be coming for a visit, just have not confirmed it and there will likely be one or two on the list who will not make it in.
---
'23 QB Jackson Arnold – Denton, TX – OU Commit
'23 RB Richard Young – Lehigh Acres, FL
'23 RB Daylan Smothers – Charlotte, NC
'23 RB Dylan Edwards, Derby, KS
'23 WR Mikal Harrison Pilot – Temple, TX
'23 WR Jaden Greathouse – Austin, TX
'23 WR Anthony Evans – Converse, TX
'23 WR Jaquaize Pettaway – Houston, TX
'23 TE Reid Mikeska – Cypress, TX
'23 OL Wilkin Formby – Tuscaloosa, AL
'23 OL Logan Howland – Princeton, NJ
'23 OL Cayden Green – Lee's Summit. MO
'23 OL Brycen Sanders – Chattanooga, TN
'23 OL Payton Kirkland – Orlando, FL
'23 OL Jaydon Chatman – Harker Heights, TX
'23 DL A'mauri Washington – Chandler, AZ
'23 DE Rueben Bain – Miami, FL
'23 EDGE Blake Purchase – Englewood, CO
'23 EDGE PJ Adebaware – Kansas City, MO
'23 EDGE Derion Gullette – Marlin, TX
'23 LB Anthony Hill – Denton, TX
'23 LB Phil Picciotti – Perkasie, PA
'23 DB Jalon Kilgore – Eatonton, GA
'23 DB Tyler Turner – San Antonio, TX
'23 DB Makari Vickers – Tallahassee, FL
'23 DB Moussa Kane – Blairstown, NJ
'23 ATH Jacobe Johnson – Mustang, OK
'23 ATH Erik McCarty – Mcalester, OK – OU Commit
'23 ATH Samuel Omosigho – Crandall, TX
---
Messin' With Schmidty | Venables Perspective
– James Hale – Posted on: May 25, 2022
The Sooner Caravan rolls into Wichita, Kansas, Tuesday before the big finale comes up Thursday at the Omni in Oklahoma City. Most of the players are home for a few days before they have to report back the first of next week for what promises to be a very intense summer under Jerry Schmidt.
"The summers will always be the lifeblood of our upcoming seasons," said Head Coach Brent Venables on my radio show Total Sports at CBS Sports Radio 105.3 HD1. "When Jerry and I talked about him coming back, I told him that I didn't have anybody else that I wanted to be my strength and conditioning coach. Jerry Schmidt has meant as much as any of us coaches to the success we have had since 1999."
"I am not joking about that because that is so true, and I know people don't understand that. You talk to those guys in 1999 and 2000, that went through his first workouts here, and it was sink or swim for a lot of them. We had a few players quit during that time, and a lot more wanted to, but they finally figured out how to survive and then realized how much it was going to make them a better player and decided to dive into it."
"You have to approach it like a practice or a game and realize how much it will help you if you buy into it and put the work in with it. Usually, players do a better job with it the longer they have been in the program because they realize Smitty only has their best interest at heart. They will have no bigger supporter on our staff than him, and he will be a guy they can talk to, and he will be a straight shooter for him."
"When I was working for Coach (Bob) Stoops, he told the team that if they mess with Smitty, they mess with him and Smitty is in charge during the summer. I have told my guys the same thing, but don't misunderstand that I am still the head coach of the football team, but Smitty has to have the authority to train the guys how he is trained and developed to do. Since we have limitations on how much we can see them during the summer he and his staff will be around them a lot more."
"June is an important month for us as we will start our off-season program, and it is a huge recruiting month for us with official visits coming every weekend, it seems, and we have our football camps that month. So, we will be fully engaged in our football program because the players will help us coach the camps and make some extra money that way. They love giving back, and it is great to be out there with them.
"It seems like things never slow down for us in college football, but that is okay. We are used to that, and that is what we signed up for."
---
CHO23N | Offensive Line Big Board Updated
– Charlie S – Posted on: May 26, 2022
Time to take a look at the Offensive Line Big Board I posted in February and make some adjustments and fine tune it:
The Sooners will be looking to take at least four high school offensive linemen and they have one current commit in Josh Bates.
Joshua Bates – Durango (Durango, CO) – 6-3 280 – Committed to OU
Kadyn Proctor – Southeast Polk (Des Moines, IA) – 6-7 330 – Offered: 3/18/21 – OU not in play
Francis Mauigoa – IMG Academy (Bradenton, FL) – 6-6 325 – Offered: 4/10/20 – Nothing much going on here at this time
Samson Okunlola – Thayer Academy (Braintree, MA) – 6-6 295 – Offered: 10/22/21 – No visit on the horizon
Chase Bisontis – Don Bosco Prep (Ramsey, NJ) – 6-5 290 – Offered: 2/12/21 – Not hearing anything here
Luke Montgomery – Findlay (Findlay, OH) – 6-5 260 – Offered: 3/2/21 – Committed to Ohio State
Cayden Green – Lee's Summit North (Lees Summit, MO) – 6-5 310 – Offered: 3/1/21 – Taking an official to OU and making his announcement in July. Right now, OU is in very good position. Green has been to Norman more than some players who have signed and will be reporting in June so that is never a bad thing.
Charles Jagusah – Alleman (Rock Island, IL) – 6-6 308 – Offered: 10/31/21 – Nothing to report here
Olaus Alinen – The Loomis Chaffee School (Windsor, CT) – 6-6 315 – Offered: 6/12/21 – Nothing developing here at this time.
Miles McVay – East St. Louis (East Saint Louis, IL) – 6-7 365 – Offered: 6/29/21 – McVay made an unofficial to Norman and appeared to be pretty high on OU following the visit. However, it appears both sides have turned their attention elsewhere. I checked in with McVay last week and he said 'Nah, not a lot of communication'.
Payton Kirkland – Dr. Phillips (Orlando, FL) – 6-6 315 – Offered: 8/26/20 – Made his way to Norman for the spring game and plans on being at the BBQ for an official. Has a commitment date set for July, but I would not be shocked to see that pushed back. OU has a puncher's chance here and his recruitment could be aided by OU's standing with Derrick LeBlanc. Not necessarily tied together, but familiarity never hurts. Would be a tough pull out of Florida, but you have to be in it to win it as they say.
Logan Reichert – Raytown (Kansas City, MO) – 6-7 345 – Offered: 1/9/22 – I, personally, always thought OU would be much more involved here than they ever have been. Nothing really happening between Reichert and OU right now.
Lucas Simmons – Clearwater Academy (Clearwater, FL) – 6-7 300 – Offered: 6/12/21 – Has 4 officials set, none to OU.
Wilkin Formby – Northridge (Tuscaloosa, AL) – 6-7 295 – Offered: 2/14/22 – Sooners are in Formby's top 5 and will get an official visit for the BBQ. A lot of this one comes down to what Bama decides to do and Ole Miss is a real player here as well. Sooners are right there though and are a player here.
Colton Thomasson – Smithson Valley (Spring Branch, TX) – 6-7 315 – Committed to A&M
Aidan Leigh – Pendleton (Pendleton, SC) – 6-4 275 – Offered: 8/22/20 (His last D1 offer) – Stone cold recruitment here after his brother signed with Clemson. No new offers, nothing.
OG Alex Birchmeier- Broad Run (Ashburn, VA) – 6-6 275 – Committed to Penn State
OG Harris Sewell – Permian (Odessa, TX) – 6-4 290 – Offered: 6/6/21 – Sewell and OU never really have gained any traction.
OG TJ Shanahan – Westlake (Austin, TX) – 6-4 300 – Offered: 7/27/20 – Nothing developing between OU and Shanahan
OG Markis Deal – Naaman Forest (Garland, TX) – 6-4 290 – Offered: 6/5/21 – Tripped to Norman in March and is being recruited by both Bedenbaugh and Todd Bates. No return visit set to this point, but if there is one in the future, I would assume it comes as a DL.
OG Jaydon Chatman – Harker Heights (Harker Heights, TX) – 6-4 286 – Offered: 10/17/21 – Sooners are quietly in this and it sounds like they will get an official at some point. Have not confirmed him for the BBQ, but I would not be shocked to see that materialize. Has visits set with Aggie and Texas as well. He is pretty quiet, but sources on the OU side feel like they are in this.
OG Knijeah Harris – IMG Academy (Bradenton, FL) – 6-3 305 – Offered: 1/24/21 – Committed to Florida
OG Landen Hatchett – Ferndale (Ferndale, WA) – 6-3 285 – Offered: 7/26/21 – Nothing to see here
Guys not on the list from February:
Logan Howland – Hun School (Princeton, NJ) – 6-7 280 – Offered: 4/22/22 – Howland made his way from New Jersey to Norman for the spring game and picked up his offer from Bedenbaugh. He will return for an official for the BBQ and OU is absolutely in striking range here as they get his first official. He will also visit Miami, Vanderbilt, Michigan, and Iowa.
OG Brycen Sanders – Baylor School (Chattanooga, TN) – 6'5 280 – Offered: 2/24/22 – Sanders is another guy that appeared on the radar following the initial big board and he made a trip to Norman in March. He will return for the BBQ for an official visit. He has already OV'd to Tennesee and Ole Miss and OU could help themselves a lot with an outstanding trip.
Bottom Line on the OL:
Follow the consistents and the visits. Bates is in the boat, and while there was some talk about him looking at Miami, that has largely quieted down. Appears to be very solid right now.
Then you look at Cayden Green and he is likely the most solid OU lean at any position across the board right now.
Getting Howland, Sanders, Chatman and of course, Kirkland back on campus bodes well for the Sooners, but they still have work to do to close on those guys as none of them are OU locks.
So if OU stays the course and picks up Green to go with Bates, you are looking to push for 2 of the guys who will officially visit as far as priority offers go.
Once the June OV's come and go, we will be able to get a better sense of how the Sooners feel about those targets and you may see some new offers or some ramped-up communication with existing offers that has yet to materialize at this point.
Overall, Bedenbaugh has OU positioned pretty well, but as we all know, it is all about closing.
---
Quick Hitter | '23 OL Jaydon Chatman Locks in Official Visit
– Charlie S – Posted on: May 26, 2022
As I mentioned in the Big Board thread, '23 OL Jaydon Chatman (6'4 285) out of Harker Heights, TX, was set to take an official visit to OU at some point.
He confirmed with me that he will be making it back to Norman for the June 3rd BBQ weekend.
He joins 5 other talented offensive line prospects set to OV that weekend:
'23 OL Wilkin Formby – Tuscaloosa, AL
'23 OL Logan Howland – Princeton, NJ
'23 OL Cayden Green – Lee's Summit. MO
'23 OL Brycen Sanders – Chattanooga, TN
'23 OL Payton Kirkland – Orlando, FL
---
Update | Sooners Offer '23 ATH Kade McIntyre | OV Set Up
– Charlie S – Posted on: May 31, 2022
This weekend, the Sooners offered '23 ATH Kade McIntyre out of Fremont, NE.
I caught up with McIntyre following the offer and he let me know that OU had not been recruiting him all that long (last Thursday) but he has already set up an OV to Norman for June 8th.
The OU OV will be followed officials to Iowa (June 10th), Minnesota (June 17th) and Kansas State (June 24th).
I asked Kade how long OU had been in touch with him and what position they are recruiting him at and he told me the OU recruitment started last Thursday and they are recruiting him as potentially a LB or TE.
He said 'right now they are recruiting me as an athlete and we will figure out a position probably when I go down there. They were thinking linebacker or TE'.
As far as a timeline for his decision? Kade said he would like to be done with the recruiting process by the end of the summer.
---
How Good Will the Sooners be? | Part 1
– Super K – Posted on: May 31, 2022
We've been emphasizing a need for patience when it comes to recruiting. The overall recruiting culture will need a little bit of time to readjust to the new NIL regulations. But for the Sooners they are contending with perhaps a bigger issue…
There are a lot of folks, recruits included, that are in a wait and see mode. They want to see how good OU is going to be. It isn't helping that much of the mainstream sports media isn't including the Sooners or coach Venables in their discussions about championships or otherwise.
I've seen Dan Lanning and Oregon mentioned in certain "potential" off-season discussions more than coach Venables and the Sooners. In terms of substance that's surprising. Dan Lanning won one national championship under a defense guru HC while another defensive guru – Will Muschamp – was on staff and with a team full of five star defensive players.
Coach Venables on the other hand joins Dabo Swinney (an offensive coach) who hadn't won a championship and proceeds to take a combination of a high ranked and low ranked players to multiple national championships. Even this past year, when Clemson was struggling, the defense was still elite.
I think part of the issue is that coach Venables was a DC under such an outspoken coach in Dabo that his contributions may have been a bit over shadowed.
But for those of us who have followed coach Venables' career, we know this man has a massive impact on a program.
He was under coach Snyder at KSU. He comes to OU and has a tremendous impact on the Sooners which we really didn't appreciate until he left and the defense hasn't been the same sense.
I may have mentioned this before but it's worth repeating, Bob Stoops believed that coach Venables was on the verge of cracking the code to the HUNH spread attack that emerged around 2008. Everyone was struggling with it and Sooner fans simply weren't accustomed to giving up so many points. It was clear later that the offenses were just changing so fast and after so many great DCs were chewed up and spit out, it became obvious that despite being on the front lines early in the fight, Venables was doing far better than everyone else.
And, again, he eventually cracked the code and took Clemson to another level.
Coach Venables has not only learned under some great head coaches, he continues to prove that great head coaches are better when he's in the building.
It feels like the general consensus around the college football world is that coach Venables is a good coach and that with some time he could get Oklahoma back to winning Big 12 championships. But outside of a voice or two, even that isn't being directly stated.
What the national media and college football fans don't know is what the real state of OU's program was under coach Riley and they don't' really know who Coach Venables is.
But a lot of Sooner fans do and it's why there is a lot of optimism in and around Norman.
In my opinion, it is more than warranted.
My personal prediction for this upcoming season is, as I said last week, that BV and the Sooners are going to shock people but instead of acting shocked, folks are going to act like they kind of knew it all along. And in a sense, that makes sense because when you actually evaluate things for what they are and ignore the false veneer, folks will wonder how they missed it.
When the Sooners steam roll everyone they play this upcoming season – and yes, that's what I believe will happen – the media and the football fans around the country and perhaps most importantly, the recruits will see that it all made sense.
Why? In my opinion, it's not that complicated. I'll mention the primary reasons for my prediction in part two but I imagine most of you could guess.