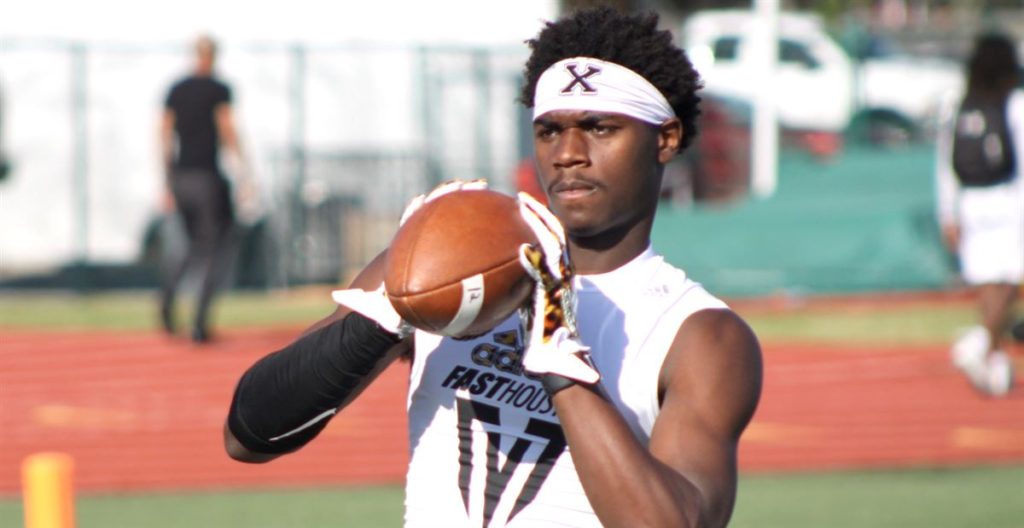 Open Post | Wednesday, June 14th – UPDATED: 1:40 pm
Posted on: June 14, 2017
Image of Bryson Jackson via 247
– Bryson Jackson: This past weekend the Sooners hosted 2018 WR, Bryson Jackson. Jackson was able to spend quite a bit of time in Norman. He was there from Friday to Sunday and the trip went well to say the least.
"I love it. It's one of a kind. I truly want to be a Sooner". His words.
Jackson is a guy I've seen in person. He's already built like a college athlete and has good height at around 6'1″. He's also a track guy, so he can absolutely run, but he's a football-first athlete. I've seen him pluck balls out of the air in traffic; with that said, myself and others who have seen him are probably most impressed with his motor. He's the kind of guy who will give you everything on a downfield route, not get the ball thrown to him, and then sprint back to the line of scrimmage…in a practice.
I plan on catching up with Jackson for a full discussion about his trip, but based on his initial comments and some information I received from a source close to Jackson, the Sooners appear to be the clear leader in this one.
While on the trip I had asked Jackson if a commitment was possible and, while it didn't happen, he did not rule it out. I say that to show this one could happen relatively soon. – (Super K)
– Trevor Trout: Last night Sooners DT target, Trevor Trout, released his top nine (which shortly thereafter became a top ten with the addition of Alabama to his list). Not surprisingly the Sooners made the cut along with…
Bow. pic.twitter.com/2bSHGiJPrj

— Trevor Trout ® (@totaltroutmove) June 14, 2017
Based on what I've heard and looking at that map, the Sooners are probably somewhere in his top two or three; we should know more after his upcoming trip. I did speak to someone close to Trout and was told that Missouri is the team to beat right now. But, as Brandon has noted, Trout is making the trip up to Norman with Ronnie Perkins, and that could surge the Sooners ahead of everyone. – (Super K)
– More on Ronnie Perkins: Brandon has spoken about Ronnie Perkins quite a bit, but I wanted to pass along an additional note.
A while back when I spoke to Perkins, he remained insistent that he wouldn't make a decision until late in the process (sometime close to signing day). Recently, I asked Perkins if that has changed and he said that he is indeed considering shutting things down earlier than originally expected, possibly even this summer.
I'd still be pretty surprised to see him pull the trigger on his trip to Norman, but if nothing else I fully expect the trip to put the Sooners firmly at or near the top of his list. – (Super K)
– Summer Fun | Team Note: It's still early in the summer. The Sooners just started their player led 7 v 7 this week along with some time/drills with their position coaches (you'll recall they are allotted some time, albeit very limited, with their position coaches).
The two names I've heard so far are Ceedee Lamb and Tre Brown. I'm told Lamb is already making some noise. I was also told that Tre Brown had an INT in his first go at 7 v 7 on Monday and grabbed a couple in one-on-ones as well.
Another thing to keep an eye on is the possibility of Will Johnson perhaps being groomed to take the safety spot opposite Steven Parker. I'm still digging on this one to see just how real that possibility is, but with Johnson being a reliable player and some lingering question marks about the other safeties on campus, it wouldn't surprise me. – (Super K)
– Spencer Rattler: With Lincoln Riley at the helm as Oklahoma's head coach, there won't be a shortage of high school QB's looking at Oklahoma as a possible landing spot for their college career. One of those candidates is 2019 Phoenix (AZ) quarter Spencer Rattler. Rattler was offered by OU back in April of 2016. I spoke with Rattler last night and he told TFB that he is set to visit OU on June 19th. Rattler spoke of his relationship with Lincoln Riley, calling it, "Super good." Rattler added, "The move that made Lincoln Riley head coach didn't shock me. I had a feeling that he'd move up if Stoops left." With Rattler set to visit OU next week, I asked him if he had plans for any other visits and, as of right now, he doesn't. He did add, however, that he visited USC last week.
This visit is a big deal in that most national pundits have OU as Rattler's leader. Rattler, however, says that he has no leader, and added that he has no real plan as to just when he will announce. The quarterback position is very different than any other in recruiting. Usually, there is only one spot in each program, per year, when it comes to signing QB's. As such, they usually announce really early in the recruiting process and become the base on which staffs recruit around. If Oklahoma can land the highly touted Ratter, it would be huge for Riley and really help lure the Theo Weases of the world back into the fold for the Sooners.
I am not predicting that Rattler commits sometime this summer, but this one is definitely one to watch going forward – especially after his visit to OU next week. – (Brandon)
– Kundarrius Taylor: 2018 wide receiver recruiting is a hot topic these days, as Oklahoma looks to fill the four spots open in the 2018 recruiting cycle. One of the top targets for Oklahoma is 2018 Memphis (TN) wideout Kundarrius Taylor. Taylor informed TFB that he will be making his third trip to OU in late July for the BBQ. Taylor last visited OU for the spring game and also made it to a game earlier in the year. The consensus is that Oklahoma leads for the elite wide receiver and, though he is set to announce on his senior night, you might see that commitment date moved up as spots fill up in the Sooners 2018 class. – (Brandon)
– UPDATED (1:30): We can confirm the multiple reports that Ruffin McNeill will be hired on the defensive side of the ball for OU.
Source confirms #Sooners to hire Ruffin McNeill on staff. Will be working with defensive line along side Calvin Thibodeaux. Really big hire.

— Brandon Drumm (@BrandonTFB) June 14, 2017
As many of you know, Riley has a history with McNeill. They coached together at Texas Tech. Then, when McNeill was hired as the ECU head coach, his first call was to Lincoln Riley to make him the offensive coordinator. Big hire for Lincoln Riley. (Lewis)