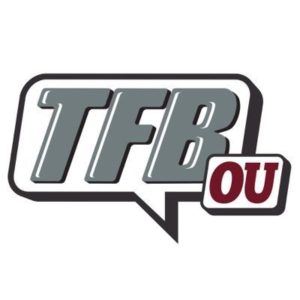 Open Post | Wednesday, July 3rd
Posted on: July 3, 2019
Update | 2020 OL Aaryn Parks
– Charlie S
Earlier this week, while at the Rivals event in Atlanta, 2020 Offensive Tackle Aaryn Parks mentioned that the Sooners were among his favorites following his recent decommitment from Penn State.
Parks is a 6'4″ tackle out of Fort Washington Maryland who holds close to 20 offers from across the country, including one from the Sooners who extended their offer back in 2018.
After seeing the talk on Twitter and your discussion on the board, I reached out to Aaryn and a few people around OU to get the story yesterday.
I started out by simply asking Parks for his thoughts on the Sooners and he gave an equally simple response by saying "I love Oklahoma".
Ok, good start.
Without prompting, he then added "It's really the fact about how many linemen have come out of OU. Their work shows for itself. Just look at their past offensive linemen's accomplishments."
Having an elite tackle prospect show interest in the Sooners is nothing new. OU and Bedenbaugh recruit linemen at a very high level from across the country. The fact that he is so high on OU without even having visited yet is notable though.
So that brings us to the possibility of a visit.
When I asked him what his plans were and if he planned on officially visiting Norman, he said. "Yeah I'll be visiting early in the season".
Being from Maryland, I wanted to get his initial take on how much distance will play a factor in his recruitment, and Parks said "Distance doesn't matter. I want to go where I can be best developed."
Following the brief discussion, we made plans to have a call in the near future to dig a little deeper on OU and find out a little more about him and his football history, family, and personal goals.
So I then went and checked with some OU sources to get their take on Parks. From what the source told me, OU is very interested in him obviously, and they continue to recruit him.
Now, with that said, I got the sense that the decision to ramp up their pursuit of him depends in large part on what takes place here with a few other Sooner targets who are supposed to be coming out with their commitments in the near future.
If things go as OU hopes with Raym and Monheim, the Sooners will most likely slow down a bit in their pursuit of other High School linemen for a bit.
However, should Raym and Monheim both give their pledge to OU which would give the Sooners four high school linemen in the class (Nate Anderson and Noah Nelson), I still find it hard to believe that OU would not bring in a player like Parks for an official as they can easily make the numbers work for the right guys. I would consider Marcus Dumervil, Brady Ward, and Aaryn Parks as those types of guys.
I still believe the Sooners would like five high school OL and at least one JUCO OL after losing the numbers they did this last cycle.
---
The Opening | Seth McGowan
– Will Baizer
The very underrated Sooner running back commit, Seth McGowan out of Poteet High School, made the short journey to the Star in Frisco to participate in the Opening Finals. One of the many Sooner commits in attendance here, on top of performing he will be tasked with representing and selling the Sooner program to other potential recruits in attendance here like Kourt Williams, Zach Evans, Arik Gilbert, Gary Bryant, and Jaquelin Roy.
"There are a lot of guys out here. A lot of elite talent. I feel like guys just don't know how special of a place Oklahoma is until they get to come. I'm just looking for anybody who hasn't been to the campus or around the coaches and players and give them one last chance to give it a good look and change their minds."
When I dug deeper into why he believed Oklahoma to be so special and how he would express that, he responded, "To be honest I felt comfortable. When I got on campus, I acclimated quickly and felt like I had a good bond with the players and the coaches. It's really a family oriented place, that feels comfortable and really feels like home."
In the long run, it makes sense that he feels this way, as he grew up cheering for the Sooners, "When I first started watching college football, I didn't know who to cheer for or who to root for. My dad grew up an OU fan and so did the majority of my family, so they just put me on to them."
---
The Opening Notes and Quotes | McClellan and Watts
– Charlie S
Our guy Will Baizer got a chance to catch up with a pair of 2020 Sooner commits in running back Jase McClellan and defensive back Ryan Wattswhile at The Opening.
We will start with his interview with Jase:
Will asked Jase where things stand between him and Oklahoma and McClellan said: "I'm solid with Oklahoma, I'm just exploring my options".
That question was followed up by Will asking about his visit to Texas, which was kept under wraps in large part leading up to it. Will asked what he thought of the trip and McClellan replied "It was a great time. I got to spend time with the coaches and new people. It was just a different environment."
As to what he took away from the Texas trip, Jase told Will "Just where I fit in with them and where I stand with them".
In regards to taking any additional trips, McClellan said "I don't have any trips planned right now, but there might be some in the fall"
In closing, Will asked Jase what it is about Oklahoma that keeps him solid, Jase said: "The history, you know, putting running backs in the league, the winning, and getting exposure."
As for his relationship with Sooners running back coach Jay Boulware, McClellan told Will, "It's great, it's solid".
Super K and I both continue to feel that OU remains in a very strong position to hold on to the Aledo, Texas product and as of right now, sources around the Sooners program also indicate they are comfortable where things are at in this recruitment.
There is a long way to go until signing day, but things appear status quo with Jase as he is doing exactly what he said he would do when he committed nearly two years ago…remaining solidly committed but enjoying his process and taking some trips.
As I mentioned, Will was also able to catch up with Ryan Watts.
Will first asked Watts what message he and the other Sooner commits down at The Opening are sending to guys who have interest in Oklahoma. Watts said: "The message is that the best can come and play at Oklahoma. We have some of the best athletes out here. We have some of the best athletes at every position from around the country."
That question was followed up with Will asking Watts about his future plans and if Watts had any more visits set. Watts told him "Right now I don't have any other trips planned but I'm just planning on going to some Oklahoma games in the fall."
When Will asked Ryan what it was about Oklahoma that put them over the top in his recruitment, Watts said "They've been there since the beginning and I just feel comfortable there. It really felt like home from the beginning so I just made the decision. It was really about comfortability."
As for his thoughts on Sooners defensive coordinator Alex Grinch, Watts said "Coach Grinch that's my guy. He knows a lot about defense and he's going to help me develop."
Watts went on to add "Coach Grinch plays a lot of press (coverage) and he can help me in my press technique cause I'm a tall DB. He's done a lot for me and he's shown me how he can get me better."
Right now, it appears that OU weathered the storm in regards to the Michigan and Penn State visits and Watts has settled in for the time as being a solid commit to the Sooners.
He and his family are taking a trip to Trinidad and Tobago following The Opening and he is hopeful he will be back in time for the Sooners ChampU BBQ in Norman at the end of the month.
---
Good News & not so Good News
– Super K
I've got good news and I've got some, potentially, not so good news.
***The potentially not so good news is that OU is not out of the woods with the Dontae Manning decommitment possibility.
I'm told there is still a very real possibility that Manning will open things back up, in the near future.
Let me be clear. If (and it's still an if) Manning does open things up, OU is going to continue to recruit him and it could very well end up being a bit of a CeeDee Lamb situation where he recommits down the road. In fact, I was told that, should Manning open it up, that is exactly how OU is going to treat it.
Remember, a lot of these guys just want to see OU during the season.
***The good news for you OU fans is that while Bryson Washington has been going back and forth between selecting OU or Texas, the latest is that it's trending back towards…Oklahoma.
---
Sooners Discussion | NCAA Changing The Portal
– Charlie S
The Portal.
The wild, wild west version of the transfer process for collegiate athletes.
Some enter The Portal and are never heard from again and others enter The Portal and are magically granted immediate eligibility.
The Portal has changed the recruiting game as well as coaches can now shop in there to fill their needs should they not stock up sufficiently through high school recruiting.
It appears that the NCAA is making some changes according to an article by USA Today columnist Dan Wolken. While the changes are not listed as 'rules' they basically will serve as 'guidelines' when it comes to determining immediate eligibility at the school which the athletes are transferring too.
Dan Wolken's article can be found here.
I'll let you read the article if you choose to do so, but I still see the process as pretty subjective and if you are an athlete who is fortunate enough to be able to secure a big-time attorney (ala Tate Martell and Justin Fields) chances are you will still gain immediate eligibility without much of a fuss.
I am not against kids having the ability to transfer at all. Staffing changes, injuries, and developments at home among other things are all very real challenges athletes face and I don't feel as though they should be penalized if they are seeking to make a move for whatever they feel is a valid reason.
Fields and Martell made the move because they were recruited over, period. That's fine. I get it.
But if the NCAA wants to make it a much simpler process, I have my own suggestion:
I believe student-athletes should be allowed a one time transfer where they would be immediately eligible if they meet some simple criteria:
1. Have a current GPA over 3.0. (Taking the 'student' in 'student-athlete' seriously)
2. Are in good behavioral standing with the program they are transferring from.
3. Have a medical situation with a family member and are seeking to transfer to a school within a 100-mile radius of their home.
If you are an athlete and you meet the first and second criteria, you should be able to transfer one time with immediate eligibility.
The third bit of criteria I listed about a family situation could stand on it's own merits.
So say you are an athlete who used my model and transferred once as a sophomore, should you seek to transfer again following your initial transfer, in my model, you would sit out a year and lose a year of eligibility.
I am not saying my model is perfect, and I am sure we will have some interesting takes on it, but today's Portal and transfer process is obviously broken.
Looking forward to your thoughts!
---
Grind Time
– James Hale
*** Summer workouts continue in Norman and they are definitely a grind at this point. The four day fourth of July break will do the players some good.
*** The competition in the secondary is going to be intense come August, as it needs to be, following two years of average or disappointing play in the backend of the OU defense. Yes, they have been playing against the best passing offenses in the country in the Big 12 Conference, but this secondary hasn't been able to be counted upon to stop anybody for a couple of years.
*** With a new coaching staff and new secondary coaches, they are looking for a spark to really get this secondary going and one newcomer that I have heard of who has grabbed their attention is Jeremiah Criddell (5'11, 188) who has emerged this summer as competition for Bookie at the nickel back spot. Criddell has been very impressive in camp and does not look like a freshman out there, and while he also works at safety, the coaches feel he may be what they are looking for in a nickel back.
*** I believe Bookie will be hard to beat out because I'm hearing he is having a great summer and seems to have that mojo back that he had in high school and in the Army All-American game. Bookie (5'9, 187) has to play with a certain swagger and he didn't have that last year in part because he played out of position at safety. Now that he's back at nickel and he has a new coaching staff to work under, he is beginning to show that same kind of flare that he had when OU was so happy that they won the recruiting battle for his signature.
*** However, this staff wants competition in the secondary and until Criddell arrived, it felt like they really didn't have another nickel they really liked. They tried Tre Norwood (6'0, 187) and he was good there, but not as good as he was at corner so he has been moved back there to compete with senior Parnell Motley (6'0, 185) on one side while Tre Brown (5'10, 183) holds down the other corner.
*** In my opinion, the reason why Brown, Norwood, and Motley have the edge right now is simply because they have played the most. I've heard redshirt freshman Miguel Edwards (5'11, 181) looks good at camp and freshman Jaden Davis (5'9, 166) and Woodie Washington (5'11, 175) are holding their own early.
*** It is ironic that none of these corners is the prototype that Defensive Coordinator Alex Grinch likes but after watching them in camp, I hear that he's happy with their ability. Grinch wants bigger and more physical corners, or corners with blazing speed like Dontae Manning (6'0, 185), but the cupboard is not bare and he has some nice pieces to work with.
*** What is clear to me, even as the summer rolls on, is that the players in the secondary totally understand that the new staff wants results and if they don't produce results then they will go to another player to see if he can play better.
*** The secondary can't get much worse than it played last year when Coach Lincoln Riley felt he needed a new voice in the defensive room and fired Mike Stoops mid-season and then didn't try to keep secondary coach Kerry Cooks on the staff at the end of the year. The Sooners allowed 65-percent of all throws to be completed against them last year and if you were like me, you never had confidence the defense could get off the field.
*** OU ranked 128th in defensive passing efficiency and, obviously, OU should not be ranked 128th in any aspect of their defense. The reason why Brown is a sure-fire starter next year is that he's really the only cornerback that had some success coming up with 12 passes broken up and six tackles for loss which was the tops on the team in those categories.
*** At safety in camp, I have heard a number of players have been running through during 7-on-7's as both jobs are up for grabs.
*** Thus far, junior Robert Barnes (6'2, 208) is healthy and his hammy has held up. That has been great news and I'm told Coach Grinch has been impressed by what he has seen out of Barnes up to this point. It sounds like Delarrin Turner-Yell (5'10, 190), Patrick Fields (5'11, 196), freshman Jamal Morris (6'2, 198) and junior Chanse Sylvie (6'0, 198) are all battling for playing time and competing hard in camp this summer.
*** It really hurt Barnes that he missed the spring, but he studied hard while out and has made up for the lost time. Sylvie is another upperclassman that has been trying to make up for lost time. He is healthy now and has always been considered a good talent. With the field wide open at safety you can't rule out a guy like Sylvie who is determined to prove he belongs on the field. Fields and Moris have the size and skill set that Grinch is looking for and Barnes certainly does.
---
For multiple daily posts, Insider Notes, More Sourced Practice Notes, member chats with TFB staff, James Hale's Notebooks, TFB Sessions (5-minute audio talks) and much more, please check the Donor Board!