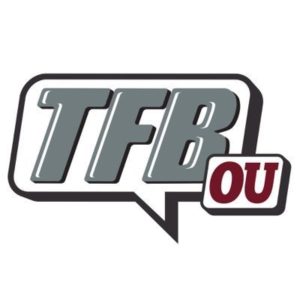 Open Post | Wednesday, July 27th
Posted on: July 27, 2022
Visitors and Campers This Week
– Charlie S – Posted on: July 25, 2022
Two big events this week for Brent Venables and his staff.
They will have the opportunity to make some impressions on kids in the '23, '24, and '25 classes.
The NCAA dead period is lifted (quiet period) for a week here before the '23 Fall Camp opens up for Oklahoma on August 4th!
The dead period will be reinstalled after this weekend and the focus will be largely on getting the team ready for the season!
Now, as always, these lists can and will change, we only list kids we have personally confirmed or kids who have tweeted out their expected attendance. I can guarantee we have not listed everyone who will be in attendance and I can also guarantee not everybody on the list will make it in.
If you have names to add, please do in the comment section!
---
JULY 29TH – PARTY IN THE PALACE
23 QB Jackson Arnold – Denton, TX – OU Commit
23 RB Kalib Hicks – Denton, TX – OU Commit
23 WR Keyon Brown – Tallahassee, FL – OU Commit
23 TE Kade McIntyre – Fremont, NE – OU Commit
23 OL Josh Bates – Durango, CO – OU Commit
23 OL Cayden Green – Lees Summit, MO – OU Commit
23 OL Logan Howland – Princeton, NJ OU Commit
23 DL DJ HIcks -Katy, TX
23 DL Edric Hill – Kansas City, MO
23 DL Derrick Leblanc – Kissimmee, FL – Possible
23 EDGE – PJ Adebawore – Kansas City, MO – OU Commit
23 EDGE Tausilii Akana – Lehi, UT
23 LB Samuel Omosigho – Crandall, TX – OU Commit
23 DB Ben Minich – West Chester, OH
23 DB Ryan Yaites – Denton, TX – LSU Commit – As reported 'trying to get there'
23 DL Jordan Renaud – Tyler, TX
23 CB Makari Vickers – Tallahassee, FL
23 CB Jacobe Johnson – Mustang, OK
JULY 27TH – CAMP-LIKE SETTING – FOR '24 AND '25 KIDS
25 QB Shaker Reisig – Tulsa, OK
25 QB Kevin Sperry – Frisco, TX
24 RB Bryan Jackson – McKinney, TX
24 RB Derrick McFall – Tyler, TX
24 WR Bryant Wesco – Midlothian, TX
25 WR Dakorien Moore – Duncanville, TX
24 OL Ezra Ballinger – Tulsa, OK
24 OL Daniel Cruz – North Richland Hills, TX
24 DE Zion Taylor – Pearland, TX
24 DE KingJoseph Edwards – Buford, GA
24 DE Nigel Smith – Melissa, TX
24 DL David Stone – IMG Academy
24 DL Xadavien Sims – Durant, OK
24 LB Payton Pierce – North Richmond Hills, TX
24 LB Brock Jackson – Lumberton, TX
24 DB Aaron Flowers – Forney, TX
24 DB Jaydan Hardy – IMG Academy
24 DB Zahir Rainer – Richmond VA
24 DB Dax Collins – Poteau, OK
24 DB Ashton Williams – Trophy Club, TX
24 CB Terrance Edwards – Richmond, VA
24 CB Charles Lester – Sarasota, FL
25 CB Devin Sanchez – Houston TX
25 ATH Tory Blaylock – Humble, TX
24 ATH Caleb Chester – Missouri City, TX
24 ATH Davhon Keys – Aledo, TX
---
In Depth | Marvelous Marvin Mims
– James Hale – Posted on: July 22, 2022
The OU wide receiver corps comes into 2022 with little fanfare and many question marks nationally. The returning players are getting little run despite the unit returning junior Marvin Mims (5'11, 184). Mims had a breakout 2020 with 37 catches for 610 yards and nine touchdowns, at 16.5 yards per catch.
The rub for Mims is that he had an uneven year with a quarterback change last year. The team struggled to protect Spencer Rattler, and after Caleb Williams took over, he struggled to get the ball downfield. Still, Mims had a more productive year with 705 yards on 32 catches at an amazing 22.0 yards per catch. His touchdowns were down at five.
Still, no preseason Big 12 list, but Pro Football Focus likes Mims and ranks him as the 8th best receiver in the county,
"I know, it's all crazy, right," said Mims at Big 12 Media Days on my radio show at CBS Radio 105.3 HD1 in Oklahoma City. "I am just going to go out and play me, and do me this year and see how things turn out."
"We had a lot of stuff going on last year on and off the field. We had stuff off the field that definitely affected what happened on the field. It was ridiculous some of the things that were going on. We had to throw in a new offense when we changed quarterbacks. We had to come up with something Caleb could handle as it was a wild year, to say the least."
Wide receiver is the DIVA position in college football. Teams are throwing the ball all over the country, and if a team doesn't have elite wide receivers, then that offense is going to bog down. Mims leads a talented receiver corp at OU, and the Frisco, Texas, native plans to be a big part of college football in 2022.
"There is no question that the role of the wide receiver has become a focal point for every offense," said Mims. "You also see that in the NFL with all the receivers going in the first round. What six or seven went in the first round in this years draft? It's easier to score points through the air, and many teams are going to the Air Raid offense, even in high school football."
"Teams are putting the ball up in the air all over the country, and I feel as a wide receiver I can have a bigger impact on my team than any other players at any other positions, outside of quarterback. The quarterback can't be as good as he wants to be without a receiver like me, but I need that quarterback to be great before becoming the receiver I want to be."
Whether or not it is easier to score points through the air comes down to how you look at. Quarterbacks and receivers spend hours upon hours honing their craft to ensure they can execute on Saturday.
"Well, if we had DeMarco Murray and could hand the ball off to him every play, then the running game would become the single focus," laughed Mims. "We do work long hours getting our timing down and trying to get to the point where Dillon (Gabriel) knows what I am thinking against every coverage we will face. We make adjustments on every play, and he has to see those adjustments as I see them, and the more we throw together, the better off we will know what each other is going to do."
Mims moved inside last year after playing almost exclusively outside his freshman season. Mims didn't look as comfortable last year as he did his freshman year, and there are plans for him to play both inside and outside this year.
"I really don't like one over the other," said Mims. "It's like a game plan thing where I will line up most of the time, or which one against a certain defense where I am going play one over the other. There are certain games where I like playing in the slot and certain games where I like playing outside."
"Playing outside, I get more big play opportunities. I am usually in single coverage, and if I run a good route and can get open, usually that is downfield where I can make a big play. I know you have seen me more open over the middle, and many times that is off a slant route from the outside or a streak out from the inside. So, I like both positions and just want to be on the field to help my team."
"There is a difference between the two positions, and you must have the talent and skill set to play both positions. Not every receiver has the skill set to play both, but I do, and I am proud of that."
Mims draws double coverage and is bracketed quite a bit, which is why the coaches felt that last year they could hide Mims better inside.
"Sometimes I still get one-on-one coverage because in our formation, a cornerback is forced to cover me one-on-one," said Mims. "There are times that teams will have a safety over the top, and some teams will commit that coverage to me, but if they do that, we have single coverage and all the other spots, and that opens up the other receivers."
"Recently, we have been cheating a little bit off the hash, and sometimes a team will cheat out a linebacker to try to bump me and force me off my route. They are trying to protect the slant inside, which I am always aware of. No linebacker can hold me though and if I can get him on my coverage, then game over."
Mims flourished at times in the Lincoln Riley offenses, but now Jeff Lebby is the offensive guru in Norman.
"There is definitely a difference in the two offenses," said Mims. "You talk about tempo, terminology, and just how they are as a person. Their personality is different, and their coaching styles are very different. There is a huge difference in how they go about their business. They are very efficient and productive coaches and have posted great statistics."
"I know where they have been, both have posted school records, but there is a huge difference between the two guys. Coach Lebby is more of a personality and happy-go-lucky guy until you make a mistake and make him mad. He wears his emotions more on his sleeve than Coach Riley did."
"Coach Lebby is a great guy, but he demands a great deal out of us if we are not doing what we need to do as an offense. This season we are looking to have a big year under Coach Lebby, and he is working to make us better day in and day out."
"Coach Lebby has a little bit of an edge to him. He doesn't want anyone else to get the better of him. As a coach, that is a great thing to have because the competitive nature will set him apart. The players can feel that because if he shows that type of emotion, they know he is competing with them. The players will go out there and play for a guy like that."
"He communicates with us well and is always asking us if this play or concept will work and if that play or connect will work. That makes us feel like we are part of his plan as an offense. He will ask us if we should run this play or that play, which is the type of communication we need to be successful and that he needs as an offensive coordinator."
The biggest adjustments in the offense will be the tempo meaning that OU will run two sets of receivers throughout the game.
"The tempo is definitely different," said Mims. "We snap the ball fast. Coach Lebby wants us to get the play, get lined up, and snap the ball all in three or four seconds once we get lined up. We give the defense no time to adjust, and as a split receiver, we just want to snap that ball as fast as we can."
"Coach Schmidt is getting us in great shape, and he is getting us in great condition, so when those DBs can't sub out, we are flying down that field against tired guys. Coach Schmidt is definitely going to get us in good shape for game time. He is still killing us, but I think how he is killing us is different than when he was first here in 1999."
"Most of the work with Schmidtty is excepting his challenge to push yourself, or allow him to push you, harder than you have ever been pushed before. You have to accept his challenge and go at it the way he knows that some of us think we can't do. If we all go out and do our work the way he wants us to, then we will be in the best condition team in the country this season."
At Big 12 Media Days, Coach Schmidt sill had not the team run the hill or pull a sled up the hill. They had pulled sleds in the indoor facility with weights on them, and they have run stadium steps on Fridays.
"Running stadiums are petty cool," said Mims. "I can feel the burn and work on my legs, so I like running them. What really gets you is the elevation of the steps, and sometimes the steps change as you go up. They are a little bit uneven. If you don't recognize that change, that can throw you off and make you stumble or misstep. If you don't handle that, then the next thing you know, you will be face planted on the concrete."
Mims has had a lot of big plays at OU. He had two 57-yard catches, including a 55-yard touchdown catch against Oregon in the Alamo Bowl. He had a career-long 67-yard catch against Texas this past season. In 2020, four is his catches went for 45 yards or longer (45, 50, 58, and 61).
"My favorite is probably my first play in college," said Mims. "A post route against Missouri State. That is always going to be one of my favorites. The catch against TCU (4-132), and that game was my first really big game in college. The catch against Oklahoma State (3-65). The double move against Iowa State right in this stadium in the Big 12 Championship game."
"The Texas game catch I know that people will say is their favorite. It's been a crazy two years."
Mims is used to being always a little underappreciated.
"Yeah, in high school, I break the high school record for receiving yards in a single season," said Mims. "I broke the Texas record for career yards and was not rated a five-star; I was a four-star. At the end of the day, coming out of high school, I did feel a little underappreciated."
"Now, at OU, not only the Big 12 preseason list, so here the media doesn't feel like I am one of the elite receivers. Talk about motivation. So, I still have things to prove in college and plan on doing just that."
Mims has played with some high-profile quarterbacks at OU in Rattler, Williams, and now Gabriel.
"Dillon is great, but we have a great quarterback room," said Mims. "The receivers spend a lot of time with those guys in and outside of football. We have a great quarterback room and different types of players in that room. We have guys that can do different things. We have some new guys that are still picking up the offense, but when the season starts, we will have a really good quarterback room."
"I know many people doubt whether Dillon can throw the long ball or not, and I am here to tell you that he can throw the long ball. He can lay the ball in there perfectly with a beautiful spiral placement. He has no restraints throwing the ball. Dillon can throw any route and make any throw. People should not worry about Dilon getting the ball downfield. He will do that a bunch this year."
"General (Booty) and Davis (Beville) are two great guys that can really spin it. Davis is a tall guy, probably 6'6, and General is 6'3. Both have strong arms, and both are great guys. Davis came from Kenny Pickett (Pittsburgh) school and picked up everything he knew. He was always learning from him and picking his brain."
"We have guys in that room that are good at doing completely different things. They can run the offense at their own pace and have great talent. It is fun when they are back there throwing the ball."
Mims is confident that the OU offense will be elite this year.
"We can have one of the top five offenses in the country," said Mims. "The speed in which we play, how we play it, and the players we have on the team. It is going to be a special year and a special offense."
Mims has also been impressed with the defense the Sooners will put on the field in 2022.
"I see new stuff out of that defense every day," said Mims. "I see new coverages, schemes, and people in different places. Playing against that defense is definitely a headache because sometimes they will show a coverage, and they will switch just a second before the snap into something else. I think our defense will be a defense that will be really confusing to the opposing team, especially if that team doesn't really know what they are doing or spend a lot of time watching film."
"If that offense is not creative and lacks any fundamentals in their game, then our defense will eat them up. Our defense will expose the weaknesses in every offense we play this year."
The Entire Unit
Mims will be the ring leader of the wide receiver group this year. Junior Theo Wease (6'3, 200) is having a great summer and is determined to have a big year after missing basically all last season. Sophomore Jalil Farooq (6'1, 206) showed what he could do in the Alamo Bowl and then surprised many by staying when the coaching change went down, and his best friend Caleb Williams went to USC.
Farooq has leaned up and built himself up, and he is a monster at receiver this summer. The team is quietly optimistic that Farooq will have a breakout year. Freshman Jayden Gibson (6'5, 192) is getting a ton of run this summer and has worked as hard as any other receiver on the roster. His speed is apparent, and when he gets into open field, his long strides leave defenders in his wake. Towards the end of the summer, freshman Nic Anderson (6'4, 204) is beginning to make some noise.
Both transfer receivers will play a big role in the receiver corps this year. LV Bunkley-Shelton (5'11, 198) is having a big summer and will play inside and outside. Sophomore JJ Hester (6'4, 196)) is playing outside and looks like a big-time playmaker for the Sooners.
Senior Drake Stoops (5'10, 191) continues to be a glue receiver among the group, and when Gabriel needs a first down, Stoops will be the receiver he looks for. Junior Brian Darby (6'0, 207) continues to improve and will be a sold backup in the unit this season. Junior Trevon West (5'11, 178) is beginning to feel good about his game, and that is showing up at workouts.
---
2025 Name to Know | Parish Episcopal LB Parker Meese
– CJ Vogel – Posted on: July 22, 2022
A new name in the class of 2025 has emerged as one that Sooners fans should become familiarized with – Parker Meese, a linebacker out of Dallas who attends Parish Episcopal High School is going to be a national prospect when it is all said and done.
Right now, the rising sophomore has earned 19 offers since the conclusion of his freshman season and that list is not close to done growing. Meese's offer list currently rivals that of any 2025 prospect in the state of Texas that I have come across and for good reason.
At 6'2″ and 215 lbs, Meese is a physical specimen and with a superb offseason plan to allow his body to catch up to its size, Meese is now moving very well at such a large frame for his age.
"When I first started being recruited, it all kind of blew up," Meese said. "It was an all-of-a-sudden thing. The University of Iowa was the first (offer) and then Arizona came right after that."
As I previously mentioned, Meese's offer sheet now looks like that of a top-25 2023 prospect. With offers from Penn State, Maryland, Oregon and Arkansas, it is only a matter of time before he becomes a priority for the major regional schools.
In regards to the Sooners, there is some interest from both sides early on.
"They are an amazing program," Meese said regarding the Sooners. "Brent Venebles is an awesome coach and OU is always a top school every single year. Now that they are moving to the SEC in 2025, that is awesome too."
So far, Meese has only taken trips to TCU and Arkansas, but I imagine that changes come this fall. I would not be surprised to see Meese even make his way up to Norman pretty early in the fall as well.
When it comes to what the talented linebacker is looking for in a college program, it is a combination of winning tradition, elite education and a coaching staff that truly cares for him as a person on and off the field.
---
Jacobe Johnson | Sourced | What's Expected
– Super K – Posted on: July 26, 2022
As you know, the Sooners are in pursuit of in-state 2023 ATH Jacobe Johnson (Mustang). Under the previous staff, Johnson was seen as a WR. Under the staff he is viewed as a defensive prospect.
Spoke with a source on the OU side and here is what I've heard.
***Johnson is seen as a cornerback. As I previously mentioned, the Sooners also see Vickers as a cornerback. So, it tells you that ideally OU does want some size at that position. But you'll also note that they've complimented that with a guy like Wagoner. Although it's worth noting that the Sooners see Wagoner as a guy who can play outside and some nickel.
***It does sound like folks around the program are confident in landing Johnson or perhaps I should say, they like where they are. So, it shouldn't surprise you that we have him trending Sooners.
***Additionally, my sense is that the Sooners believe Johnson could announce pretty soon. They are hoping for something to happen soon after this weekend's events. I've got a text out to confirm with someone in Johnson's camp if that is indeed the case.
---
Tackling the Problem | Some Surprising Stats
– Charlie S – Posted on: July 26, 2022
Taking a look at some of the stats from last season for OU and while tackling was often cited as an overwhelming issue, when compared with the rest of college football, the Sooners were pretty much middle of the road.
For instance, OU was right between OkState who had a much better statistical defense than OU and Texas who had a worse statistical defense than OU.
Now, these stats are PFF generated, so I am sure they missed a few tackles and misses, but OU pretty much fell in the 'average' category and were they were very similar to Clemson last year.
There are a couple outliers and no surprise that Georgia was one of them as they had a 9% miss rate which was the lowest I found. (granted I didn't check all teams).
Have a look at the stats and see what sticks out to you:
---
The Sooners had 942 total tackle attempts – 145 of those were misses – 15% miss rate
1 DaShaun White – 49 Tackles – 16 Assists – 16 Misses – 19.8 Miss Percentage
2 Isaiah Thomas – Gone – 21 Tackles – 7 Assists – 13 Misses – 31.7 Miss Percentage
3 Delarrin Turner-Yell – Gone – 46 Tackles – 5 Assists – 11 Misses – 17.7 Miss Percentage
4 Patrick Fields – Gone – 64 Tackles – 19 Assists – 10 Misses – 10.8 Miss Percentage
5 Key Lawrence – 31 Tackles – 13 Assists – 8 Misses – 15.4 Miss Percentage
5 David Ugwoegbu – 34 Tackles – 12 Assists – 8 Misses – 14.8 Miss Percentage
7 Ethan Downs – 9 Tackles – 4 Assists – 7 Misses – 35 Miss Percentage
7 Shane Whitter – 23 Tackles – 3 Assists – 7 Misses – 21.2 Miss Percentage
7 Brian Asamoah – Gone – 68 Tackles – 19 Assists – 7 Misses – 7.4 Miss Percentage
10 Perrion Winfrey – Gone – 12 Tackles – 3 Assists – 6 Misses – 28.6 Miss Percentage
10 Nik Bonitto – Gone – 26 Tackles – 6 Assists – 6 Misses – 15.8 Miss Percentage
12 Billy Bowman – 16 Tackles – 2 Assists – 5 Misses – 21.7 Miss Percentage
12 Justin Broiles – 42 Tackles – 13 Assists – 5 Misses – 8.3 Miss Percentage
14 Reggie Grimes – 11 Tackles – 3 Assists – 4 Misses – 22.2 Miss Percentage
14 D.J. Graham – 32 Tackles – 5 Assists – 4 Misses – 9.8 Miss Percentage
14 Kori Roberson – 7 Tackles – 8 Assists – 4 Misses – 21.1 Miss Percentage
17 Marcus Stripling – 3 Tackles – 1 Assists – 3 Misses – 42.9 Miss Percentage
17 Jaden Davis – 20 Tackles – 3 Assists – 3 Misses – 11.5 Miss Percentage
17 Jordan Kelley – 4 Tackles – 1 Assists – 3 Misses – 37.5 Miss Percentage
17 Caleb Kelly – Gone – 4 Tackles – 5 Assists – 3 Misses – 25 Miss Percentage
21 Brynden Walker – 1 Tackles – 0 Assists – 2 Misses – 66.7 Miss Percentage
21 Josh Ellison – 6 Tackles – 6 Assists – 2 Misses – 14.3 Miss Percentage
23 Kelvin Gilliam – 4 Tackles – 0 Assists – 1 Misses – 20 Miss Percentage
23 Danny Stutsman – 21 Tackles – 5 Assists – 1 Misses – 3.7 Miss Percentage
23 Clayton Smith – 1 Tackles – 2 Assists – 1 Misses – 25 Miss Percentage
23 Isaiah Coe – 6 Tackles – 2 Assists – 1 Misses – 11.1 Miss Percentage
23 Justin Harrington – 0 Tackles – 0 Assists – 1 Misses – 100 Miss Percentage
23 Joshua Eaton – 3 Tackles – 0 Assists – 1 Misses – 25 Miss Percentage
23 LaRon Stokes – Gone – 5 Tackles – 3 Assists – 1 Misses – 11.1 Miss Percentage
23 Bryan Mead – Gone – 1 Tackles – 0 Assists – 1 Misses – 50 Miss Percentage
31 Latrell McCutchin – Gone – 9 Tackles – 0 Assists – 0 Misses – 0 Miss Percentage
31 Jordan Mukes – 2 Tackles – 1 Assists – 0 Misses – 0 Miss Percentage
31 Damond Harmon – 3 Tackles – 1 Assists – 0 Misses – 0 Miss Percentage
31 Bryson Washington – 1 Tackles – 0 Assists – 0 Misses – 0 Miss Percentage
31 Jamal Morris – Gone – 1 Tackles – 0 Assists – 0 Misses – 0 Miss Percentage
31 Woodi Washington – 22 Tackles – 2 Assists – 0 Misses – 0 Miss Percentage
31 Jalen Redmond – 11 Tackles – 5 Assists – 0 Misses – 0 Miss Percentage
31 Jeremiah Criddell – Gone – 2 Tackles – 0 Assists – 0 Misses – 0 Miss Percentage
As for the defensive transfers OU added, here is what their stats looked like:
Jeffery Johnson – 29 tackles – 11 assists – 5 misses – 11.1 miss rate
Jonah Laulu – 28 tackles – 8 assists – 13 misses – 26.5 miss rate
T.D. Roof – 48 tackles – 10 assists – 3 misses – 4.9 miss rate
Kani Walker – 1 tackle – 0 assists – 1 miss – 50 miss rate
CJ Coldon – 54 tackles – 17 assists – 4 misses – 5.3 miss rate
Trey Morrison – 37 tackles – 10 assists – 10 misses – 17.5 miss rate
---
Clemson had 904 total tackle attempts – 127 of those were misses – 14% miss rate
Georgia had 934 total tackle attempts – 86 of those were misses – 9% miss rate
Baylor had 954 total tackle attempts – 151 of those were misses – 16% miss rate
Alabama had 959 total tackle attempts – 112 of those were misses – 11% miss rate
Texas had 962 total tackle attempts – 148 of those were misses – 15% miss rate
OkState had 881 total tackle attempts – 137 of those were misses – 16% miss rate
Texas A&M had 883 total tackle attempts – 120 of those were misses – 14% miss rate
Wisconsin had 757 total tackle attempts – 97 of those were misses – 13% miss rate
Ohio State had 962 total tackle attempts – 152 of those were misses – 16% miss rate
---
One area I would like to see improvement from OU on is the defensive line tackling. Hopefully, Todd Bates and Miguel Chavis can help out there.
The Sooners were about 46 tackles made from being at the 10% miss rate which would have been phenomenal. Make 30 more tackles instead of misses and you would have been closer to Alabama's miss rate of 11%.
Shout out to Woodi Washington who had the most tackles on the team with no misses credited to him!
Another interesting thing the stats show is that 3 out of the top 4 missed tacklers for OU are no longer in Norman. DaShaun White had the most misses but you would expect that gets fixed quickly simply because THE Ted Roof is in Norman.