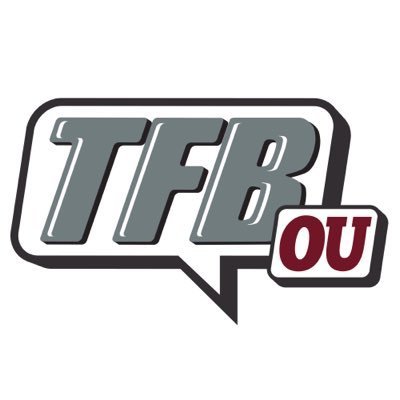 Open Post | Wednesday, July 12th – UPDATED (9:45 AM)
Posted on: July 12, 2017
– Leonard Taylor: Yesterday, K wrote about 2018 linebacker Jacob Mangum-Farrar visiting the Sooners on Friday. You can add another defensive visitor this week; we are told that Oklahoma is also set to host 2018 Springfield (OH) defensive lineman, Leonard Taylor.
Taylor stands 6'5′ 245lbs going into his senior year. The Sooners are recruiting Taylor as a 5-tech who could potentially grow into 3-tech down the road. Taylor is a guy that most feel is leaning to Kentucky right now. Taylor holds offers from powerhouse programs like Ohio State, Michigan, Alabama, and a host of other schools.
This is a huge opportunity for Oklahoma. Like we always say,  "If a kid is paying his own way to visit, there is some real interest." Bob Stoops was a fantastic in-person recruiter, but Lincoln Riley has the luxury of youth to go along with his charisma that really gives the Sooners an extra advantage anytime a kid gets on campus.
I plan on speaking to Taylor after his visit to see exactly where Oklahoma stands with him. – (Brandon)
– Defensive Back Visitors: The Sooners are still pushing to get at least one or two more defensive backs in the 2018 class. One guy that we previously talked about is West Palm Beach (FL) safety CJ Smith. TFB has spoken to several sources close to his recruiting and, since Smith decommitted from Florida on July 5th, one of the schools he is really taking a shine to is Oklahoma – so much so that Smith has set up an official visit with OU for October 7th when Oklahoma hosts Iowa State.
Smith will be joined by his brother Kreidron, who is being recruited at cornerback, on his official as well. Louisville and Florida are still the teams to beat, but just getting the Smith family on campus is a really big deal. Oklahoma is trying to continue to have a foothold in the Sunshine State, particularly at the defensive back position where Florida is notorious for putting out stars. OU already has a commit from Florida native, Miguel Edwards. – (Brandon)
– Josh Proctor: Continuing with the DB talk, in speaking to several other sources I can tell you that OU and 2018 Owasso safety Josh Proctor are still talking several times a week. Oklahoma is really working on getting Proctor on campus for the BBQ in late July. The in-state OU commits are recruiting Proctor as well and trying to ensure he makes it to Norman for the BBQ.
If you heard my podcast when I spoke to Ron Tatum, he made no bones about the fact that he is pushing Proctor to join him in the 2018 class. However, Ohio State is putting on their own full court press as well.
Remember, Proctor isn't the only Buckeyes commit that Oklahoma is recruiting right now. Jaiden Woodbey has yet to publicly state he isn't going to visit OU. In fact, last I checked Woodbey already has his official to OU set up for the TCU game in November. Also, Woodbey will get to see OU play the Buckeyes on September 9th when he takes his official to Columbus. Just as I stated with Proctor, these two recruiting battles are far from over. – (Brandon)
– UPDATE: 9:45 AM
Wednesday morning, the Big 12 released their Preseason All-Big 12 Football Team. 5 Sooners were included on the list.
They're coming for you… Five #Sooners named to Preseason All-Big 12 Team, tied for most in the league. #OUDNA

➡️ https://t.co/UuA3SCA1Nn pic.twitter.com/zGd91eOl0B

— Oklahoma Football (@OU_Football) July 12, 2017
Baker Mayfield was named Offensive Player of the year. Orlando Brown was one of only 3 unanimous selections.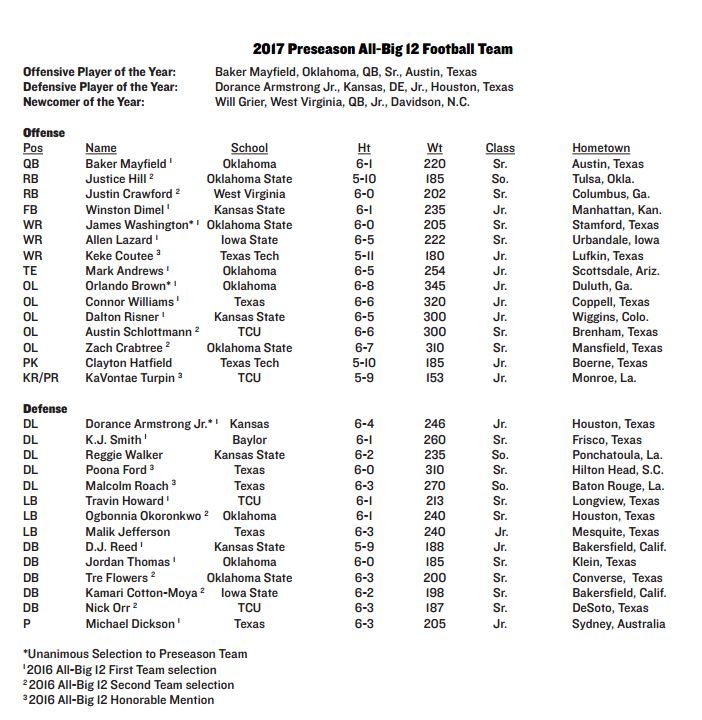 Time will tell if more Sooners will be included on the end of the version. The Big 12 will release their preseason poll on Thursday. – (Lewis)