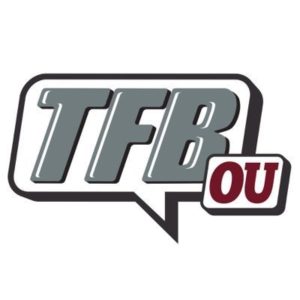 Open Post | Wednesday, January 9th
Posted on: January 9, 2019
Weekend Visitors | January 11th – 13th
– Charlie S
The NCAA recruiting dead period is set to end this weekend and the race to the February signing day is on. In what figures to be a three-week dash, the Sooners and their New Wave 19 class will have the luxury of focusing on a select few recruits as the class is pretty much completed and the few remaining targets are largely identified.
Two of the remaining targets are high school offensive linemen who will be visiting Norman this weekend. If you have been reading TFB for any length of time, you know the two names as we have mentioned previously that they were set to visit following the dead period.
*** Enokk Vimahi (6'4″ 285 lb. offensive guard out of Kahuku, HI) will be making his way to Norman along with Danielson Ike (6'6″ 300 lb. offensive tackle out of Kansas City, MO).
*** Vimahi and the Sooners have a longstanding relationship which has been pretty quiet publicly for the most part. Vimahi was originally scheduled to take his official to Norman back in late September of 2018. The trip had to be postponed but he has always maintained his intentions to make the trip and this week it looks like it will come to fruition.
Vimahi spent last week down in San Antonio at the All American Bowl where he was surrounded by Sooner signees on his West squad. Those signees included fellow linemen EJ Ndoma-Ogar and Stacey Wilkins along with tight end Austin Stogner in the trenches. Spencer Rattler and Trejan Bridges were also on his squad and you know they spent some time working on him.
Vimahi visited USC prior to the early signing day and according to our sources, he really enjoyed the trip and one may consider them to be the favorites right now. However, the fact he did not commit coupled with the Kliff Kingsbury drama, it certainly leaves the door open for the Sooners to make a real impression on Vimahi and perhaps swing things in their favor.
*** As for Danielson Ike, he has had a very quiet recruitment in regards to the fact that he is a man of few words. We have been reporting for quite some time the mutual interest between the two parties and Ike was also scheduled to visit the Sooners prior to early signing day but the fact that he was going to be signing in February allowed that visit to be pushed back.
Now, with the visit set to take place this week as Ike has confirmed his plans with Super K, the Sooners will get their shot and should they choose to push a little, I would not be at all surprised to see some eyes thrown out on Twitter from head coach Lincoln Riley. Ike and the Sooners seem like a natural fit and that one has the potential to wrap up fairly quickly.U
*** Touched base with James and he let me know that Sooners 2019 ATH signee, Ty DeArman (Bowie, Arlington, TX) will also be taking his official visit to Norman this weekend.
As you all know, DeArman was a signing day flip from Arizona State and he will get a chance to spend some time in Norman as an official part of the class this weekend.
(After posting this on the Donor Board yesterday, DeArman sent out this tweet)
---
Transfer Quarterback Possibilities & Kyler Murray
– Super K
As many of you know by now, Justin Fields has chosen to transfer to Ohio State. We mentioned back in December that if the Sooners wanted to pursue Fields, they would've been Fields' likely choice.
The Sooners elected not to.
Per our sources here is a breakdown of where things are.
***First, I'm told that Riley watched a few transfer quarterbacks and ultimately it seems Fields wasn't necessarily head and shoulders above everyone else.
***I'm told part of the consideration was the fact that Riley absolutely loves and believes in Spencer Rattler. So, bringing in a guy who would have multiple years of eligibility didn't make much sense unless he saw in Fields something he didn't see in the others.
***I confirmed from multiple sources, including one close to Fields, that the Sooners did not offer Fields.
***I was told that if the Sooners do pursue a transfer quarterback it is likely to be Alabama's Jalen Hurts. Riley, for good reason, believes he can get the most out of Hurts. Hurts would also allow young Spencer Rattler a chance to grow over the course of Rattler's true freshman year.
***James Hale spoke with a source who has informed him that the Sooners have indeed been in touch with Hurts' camp. James also added that it shouldn't surprise anyone to see Hurts visit OU in the near future.
***I am working to confirm this with someone from Hurts' camp, directly.
Kyler Murray
I know some of you have asked me to addres comments I made a month ago regarding the small possibility of Kyler Murray coming back to OU.
Before I do, let me provide you the following tweet to demonstrate that what I noted wasn't as far fetched as it probably seemed when I noted.
The first one has already happened as Kingsbury has been named the head coach of the Arizona Cardinals.
Now, let me say at the outset, saying that it wouldn't surprise me if Kyler Murray came back to OU isn't the same as saying he probably will. In fact, it's more likely, I'd surmise, that he leaves than he stays.
But the reason I had previously said I wouldn't be surprised to see him stay is because I had been told the following:
***Source informed me that Lincoln Riley was going to try and recruit Kyler to stay one more year. When I heard that fact alone, I knew that it was at least a possibility and that Riley had reason to believe that it was not only good for OU but good for Murray. Riley wouldn't make a pitch to Kyler, in my opinion, if it wasn't a good thing for Murray.
Why could it be good for Murray?
***After the Alabama game, I do believe that there is room for Murray to enhance his NFL draft stock. Against a higher level defensive line he wasn't as accurate as he's been in previous games and he wasn't as quick getting the ball out.
***I am told that on a personal level, Kyler prefers football over baseball.
***As Charlie noted, the path to the MLB is a grind.
***I had heard from multiple people that Kyler himself had said if they didn't win a national championship this year, he'd be back. Now, I have no idea if that was him joking with people or what the exact context was but as one source indicated and I noted on here once before, Kyler Murray is a next level competitor. He takes losses worse than just about anyone you'll see. He was visibly distraught after losing to Alabama and Texas.
***OU is fixing the defensive issues that ultimately prohibited Kyler from winning the national championship he seems to want so badly.
Again, I'd say it's more likely he leaves but the above gives you some of the reasons I said I wouldn't be surprised if he found a way to work out playing one more year.
---
Notebook | Coaching Interview, Bobby Evans & More
– Super K
***I am told that UCLA OLB coach, Roy Manning, is scheduled to interview with the Sooners tomorrow (Wednesday: this article was publised on the Donor Board on Tuesday) Manning was a name we mentioned as a guy to watch. But until now, it was just a name to watch.
Now, it appears to be much more than that.
***I do get the sense that it may be a situation where it's either Roy Manning or Brian Odom. Odom was scheduled to interview on Thursday, however, that does not appear to be the case any longer.
As it turns out, according to FootballScoop Staff, Brian Odom has turned down an opportunity with OU.
Again, it was our understanding that Odom was set to be interviewed on Thursday. We will let you make your own conclusions here.
***On the Ruffin McNeil front. I still think Ruffin ends up in an off-the-field position but I'm told that is not an absolute done deal just yet. My guess is they're trying to work out what that position might be and how to compensate him. At which point, I'd imagine Lincoln will present both options to Ruffin and give him the choice.
***Also, told that Lincoln Riley is headed down to see Kyler Murray and his family this week. I'll give you one guess what they'll be talking about.
***I've got some not so good news. I previously reported that Bobby Evans had informed the Sooners staff that he would return to Oklahoma. That information was accurate. He had indeed informed the Sooners staff he'd be returning.
I'm now told that Evans is wavering and is reconsidering entering the draft and has informed the Sooners staff that he may no longer be returning.
I surmise this is a situation where an agent sees an opportunity to represent him and has made an appeal to Evans.
Based on my most recent information, it is no longer a certainty that Evans will return.