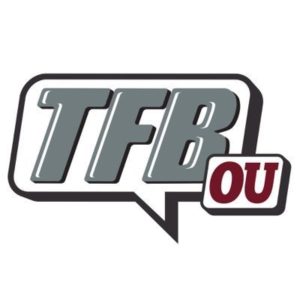 Open Post | Wednesday, January 25th
Posted on: January 25, 2023
Preview | Quarterback Room in 2023
– Charlie S – Posted on: January 23, 2023
Continuing on the individual room previews for the Sooners 2023 season and it's time to check in with the Quarterback room.
You can find the Linebacker Preview HERE.
---
In the 2022 season, the Sooners offense ran 1.019 plays according to PFF.
Of those snaps, Dillon Gabriel took 865 of them (85%).
Backup Davis Beville took 145 snaps (14%).
The departed Nick Evers took 6 snaps at QB (less than 1%).
Various other position players took snaps as 'wildcat' QBs as well.
The Sooners head into '23 with a QB room consisting of Gabriel, Beville, General Booty, Micah Bowens, and incoming stud freshman Jackson Arnold.
Cutting to the chase, this should be a two man room with Gabriel as the nominal starter entering spring and Arnold pushing him. Thats the way it should go and that's the way I expect it to go.
Beville, Booty and Bowens should find themselves in a three way competition for 3rd on the depth chart by the time fall camp rolls around and it would not be shocking to see any of them hit the portal at some point in the spring.
The depth in '23 should (I am saying should a lot because right now, this is just all looking at things on paper) be improved as OU should have two functional QBs in the room.
I am not trying to knock Beville, but I will take a little shot at the way the OU backups were deployed last season. In the early out of conference games, OU was in control and dominating the games by the 4th quarter at the latest. In each of those games, Beville was subbed in for Gabriel but OU did not let him run offense. Beville came in simply to hand the ball off and run out the clock. Following each of those games, I mentioned I was concerned that the OU backup QB position was not getting the experience and reps they needed during real game time to have a chance at being effective in the case of a Gabriel injury. Many in the community echoed those sentiments, so we all had a level of concern should something happen to Gabriel.
Something happened to Gabriel in the first half of the TCU game and we all watched in horror as the QB play at OU was about as poor as any of us have ever seen. We won't even dig into it here, but throughout the rest of the TCU game and the Texas game the following week, the OU QB position was a non-entity and they really only moved the ball with any success when a TE or a WR was behind center. It was absolutely disgraceful that OU…otherwise known as 'QBU' did not have a QB who was prepared properly to run any semblance of the offense.
The good news is…it doesn't look like that will be the case in 2023.
I think we can all agree that Dillon Gabriel will be given every chance to succeed (or fail) as QB1 when snap one of the 2023 season goes off. That is the way it should be, and I believe that is the way it will be. I think we can all also agree that Jackson Arnold will be QB2 and you can discount any other options so long as everyone stays healthy.
There will be talk of a QB competition and if things go as I believe they will throughout the spring, summer, and fall camp, Jackson Arnold will open some eyes and give the OU staff something to think about in regard to his potential. But in the end, expect Gabriel to take the first snap of the season as QB1.
This is where we all want and need to see a difference from the 2022 season. If OU does what they should in the out of conference portion of the schedule (Arkansas State, SMU, Tulsa) and take control of the game early, OU cannot afford to put Jackson Arnold in the game to just hand off the ball and run clock.
OU must…absolutely MUST let Arnold run offense and run it with a solid supporting cast. There should be no scenario in the early part of the season where Jackson Arnold does not get at least four drives in each game where he gets to run the full offense with guys in the two deep. The Sooners do not have the luxury in 2023 of 'running out the clock' in games as they need to do everything they can to get Jackson Arnold up to speed as quickly and efficiently as possible.
OU cannot afford to employ the methods they did last season where QB2 was just a guy who received the snap from center.
Bottom line, I hope Jeff Lebby and Brent Venables give Jackson Arnold every opportunity to outplay Dillon Gabriel and force them to make difficult decisions as the season progresses.
Right now, while most people sit there and say 'starting a true freshman QB is never a good thing', I say…'I don't see one thing that Dillon Gabriel did in 2022 that Jackson Arnold couldn't do in 2023′. Not one thing.
So, while I will actively be rooting for Arnold to show out, I expect Gabriel to hold onto the starting job until/unless things go off the rails.
What does 'going off the rails' in 2023 look like is the big question I have.
Does going off the rails mean one bad game from Gabriel prior to playing Texas the first weekend of October? Does going off the rails mean a loss prior to Texas and a bad first half? Is there a scenario where Arnold can drastically outplay Gabriel in the out-of-conference schedule that will get the ball rolling toward him taking over as QB1? Can Jackson Arnold pull a Caleb Williams and take over the starting job from the entrenched starter without OU suffering a loss?
There is a reason the Ohio State staff and the LSU staff have said they believe Jackson Arnold is the best QB in the class. The thing to watch for OU fans is…will he be treated as such by the Sooner staff and given every opportunity to fairly beat out Dillon Gabriel?
Will be fun to watch play out!
---
A few Additional Testing Notes | Sourced
– Super K – Posted on: January 19, 2023
As you know, yesterday, Charlie posted a few notes from this week's testing.
I'll add a bit to that.
***Heard same as Charlie – that Gentry Williams cracked into the 4.3s
***Heard the fastest WR was Farooq at around 4.45. Great to hear on Farooq but obviously the Sooners are going to be excited to get both freshmen in to add the speed in that room.
***I did ask about Gibson because we get the sense that Jones is excited about developing Gibson. Wasn't told the number but was basically told that Gibson isn't the kind of guy who is actually going to run a fast forty but he's fast on the field.
***Also, told that freshman DB, Peyton Bowen ran in the 4.4s.
---
Sourced | Lebby's Name Surfacing Again
– Super K – Posted on: January 20, 2023
As you know, a while back, we mentioned that sources indicated that Sooners OC, Jeff Lebby was one of the OC targets for Alabama should they do what most expect and replace Bill O'Brien. The other two names we had heard at the time were Garrett Riley and Liam Coen.
Since then Riley has been poached off from TCU by Clemson.
TCU did actually have some initial interest in Lebby but a source on the TCU side tells me it did not get very far given Lebby's buyout and the kind of financial and otherwise demands they would have to have met to have a shot at Lebby.
Following the initial interest from Alabama, we had a source give us some indication that things had fizzled.
However, yesterday, I was told by a source down in SEC country that Lebby's name is resurfacing in the building.
Was told that the three names that are being mentioned as targets are Jeff Lebby, Dan Mullen and Joe Brady.
It's no secret that Saban wants to improve the run game and that is certainly Lebby's strong suit. However, Alabama also needs to develop a quarterback and Mullen and Brady may have the better resume there.
Should Alabama offer, I do not know how much interest Lebby might have. All I can say is that a source has indicated that he remains a target for the Tide.
---
Intriguing '23 Offer | Taylor Heim
– Charlie S – Posted on: January 20, 2023
The Sooners extended an offer to '23 ATH Taylor Heim out of Bethany, OK.
It is a scholarship offer and I think it is a pretty solid one at that!
Heim has caught my attention as I could see him playing tight end or even EDGE.
He lists himself at 6'5 and looking at his film…that appears pretty close to being accurate.
Will do some digging on this over the coming days…but his film is pretty exciting.
Heim will likely officially visit this weekend.
---
Sourced Personnel Note
– Charlie S – Posted on: January 21, 2023
Happy Saturday, just wanted to drop a sourced note we picked up this week that I thought you all may enjoy…
As you know, the Sooners staff is out on the road visiting high schools across the country.
Offers are flying out and relationships are being made.
Super K picked up a very interesting note this week from a high school coach in Texas who hosted an OU coach this week.
The high school coach mentioned that the OU coach indicated that he believed Sooners early enrollee, safety Peyton Bowen, would be 'starting' at one of the safety spots this season.
No, we are not saying that is an assessment based on Bowens first week on campus, instead, we believe it is a reflection of how highly the staff thinks of Bowen and the path they see for him.
Obviously, Bowen will need to show comprehension of the scheme and perform physically, but for an OU coach to drop that tidbit on a Texas High School coach, I thought it was pretty noteworthy.
---
Sooners Hosted UVA Transfer LB Nick Jackson
– Charlie S – Posted on: January 22, 2023
I finally touched base with UVA Transfer Linebacker Nick Jackson (6'1 235) who confirmed he made his way to Norman for a visit with the Sooners.
Jackson is a guy that has recorded over 100 tackles in each of the last three seasons for Virginia and he played under Bronco Mendenhall for his first three years (2019 – 2021)
Last season he had 104 tackles and 5 sacks to his credit.
As I mentioned previously, sources at Iowa expect him to visit next week and he has already visited Auburn. LSU is also in the mix as is a potential return to UVA.
We will have more on this later in the week, just wanted to confirm for you all that he did make it to Norman today.
---
Bill O'Brien Departs & Where is Lebby on the List
– Super K – Posted on: January 24, 2023
A while back we noted that the O'Brien departure from Bama was expected…
***Last week, I noted that Lebby's name began to resurface as a candidate for the Alabama job.
***I've continued to talk to folks about this and the latest I've heard is that Lebby is a "prominent candidate." One source went as far to say he is at or near the top of the list.
***If Lebby were to be offered, I'm still unable to get a sense of how interested he would be but I did speak to someone close to him who said, "it's Nick Saban. You have to hear him out."
***I did ask someone on the OU side about what might happen with Jackson Arnold, in case Lebby was offered the Alabama job and decided to take it. As I expected, source was confident that Arnold would remain at OU.
***Also, a bit of a Twitter note but it was brought to my attention that Lebby recently followed the Alabama quarterback commit, Julian Sayin. I did call someone close to Sayin who said, if Lebby decides to recruit Sayin to OU, it's not likely to have any impact. Source said Sayin and his camp have known for a while that O'Brien may be leaving and their commitment to Alabama was made to and because of Saban. So, as long as Saban is there then, he's not likely to look anywhere else.
***Lastly, I want to reiterate that we have been told Joe Brady is also a candidate and I am told he is interested in the job. Another name I previously mentioned was that of Dan Mullens. And, this morning I was told that last week Saban had a quiet meeting with another candidate but source could not name the candidate.
***With O'Brien gone, I imagine this shouldn't take too terribly long.