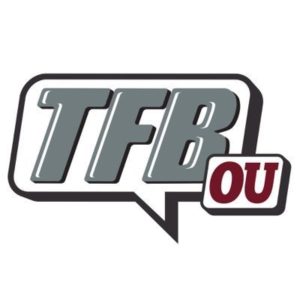 Open Post | Wednesday, January 18th
Posted on: January 18, 2023
The Latest | '24 QB Michael Hawkins
– Charlie S – Posted on: January 16, 2023
As most of you know, since the time he was offered back in July, I have pegged '24 QB Michael Hawkins as the 'next' or 'first' commit for the Sooners #24K class.
That still hasn't changed, and with him set to announce his decision at the end of the month, I still like where OU is at.
Word got out recently that Hawkins would be transferring from Allen High School due to some off the field situations within the community, you all can read about that on the interwebs, but the family made a decision to withdraw from the school and find a new home for the QBs senior year.
Darius noted in our TFB group text that Hawkins will be attending Frisco Emerson High School.
As far as where things stand with Hawkins and OU and his planned announcement on January 31st, as I mentioned above, nothing has changed for me and I like where OU is at.
The one thing that will keep my attention a little bit as the cycle progresses would be if Kendal Briles does leave Arkansas to take the TCU offensive coordinator job. Briles has put in a lot of work on Hawkins while at Arkansas and if he moves to TCU, well they do not have a Jackson Arnold in the '23 class so Briles will have location and opportunity to pitch to Hawkins…at least that's what I would do if I were him.
At any rate, OU and Hawkins still seem to be in good position at this time.
---
What's the Issue on Defense? | Sourced
– Super K – Posted on: January 12, 2023
Recently, had an interesting conversation with a source close to the program. Was asking about the latest on any potential changes on the defensive side of the ball.
In the course of the conversation, I asked if the general feeling in the building was that the defensive talent was just too low to field a good defense? Or, alternatively, if there were some major errors made in calls or schemes, this past season.
Was told that the staff feels like they could have done better but I didn't get the sense they felt that it was primarily a schematic or call issue.
They also, clearly want to get better talent. But unlike Riley who would publicly (and IMO unwisely) say they need to upgrade talent, source said that the staff feels like they have enough talent to be much better on defense.
Source said the issue the staff just wasn't prepared for was how little actual football the players knew. They knew the previous scheme was simple but source said the staff just wasn't aware of quite how limited the football IQs were, across the board.
To be clear, yes, they want to upgrade talent. And yes, I'm told they believe they can coach better.
But the sense I get is they believe the reason they should be a significant jump from year one to year two will primarily be because of the massive strides the players are taking in overall understanding of defense and fundamentals.
You may recall that earlier in the season I had hypothesized that that was the issue but, again, I recently had it confirmed as the primary issue the staff seemed to be dealing with.
To me, that's good news because while they are turning over the roster and trying to get bigger faster players, they believe there is plenty of growth to be made defensively just by development. That's music to the ears.
---
Defensive Staff | Sourced
– Super K – Posted on: January 12, 2023
In this morning's note on the defensive woes, some of you seem to have interpreted the note as me implying no staff changes will be made.
That was not my intent.
***The latest I heard is still the same possibilities we heard and reported a few weeks.
***Which is, it's possible Roof is moved into an off-the-field role.
***And if that were to happen, the only scenarios we've heard are possibilities are, again, someone on the staff (possibly Valai or Hall) are promoted to DC and an ace recruiting LB coach is brought on.
***The sense though is that while that may yield good results, it might be a tough sell to the fans given this past year's defensive struggles.
***Alternatively a new DC would be brought in. And again, the only name we've heard and that we can confirm there was contact with is that of former UVA and BYU HC, Bronco Mendenhall. We first mentioned Mendenhall back on December 1st (HERE). But since then I've heard his name from an additional source.
***At UVA Mendenhall was using a lot of what Brent was doing at Clemson.
***As far as the chances of any of this happening, I couldn't tell you at this point. I've asked around and have been told that Brent is keeping this one to himself – and you can understand why.
***If you want to know my personal opinion, I tend to believe that the defense is going to much better no matter what they end up doing. Just watching Stutsman's timing and fits in the FSU game, he showed vast improvement. To me, that had nothing to do with him changing physically. That's just him starting to better understand things. That should happen for all the players.
***I think the learning, the physical development, the talent upgrade, the understanding of zone spacing (coming from Grinch's mostly man scheme), etc. will yield really good results.
***Grinch's primary tool was motivation, not teaching details. I heard from USC sources that that is exactly what the problem was at USC. An emphasis on motivation and not actual teaching and development. But, the problem isn't motivation. You can be motivated to beat Tommy Hearns, but without the tools to do so, you're going to sleep.
---
Portal Reset | 2023 Cycle | January 17th
– Charlie S – Posted on: January 17, 2023
The Sooners have now added 12 players to their roster via the transfer portal. Up from 9 from last week HERE.
Sooner Transfer Portal Additions:
EDGE – Dasan McCullough – Indiana – OU – 3 years left
DL – Jacob Lacey – Notre Dame – OU – 2 years left
EDGE – Trace Ford – Oklahoma State – OU – 2 years left
TE – Austin Stogner – South Carolina – OU – 1 year left
DB – Reggie Pearson Jr. – Texas Tech – OU – 1 year left
OL – Caleb Shaffer – Miami (OH) – OU – 1 year left
DE – Rondell Bothroyd – Wake Forest – OU – 1 year left
DT – Davon Sears – Texas State – OU – 2 years left
WR – Andrel Anthony – Michigan – OU – 2 years left
P – Luke Elzinga – Central Michigan – OU – 2 years left
OL – Walter Rouse – Stanford – OU – 1 year left
TE – Blake Smith – Texas A&M – OU – 3 years left
Former OU players now in the transfer portal/committed elsewhere:
QB – Nick Evers – OU – Wisconsin
QB – (PWO) Ralph Rucker – OU – ?
OL – Brey Walker – OU – ?
WR – Theo Wease – OU – Missouri
WR – Brian Darby – OU – ?
WR – Trevon West – OU – ?
WR – (PWO) Davion Woolen – OU – Arkansas
TE – (PWO) Jackson Sumlin – OU – ?
EDGE – Kevonte Henry – OU – ?
EDGE – Clayton Smith – OU – ?
DL – Cedric Roberts – OU – Texas State
DL – Josh Ellison – OU – Memphis
DL – Alton Tarber – OU – ?
LB – David Ugwoegbu – OU – ?
DB – Bryson Washington – OU – ?
DB – Jordan Mukes – OU – ?
DB – Kendall Dennis – OU – South Florida
DB – Josh Eaton – OU – Texas State
OL – Marcus Alexander – OU – ?
OU will also be keeping an eye out through the end of this portal cycle for a quality WR and perhaps an interior DL.
There will be another portal window opening in the spring as the current window will close on Wednesday.
---
Offensive Weapons
– Super K – Posted on: January 17, 2023
The two remaining areas where you'd like to see OU add some seasoning is at DT and WR. I don't think the DT spot is nearly as dire as most. We can run the numbers again later. And the newest JUCO offer looks great on film.
But the offense this past season seemed to lack some potency and it sure doesn't help when you're biggest weapon leaves.
However, I think Emmett has a handle on things. The Sooners passed on the big Bowling Green WR, Tyrone Broden. Broden was a clear target before Emmett arrived but that changed once he arrived.
If you don't see any last-minute portal movement going into the spring, don't worry. The Sooners have some talent on campus and Emmett wants to get a chance to work with them. We've seen this before, you think a room at OU has no talent and then a developer walks in and suddenly there are some players. This happened in recent memory when coach Cain took over the DE room.
The Sooners do have some guys they'd like to have but they have tread a bit lightly and let things play in when they play out and that may not be until after the spring.
But they are optimistic that they can get guys like Farooq, Gibson and others to take a big jump forward this spring. Also, have heard that DJ Graham is a guy to watch out for on the offensive side of the ball. That doesn't surprise me. He was a heck of a WR out of HS and was actually originally recruited for that position.
So, you may see a last-minute move here in the next day or two but if not, like I said, there are some guys who are considering entering the portal but it may not be till post spring. The Sooners are ok with that because, again, Emmett wants to get a sense of what he's got.