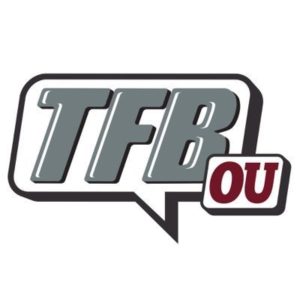 Open Post | Wednesday, January 11th
Posted on: January 11, 2023
Portal Reset | 2023 Cycle | January 10th
– Charlie S – Posted on: January 10, 2023
The Sooners have now added nine scholarship players to their roster via the transfer portal. Up from 5 from last week HERE.
EDGE – Dasan McCullough – Indiana – OU – 3 years left
DL – Jacob Lacey – Notre Dame – OU – 2 years left
EDGE – Trace Ford – Oklahoma State – OU – 2 years left
TE – Austin Stogner – South Carolina – OU – 1 year left
DB – Reggie Pearson Jr. – Texas Tech – OU – 1 year left
OL – Caleb Shaffer – Miami (OH) – OU – 1 year left
DE – Rondell Bothroyd – Wake Forest – OU – 1 year left
DT – Davon Sears – Texas State – OU – 2 years left
WR – Andrel Anthony – Michigan – OU
OU also added a punter Luke Elzinga from Central Michigan who is a preferred walk-on.
There are several other undecided targets who have visited Norman in recent days:
WR – Tyrone Broden– Bowling Green
OT – Walter Rouse – Stanford
While OU is in play for each of these targets, they are also considering other schools that they visited.
One notable departure from OU into the portal this week:
LB – David Ugwoegbu – OU –
I think it is safe to say OU would like to add a few WR and an OL. Whether it comes from the group that visited or some others down the road, I expect that to happen.
Overall OU has done a really good job in the portal to this point, just a little more work to do.
---
Preview | Linebacker Room in 2023
– Charlie S – Posted on: January 10, 2023
Wanted to take a look at the Sooners linebacker room following David Ugwoegbu's entry into the NCAA Transfer Portal.
Last season the Sooners defense faced 1,071 snaps.
Fellow linebacker Danny Stutsman, who played the WILL, led the team by playing 993 defensive snaps. (93%)
Ugwoegbu, the MIKE backer, played 919 defensive snaps. (86%)
Jaren Kanak, who started the season working at the Cheetah, but quickly transitioned to backup MIKE, played 139 defensive snaps. (14%)
Jake McCoy played 54 snaps at linebacker, and to be clear, I'm not sure which position he lined up at and he has retired from football.
Shane Whitter, who was injured early in the season, played 49 defensive snaps at the WILL.
Kip Lewis played 4 defensive snaps at WILL.
Kobie McKenzie played 2 defensive snaps, I believe at the MIKE.
The Sooners are bringing in 3 freshman linebackers. Phil Picciotti projects as a MIKE, Sammy Omosigho can be viewed as either a MIKE or a WILL and Lewis Carter would likely project as a WILL or Cheetah down the line for starters.
So the Sooners lost a whole lot of experience when Ugwoegbu walked into the portal. They also lost a lot of production as he had over 100 tackles (credited with 109 tackles in 2022).
Now…I am not going to sit here and say I think Ugwoegbu leaving is necessarily a bad thing, because I feel like David was a fish out of the water at the MIKE and he was likely better suited being an OLB in a true 3-4 scheme rather than an interior backer. I am of the opinion that another year in Norman for Ugwoegbu would have retarded the growth of the young backers and I hope he finds success wherever he lands.
Going into spring camp, I think there will be healthy competition for the starting LB spots. Obviously, I think Stutsman will have the advantage at one of the spots as he gained a lot of experience last season in the new defense.
I expect Kobie and Kanak to push for the MIKE spot and I would expect Kip and Shane to push for WILL2 behind Stutsman.
Could those projections shift as guys make gains and pick up the defense? Sure, but I think that those 5 guys give you very solid competition.
Kanak flashed when he was in the game, but his inexperience often left him exposed, he needs to clean that up. Kobie was a guy who started to really pick up a lot of chatter from the staff towards the end of the year and throughout the bowl prep and I expect him to be a factor. He's just too good of a linebacker to not make an impact.
Kip Lewis really turned some heads in his one appearance as he was seen flying to the ball on each of his snaps. Really was fun to catch.
Whitter is a guy who feels he has a lot to prove as he comes back from injury. I expect him to be very focused throughout the spring and I would not be shocked to hear his name talked about early and often.
Having those 5 guys for the two interior linebackers spots should allow the freshman to ease into the equation. Only Picciotti is an early enrollee of the 3 freshman backers, which is not ideal, but that just means more reps for the 5 guys I expect to vie for the bulk of the playing time.
While you may be more comfortable with one more guy in the group so you would have a true 3 deep, preferably an experienced guy, I would rather it not come at the expense of the young guys who need all the reps and looks they can get throughout the offseason.
Count me as a fan of the linebacking corps and I think this is one area where you may see a noticeable improvement despite the loss of Ugwoegbu.
---
Deep Dive | Wide Receiver Coach Emmett Jones
– Charlie S – Posted on: January 10, 2023
The Sooners will name Emmett Jones their new wide receiver coach here in the near future.
Jones began his coaching career in 2001 in Texas High School Football at Seagoville.
He stayed at Seagoville until he left for Dallas, Lincoln, for a year prior to heading to Skyline to become the offensive coordinator under legendary Texas High School coach Reginald Samples.
Jones left Skyline to take the head job at South Oak Cliff where he posted a 30-8 record while leading the Golden Bears deep into the state playoffs each of his three years at the helm.
In 2015, then Texas Tech Head Coach Kliff Kingsbury got Jones to leave the high school ranks and join his staff in a player development role. In 2016, Kingsbury put Jones on the field where he would become the WR coach for the next three seasons.
In 2019, Jones moved to Kansas under Les Miles. While at Kansas, he was elevated to passing game coordinator to go along with his WR coach title. Jones served as the interim head coach at Kansas when Les Miles resigned. Jones served as the interim head coach for the Jayhawks through spring and summer until Lance Leipold was hired.
There was a contingent of Kansas players and supporters that were calling for Jones to be the permanent hire.
Following the 2021 season, Jones made his way back to Texas Tech as Joey McGuire hired him to be his WR coach and passing game coordinator.
That brings us to the present and Jones accepting the offer from Oklahoma to become their next wide receiver coach.
Jones is a guy who has a strong foundation in leadership. He has coached under some very successful coaches at both the high school level and the collegiate level. He is well connected and respected among the high school ranks, particularly in the state of Texas, and he is a guy that will not be satisfied with 'just being there'. He has a strong presence about him and he is not afraid to voice his opinion inside the buildings he has been in.
During his first stop in Lubbock, Jones was considered to be that staffs best all around recruiter and he had a hand in a large number of recruitments for the Red Raiders as he was not pigeon-holed as just the 'WR guy'…think about it in the sense of the way we saw Valai work this year and Cale Gundy in past years…dude just can flat out recruit, particularly the DFW area.
I believe this is a tremendous hire for OU as he checks off all the boxes you want from a wide receiver coach (recruiting and developing) as well as bringing a seasoned and mature presence to the staff. Jones brings head coaching pedigree with him to Norman and it would not shock me to see him at the helm of his own college program one day.