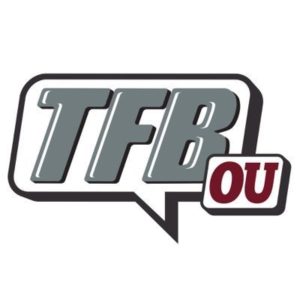 Open Post | Wednesday, February 8th
Posted on: February 8, 2023
The Latest | '24 QB Michael Hawkins | Twists and Turns
– Charlie S – Posted on: February 1, 2023
Yesterday (Last week) was the original date that '24 QB Michael Hawkins planned to announce his commitment to the school of his choosing. That day has come and gone and nothing has been announced.
The overriding train of thought was that Hawkins would be announcing his commitment to Oklahoma and Jeff Lebby. From what I have seen, almost everyone on the Sooner side of the equation has been on that train.
When asked who would be the first commit for OU in the '24 class, I would generally include Hawkins among the top choices.
But on Sunday, K received some sourced information that was eye-opening. On Monday K reported the following (HERE):
"We have spoken to sources on the OU side and they seem confident so in trying to figure out what might be the hold up here, I reached out to a source on the TCU side.
Source tells me that Hawkins was silently committed to Briles at Arkansas. As a result, Briles move to TCU put things in flux."
Whether Hawkins was actually silently committed to Briles or not, only they know. What we can say for sure is, as K reported on Monday, that is the prevailing belief inside the building at TCU. If true that would mean that Hawkins was likely planning to commit to Arkansas and not OU.
How credible does that sound? Let's review.
First, lets start with the facts of the matter.
***Hawkins has visited Norman and Fayetteville numerous times. He has built relationships with both Jeff Lebby and Kendal Briles.
***Following his his announcement about making his commitment on January 31st, Hawkins planned to visit Norman (January 14th) and Arkansas (January 21st).
***The visit to Norman took place, and things went well according to OU sources, but this is where things started to get squirrely as Arkansas OC Kendal Briles left the Hogs and headed to TCU the week he was supposed to visit Fayetteville for one final time before his announcement.
***Following the January 14th visit to Norman, I posted an update (HERE) on January 16th where I noted my position on Hawkins and pointed out one area of concern….which was Briles to TCU…
"As far as where things stand with Hawkins and OU and his planned announcement on January 31st, as I mentioned above, nothing has changed for me and I like where OU is at.
The one thing that will keep my attention a little bit as the cycle progresses would be if Kendal Briles does leave Arkansas to take the TCU offensive coordinator job. Briles has put in a lot of work on Hawkins while at Arkansas and if he moves to TCU, well they do not have a Jackson Arnold in the '23 class so Briles will have location and opportunity to pitch to Hawkins…at least that's what I would do if I were him."
***On January 19th, the Sooners offered a new QB for the '24 cycle in Walker White out of Little Rock, Arkansas and Jeff Lebby followed Bama commit Julian Sayin at some point that week as well.
***On January 20th, TCU officially announces the hire of Kendal Briles as their new offensive coordinator.
***Following the visit to OU on January 14th and on the day he was scheduled to be in Fayetteville, January 21st, Hawkins sent out a tweet that said "I will be pushing my COMMITMENT back! This will be the biggest decision of my Life and I want it to be right." That tweet was later deleted, without any further explanation.
***After Hawkins posted that Tweet, we did some digging and we got the impression from sources at OU that it was OU's call to "take a step back and reevaluate things." This is where we could have interpreted the OU message incorrectly. When we checked on this, the message came back that 'may want to tap the brakes on that' which indicated to us that OU was tapping the brakes. We asked if things were still good between OU and Hawkins at the time and the 'tapping of the brakes' simply could have meant…'things may not be as great as we thought'.
***Over the last few weeks, as you are all well aware, there were talks about Bama having Jeff Lebby as a primary target for their OC position which was not technically open until Bill O'Brien took the OC position with the New England Patriots on January 24th. The common thought was that this was a reason why Hawkins changed/postponed his announcement. However, at no point did we get an indication that Hawkins had silently committed to OU.
That brings us to this week's sourced info that K picked up. Stay with me here because I am going to not only rehash a note you already were presented with but new information that K picked up on Monday night.
***As I said earlier, Super K posted a Sourced Note on the Hawkins situation that was eye opening. K spoke to a source in the building at TCU who told him that it was his understanding that Hawkins silently committed to Briles when he was at Arkansas. Again, we obviously have no way to guarantee that Hawkins silently committed to Arkansas, but that is what TCU has been told.
***On Monday afternoon, as K and I were going over this Hawkins situation because we felt like we were missing something, I asked K to reach out to a source he has at Arkansas.
***Source told K that they did indeed expect Arkansas to be the choice on January 31st…until Briles left.
***Then K spoke to an additional source around the TCU program who told Super K that they also had heard that Hawkins silently committed to Briles while he was at Arkansas. So that is the second source who had heard that.
***On the OU side, over the past several weeks, we still got a sense of confidence from them in regard to landing Hawkins.
So let's move ahead to where we are at today…
***This weekend, Hawkins and his family made their way to Norman to attend Junior day. This was not a long-scheduled visit, as the plan was for the scheduled Arkansas visit to be his last visit prior to making his announcement. But nonetheless, it was a positive sign for OU that they made the trip up to Norman. Sources say the visit went well and OU continues to feel good about where things stand with Hawkins.
***However…the next day Hawkins and the family made their way to Fort Worth…for a visit to TCU and to meet with their new OC, Kendal Briles.
***K spoke to his source at TCU and source told him that the staff at TCU had been trying for quite a while to gain some traction with Hawkins to no avail…until Briles showed up. All of a sudden they were able to not only gain an audience with him, but they were also able to get his last visit prior to the dead period. To me, that says a lot about his relationship with Briles.
Given the new information received this past weekend, the perspective on this recruitment might need a bit of a reset. There are obviously still a lot of things to like about OU.
As far as TCU goes, they have some work to do as, aside from having Briles, they are playing from behind…you would think. While it is clear that Hawkins has a tremendous relationship with Briles, he has not had the opportunity to become really familiar with all things TCU. The rest of the coaching staff, the campus, the players on the team, the fact that TCU currently has a '24 QB commit. Does he value playing in the SEC (as he would at Arkansas or OU)? .. lots of different things need to be sorted out, you would think, before a commitment is made to them.
Right now, I don't think I could enter a 'trending' pick with any degree of certainty in this one. Right now, I would call it a toss up.
---
2023 PWO List
– Charlie S – Posted on: February 2, 2023
Here is the best list I could come up with as I was trying to keep track of all the walkons for the Sooners football program this cycle.
I know I missed at least a couple, so if you have any names to add, post them in the comment section and I will add them to the list!
QB – Carson Horton​ – Dayton, TX
RB – Chapman McKown – Norman, OK​
RB – Braylon Colgrove​ – Aubrey, TX
WR – Trey Brown – Nashville, TN
WR – Brandon Harper​ – Noble, OK
WR – Eli Merck​ – Central, SC
WR – Emmett Jones Jr – Formerly of Lubbock, TX
TE – Blake Smith – Southlake, TX
TE – Josh Fanuiel – Lawton, OK
OL – CJ Compton – Shawnee, OK​
OL – Drew Batt​ – Turpin, OK
OL – Ty Kubicek​ – Sacramento, CA
DL – Andrew Heinig​ – Glenpool, OK​​
DB – Jakeb Snyder – Bixby, OK
DB – Cale Fugate – Bixby, OK​
ATH – Casen Calmus – Nashville, TN
ATH – Reed DeQuasie​ – Midwest City, OK
K – Redi Mustafaraj – Miami, OK​
P – Luke Elzinga – Gran Rapids, MI
---
Preview | Running Back Room in 2023
– Charlie S – Posted on: February 2, 2023
Continuing on the individual room previews for the Sooners 2023 season and it's time to check in with the Running Back room.
You can find the Linebacker Preview HERE.
You can find the Quarterback Preview HERE.
---
During the 2022 season, the Sooners ran the ball 522 times.
Of those 522 rushing attempts, the departed Eric Gray led the running back room with 213 runs (41%) which went for 1366 yards which were good for 6.4 yards per carry and he scored 11 touchdowns.
Next up was true freshman Jovantae Barnes who had 116 carries (22%) which went for 519 yards which were good for 4.5 yards per carry and he scored 5 touchdowns.
Redshirt junior Marcus Major was the net guy up and he had 56 carries (9%) which went for 227 yards which were good or 4.1 yards per carry and he scored 4 touchdowns.
Sophomore Tawee Walker had 18 carries for 62 yards which were good for 3.4 yards per carry.
True freshman Gavin Sawchuk had a breakout game against Florida State in the bowl game and on the year he had 17 carries for 105 yards which were good for 6.2 yards per carry and he scored 1 touchdown.
Gray had 33 receptions, Major had 8 catches, Barnes had 5 receptions and Sawchuk and Walker each recorded one catch. So Gray had a really big impact on the passing game as well.
With Gray heading to the NFL, the Sooners are left with a very talented, but very young running back room.
I think it is safe to say that this is the most talented running back room the Sooners have had since they had Joe Mixon, Samaje Perine, and Rodney Anderson in the room in 2015 and 2016 (Rodney was injured for the 2016 season, but still).
The 2023 Sooners running back room will consist of:
Sophomore Jovantae Barnes
Redshirt Freshman Gavin Sawchuk
Redshirt Senior Marcus Major
Junior Tawee Walker
Redshirt Sophomore Emeka Megwa
Freshman Daylan Smothers
Freshman Kalib Hicks
Freshman PWO Chapman McKown
Freshman PWO Braylon Colgrove​
Breaking it down even further, I think the five guys that will vie for carries are Barnes, Sawchuk, Major, Smothers, and Hicks.
Sooners running back coach DeMarco Murray has shown in the past that if you can get the job done, you will play even if you are a freshman. Last year, prior to the season, I talked about my belief that Barnes would get the second most carries in the room, and, in fact, he did.
That is not because I claim to be some great prognosticator, I simply used common sense and trusted my eyes in believing that he was the guy who had a combination of talent and experience (he was an early enrollee while Sawchuk was not) that would equate to him beating out some older guys in the room.
When I look at the '23 room, in my opinion, Barnes is clearly entering the spring as RB1. Barnes gained a lot of experience last year as he played in 11 games and at times he flashed. He had some freshman mistakes with ball security and missed a few blocks, but as the year progressed, he really matured. I expect that maturation to continue this season and I believe he could have a special year in '23.
Gavin Sawchuk takes the title of 'Challenger number one' from Marcus Major in regard to threatening Barnes reign as RB1 based on his breakout game against Florida State. Sawchuk had 15 carries for 100 yards which were good for 6.7 yards per carry and he scored an exciting and dynamic touchdown against the Noles. Simply put…he was this year's Marcus Major in that respect (Major had a couple of big bowl game performances and had everyone waiting on him the following year) and I'm going to try to slow your roll on anointing him the 'next great one' at OU based on a one-game sample. He looked good. He looked really, really good against the Seminoles, but so did Barnes and Barnes was the guy who did the heavy lifting early in the game. What we did see should excite you though. We knew Sawchuk is different with his speed, but it was his power, decisiveness, and aggressiveness in the bowl game that stood out. The young man has a bright future.
Then you take a look at the next three guys. Kalib Hicks and Daylan Smothers did themselves huge favors by being early enrollees. They will get a lot of experience and a jumpstart on building their physiques as they likely will look to unseat Marcus Major as RB3. Smothers is my bet to be the guy who gets some early looks as RB3 as I think he has some special tools in the run game as well as the passing game…plus he should be very fresh after sitting out his senior year. Hicks is a guy you cannot count out though as he had a stellar senior year and looks like he is a perfect fit for Lebbys offense.
Then you get to Major who has been treading water for the last four years in Norman. I am actually a bit surprised he did not portal and I think he will likely have a difficult time locking up a significant role on the '23 team. Heck, I could be wrong, and it would be a great thing for the Sooners if he came out and proved me wrong, but it's been a long wait for him to show up and at this point, I am not counting on it. He will have the upper hand on the freshman heading into spring with his experience and familiarity, but it will be a tough battle for him to keep that position once the season gets underway in my opinion.
That brings us to Megwa and Walker. Nobody has any idea what OU can or will get from Megwa. We will check on him throughout the winter and spring, but to be fair, I am not expecting him to factor into the equation much at this point and anything positive that he contributes will be a bonus for OU.
Tawee is a guy who played a lot of special teams and got the occasional carry in '22. Is there a path for him to expand his role on offense in '23? Maybe, but I will have to see it to believe it.
I will say I am very excited to see how the room shakes out. While the Sooners lost a big chunk of their run production when Gray left for the league, the game against Florida State showed us all that there is a lot to be excited about in regard to DeMarco Murray's room.
I expect Barnes and Sawchuk to have some really exciting moments and put up a pair of good years for Oklahoma.
---
Preview | Cornerback Room in 2023
– Charlie S – Posted on: February 6, 2023
Continuing on the individual room previews for the Sooners 2023 season and it's time to check in with the Cornerback room.
You can find the Linebacker Preview HERE.
You can find the Quarterback Preview HERE.
You can find the RunningBack Preview HERE.
---
During the '22 season, the Sooners defense defended 1,070 plays.
Of those 1,070 plays PFF indicates that there were 453 passes attempted which were covered by OU defenders.
The guys in OU Corners Coach Jay Valai's room broke down their snaps as such:
Redshirt Senior Woodi Washington was on the field for 889 of those plays (83%).
CJ Coldon, who has declared for the draft, was on the field for 514 of those plays (48%).
5th year senior Jaden Davis was on the field for 402 of those snaps (38%)
Senior DJ Graham was on the field for 187 of those snaps before he quit playing CB and switched to WR (17%).
Redshirt Sophomore Kani Walker was on the field for 65 snaps.
True freshman Gentry Williams was on the field for 60 snaps.
The departed Kendall Dennis was on the field for 47 of those snaps.
Josh Eaton who has transferred out was on the field for 20 snaps.
True freshman Jayden Rowe was on the field for 13 snaps.
Valai's room in 2023 will look like this initially:
Woodi Washington (RSr)
Jaden Davis (5th SR)
Kani Walker (RSo)
Gentry Williams (SO)
Jayden Rowe (SO)
Makari Vickers (FR)
Jasiah Wagoner (FR)
Jacobe Johnson (FR)
Kendel Dolby (JUCO Transfer) *Perhaps
Lets start at the top…Woodi Washington is pretty much a guy you can write in with ink as one of the starting corners. Washington is a guy who, according to PFF, was the Sooners highest rated corner on the year. He was also the top rated corner (again, by PFF) when it came to strictly coverage. Woodi is gonna play a lot and the Sooners did a nice job retaining him as he was a guy who could have left early.
So then you look at the corner opposite him and off the rip, because he has won the starting job each of the last two years to begin the season, you give the nod to Jaden Davis. Davis is a very smart player, he's pretty consistent and despite the narrative on him, he generally is not the guy who blows a call or a coverage…he is steady. The fact he is 'steady' leaves the door open for guys to take some of his snaps as the season progresses and that has happened to him each year in Norman. If Davis doesn't add a little 'splash' to his 'steady' (by making breaks on a ball and securing some interceptions or have more PBU's) he will likely get pushed by the guys behind him.
Gentry Williams is obviously a guy that the entire Sooner fan base is eagerly looking forward to getting additional snaps. In his limited role last year, Williams flashed (perhaps had the best coverage of the season) at times, particularly against Iowa State where he made textbook coverage look easy as he stayed connected with his receiver and was actually outrunning him and he had his head turned and looking for the ball. Having that kind of speed is nice and as he matures, he should only get better now that there is a CB coach there who, you know, coaches CBs.
That brings us to the next group which consists of freshman Jayden Rowe and redshirt sophomore Kani Walker. Walker is a guy who got a lot of praise in spring and summer once he transferred in from Louisville, but injuries slowed him down a bit and he has some maturing to do off the field.
Rowe on the other hand is all about 'potential'. The Sooners staff loves the idea of having a guy with his size and speed at corner and that is where he will stay for the time being. He dealt with some injuries as the year went on, but by all accounts, he is a hard worker and the staff has high hopes for him. I expected him to be a guy that quickly was flushed out to safety or Cheetah, but OU likes his potential impact so much at corner, they are going to do everything they can to coach him up and get him ready. I expect him to see more time this year.
Then you look at the freshman corners coming in. Makari Vickers is a guy who was absolutely coveted at safety by the staff at Alabama. Source from Bama referred to him as the best safety in the country. Jay Valai and OU sold him on the opportunity to play corner in Norman and I expect him to get a long look this spring as he is a really talented kid who has a knack for the ball and has shown an appetite for physicality.
Jasaiah Wagoner is another exciting guy who Coach Prime and Colorado made a late run at but he stood firm with his pledge to Valai and OU. Wagoner showed off down at the all American game and CJ really like what he saw from him that week. I would expect him to be a guy that gets limited run as he builds his physique a bit and a redshirt is likely in his future should the Sooners not experience a rash of injuries.
Then you get down to Jacobe Johnson and Kendel Dolby. I put a caveat of 'perhaps' on Dolby in regard to the corner room as it is our belief that he will likely start off in the safety room. Dolby is a guy who will be looking for the earliest path to the field and the safety spots may be that path. Regardless, he is an exciting prospect who is very physical, has good speed and is a quick twitch guy who I expect to find his way onto the field, likely as a 5th or 6th DB throughout the season.
So then you land on Jacobe Johnson who is just a flat-out phenomenal athlete. Johnson is a guy who could play anything from corner to safety to cheetah to wide receiver. There are a lot of talented guys in the Sooners secondary and while I would say it is likely he is a redshirt guy, I wouldn't completely count him out in regard to playing in at least four games and any potential bowl game OU finds themselves in.
The outlook for the corners room is very bright in my opinion and I think the biggest battle of the spring in the secondary will be for the spot opposite Woodi. I think that battle for the starting spot for snap one of game one will come down to Williams and Davis.
As we saw last year though, just because a guy starts the year, it does not mean he keeps that spot throughout. CJ Coldon was a late arrival for the Sooners after transferring from Wyoming and it took him a minute to get up to speed, but by the end of the year, he had supplanted Davis as the starter and went on to lead the team in interceptions and was the most consistent playmaker in the secondary.
Despite the loss of Coldon, I like the trajectory of this room. A lot.
---
Sourced | Team Notes
– Super K – Posted on: February 7, 2023
Obviously not a ton going on but here are few sourced team notes…
***Coaches went on vacation at the end of last week.
***You'll recall that under Riley's regime, there was a lot of player led 7v7. I'm told that the players are not doing player led 7v7. Instead, they have player led walk-throughs.
***With all the new players (freshman and transfers) the player led walk-throughs will hopefully get everyone up to speed early on the scheme and structure of the defense so that there is more immediate competition in the spring.
***In the walk-throughs, it sounds like each group has a leader who helps with the process.
***In terms of the new guys, it does sound like Dasan McCullough is going to begin his career at Cheetah. We have previously noted that on multiple occasions but I was able to confirm that that's where he is in walk-throughs. OU's front 7 is going to be so big, man.
*** Another guy rotating in at the Cheetah – at least initially – is Texas Tech transfer Reggie Pearson. Told he's also learning free safety. So he will be competing with Key Lawrence there. This makes sense as Reggie is known as less of a cover guy and more of a striker.
***When you look at the overhangs and safeties and the size and varying skills of them, if BV can get all these guys to take that next step, he should have plenty of packages to combat any kind of offense. For example, a guy like Key can give you more coverage without sacrificing size. And a guy like Pearson, as we saw in the Texas Tech game, can blow up the other teams run game.
***Once spring gets here, it'll be interesting to see what happens on the DL. A number of new guys there but in walk through the starters remain Reggie and Ethan on the ends and the Coe and Kelley in the middle.
***Did ask about Leblanc and was told that he is a sharp kid but won't know what kind of player he is till spring.
***Sounds like spring will start with Kanak at MIKE and Stuts at WILL. That is also interesting because if the Sooners land Nick Jackson, then that puts Kanak and not Stuts in competition with Nick.
***I did speak to a source recently who said right now the Sooners see Kanak as a pure ILB. As in, no plans to get a look at overhang just yet. So, he's going to have to win inside.
***Definitely some pieces to work with on the defense. Do they want to continue to upgrade? Sure. But there is plenty of talent to put a good product on the field, this season.
***Offensively the game is going to be about getting the outside WRs to be more competitive and Arnold pushing Dillon and both making each other better.
---
Nick Jackson | Still Waiting (UPDATED)
– Super K – Posted on: February 7, 2023
As you know, we had been told by a source that Nick Jackson was expected to announce his decision last Friday and that Jackson was down to OU and Iowa.
Obviously, he has yet to announce.
We are checking but so far we can't seem to find out what the hold up is. Source on the Iowa side who is in the thick of the recruitment doesn't seem to know. This makes me think OU may be the hold up – as in perhaps Nick was going to announce for Iowa and the Sooners made some counter pitch.
That is just my speculation but it does happen in recruitments, especially these days. So, the way it could have played out is, Nick calls OU on Friday to tell them he's going to Iowa and OU asks him to hold off and makes a counter pitch of some sort.
But, again, all this is speculation for now. We are trying to find out what the hold up is.
UPDATE
James touched base with an additional source on the OU side and said the Sooners feel like they've got a "small chance" with Nick. Not shutting the door but not expressing a ton of confidence either.
---
Sourced | Personnel Note
– Charlie S – Posted on: February 7, 2023
I'm sure many of you were hoping the Bronco Mendenhall and OU pairing would come together.
It would have made a lot of sense given Mendenhalls defensive chops, head coaching experience, and his cultural fit in regard to the vision of a program coupled with Brent's similar vision.
It does not sound like it is going to happen based on the latest sourced information we have heard.