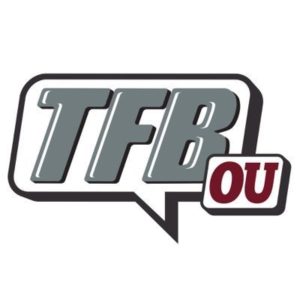 Open Post | Wednesday, February 15
Posted on: February 15, 2023
Preview | Tight End Room in 2023
– Charlie S – Posted on: February 8, 2023
Continuing on the individual room previews for the Sooners 2023 season and it's time to check in with the Tight End room.
You can find the Linebacker Preview HERE.
You can find the Quarterback Preview HERE.
You can find the RunningBack Preview HERE.
You can find the Cornerback Preview HERE.
---
During the '22 season, Joe Jon Finleys Tight End room accounted for 44 receptions.
39 of those receptions were accounted for by the departed Brayden Willis.
4 of those receptions were accounted for by the departed Daniel Parker.
1 of those receptions went to freshman Kaden Helms.
Of the Sooners 1.019 offensive snaps (according to PFF):
Brayden Willis played 809 of the offensive snaps (79%).
Daniel Parker played 250 of the offensive snaps (25%).
True Freshman Jason Llewellyn played 38 offensive snaps.
True Freshman Kaden Helms played 31 offensive snaps.
Joe Jon Finleys '23 room will look a lot different than the '22 room as basically all of his production (Willis and Parker) has left the building.
Right now, the '23 room looks like this:
5th year senior Austin Stogner (Transferred back to OU from SC after having spent his first 3 years in Norman)
Sophomore Jason Llewellyn
Sophomore Kaden Helms
Senior Blake Smith (PWO Transfer from Texas A&M)
True Freshman Kade McIntyre
True Freshman Taylor Heim* Potentially
Thats about it.
Lets start with Austin Stogner. Stogner will be counted on to carry the bulk of the Tight End receiving load early on after his sabbatical down in Columbia, South Carolina.
Stogner initially came to Norman with high expectations as a member of the 2019 class. His most impactful year at OU was the COVID year of 2020 when he recorded 26 catches for 422 yards and 3 touchdowns. An injury in 2021 limited his production and following the year he transferred to South Carolina along with Spencer Rattler. This transfer was not because Lincoln Riley left, rather it was put in motion in part due to the way Lincoln Riley used him throughout his first stay at OU. He was leaving, whether Riley stayed or left. As James reported earlier this week, Stogner missed home (OU) while he was at South Carolina and he jumped at the chance to make his way back to OU.
Stogner is more physically mature and seemingly fully recovered from his injury and I actually believe he is a sneaky 'plus' pick up for OU as I think he fits in very well with what Jeff Lebby is trying to do with his tight ends.
After Stogner, you start talking about potential and development.
Llewellyn was the freshman last year who was on schedule to see extended play…until he got injured. That injury is still nagging and he recently had a procedure done on his foot which will limit him this spring. Personally, I am a big fan of Llewellyn. Most people only view him as a blocking sort of tight end, but he has really good hands and is a solid route runner when given the chance. He was used early on last year in a blocking role and I thought there was a chance his role would expand as the season got older. Alas, the injury bug bit him.
Kaden Helms really wasn't a factor. He caught one pass, and it was at Nebraska which was pretty cool for him and I am sure he was appreciative of JJF for getting him on the field in his home state. He has work to do physically and hopefully, this offseason will treat him well and he can emerge as a factor as he is a very talented kid with good ball skills and route running. He will get every shot at locking up a role this spring with Llewellyn being limited.
OU picked up Blake Smith from the portal. Smith was a member of the 2020 Aggie class and he had little in the way of production during his time in College Station. He arrives in Norman as a PWO and he will have the opportunity to compete for Daniel Parker's role from last year which was mainly as a blocking type and a secondary pass catcher.
I would have liked to see OU pick up another tight end with experience from the transfer portal, and there were several good options out there, but they did not close on any of them. There is still a chance that they could add another tight end when the portal opens up again later in the spring, but right now, and through spring ball, this is a very thin and inexperienced room.
I think you could see a season where Stogner catches 32-37 balls. I like Stogners game when he is healthy. He has shown 'good' hands (everyone has some drops) and he was actually an improved blocker before he was injured in '21. After watching some South Carolina film on him, he looks like he made some strides in that area as well (blocking) while down there. As I said above, I think he is an underrated pickup for OU.
For Llewellyn to miss anytime hurts…but as long as he gets healthy, and is around all the meetings and practices for spring and working on what he can physically, I would think he will be TE2 and initially play more of Parker's role once the season rolls around, but do not sleep on his pass-catching ability. He had really good hands while in high school.
I think Kaden Helms is a guy that could back up Stogner and gain some valuable experience and reps. I do not question his athletic ability, but I do question his frame a bit and hopefully, we see some added gains when they hit the field this spring. He has a very high ceiling, all about developing him.
Smith is a guy who will fight for time and it will all come down to how well he picks up the blocking scheme.
Then that brings us to two true freshmen 'Athletes' who potentially will join the room in June. Kade McIntyre (6'4 210) is likely destined to start his Sooner career at the tight end position. Late addition to the class, Taylor Heim (6'5 200) is a guy that could (I would) be a tight end but Venables is also looking at him as a defender. Both are summer enrollees and I would not expect them to contribute at the start of the season.
Bottom line, pre-spring, this room is probably my biggest concern for OU numbers-wise. Wide receiver is my biggest concern talent-wise, but we will get to that when I write up that preview. The tight end room has talent there, but as thin as it is…that's a concern.
---
Coincidence? I think Not
– Charlie S – Posted on: February 9, 2023
Yesterday evening, UVA transfer linebacker Nick Jackson announced his commitment to Iowa as Super K noted was likely HERE.
In that same post, K said:
'Hopefully that counter pitch is in the form of someone that sounds like an off-road vehicle that might or might not have been very popular in the 1970s and 80s and would have fit in perfectly on a beach in Astoria Oregon in 1985.'
He obviously was referring to Bronco Mendenhall and the sourced information we had been passing along since I first reported that OU and Mendenhall were in communication back on December 1st.
Nick Jackson played four years of football at Virginia, the first three of which were under head coach Bronco Mendenhall. He officially entered the NCAA transfer portal on December 12th.
Following my report from December 1st, K spoke to a different source who brought up Bronco and OU back on January 12th.
Nick Jackson wasn't a name we had heard at all from the OU side as a potential portal target until around that same time, mid January. That's more than a month after being in the portal. Most of the guys who entered the portal following the season began taking visits in December.
I touched base with Jackson on January 22nd when he confirmed he was currently on an official visit to OU.
Four days later, on January 26th I reported that a source told me that OU and Mendenhall had multiple conversations during the previous week. That was the week of Jackson's visit.
'I am here to report that the whispers and speculation have not gone away as earlier this week I spoke to the original source who brought up Mendenhall's name and they let me know that last week, Mendenhall had multiple conversations with Oklahoma.'
Fast forward to K's note on February 7th in which he told you that OU was not feeling confident in landing Jackson and they felt they had a 'small chance' with him.
Later on that same day, February 7th, I posted a note that a source indicated that it looked like things between OU and Mendenhall was not going to come together.
'I'm sure many of you were hoping the Bronco Mendenhall and OU pairing would come together.
It would have made a lot of sense given Mendenhalls defensive chops, head coaching experience, and his cultural fit in regard to the vision of a program coupled with Brent's similar vision.
It does not sound like it is going to happen based on the latest sourced information we have heard.'
On February 8th, Nick Jackson committed to Iowa.
Coincidence? I think not.
The Jackson recruitment never made sense to us, as well as some people in Norman, unless there was another factor…which would have been Mendenhall potentially heading to Norman.
Jackson is a 5th year guy who is transferring. He's not looking to ride the pines and OU has/will have eight linebackers when summer camp opens (Stutsman, Whitter, Kanak, McKinzie, Lewis, Picciotti, Carter, Omosigho). That would be nine guys for two spots. That's a four-and-a-half deep. It made no sense.
---
Sourced DL Notes
– Charlie S – Posted on: February 9, 2023
Picked up a few sourced notes this morning in regard to the DL guys and thought y'all might enjoy these…
Source said "Rondell Bothroyd is a dude. Hard worker, leads by example in the room. He's a man at this point and it shows. Very strong, very intentional"
They added "Ashton Sanders is a young guy who is always up for it and he's in the early group (believe that is the 6 am group). Very focused and very mature for a mid-year. Very strong also"
Source said "(Jacob) Lacey is all business. Dude is a machine in workouts. Carries himself like a leader. Very goal oriented and likes to move the weight"
Earlier in the week I reached out and asked for some feedback on the two transfers, Lacey and Bothroyd. The Sanders note was unsolicited, which makes that all the more impressive to me.
---
Spring Ball Start Date | Quick Hitter
– Charlie S – Posted on: February 10, 2023
James just reached out and let me know that Brent Venables tells him that OU spring ball will start on March 22nd this year.
That will give OU strength and conditioning coach Jerry Schmidt a full eight weeks with the guys. Bet they're happy!
James will have more from BV in the coming week.
---
Preview | EDGE Room in 2023
– Charlie S – Posted on: February 13, 2023
Continuing on the individual room previews for the Sooners 2023 season and it's time to check in with the EDGE room.
You can find the Linebacker Preview HERE.
You can find the Quarterback Preview HERE.
You can find the RunningBack Preview HERE.
You can find the Cornerback Preview HERE.
You can find the Tight End Preview HERE.
---
Last season the Sooners defense faced 1,070 snaps.
Miguel Chavis' EDGE room for the Sooners last season felt like it shined early and faded late.
Sophomore Ethan Downs played 584 snaps (55%) and was named second team All-Big 12 at the end of the year.
Junior Reggie Grimes played 516 defensive snaps (48%).
Redshirt Senior Jonah Laulu played 464 snaps (43%).
Senior Marcus Stripling played 246 defensive snaps (23%).
Freshman R Mason Thomas played 231 snaps (22%).
Departed redshirt freshman Clayton Smith played 66 snaps.
Freshman Gracen Halton took some snaps at EDGE as well as he was a swing guy for the Sooners over the course of the year.
Chavis and the OU staff went out and added a plethora of new guys to the room via High School recruiting and the transfer portal.
Prior to the spring transfer portal window, here is what the EDGE room looks like:
– Ethan Downs – Junior
– Reggie Grimes – Senior
– RS Super Senior Jonah Laulu
– 5th year senior Marcus Stripling
– Sophomore R Mason Thomas
– Super Senior Rondell Bothroyd (Wake Forest Transfer) *(Likely to be a swing guy)
– RS Junior Trace Ford (Oklahoma State Transfer)
– Sophomore Dasan McCullough (Indiana Transfer) *(Likely to play CHEETAH initially)
– Freshman PJ Adebawore
– Freshman Taylor Wein
– Freshman Taylor Heim *(Potentially down the line)
So while I moved Halton out of the room as I believe he will see more time at the 3, six new faces could be joining the room, which brings a badly needed infusion of talent and bodies.
Last season, the EDGE group payed very well in the out-of-conference games. Reggie Grimes had a very good statistical start to the year as he racked up the majority of his 5 sacks in those games.
Ethan Downs was the starter along with Grimes and he always played with great effort and was rewarded with the 2nd team all big 12 selection at the end of the year.
R Mason Thomas was one guy who consistently flashed when it came to pass rushing from the EDGE, but he was dinged up midway through the season and that seemed to slow his roll a bit.
Jonah Laulu was a guy who came on stronger toward the end of the year and he supplanted Grimes in the rotation and he actually flashed a bit in pass rush situations, but more importantly, he seemed like the only EDGE who would occasionally set and hold the edge in run defense.
Marcus Stripling, who came into the year with high expectations was dealing with an ankle most of the year and he was not the factor he hoped to be.
Bottom line in 2022…the EDGE group was likely the least effective group on the defensive side of the ball as they struggled to get any consistency in either the pass rush or run defense.
That needs to turnaround, quickly, for the Sooners to have sustained defensive success in the '23 season.
That brings us to the new guys. I expect Rondell Bothroyd to have an immediate impact at EDGE should he get the opportunity. I say 'should he get the opportunity' because we already have been told he will be a 'swing' guy who bounces between DT and DE. Bothroyd is a very solid pass rusher and he has shown the ability to play the EDGE during his time at Wake Forest. I expect him to earn a starting spot sooner rather than later, and I expect it to be at DE.
Then you have Trace Ford who burst onto the scene as a freshman in Stillwater but had his career derailed by multiple knee injuries. If he is healthy, he adds a track record of disruption to the EDGE room in Norman and he very well could find himself in the rotation.
Dasan McCullough comes to Norman after having a very successful freshman year at Indiana. However, I expect him to get a long look at CHEETAH initially in Norman, which is kind of an EDGE as it does bring some pass rushing opportunities along with the role, but I do not expect him to line up as a traditional EDGE (except in certain passing downs) much at all.
Then you get to true freshman PJ Adebawore. Adebawore comes to Norman as a highly decorated freshman and the fact that he is an early enrollee will give him an opportunity to work his way into the rotation. I expect him to be very raw, but with his size and skillset, I also expect him to get the opportunity to show what he's got and force his way onto the field a bit early in the season and then you see where things go from there. There is no doubt, Adebawore is the planned future' of the room…it all depends on how quickly he picks things up in regard to when the future arrives.
Grimes and Downs will be faced with competition for their roles. Laulu is only going to get better as he gets more comfortable in Norman and in the system and R Mason Thomas should be healthy and have another offseason in the strength and conditioning program.
I don't see Heim and Wein as being contributors this season, they may get some burn but I do expect them to redshirt. I actually hope Heim starts his career on the offensive side of the ball, but I do believe Wein is a guy that has a very high ceiling and he appears to be a kid that will keep his head down and work hard for his future. Wein has a very high ceiling and I expect him to have a nice career in Norman, just not in '23.
The bottom line for this group in '23…you hope the added competition elevates everyone's game. You know Downs is a hard worker and despite some physical shortcomings to naturally play the position, he is going to work his tail off to be the best he can be. Grimes is a guy who has the measurables you want, hopefully, the competition brings out the dog in him and he makes a jump. I expect a healthy Trace Ford sees a lot of time in pass rushing situations and I believe Rondell Bothyroyd is one of the most valuable pick ups from the portal for the Sooners this offseason as he gives you a lot of flexibility and a proven body of work. Anything positive that you get from Marcus Stripling is a bonus as he is an extremely athletic guy, he just hasn't put it all together to this point. R Mason Thomas has the quickest first step on campus, with a little more weight and some additional strength, he could have a breakout year.
PJ Adebawore is the guy you all want to blow up right out of the gate. I don't expect him to be a day one starter, but I do expect him to get his feet wet early on. That will go a long way in determining his role for '23 in regard to seeing time on the field or being a potential redshirt.
I expect the increased competition in the room to have a positive effect on the position. OU must improve their edge play and in '23 they will have more capable bodies to run in there if something is not working out. In my opinion, it will be all about finding the right combination and a balance between pass rush and setting and holding the edge. There are a lot of exciting possibilities in that room and it will be intriguing to watch the competition for playing time play out throughout the spring/summer/fall and early season games.
---
2024 LB Recruiting Update
– Super K – Posted on: February 14, 2023
***Just chatted with CJ who tells me word is the Sooners are in lead position for 2024 LB Davhon Keys (Aledo, TX). CJ believes that if the Sooners want to push right now, they could get him in the boat. However…
***Word is that the Sooners are still trying to see where they stand with Tyanthony Smith (Jasper, TX) and Justin Williams (Conroe, TX).
***It's a bit of a gamble but sounds like OU wants to be patient for the moment.
---
Preview | Offensive Line Room 2023
– Charlie S – Posted on: February 14, 2023
Continuing on the individual room previews for the Sooners 2023 season and it's time to check in with the offensive line room.
You can find the Linebacker Preview HERE.
You can find the Quarterback Preview HERE.
You can find the RunningBack Preview HERE.
You can find the Cornerback Preview HERE.
You can find the Tight End Preview HERE.
You can find the EDGE Preview HERE.
---
Bill Bedenbaughs 2022 offensive line was clearly the best unit on the entire team. This group had a consistent growth and development arch and despite the loss of different starters throughout the year, they never seemed to miss a beat.
During the '22 season, OU ran 1,019 offensive snaps.
5th year senior guard Chris Murray led the team with 879 snaps (86%).
Junior tackle Anton Harrison took 862 snaps (85%).
Redshirt Junior guard McKade Mettauer played 807 snaps (79%).
Junior center Andrew Raym took 700 snaps (69%).
Senior tackle Wanya Morris had 580 snaps (57%).
Redshirt 5th year guard/center Robert Congel played 439 snaps (43%).
Redshirt Sophomore tackle Tyler Guyton was in for 401 snaps (39%).
Redshirt Sophomore guard Savion Byrd got in for 149 snaps.
Redshirt Sophomore tackle Aaryn Parks played 107 snaps.
True Freshman tackle Jacob Sexton got in for 71 snaps.
True Freshman guard Jake Taylor was in on 41 snaps.
Redshirt Sophomore center Nate Anderson played 36 snaps.
Redshirt Junior tackle Marcus Hicks took 15 snaps.
Redshirt Senior guard Kyle Ergenbright was in for 6 snaps.
Redshirt Senior guard Brey Walker saw 3 snaps.
Only two of the top six guys, in terms of snaps taken, return for the '23 season.
Harrison, Wanya, Murray and Congel have either all exhausted their eligibility or declared early for the draft.
Tyler Guyton and Andrew Raym are the only guys who saw serious playing time who are returning.
However…all is not lost on the offensive line for the '23 season.
While Bedenbaughs room will look much different as he send a bunch of guys off to the league, a couple to the portal, or into the real world, he brought in six new scholarship faces via high school recruiting and the transfer portal.
The losses from the '22 room are Harrison, Morris, Murray, Congel and Ergenbright to the draft or exhausting eligibility.
Brey Walker and Marcus Alexander (who saw no snaps) left via the portal.
Bedenbaugh brought in two portal players in 5th year tackle Walter Rouse from Stanford and 5th year senior guard Caleb Shaffer from Miami (Ohio). Both of those guys figure to have prominent roles for the Sooners in '23.
Through high school recruiting the Sooners added two early enrollees in Cayden Green who has a very high ceiling and he can play either tackle or guard and center Josh Bates who is a solid prospect at center.
The other two guys out of high school that will be in Norman in June are tackle Logan Howland and tackle Heath Ozaeta. Both guys are underrated, IMO, and I think Howland is a guy who has a very good chance of being a fixture at tackle for 2 or 3 years while in Norman. Howland is a converted tight end who brings a lot of athleticism and size to the tackle position.
During the '22 season Bedenbaugh was able to get Sexton and Taylor some experience and Savion Byrd and Aaryn Parks played the entire bowl game.
The issue for OU will not be numbers this year, they have plenty of guys, but spring ball is a bit of a concern with all the injured guys that they have recovering which will limit their time in practices.
Rouse, who will be the starter at left tackle, will not be a full go in the spring due to an injury. Raym is still nursing a surgery that kept him out of the bowl game. Sexton has a knee that will keep him out of spring ball. So that is three guys who will be n the rotation who will miss the majority of reps during spring ball. There will also be the normal bumps and bruises along the way, but that will offer the young guys and opportunity to gain some experience and Rouse and Raym should be ready to go full by the start of summer camp.
Bedenbaugh will have his work cut out for him getting this group up to speed, but the '22 line was the best line he has put out in the last three years and the group he has now, while not as experienced, may be more athletic.
The '23 room will consist of the following scholarship players:
Walter Rouse
Caleb Shaffer
McKae Mettauer
Aaryn Parks
Savion Byrd
Tyler Guyton
Nate Anderson
Andrew Raym
Cullen Montgomery
Jacob Sexton
Jake Taylor
Marcus Hicks
Cayden Green
Josh Bates
Logan Howland
Heath Ozaeta
Right now, my projected starting lineup would be something like – Rouse (LT), Byrd (LG), Raym (C), Mettauer (RG), Guyton (RT).
Both of the Jakes will push for playing time, but I could easily see Sexton taking a redshirt should he have any setback in his recovery.
Right now, I would look for Cayden Green and Aaryn Parks to battle for the first tackle off the bench role and if Taylor doesn't beat out Byrd or Mettauer, I expect him to be the first guard off the bench.
I would expect Jake Taylor takes over Robert Congels role as the swing guard. The loss of Congel is sneaky bi, IMO as he was adequate at filling multiple roles, but I think Taylor is/will be a better option if that is his role.
Nate Anderson will likely be your backup center and he should get a lot of run this spring as Raym will likely be limited.
Losing Harrison, Morris, and Murray is losing a lot of production…but I think there is a chance OU actually upgrades at two of those spots in '23 with Harrison being the major loss. Rouse was a huge addition as he lessens the blow of losing Harrison and I think you will all be surprised by the play of Shaffer who brings good size and a lot of experience to the guard position. I like Guyton over Wanya and I think Shaffer is probably a push with Morris.
In the spring, guys like Hicks, Montgomery and Anderson will get their chances to make an impression as they fight for a spot in the two deep. I'm not sure I see Hicks or Montgomery cracking the rotation in the fall, but I do expect Anderson to see plenty of time in relief of Raym.
If OU can get this group to gel early, they should not miss a beat and the running backs and quarterbacks will be very happy with the guys in front of them!
---
Brent's Defense | Hands on or Hands off
– Super K – Posted on: February 14, 2023
At least for now, it would appear Brent has decided to stay the course on the defensive side of the ball. In a certain respect, it's no surprise given his expertise in the area. However, he could've brought someone else in to help lead things and run his system.
I've been pondering his decision to stand pat and I'm of two minds here.
I spoke with a source recently about how the defensive game plans were working during the season. I've already mentioned that our sources indicated Brent took a lot more control in the back half of the season.
What I was recently told to add to that is that Brent would allow Roof and others to come up with a game plan and then during the week, if he thought it was necessary, Brent would make changes during practice.
I'm unsure how I feel about that and wonder if the early to mid-week changes could have contributed to some of the assignment issues.
Source I spoke with tells me that they are confident the defense will be much improved this season. However, you know there was a lot of confidence around the program going into last season so we shall see.
On the one hand, if Brent is going to take a more hands-off approach then it's hard to see why you would leave Roof in charge. I'm not saying the defensive woes were all on Roof. A lot of it was just the mental development that was needed on the part of the players. Still, Roof's track record on his own leaves some to be desired.
And sources did indicate that Brent seemed a little frustrated last season with how much he was forced to be involved.
This leads me to believe that Brent may have decided that the days of CEO coaching are not yet upon him and he's decided to pull a Lincoln Riley and personally take over the defense.
I really can't see any other way. It's hard to imagine that it's lost on Brent just how critical this upcoming season is for his career at OU.
Even if nothing changes I do believe the defense will be better for at least the following reasons:
***Football IQ especially at the LB position. Just getting the fits and angles right will do wonders for this defense.
***Better culture of tackling. This staff actually teaches tackling. It's not just a matter of motivation, they work on the technique.
***Improvement in the secondary. OU's secondary culture has been just so utterly abysmal the past few years, it feels like some of the steps they took forward last season will compound and be much bigger steps this season.
***Zone spacing. Massive change between Grinch and Brent. Brent protects his guys and puts them in a position to make plays in zone but that takes some getting used to when you're coming from such a pure man scheme.
Still, I have to think that Brent is going to be heavily involved – basically the DC now. I just don't think he can risk leaving it to anyone else and it would be my guess that this is the reason he's decided to move forward without any significant change.