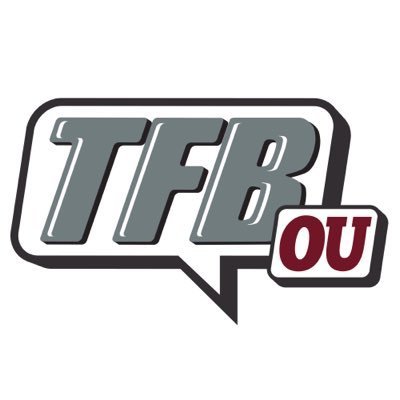 Open Post | Wednesday, August 8th
Posted on: August 8, 2018
Sooners Still After Bru McCoy | Bullet Point Update 
– Super K
I recently spoke with Horace McCoy, the father of jumbo OLB/WR, Bru McCoy (Mater Dei) about where things stand with OU and a decision timeline.
Before we get to those updates, below is a section from a detailed piece I wrote about Bru over on our Texas side a few months back. It'll give you a little background information on Bru and why he is so highly coveted on both sides of the ball.
"Bru is a nickname. It's short for 'Bruiser'. We gave him that name when he was young because everything he does, he does at a hundred miles per hour. When he was little he smashed into a wall and the daycare lady said, he's such a little bruiser. So, we chopped it to 'Bru'"
Horace corroborated what I observed on film, "Bru plays wide receiver like a defender, like a linebacker". His violence even shows up in 7v7. It's always frustrating to watch the big wide receivers struggle to get off a jam. One of the reasons it happens is because of surface area. It's easier for a DB to get his hands on a big wide receiver and if a wide receiver doesn't know how to use his hands or doesn't have the mentality to be physical at the line of scrimmage, they become ineffective.
Bruiser doesn't have that problem, "Every game in seven on seven he (Bru) gets the best cornerback and he's destroying guys that try to press him…getting off the line is a mentality. You have to have that dog mentality and I see that in him. He has that, 'I'm going to win my battle' mentality. Off the field he's the nicest guy; well respected, well spoken and polite".
Horace isn't a casual observer of the game. He's a former college football player himself. In fact Bru gets the athleticism from both sides of the family. Horace played football at Northern Illinois and his wife, Bru's mother, played Volleyball at Northern Illinois.
Those genetics show up in Bru's measurables. At the recent regional Nike Opening Bru measured in at 6'3 and over 200 lbs. At the size he ran verified 4.62 40, 4.22 shuttle and jumped nearly 40 inches!
But get this. He did all that, at that size, with a sports hernia that he recently had surgery for. Horace tells me Bru was actually in pain from the hernia but wanted to compete so badly that he pushed through it.
Now to the recent updates…
***Ideally Bru prefers to play wide receiver in college and perhaps play defense in 3rd down situations. According to Horace, Oklahoma continues to heavily recruit Bru and while it was originally for defense, they recognize his immense talent and are looking at him on the offensive side of the ball, as well.
"We talked to Lincoln himself and he said he absolutely wants to Bru at wide receiver", Horace noted. "He said, if you want a spot at Oklahoma you've got a spot at Oklahoma".
***The McCoy's had hoped to take an unofficial visit to Norman for the July BBQ but that didn't work out due to a football conflict. However, they have said (as we previously reported) that they will take an official visit to Oklahoma and Horace reconfirmed that. He added that no date has been set just yet but said, "we need to get that done though. We've booked two dates already".
***The two official dates currently set are Texas on September 15th and Washington on September 22nd.
***In terms of a timeline for a decision, Horace said, "He's scheduled to announce in January at that All-American game but we'll see if that last or not. The process can wear on you. I wouldn't be surprised if Bru does it earlier".
To read Super K's Insider Take on Bru McCoy, please click the Donor board link!
---
Sooners JUCO OT Offer Commits To Penn State
– Charlie S
– Yesterday Lackawanna C.C. (PA) offensive tackle and Sooners offer, Anthony Whigan tweeted out his commitment to Penn State.
Whigan, who is originally from Great Mills (MD) had previously let us know that he would be taking an official visit to Norman this fall.
Super K has been in contact with Whigan since he announced his commitment, and he was told that Anthony still would like to take a visit to Norman and we will keep you updated should plans for a visit come to fruition.
Whigan had emerged as a priority target for OU offensive line coach Bill Bedenbaugh of late so it will be interesting to see where the Sooners will turn in regards to who they will target for the offensive line class going forward.
Current targets include Jonah Tauanu'u (Harbor City, CA), Danielson Ike (Kansas City, MO) and Ira Henry (St Louis, MO) and Evan Neal (IMG, FL).
We will dig around and see if there are any additional names that the Sooners will begin to pursue to join EJ Ndoma-Ogar, Marcus Alexander, and Stacey Wilkins in the NewWave19 offensive line class.
---
The Sooners and Garrett Wilson a Thing Again?
– Super K
You don't need us to tell you how good 2019 Ohio State wide receiver commit, Garrett Wilson is. But just to refresh your memory, here's a couple signature Garrett Wilson moments…
WR Garrett Wilson (@GarrettWilson_V) with the leap, grab, and TD. Wow. pic.twitter.com/SwnQ9Tpywf

— Will Baizer (@WillBaizer) July 2, 2018
4-star WR Garrett Wilson (@GarrettWilson_V) can go both ways with this impressive diving INT in the red zone. pic.twitter.com/O0wxe0zWQk

— Will Baizer (@WillBaizer) September 9, 2017
Before Wilson committed to Ohio State in April, he was down to Ohio State and Texas. However, just prior to that the Sooners had rounded out his top three. In fact, he had visited Oklahoma for one of the junior days and came away very impressed.
With the controversy surrounding Urban Meyer and the Buckeyes, I reached out to Garrett to see where things stand with him and other programs. In fact, I had reached out to him to specifically see where things are with Texas, assuming that would be the primary and perhaps sole school of interest after Ohio State.
I was wrong.
First, Garrett tells me that if coach Ryan Day, who is now acting interim coach, remains at Ohio State, then Wilson will remain a Buckeye.
But when I asked about other schools possibly in the mix he mentioned Oklahoma saying, "They would be at the top. They still hit me up a lot. Love that staff."
He continued, "Since the first day I committed (to Ohio State) they've always told me if I need a spot at any point somewhere, they got me. That meant a lot to me".
As we mentioned, the Sooners are also still pursuing Bru McCoy as a wide receiver prospect. While Oklahoma loves the guys they've got committed, Wilson and McCoy are the kind of talent you simply cannot pass up.
They're about as close to can't miss guys as you can get.
---
Team Quick-Hitters | Strong Safety Battle | Fast Five
– Super K
Below you will find our "Fast Five" xourced team notes. We have additional team notes on the Donor Board.
***The Sooners seem to have a good problem right now. I've been focusing on the FS battle between Broiles and Barnes, which is a great one. But, it sounds like the SS battle is slug fest as well. It's a battle between Bookie, Haughton and Jordan Parker.
***First day in pads yesterday. Was told there weren't a ton of big plays but Haughton had another INT. Haughton refuses to go away.
***When I ask who is going to win the spots on the back end I get a lot of, "the competition at DB is close all around. Everybody is playing well and everybody knows they have to play well. It's a long camp gotta see how guys finish camp"
***Jordan Parker is fighting for that SS spot. Source said, "He has great instincts. That's something you can't teach"
***Just a quick note about Kyler. Really focused my questions on the SS battles but I did ask a source if, based on the early camp results, we should expect a big drop off between Kyler and Baker. Was told, "He's really good but they're (Baker and Kyler) not the same. Different game compared to Baker. He'll (Kyler) will be a big-time player but he isn't the leader Baker is. I don't think anyone is". Nothing too earth-shattering there.