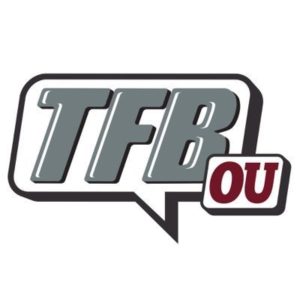 Open Post | Wednesday, August 3rd
Posted on: August 3, 2022
Sunday Afternoon | Let the Smoke Clear
– Charlie S – Posted on: July 31, 2022
By all accounts, the Sooners pulled off an epic event on Friday evening and the buzz around Sooner Nation is palpable.
You had two quick locks, which we likely made pretty clear if you have been following along.
Then you had a trending post which is pretty self explanatory. (Was Colton Vasek)
Later, a pair of Sooner staffers tweeted out news of 5 locks from the past 48 hours.
There certainly is a whole lot to be excited about…BUT…I'm here to remind you all to exercise some patience and caution and recommend you not get out over the ski tips as I like to say, as some people appear to be experiencing elsewhere.
Not telling you all to not be excited, just proceed with the knowledge that you all have that recruiting can be tumultuous and a true roller coaster like experience.
As you all know, in the recruiting world, things change by the minute and once kids get off campus and return home…the high of the visit begins to wear off and other coaches can and will be in their ears as well as the ears of people around them.
The Marcus Stripling 'eyes' from Lincoln Riley should serve as a good reminder about how long some of these things take to play out (his eyes were out for a year). You also had 'eyes' go completely unaccounted for in the past (Marcel Brooks for one and Jantzen Dunn as another).
I am not saying anything has changed (please read that again).
We will have plenty more notes on some additional targets this week including some who were at the event and some who were not present. Remember, not all locks have to come from the same event/situation.
---
Position Battles | Fall Camp
– Charlie S – Posted on: August 1, 2022
The first fall camp of the Brent Venables era begins on Thursday.
Oklahoma will resume its installation of new schemes on both sides of the ball which began in spring.
Gone are the 'Speed D' defensive scheme and Lincoln Riley's QB-centric offensive scheme.
Venables and the staff preach that the slate is wiped clean in regard to the depth chart at each position on both sides of the ball so I wanted to point out some of the position battles I will be playing attention to most closely throughout fall camp!
---
1. Cheetah (NB/SAM)
Brent Venables and Ted Roof will use a variety of personnel packages on defense as most defenses do these days. One constant will be the 'Cheetah' role that Isaiah Simmons made famous at Clemson and he was rewarded with the Butkus Award as the nation's top linebacker and by being picked with the 8th overall pick in the 2020 draft by the Arizona Cardinals.
There is no shortage of options to man this role in Norman. You have seasoned guys like Trey Morrison and Justin Broiles who are more along the lines of defensive backs as well as guys like freshmen Jaren Kanak and Kip Lewis who are more in the mold of linebackers. You have a wild card like Justin Harrington who walked on late in the spring rejoining his teammates that he walked away from last October.
My question basically is: Is Jaren Kanak too young for Roof and Venables to feel comfortable with early in the season (because I think he is your future Cheetah) and will the Cheetah be more of a mix and match deal with any number of guys manning the position early on? Could one of the safety prospects like Jordan Mukes or Bryson Washington see some run there? Lots of interesting possibilities.
2. Offensive Tackle
What really seemed to be pretty cut and dried entering the spring was that Anton Harrison and Wanya Morris will be the starting offensive tackles for the Sooners.
While I am not ready to say that has changed or is likely to change, the sourced information we have gathered throughout the spring and into the summer has really gotten me interested in seeing exactly how much Savion Byrd and Tyler Guyton will push the perceived starters in front of them.
Sources have raved about Guyton's athleticism and Byrds performance in spring and summer. Guyton transferred in from TCU and at the time, a source told us that he 'had it all' but needed to get serious about football. By all accounts, he has gotten plenty serious and really started making some noise in the offensive line competition. Byrd was academically ineligible for the bowl game and rumors swirled about his time in Norman potentially coming to a close. That did not happen and he seemingly dedicated himself to his academics and his football and really stood out in the spring. One source went as far as telling me 'He is OU's best offensive lineman. Period'. Will be interested to see if either of these guys cracks the starting lineup early in the season.
Wanya has very publicly made major strides in regard to plotting himself a more serious direction both on and off the field and Harrison has a ton of talent plus major starting experience so each of them will be difficult to beat, but it is a position worth watching!
3. Cornerback
The major difference this year as opposed to the past three years? Simple. The Sooners have an actual corners coach who has a very talented room stocked with guys who all have the talent to be very good corners at the collegiate level. Sources say they have been like sponges under Jay Valai and have already shown signs of making progress that was never realized under the former linebacker coach turned corners coach who used to try to motivate his room with cute videos and energy instead of actually providing them with the tools in their toolbox that they needed to get better. You simply cannot teach what you don't know and Jay Valai has mountains more knowledge to provide these dudes with.
Think about this…in the spring game, you saw Kendal Dennis record a pretty nifty interception. Kendal Dennis was relegated to the practice squad, AT SAFETY, for two years under the previous regime. Anyway, I won't rehash the mess that was the former staff for this piece.
What I see is a room that has a ton of talent. Guys like Woodi Washington, Jaden Davis, Josh Eaton (who is getting big props from even Venables) DJ Graham, and Kendal Dennis who have experience in Norman. OU brought in transfers like Kani Walker and CJ Coldon as well. Walker was a star in spring camp and drew rave reviews from sources and coaches. Coldon is a guy who was a standout at Wyoming and has a fair amount of skins on the wall. Then you have some really special freshmen in guys like Gentry Williams and Jamarrien Burt who have very high ceilings. Throw in guys like Damond Harmon and Robert Spears Jenning who could be guys that work at multiple spots in the secondary and the options are almost unlimited.
I think it is safe to say that Woodi Washington will lock up one of the spots. The other side in a base defense is up for grabs. We have heard good things about so many of the corners that it is difficult to project who may even have the inside track to the starting spot for game one…plus, CJ Coldon was not here in the spring so he adds some extra intrigue. Very excited to see how this plays out and very happy for this room as they have to feel like they have been given a new lease on life with the addition of Jay Valai to the staff.
What position battles will you be paying most attention to?
---
5-Star DJ Hicks | In Person | The Latest & Trending
– Super K – Posted on: August 2, 2022
Yesterday, I stopped by Paetow High School to see Sooners top DL target, DJ Hicks.
As you know, Hicks was in Norman for a return visit to OU and while he was supposed to also drop by TAMU, that visit was canceled.
After chatting with Hicks and folks around the Paetow program, here is what you should know:
***Perhaps the most important note is that DJ did say he is reconsidering his timeline. His plan has been to announce his decision in January at the UA game.
***That may still happen but DJ says that he is weighing the possibility of shutting things down earlier. I asked him when that might be, he said if he does decide early it will likely be a September decision.
***That tells you what you need to know about how well this past visit went. It obviously did enough to feel like he may have seen enough.
***But I want to keep this in perspective…
***The good news is that while Hicks does have a top 7, it does indeed appear to be a OU vs. TAMU fight.
***And, if he had to pick today, I do think OU would have a very good shot at landing him. An interesting draw to Oklahoma for Hicks beyond the player development and the relationships is Norman, OK. Apparently, he really likes Norman. Sounds like he's looking for a small college town vibe.
***But as things go in this NIL world, the Sooners are facing very aggressive "NIL" offers from the TAMU side. It's just a reality right now. If it weren't for that, I'd give the Sooners a clearer path to victory and I still think they can win this one.
***But this "NIL" stuff is what makes things a bit less predictable because it's hard to know what role that will ultimately play.
***My trending pick, for now, is the Sooners but again, I don't see a decision happening till at least September. So, it's good to be optimistic but most of you know that with a player of this caliber there are going to be twists and turns. The good thing is the Sooners seem to have the right captain at the helm to navigate the waters ahead.
---
Sourced | Team Note | Confidence Returning
– Super K – Posted on: August 2, 2022
***Let me put this note into some context.
***Under the previous regime, there were quite a few guys on the team who had their confidence shaken.
***That is the natural result of being underprepared and underdeveloped both physically and technically.
***The other issue was that on the defensive side of the ball when things weren't going the right way, it sometimes seemed like the sole tool was motivation. But sometimes motivation isn't the issue. Sometimes a player simply hasn't been given what he needs to do what you're asking.
***If a patient complains about pain in his arm but all you know how to do is tend to a leg, then you aren't going to fix the arm and you may end up harming the leg.
***Spoke to a source close to the OU program recently who told me that a lot of what this new staff has done for some of these players (and to various degrees perhaps all of them) is infuse them with a renewed sense of confidence that they have great talent and can be great players.
***Was told it's very refreshing to see as there were some players, I'm told, who had simply lost confidence and it was impacting their play.
***Again, this is impacting some more than others. The DB room is certainly an area that needed an infusion of confidence. But the standard across the board in the program has elevated players across the board.
***And what I really find refreshing is how Brent and co don't simply talk about what they want, they have practical plans and steps to achieve an outcome. They don't simply say, we need a player led team. They implement practices and techniques to create leaders. They don't just yell about getting turnovers, they give the kids tools and put them in the position to help them do so.
---
Sourced Update | '23 CB Damari Brown
– Charlie S – Posted on: August 2, 2022
Spoke to a source around '23 cornerback Damari Brown (6'1 180) out of Fort Lauderdale, FL (American Heritage) to get up to speed on where things currently stand with one of the Sooners early offers from the new staff upon their arrival in Norman.
Brown was offered by OU back in January and he was very familiar with the staff already.
Source mentioned that Todd Bates and Brent Venables were recruiting him at Clemson.
Source also pointed out that Jay Valai was recruiting him at Alabama.
So the OU offer in January made sense and you would figure OU would be a player in this recruitment.
The Sooners currently have one corner (Wagoner) committed in the '23 class and Brown has not made his way to Norman to this point.
You all are aware that OU is in very good position with Jacobe Johnson and Makari Vickers.
So where does that leave things with Brown? Source said to expect OU to get an official visit in the fall and went on to drop this little bit of info…they mentioned that the Vickers and Brown family are very close. Source mentioned that right now he is a 'Clemson kid, with Bama still in the picture' and said if that potential visit comes off, 'OU would jump right to the top'.
Could OU take all three corners in addition to Wagoner? I believe they can when you look at what OU could be losing after this year for one reason or another. (Woodi and Morrison and potentially Graham and Davis).
Will be interesting to follow.