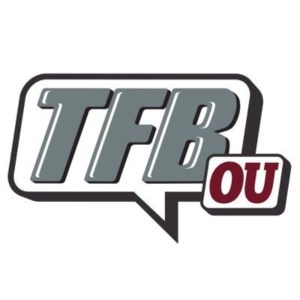 Open Post | Tuesday, September 10th
Posted on: September 10, 2019
Post Visit Update | 2020 DL Alfred Collins
– Charlie S
The Sooners had a relatively small official visitors list if you go by the numbers this weekend, as they officially hosted only three recruits, and one of them was longtime wide receiver commit, Brian Darby.
While the list itself was small, the quality of recruits on campus was massive as one of the other visitors was top defensive line target, Alfred Collins.
The 6'5″ 275 lb Collins and his family made their way up to Norman for the weekend and they took in the Sooners game against South Dakota.
As you may recall, Collins is a Texas legacy as that is his mother's alma mater, so getting him on campus during what figured to be Texas' largest recruiting weekend of the season was in itself a small victory for OU.
So as far as the visit went I wanted to get his take on the game itself, and if anything stood out to him. Collins said "The atmosphere was electric and hyped!". He went on to describe what stood out to him about the game itself and he said "The speed and constant movement of the defensive line."
Coach Thibbs is his position coach, but both Grinch and Riley are very involved in his recruitment. I asked him about the personalities of the defensive coordinator and head coach and he said: "They are both pretty laid back, but when it's go time, it's all gas, no breaks".
Before our conversation ended, we talked about him being one of the top priorities on the board for OU in the 2020 class on the defensive line, and I wanted to get a sense if the Sooners made that clear. He simply said, "Yes sir, that was known."
In regards to his recruitment, Collins still has a ways to go as he is not looking to commit in the near future. He still has some visits to take over the next month or so, including officials to Alabama and Texas A&M. He also has not taken his official visit to Texas yet and that will likely take place prior to the end of October.
At this point, the Sooners put their best foot forward. Collins obviously enjoyed the visit and liked what he saw on the field from the defense. It was a good weekend for OU.
Will it pay off down the road? We will see, but right now, the Sooners will continue to recruit him and his family and hopefully they did enough this weekend to be real factors as he continues with his recruiting process.
---
Update | 2020 DB Jahquez Robinson Post Visit
– Charlie S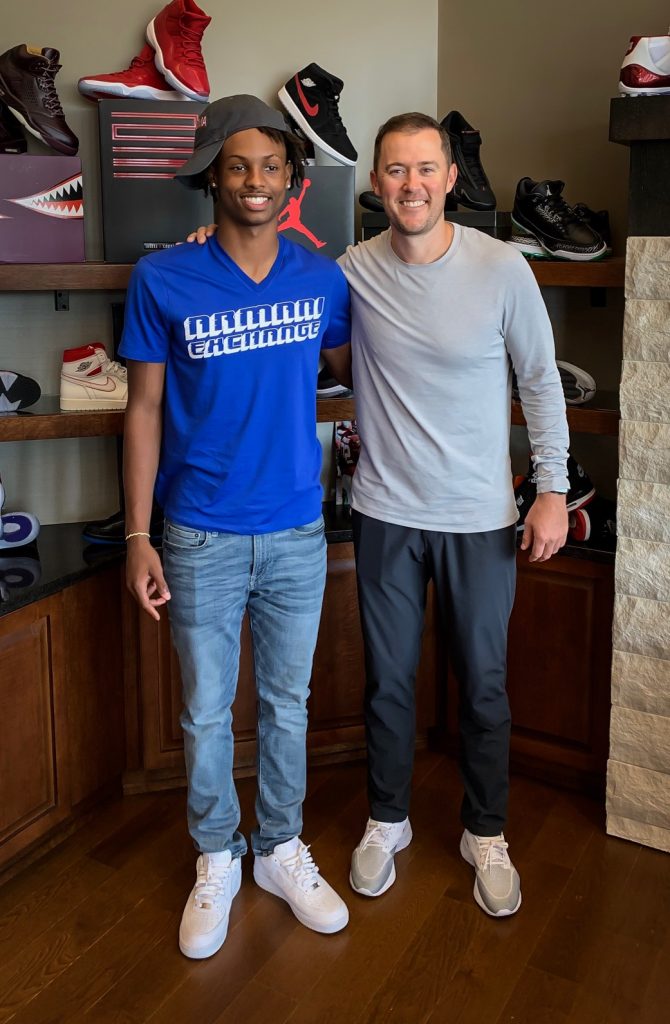 Yesterday, I spoke with Sooners 2020 offer and weekend visitor Jahquez Robinson. The 6'1.5′ 190 lb Robinson, who is committed to Alabama, has long been a major target for the Sooners and corners coach Roy Manning.
Jahquez is a really personable young man and it was a pleasure speaking to him and you could hear the excitement in his voice as he initially spoke about the visit. "Being from Florida, I really didn't know what to expect. It was a totally different vibe! the atmosphere was crazy leading up to the game even though they were playing a team that wasn't really big time."
Robinson elaborated more about the atmosphere as he said. "A lot of people stayed, even when the game wasn't in doubt. I saw the support of the fans and how much they love their football. The fans treat the team like family, it was pretty wild. A lot of fans were there into the second half and even when they started to leave because of the score, it was still a great environment."
Jahquez was hosted by Sooners linebacker Caleb Kelly. Kelly actually hosted all three official visitors and I could not think of a better representative from the Sooners to host him as Kelly is all class all the time and he made a nice impact on Jahquez as well. Robinson also got the chance to spend a lot of time with TJ pledger, Bookie, Pat Fields, Tre Norwood, CeeDee Lamb, and Jadon Haselwood.
One other player who caught his eye was Sooners true freshman corner Jaden Davis. I asked Jahquez if Jaden shared his experience about making the transition from Florida to Norman and he said "Jaden said everything is good. It was a bit of a culture shock for him, but he's all settled in and getting on the field. He told me he needs more guys from Florida to get up there because 'us Florida boys gonna win a championship'".
Robinson also got to spend a lot of time with the staff obviously. He noted that he was impressed with the amount of time he was able to spend with head coach Lincoln Riley. Jahquez said he was in coach Rileys 'incredible' office for over an hour at one point just talking with him and that left a great impression.
Sooners recruiting analyst Chip Viney also made an impression on Robinson, 'Coach Viney, he showed me around a lot, he was with me all the time. We talked about his playing days in the PAC and his coaching out at Nevada. I enjoyed my time with him, really cool guy."
As for Coach Grinch, Robinson is very familiar with him and came into the visit with an already high opinion of him based on Robinson's close connection with Shaun Wade, who was coached by Grinch at Ohio State and he swears by him. "If I was a safety, I would be far more inclined to consider jumping in with the Sooners at this point because Shaun Wade swears by Coach Grinch."
As for Coach Manning, Robinson was very impressed with his preparation and intensity prior to the game. "Man, these guys recruit you and you don't get the real sense of their personality until you see them in action. I was shocked at the level of intensity in the locker room before the game! These coaches took it to a whole different level than what I have experienced while being recruited by them".
One of my favorite things that Jahquez shared with me about the intensity was when he said: "I saw them in a meeting…when they started talking to the players is was jaw-dropping…very intense!"
Coach Manning has some work to do on Robinson though. Jahquez is looking for a program with a track record of putting guys in the best position to succeed at the next level and right now, Coach Manning doesn't have the skins on the wall in that regard. Jahquez said "Coach Manning is a great guy, just right now, he hasn't had the opportunity to show a track record on developing corners at this level. Alabama does, so that is something I will be watching closely as OU's season plays out."
He added "Can I see improvement for the OU corners from game to game, that's what I need to see. The guys made some plays the other night but there were still some plays out there where I thought 'I would have done this, or I could have made that play', but overall, I really like Coach Manning and he showed me some techniques that I use right now at my school so that would be something I am already familiar with."
As for where things stand between him and Oklahoma following the trip, Robinson said, "Oklahoma is on the table for me for sure! I want to see the production, I want to know that my coach can develop me. So watching coach Manning over the season will be what I am really interested in."
The Sooners made the impression they were hoping for on the talented corner. Now, it will be about showing him that there is a path for him to get where he wants by way of Norman.
---
Brock Vandagriff Note
– James Hale
I spoke with Brock Vandagriff's father tonight (Friday night) and have some unfortunate news; on the third play of last night's game, the 2021 QB and OU commit suffered an injury that they believe to be a broken fibula.
Despite his injury, Brock soldiered on and played the rest of the game. Vandagriff went 31-44 for 330 yards and 2 touchdowns, a usually impressive stat line. However, his mobility was greatly limited, resulting in a couple of picks. Prince Avenue Christian School lost 24-14; a fumble at the 14 and getting stopped on fourth and goal from the 1 sealed their fate in a game they know they should have won.
Vandagriff's backup is a talented freshman who will have to grow up quickly to fill in at the quarterback position. Brock will be out six weeks, which falls right after their second open date, and should be back in time for the playoffs.
All the best wishes to Brock and his family as he recovers.
---
Quick Hitters | Noah Arinze
– Charlie
JY sent me his quick thoughts on what the Sooners are getting with the commitment of Noah Arinze…
Noah Arinze 6'5" 240.
*** If I had to describe him in a few words it would be size and speed. He's so much bigger and faster than the guys he's lining up against, that he doesn't have to rely on his technique.
*** Once Coach Thibs can teach him how to use his hands watch out!
*** His strength is in running down plays where he can showcase his speed. At times he can offer up his chest and plays too high since he's so tall. He'll need to work on his hand fighting skills and pad level.
*** He will excel in Grinch's defense. His ability to get upfield and be disruptive will be monumental. He can carry about 275 with ease, while QBs won't be able to run away from him.
*** While he's a bit raw, he's definitely a talent. The Sooners reeled in a big catch here.
---
New Wave 19 | To Redshirt or Not to Redshirt?
– Charlie S
Sooners got a lot of the young guys from the 'New Wave 19' class on the field against South Dakota.
18 of the 23 players in the class saw action against the Coyotes.
Below, I have compiled a list of the entire class which I will update following every game.
The number of games they have played can be found in parenthesis.
A player (any year) can play in up to four games during the season and still have it count as a redshirt (if they have one available). Once they step on the field for the fifth game, they are no longer eligible for a redshirt.
Almost half of the class (11) has played in both games so far and 18 of the 23 have seen action in at least one game this season to this point.
New Wave 19 Participation:
QB Spencer Rattler (1 SD)
RB Marcus Major (1 SD)
RB Rhamondre Stevenson (2)
WR Trejan Bridges (2)
WR Jadon Haselwood (2)
WR Theo Wease (2)
TE Austin Stogner (2)
OL Marcus Alexander –
OL Finley Felix (1 SD)
OL EJ Ndoma-Ogar (1 SD)
OL Stacey Wilkins (1 SD)
DL Marcus Hicks –
DL Kori Roberson (2)
DL LaRon Stokes (2)
DL Marcus Stripling (2)
DL David Ugwoegbu (2)
DL Joseph Wete (1 SD)
LB Jonathan Perkins –
DB Jeremiah Criddell (1 SD)
DB Jaden Davis (2)
DB Ty DeArman –
DB Jamal Morris (2)
DB Woodi Washington (1 SD)
---
Sooners Defeat South Dakota | JY's Post Game Thoughts
– JY
Man where do you start? As flat as the Sooners came out, it was a lot of fun watching some of the young guns get out there and make things happen.
* Left tackle is a work in process. The O line had a couple of drive-killing penalties in the 1st half.
* It was the Jalen to Lamb show early in the game, and it seemed like those two could do anything they wanted.
(note from Ryan: Lamb's first half had me scrambling to find out the OU record for receiving yards in a half. I believe it's in the 180's – he had 144 early in the second quarter before calling it a night.)
* As time went on, it looked like the O line settled down and wore South Dakota out.
* I think this may be the most talented group of reserves I remember seeing in a very long time.
* By the end of the year, I'm not sure how you keep Stevenson, Wease, Bridges, and Haselwood off of the field.
* Besides obviously being off-the-charts physically talented, those young receivers look really competitive. All three of them were really impressive running after the catch & will present big time matchup problems for any defense.
* I was really impressed with Rhamondre Stevenson's speed and vision. He's faster than I thought he'd be, and he showed nice patience and power.
* I'm so thankful we finally got a defensive coordinator who has those guys engaged and playing hard.
* I was really impressed with Jalen Redmond and that 1st group defensively. When the backups got in, it seemed they had stars in their eyes.
* How about Jaden Davis? When was the last time you saw a Sooner DB drive on the ball and pick one off like he did?
* As talented as the Sooners are offensively, the young guys defensively are gonna be good in a couple of years as well.
* Seeing Zack McKinney stop that 4th down run was nice.
* How about Bookie? Great play recognition in getting his head around to make a play on the ball and house it. As he gets more confident, I believe his football IQ will produce more plays like that.
* Those young DBs are huge, aren't they? You can definitely see the size disparity between the 1st group and those pups who just got on campus.
* Speaking of pups, watching Wilkins, EJ, McIver, and Walker get some snaps on the O line was nice. I thought EJ looked really good as well as Wilkins. It'll be interesting to see what Bedenbaugh does with that left tackle spot moving forward with the ones.
* Finally, this team just feels different.  It's like they're more hungry.  Like they all have something to prove.  You never know what could happen this year.  2nd week with no major injuries and that's always a good thing.
---
Trench Warfare | Oklahoma Vs. South Dakota
– JY
Other than the flubs with the PPV last night, I thoroughly enjoyed the game. Early on, both sides seemed to come out flat. Once they got going, we saw a team with a lot of depth and a lot of talent. While defensively the depth isn't quite what it is on offense, the scheme and coaching are definitely there. It's so refreshing to be able to watch an Oklahoma game and see some good defense.
Grinch mixes up the rushes, and how many people he brings. In the first two weeks he's rushed as few as two, and as many as seven. He's like lightning in that he never strikes in the same place twice. The delay blitz has worked really well, and when you have the speed at linebacker that Murray and White provide, you can bring middle pressure right up into the QB's face pretty quickly.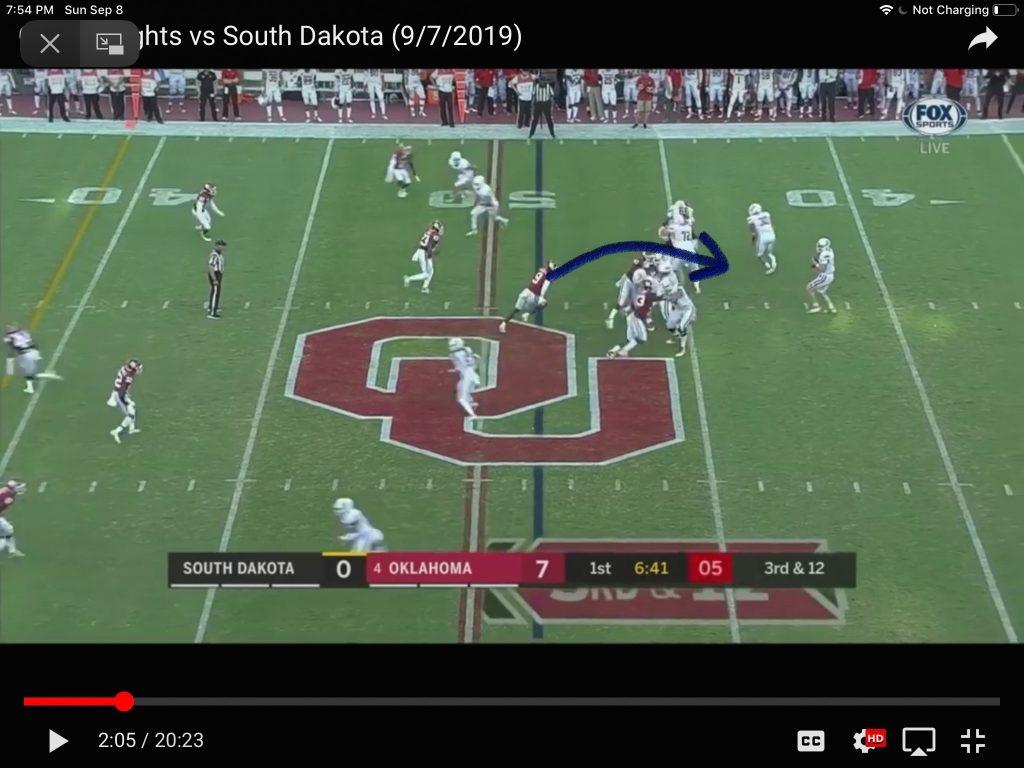 The offensive line is something that can be a bit tricky. I remember having a game or practice where I felt that I played great, and then after watching the film I didn't. Then at other times, you don't believe you played all that well, but upon further review, it was pretty solid. While the 1st quarter was a bit sloppy and had its share of penalties, I started to see the O line really come together and really begin to gel. Running the counterplay as well as the Sooners do requires thousands and thousands and thousands of reps…with the same guys. Once you practice until you can't get it wrong, you start seeing what the guys are showing below. Check out Swenson's eyes at far right. He has to come down on the backer, while Robinson and Ealy have to get the other two guys on the pull.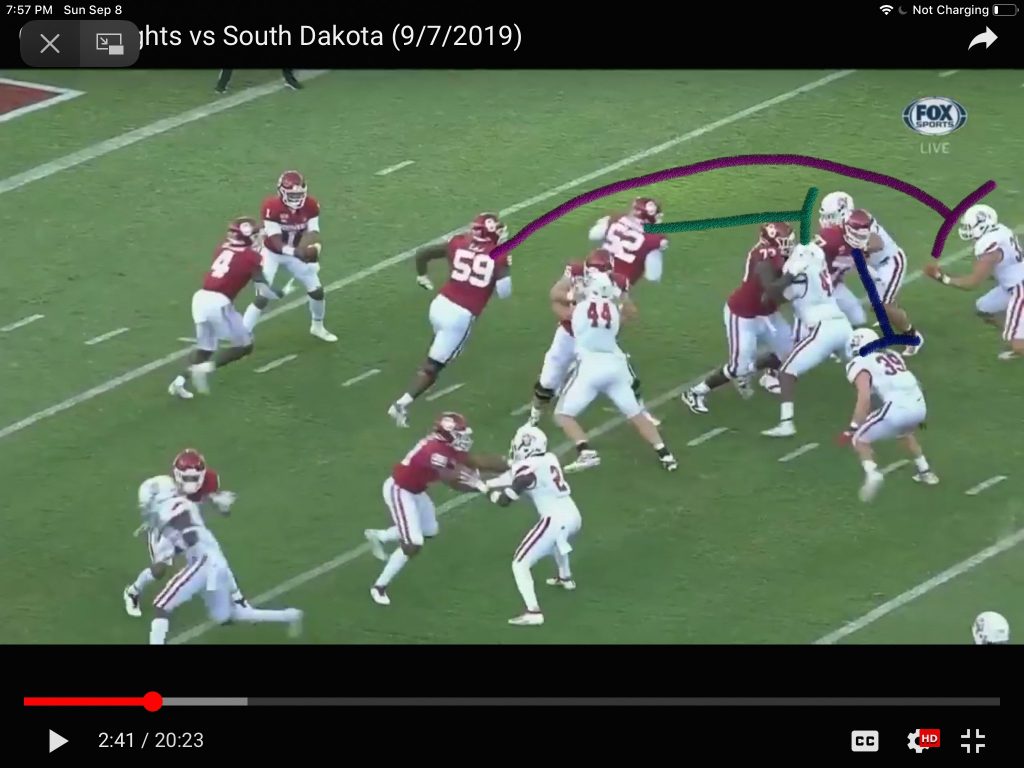 You guys have been on me about some bucket videos, and I plan on getting back to them soon. I need to break down what goes into the anatomy of a counter play. It's about timing, leverage, power, technique and moving together as one. As the game played out, the Sooners really started to play well up front.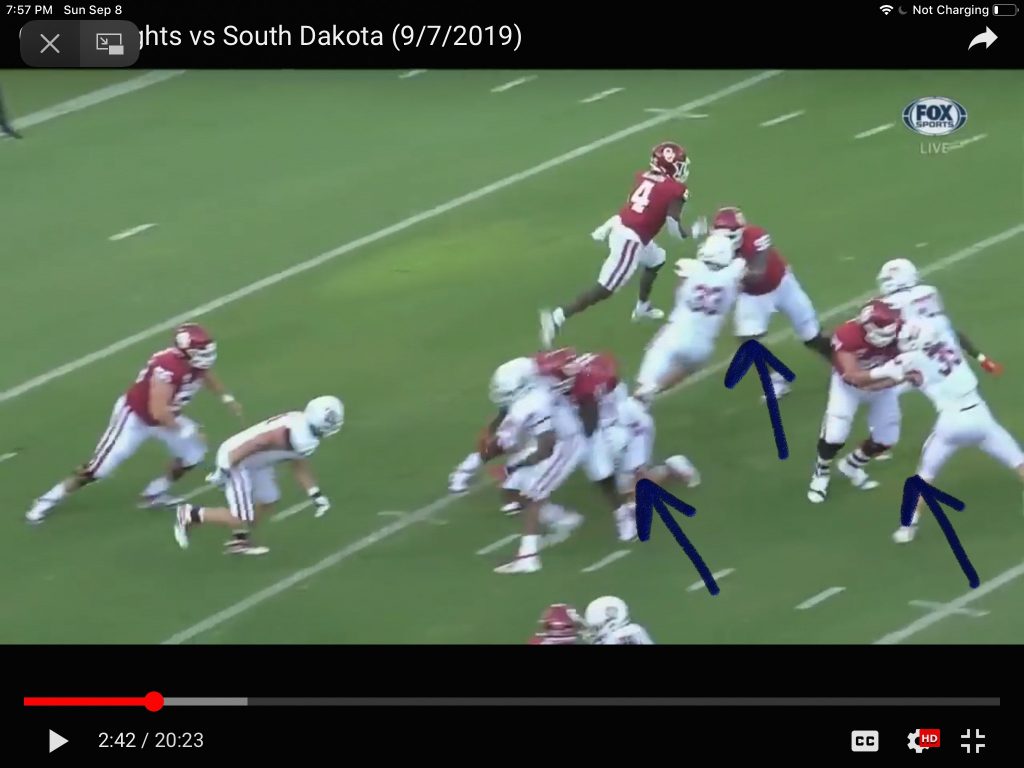 Erik Swenson took a lot of heat after getting whistled for holding and allowing some early pressure. The edge rusher he was playing against is probably the best player on South Dakota's team. While you may say hey they're still South Dakota, there are a lot of good players in the NFL who came from small schools. Sometimes you just have to settle down and learn to trust your technique. Swenson over extended a couple of times and didn't get great sets on a couple of other plays. Keep in mind it's only his second start, and while it started out a bit choppy, he settled in and had a nice game overall.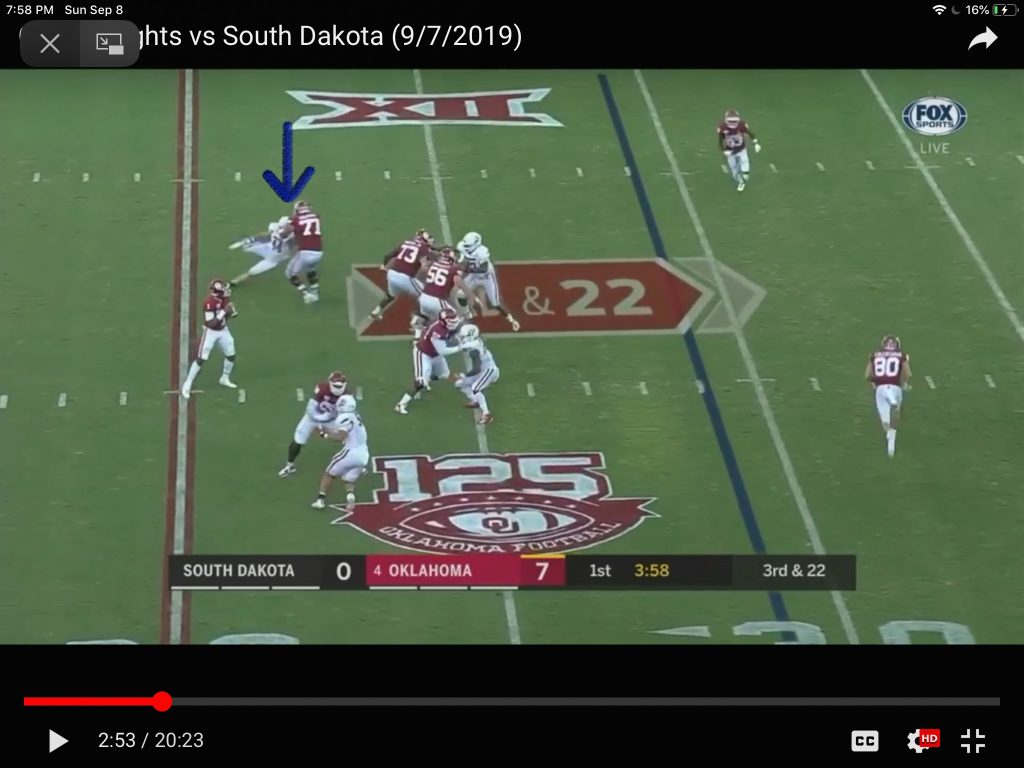 Once he did settle down, he got the better of the guy, and on this play definitely vented out some early frustration.
The brilliance of Riley's system is in its simplicity while giving the QB multiple options. You can see Haselwood and Sermon clearing out to the right, while Calcaterra is to the Left by the 10-yard line. It completely opens up the space for Hall up the middle. If a defense gets too aggressive and jumps that, he can check down to either the back or Calcaterra. We've also seen the fake screen with the slant behind it.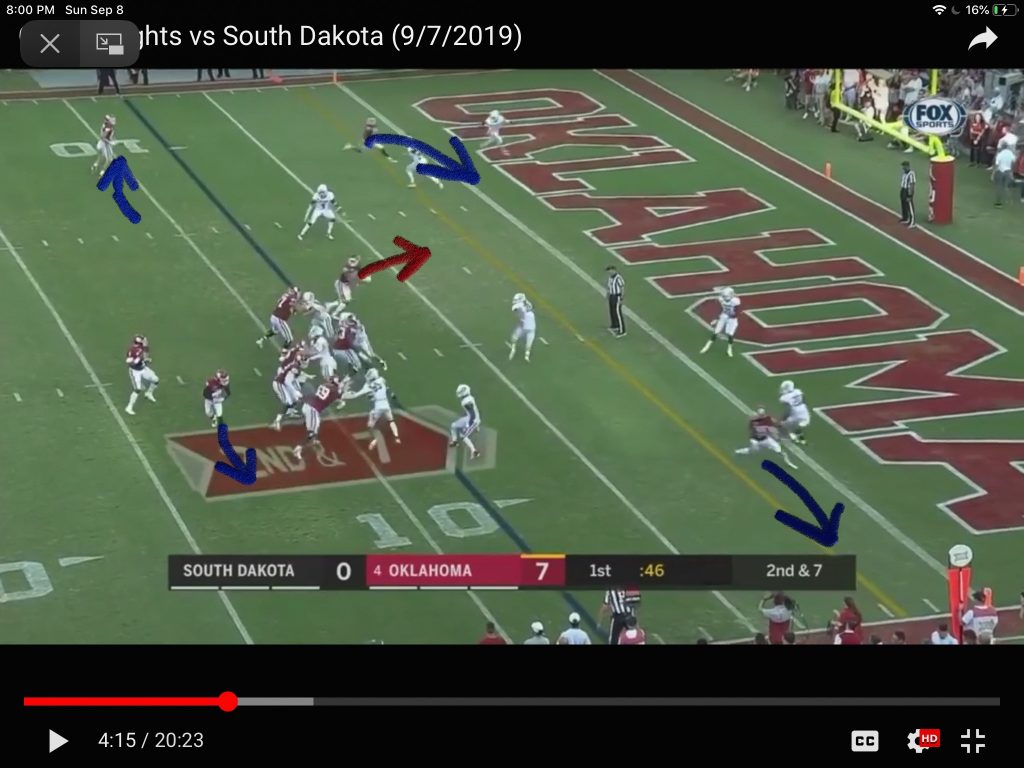 How great is this!? Tight coverage and multiple rushers. It turns out that this is cover zero as both Safeties have the slot receiver to either of their sides, and Grinch is counting on those six rushers inside to get home and force a quick throw. While Riley understands how to manipulate a defense into behaving the way he needs it to for a big play, Grinch knows how to do the same thing on the other side of the ball.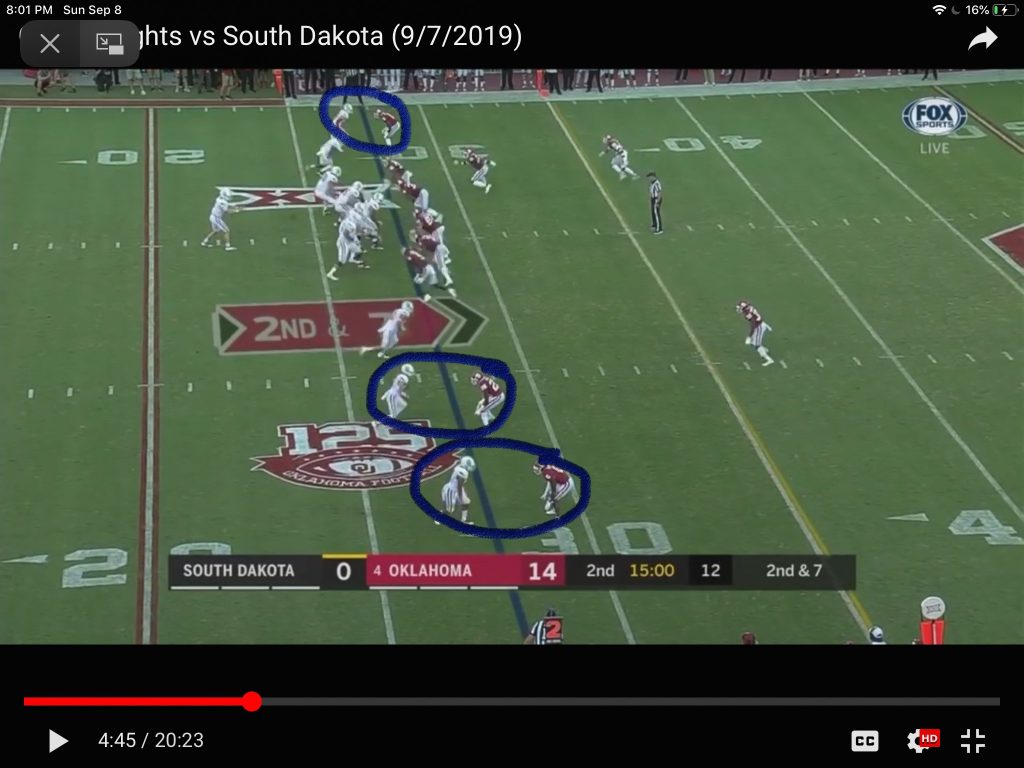 The quick pressure forces a quick throw, and it allows Delarrin Turner-Yell to by design "bait" the QB into throwing to what appears to be off coverage by the safeties when actually it's tight man to man. You can hear it in the film session where Grinch is explaining to these guys that there's going to be a quick throw, and to be ready to jump it knowing it's gonna be a quick throw.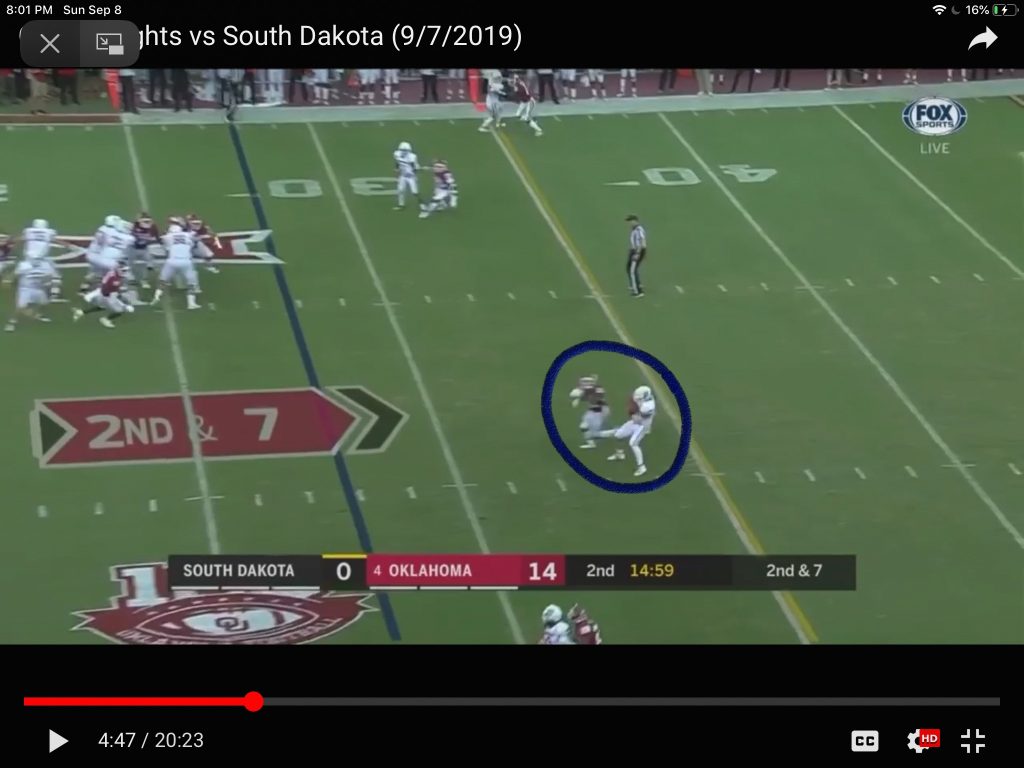 Being able to get pressure with only a few rushers is also something that hasn't been seen a lot in these here parts for a while. Jalen Redmond almost got home on this one.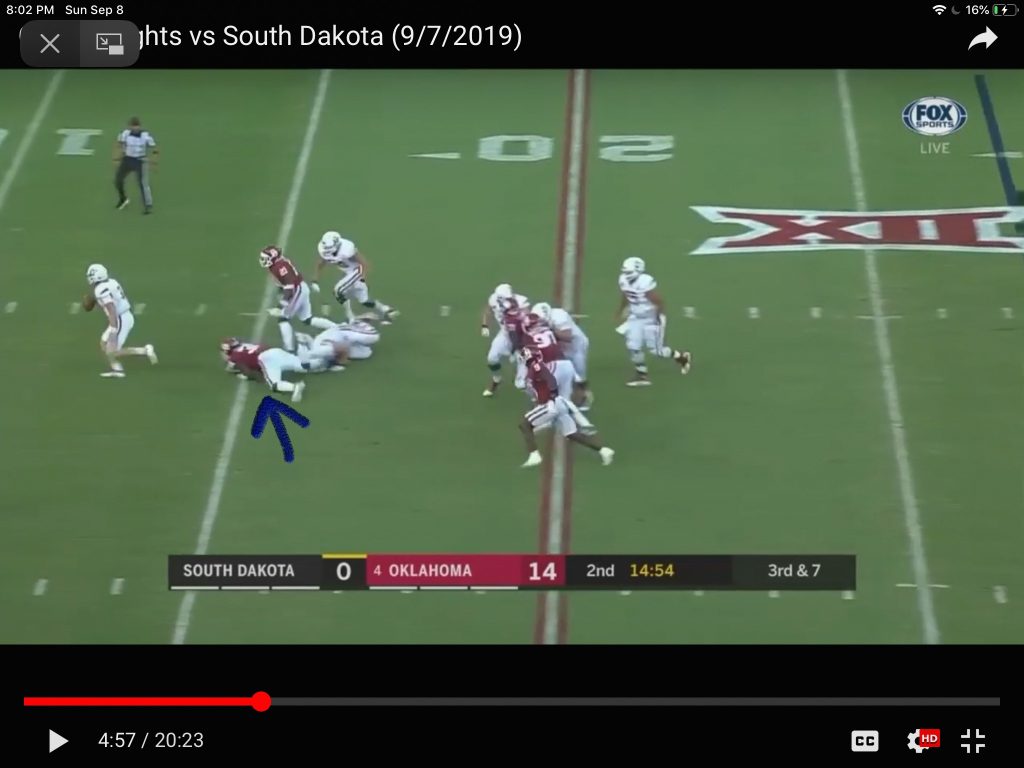 You've heard me say a lot that running the football is about outnumbering people at the point of attack. The Coyotes flow with the counter & swing pass action to the bottom of the screen opening up a big numbers advantage for the Sooners to the top.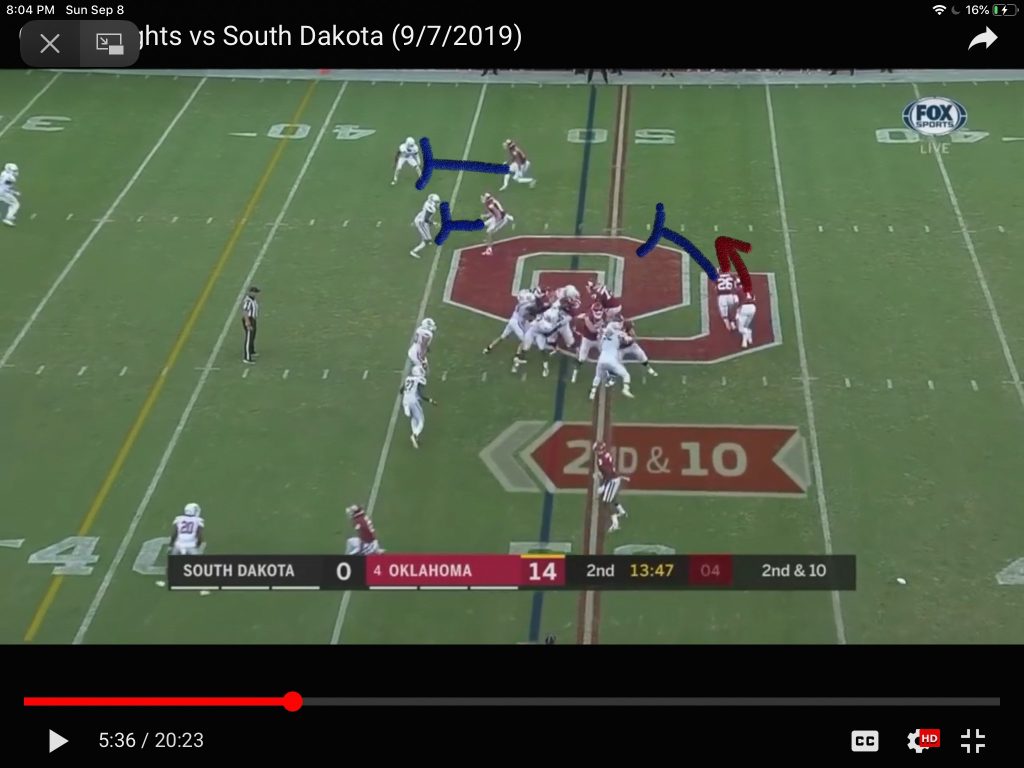 It's set up so well, that Kennedy Brooks doesnt have anyone to block. This leaves Jalen all alone to get down the sideline and reel off a big run.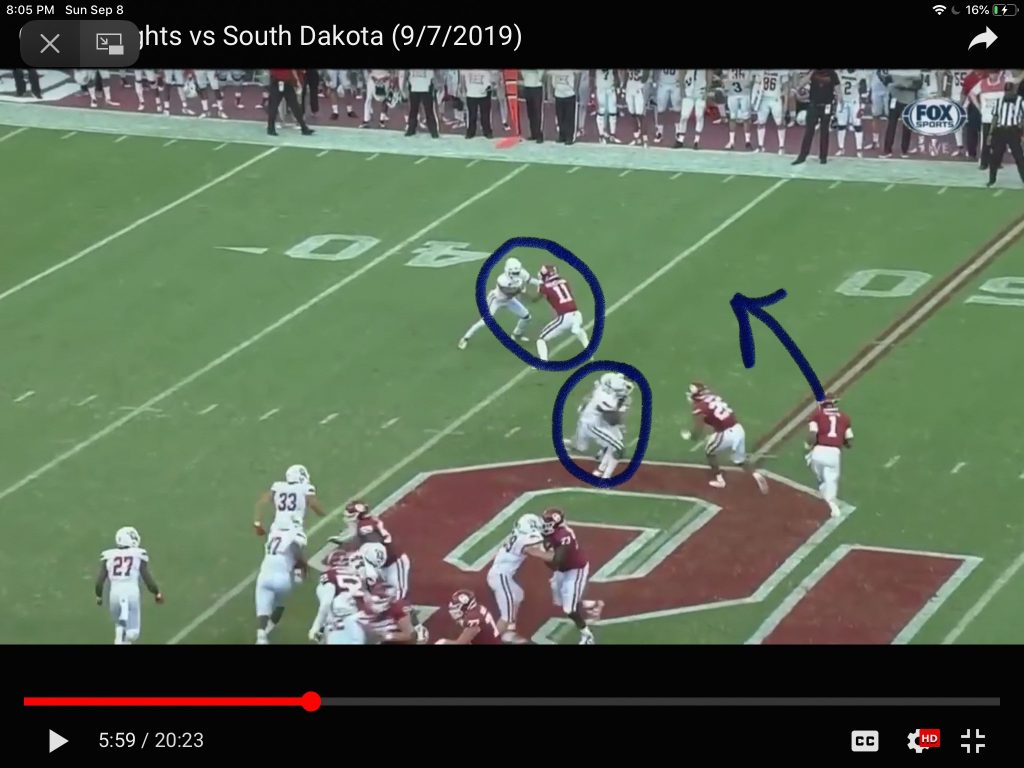 Tyrese Robinson and Adrian Ealy look really good coming around on the counter play. You can see Ealy's (Red line) head turned to where it needs to be to find the linebacker. This is a really, really good lookin play.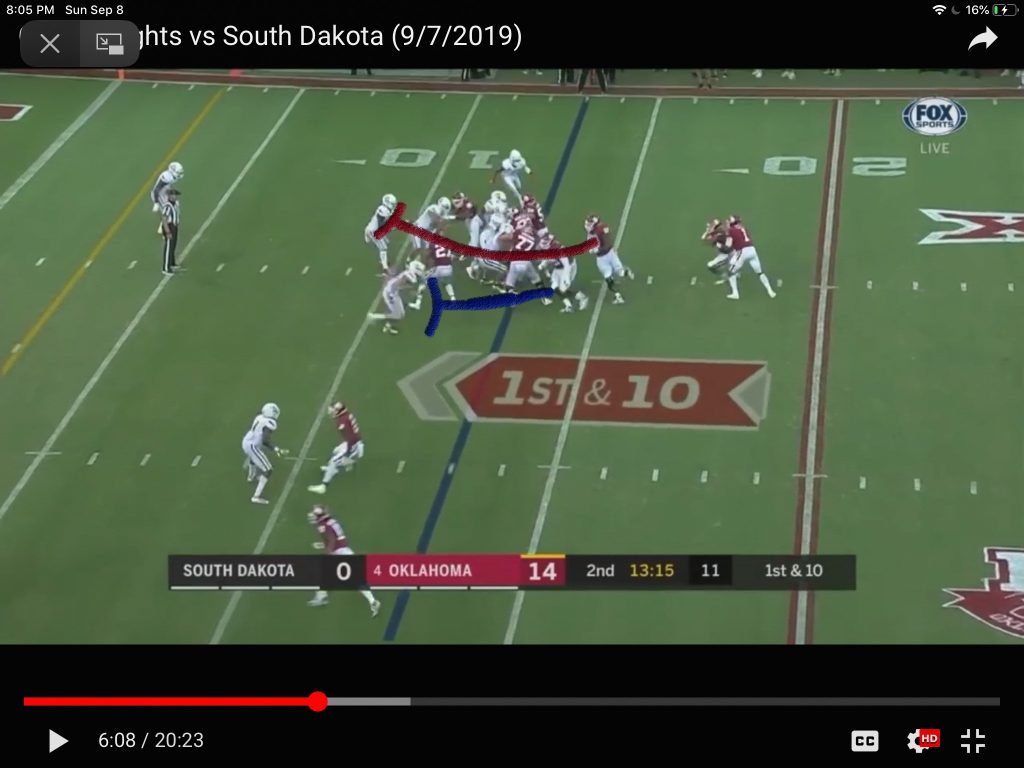 Here's a better look at Tyrese swallowing up that d end who has no chance, while Ealy's looking for that scraping defender coming inside out. Folks may wanna pump their brakes on complaining about the o line. By the end of the year, this is gonna be a really salty unit.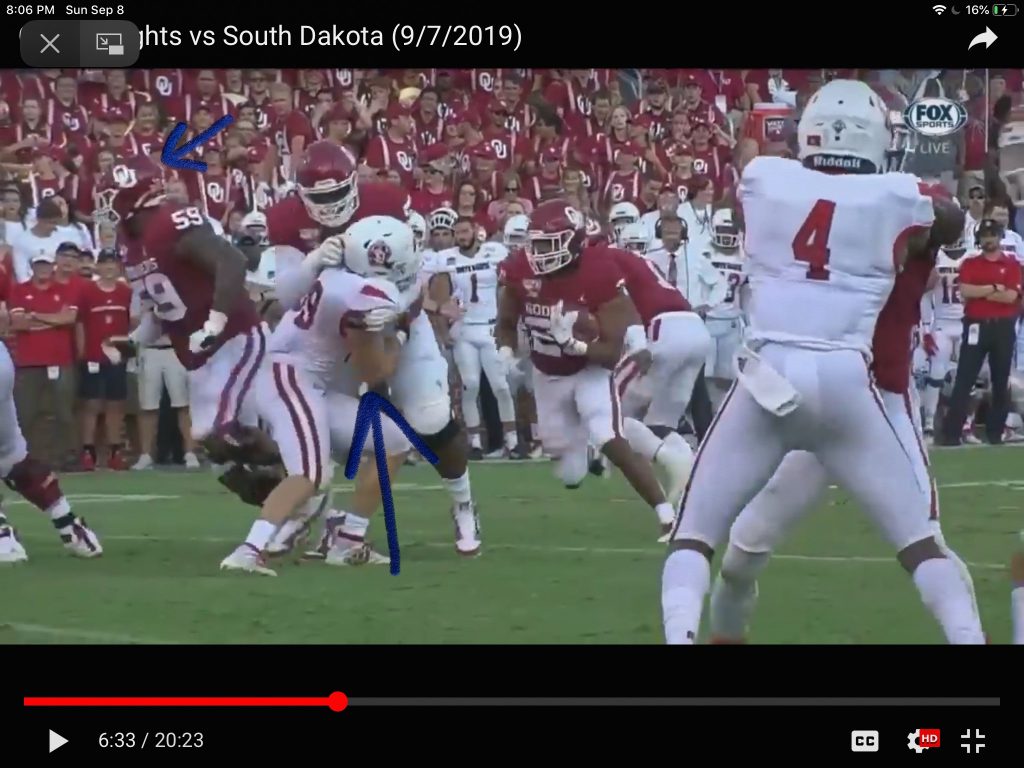 Just a side note, but something noteworthy nonetheless. Look at Ealy locking up that defender to the far left, and then look at Haselwood#11. See how they mirror each other? Defenders only come from one place…inside out. The Sooners are so well taught in the run game, they understand that, and it's one of the reasons they're so productive on the ground.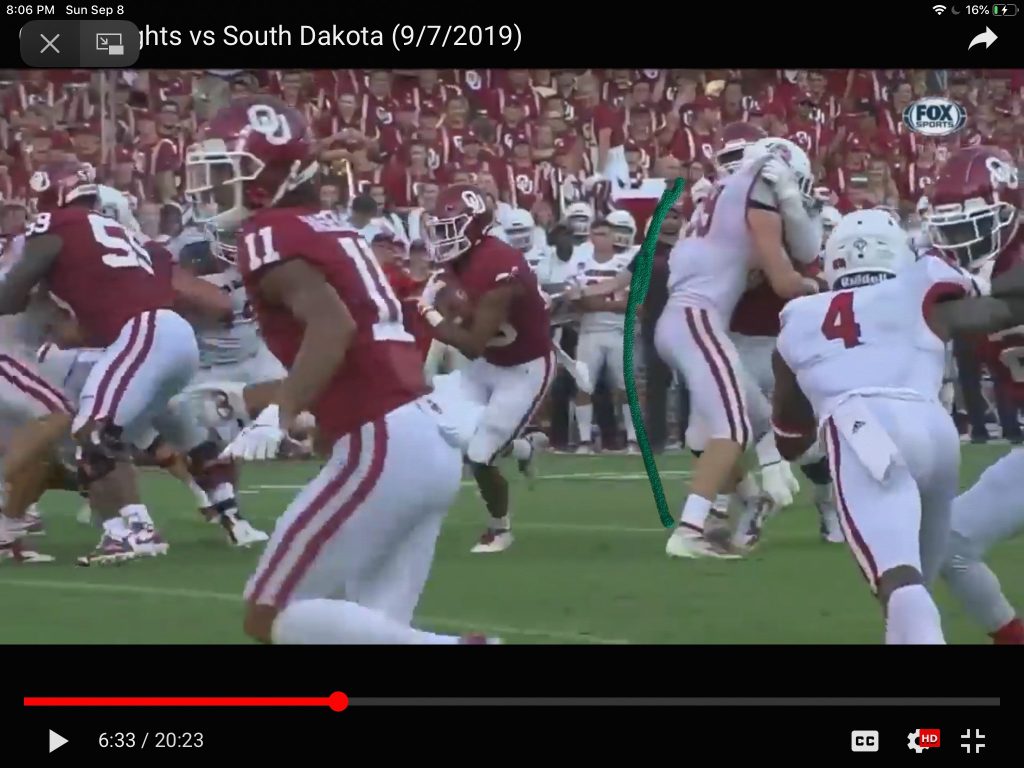 Grinch brought DaShaun White on the blitz, and for whatever reason, the back got confused. The guard to the top has the other Sooner blitzer, but the back goes to his side rather than picking up White, coming in hot at the bottom.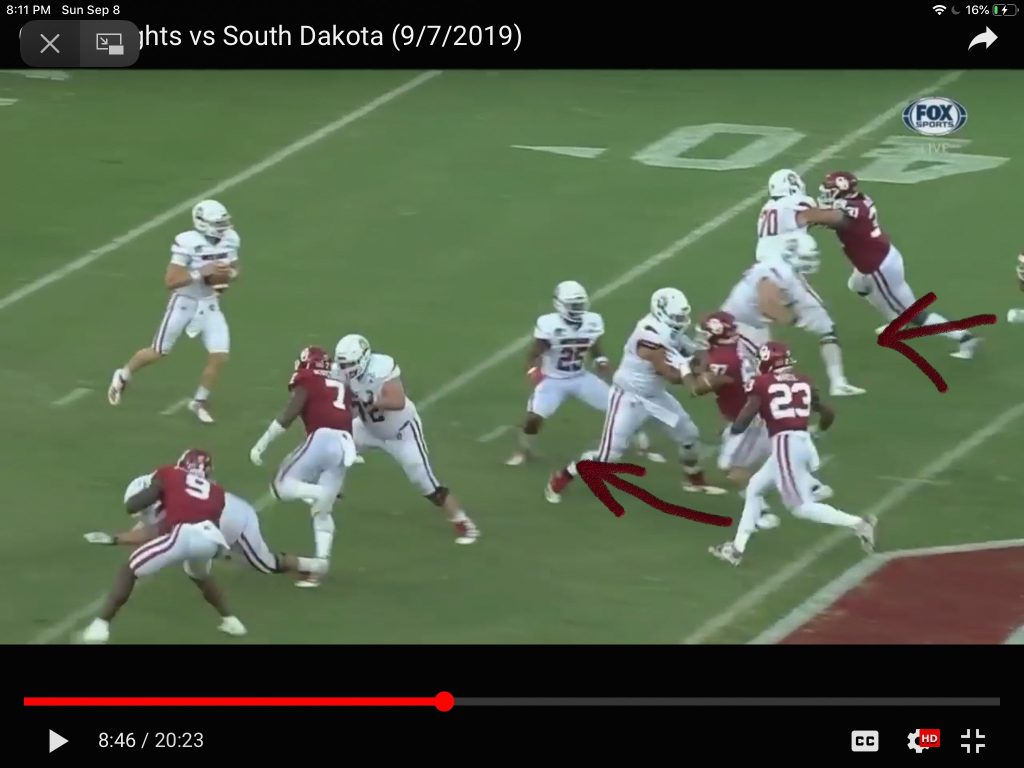 White comes in untouched for the sack. Ronnie Perkins almost got there as well. He's so quick as a rusher. It makes me wonder what Obo could have done in this defense for Grinch.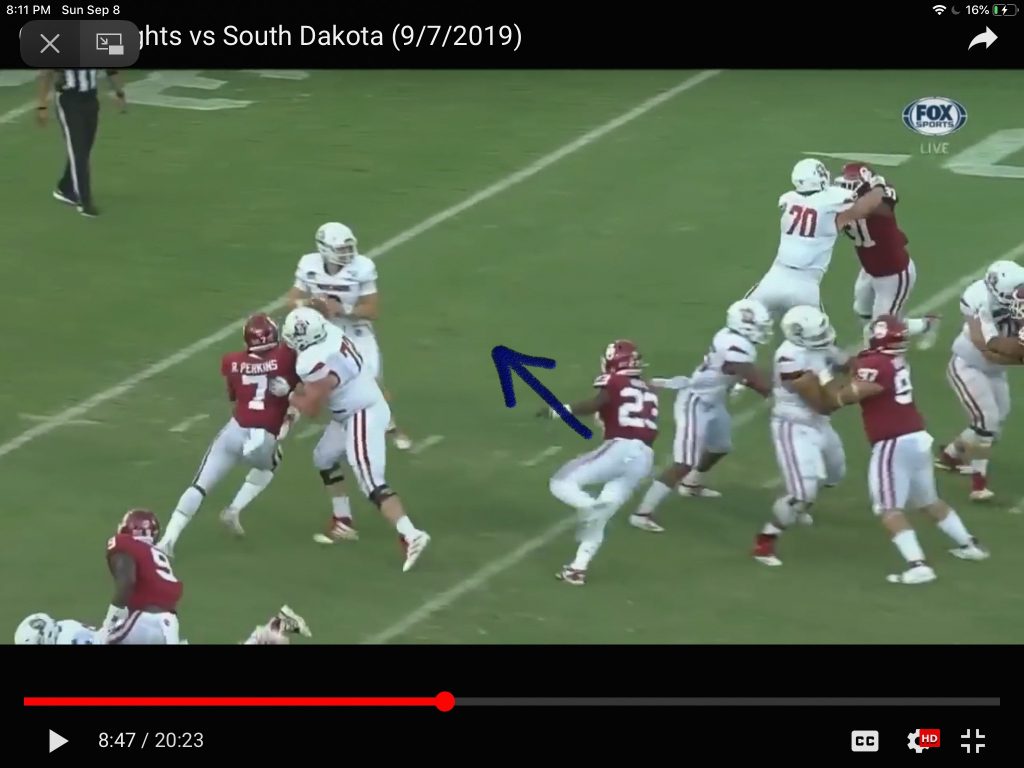 This is a different play, but it was nice to see an opposing QB run out of room and be running for his life surrounded by good guys.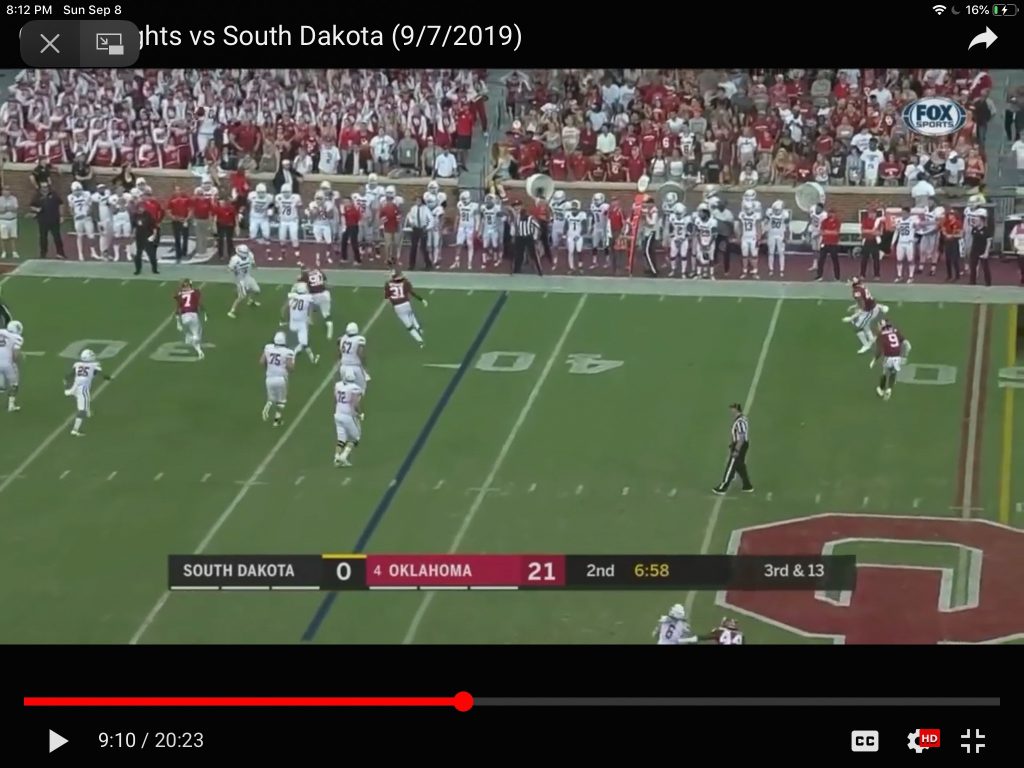 That Sooner O line just got better and better and better. Swenson gets down on the linebacker while Hall #27 has to generate enough movement to clear space for Robinson and Ealy. All you see are Crimson jerseys down inside, and zero white jerseys breaking loose.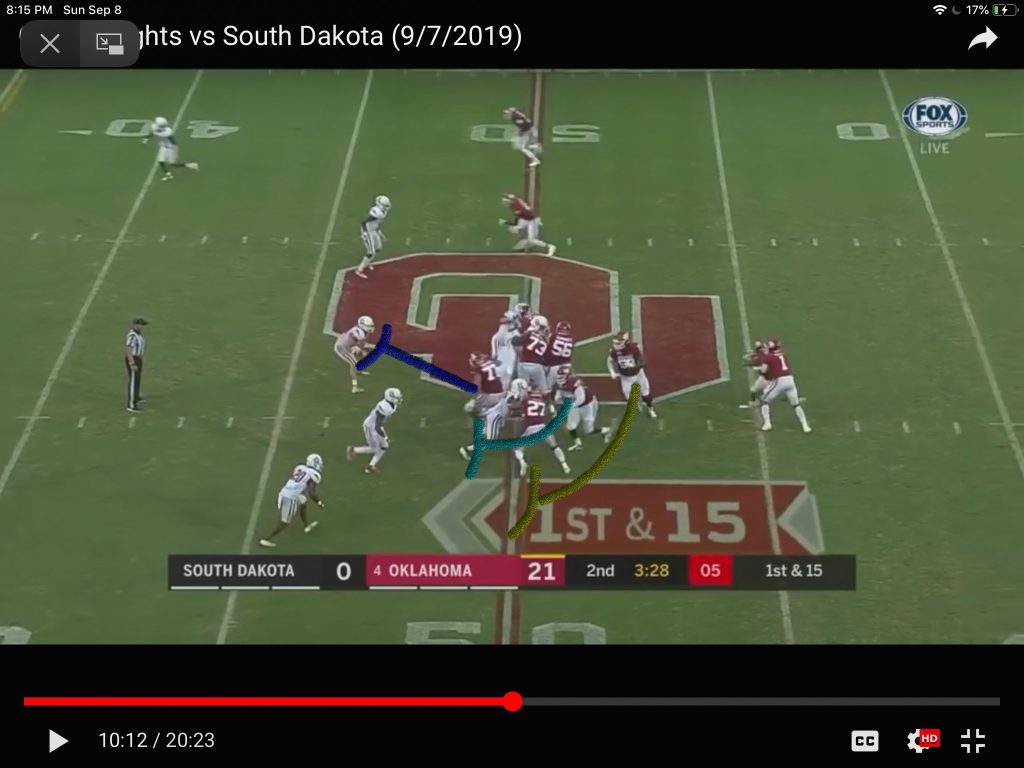 It's blocked so well, that the only player who can make the play is the DB who's circled up there with Lamb. Brooks does a nice job stretching the hole and then getting north and south.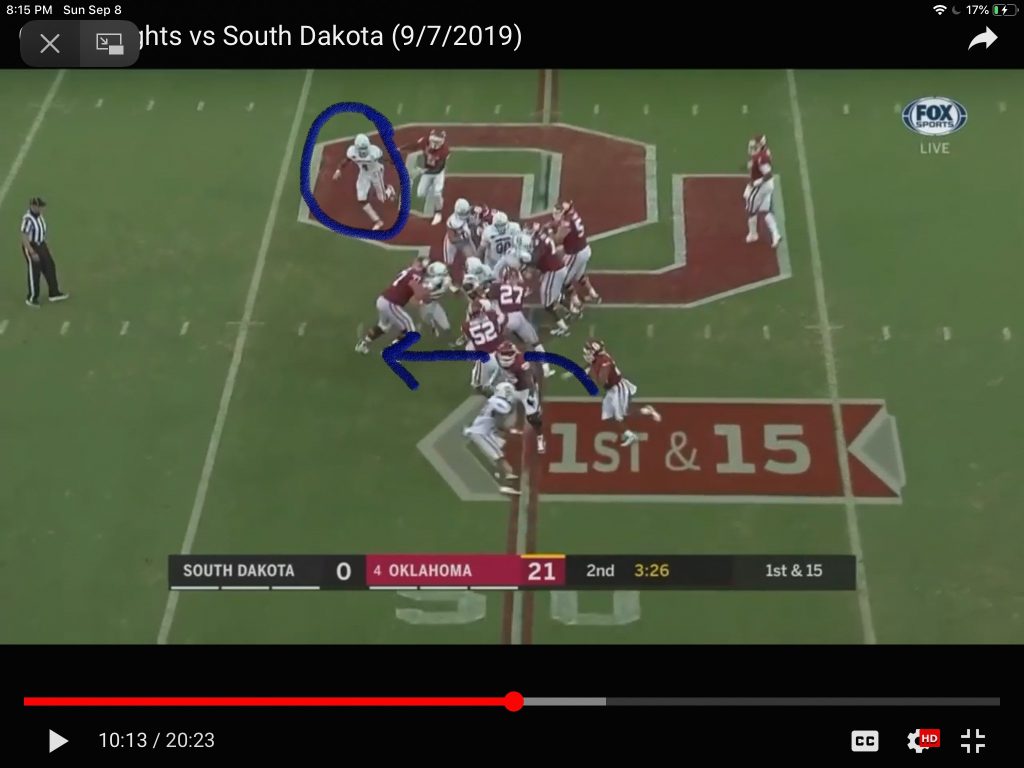 Sorry guys I had to show you this one too. See big ol #77? Look at his left forearm. When you're pulling around as that tackle who's assigned to swab the hole, you have to stay tight to the line of scrimmage and get your shoulders turned north and south when you're turning. If that backer is coming up hard to blow it up, you're ready for him. Swenson does a great job "feeling" where his teammates are while keeping his eyes up and looking for the linebacker. Really well blocked play.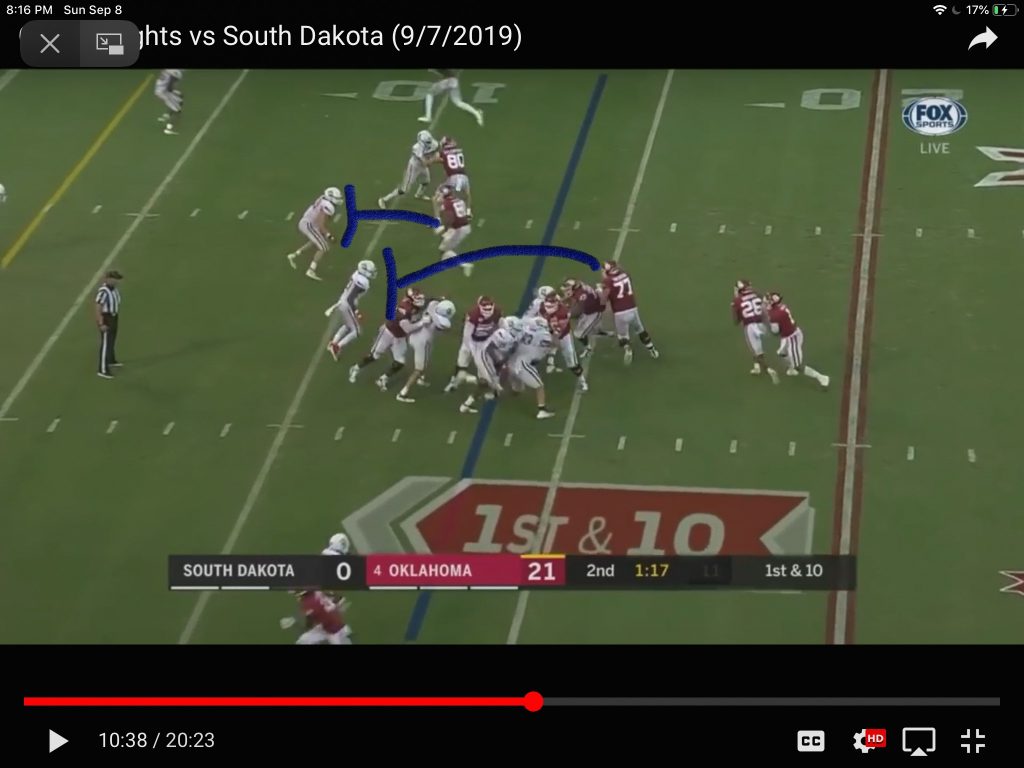 A tick later, the linebacker does come up hard, but Swenson is ready and squares him up. Kennedy Brooks does a great job flattening out to manipulate the safety (red arrow). Knowing his two tight ends have the guys sealed to the outside, he wants to use them to get the safety to think he's heading outside. When the safety commits, plant and get north. Now the safety has to run through bodies and around those blocks to get em.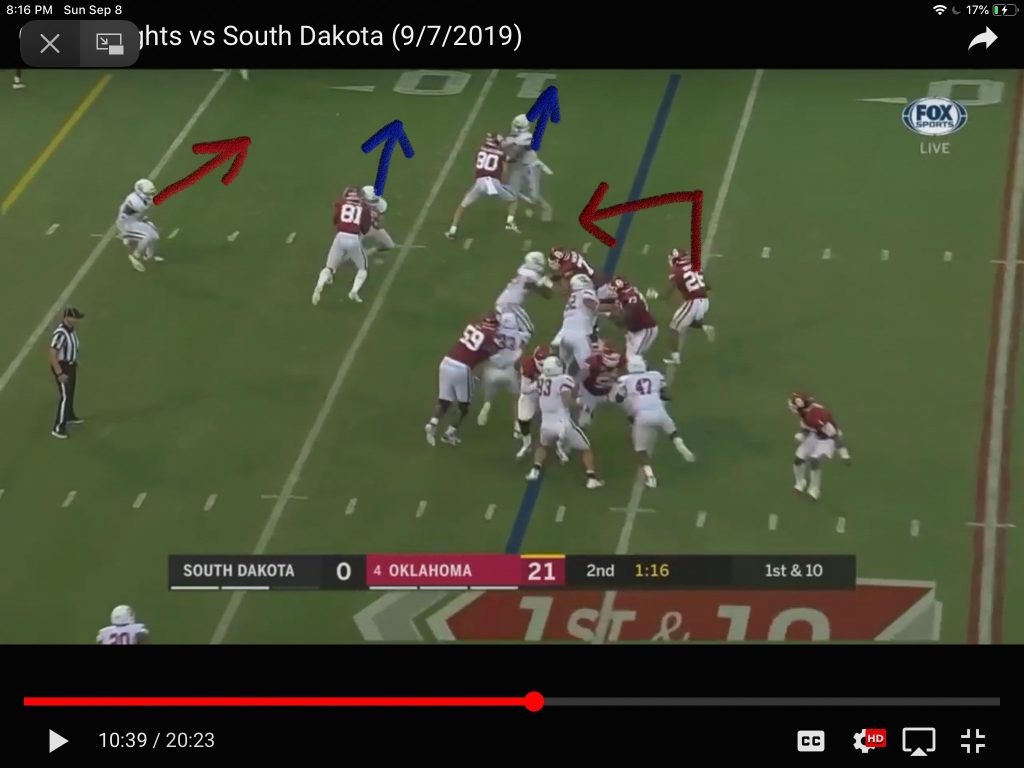 Alright, it's Bookie Time. This was just a great, heady play. It's tight man to man, and when you're running a tunnel screen, that's the look you want the defense to be in.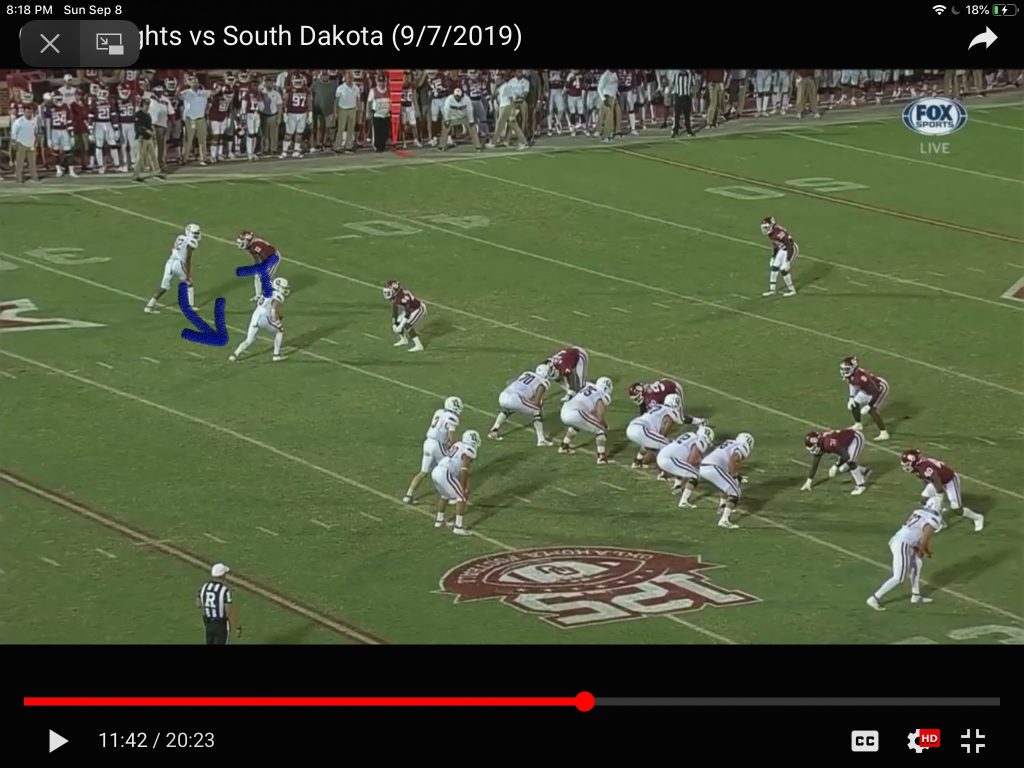 As those defenders to the bottom go out wide with the back, had Bookie not figured this out, the Coyotes are going to have a good play going. He turns his head and his hips to go outside with South Dakota's best receiver #6.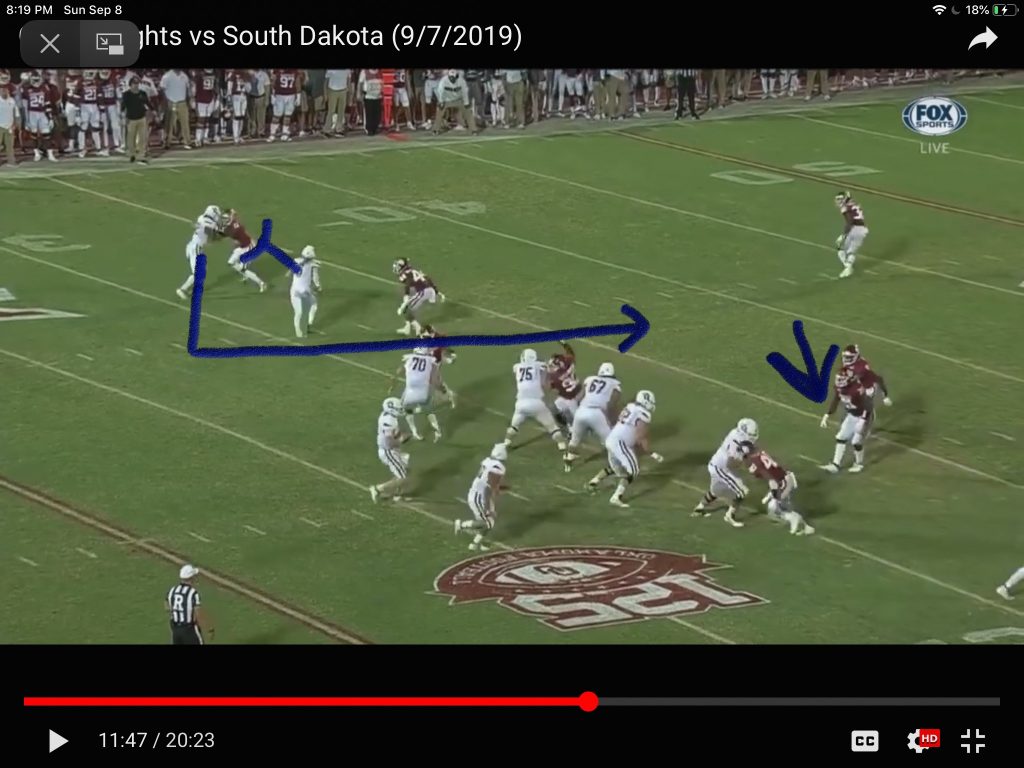 Once he figures out it's a screen, he whips his head to the inside and starts looking for the ball. Smart, intelligent players make plays.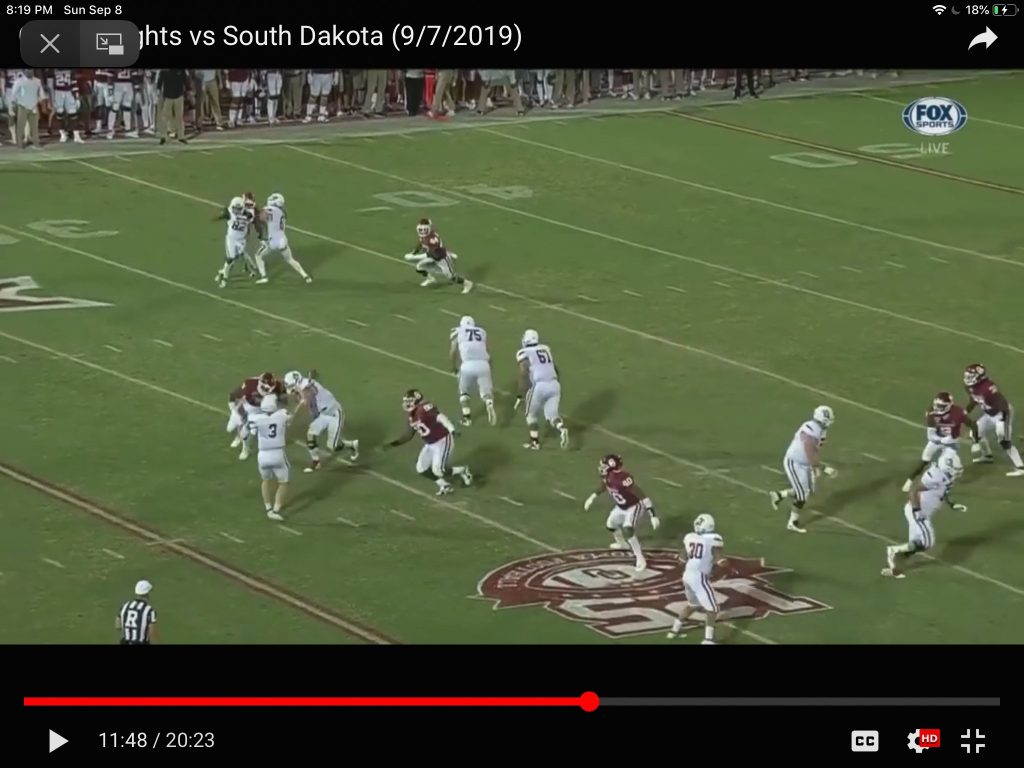 A step later, his mind is made up, and you can see him getting ready to catch it & house it. Just a tremendous play. Leading up to this, the Sooner d had gotten hit by a couple of screens, and no doubt Grinch talked about it at halftime. Nice little adjustment by the D.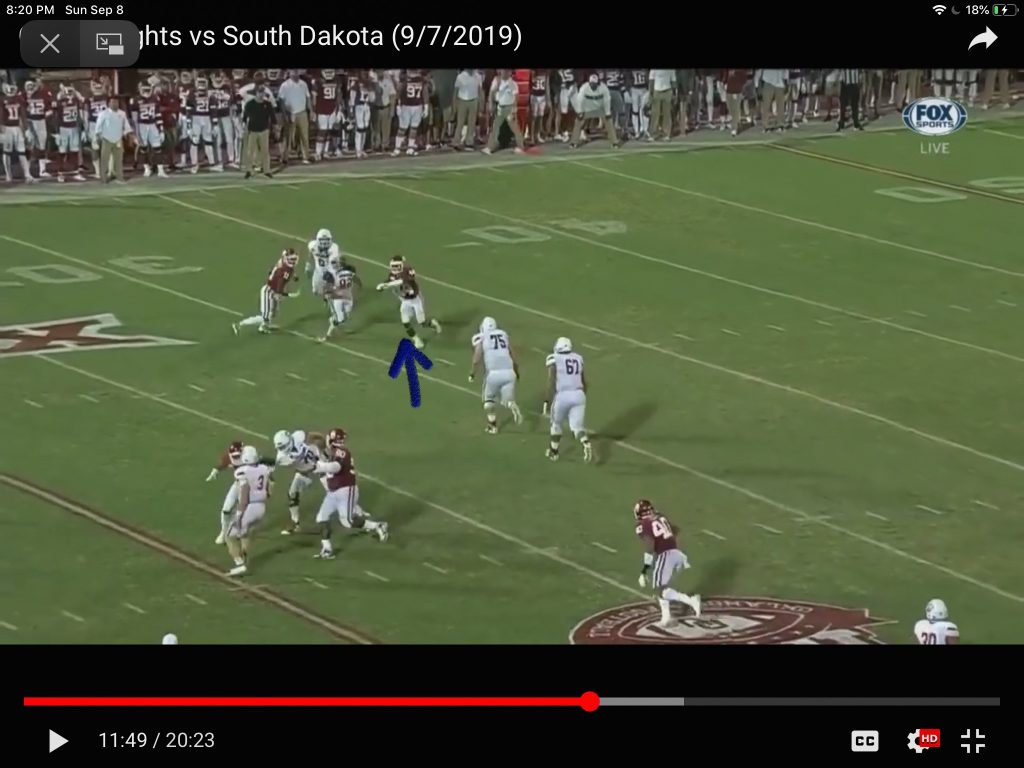 Just like adjustments haven't been seen around here in a long time, seeing the Sooners play assignment sound fundamental football has been a long time comin'. I remember watching those old OU-Nebraska Friday after Thanksgiving games growing up. You always saw the D-End crash and kill the QB, and the DB take the pitch man. South Dakota tried to run a little option here. Since Bookie knows that everyone is covered behind him, and the QB is already taken care of, he can get upfield in a hurry and be aggressive. It's his only job. When you make things simple for your people, eliminate doubt and get them to believe, you become very, very effective.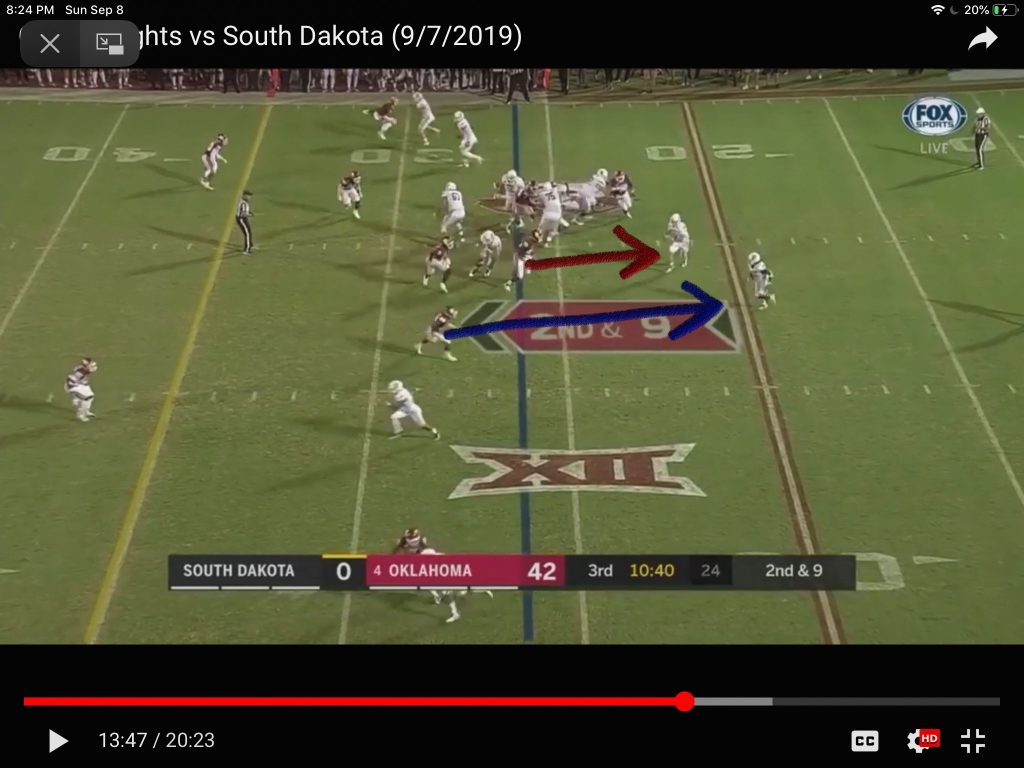 Shades of Ontei Jones blowing up the swing pass in the Orange bowl here as it seems like Bookie really gained some confidence and is starting to come into his own.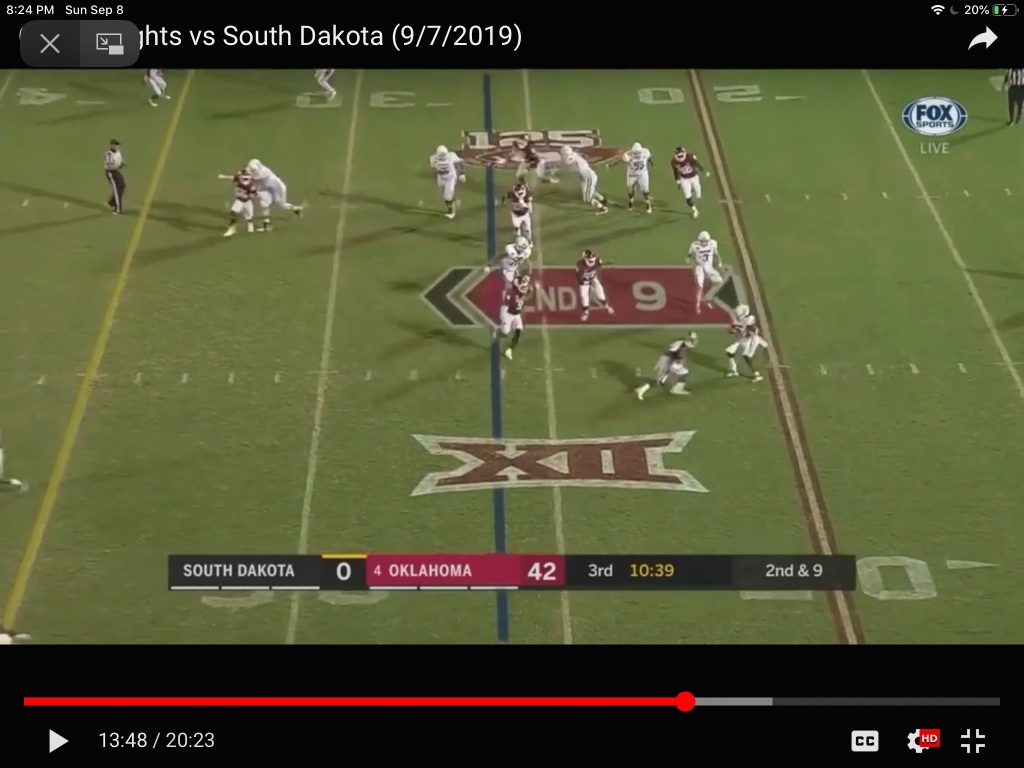 Last but not least, look at how many red jerseys are running to the football. I can't wait for Saturday. No doubt the Sooners will be geared up and ready to put on a show in Pasadena. Have a good week guys!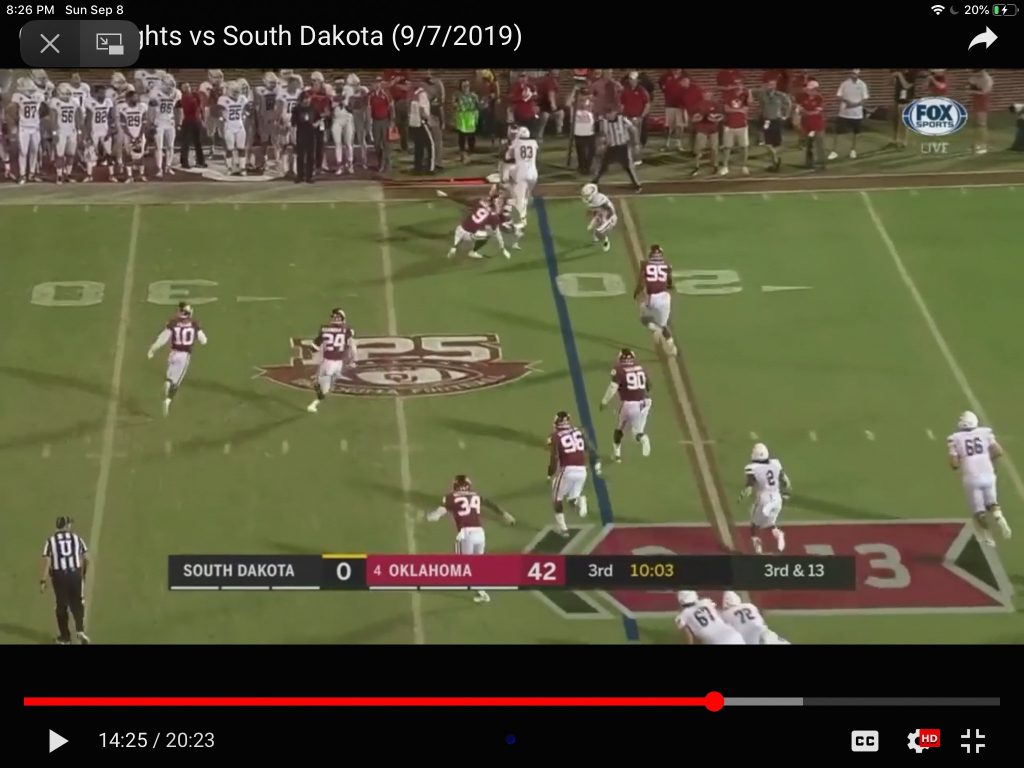 ---
For multiple daily posts, Insider Notes, More Sourced Practice Notes, member chats with TFB staff, James Hale's Notebooks, TFB Sessions (5-minute audio talks) and much more, please check the Donor Board!