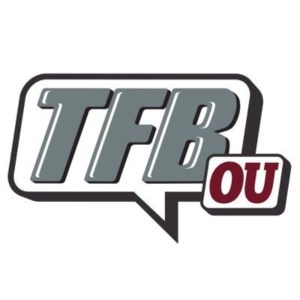 Open Post | Tuesday, October 8th
Posted on: October 8, 2019
Post Game Thoughts
– JY
Sleepwalking…
That's how it started, and I can't honestly say that the emotion levels were ever really high for the Sooners today. Defensively it looked like the guys came ready to play, but the offensive line was not playing physical to begin the game.
Right now you have Starting left tackle Erik Swenson…Hurt. Starting right tackle Adrian Ealy…Hurt. I've heard that Creed Humphrey is dinged up as well. Fortunately, Coach B has recruited enough talent and depth to field a pretty good group of backups, still the guys who started the game weren't ready to play emotionally.
I get it. It's in a half empty stadium in Lawrence in rainy, 50 degree weather. Don't get me wrong, these guys need to be responsible and come ready to play, but sometimes it's like you're in the twilight zone or playing in quicksand. It was halfway through the 1st quarter before the offense got anything going at all.
Pooka Williams is lightning in a bottle. That kid is really, really fast. He ran for over 6 yards a pop, and about a buck and a half on the ground. He's Shady McCoy fast, and there were times he just gashed the Sooners.
Give credit where credit is due, but I still think the Sooners defense is much improved year over year. The defense gave up 360 yards, and without Williams, I don't think they would have had much else.
KU's QB Carter Stanley dropped a couple of dimes over Motley where he was in position, they were just great throws. I'm not trying to make excuses for the defense, but it was just one of those weird games where luckily the Sooners came away with a pretty lopsided win and didn't get any more people hurt.
Going back to the injuries on the offensive line, the Sooners gotta figure something out before next week. Now you'd hope that the guys would be emotionally ready to play next week, and it might be good in the greater scheme of things for them to have a game like this to teach them a lesson. You can talk and talk and talk about things, but people have to experience it before they'll listen.
From an Injury standpoint, I'd hope Adrian Ealy makes it back next week. I'm not sure I don't stick him out at left tackle if I'm Coach B, or even look at Stacey Wilkins out there. I'm not sold on Proctor at left tackle, but I think that Tyrese Robinson is playing pretty good on the right side.
The Sooners need to survive each week until they can get some guys healthy. Losing both Starting tackles is tough for any team to stomach, but there were times today where it just wasn't pretty. It'll be interesting to see what Coach B comes up with for next week.
Like most of you, my heart stopped for a second when I thought Kenneth Murray was going to be out of the game. He's the guts of that defense, and while Brian Mead is a solid player, K-9 is just a special player.
The defense flashed today, and made some plays that we wouldn't have seen last year just due to sheer effort. That 4th down stop they had late in the game was really nice, and when they played with great emotion, they played really well.
The KU offensive and defensive lines came to play today, and gave the Sooners more problems than I had hoped they would. I hope it's just a case of getting lulled to sleep with an overmatched opponent, but it's never good to see that happen.
Next week has me concerned. It just feels like one of those October's where things go wrong, and you look back at it after the season and just scratch your head. The timing isn't great with the injuries up front, and we're gonna have to hope that the Sooners dig down deep and gut out these next few weeks until people can get healthy.
At the end of the day, if they're gonna get to the playoffs and potentially win some games as we all hope for, they're gonna have to gut some out anyway. You just hope that they don't drop a game when they're not at their best. Whether it's personnel-wise or emotionally, the guys are going to have to be at their best or it may not end well.
---
Post Game | Riley, Grinch, & Hurts
– Charlie S
Lincoln Riley:
Riley on the game: Excited about the win. Was strange. Some ups and downs throughout the game. Took a little while to get on track.
Riley on winning: Have to have a healthy respect for it and we do. Excited to get a road win. Have to play better and prepare better and we will on Monday.
Riley on penalties: Penalties hurt and they were on huge plays. Penalties were destructive early.
Riley on 3rd & goal from midfield: Took the blame for that situation. Called it a debacle. Everybody could be involved. Should have had an easy touchdown.
Riley takes blame for 3rd & goal from midfield and a flushing sound in the background sounds out in the interview room: "Thats what they thought about my playcalling."
Riley on RB Kennedy Brooks: Probably a little conservative with him. Nothing structural there. He'll be ready to go.
Riley on Hurts: He did well. Overcame my coaching a little bit too. I put him in some rough situations. Still an effective runner. Threw the ball well and handled it well. A couple that we'll both want back.
Riley on Texas: Feel good about our whole team, Got to continue to have an extreme sense of urgency to improve. Excited to get back to preparation this week.
Riley on defense: See's a lot of progress and excitement about what they are doing. Some of the day confirmed that even more. Doing some nice things. Loves how they are flying to the football and how they are hitting.
Alex Grinch:
Grinch on 3rd downs: Really disappointing on the numbers front. You work so darn hard to get in those situations then you let them off the hook. Until you watch it, you give them an ample amount of credit in terms of your opponent. I'm not sure that that video is gonna suggest that that was the issue. It was probably more self-inflicted in some of those scenarios. Football is hard and there is a down and distance attached to it and good lord when you get the chance you have to take advantage of it.
Grinch on the defense corraling Pooka: Selective execution seems to be one of our issues. Selective execution says that if we run the same call 10 times, it may look different six of them. You know you're sitting there and pointing your fingers at yourselves as coaches and there is two extremes. The one extreme is are you not coaching enough or are you over coaching. Maybe the truth lies somewhere in the middle. We're seeing a trend through five weeks and I have to look at it, specifically with me…are we telling them too much from the point that execution is tied into one thing like are they looking for a play…what continues to be our issue. Again, selective execution. When the same call looks different against similar plays, we have to analyze that as coaches.
Grinch on DL: Without looking at it on the film, looking at the perspective on the sideline I think early on letting them off the hook in certain situations as mentioned previously and then obviously our inability to finish…that changes your attitude maybe. I think, without looking at it, I thought they took the challenge (from last week). You know it starts up front and then the back end has to hold up as well.
Grinch following Kansas' first TD drive: You know it's one drive. you know you want to be in it and you're never immune to it. Whether it's self-inflicted or elite execution by your opponent, those things happen. What ya can't do is let that one drive dictate your day or dominate your quarter.
Grinch on leadership: We're itching for leadership and the number one way you lead is you play at a certain level to earn the respect of the guys in the room. They can say whatever they want but if you don't back it up, you lose credibility.
Grinch on getting where they are going in revamping the defense: Some of it you say is it an issue where the guys are freshmen and you can't look back and say ok this happened two years ago on this call so they don't have those things to draw from. You know I would be crushed if our effort was poor in terms of as you revamp things. You have to say if we got effort we have a shot. I would be demoralized if I was sitting here and I thought we played with poor effort. If our issues were tied into that now I'll flip my switch real quick if I turn on that film and that shows up at all. I don't believe it did.
Grinch on holding the passing game down till late in the game: That's on us as coaches. We didn't do a good job. We have to do a better job of convincing these guys how appropriate and important it is to finish. You know they don't time-stamp your rep with the score. So if you take your performance personal, in terms of playing appropriate technique, maybe we got out-executed by perfect technique and I don't believe that's the case, we just have to do a better job of convincing these guys how important and how personal their performance is. One, on an individual basis, you know let's be selfish enough not to have that clip late in the football game. And then obviously from a team standpoint, let's be sure we wouldn't do that to our football team because I want to finish the right way. Made a major emphasis on playing 60 minutes this week and I am disappointed that we didn't quite get that done.
Jalen Hurts:
Hurts on game: We had a lot self-inflicted wounds that we have to learn from. Have to play more disciplined. I have to play more disciplined, I have to play better.
Hurts: Comes down to executing, Have to do a better job.
Hurts: The energy I have for myself leaks onto the rest of the team and the approach I have definitely affects the team. Have to make sure I mind my 'P's and Q's' all the time.
Hurts: We put ourselves in a bind. Regardless of what goes on we have to execute. I feel like I can dictate the outcome of anything that goes on on the field.
Hurts on going tempo: I think the whole approach we try to have when we go out there and we have to be more consistent with it is to not worry about any external factors, expectation from someone else, not worrying about anything that doesn't have anything to do with the guys on the field. I think we have to go out there and play to our standard all the time and every time.
Hurts on Rhamondre Stevenson: We all know Rhamondre is a heckuva player. He makes plays he's hard to tackle…happy he got the opportunity to be him.
Hurts on the injuries to the OL: When something hits you in the mouth you have to say so what, how do you respond. In all phases, it doesn't matter who is on the field. Your youth, it doesn't matter how young you are. We have to play to that standard, everyone has to go out and do their job.
Hurts on pressure: Lot of respect for those guys (Kansas) they played hard and flew around. But we have to execute.
Hurts on Les Miles saying he is a great kid and comes from a great family: I appreciate that from Coach Miles. He's a well-respected guy. Much appreciated.
---
Lincoln Riley | Monday Presser | Texas
– Charlie S
*** Riley: Felt there is a lot to improve on from Kansas. Good learning experience.
*** Riley: Saturday revealed a lot of areas where they have to grow. The growth that needs to happen is gonna be focus number one.
*** Excited to get to Dallas and play this game. One of the best sporting events anywhere.
*** Riley on OL: They have been solid considering they have started five different lineups. Not ideal. have to continue to build.
*** Riley on Ealy and Swenson: Both highly questionable. Doesn't see either out long term, but they are dealing with more than a bump or a scratch.
*** Riley on Sam Ehlinger: Heck of a player. Lot of respect for him and the way he plays the game. Certainly the catalyst for that entire team and makes that group go.
*** Riley on Rhamondre: He's doing great. It's not about big moments, you either trust a guy or you don't. We have a lot of guys we will go to and a lot of guys who will perform.
*** Riley on Hurts in Red Zone: Helps that he's the type of runner he is. He's an added weapon. It provides something different we haven't had.
*** Riley on Ugwoegbu and Jones at SAM: Ugwoegbu has shown he is able to mentally handle it. He's a guy that flashes, some flashes of his ability. COmbine that with a guy who is smart and doesn't bust a lot…his work ethic, we felt he was ready for it.
*** Riley on the sense of team in crunch time: Confident in the way they will play. Confident in leadership. There is nothing like getting in there and doing it.
*** Riley on RRS: It's a slugfest. It always is. Staying level headed and even keel is important. Whether its 1st quarter or 4th quarter…all the points count. Ton of big momentum switches in these games.
*** Riley on Hurts experience at Bama: He's been in a lot of big games, rowdy venues…I don't think it affects him much. Pretty much the same guy on Monday that he will be on Saturday.
*** Riley on his tenure: I don't look back, you're only as good as your next performance.
*** Riley on youth: Part of the young guy's growth. You want to get them ready so they know what to expect. We have to do a great job at that.
*** Riley on Texas' experience: We've had it both ways…when we battled Ohio State or Tennesee…it's about your own team and how you prepare and focus. There is an advantage to both (Being challenged before the RRS and not being challenged). I think this game is decided what happens out there between 11-3. If both teams were both 0-5, it would still be a slugfest.
*** Riley on Horns Down: We won't do it. Just like the Big 12 game.
*** Riley on Creed: He hasn't maxed out. He's done well, it's a challenge on him with the communication. It's new for him, he was the baby, now he's the leader. I think he is still settling into that role a little bit. He's adapting and evolving like we all are. Fun thing is he can and will play much better.
*** Riley on pregame speeches: You don't win games on pregame speeches….like Coach Switzer said, Knute Rockney died a long time ago. It's not the movies, it doesn't happen like that. You just build on your message. It's either gonna happen or it's not.
*** Riley on Bridges: He is a great football player. Dominant on special teams. He has a very unique skill set that leaves a lot of great opportunities open for him.
*** Riley on 3rd down efficiency: It's critical. Huge part of this game. Two good offenses on the field. Gonna be a big factor on both sides. It will be a little bit of strength vs strength.
*** Riley on Kenneth Murray: A lot of things have had to go right. A scheme change has been part of it. Some of the ups and downs he has gone through. He has an intense desire to be a great football player. When you have a good mentality and you work hard, the results are going to show. It's been progressive. Everything was T'd up for him this year and he's bought in. He still has a lot of ways to get better, but he set the table with all he has gone through in the past few years.
*** Riley on Cotton Bowl History and his teams performances: The only year we didn't play well was the first year I was here. We really didn't play well at all. After that it's been a lot of momentum swings…the past three years have seen stretches where we played really well and when we haven't. We want to play better and expect to. But in this game, there is going to be the swings and momentum switches.
*** Riley on WVU being 11 am: It is what it is. Is it ideal, no. We will figure out the recruiting end of it and make it work.
---
Jaheim Bell | Sourced Update
– Super K
2020 ATH, Jaheim Bell (Valdosta, GA) took an official visit to the Sooners last month.
Last week he released his top three schools which included OU, FSU and South Carolina.
First, after watching some of his film myself I really liked what I saw. But after speaking to a friend out in Georgia who has been out to see him, I'm even more sold. He gave Bell very high marks.
He's a big, loose player who can run and he plays both ways and return kicks. In other words, he's a football player with the athleticism to make that work on the next level.
For OU he represents a guy who can do a lot on offense and if needed, could bump over to linebacker.
Now, you may have heard that Bell tore his ACL this season. I was told that on the night that happened, coach Beamer got word to Bell that the injury didn't change anything for them and that Oklahoma absolutely still wants him.
According to my source, this one is very much trending Oklahoma. I'd be a bit surprised to see him end up elsewhere.
This could be a nice steal for the Sooners. I think Bell is being overlooked because he plays so many positions and he's not in the Atlanta area.
---
Trench Warfare | Oklahoma Vs. Kansas
– JY
To start the game, I thought the defense looked pretty good. That trademark Grinch effort was definitely there all day. It's easy to make the mistake as fans whenever one side of the ball isn't playing well (the offense), to lump the whole team into that. Even so, the Sooners were up 42-7 going into the fourth quarter before coach Grinch started getting some more guys reps.
Below, Ronnie Perkins blows this play up from the start. He was in the backfield so quick, that the play didn't stand a chance. You can see the offensive lineman who whiffed on his block. Ronnie had a great game Saturday. He didn't get a lot of stats, but he was very disruptive all day.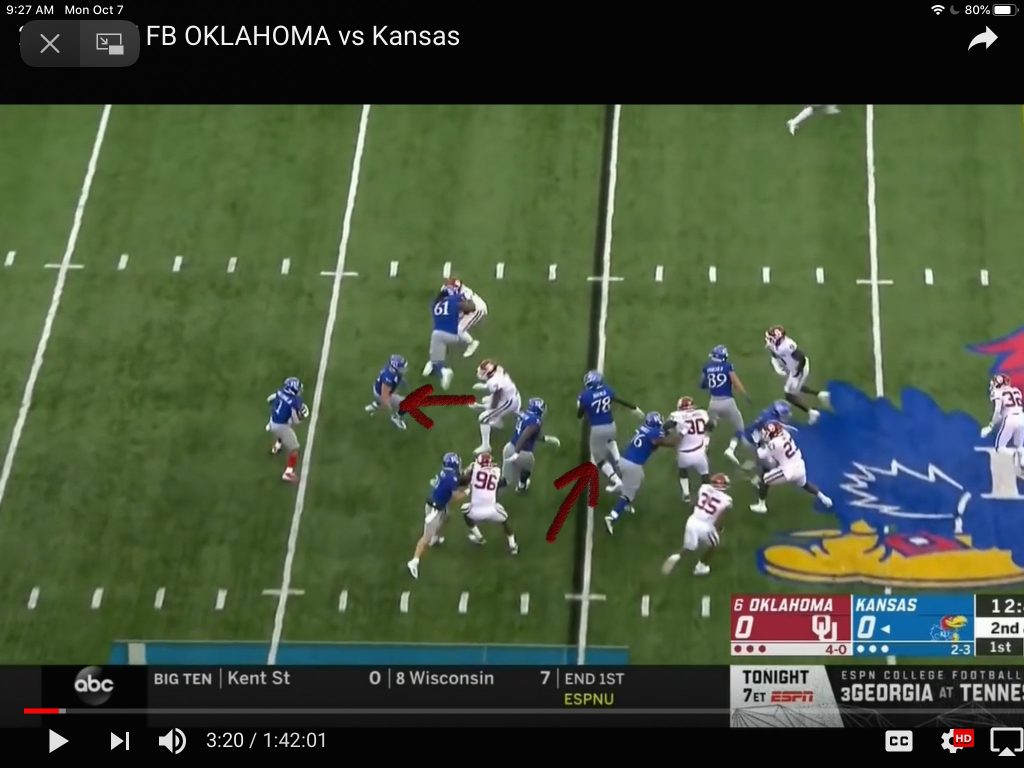 This is simple turnback protection, meaning the o line is going to block to their left, while Jalen rolls out to the right. This should be an easy block for Brey Walker at right guard. That nose is the guy he wants to block down on. For whatever reason, he goes too flat to the line of scrimmage, and lets that nose go. The nose then causes the quick pressure and it's a broken play. Brey had a tough game early on, and it looked like he was confused on a lot of things.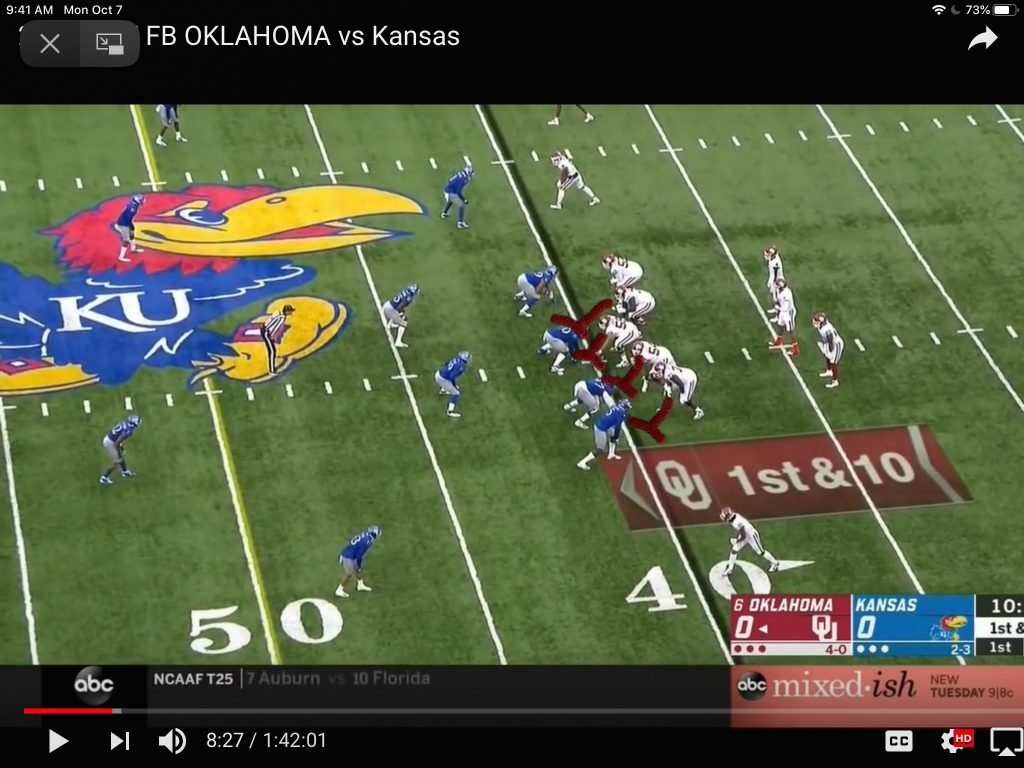 Hall ends up peeling back and blocking the nose, but it leaves his man unblocked. Brey should have stopped his man where I drew the blue arrow.
I said in my postgame recap, that I thought the O line was sleepwalking. Exhibit a is below. Brey is just getting pushed back and catching his guy rather than striking him with those big paws. He's a very very strong, and athletic human being, but it just doesn't look like he gets it sometimes. Film study is going to be paramount to his development.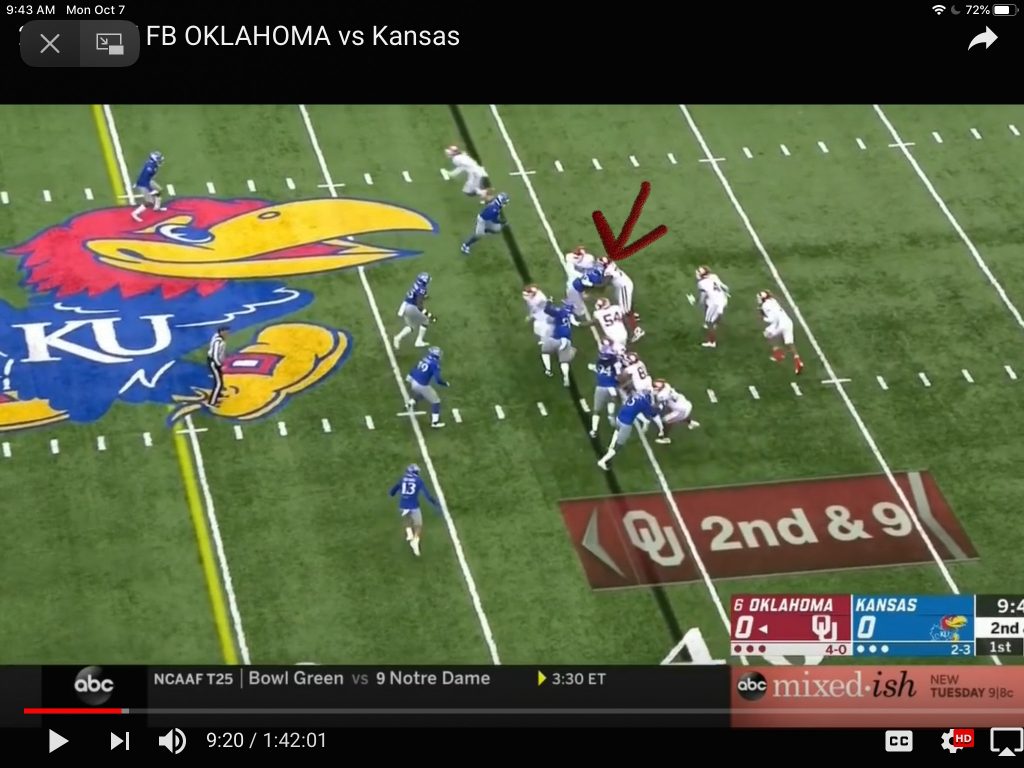 For offensive linemen, staying square to the line of scrimmage is important. Brey steps with the wrong foot and gets turned trying to block down on the nose. When he does this, it completely turns him around, and he has no chance to see the blitzing linebacker. He needs to step with his left foot, and weld his left hip to Creed's right hip. He can then pass the nose off to Creed, and have his eyes up so he can see that linebacker coming.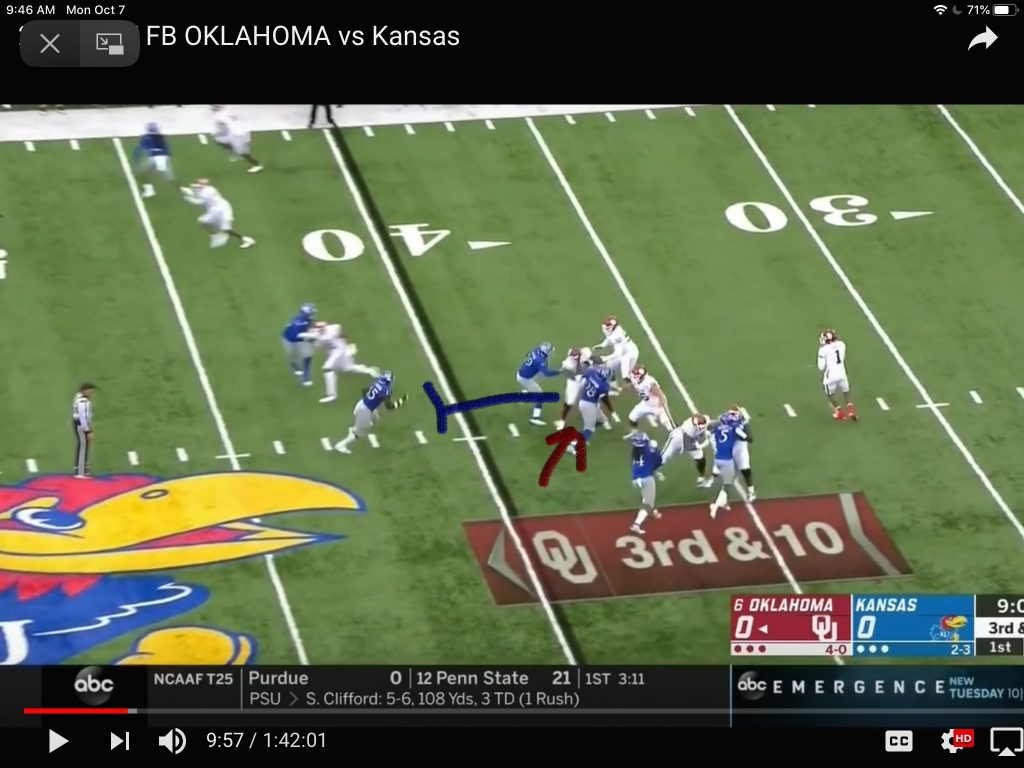 Delarrin Turner-Yell I thought had an excellent game. I love how hard the guy plays and how aggressive he is. This is a play, that if he had made it, it quite possibly could have been a turnover or a safety. He reads early that it's a run, and flies down the alley to blow it up. Pooka Williams is a hell of a player and makes him miss. He got out to the 7 yard line and gave KU a bit of life.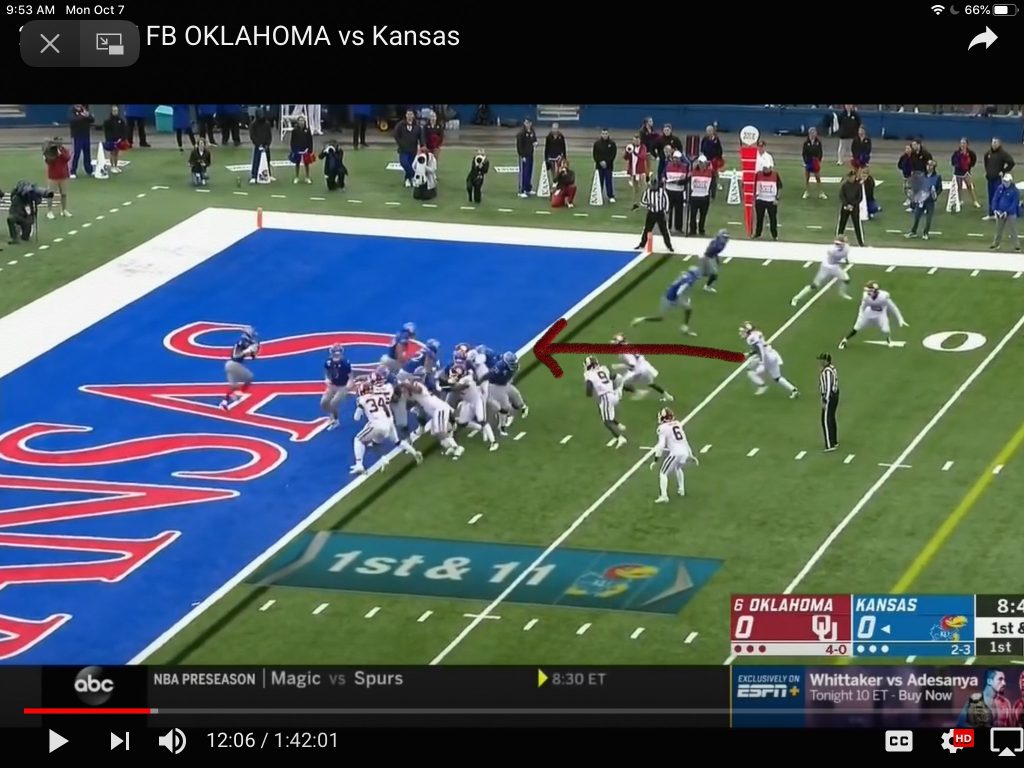 Brian Mead came in for Kenneth Murray when he tweaked his ankle. He's in great position to make the play here, but you have to tip your cap to Pooka Williams. The kid is just a ballplayer. He may be the most dynamic runner the Sooners see outside of Chuba Hubbard this year. Dude is a talent.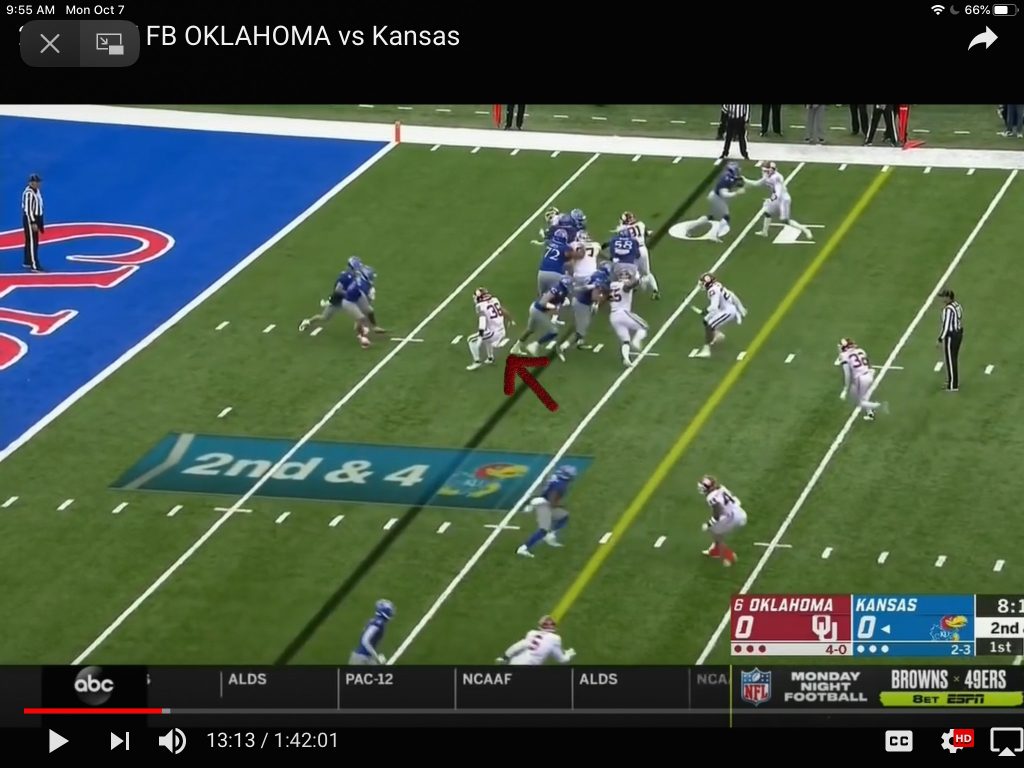 He's one of those guys you can't tackle in a phone booth. Let me put it to you this way. If Lincoln Riley had him in his offense, it just wouldn't be fair.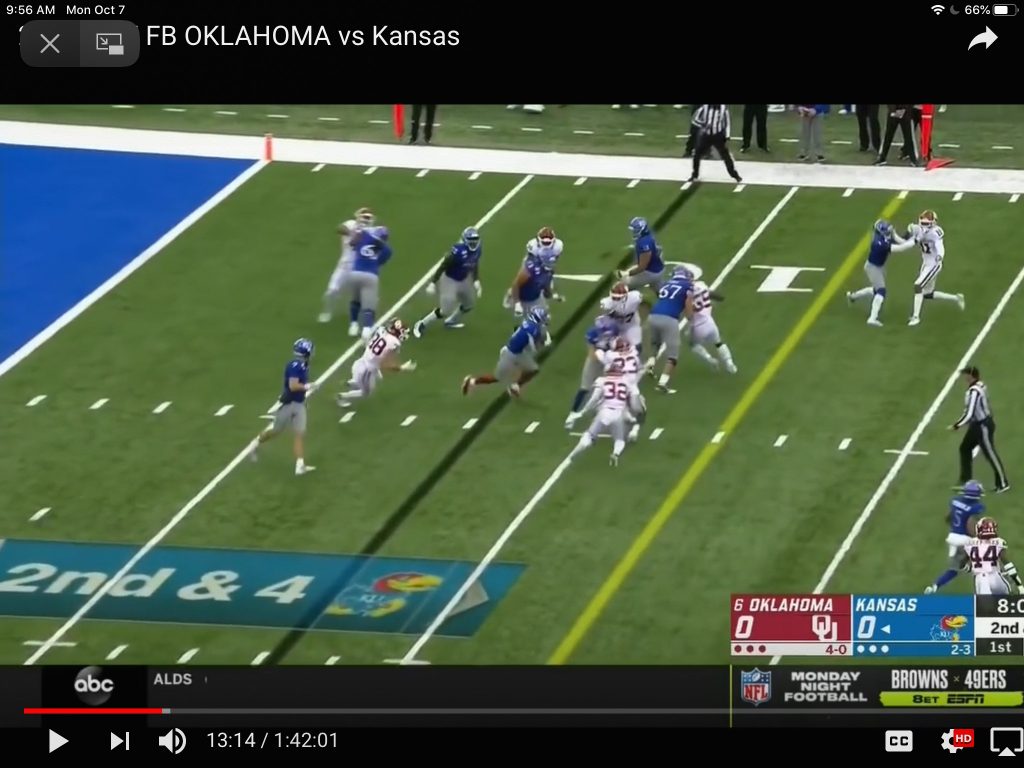 The great thing about having Bill Bedenbaugh as your o line coach, is that he can coach. He's one hell of a teacher, and Brey got better as the game went on. Here he's playing much more physical and stepping correctly opening a nice lane for Sermon.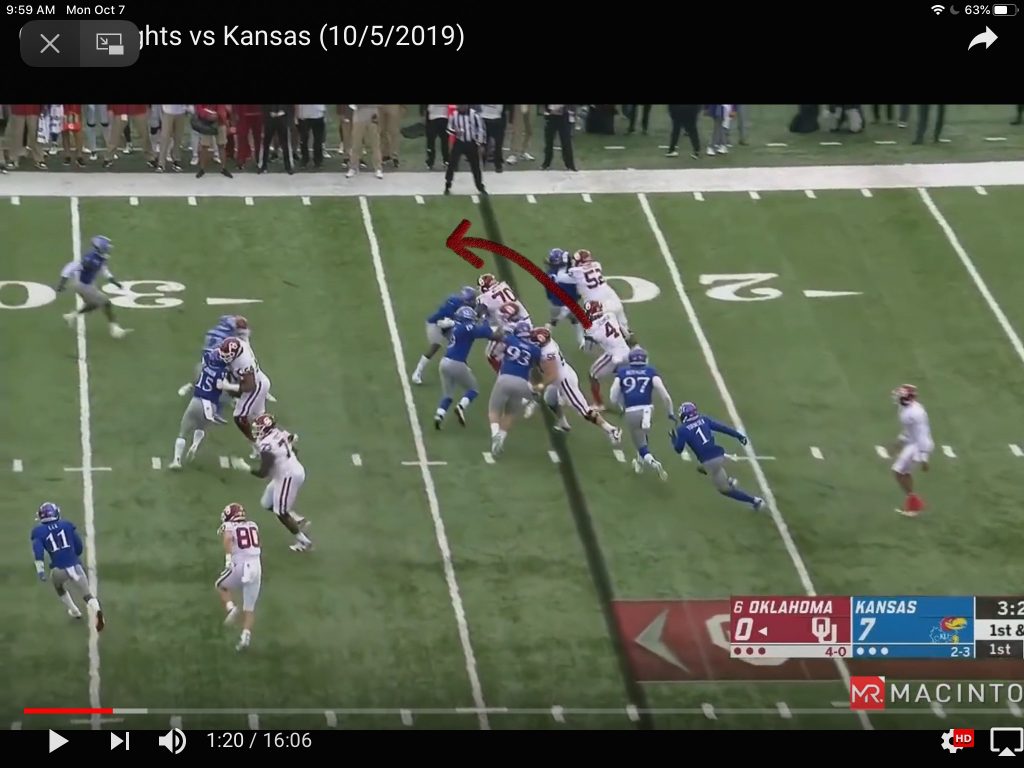 This is more like it, as the Sooners left side of the O line pushes the whole defense back into the end zone. Quietly, I thought that Marquis Hayes (LG) and Proctor (LT) played really really well Saturday. In a perfect world, you hope that Adrian Ealy can make it back so you can slide Tyrese Robinson back down inside to his guard spot. The guys are going to have to play fast and physical this weekend against Texas.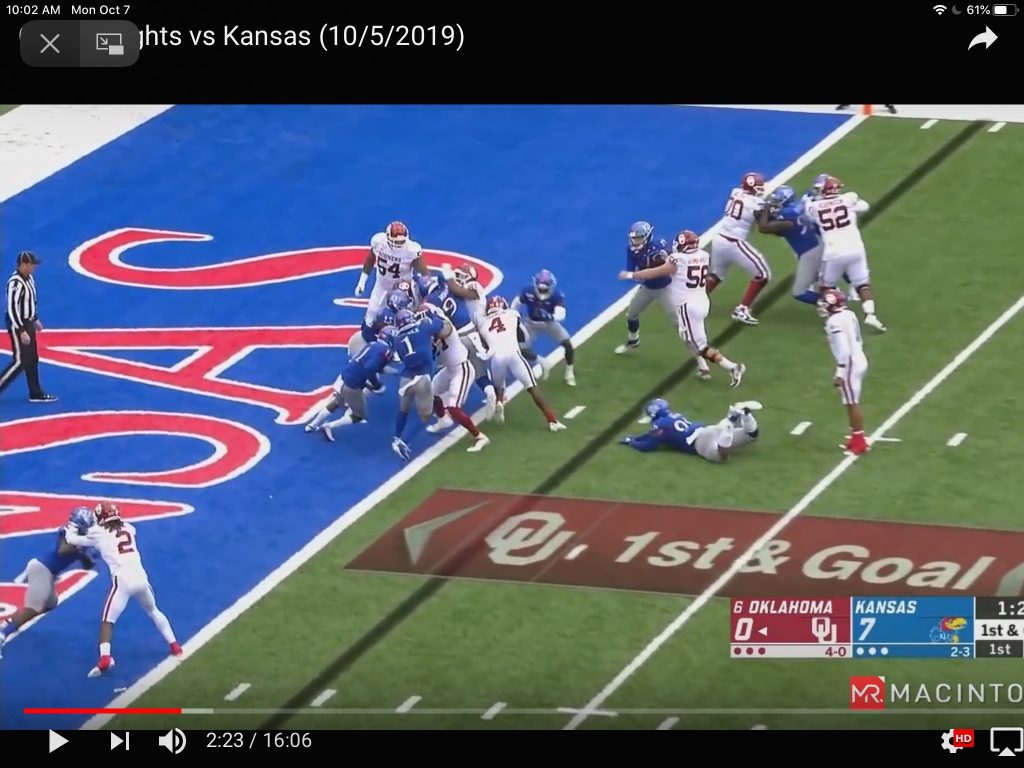 Here's Ronnie Perkins again. The guy is just a man. Several Sooners are giving chase, and you can see Marquise Overton getting on his horse. I don't know if any defensive player goes harder than Overton.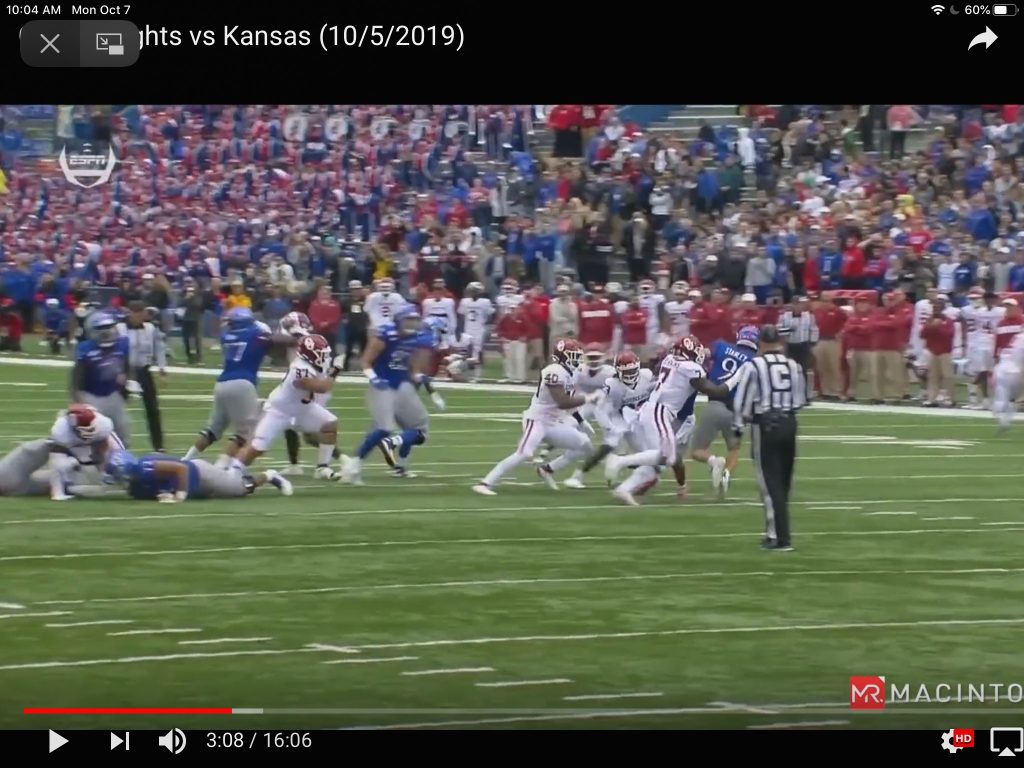 This is much better protection, and Hurts was able to stay clean in the pocket. Brey completely spun his guy around, and I'm tellin ya, if this kid can figure it out, he'll play faster and more decisively. It'll allow him to look way more powerful and play better.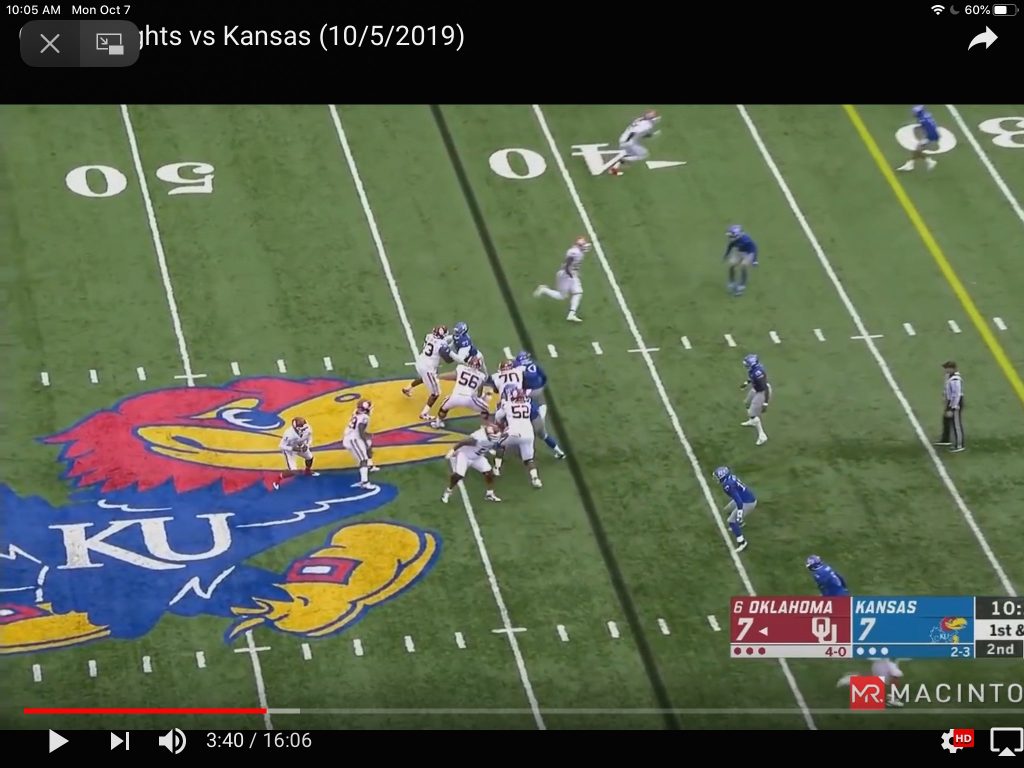 One of the things I really really like about Coach Grinch is that he makes adjustments. KU was giving the Sooners problems in the run game. So he puts more guys in the box, and has 7 guys around the line of scrimmage. This is really a bear front meaning you have a zero nose and two b gaps and two outside eye players on the end man of the line of scirmmage.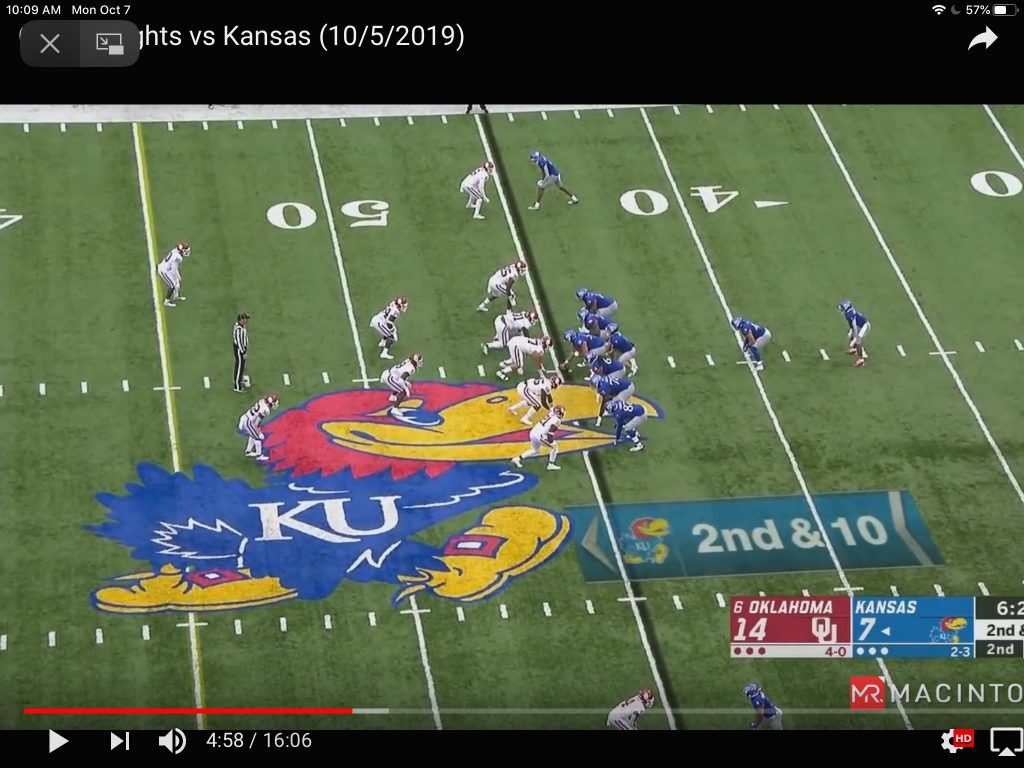 It gives the Sooners more one on one matchups up front and it allows them to do this. Ryan Jones and Nik Bonitto are the ends, and with their running ability they can run down just about anything. Jones does a great job setting the edge to the boundary, and once Bonitto sees the ball given, he's able to run it down for a loss. The rest of the guys are there to help out.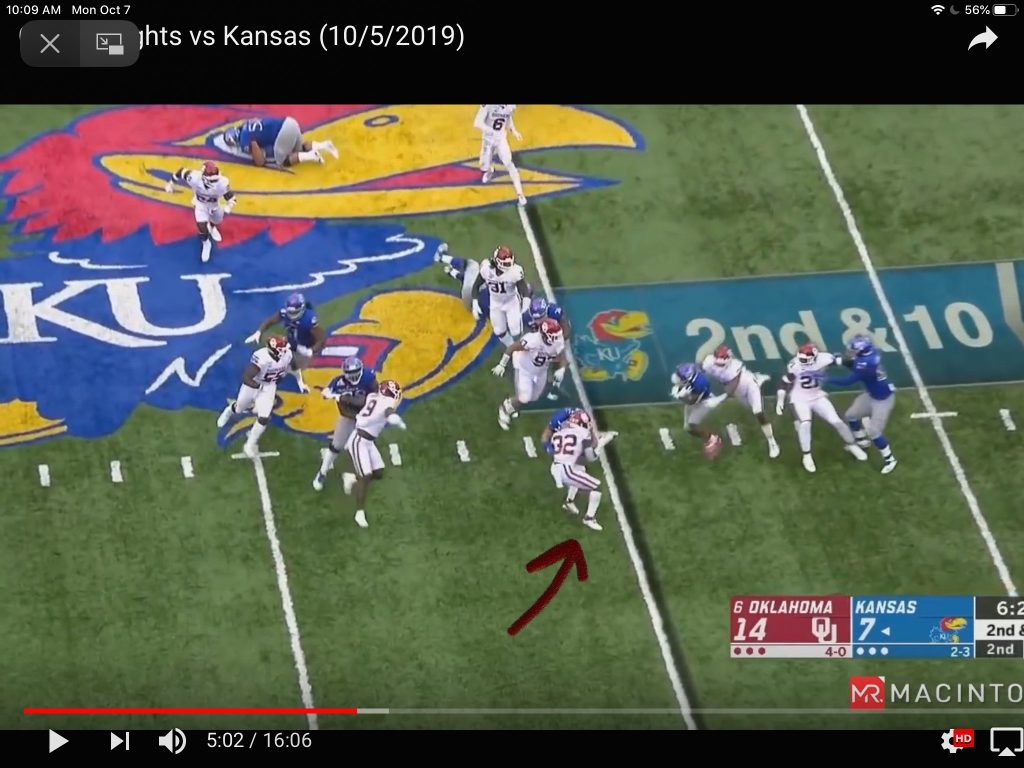 The knock has been more penalties on the Sooners, but since they're playing much tighter, some of those things will happen. This wasn't a penalty. It was just great coverage by Jaden Davis at the bottom, and Pat Fields on the tight end. I thought Pat Fields played pretty solid. The safeties had a pretty solid game Saturday.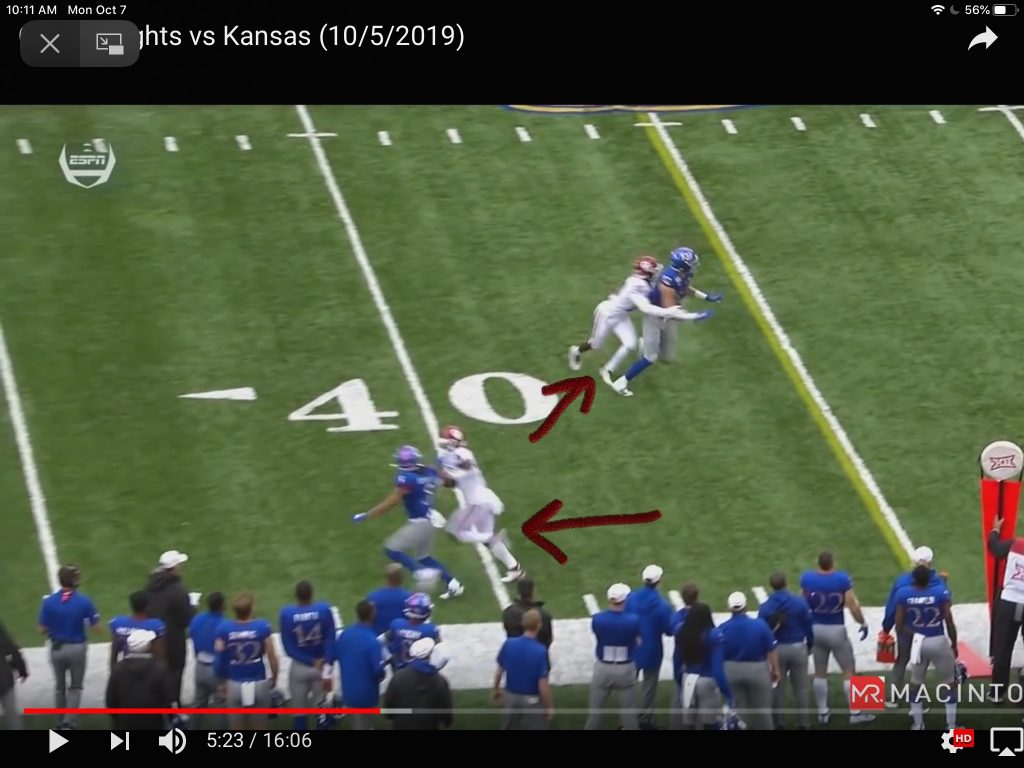 Here you can see Brey is stepping better, passing a similar look from earlier off to Creed. Now you can see him able to find that blitzing linebacker coming right at him. He got better as the game went on, and so did the Sooners offense.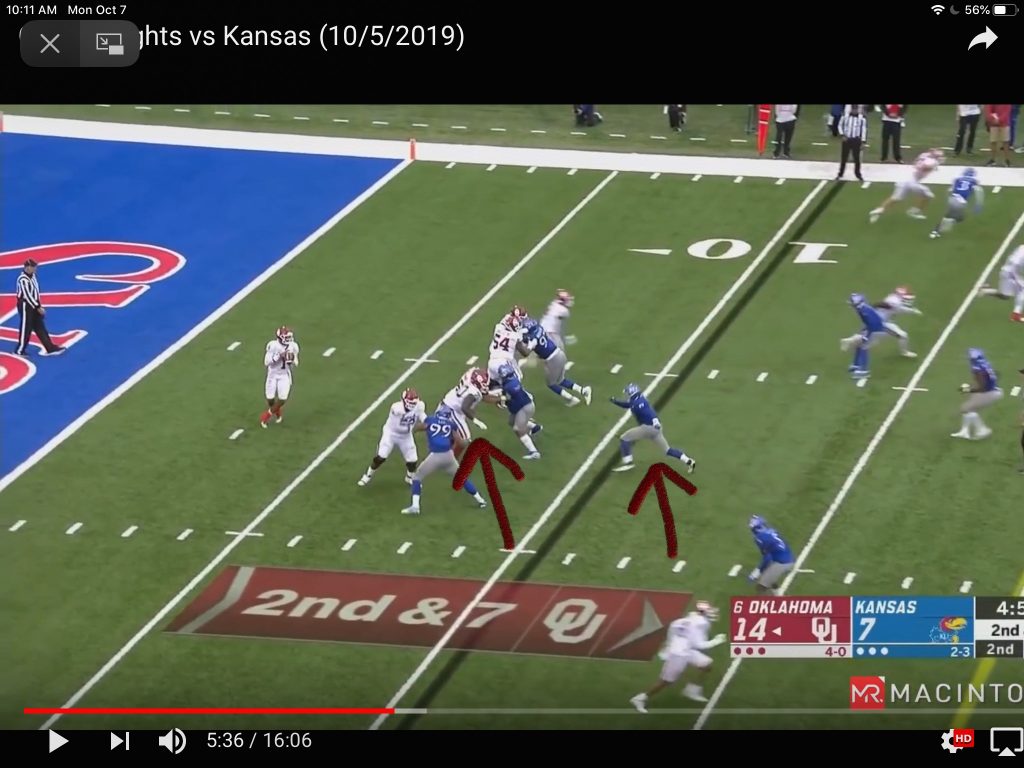 Something the Sooners are doing much better this year is setting the edge and keeping their outside arm free. This is just great team defense as Neville Gallimore has penetration, and Pat Fields is doing a great job just making that runner flatten. It allows Gallimore to catch up to him and drop him for a big loss.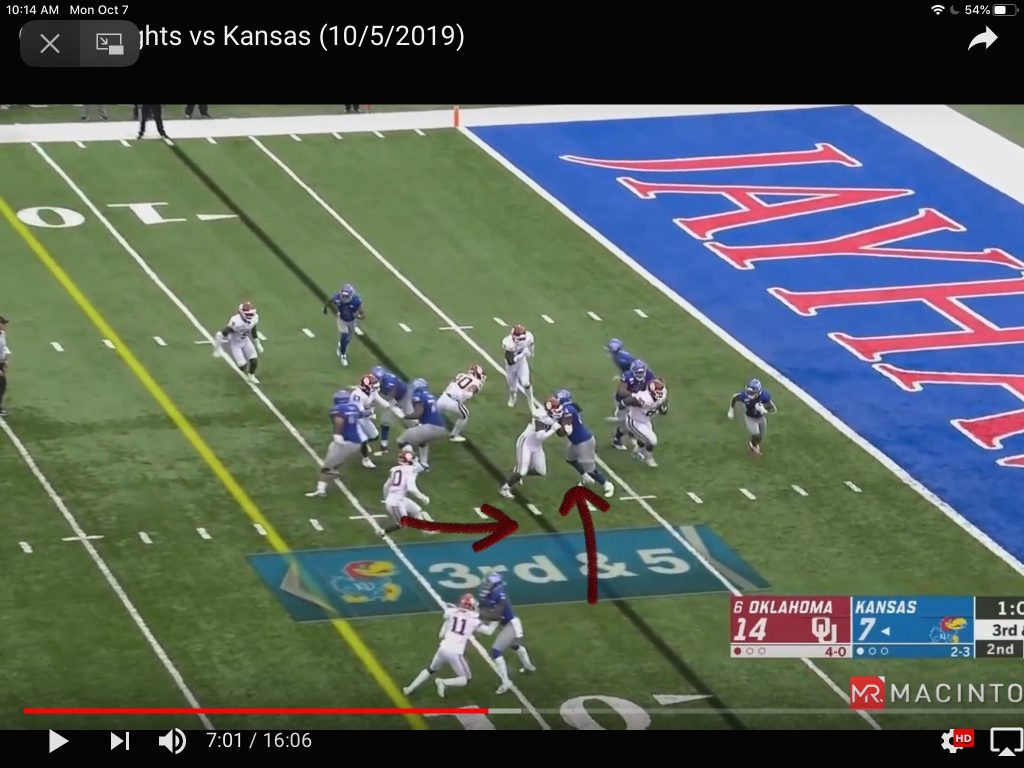 It was the King's birthday Saturday, and I'm not sure if Lincoln called the option as a nod to him or not, but it still was really cool. The O Line does a nice job allowing Hurts to fake the pitch outside and walk in for six.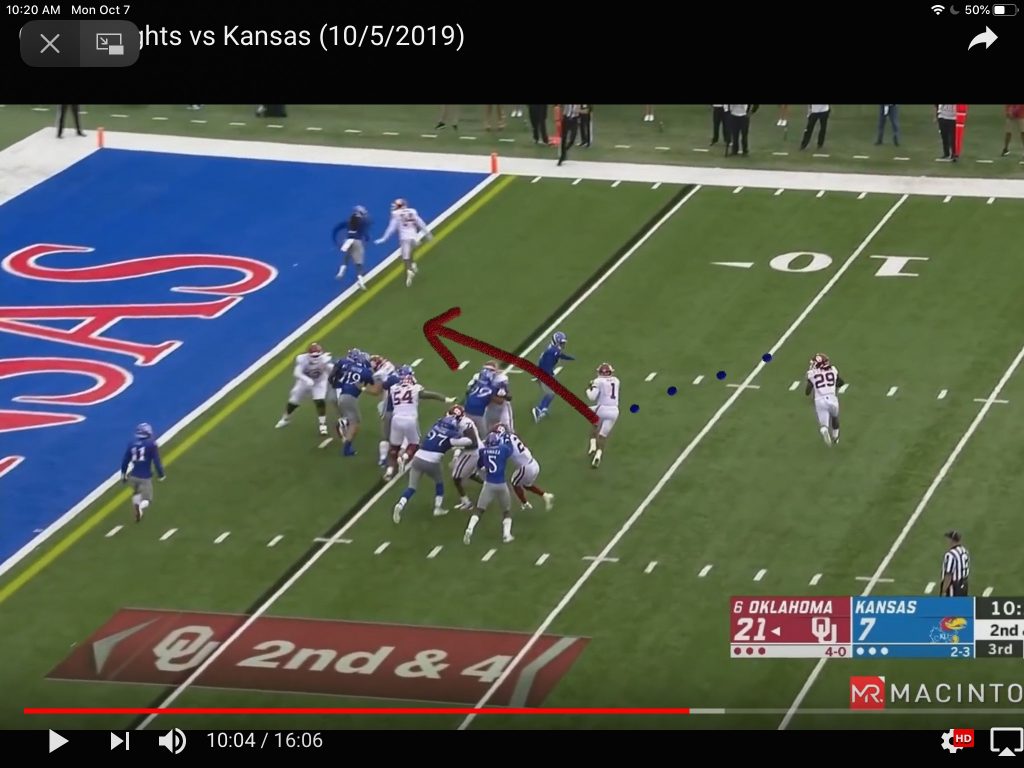 Rhamondre Stevenson had a whale of a game. On his first long run, I think if he had stayed inside Rambo's block, Lamb could have cut off one of those other guys and he may have scored.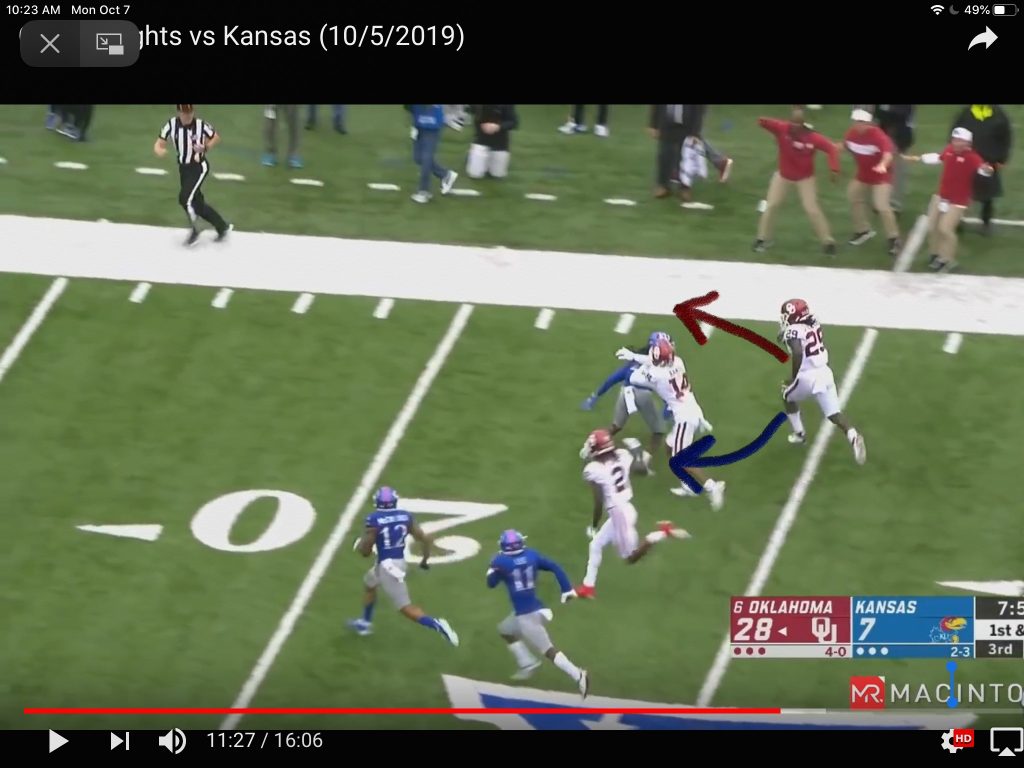 The defense pretty much had KU on lockdown all afternoon until Grinch pulled the starters. How many times did we see an 8 man box under Mike Stoops? I'm hoping that we see the Sooners load up against the Run, and make Ehlinger beat them with his arm. If they can stop that Longhorn run game, it'll bode well for the Sooners.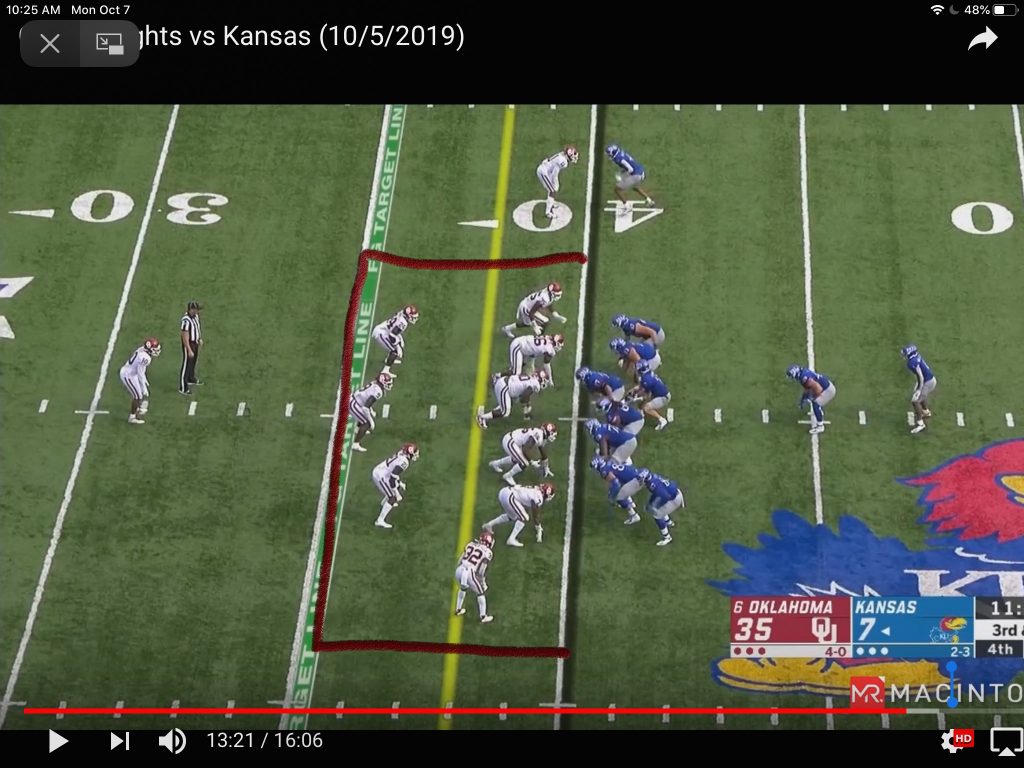 We need to see a lot of this Saturday. Ehlinger needs to have about 5 or six guys hitting him on every run. I'm hoping that the guys come out with their hair on fire on both sides of the ball.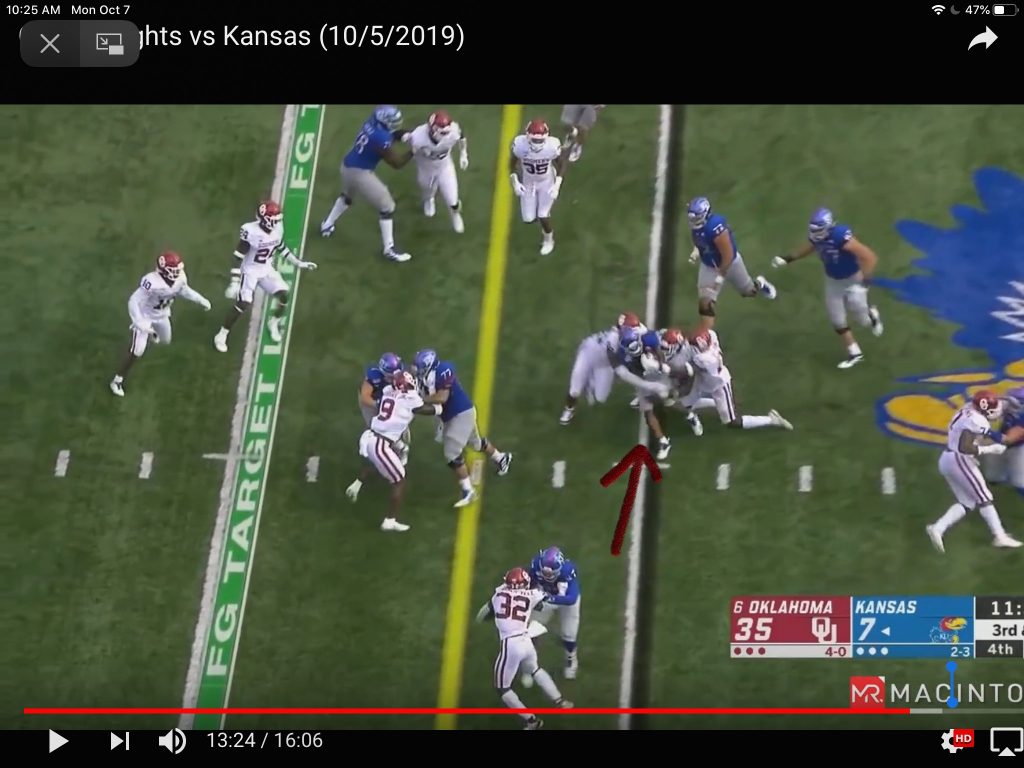 Brey steps with the foot closest to the defender and opens a lane that you could pull a set of triples through. Rather than hugging that guy, I'd like to see him punch that guy with a strong left hand and plant him.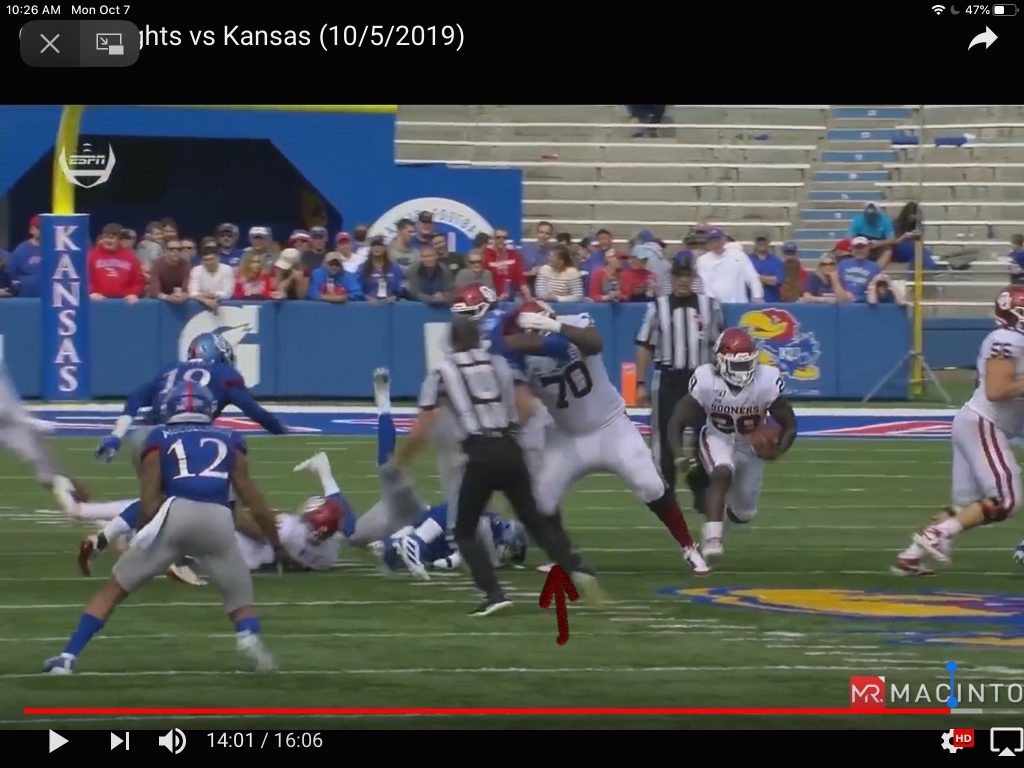 It puts Stevenson one on one with that safety, and I kind of felt bad for the guy. Stevenson is like a baby Marshawn Lynch running the ball. Speed, power and hopefully a lot more carries coming up.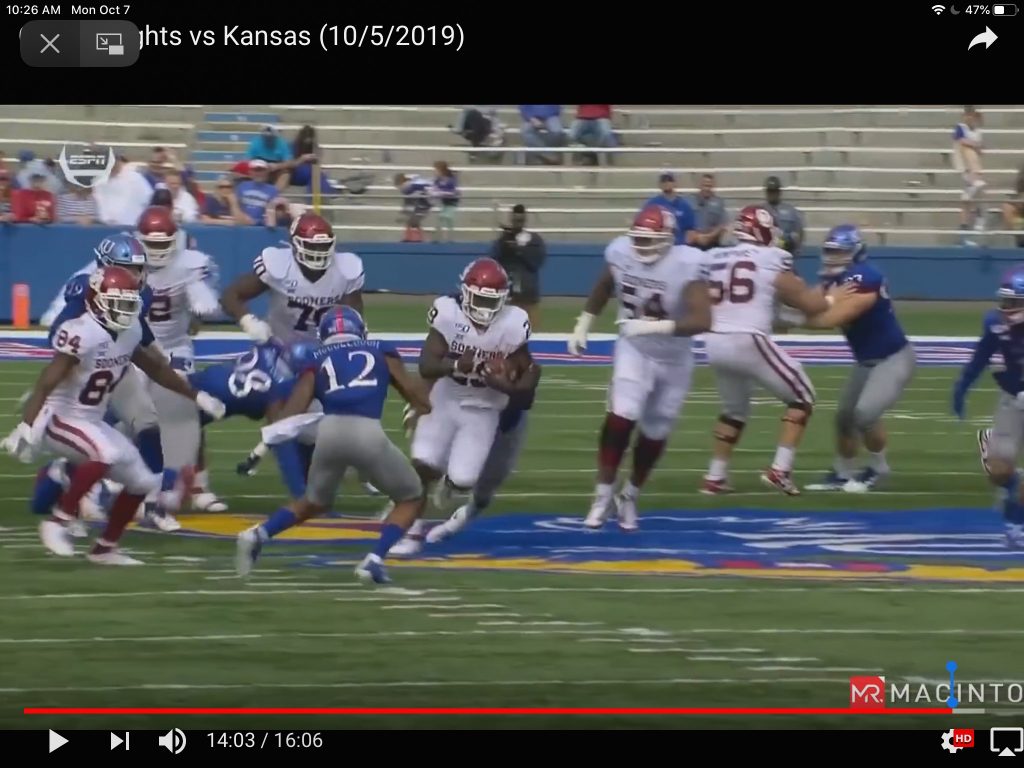 ---
For multiple daily posts, Insider Notes, Our TFB 'Pick Em' Contest, More Sourced Practice Notes, member chats with TFB staff, James Hale's Notebooks, TFB Sessions (5-minute audio talks) and much more, please check the Donor Board!