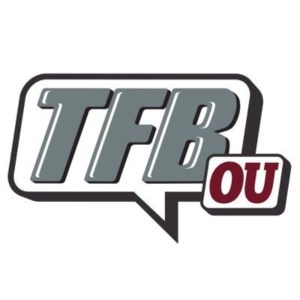 Open Post | Tuesday, October 1st
Posted on: October 1, 2019
Texas Tech Post Game Thoughts
– JY
It was a different feeling watching an OU Texas Tech game without being stressed out, ticked off or worried. The Sooners were in control all day long, and dominated the Red Raiders.
Holding Texas Tech to about 100 yards passing is no small feat, regardless of who's playing QB, but that's exactly what the Sooners defense did today.
While the defense had a few busts here and there, to deny the improvement under new coordinator Alex Grinch would just be dishonest at this point.
The thing that stands out to me the most about this defense is that whenever a team passes, the QB's gettting hit, and the catch is contested almost every time.
DeShaun White has cemented himself as the other linebacker next to Kenneth Murray. On the lone touchdown play, it was just a bust by Brian Asamoah, where he froze watching the counter action leaving the middle of the field wide open for an easy score.
A few things I did notice that didn't happen in years past defensively…Delarrin Turner Yell runs down the long gainer down the sideline to set up 1st and goal at the two. The defense has consecutive back to back tackles for loss, and forces them to kick a field goal.
After the cheap hit on Kennedy Brooks, the whole defense was pissed. It was awesome to see. The whole stadium was ticked off, and after a ho-hum game against an overmatched Tech squad, it was nice to see the defense raise their effort to another level.
To start the game on the offensive line it was Swenson, Robinson, Humphrey, Brey Walker & Marquis Hayes. Not sure why Adrian Ealy was out, but again the versatility that coach Bedenbaugh recruits and teaches allowed him to kick out an existing starter at guard to right tackle, and bring in a guy who played really well in Brey Walker at right guard, and the O line looked pretty good.
The tight ends have to get better blocking on the edge, namely Brayden Willis. Not sure if it's uncertainty or what, but sometimes he just whiffs or doesn't get enough on the guy. I thought Austin Stogner looked really good blocking down on the goal line off the quick pitch to Trey Sermon.
Coach Thibs has those boys hustling up front. I love the effort that Marquise Overton plays with. He had a few hustle plays that you don't make unless you're really gettin' after it. Also I guarantee you that come draft time the hustle that Gallimore displayed getting the late rush and then running down a running qb to force a turnover will be one that teams play over and over and over.
I love Kenneth Murray as a pass rusher on the edge. He got the nice sack today early, and man he's so quick and tough to block anyway I hope we see more of it.
Jaden Davis continues to impress. He's the best tackler in the secondary, and the kid is just a ball player. Hopefully we get more like him soon.
What can you say about Jalen Hurts? He just makes big play after big play look very easy. While he's shredding Sooner record books to this point, the offense isn't quite as polished as it was the last couple of years. I think the O line still needs to continue to progress, and the running game without Hurts has to get in sync.
CeeDee Lamb is a grown ass man. 3 TD's, and he's like a running back after the catch. He's so strong and fast that DB's can't bring him down. He's a really, really good player. Charleston Rambo isn't a slouch either, and he continues to improve.
It was a solid effort today, and probably the best day the team has had defensively. What's crazy is that this team is still learning to play together and haven't played their best ball yet. I'm excited to see it.
---
Weekend Recruiting | Quick-Hitters
– Charlie S
Touched base with both of the JUCO defensive linemen who made unofficial visits to Norman yesterday…
*** Independence Community College defensive lineman Mosiah Nasili-Kite told me he really liked what he saw both on the field and in regards to the atmosphere.
He told me he sees himself at the nose in the Sooners scheme but said "I can play end as well, it's really up to the coaches"
*** Deandre Butler, Nasili-Kite's teammate at Independence Community College, was also very impressed with his time in Norman.
He also focused on what he saw on the field and in regards to the defensive line and how they played, he said "They play fast and fill every gap. The scheme allows the DL to get some action now".
*** Now, in regards to their visits, both Nasili-Kite and Butler are May graduates. Since they are May graduates, NCAA laws prohibited them from having face to face contact with the staff during the visit.
They can speak on the phone and through electronic correspondence, but they were not allowed to meet with the coaches other than in passing.
Both of them are very high on Oklahoma and they raved about the atmosphere and as mentioned above, the product on the field. Neither holds an OU offer at this point, but they are certainly on the Sooners radar.
Will be keeping in touch with both of them.
---
Weekend Visitors | Updates
– Super K
***In case you missed it, we had a couple notes yesterday (Sunday) however I'll flesh out the most important note from that update here…
I was able to get a little more information on the Josh Eaton front. Again, I was told very clearly that OU really put together a strong pitch this weekend that seems to have had a pretty profound effect on Josh and his father.
The sense I got during the weekend on the possibility of a flip was it was close to being a question of when and not if at one point.
However, I will note that OU was dealt a little bad luck with the airlines coming out of OKC. Apparently the recruits' flights were continuously delayed yesterday from the afternoon all the way until the evening. The flights were eventually cancelled which forced Princely to stay over an extra night. In the case of Eaton, I'm told they ended up taking a car and driving to Houston late last night.
Obviously, that wasn't OU's fault but it causes some frustration.
Having said that, in the case of Eaton, I just don't think that will matter ultimately. It sounds like seeing how OU is developing players, playing their cornerbacks, and the depth chart really made the case for OU.
However, I want to add that Josh's father has yet to visit Texas. So, I don't know yet if they will make a final decision soon or if they'll wait and make a trip over to Texas. That would obviously give Texas a chance to counter. But right now, this one is trending OU.
***On the Princely Umanmielen front, I spoke with someone close to him and I was told the visit went well.
However, I still believe that comfort and familiarity are ultimately going to be too strong in Texas' favor (Princely is from the Austin area).
I was told that Thibs absolutely did an amazing job recruiting Princely this weekend. In fact that was emphasized to me by a source close to Princely.
OU will remain in this one if they so choose and perhaps things can change as the season plays out. But my sense, again, right now is that Princely will ultimately choose proximity and comfort.
***2020 LB, Antonio Doyle did make it in for his official visit but I'll keep this real simple.
I don't expect to hear much more about Doyle as it pertains to OU.
I'll add that Grinch and the defensive staff are very serious about their player evaluations and while the official visits are meant to be a chance for players to evaluate the program, it's also a chance for Grinch and his staff to evaluate the players.
---
Quick Hitter Post Practice | Monday: 6:30 pm
– Charlie S
Just touched base with James.
One quick note following post-practice…for those of you interested (I was) freshman Trejan Bridges was working with the defense again today.
Bridges got in the game for a couple of series against Texas Tech on Saturday at nickel back and it appears as though the learning process will continue this week.
James will have your full report in the morning on the Donor Board!
---
Trench Warfare | Oklahoma Vs. Texas Tech
– JY
To start the game, from left to right it went: Swenson, Hayes, Humphrey, Walker & Robinson. That versatility and athleticism that Coach B recruits pays off in games like this. I was talking to a friend the other day and mentioned that virtually all of the guys that Coach B has signed played tackle in high school. While they may slide inside to guard or center, most of them are high school tackles.
On the long bomb to start the game, it's solid protection for Hurts as he and Rambo draw first blood(sorry couldn't resist it). I'd like to see Swenson not get pushed back into Jalen here, but that shoulder may not be 100% yet.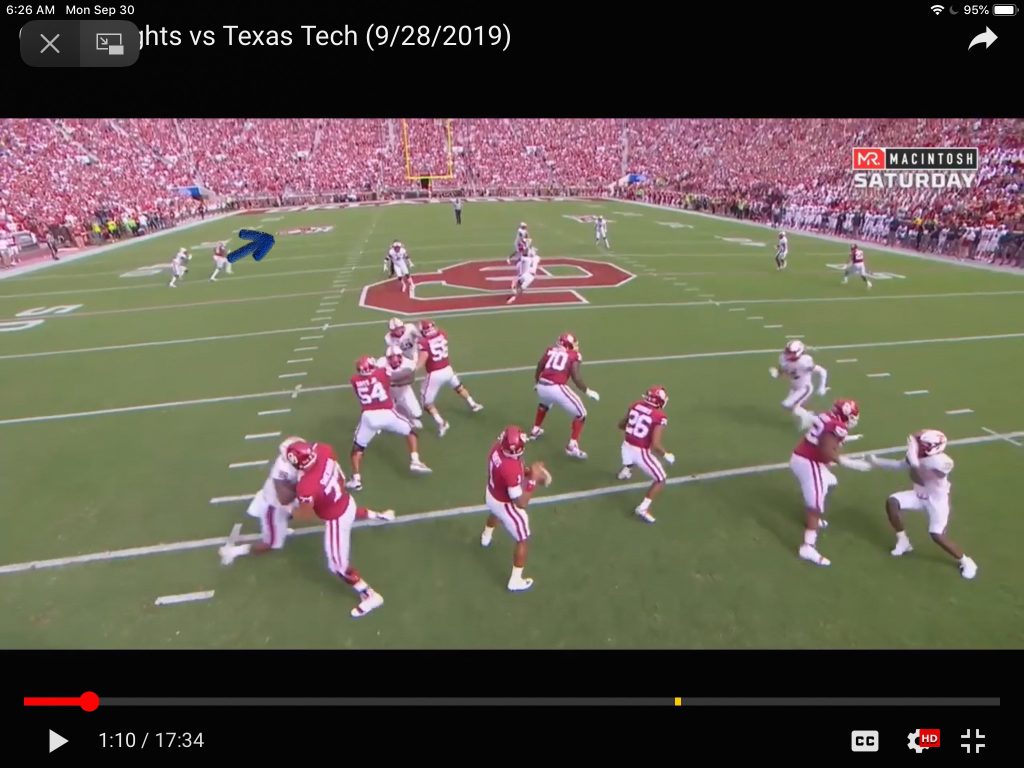 You guys probably wish you had a dollar for every time I've said running the football is as much about outnumbering people at the point of attack as it is physicality. Drawing a line down Creed and counting him, the Sooners have 6 blockers to the right against 5 tech defenders giving Oklahoma a plus-one advantage. If they wanted to turn Sermon into a blocker here and have Hurts keep it, it's a plus-two.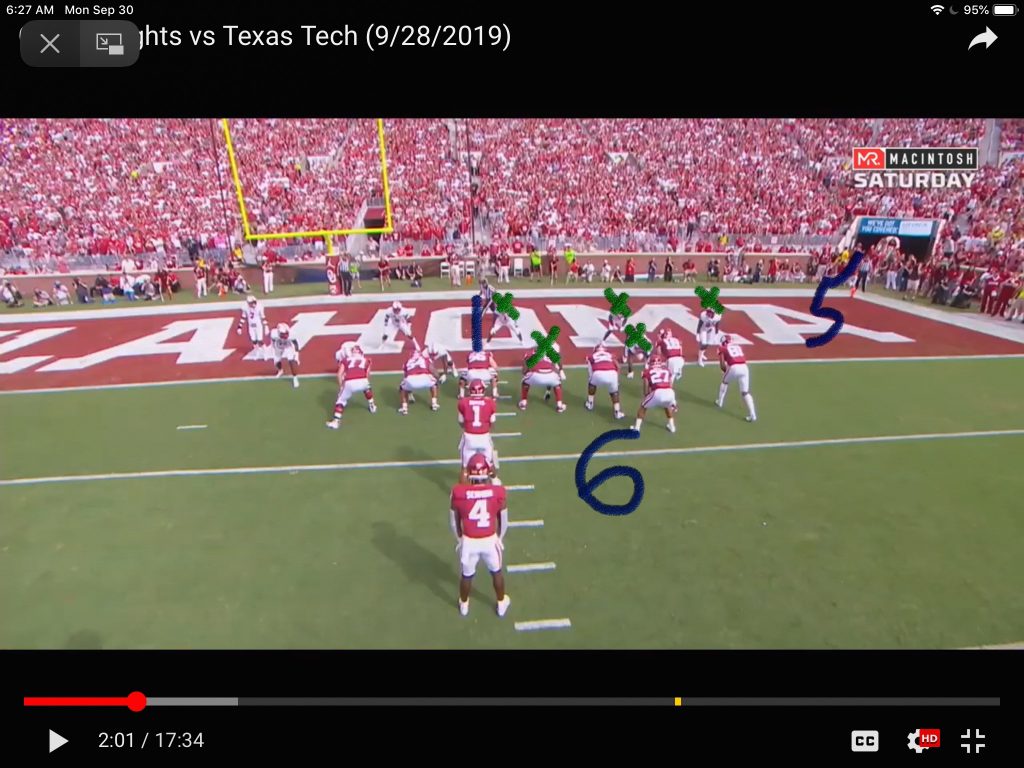 It's a quick pitch to Sermon, and a new look we've not seen. Three H-Backs/Tight Ends are to the right. Stogner Blocks down, allowing Robinson to pull. Hall and Willis are up on the defenders.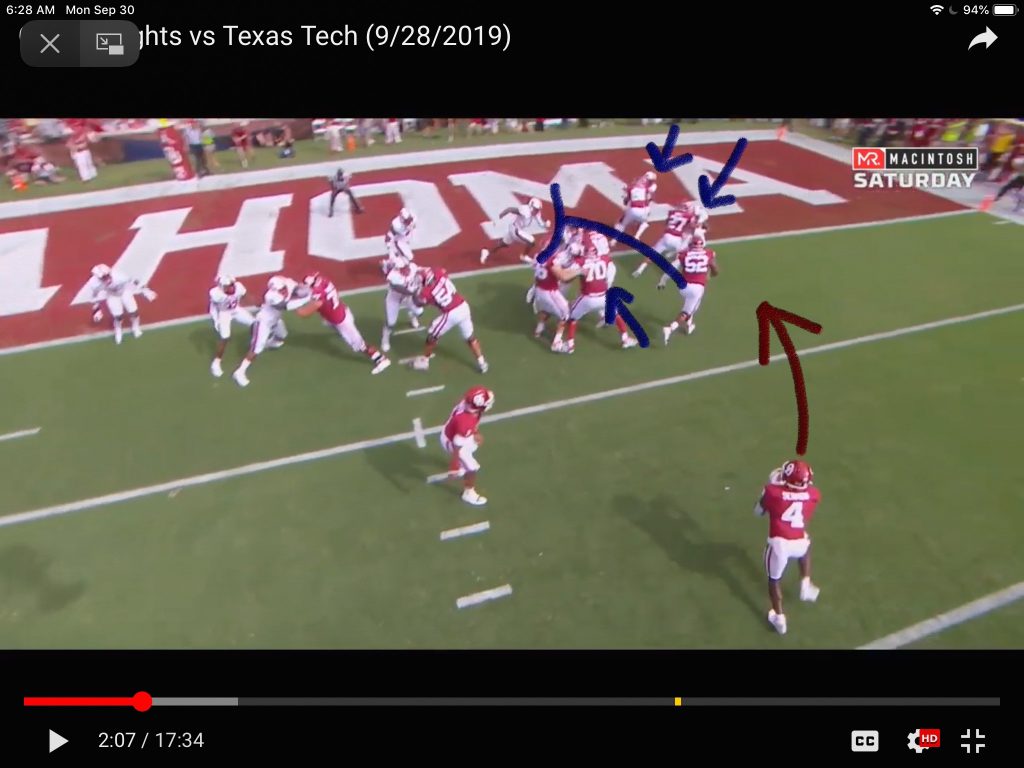 Tyrese Robinson recognizes he needs to look back down inside to catch that linebacker scraping from inside out. No doubt his experience at guard helps him here. Sermon does a great job pushing it outside to widen the lane.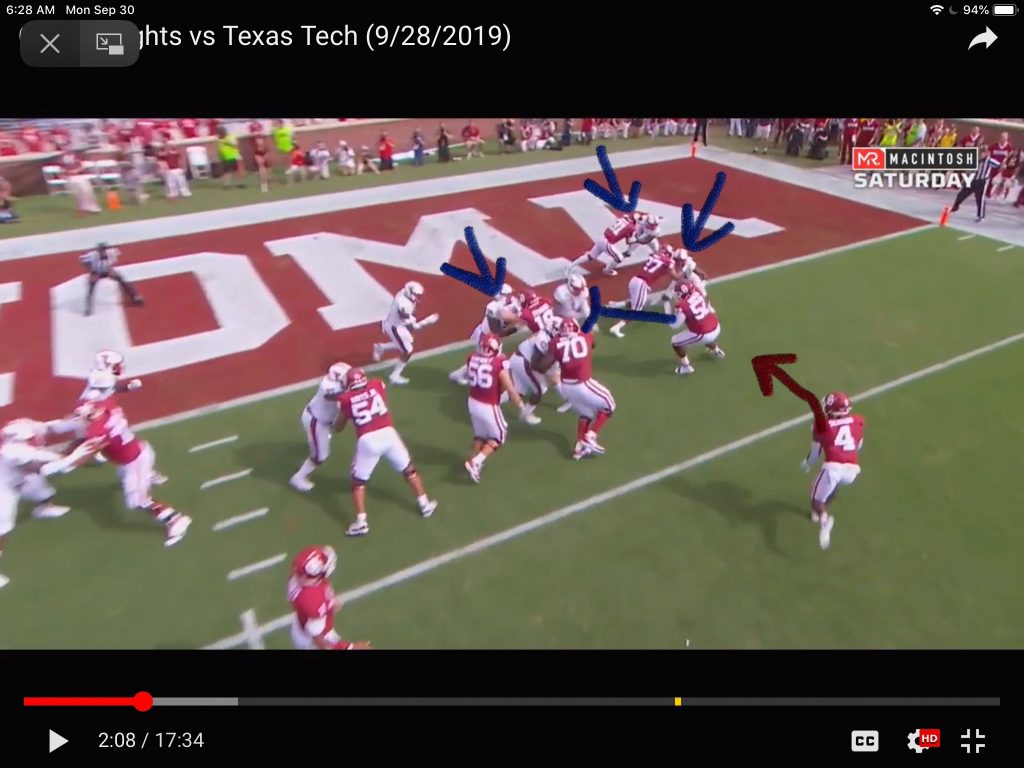 Those defenders that Willis and Hall are Blocking are required to defend the boundary. By Sermon taking it outside a step it helps his tight ends use the momentum of the defenders against them. As Robinson makes contact, it's smooth sailin' for an easy TD.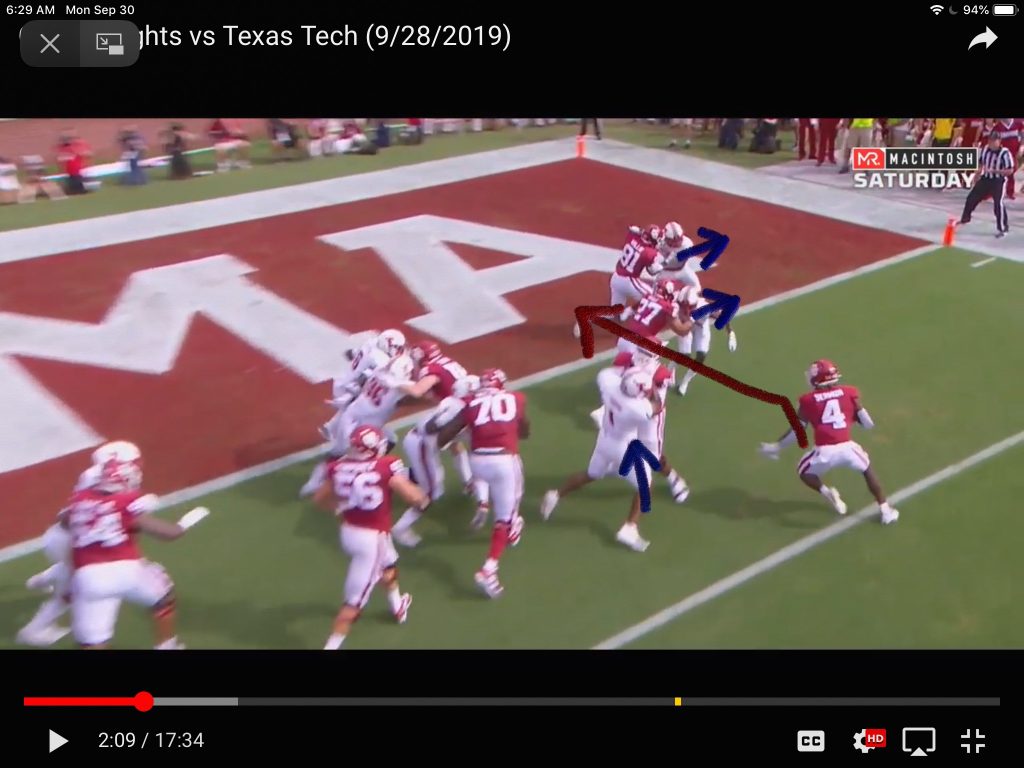 An underlying theme from the first four games defensively is that there is constant pressure on the opposing QB. Sheriff Buford T. Justice would be proud as JMT and Redmond are in hot pursuit.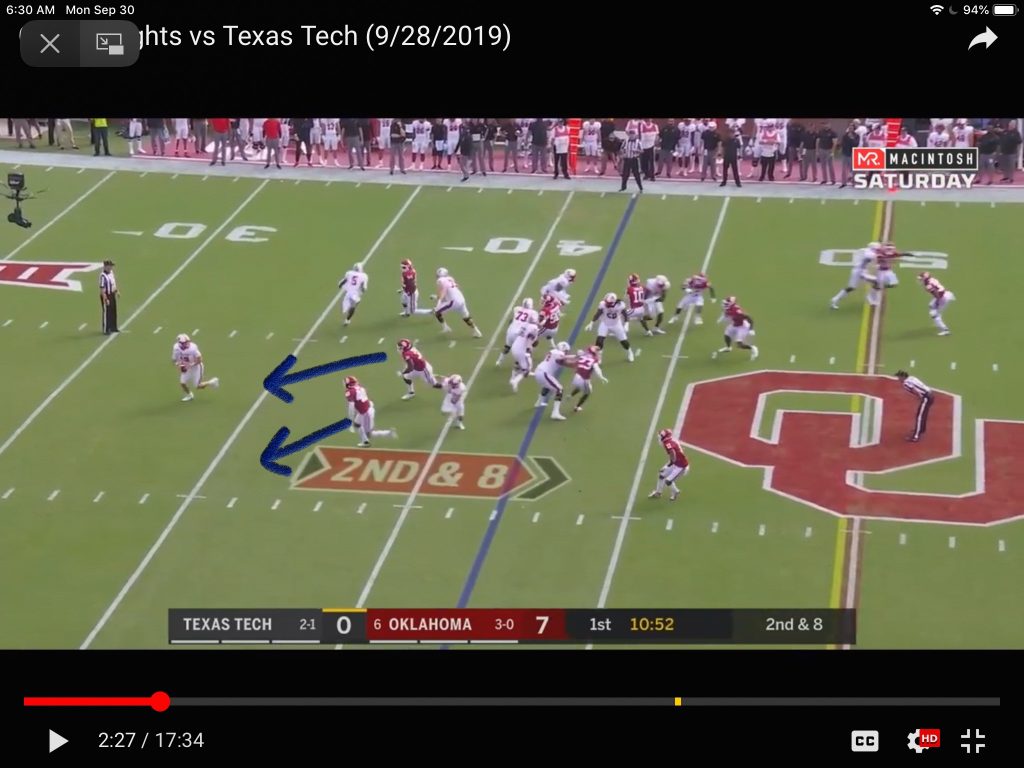 Motley's back there playin Bandit as he almost picks off the pass. Tech was never a threat to the Sooners, and it got out of hand early. Had Parnell picked this one off, it may have been more lopsided than it was.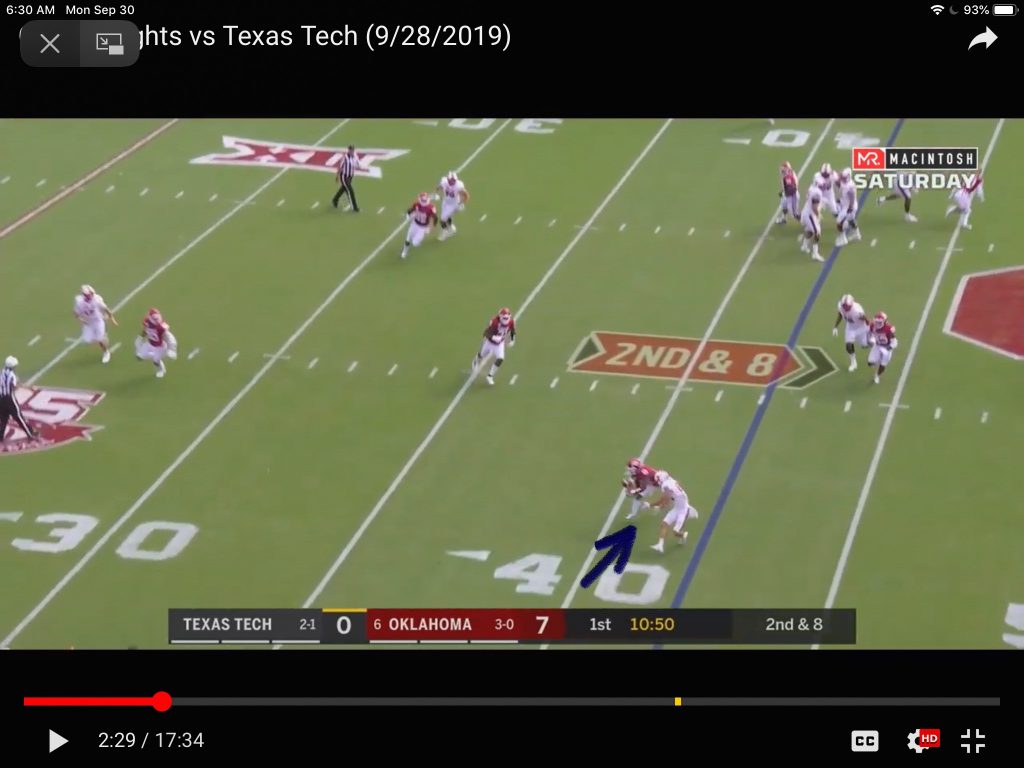 Just wanted to point out here that the entire Sooner D line is in the backfield. While everyone wants to talk about how it's just Texas Tech and their starting QB was out, their offensive line is pretty good. Madison Akomnonu and Jack Anderson, the starting guards, were heavily recruited by Coach B.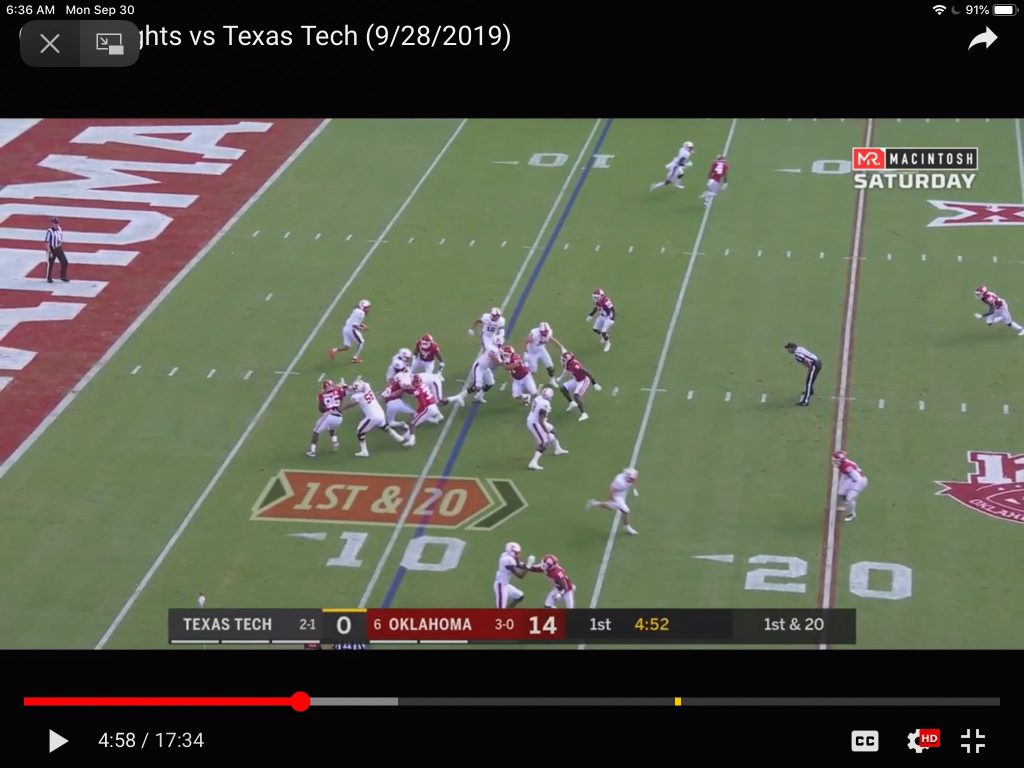 Back at the hall of justice…Jalen Hurts is just a very smart player. He understands that Tech is bringing more people than his guys can block. He does a nice job counting the tech players and reading body language all pre-snap. In a few seconds, with the band playing and all that goes on, it's a lot to process.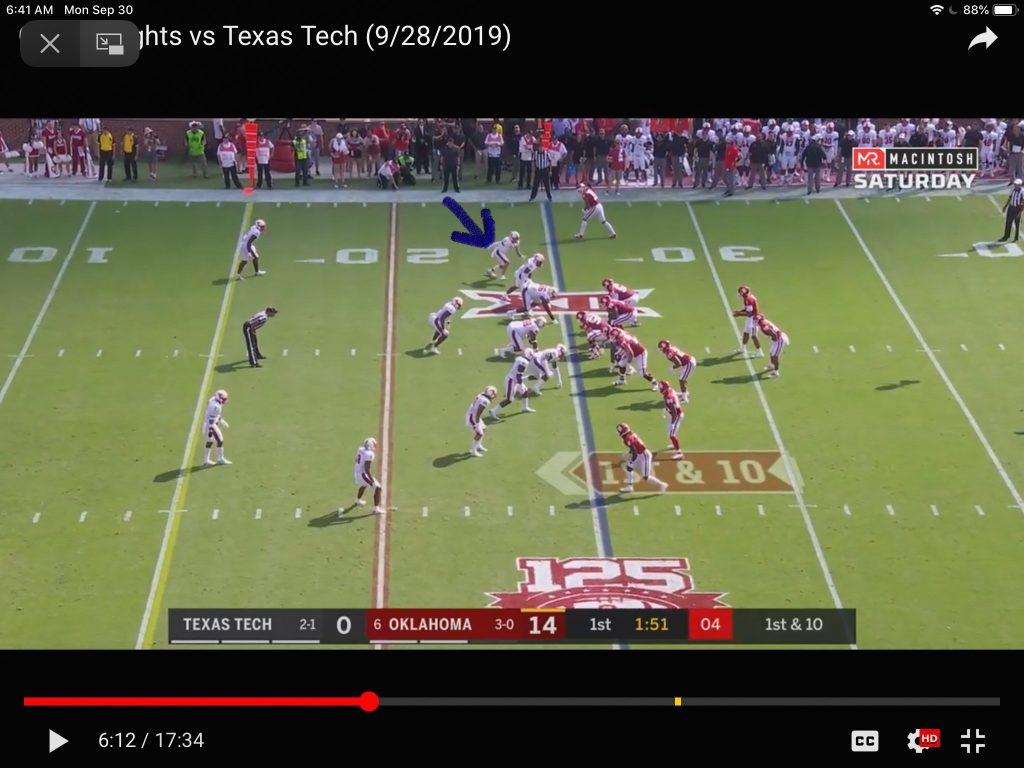 All the blockers have a man tied up, but that unblocked defender comes free. There's a point in almost every game where you see or feel an opponent's will getting broken. For this blitzer it was this play. If you get a chance, go back and watch this play. That corner is so frustrated that he had a free run and a head start, and still couldn't catch Hurts.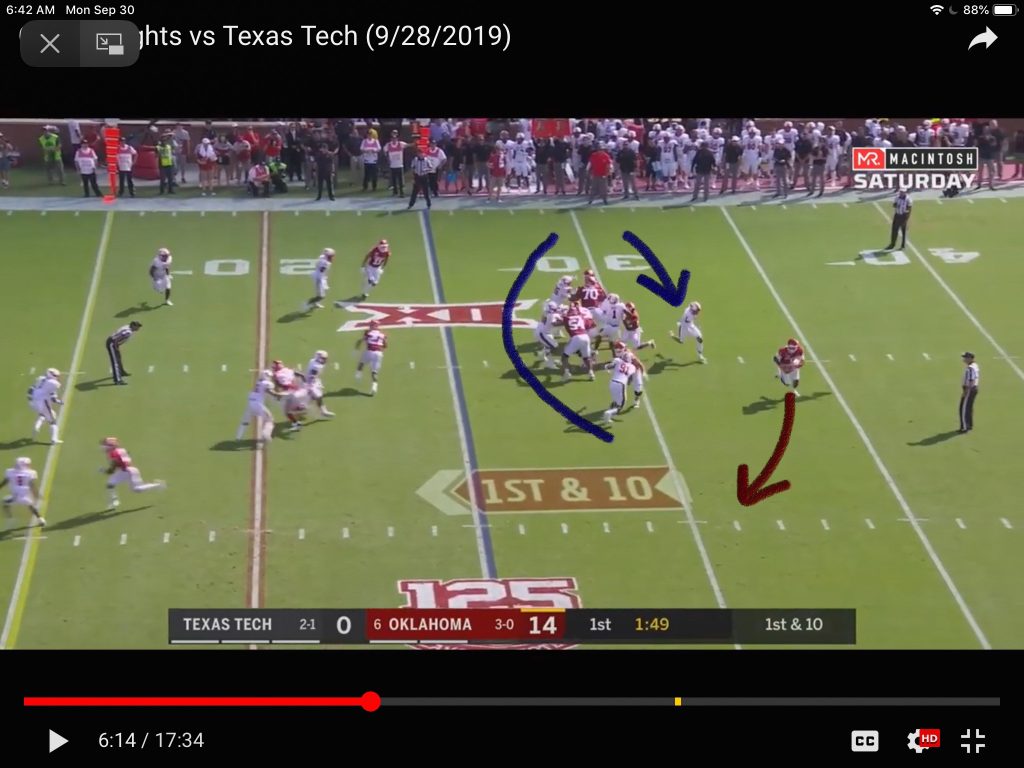 This was a well-blocked counter play. Swenson's up on the linebacker & Robinson's comin' round the mountain.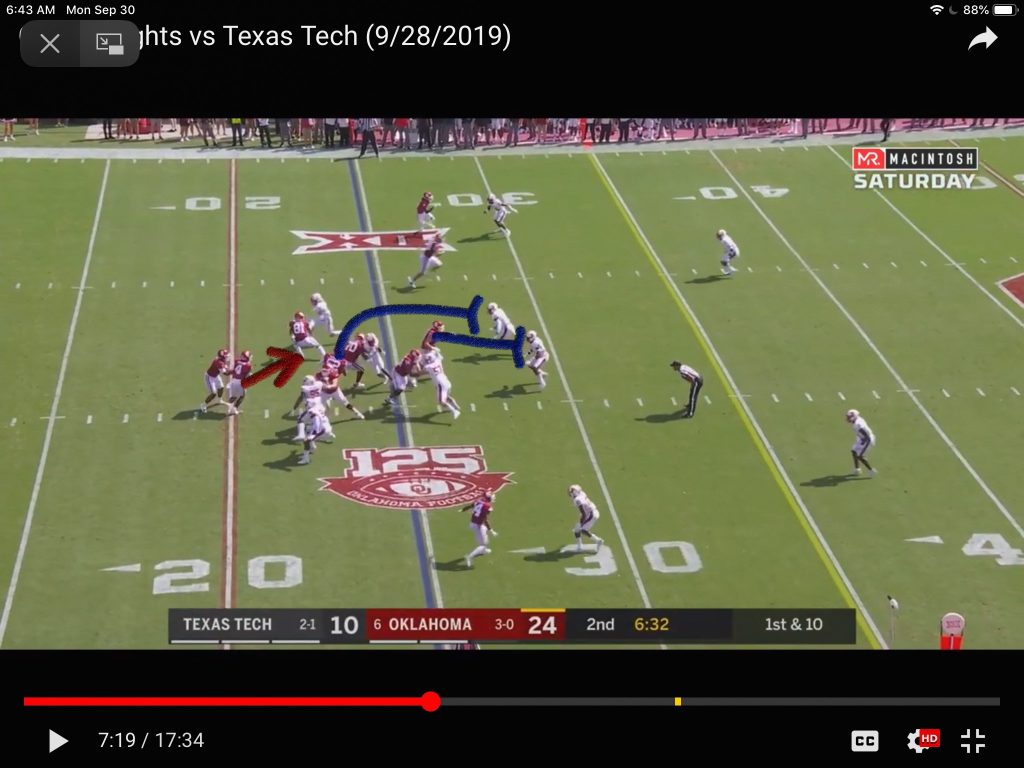 The Sooners with a new offensive line is averaging a tick under 8 yards per carry at 7.99, and at just under 300 yards per game, they're also 4th in the country. Quietly, if that's possible, this team is staying under the radar while everyone ooh's and ahh's over LSU, Ohio State, and others.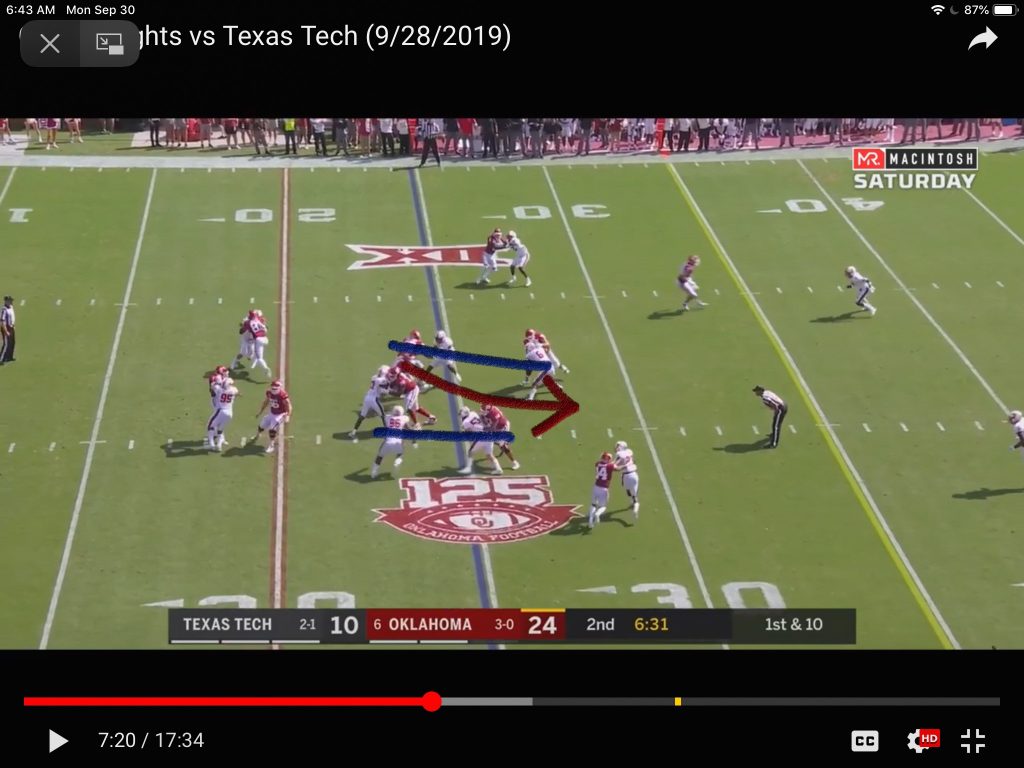 Something that needs to improve is the blocking for the tight end position. For that reason I think we'll see more of Austin Stogner, who's known for his physicality. Below, Brayden Willis just busted. It's just a 3 step drop and a fade, so there shouldn't be any pressure here. Brayden, for whatever reason, lets his man go and get a free run on Jalen. It's the right call at the right time as Hurts drops a dime to CeeDee Lamb for the score.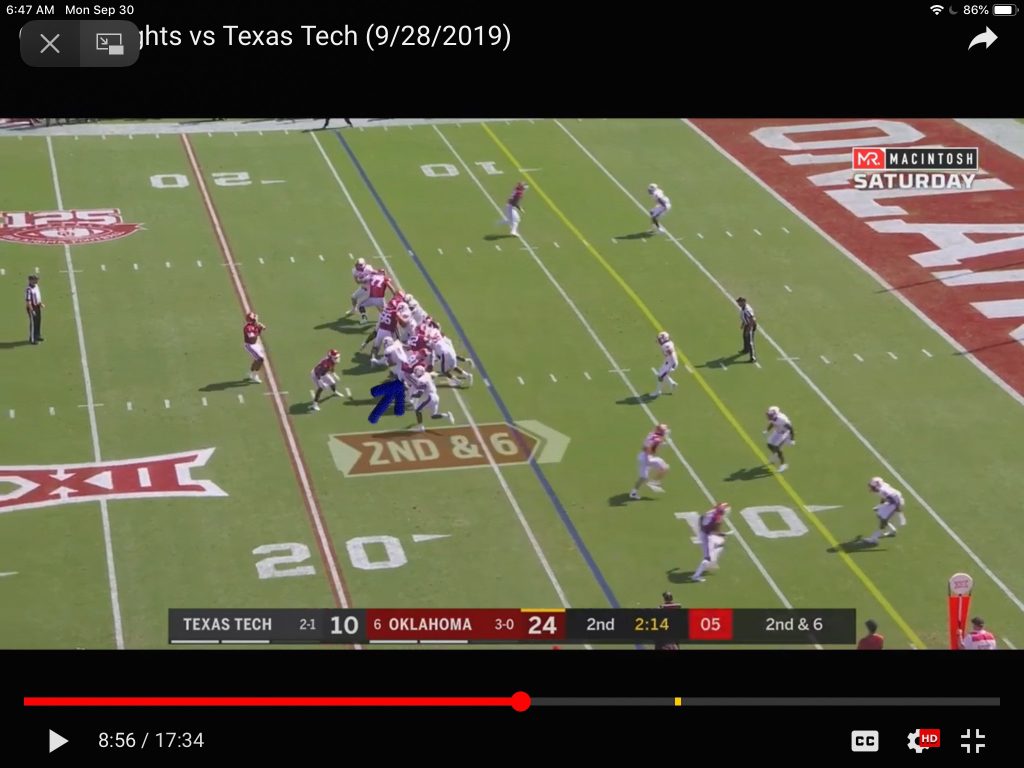 Trey Sermon is a guy I'm very impressed with early on this year. There are two Tech defenders who have a shot at him here on this play. They're both unaccounted for in the scheme since you think that one of them (far right) shouldn't be able to make the play, and the safety (middle) and Trey are one on one.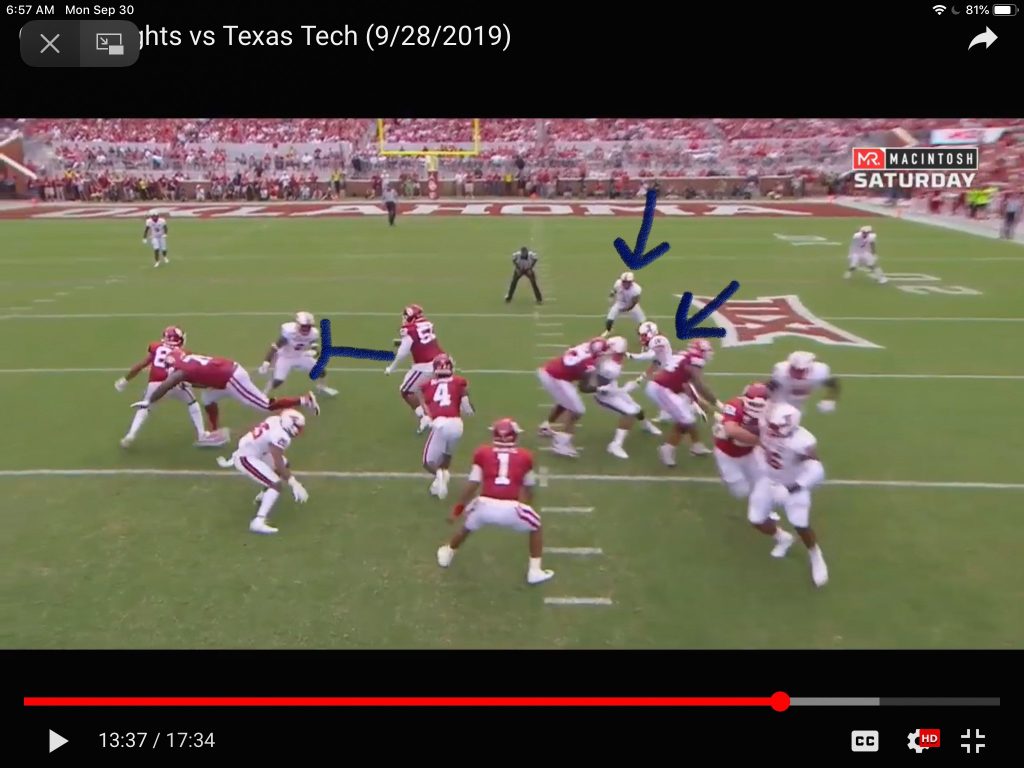 So many reps for Sermon over the past three years have allowed him to learn this. He stays as tight as he can to Tyrese Robinson's block to the left. This creates more space between him and the defenders who have a shot to get him. All of the offseason work is evident, as he looks quicker, faster and stronger all while looking like he studied a lot of film as well.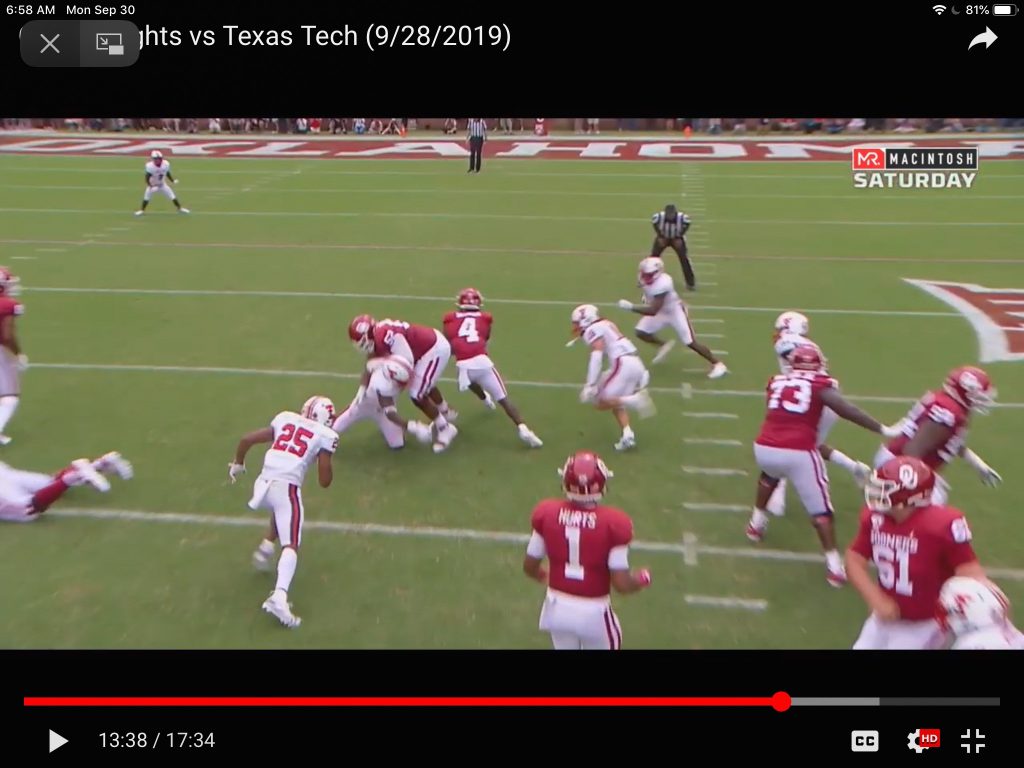 By bending it out just a bit to the left, and still staying in the hole, it ends up allowing him to make both guys miss. This is a run he doesn't make last year in my opinion. He's always been a great talent, but this year, it seems like the light has really really come on for him. Check out Tyrese makin' tortillas down at the bottom.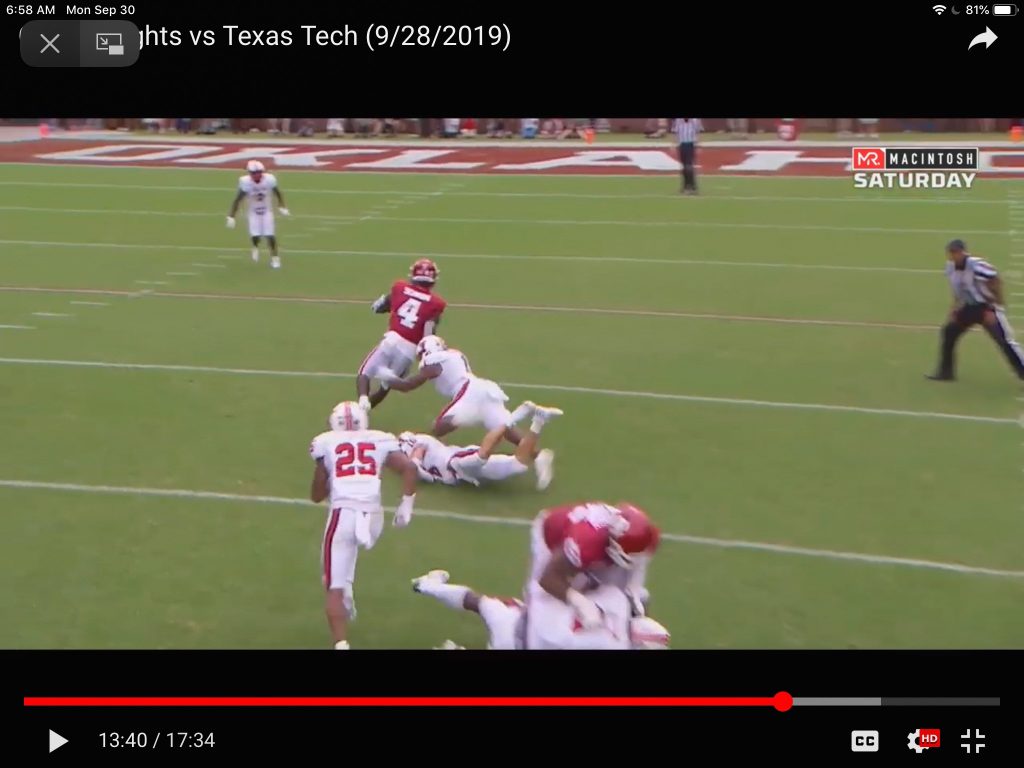 ALL 11 Sooner defenders are turned and are running to the football. I was on a podcast with Rob and Terry of Sooner Football Fans, great guys by the way, before the first game. They asked me for my one bold prediction for the season. I said that the defensive improvement would happen quicker than most people thought. The reason I felt that and believed that was the change in culture defensively. The difference in Effort above all else is the biggest difference in play that I've seen this year. These defensive players have always been talented. They just needed some leadership. I'm a Grinch, Odom and Manning fan.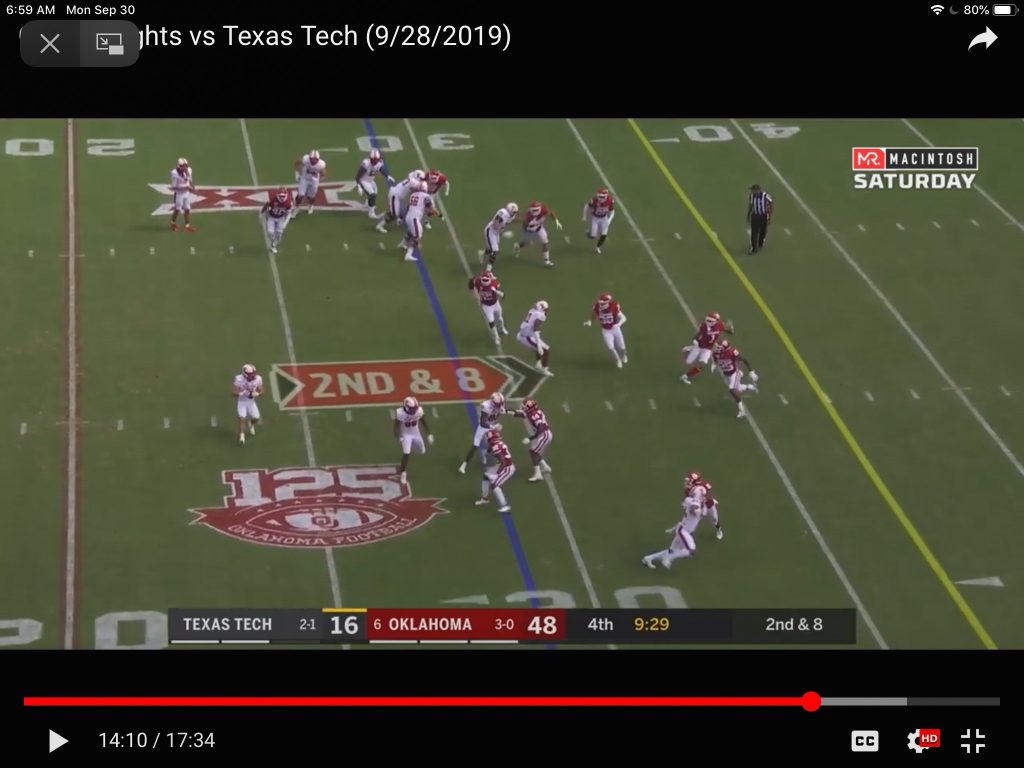 Speaking of effort, this play will be played over and over and over by NFL teams come draft time when looking at Neville Gallimore. Kid fought his butt off fighting through a double team, caused the QB to scramble, and then ran him down to cause the fumble. Keep in mind it's 3rd and 8. Just last year, we'd see the QB leave the pocket, shake the defender on the 37, and reel off a big gain and get the 1st down, if not a touchdown. Not so much this year, simply because these dudes are playing hard. Damn hard.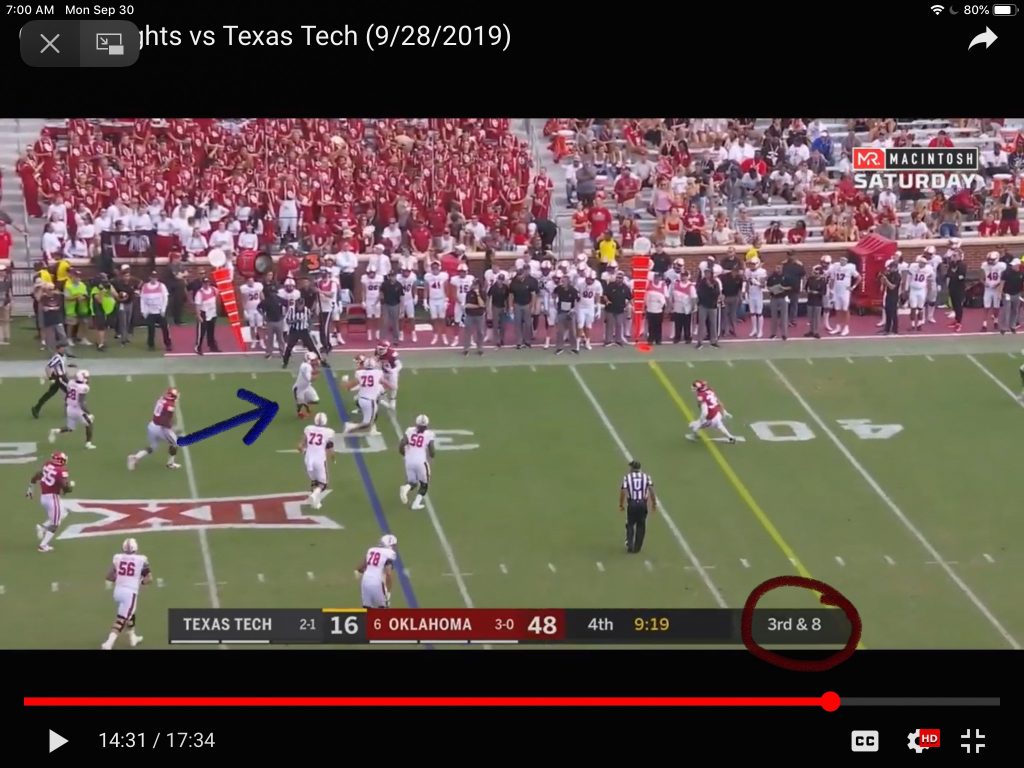 So let's pretend for a minute that Gallimore doesn't cause a fumble here. He still runs down a running QB, stopping him short of a 1st down. The Sooners held tech to 1 of 14 on 3rd down. That's an amazing statistic.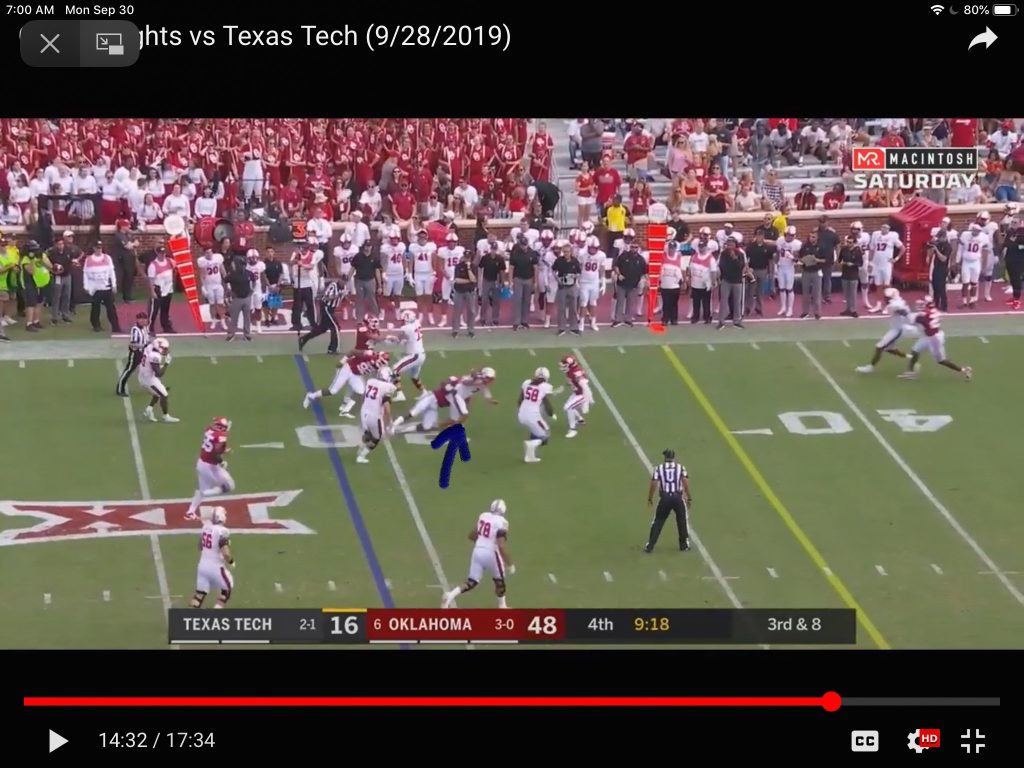 Rhamondre Stevenson is a heck of a talent. My guess is that as he gets more reps in this offense, he'll be in the game earlier and more often. I did notice him in on the 1st series.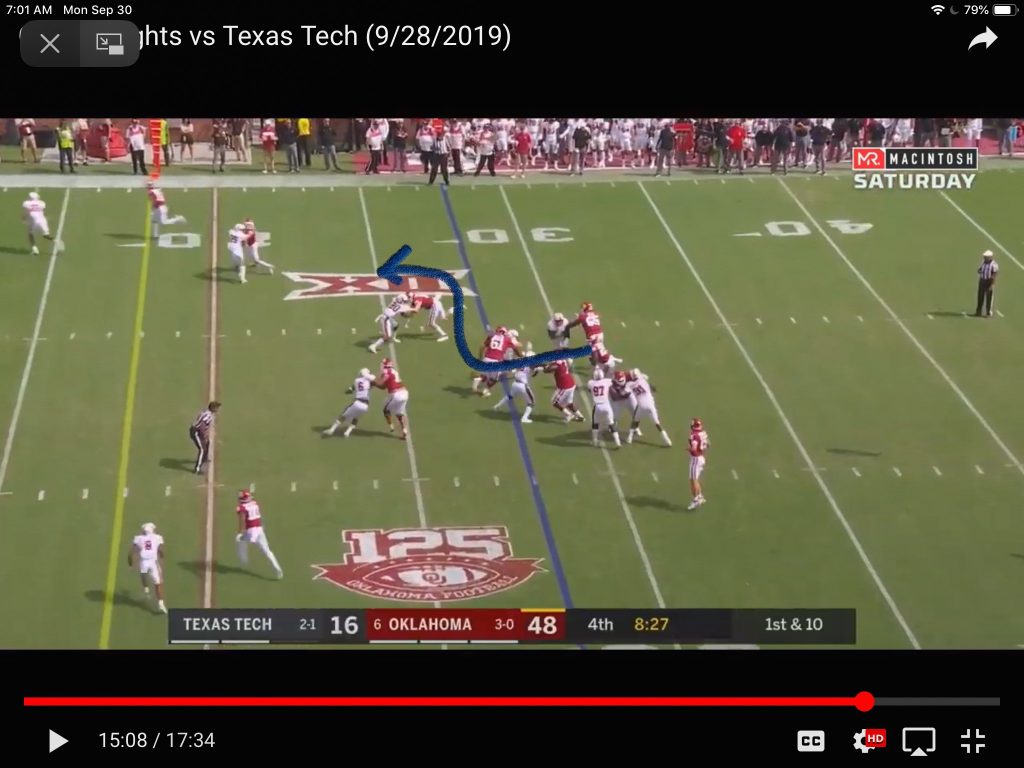 He's huge, fast and smooth. This was a great job by Drake Stoops getting the key block to spring Stevenson for the score. My bold prediction would be that Stevenson will be in the running for the RB 1 spot next season, and push Brooks and Sermon for more carries late this year.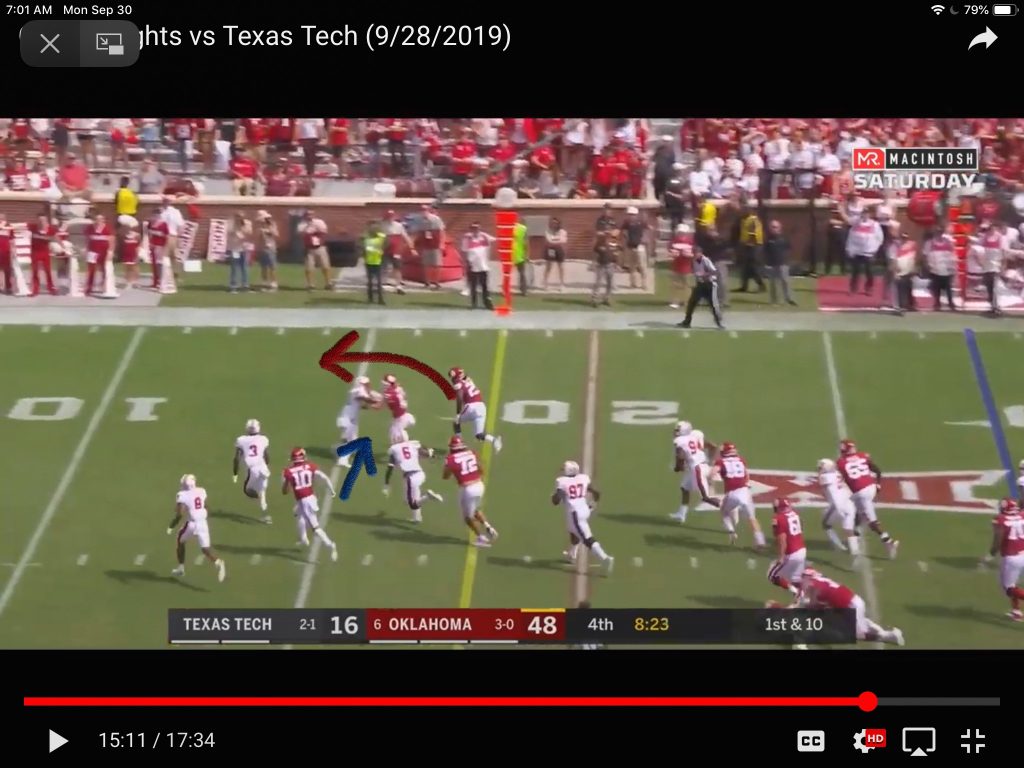 Nik Bonitto has really come on lately. On this play, he has to set the edge. He has outside contain meaning nothing gets between him and the sideline.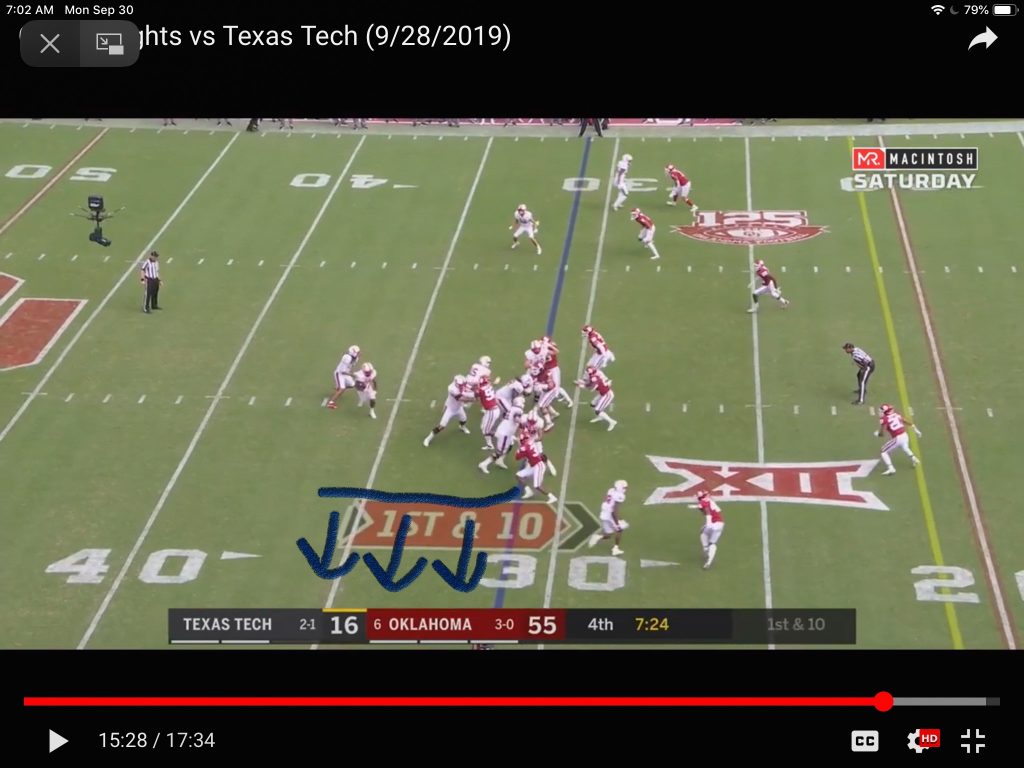 Most of the time when you're setting the edge, it's to allow your help come from the inside out. While Bonitto didn't make the tackle, he did make the play. Kori Roberson ends up getting the tackle with Stripling right there to help. Look at all of the Sooners running to the ball.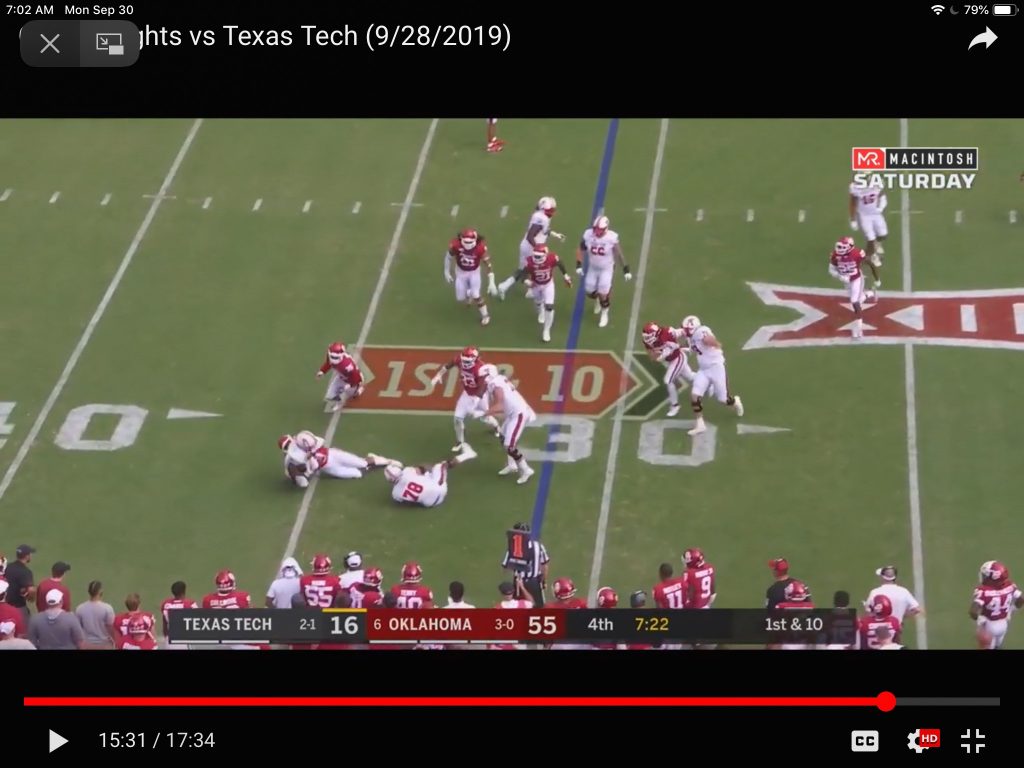 Do Your Job. Here Bonitto does it again and doesn't allow the reverse to get outside of him. Tech tried to run a couple of reverses during the game. One earlier that I remember that Jaden Davis blew up, and this one where Bonitto did a great job. Great defenses are disciplined. In my opinion, this is the best that the defense has looked in almost 10 years, and it's the little details that make it so. While they aren't perfect, I will say that if Alex Grinch is your defensive coordinator for the past two years, the Sooners have at least one national championship. That 1st half of the Rose Bowl against Georgia was a sight to behold. I truly believe that with an average defense, they run Georgia out of the Stadium and do the same against Alabama in the title game.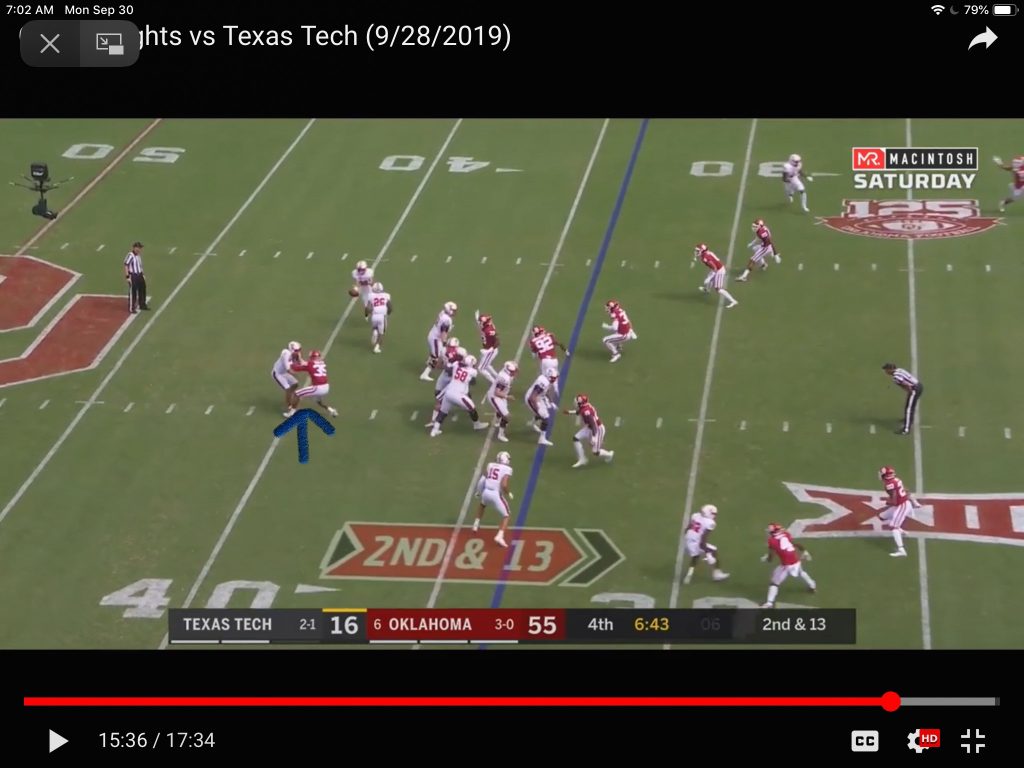 Again, Bonitto doesn't make the tackle, but he does make the play. His contain lets Faamatau and Stripling get over there for a short gain. Stripling lowered the boom on the ballcarrier.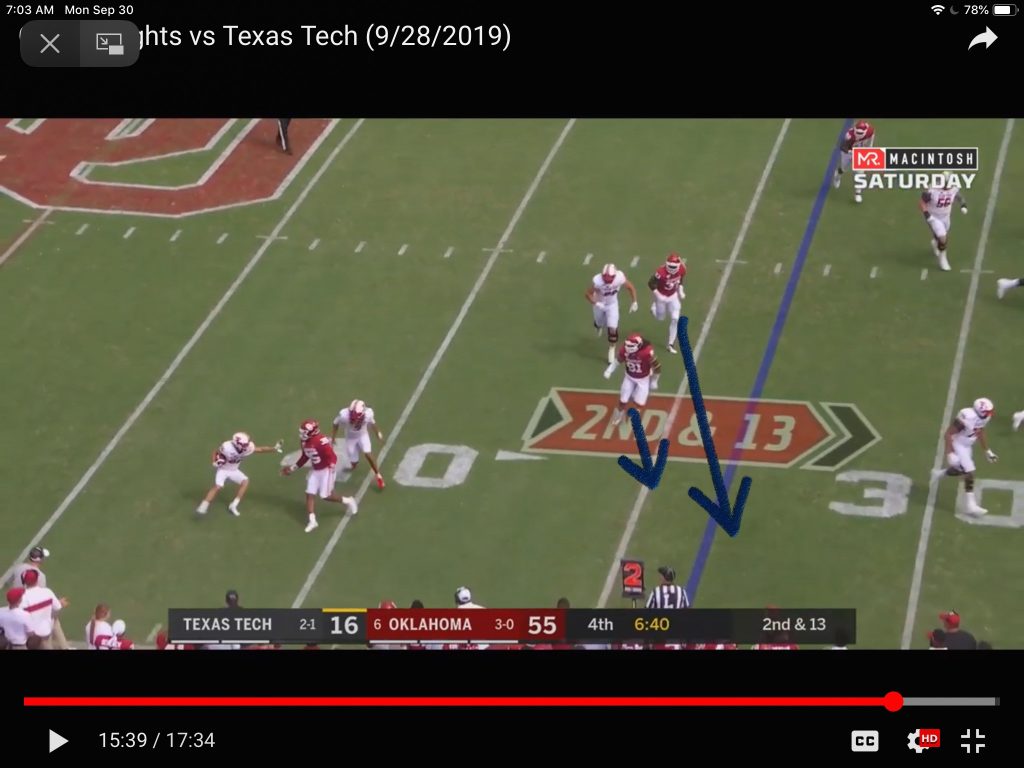 I wouldn't be too nervous about Kansas. Not because of anything other than the fact that the defense is gonna be pissed. They gave up a bazillion yards on the ground to KU last year, and I'll bet those highlights are on repeat as we speak. I'll take the Sooners to cover in Lawrence.
---
For multiple daily posts, Insider Notes, Our TFB 'Pick Em' Contest, More Sourced Practice Notes, member chats with TFB staff, James Hale's Notebooks, TFB Sessions (5-minute audio talks) and much more, please check the Donor Board!