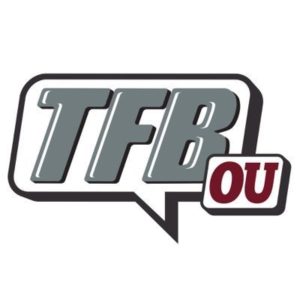 Open Post | Tuesday, November 8th
Posted on: November 8, 2022
Post Game Thoughts | Frustrating
– Super K – Posted on: November 5, 2022
***This team is consistently inconsistent. They make everything difficult.
***You almost knew they weren't going to pull it out in the end for a very simple reason. This team cannot put together a series of good things with any degree of consistency.
***So, in the end, knowing they needed to score, stop the other team and then score, would require them to play complimentary football for more than 30 secs and they can't seem to do that…ever.
***If the defense has a good series, the offense doesn't.
***If the quarterback is good, the receivers aren't.
***If the DL is good, the linebackers aren't.
***And on and on and on.
***An incredibly frustrating team.
***This Baylor team is one that OU could have dominated…and should have dominated.
***Offensively, this team continues to frustrate. The fact that they cannot pay off the run game is just a head scratcher. Even a game managing quarterback should be able to give you more payoff with this level of run game (230+ yards on the ground).
***It's just not complimentary at all.
***I'm not saying it will happen, but at this point you do wonder if Jackson Arnold in a fair fight could beat out Gabriel. Hear me out…
***What exactly is Gabriel doing that a freshman can't do? He isn't reading the defense quickly and distributing. What I see is basically a game manager who is very up and down from game to game.
***He's either handing the ball off, throwing a deep ball or checking it down. A freshman can do that.
***I cannot believe this wide receiver group would be this bad under Gundy.
***Venables lack of any emotion on the sideline is also somewhat perplexing. I don't know what to make of that. It's like, instead of being the coach he is, he's trying to act the part of a coach.
***Any team with a pulse on defense basically stifles Lebby's offense.
***To be fair, Brent's defense is playing better at times. But it was a pretty low bar from earlier in the season. They just got ran over. Not many busts but they got ran over.
***Turnovers were killers. But really not an excuse in my opinion. Again, this Baylor team was very beatable.
***Also, just so little emotion from the OU team. It again felt like they are on cruise control. Like they're asleep or there is no sense of urgency.
***They're going to need to do a serious reevaluation of the offensive side of the ball at the end of the season. And that means players and coaches.
***It's just frustrating that Brent can't get his guys to capitalize on opportunities. You had a chance here to win out and seize some momentum.
***At some point all the talking about "doing the little things" or "starting with the man in the mirror" or whatever else needs to be replaced with some early 2000s OU staff…getting in your face and asking these players if they actually want to play. Because what I see isn't a lack of preparation. It feels like a lack of focus and intensity.
---
Why it's Hard to pin Point the Problem
– Super K – Posted on: November 6, 2022
Almost every week these days there are arguments about what's plaguing the Sooners.
Some will say, it was the offense! Some say, it was the defense! Some will say, it's talent! Some say, it's coaching! And on and on…
I think the reason it's so hard to pin point the issue is for a reason I've said multiple times and I'll say again, there is a lack of consistency across the board.
It's not just true on a side of the ball but it's true all the way down to a position group and individuals.
You'll get one player for nine snaps out of ten. And then just when everything is going right for the Sooners, that one reliable player will have his one error out of ten happen on the exact play where everyone else was correctly doing their job.
It's almost like one can say that, at times, everything seems good and at times, everything seems broken.
And it's making it really hard for folks – I suspect Brent, included – to figure out what's going on.
If you could give this team an identity, it would be hard to do. There are certainly parts of this team that have perhaps played overall better and more consistent than others. But just when the other parts get going, that part you thought was reliable will suddenly fall apart even if for only a moment – but a crucial moment.
You can rip the DL and then turn on film and see them have a great quarter. You can praise the OL and then turn on the film and see them get a false start at a critical point in the game.
We find ourselves in this weird place where everything is pretty good and everything is pretty bad.
It's been the case all season not just from game to game but within a game.
So, what can we gather from that? Well, the answer to that is probably as frustrating as watching the inconsistency of this OU team.
You could argue that if everything has looked good at times, then everything can look good most of the team. If you'd argue that, then you'd say the team is a lot closer to being great than they appear.
But you could also ask, if nothing is consistently good then does that speak to a more endemic issue?
I've been talking to coaching friends of mine from around college football attempting to get some perspectives that will help us better offer insight into what might be the problem. I don't know that any one person has the answer but perhaps listening to various perspectives will help refine my own.
On on the one hand you can look at it and say, well, minus the Texas and TCU debacle where the Sooners didn't have a quarterback, they aren't that far from teams whose coaches have been at their respective schools for longer than Brent has. Sooners beat Kansas and Iowa State and were very close against Baylor and Kansas State.
But on the other hand, you start to open up questions about whether the talent is sufficient to be, at least, better than they currently are. And, how do we process seeing other first year coaches have such immediate impacts on programs that were pretty down?
I'll have more on this. Also, I've written a list of a few simple things that I believe need to happen to make this a successful jump start into the off-season and a preparation to make a run next season. I'll share that later on.
---
The Great Debate | Talent or Development?
– Charlie S – Posted on: November 6, 2022
The great debate.
The topic has been discussed all year, through the three game winning streak to open the season, through the three game losing streak to open conference play, through the two bounce back wins, through yesterdays embarrassing performance against Baylor…
Does OU have the talent to win in the Big 12.
The simple answer is yes. Yes, they do have the talent to win in the Big 12 and a large part of the reason that they have the talent to win in the Big 12 is that…the Big 12 is not a good football conference.
It just isn't.
There is not one 'Very good' team in the conference. TCU? They may be good, but they aren't a team that scares the top levels of any other conference. Kansas State? They lost to Tulane. Texas? They lost to bottom tier Texas Tech and a bad OkState team.
OU absolutely has the talent that COULD have won in the league.
But they haven't.
You scan the rosters of the teams in the Big 12…there are very few players that OU coveted playing at any of the other school aside from Texas. Texas and OU should be the top two teams in the conference based on talent EVERY YEAR.
We have seen how that doesn't always work out in the past as Texas has always had a vast amount of talent, yet the program has been a perennial underachiever.
This year, OU absolutely is underachieving. There is no question they have been disappointing on the field.
So when you look at the roster, it is easy for Oklahoma fans to say 'The talent just isn't there' because the fan base is keenly aware of the performance of all of their players. Performance does not always dictate talent level.
The talent has to be developed. Right now, the knee jerk reaction is to say 'Well OU had a coaching staff over the prior three years that was poor at developing players. That is a correct statement in my opinion, but that does not completely absolve the new coaching staff of any balme, and I believe the current coaches would admit as much.
Prior to the season, when the preseason All-Big 12 team was announced, the Sooners only had punter Michael Turk on the list. Looks like the voters nailed it as there is not currently one Sooner player who would make the first team list aside from possibly Anton Harrison. (Eric Gray would likely make the 2nd team).
You look at every position group aside from the offensive line and you really cannot see any guys who are currently close to being all conference players.
Mims? Gray? Willis? Bowman? Woodi? Those guys may get mentioned in the conversations, but I doubt they would be first team guys.
So we are at the point where it is easy to say 'See, OU didn't have the talent'…but again…for years as Texas was going through bad season after bad season, OU supporters would say 'Texas has talent, they just haven't developed it'.
This year, in my opinion, the shoe is on the other foot and the lack of development at OU over the last 4 years has caught up with the program. The raw talent is there to compete in a poor football conference…which I believe the Big 12 is this year.
You look around the conference and you see the work that a new staff has done at TCU. You see TTU playing hard and competing. You see Kansas in its second year under a new staff exceeding all expectations. Each of those teams I mentioned does not have the raw talent that OU has…they have just developed their players better and installed schemes that suit their styles.
Was all the talk about the buy in at OU just coach speak? Were the rave reviews about the progress of the team through spring, summer and fall a case of bad self evaluation? That is what we will have to figure out.
Through 9 games what groups have progressed? What groups have regressed? That is a topic we will dive into this week, but the 'progressed' list is smaller than the 'regressed' list at first glance.
So the long answer about talent, in my opinion, is that OU has raw talent which has been squandered this season due to poor development…by both the former staff and the current staff. That has to change and perhaps it will in the offseason as the turnover of the roster will continue.
OU would help themselves tremendously by doing five things: 1. Winning out. 2. Holding their recruiting class together as best they can. 3. Working diligently in the portal. 4. Helping existing players who do not fit their needs find a new home. 5. Bringing in a dynamic recruiter who has ties to the state of Texas and the region at either the WR spot or the LB spot (or both).
This new staff isn't going anywhere and I believe in the vast majority of the coaches. But it goes without saying that this season, no matter how it ends up, was underwhelming at the very least and disappointing on many levels.
We will dive into what happened against Baylor as the week goes on and our thoughts on West Virginia as the days go by. But man, that Baylor game sure did leave a bad taste in my mouth as it never felt like OU would win as there was always a feeling that the team couldn't help but shoot themselves in the foot at consistently at the worst possible times. That has to change.
---
By the Numbers | Baylor | Game 9 of 2022
– Charlie S – Posted on: November 7, 2022
Let's take a look at some of the PFF numbers from the Sooners loss to Baylor…
---
Offensive Snap Counts: 81 Total Offensive Snaps
1 Andrew Raym #73 – 81
1 Dillon Gabriel #8 – 81
3 Anton Harrison #71 – 78
3 Wanya Morris #64 – 78
3 Chris Murray #56 – 78
3 Drake Stoops #12 – 78
7 Marvin Mims #17 – 70
8 McKade Mettauer #72 – 67
9 Brayden Willis #9 – 66
10 Eric Gray #0 – 60
11 Jalil Farooq #3 – 52
12 Theo Wease #10 – 24
13 Daniel Parker Jr. #22 – 19
14 Marcus Major #24 – 18
15 Robert Congel #66 – 11
16 Tawee Walker #29 – 3
16 Jake Taylor #79 – 3
16 Jacob Sexton #76 – 3
16 Gavin Freeman #82 – 3
16 Jayden Gibson #1 – 3
16 Savion Byrd #59 – 3
16 LV Bunkley-Shelton #6 – 3
16 Carsten Groos #84 – 3
16 Trevon West #81 – 3
16 Aaryn Parks #55 – 3
Top 5 PFF Offensive Ratings
1 Eric Gray – 74
2 Marvin Mims – 73.5
3 Dillon Gabriel – 72.7
4 McKade Mettauer – 63.5
5 Wanya Morris – 63.3
Bottom 5 PFF Offensive Ratings
1 Robert Congel – 52.4
2 Trevon West – 54.4
3 Carsten Groos – 55.2
4 Theo Wease – 55.5
5 Marcus Major – 56.7
Surprised me:
11 players played 52 or more snaps which represented more than 65% of the offensive snaps. No surprise at all that Gray and Mims were the top performers but I was surprised that Morris was rated higher than Anton Harrison, or Raym for that matter. 9 of the guys who got 3 snaps were brought in during that weird sequence in the first half where the only starters who remained on the field were Gabriel and Raym. While I am all for getting youngsters reps…I was not a fan of that sequence. Felt lazy and kind of like 'Here you go fellas, here's your snaps'. Mix them in with the starters instead of clearly making it a second unit. Just my opinion. Aside from that, not a lot of surprises.
Defensive Snap Counts: 75 Total Defensive Snaps
1 Danny Stutsman #28 – 75
1 DaShaun White #23 – 75
3 Woodi Washington #0 – 67
4 C.J. Coldon #22 – 66
5 Justin Broiles #25 – 62
6 Billy Bowman #5 – 56
7 David Ugwoegbu #2 – 53
8 Isaiah Coe #94 – 48
9 Jalen Redmond #31 – 47
10 Reggie Grimes #14 – 44
11 Ethan Downs #40 – 41
11 Jonah Laulu #8 – 41
13 Jeffery Johnson #77 – 31
14 Jordan Kelley #88 – 27
15 Key Lawrence #12 – 26
16 R Mason Thomas #32 – 22
17 Jaren Kanak #7 – 15
18 Jaden Davis #4 – 12
19 Trey Morrison #6 – 7
20 Josh Ellison #90 – 4
20 Marcus Stripling #33 – 3
22 Gentry Williams #24 – 3
23 Gracen Halton #56 – 1
Top 5 PFF Defensive Ratings
1 Jordan Kelley – 73.7
2 Ethan Downs – 72.3
3 Billy Bowman – 70.4
4 Josh Ellison – 67.7
5 DaShaun White – 66.2
Bottom 5 PFF Defensive Ratings
1 R Mason Thomas – 45.4
2 Gentry Williams – 45.8
3 Isaiah Coe – 50.2
4 Jaden Davis – 50.5
5 Trey Morrison – 54.2
Surprised me:
I was surprised at the limited number of snaps Key Lawrence got. Yes I know he whiffed a couple of times on filling his gap, but man, his physicality upside would have been difficult for me to take off the field instead of watching other guys get run over as well as taking bad angles. I understand the rationale, but if you're gonna do that at one position, I would think you would do that at others (like LB). The fact that there is no replacement, at all, for Stutsman is indicative of how thin OU is at LB right now, but you can't tell me Kip Lewis would have been worse if given the chance. Maybe it's about the redshirt for Kip. RSJ getting no run was kind of surprising also. Coe being in the bottom 5 was a bit eye opening (aside from his penalty which should have earned him a spot at the top of the list). The Sooners were credited with 10 missed tackles…felt like that was a low accounting.
---
2022 Freshman Redshirt Tracker – Post Baylor Game
– Charlie S – Posted on: November 7, 2022
Checking out the 'ChampU22' class regarding where things stand with their redshirts…
QB Nick Evers – 1 game
RB Jovantae Barnes – 7 games cannot redshirt
RB Gavin Sawchuk – 2 games
WR Nic Anderson – 2 games
WR Jayden Gibson – 6 games cannot redshirt
TE Kaden Helms – 3 games
TE Jason Llewelyn – 8 games cannot redshirt
OL Jacob Sexton – 7 games cannot redshirt
OL Jake Taylor – 7 games cannot redshirt
DL Gracen Halton – 8 games cannot redshirt
DL Kevonte Henry – 0 games
DL Cedric Roberts – 1 game
DL Alton Tarber – 0 games
DL R Mason Thomas – 6 games cannot redshirt
LB Jaren Kanak – 9 games cannot redshirt
LB Kip Lewis – 2 games
LB Kobie McKinzie – 0 games
DB Jamarrien Burt – 1 game
DB Robert Spears-Jennings – 5 games cannot redshirt
DB Jayden Rowe – 4 games Reached Redshirt Limit
DB Gentry Williams – 9 games cannot redshirt
Of the 21 freshmen scholarship players in the program, 10 have burned their redshirts and one other has reached the limit.
---
Sourced | 2024 Tidbit | Name to Know
– CJ Vogel – Posted on: November 8, 2022
Spoke with a source earlier in the week who passed along some information on a 2024 prospect to keep an eye on.
Source said 2024 Lumberton defensive end Brock Jackson is a name that the Sooners staff, and especially Brent Venables, is quite high on early.
Jackson stands 6-feet, 4-inches tall and has earned offers from Baylor, Arkansas, Texas Tech and several others.
Oklahoma as yet to offer, but I am told the staff is very intrigued by the junior defensive end. An offer could come by the end of the season.
---
Position Group Progress Report | 2022 Game 9: Baylor
– Charlie S – Posted on: November 8, 2022
Checking out how the position groups performed in the Sooners home loss to Baylor. Coming into the game, OU was a slight favorite and they lost the game 38-35.
This will be the ninth progress report of the season and I will be including the prior games ranking for each position in their header.
Let's see how things shook out against Baylor.
---
QB: 2* (Last week: 4*)
Dillon Gabriel was 22 of 34 for 261 yards and 2 touchdowns.
He also threw 3 picks.
When he wasn't throwing picks…he was good enough to win.
Can't take the picks out of the equation as they were one of the many wounds to the foot from a self-inflicted shot.
Following the Baylor game, OU's 'foot' looked like chopped hamburger.
RB: 4* (Last week 4*)
Eric Gray is the best player on the offensive side of the ball for the Sooners and he put up another solid outing.
He had another 100 yard game as he ran 23 times for 106 yards and two touchdowns and he added 8 recpetions for another 58 yards.
The running back unit was once again without Jovantae Barnes and Marcus Major didn't do much with his 6 rushes as he only gained 23 yards.
Word is that Barnes will be back for the West Virginia game and that is a welcomed development for the Sooners.
WR/TE: High 3* (Last week 1*)
Marvin Mims had a nice day with 4 catches for 120 yards which included a 63 yard touchdown. So half his yards came on one play.
Farooq and Stoops were reliable with 3 catches each and Willis added 3 of his own.
But aside from Mims' long TD, there were really no dynamic plays from this group who looked pretty average on the day.
Again, saw some nice things from Daniel Parker in the blocking game.
OL: 4* (Last week: High 3*)
You put up 500 yards of offense against a Baylor team, you're doing something right.
However, there were a few occasions where you really would have liked to see the offensive line impose their will to a higher degree (4th and 1) which really didn't happen.
Still, they paved the way for 500 yards, only allowed 1 sack and only gave up 2 tackles for loss…read that again and remember OU lost the game. Wild.
The best unit on the team was once again the best unit on the team. Thought Mettauer played his best game and aside from his costly penalty, Andrew Raym had a really nice day against Ika and the middle of a stout Baylor line.
DL: 1* (Last week 3*)
Edges were non-existent and the guys in the middle were just kind of 'there'.
Thats about all I have.
Redmond made a few impact plays but there was nothing to write home about for this group on the day.
LB: 2* (Last week: Low 4*)
Once again the linebackers were not good.
Ugwoegbu looked better than Stutsman on the day (as far as obvious busts or missed run fits) but neither was on top of their game and the Sooners paid for it.
Jaren Kanak got more run and while you can see the flashes, he still looks lost more often than he looks dialed in on what he needs to be doing.
Cheetah: Low 3* (Last week: 5*)
In a follow up performance to the best game of his career…White was really quiet.
He did put together 8 tackles which included half a tackle for loss, but he was really more reactionary against the run than being a guy who had an impact in stopping the run.
Just looked like he was half a step slow to trigger from what I saw.
DB: 3* (Last week: 5*)
Billy Bowman was the best of a very average group on the field Saturday against the Bears.
Key Lawrence was the one guy who looked like he wanted to match the Bears physicality, but there were times he took some awful angles as well.
Woodi, Jaden (got hurt early) and Coldon weren't really tested much in the pass game, but none of them were big factors in stopping the run game either.
A lot of 'meh' from this group after having a few stellar weeks.
ST: 2* (Last week: 5*)
The missed field goal turned out to be the difference on paper, but Schmit doesn't get the full blame on that as Raym cost him an extra chunk of yardage which turned the kick into a 55 yarder which is never one you count on.
Punts were fine.
Returns weren't a story.
---
Recruiting Update | Peyton Bowen & DJ Hicks
– Super K – Posted on: November 8, 2022
***I spoke with a source regarding the recruitment of 2023 5-star Notre Dame DB Peyton Bowen (Guyer). Was told that the race is still open. Was further told…
*Source believes TAMU is still a player. Why? "NIL" possibilities.
*Was told OU remains a player. Why? Connection to a current OU student athlete (similar to Billy Bowman's situation).
*I continue to hear that he is still unlikely to remain at Notre Dame. That surprised me a bit.
*Was told he is warming up to Oregon and "they might be the sleeper." This could make some sense as Oregon is not only having success on the field but they also make bold "NIL" pitches (though I imagine it's a lot of hot air, in reality).
What I conclude from this is basically that he's still open to OU. But OU needs to give him a reason. They absolutely need to get their act together on the field.
***In RE DJ Hicks. A number of you keep asking if he's visiting Texas. All I can tell you is what DJ has told me which is that he is not visiting. Could he change his mind or is there a possibility that he isn't be forthcoming? Sure. But as of last night, DJ has told me is not visiting Texas.
I will also add that it's been known for a while that DJ does like Texas and the Texas stuff but does not want to live in a big city like Austin. He prefers a smaller college town and that has been holding Texas back.
Again, OU needs to win this weekend and then put on a show when their visitors are in town for Bedlam.
---
Sooners EDGE Talk | One Visiting | Wein
– Charlie S – Posted on: November 8, 2022
***I spoke with '23 EDGE Taylor Wein (6'6 235) out of Nolensville, TN.
Wein has been receiving increased communication from OU and while he does not hold an OU offer at this point, he let me know he will be making his way to Norman for a visit for Bedlam.
He noted that he is very excited to get on campus. Should an offer come, OU would immediately be in a good spot.
Weins Film:
I don't know about you all, but when you look at his film, it looks a lot like Colton Vasek.
Both are extremely twitchy, both are long and lengthy, and they are both relentless. I don't know that I see much of a difference between the pair.
Vaseks Film:
---
TFB OU Radio | Week 11 + Recruiting Updates
– CJ Vogel – Posted on: November 8, 2022
It has not been the prettiest of weeks, nor seasons, but Charlie and Ryan are back on the mics to discuss optimism for the remainder of the year and where the Sooners look to for momentum on the trail!