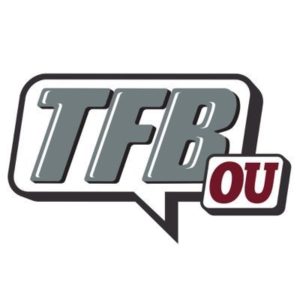 Open Post | Tuesday, November 5th
Posted on: November 5, 2019
Josh Eaton | Quick-Update
– Super K
Spoke with a source close to Eaton…
***Eaton had four official visits remaining. He took his first OV to Oklahoma.
***The Sooners and the Crimson Tide were out to see him this past Friday. He showed out.
***Eaton's plan was to still take an official visit to Texas but I am told that this is becoming less and less likely. I don't think it's been completely ruled out but it sounds like it's a lot less likely to happen than it seemed a few weeks ago.
***The two main officials I've been told Eaton plans on taking are to Alabama and LSU.
***However, I was also told that those won't happen till after the season which tells me Alabama and LSU may be unsure about their numbers.
***My Alabama source did mention Eaton but also said that recent Texas decommit, Ethan Pouncey (man, Texas had a heck of a DC class committed!)…is Alabama's top priority.
***Still like where OU stands but it's not over yet. The signing day period is going to be pretty exciting this year.
---
Lincoln Riley Presser | Iowa State Week
– Charlie S
*** Productive bye week. Dying to get back on the field.
*** Good for staff to get out on the road. Very eager to get back on the field.
*** Calls Iowa State very capable, says they are playing very well on both sides of the ball.
*** Will be a battle, commends Coach Campbell and his staff.
*** On Jordan Kelley and Caleb Kelly: Jordan and Caleb are practicing full go. Week to week situation. Being cleared and being ready to play are two different things. They have made a lot of progress. If they get to the point where they can contribute, they will play.
*** On Calcaterra: Still in wait and see mode with those guys with the injuries. Bye week was good for them. We will see how much they progressed through the weekend.
*** On getting back to good defense: We had a good week, have to have another good week here. Just need to do the things well which we did in the first seven. We have to create turnovers. When you don't, you have to play very well for four downs.
*** How Riley handled his first career loss: If you judge by the team that year, we've done pretty darn good. Last week I said every loss at OU is shocking.
*** On his changes as a coach from year one till now: Gone through a lot more. A lot more experiences. There's not as much new.
*** On RB Carries: Satisfied with the way Hurts has done with it. If he wasn't, he wouldn't keep giving him the option.
*** On Brock Purdy's turnovers against OkState: OSU got out to a quick lead…but if you can get the lead, it makes the difference. I don't know if there was anything magical there, saw a lot of guys creating their own opportunities and capitalizing on mistakes. In the last several games we have had several opportunities where we have had our chances, we were right there and had the ball in our hands.
*** On CeeDee: He has stayed hungry to improve. Always coach our best players the hardest. He's been on a constant climb to improve. The way he has changed his body…he just continues to get better and better. He has bever gotten to the point where he thinks he's too good to get coached hard.
*** On Kicking – Brkic: He has handled it well. He seems to always make the pressure kicks in practice. Always seemed to make 7 out of 10 in practice, but he's kicking with confidence now.
*** On Running Backs: Multiple guys who are worthy of being starters. They have all improved on their weaknesses. Those guys are gonna be the freshest group of backs going into November.
*** On Breece Hall: We thought he was a really good player. Thought a lot of him. We knew Iowa State got a heckuva player there.
*** On Kansas State offense: I wouldn't say they are an anomaly. It's not unusual for other teams to try it. It's a copycat game. We will have to defend some of the things well that we didn't against them. There was nothing crazy new schematic.
*** On matchup between OU OL vs Iowa State front: Will be a good battle. They are very experienced up front and at LB. They have had a lot of success and that will be a key battle. You have to block them from a lot of different angles and a lot of different fits. they are very good at what they do.
*** On the players losing trust in each other (defensively): Adversity comes in different forms and fashion, it's a test each time. We had some things that didn't go our way, we trusted it enough to give ourselves a chance at the end, but in the middle, we got away from it.
*** On the Playoff Rankings: Zero. Just win. Win games, you win this league, then things take care of themselves. We have to take care of ourselves right now. After that, it is out of our control.
*** Does he watch the scoreboard: The only one I can remember much in the past was last year, I saw the last 8-10 minutes of the Bama Georgia game. That was gonna affect us. Until we have done all we can do, none of that matters.
*** On the night game for recruits – finding the official host: Calev Kelly: The host deal isn't always easy. You have guys preoccupied with playing the game. We have a lot of guys who are very good at it and comfortable in that role. Pairing those guys up with the best person is part of what goes into it.
*** On Kstate game: We struggled to get any momentum on any of the three sides. We got a little frantic and made some mental mistakes. We gave them plays both offensively and defensively. Sometimes that happens in the middle of a fight and you have to remind yourselves what it takes to get out of that. Third Quarter has traditionally been really strong for us.
On if he plans on taking a QB in 2020: Don't know that I want to answer that. (Danced around the topic and basically said, 'I'm not telling you what my recruiting plans are')
---
Sooners Sunday Brunch
– Charlie S
Hope you all had a relaxing bye weekend!
The Sooners players were able to go home for the weekend and the staff was on the road on Thursday and Friday checking on recruits and commits.
While the Sooners were off, some other notable games took place in the Big 12.
Baylor survived against West Virginia, Kansas State dominated Kansas, and Oklahoma State took down TCU.
That brought me to thinking about the Big 12 Power Rankings in my opinion.
Kansas State looks like they really have something clicking with Skylar Thompson at QB now. Earlier in the year, the KState offense was pretty rough, but perhaps the OU game has given them a sense of confidence. They took care of business against Kansas, which is something Texas couldn't do as they needed a last-second field goal to defeat the mighty Jayhawks.
One other thing I took away from the KState Kansas matchup was…Les Miles has the Jayhawk fan base excited as they had a sell-out at their place! I think I read it was their first sell out since like 2009! That's great to see!
Kansas State takes on Texas next weekend and that will be a big game for both squads as the loser will basically be eliminated from any outside chance of making it to the Big 12 Championship game. Both are currently behind OU and Baylor, but one more loss would likely be the nail in the proverbial coffin for any hopes they may have had.
Baylor kicked off the weekend by squeaking one out against West Virginia by a score of 17-14. I have to give Baylor credit for getting a win when they clearly were not at the top of their game, something which OU was not able to do last weekend against KState…but man, that is now two games out of their last three where they were in danger of losing.
Baylor still has some serious challenges ahead of them as they have TCU, OU, and Texas in thee weeks ahead before closing with Kansas. Even if they lose two or three of those contests, you have to give Matt Rhule a lot of credit for what he has done in Waco as he inherited an incredibly difficult (by their own doing) situation. I can't stand Baylor, but I like Matt Rhule and I respect what he has done.
Looking back at the year he took over, you had two other new coaches take over at the marquee programs in the conference and there could be some serious debate as to the rankings of those coaching hires. I see it as 1. OU with Riley, 2. Baylor with Rhule, 3. Texas with Herman. Baylor got a good one.
Then you had the fighting Mike Gundy's up in Stillwater who sit at 3-3 in the conference after beating TCU at home. They are a pretty bipolar team this season and they seem to go as their QB Spencer Sanders goes. He plays well, they are generally in the game. He throws up a stinker, and well, they stink. Sanders played well against TCU and they picked up the win.
The Pokes have a relatively easy schedule left before Bedlam as they take on Kansas and West Virginia. While that should be two wins, again, with that team, you never know.
Then you have Iowa State who is next up for the Sooners. They are currently 3-2 in the conference after losing to Oklahoma State in their last outing. They also still have OU, Texas and Kansas State on their schedule. They cannot afford a slip or their chance to appear in the Conference Championship game will vanish.
ISU lost to Baylor in OT earlier in the season and their best game of the year was probably their 49-24 victory over TCU. Again, they run hot and cold and they have a lot of difficult games in front of them.
Texas' season is on life support as they have lost two out of their last three and narrowly escaped going 0-3 during that stretch as it took a last-second field goal to beat the Jayhawks. There is also a lot of turmoil in the locker room and they are losing recruits left and right. Things aren't great and with Kansas State, Iowa State, Baylor, and Texas Tech still on the schedule, Tom Herman has to get things right in a hurry or there is a chance the wheels completely fall off as all four of those games are very losable for the Horns. With the talent they have, they are all also very winnable. Right now, the optics for winning out don't look good though.
The Sooners of course still have Iowa State, Baylor, TCU and Oklahoma State in front of them on the schedule. Each of those teams can, and in most cases have beaten each other. There looks to be a lot of parity in the conference and these last four weeks will be a heckuva ride as the top teams all set to square off!
The Sooners control their own destiny in regards to the Championship game as 'Championship November' rolls in. So does Baylor. The others all need some help. Still, at this point of the season, if I had to bet on who would be in the championship game…I would have to take OU and Kansas State.
Thus, I like the Power Rankings as:
OU
Kansas State (Yes, I know they beat OU)
Baylor (Yes, I know they are currently undefeated)
Iowa State
TCU
Texas
Oklahoma State
Texas Tech
Kansas
West Virginia
I believe the Sooners run the table and will once again be in the Championship game. I am less certain about KState, but I really like the way they have played the past two weeks and I see them having the best chance of making it to Jerry World. I think they win out and Baylor loses two, maybe three (Baylor would need to lose 3 for KState to make it in as they hold the head to head over them). I think it comes down to the Texas vs Baylor game for Baylor's chances. They win that, they have a good chance of being in.
Looking forward to the Iowa State week and getting back to normal!
---
Friday Notebook | Haleuva Dive Into The Drop Box
– James Hale
I don't get a lot of chances to answer questions from the membership of TFB so today I'm going to work off the mailbox and answer as many questions as I can.
jlively: What do you guys expect our linebacker 2 deep to look like next year? Feels a little thin.
JH: I fully expect junior Kenneth Murray to come out leaving a hole at linebacker for next year, but has OU quality talent ready to step in. Sophomore DeShaun White will be back next year and he is having a solid season currently fifth on the team in tackles 28-total tackles. White is sharing time with redshirt freshman Brian Asamoah at the WILL who has shined at times with 20-tackles and has shown some big play ability. I think White will move to the MIKE backer next year.
The wildcard of this group is senior Caleb Kelly who has rehabbed from his torn ACL this past spring to the point that he is currently back with the team and could play in the Sooner's final four games of the season. Kelly was penciled in to be the starting WILL before the injury and he is one of the elite athletes on the field. Kelly had never played inside backer before last year but he has now had over a year to study the position and get a feel on how to play inside. I really feel Kelly next year will start at the WILL with White at the MIKE and Asamoah backing Kelly and maybe both positions. This year if Kelly is totally healthy and ready to go they will start playing him some at the WILL.
Sophomore Ryan Jones is a mystery too as he has lost out to Asamoah for the back-up WILL job but did play some against Kansas State when OU went with a pure 4-3 as the SAM. I keep hearing that Jones is one of the best pure athletes on the team but that has not translated yet to the field where it looks like Jones is still trying to find his way at inside backer.
Brian Mead will be a senior and the coaches love him because he knows the defense just about as well as they do. I never see him making a bunch of plays when he's in the game but he always grades out high when he plays. I don't know that sophomore Levi Draper will be here next year as I fully expect him to be a transfer candidate after the season is over.
OU currently has two players committed for the 2020 class in four-star Edgerrin Cooper (6'1 1/2 and 205) out of Covington, Louisiana and three-star Brendan Walker (6'3 1/2, 230) of Oklahoma City (Bishop McGuiness), Oklahoma. This coaching staff is not afraid to play young guys early and I think Walker hopes to enroll early.
Bobstoopsinger: What does the 11 look like on Defense next year?
JH: DE: Ronnie Perkins will be a junior
NT: Perrion Winfrey will coming in from Iowa Western CC and will likely start and he will be backed by sophomore Jordan Kelley. Or Kelley will start and Winfrey will back him. Both will play at a lot of football.
Defensive tackle will once again be manned by LaRon Stokes and Jalen Redmond.
Rush backer: Jon Michael-Terry will be back from his torn ACL for his senior year. Nik Bonitto will improve a great deal following a good redshirt freshman year. David Ugwoegbu will only get better and better after playing this year as a true freshman.
MIKE: DeShaun White with Brian Mead backing him
WILL: Caleb Kelly with Brian Asamoah backing him. Not sure at this point where junior to be Ryan Jones will fit in next year.
CB: Jaden Davis
CB: Tre Brown with senior Jordan Parker backing him.
Nickel: Tre Norwood will be back from his torn ACL at the nickel and at corner next year. Brendon Radley-Hiles will be back to defend his starting job and Robert Barnes is currently in the weight room getting healthy and will be a real challenger at the nickel back next year.
FS: Pat Fields
SS: Delarrin Turner-Yell.
Bobstoopsinger: Who does OU end the 2020 class with?
JH: It all depends on how many slots OU really has left.
Dontae Manning and Jacob Eaton in the secondary. If OU can get in on Kendall Dennis out of Lakeland that would be a great get for OU as well in the secondary. I feel Lawrence out of Tennessee is a long shot but OU likes him a lot and will take their chances.
Dre Butler and Alfred Collins in the defensive line. Maybe a Reggie Grimes/Princely Umanmielen as well.
jnewtonsooner: Has Grinch or Lincoln directly addressed the structural issues we saw with the base defense vs the heavy run sets that killed us? If not, can that be a JH priority to ask next week whether we think we'll keep repeating that insanity and why it wasn't adjusted all game last week?
JH: Not in depth no. They said that the linebackers didn't fill the gaps in this game like they had in the first seven games and they had a ton of busts up-front. According to both Grinch and Coach Riley, they would have handled those backside cuts by the RB and QB if the linebackers had filled the gaps like they were supposed to.
OU could have gone bigger up-front and I know they took the nickel out and went with Ryan Jones a few plays in a true 4-3 but the rush end was still in the game. I don't know why you could not have gone big with Mann and Perkins at the ends and Gallimore and Stokes or Redmond inside.
If teams feel like they can assault OU and run downhill and have success this will not be the last time that OU sees this kind of offensive attack.
Yes, I have been asking about this and will continue to ask about this next week.
boomer3we: I think Caleb Kelly will suit up vs Iowa State and see the field vs Baylor. Am I crazy?
JH: No, I think Kelly will play in the final four games. I'm not sure where or how much. Does he move ahead of Asamoah as the backup WILL? Probably, and he would share time with White. They are considering rushing him off the edge at Rush End and for this year I think that would be a better fit for him, but yes they plan to play him if he is healthy enough to do it.
travis79: How has Jeremiah Criddell and Woodi Washington been looking? The whole building erupted when he committed but its sure been quiet ever since.
JH: He is doing fine and the coaches like him a lot. He has not been quite good enough to break into the starting lineup so they are trying to redshirt him. The big question is where do they play him because he was recruited as a corner but they don't seem to like him as much there. He will battle Bookie, Norwood, and Barnes for the nickel back next year and he will provide depth at safety but it's hard to project him to start at any of the three positions. He will provide good depth next year and have to be a demon on special teams.
Woodie Washington was another that was recruited as a corner but he has played more safety this year at OU. He will battle Fields and Turner-Yell for playing time next year but it will not be surprising if he moves back to corner next year.
Coach Grinch and Coach Manning like Criddell and Washington a lot and they are in the plans in the secondary but it's up to them to come into the spring and force the coaches to play them.
jnewtonsooner: With regards to who I'm dancing with this week;
Baylor
KSU
Georgia
Washington
USC
It's the annual Game of Thrones game to get another OU f-up, back into the CFP.
JH: OU has to win out and it will be tough to keep a one-loss Big 12 Champion Oklahoma out of the Final Four but it all comes down to what happens in the LSU-Alabama game and what happens in the Big 10 with Ohio State and Penn State. Oregon is a threat out of the Pac 12 if they can run the table and be a one-loss team. I think it's going to be tougher for OU to get in this year but if they can run the table from this point on then they have a fighting chance.
If you would like to read the rest of the TFB 'Drop Box', please check the Donor Board!
---
For multiple daily posts, Insider Notes, Our TFB 'Pick Em' Contest, More Sourced Practice Notes, member chats with TFB staff, James Hale's Notebooks, TFB Sessions (5-minute audio talks) and much more, please check the Donor Board!