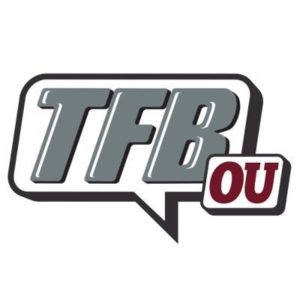 Open Post | Tuesday, November 27th
Posted on: November 27, 2018
College Football Playoff Dominoes
– Charlie S
Sooners took care of business in Morgantown.
Ohio State took out Michigan.
The Big 12 Championship game suddenly has huge ramifications for Oklahoma in regards to the playoffs…
The Sooners are 5th in both the AP and Coaches poll. We will get a look at where things stand when the updated playoff rankings are put out later this evening.
---
AP and Coaches Polls | Regular Season Final
– Charlie S
Sooners up to number five in the Coaches Poll:
1 Alabama 12-0
2 Clemson 12-0
3 Notre Dame 12-0
4 Georgia 11-1
5 Oklahoma 11-1 
6 Ohio State 11-1
7 Central Florida 11-0
8 Michigan 10-2
9 Texas 9-3
10 Florida 9-3 937
11 Washington 9-3
12 Penn State 9-3
13 Washington State 10-2
14 Louisiana State 9-3
15 Kentucky 9-3
16 West Virginia 8-3
17 Utah 9-3
18 Syracuse 9-3
19 Mississippi State 8-4
20 Boise State 10-2
21 Northwestern 8-4
22 Texas A&M 8-4
23 Fresno State 10-2
24 Utah State 10-2
25 Army 9-2
Others Receiving Votes
Iowa State 103; Cincinnati 82; NC State 55; Missouri 33; Iowa 20; Appalachian State 14; Pittsburgh 13; Memphis 6; UAB 4; Stanford 3; Oregon 3; Buffalo 3; Wisconsin 1; California 1; Georgia Southern 1.
Sooners up to number five in AP Poll as well
1 – Alabama 12-0
2 – Clemson 12-0
3 – Notre Dame 12-0
4 – Georgia 11-1
5 – Oklahoma 11-1
6 – Ohio State 11-1
7 – UCF 11-0
8 – Michigan 10-2
9 – Texas 9-3
10 – Washington 9-3
11 – Florida 9-3
12 – Washington State 10-2
12 – LSU 9-3
14 – Penn State 9-3
15 – West Virginia 8-3
16 – Kentucky 9-3
17 – Utah 9-3
18 – Syracuse 9-3
19 – Boise State 10-2
20 – Mississippi State 8-4
21 – Northwestern 8-4
22 – Texas A&M 8-4
23 – Army 9-2
24 – Iowa State 7-4
25 – Fresno State 10-2
Others Receiving Votes:
Others receiving votes:Utah St. 92, Missouri 88, NC State 39, Cincinnati 33, Stanford 10, Iowa 4, Appalachian St. 1, Buffalo 1, Oregon 1
---
Miles Brooks | Post Visit Update
– Super K
A few weeks back the Sooners hosted 4-star 2020 CB, Miles Brooks (Jacksonville, FL) for an unofficial visit to the Bedlam game.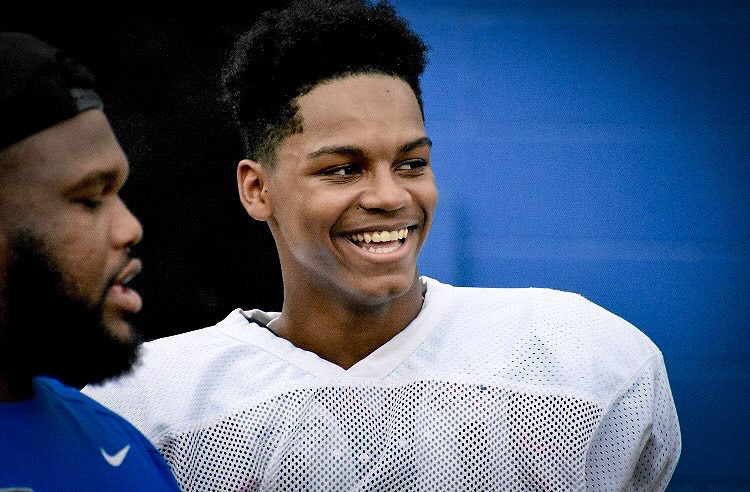 I had a chance to see Brooks at practice earlier this season and as I've previously noted he's a big cornerback who if he continues to improve at the line of scrimmage, can grow into that type of disruptive presence someone like a Pete Golding would like.
Following his visit to Oklahoma, I caught up with Brooks. Going into the visit, he had some of the same preconceived ideas that many out of state recruits have about Norman and OU – small town with nothing to do.
"Campus definitely exceeded my expectations and the game atmosphere was unreal. Fans were so much into the game and I noticed that the OU fans knew what they were talking about", Brooks noted.
As an aside, I've also noticed that the Sooner fans are one of the more knowledgeable fan bases in the country about both college football and the game itself.
"I liked that OU was a place I could see myself going even without football. That's important. The area is nice and I know OU has a great business program. There is stuff to like outside of football but the trip made OU take a very big step forward".
Brooks arrived just before the game but was able to meet with the coaches and tour the facilities after the game. "After the game is when I spent time with coach Cooks and coach Riley. Coach Cooks showed me around and we talked about how many DBs they play…about playing in a five to six DB package. He said they like my length and my Florida dog…that mentality. He said I could start as a true freshman".
Like many games this season, the defense struggled and Brooks' comments on the defense were interesting in that while he sees an opportunity for himself to play early, he also sees quality talent on the field.
"The defense was struggling but I'm still trying to pick out what it is that's wrong. I feel like the talent is there. I don't know what it is. They're getting no pressure so they're forcing the secondary and the linebackers to cover for a long time".
Still, the defensive struggles didn't sour the trip for Brooks. He says he will definitely be back to Norman for a second visit.
---
Kyler Murray Will Play Baseball…Right?
– Charlie S
Back in August, Kyler Murray signed a $4.66 million deal with the Oakland Athletics after having been selected with the ninth pick in Major League Baseballs amateur draft.
The story was written, the plan was clear: Kyler would play one final season at Oklahoma as their starting quarterback and then in January, after the bowl games and conclusion of the season, he would leave school and report to the Oakland A's minor league camp.
"He will make way more money in baseball" is the battle cry, and at first glance, one would think that to be the case… right?
If it is truly about money, we should take a closer look… shouldn't we?
---
Let's start with the football angle:
Lamar Jackson was the fifth quarterback drafted in the 2018 NFL draft. He was selected by the Baltimore Ravens with the final pick in the first round.
I do not believe there is any way Kyler Murray would be the fifth quarterback taken, should he choose to stay and play one more year at OU; I believe he would put up crazy numbers and be helped by Baker's success in the NFL, which would lead to Murray being picked much higher. However, for arguments sake, I'll use Jackson's numbers.
Jackson signed a four-year deal, with $8,055,062 guaranteed and a potential to earn a total of $9,471,652 in his original four-year deal. He will be eligible for unrestricted free agency following the four years and, should he perform well, he will get a nice pay raise in a new contract. Should he become a career backup QB, along the lines of Landry Jones, he will make a nice bit of change which would be around the tune of $700,000 per year.
So let's say Lamar never really developed, got his guaranteed eight million for his first four years and then was a backup at seven hundred thousand for another four years…he will have earned roughly 11 million dollars in eight years.
By the way…Baker Mayfields contract was a four-year deal worth $32,000,000.00 guaranteed. His next contract could dwarf that. Lets say $50,000,000.00 for five years. That's a projected $82,000,000.00 for nine years.
---
Let's check in on the baseball side:
New York Yankees outfielder Aaron Judge was drafted by the club in 2013 which included a signing bonus of $1,800,000.00. He remained in the minors making as much as a school teacher for a couple of years prior to joining the Yankees at the close of the 2016 season (3 years in minors basically). So, at that point, he had made a total just shy of two million dollars over the three years.
Judge went on to become an All-star and the American League Rookie of the Year in 2017.
Here is a breakdown of his current salary situation:
2013 – $1,800,000.00
2014 – Minors
2015 – Minors
2016  – $141,423
2017 – $544,500
2018 – $622,300
6 year total (for one of the best young talents in baseball) – $3,108,223.00
That's less than two million dollars since receiving his signing bonus.
Oh… also… the Yankees own his rights for the next 3 seasons, as is the case with all baseball players for the first 6 years of major league service, which means they can pay him at an incredibly low cost until he becomes a free agent in 2022.
So let's say he takes the Yankees to arbitration over the course of the next 3 years and he is awarded a total of $6,000,000.00 for those years (generous assumption on my part because the Yankees actually only have to give him incremental increases, but we will shoot high)… his total earned income would be $9,108,223.00.
So Aaron Judge, one of the best young outfielders in the game, will make around nine million dollars over the first nine years of his career in Baseball.
In Kyler's case, should he follow Judge's lofty trajectory (which I am not sure he will since chicks dig the long ball and, let's face it, I don't see Kyler hitting 52 dingers in his second year), he would make 11 million over his first nine years.
Granted, should Judge stay healthy and produce similarly to how he has to this point, he will sign a mammoth deal sometime in the next couple of years which will most likely be well north of $200,000,000.00. That, however, is the exception, not the rule.
---
Three real questions which will help form an opinion…
Lamar Jackson, who we will call a career backup quarterback for this exercise, will make $11 million for eight years of holding a clipboard.
Do you think Kyler Murray would be a better NFL Quarterback than Lamar Jackson after seeing the way he has played this year and his on-field growth potential next year? I do.
Do you think Kyler Murray compares favorably to Aaron Judge on the baseball diamond? That's a tricky question. In baseball, they talk about being a 5-tool player.
The 5 tools are…
1) Hitting for Power – Big Advantage Judge
2) Hitting for Average – Push (Don't know how Kyler will fare against MLB off-speed pitches)
3) Fielding Ability – Advantage Judge (Kyler is not an above average baseball fielder surprisingly while Judge is a potential gold glove winner)
4) Throwing Ability – Advantage Judge (routinely throws balls from right field to home plate with a velocity over 100 mph)
5) Running Speed – Advantage Murray (pretty sure on this one)
Does Kyler see the potential for a National Championship at Oklahoma next year? He knows defensive staff changes are coming which will bring improvement since it cannot get any worse on that side of the ball, he knows he can probably talk one and perhaps maybe both of his tackles into staying in Norman with him for one more year…I'm not saying this will happen, but I'm not saying there is no chance of it happening either.
Even if it's all about the money…Are we SURE Kyler Murray will play baseball?
I'm not.
---
Arjei Henderson Decommits From Oklahoma
– Charlie S
Sooners lost a piece of their 2019 class today when 2019 Wide Receiver Arjei Henderson announced he is reopening his recruitment…
I would like to thank the University of Oklahoma for all the drive and support throughout this process. It wasn't an easy decision. With that being said i will be re-opening my recruitment. I am now open to all schools!

— Hendi™ (@king_hendi) November 26, 2018
…the answer to your questions…pretty much all of the above.
Have touched base with some sources, and while I would not say OU pushed Henderson out, I also would not say they bent over backward to keep him. The proverbial 'mutual parting of ways'.
I will say that the Sooners did not pull his offer and this was not 'expected' at this time.
I would not expect to see the sides re-engage in talks anytime soon and I personally wish Arjei the best as I am sure most of you do as well!
We will check on what direction the Sooners will go in regards to pursuing other wide receivers to fill out the class.
I would not expect Garrett Wilson to be in play as he is still firmly locked in with Ohio State.
Of course, the name you all know would be Jadon Haselwood, and we will see what is going on there if anything.
JUCO Brandon Pierce out of College of the Canyons may certainly become a higher priority for OU and it will be interesting to see if the Sooners knock on Demariyon Houston's door as the longtime Texas commit has previously expressed interest in playing at the next level with his high school teammate and OU running back commit, Marcus Major.
---
Quick Hitter | Brandon Pierce
– Charlie S
*** As we have mentioned previously the Sooners are checking out 2019 JUCO wide receiver Brandon Pierce from College of the Canyons (same school as current wide receiver Marquise Brown)
*** Super K was in touch with him today and Pierce said that OU has requested his transcripts.
*** Pierce said he will be sending his transcripts to OU this week.
*** Pierce also said that OU is planning on heading out to California to see him next Monday.
---
Quick Hitters | Stripling & Haselwood
– Charlie S
*** Sooners made the top four for 2019 defensive lineman Marcus Stripling. As we have mentioned previously, we have been led to believe that OU currently leads for him.
*** He will make his announcement and sign with the team of his choosing on December 19th.
#FinalFour 🎯
4-Star 2019 Edge Rusher "Marcus Stripling" is a priority recruit for the schools listed in the clip. Stripling plans to announce & ✍🏾 on 12/19 @stripling_de #GigEm 👍🏾#LSU 🐯#Bama 🐘#Boomer ⭕️🙌🏾@R_Brauninger @HankSouth247 @samspiegs @TFB_Sooners @TOCAshton247 pic.twitter.com/qfFabjvPBu

— Hollywood Ro (@RoSimonJr) November 27, 2018
*** Super K Reached out to a source close to 2019 wide receiver Jadon Haselwood and asked if the development of Arjei Henderson decommitting  helped OU with Haselwood at all…
*** Source said "Nah, he was never a factor. OU is in the mix with or without Arjei"