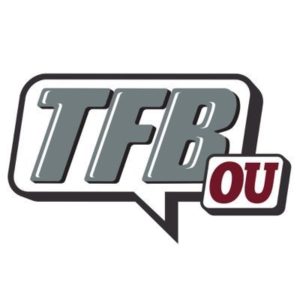 Open Post | Tuesday, November 26th
Posted on: November 26, 2019
Post Game Thoughts | TCU
– Charlie S
Sooners took on TCU on Senior night and they came out swinging in the first quarter by building a 14-0 lead and quickly made it 21-0 early in the third quarter. All was going so well…
*** Jalen Redmond came out fast as he got the start and quickly made his presence felt as he blocked a ball and picked up a sack.
*** Hurts missed Rambo on a deep pass which would have been 6 but he over threw him (which seemed to be a theme as he overthrew Lamb later in the game). Still OU went on to score on that drive.
*** OU defense forced four consecutive punts to start the game
*** TCU Freshman QB Max Duggan looked lost
*** Total yards after 1: OU 189 TCU 3
*** Then…in the second quarter, Duggan broke a long run through the Sooners defense. As I said in the thread:
9 got caught flowing along the line and got caught up in the trash. 44 was on the pitch man.
DL shifted to their left. LBs stayed where they were. OU was outnumbered to their right.
11 made a weak effort at a tackle 8 yards into the run. Terrible angle.
*** 21-7 with the ball and you could identify the issue and how TCU scored. Fine right? Wrong.
*** Sooners proceed to once again look a bit lost once Riley goes off his scripted plays. Lot's of strange calls and odd decisions.
*** Jadon Haselwood gets a reception and promptly puts the ball on the turf and the Frogs recover.
*** TCU will go on to kick a field goal and at the half the score is 21-10
*** Thinking 'OK, Sooners get the ball back following the half, they will go and score and stretch the lead out a bit more. Again, wrong.
*** OU comes out and does nothing on their first drive of the half and TCU promptly marches downfield and scores to make it 21-17.
*** Here we go again…OU runs out to a big lead and cannot put their foot on the throats of their opponents and allows TCU to make it a game.
*** Once the script is done offensively, OU once again goes through some weird play calling. It's predictable and frustrating. I am aware of OU having the most prolific offense in college football, however, it's still disturbing.
*** Tre Brown lining up in the neutral zone is a huge brain fart. Then, TCU targets him twice in a row and on the second play Reagor had him beat…badly…and he apparently injured his hammy.
*** Sooners were able to go up 28-17 and were driving early in the 4th and had a 3rd and 5 from the 10 and Hurts threw towards CeeDee and the Frogs took it 96 yards the other way for a touchdown to make it 28-24 instead of a two or three score game…it became a four point game with 12:45 left.
*** Again, paying for the sins of not putting a team away when you had the chance.
*** Turnovers win you games…in this case, they certainly kept TCU in the game.
*** For a team that preaches the benefits of creating turnovers…they are currently -11 in that department in conference play. That is not what anyone envisioned when Alex Grinch was brought in as he lives and breathes turnovers.
*** I'll say it again, as I do every post game. The Sooners need to feed their running backs more as they make the entire offense open up. You can see it, I can see it, heck I am sure opposing coaches can see it. No idea why you walk away from using them more. None.
*** Big picture, OU did what they needed to do to give themselves the opportunity to win the conference. In my opinion, they did not do what they needed to do to have any real impact on the Playoff Selection Committee.
*** With 7:51 left in the game, TCU had 200 yards of total offense…the Sooners were driving to put themselves up by two scores as Jalen Hurts is running down the middle of the field and he gets caught from behind and stripped of the ball… the third turnover of the night for the Sooners. So much for all that talk about ball security.
*** Sooners got a big stop and forced a three and out so the Hurts fumble didn't hurt them on the scoreboard but it didn't help perception wise which is what the Sooners really needed to do to gain any sort of traction for the playoff committee.
*** Riley made the call to go for it on 4th and 1 from the TCU 42 with 3:16 left in the game. You can make an argument for that either way, but with the way the defense was playing, I would have chosen to punt.
*** Motley promptly gets flagged for pass interference on the first play following the turnover on downs. Ball goes over to the OU side of the field.
*** Sooners force a 4th and 6…and Bookie makes a great diving interception. Brilliant play.
*** So the Sooners got the ball back with 1:41. They had to sweat to the very end in a game that could very easily have been a 4 touchdown win for the Sooners. You get the win…but you get zero style points…in a game where the defense only gave up 204 yards.
*** Let me repeat that…the DEFENSE ONLY GAVE UP 204 yards. And yet…you are left feeling a bit let down.
*** If I'm a Sooner fan, I would focus on how well the defense played and let the committee do what they are going to do. There is a lot of positive you can hang your hat on with the defensive play over the last 6 quarters. That's a very good thing.
*** If you looked only at the box score you would think OU won this game by 21. They dominated the stats…but they only really survived on the field.
---
Sooners Sunday Brunch | TCU
– Charlie S
The Sooners held on to beat TCU last night on senior night at the Palace on the Prairie in Norman.
We all experienced the highs and lows of the game so I am not going to rehash the offensive woes as they were what they were. If OU doesn't turn the ball over three times, you are feeling much better about the team this morning. I get it.
Instead, let's start this Thanksgiving week by focusing on the positives, and that would be the defensive effort that the Sooners have shown over the last six quarters!
How about that…we are talking about the Sooners defense being a positive!
Starting with the second half of Baylor, over the last six quarters, the defense has allowed 273 yards and 17 points and more importantly, they have forced three of their own turnovers.
The defense wasn't perfect against TCU, but the busts were clearly identifiable and the Sooners clearly made the necessary adjustments for the second week in a row to slow down TCU and their young quarterback Max Duggan.
Bookie came up with a big turnover on a beautiful diving interception (if he had not made the pick or at least knocked the ball down the receiver would probably still be running). This came after a first half in which Bookie was not stellar so that shows me that the players mentality is in the right spot, otherwise, they easily could have bowed out when the offense continually put the defense in a tough spot with the turnovers.
The Sooners defense got good pressure all night and they held TCU star wide receiver and one time OU commit Jalen Reagor to one reception for nine yards. They also held the TCU running backs in check and while Duggan finished the game with 92 yards on 12 carries, 62 of those yards came on one play. Again, nice adjustment!
It was also nice to see Kennedy Brooks have another big game on the offensive side as he had 25 carries for 149 yards and while CeeDee Lamb was back in the game, it was Charleston Rambo who led the team in receptions with six for 77 yards and Brayden Willis made a great catch for a touchdown in the first half.
So, while you may have a bad taste in your mouth following the game because OU did not win the way they could have and probably should have…they won.
They still have all their goals ahead of them in regards to winning the conference for the fifth consecutive season and, believe it or not, they still have a chance to make the College Football Playoffs as they got a little help from Arizona State last night as they beat Oregon. While many of you may not feel as though this team deserves a shot in the playoffs…they seem to be doing what they need to do to remain in the hunt for another playoff opportunity.
But let's take a second here during Thanksgiving week to be grateful for a couple of different things we saw last night.
Let's be grateful that we got to see a young man, who has given his heart and soul to this program return to the field following a severe knee injury. Caleb Kelly has come all the way back and he got a decent amount of playing time last night at WILL for the Sooners. He looked huge and he looked fast. He also looked a bit rusty, but hey, it was his first game back and he should give the Sooners some quality minutes as they finish out the season! I would expect him to play against Oklahoma State as well as in the Big 12 Championship game against Baylor. From there, he will have one more game he is able to play in if he is seeking to maintain his redshirt so we will see how that shales out.
The second thing we can all be grateful for was being able to watch Sooners Tight End Grant Calcaterra lead his team out onto the field one last time in Norman before he graduates in May. As you all know, Calcaterra made the decision to retire from football earlier this week due to multiple concussions following this, his junior year. Calcaterra has been a tremendous ambassador for Oklahoma football and he had a great career with a bunch of memorable moments. None of those moments will be remembered more than the one handed catch he made in the end zone against Texas last year in the Big 12 Championship Game. I am thankful that he made the decision to retire on his terms and will be able to go through life happy and healthy as he pursues his next adventure, which is to become a firefighter back in his native Southern California.
The games will go on for the Sooners, all their goals are in front of them still and you got to see some really great stories last night. Lot's to be grateful for.
Enjoy your Sunday and hopefully, I will have some visitor notes up later today or tomorrow.
---
Quick Hitters | TCU Recruiting Notes
– Charlie S
As you know, the Sooners hosted three official visitors this week in LB Shane Whitter (6'0 222 Burlington, NC), JUCO DB Justin Harrington (6'3″ 214 Bakersfield College) and DB Kendall Dennis (6'0 174 Lakeland, FL)
In my best 'Captain Obvious' voice…things went very well.
After initially checking in with sources, word was that all three were pretty impressed with their time in Norman…Lincoln Riley may have given you a clue as to just how much they enjoyed themselves with his Twitter activity yesterday.
*** In regards to Whitter…as his HS coach said prior to the visit 'When OU comes knocking, you have to take that seriously"…sounds like Whitter did and the Sooners put themselves in a very strong position.
Whitter, who is still committed to Wake Forest will be returning home with a lot to digest about his time in Norman and it sounds like there will be some serious discussions regarding his future that will take place over the next few days.
*** As for Justin Harrington…after checking in with him, as well as sources, multiple times throughout the weekend, it sounds like the Sooners hit all the right notes for the stud JUCO defensive back.
Harrington was very impressed with the atmosphere and the performance of the Sooners defense as well as the staff and players. He was hosted by Tre Norwood and was able to spend a lot of time with the coaches and the rest of the players.
Again…he still has a couple official visits to take, but the Sooners put themselves in a very strong position.
*** As for Kendall Dennis, I was only able to share a few messages with him, but (rinse and repeat) the Sooners left their mark and gave him a lot to think about as he headed home.
K will get in touch with Dennis following the holiday, but the sense I got is that following this weekend, the Sooners are the leaders in his recruitment and depending on how things shake out with the numbers at defensive back, he could very well be a part of this class.
We will have more on all three official visitors down the line.
In the meantime, wanted to let you all know this will be a pretty compacted week here on TFB as we will all be preparing for the holiday with our families and such so expect Wednesday-Friday to be kind of light! But of course, we will stay on top of things and get you all any pertinent information at the appropriate time!
---
Sooners Recruiting Notebook | DBs and DL Note | Updated
– Charlie S
Was in touch with K who is out of pocket this week but he was able to get a few notes of interest to me for you all!
*** First, sources tell K that OU is likely to take three more defensive backs this cycle
*** In that group you have Dontae Manning, Josh Eaton, Justin Harrington, Dominick Hill, and Kendall Dennis as some of the main names of focus. Yes, there are others, but for this note, we will focus on those five.
*** Sources tell K that right now, it looks like Josh Eaton wants to sign in February and take official visits to Alabama and LSU. So that one is a waiting game at this point.
*** As for Kendall Dennis, K was able to speak with him and he let him know that the visit went well as I mentioned earlier, but he still has some officials he would like to set up. K is waiting to hear which visits and when he plans on making his decision.
*** Dominick Hill, who is committed to South Carolina is signing early so if he were to decide to flip, obviously Eaton would be in danger of losing his spot as we are pretty confident in where things stand priority wise with a few other targets.
*** Which brings us to Dontae Manning. Manning is the key as his when he will make his decision and announcement are still a bit of a mystery. We are working to get some clarity there, but right now, he is still priority number one for OU.
*** As for Harrington, we really like where things are at with him following his official visit this weekend.
** One other note of interest that K picked up from his sources is that it is sounding like 2020 DL Reggie Grimes would have the green light to commit to OU if he chooses too. Sounds like Grinch is a fan and would take him. He is scheduled to announce on Thanksgiving so your wait on that shouldn't be too long, one way or the other.
Update: In regards to where OU is in this one…K is led to believe that it is down to OU and Alabama…and right now, Bama does not have room.
Also, I just got off the phone with K and he wanted to make it clear that Alex Grinch is making this call on his own. Grinch wants him, and Grinch has decided to green light Grimes' ability to commit to Oklahoma.
---
For multiple daily posts, Insider Notes, Our TFB 'Pick Em' Contest, More Sourced Practice Notes, member chats with TFB staff, James Hale's Notebooks, TFB Sessions (5-minute audio talks) and much more, please check the Donor Board!