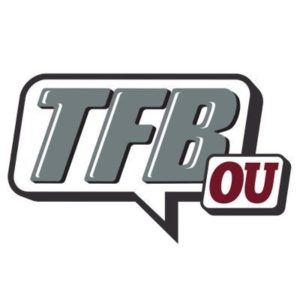 Open Post | Tuesday, May 7th
Posted on: May 7, 2019
Sooners Offer 2020 OL Javion Cohen
– Charlie S
On Saturday, the Sooners offer to 2020 Offensive Lineman Javion Cohen out of Phenix City, AL. was made public.
If you recall, earlier in the week, I brought him to you as a 'Name to Know" along the offensive line.
In that post, our JY had this to say about the big man:
While he's only 6'4" he's a very long 6'4. Plays violent and aggressive. Seems eager to attack the defender and punish him. He'll need to put on some weight once he gets to college, but he definitely has the frame to do it. Remember Cody Ford played tackle at just under 6'4" and did very well at it. This is your prototypical Bedenbaugh o lineman. Nasty and athletic. Long enough to play tackle but physical enough to play at guard. Built like a Dru Samia with his mentality. Really like how this kid plays.
Friday night, Javion let me know that the Sooners had offered and he would be putting it out publicly the following day so I had a chance to get some of his thoughts on the Sooners and their offer.
I asked Javion what his thoughts were about OU in general and he said "I believe that Oklahoma is one of the best if not the best program in the country. The way they go about handling things is amazing and impressive to watch. It truly looks like a whole nother experience at Oklahoma. Sets them apart from everyone else."
As for his impression of Sooners Offensive Line Coach Bill Bedenbaugh, Javion said, "I think coach B is the best in the business. I have developed a deep respect for him because of the way he recruits me. He has a tried and true method of making excellent offensive lineman and on the flip side, he's a great man and person to learn from and be around."
In regards to his recruitment by Oklahoma, Javion said "Overall one of my favorites amongst the favorites. My official visit will come sometime in June."
Lastly, I asked him what he is looking for when it comes time to make his decision, Cohen said, "I'm looking for a home away from. A chance to be a national championship contender. And to be developed and coached to the point where I can pursue an NFL career."
OU certainly checks all those boxes and with an official visit coming up and a decision date currently set for August, the Sooners have a real chance to be a major player in his recruitment.
---
Sunday | Weekend Visitors | Updates
– Super K
A few notes to start…
***Texting a bit with 2020 OT, Noah Nelson out of Arizona as he was heading home.
Told me that OU is definitely giving Michigan a run for their money in this race.
He also said that he plans on making a decision towards the end of June but added that he isn't totally sure about that yet.
***I have already spoken over the phone with 2020 OL, Geirean Hatchett out of Washington. I'll post my full update from that conversation but just wanted to note some quick things here.
Prior to my phone conversation with him, he did text the following general response on things…
"Just at the airport to head home now. Had a really good weekend. Got lots of time with the coaches, some players, and other recruits. I really enjoyed learning more about the Grow U program and the academic programs at the university. Some of the highlights were having lunch at President Gallogly's house, dinner at Coach Riley's house, and watching the women's softball team beat OSU for the Big XII conference title."
Once we spoke over the phone, we talked about his top five (Stanford, ND, OU, tOSU, and Washington) and the process of trying to come up with that one school.
The good news is outside of Washington, he hasn't visited any school more than OU. This was his fifth visit to OU and his only official. He said it may end up being his only OV. Hatchett said he is hoping to make a decision by early summer. So, we may not have to wait long.
Again, more notes later from my phone conversation.
***Hadn't spoken to 2020 LB Kourt Williams at the time I wrote this, but we did exchange a few texts last night. He told me the visit was going really well and at the time he was actually hanging on with Bookie…
Always a recruit favorite and a fellow Californian.
I'll get Kourt on the phone once he gets settled.
***Also, should be speaking with 2020 OL, Jonah Monheim who also made the trip out to Norman from Cali.
Via text Monheim told me was enjoying things when I checked with him.
Interesting note here is 2020 OL and Sooners target Jeffrey Persi who has visited Oklahoma said that he and Jonah are good friends.
---
More Recruiting Updates | Weekend Visitors + Insider Note
– Super K
I was able to finish off a few calls Sunday and one of the big things I came away with is that there is a pretty good chance that at some point this summer, this past weekend visits will yield some good and possibly great news for coach Bedenbaugh.
Again, will have full write-ups on these with quotes but want to give you all a preview…
***I spoke with 2020 LB Kourt Williams. This visit was about him getting more comfortable with Oklahoma and getting a sense that he could "see himself at Oklahoma".
He said he can indeed.
This was his second OV, the first being TAMU. He still has a couple more OVs to take this summer and is eying a late summer (early September, possibly) decision.
With two OVs in the books, Oklahoma and Texas A&M, I get the sense OU has the lead over TAMU but again he has to go over things with his family and OU still has to fight off a couple more visits to come.
But they're in a good spot at the moment.
***Now, for the offensive line, I did speak with Arizona OT, Noah Nelson.
So far Nelson has also taken two OVs – Michigan and Oklahoma. He says he may take a visit to UCLA this upcoming weekend and he's evaluating some other possible visits. But until those are set up, keep an eye on Michigan and Oklahoma.
I'll go in more detail below about the battle between those schools but I can tell you going into it, I felt Oklahoma may have a tough road trying to beat Michigan.
My personal read now though is that OU took the lead. I'm not saying it will necessarily stay like that because the advantages he's sees Michigan having and the advantages he sees OU having are different. So, a lot will depend on what he ultimately decides are the biggest priorities.
But as of right now, I like where OU. In his side by side comparisons about the various aspects of the schools, I felt like OU was coming out on top for him more often than Michigan.
Again, Noah said he is still considering things and still looking at some possible additional visits but if OU gets some good news come June (his estimated timeline) then this past weekend will be a big reason why.
If you would like to read Super K's 'Insider Note' which accompanies this article, please visit the Donor Board.
---
Noah Nelson | Full Update + Insider My Take
– Super K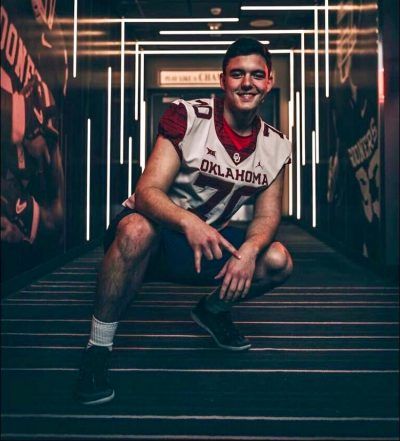 2020 OT Noah Nelson took his official visit to Oklahoma this past weekend. This was a return trip for Nelson as he took an unofficial visit to Oklahoma earlier this year.
This was also Nelson's second official visit. He took his first official visit to Michigan which, as of now, appears to be the biggest threat to Oklahoma. Though I should note that Nelson is considering some additional visits including a possible return trip to UCLA this upcoming weekend.
Nelson has taken a previous unofficial visit to Michigan and also visited schools like Notre Dame, Northwestern, and Purdue along with West Coast schools like USC and UCLA.
Having said that, much of my conversation with Noah centered around comparing Oklahoman and Michigan.
***In terms of official visits after these most recent two, Noah says that he doesn't have any scheduled, "I'm thinking there's some that I still want to take but I need to decide some things after this trip [to Oklahoma]".
***When I first spoke with Noah back in Arizona, he placed a big emphasis on academics. So, the question now that he's seen Oklahoma twice and has had a chance to sit down with the staff and look at the football and academics is whether Oklahoma has checked all the boxes, "yeah I think so. There were some concerns going into it just academically. One of the big reasons I'm looking at Michigan is they're strong in football and strong academically but they don't really win or have the coaching and player development like Oklahoma does."
***Noah addressed his academic questions with coach Riley, "the way he kind of put it is that you'd make so many connections through football for whatever job you're trying to get. He said that if you've got two guys, one with a Michigan degree and one with an Oklahoma, you're not going to not get to do what you want to do based on having a Michigan degree versus an Oklahoma degree".
***Ultimately, Noah said that this weekend at Oklahoma sufficiently answered his questions about whether Oklahoma has the balance he's looking for between academics and football.
***Noah said Michigan also has that football and academic balance but admitted, "it's probably a little lower on the football side".
***Noah admitted that the issue he is really grappling with is what is Michigan's academic prestige worth compared to Oklahoma's football prestige and development.
***Outside of football and academics, Noah talked about his general feelings about the living experience at Oklahoma versus Michigan, "I really like the atmosphere at Oklahoma. I like how it doesn't get too cold or too hot. I like that it rains there especially being from Arizona where it doesn't. Ann Arbor was kind of cold. I guess I got to see a lot more of the campus and student life while I was at Oklahoma."
***In Norman, Noah got to experience what I'll call the weekend vibe of Norman on campus corner. It doesn't sound like he really got to go out and see much of Ann Arbor while he was in Michigan.
***Noah liked the "player life" he observed at Oklahoma but also like the balance of family atmosphere that coach Riley cultivates, "coach Riley does a good job of keeping all the families together at Oklahoma. So, I got a really good family feel. Like, I went over to his house and they had all the coaches there, all the recruits there and all their families and little kids and stuff like that. I felt a really strong family atmosphere there that at other places I didn't feel too much".
***Noah also talked about how genuine coach Riley and coach Bedenbaugh are, "I don't think coach B has changed at all since I first talked to him to when I was there".
***In terms of how the OU campus is laid out, it seems that also won Oklahoma some points with Nelson, "I really liked Oklahoma's whole set up how Headington is right next to the facilities and the facilities are attached to the academic center so you're always in the same circle that you need to be in. I thought that was super cool. Whereas Michigan it was kind of spread out. Their facility was separate from the Big House."
***In terms of the dorms, Oklahoma also really outdid their competition.
***Noah also talked about his general vibe and comfort with the OU team. This is another area where Oklahoma excelled, "I'm super comfortable with them…everybody is super nice there…I could definitely see myself playing with those guys. Brey is an awesome dude. Super funny". Walker was Noah's host.
***Noah did also note that he spent some time with Geirean Hatchett who was also on his official visit, "I'd definitely like to play with Geirean. I felt like he was a cool dude. We talked a bunch there and connected".
***In terms of a decision, Noah is still working on his timeline for a decision, "I'm still just kind of thinking about it, thinking on it cause I need to weigh the options". But Noah did say he's eyeing a June decision but a decision could come sooner than that or later.
If you would like to read Super K's 'Insider Note' which accompanies this article, please visit the Donor Board.
---
Quick Hitter | Sooners Offer 2020 DL Brandon Taylor
– Charlie S
Yesterday, Coach Calvin Thibodeaux and the Sooners extended a new defensive line offer to 2020 DE Brandon Taylor out of Lima, OH.
Taylor is listed at 6'3″ 250 lbs and he currently holds near 20 offers from the likes of Michigan, Michigan State, Penn State, Tennessee, and Kentucky.
I caught up with him briefly and he said he had not been in contact with the Sooners prior to this morning when he had a conversation with Coach Thibodeaux. Taylor said, "Today was my first time talking to coach Thibodeaux and he told me that he fell in love with the way I play and wanted to extend an offer".
Taylor told me he does not have any connections to OU in regards to friends or family, but it is an honor to have received the offer.
I asked him if he could see himself taking a visit to Norman and he said: "Most definitely I plan on getting on campus".
I will stay in touch with him and should a visit come together, I will let you guys know.
---
Finals Time in Oklahoma!
– James Hale
*** This used to be a time of the year that caused a major worry among the coaching staff across the country. It was not uncommon to see beads of sweat dripping from the forehead of coaches for several days as they used to worry about their roster through the finals. Today I don't hear a lot about coaches worrying about academics anymore and that is a good thing. OU has such a concentrated plan with academics that a player would really have to want to fail or would really have to be incapable of completing collegiate work for a player to not maintain eligibility at OU.
*** OU feels the Prentice Gautt Academic Center is the finest in the country where student-athletes can come for any kind of academic assistance more than 90 hours a week. Since the NCAA has instituted the progression formula academically OU players have to now push for graduation and not just take easy classes to stay eligible. So they have to take courses each semester that will progress them towards graduation and OU has so much support to help the players maintain their eligibility that if the athlete puts in the time and halfway cares he will stay eligible.
*** Each athlete is given a laptop that he gets to work with his entire time he is at OU. They have tutors that are available to the athletes almost around the clock and if that athlete is in a specialized field OU will find a tutor for him if he needs it. They are given an e-mail if they don't already have one, but this is so the administration both athletically and academically can keep up with the athletes throughout the day and night.
*** Each administration head is given a sport and those administrators know as much or more about the players in their respective sports, including who went to class that day or didn't. That's right OU has class monitors that will check each class, each hour, to make sure each player is in class. Sure, players can call and let those administrators know that something has come up and they will not be in a class that day, but if they don't call and let them know then there will be extra running involved later.
*** "If an athlete wants to stay eligible and get a degree it's pretty neat how we have it set up for that athlete to succeed academically here," said OU Coach Lincoln Riley. "We have a great system set up from some educators that have been doing this for a long time, and we have given our student/athletes great resources to help them academically. They still have to put in the work."
*** "NCAA rules have been put in place to help our players academically. We can only work them in practice 20 hours per week and that includes meeting time and workout time and that's a lot less than say when I was in school at Texas Tech. Now players really get most of the night every night that they can work on their academics and most of them take advantage of it."
*** "All of our guys are taking summer school every summer so all of them are graduating after three or three-and-a-half year and that allows them to even work on a masters program or second degree. One thing that we sell in recruiting is the academic program that we have at OU and on every recruiting visit each player and his parents are given a chance to talk to our academic counselors and it's a major part of our recruiting weekend."
*** "If an athlete gets into trouble academically we usually are on it quick or ahead of it and can get him the help he needs to get him back on track. We also will give him the time that he needs to get back on track, because in the end if he can't stay eligible then he can't play for us. So it is a big deal for us and we make sure we give our athletes all they need to help them help themselves get their degrees and stay eligible for us."
*** The players will finish finals this week and then get about three weeks off before they will be asked to report back to camp for June 3rd. That will be the only real time the players will have away from football at OU. Most of them will go home for a couple of weeks but watch… you will start to see on Twitter some of the guys getting in extra workouts with position guru's and players know they can't just lie around, that they have to get workouts in and most of them do before they start back for summer workouts.
This is a snippet from James' Notebook. If you would like to read James' full Notebooks, please check the Donor Board.
---
For multiple daily posts, Insider Notes, More Sourced Practice Notes, member chats with TFB staff, James Hale's Notebooks, TFB Sessions (5 minute audio talks) and much more, please check the Donor Board.