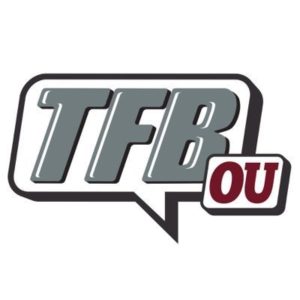 Open Post | Tuesday, March 5th
Posted on: March 5, 2019
Updates | White, Eaton, & Ward
– Super K
***On Sunday evening, I spoke with weekend visitor, 2020 LB Josh White. Going into the visit, the Sooners were sitting behind a number of schools.
My feeling is that this isn't the case anymore. He didn't come out and say it but I think OU may have taken a lead here. Coach Odom and coach Grinch really sold him on the defense. Coach Odom has built a strong relationship with Josh and it's paying dividends right now.
Josh says he will be back in Norman for a spring practice and then an official this spring/summer because he plans on making a decision later this summer.
I'll be out of town this week. Going to be seeing a few out of region players. But I'll type up my notes and quotes from Josh once I get settled.
But did want to bring you some good news.
***Finally had a chance to see Sooners 2020 DB, Josh Eaton play 7v7 Sunday and he did not disappoint.
My evaluation of him so far was based on speaking with him, people around him, seeing him play basketball, and seeing film. He was checking all the boxes.
He checked a big box yesterday.
A couple things I mention in this tweet stood out to me…
A couple of other things I'll add to the above are:
– For such a big guy, he really can stop, settle himself and get started quickly again. Mirror guys really well and you don't really see that as much in taller cornerbacks.
– He's got some bite to him. He plays with an edge. He's a nice guy off the field but far from it on the field. Was chippy and competitive without crossing any lines.
I spoke to him for a bit. The plan is to get up to Norman later this month or April at the latest. Again, he plans to go to Norman with the family.
Right now, I think the team to beat is LSU.
***Sooners recent visitor, 2020 OL, Brady Ward (Mobile, AL) picked up his in-state offer from Alabama this past weekend.
As I previously noted, Ward's father played at LSU so he didn't actually grow up a Tide fan.
I think OU still has the appeal of putting so many guys in the league. The biggest issue they are going to face is the distance from home which doesn't seem to matter to Brady but does seem to be a concern for mom.
---
Catching Up With… | 2019 Offensive Lineman EJ Ndoma-Ogar
– Charlie S
Had the opportunity to speak with perhaps my favorite recruit ever yesterday, 2019 offensive lineman EJ Ndoma-Ogar.
EJ is such a great young man and I always enjoy when I get the opportunity to speak with him.
I was asking him how his senior year was going and how much he was looking forward to getting to Norman in June. He's ready.
*** EJ has been working out hard this offseason. He tells me he is currently doing 2-a-days with technique work in the morning and weights and conditioning in the afternoon.
*** He is doing 80-100 snaps a day and is working at both the center and guard positions in his workouts
*** EJ said he can see himself working behind Creed at center but he also said he is 'Working my ass off to compete for one of the guard spots'
*** I asked him if he was making sure to do all the high school things that he should be doing in the next few months and he said he was definitely going to Prom and all the activities surrounding graduation with his class. He did mention that it feels a little weird at his school as Theo, Jayden (OkState) and Grant (Ole Miss) are already gone and at their colleges, but he is filling his time by submersing himself in training and his business.
*** Speaking of his business, he has launched his own LLC which is quite incredible. He tells me he is donating most of the profits to charity. Hit the tweet and check out the link as it has some backstory and blogs. Really cool.
*** As for being ready to get to Norman…he said "counting down the days, I am ready for this journey and I plan on embracing every aspect of life at OU. It's all I think about really."
As I have said many times…the Sooners got a fantastic young man and a helluva football player coming in.
---
If you would like to read James Hale's Notebooks. please check the Donor Board as they contain Sourced Notes, News, Drop Box Answers and much more every week: https://donors.thefootballbrainiacs.com/monday-hale-storm-sourced-notes-news-drop-box-answers-more/
---
The Opening – Dallas Regional | Notebook
– The Football Brainiacs
We had our guy Darius Terrell out at The Opening Regional – Dallas yesterday.
"The Opening" camp series (no longer sponsored by Nike by the way) was held on Sunday, March 3, 2019, at The Star. Luckily for our readers at TFB, Will Baizer and I made the trip over to Frisco to have some eyes there for you. Here are some quick notes that I wrote down throughout the day:
*** 2020 Mansfield Timberview DB and Texas and recent Oklahoma offer (yesterday) Jalen Kimber is explosive. Kimber has long arms and broad, wide shoulders which indicate that his frame will be able to add weight easily. Both Oklahoma and Texas have some options at Cornerback, I believe that Kimber belongs near the top of both of their lists after seeing him today. Stud.
*** This was my first time seeing 2020 Carrollton Hebron Safety Darius Snow in person. Snow is listed everywhere in the 6'1-6'2 range, however, I would be very surprised to see that he measured over 6'0 at this event after seeing him next to some of the other DBs in attendance. Snow is definitely on the thicker side and I could see why his build has some believing that his future at the next level is at LB.
*** 2020 Duncanville ATH Ja'Quinden Jackson was in attendance. Jackson is a physical specimen. He measured in at 6'3 220lbs and the ball was exploding off of his hand today. I believe that Jackson has as high upside at the QB position as any player in the state of Texas, due simply to the fact that he hasn't spent anywhere near as much time or received anywhere near the type of instruction at the position as many of his peers. Jackson can absolutely throw the football (he connected on some pretty "Out" routes today that l missed recording because I was watching, I'm sorry!) and we all know what he can do running it. I would caution anyone that believes that Jackson to Texas is a foregone conclusion. There is a long way to go in that recruitment. He does hold an OU offer, but not sure how much contact there has been there. K and Charlie will have to dig into that situation.
*** 2020 Denton Ryan ATH and Oklahoma commit Drew Sanders spent the day working at Linebacker. In my opinion, Sanders looks like a natural at the position. He was very smooth and under control in space, breaking down and tagging off on juking ball carriers with ease. Sanders was also excellent in coverage. I believe that this guy will be a superstar on the defensive side of the ball in college and could even double as a situational H-Back and be a two-way player. While all the noise is that Sanders will play offense at OU, he could be a game-changer on the other side of the ball for the Sooners. Special talent.
(To view the short video of Drew Sanders, please check the Donor Board)
*** 2020 Bishop Dunne LB Brennon Scott has the build of an inside backer when you first look at him. I was very pleasantly surprised to see how fast Scott is in pursuit. The big fella gets a head of steam in a hurry. Scott is undoubtedly one of the top LB options available this year in-state.
(To view the short video of Brennon Scott, please check the Donor Board)
*** For some reason, I expected for 2020 Keller Central ATH and Oklahoma commit Davon Graham II to be a compact athlete. I was wrong. Graham has a long, wiry frame that oozes athleticism. He was seamless changing directions watching him do the "shuttle drill" although I was unable to get his time. Graham worked out at WR at the camp and made several big-time grabs in drills. Not that they needed any more help, but Oklahoma appears to have added yet another quality player to their WR room if that is where Graham ends up playing in Norman.
** Sooners 2020 running back commit Jase McClellan made his presence felt as he dominated the camp at his position and was rewarded by 'Getting Open" as he was invited to the finals in July.
---
Lincoln Riley's Fantasy Football Camp
– Charlie S
Got that football itch still?
The Sooners will host "Lincoln Riley's Fantasy Football Camp" this summer.
If you are aged 21 and over, for the price of $2,500, you can live the life of an OU football player for a couple days this summer!
(Pretty cool idea if you ask me)