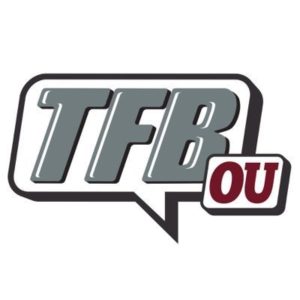 Open Post | Tuesday, March 24th
Posted on: March 24, 2020
Recruits Reconsidering Timeline
– Super K
Last week, I noted that per a source close to TreVeyon Henderson, Henderson has been mulling over the idea of committing early. Per said source, Henderson was in fact considering a commitment to Ohio State – a school he has yet to visit.
The disruptions caused by the spread of the virus have some recruits concerned about when things will go back to normal – when they'll be able to travel, take their schools visits and ultimately lock in a spot.
I chatted with yet another high profile player this past Friday who told me he is seriously considering committing somewhere before his originally scheduled commitment which was set for late summer/early fall.
You've also probably noticed a lot more players dropping top lists, as of late. Additionally, I've spoken to players who were scheduled to take visits before their scheduled commitment timeline and while the visits have been cancelled, they are proceeding with their commitment.
This makes it all the more important that coaches be recruiting right now and not taking that as time off. If for no other reason, they need to be working to calm players nerves and convince them to hold off and take their visits.
Although decommitment and flips get a lot of attention, if you look at the numbers, it's a lot more likely that a commit will stick than decommit. But the flip side of this stir in the recruiting world is that it's still relatively early in the recruiting process. Even if things don't get back to normal till mid to late summer, that still leaves the entire fall for visits.
For players who may commit early, I wonder if they'll feel they cheated themselves out of the recruiting process. Schools could then be stuck with a lot of drama on their hands as kids make the case that despite the commitment they're going to take all their officials.
That said, unless a commitment seemed to be inevitable anyway, I'm not sure a rushed decision made out of fear during this time is going to stick.
---
Snippet from: Sooners Monday Notebook | Grinding on Their Own, In State Recruiting
– James Hale
Recruiting In a Vacuum
*** I found out a little more about some of the players that I talked about last week in regard to the top players in-state of 2021.
*** As far as Kendall Daniels goes the coaches have been talking about him a lot since they got back from spring break and there is a ton of mixed emotions about him within the office. I think the reason why is because when you watch him play he has the height and length that they're looking for but it's my understanding that they don't see him as a really physical player.
*** Daniels has great stats with 117 tackles, six interceptions with three pick-sixes, three forced fumbles, and three fumble recoveries. He also had five TD catches on offense. However, he is tall and lanky and not real physically built and he doesn't play a physical game. He did move out and play cover corner at times and was going to do that in camp and that was impressive to OU and a number of different teams. When Clemson offered him they envisioned they can turn him into another Isaiah Simmons who came out of Olathe (North), Kansas at 6'3, 205-pound safety and Coach Brent Venables turned him into a 6'4, 238 type linebacker or nickel back that wreaked havoc on college football for three years.
*** However, I covered Simmons coming out of high school and like Daniels nobody thought he would be a safety in college even though he proved he could cover in high school and did some in college as well. However, Simmons was a very physical player in high school that could run like the wind and had the length and height that Venables knew would play well in a hybrid linebacker role that turned out to be a great benefit for the Tiger defense.
*** Daniels doesn't have that kind of physical game at this point. He plays a high safety and does run and roam the field very well but he does not dial down on the run much and with his height, he probably grows out of the safety position and will have to play linebacker in college. OU will have to see him grow up and become more of a physical player before they go hard after him this fall.
*** I get the feeling that OU likes Jordan Mukes (6'4, 192) of Choctaw, Oklahoma better and they have not even offered him yet. They haven't offered him because they wanted him to come to camp and they just wanted to see him move around in person. Now, because of the cancelation of spring ball and probable camps in June OU will have to wait until they get a chance to see him play next season.
*** Mukes plays safety but dials down and is great against the run. He plays more like the Simmons role at Clemson but he has not shown that he has great coverage skills yet but he's good in zone coverage. OU likes Mukes a lot and they feel they can really get a better read on him by watching him play more.
*** OU likes safety Ty Williams (6'2, 181) size and they like how he runs but they aren't sure how well he covers. OU wants to see him play this season and if they like what they see they could offer him then.
---
Quick Hitter | Caleb Williams Top 5
– Charlie S
Sooners 2021 quarterback target Caleb Williams dropped his 'Final Five' on Twitter yesterday…
We feel very good about where OU stands in his recruitment. Not a heckuva lot to add.
---
Glancing Ahead | 2022 QBs
– Darius Terrell
With the entire sports world on pause, I figured now would be a good time to get a jump on the competition. Last year, I released multiple "watch lists" for 2021 prospects weekly as a part of my Thirsty Thursday columns. You guys seemed to really enjoy it and we love to keep the people happy here at TFB. This time around we'll give the younger guys a little bit more of their own shine. Today we will focus on the signal-callers.
Southlake Carroll QB Quinn Ewers (6'3 195)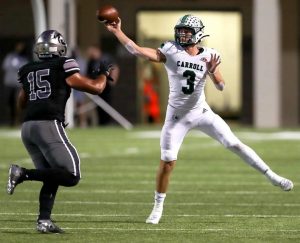 (Photo Cred: Star-Telegram)
On the hoof: I've seen Ewers in person twice now and he's been impressive both times. He has tremendous pocket presence for his age, moving around comfortably in traffic while keeping his eyes downfield. Displays some impressive poise in his body language at all times. He has natural arm talent that can't be taught and he understands touch. Ewers is extremely accurate and has the ability to move the chains with his legs, although I wouldn't consider him a true Dual-Threat at the position. At this early stage, there isn't another QB in the class right now in-state that compares. Ewers will likely maintain his lofty status long past high school and he has obvious 1st Round potential barring any major setbacks. He's got offers from everyone, but Oklahoma and Texas figure to factor very heavily into his decision.
Offers: Oklahoma, Texas, Ohio State, Alabama, Auburn, Michigan
Highlights:
Rockwall Heath QB Josh Hoover (6'2 205)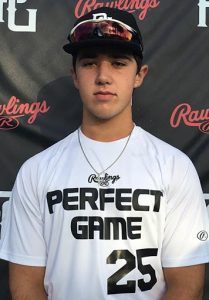 (Photo Cred: Perfect Game)
On the hoof: Hoover's arm talent stood out to me on tape. I can't even find a football profile on Hoover, but he's apparently a well-known name in baseball circles, which explains the aforementioned arm talent. He's got good size on tape and delivers some dimes into windows regularly. This a kid that I expect to see take off from an offer standpoint very soon and I want the credit when/if it happens. He would be a nightmare in the Big XII.
Offers: N/A
Highlights:
Austin Westlake QB Cade Klubnik (6'1 180)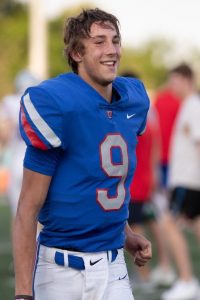 (Photo Cred: American -Statesman)
On the hoof: I had a blast watching this guy's clips. He's not big (I question the 180lbs), but Klubnik is a flat-out gamer who has plenty of room to fill out physically over the coming years. He already holds multiple P5 offers. From everything I've heard about him, he's hyper-competitive and has an alpha leader type of personality. Klubnik has a nice set of wheels and shows the ability on tape to deliver accurate strikes while on the move. He's as the closest thing to a true Dual-Threat that I've seen so far in this class. Being a Westlake kid, I have a hard time seeing this kid not wind up at Texas if the Longhorns really push when the time comes.
Offers: Auburn, Wisconsin, Baylor, Virginia Tech, Arkansas, SMU
Highlights:
Rockwall QB Braedyn Locke (6'0 185)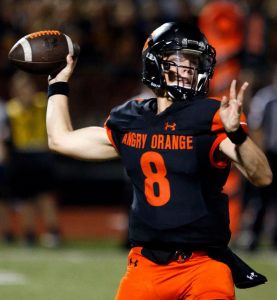 (Photo Cred: Dallas Morning News)
On the hoof: Locke put up some big-time numbers as a Sophomore in the highest classification in the state of Texas and helped lead his Rockwall squad on a deeper-than-expected playoff run this past season. Like most kids his age, Locke doesn't look anything like what the finished physical product will be. Miami and SMU liked him enough to extend very early offers. I'm very interested to see Locke next season without the presence of 5-Star WR Jaxon Smith-Njigba on the receiving end of most of his passes.
Offers: Miami, SMU
Highlights:
Frisco Lone Star QB Garret Rangel (6'1 175)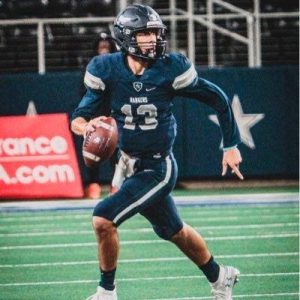 On the hoof: Rangel, similarly to Braedyn Locke, put up very impressive numbers during his Sophomore campaign and led his team on a deep playoff run. He also had a record-setting Senior WR on the end of most of his passes, so there is a bit of a wait to see what he looks like as a Junior. With all of that being said, it's hard to ignore how impressive some of the throws are that he makes. Nevada liked him enough to make an early move.
Offers: Nevada
Highlights:
Bishop Dunne QB/ATH Alex Orji (6'3 200)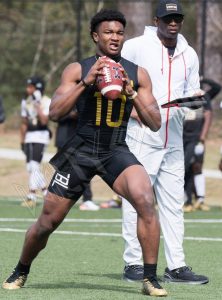 On the hoof: I've seen Orji in camps when he was younger and I saw him live in game action this past season. He's truly a standout physically. There isn't much that you can ask of the young man that he can't get done from an athletic standpoint. Orji plays on both sides of the ball for his school and he shared QB duties in 2019. He will likely do the same in 2020, as the starter was a Junior. He's a work in progress at the position, but he seems determined to prove that he can stick there at the next level. He does have every tool in the tool bag to make it happen. In my opinion, Orji would be the best Safety prospect in the 2022 class if he would commit to the position.
Offers: Oklahoma, Baylor, Minnesota, Texas Tech, Houston, Kansas
Highlights:
Missouri City Ridge Point QB Bert Emanuel Jr. (6'2 175)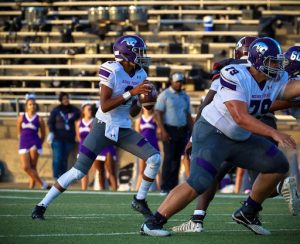 On the hoof: Emanuel is that son of former 8-year NFL veteran Wide Receiver Bert Emanuel, Sr. Despite not taking over until later in the season, the younger Emanuel still earned 20-6A Offensive Newcomer of the Year honors. Emanuel Jr. makes this list based more on projection compared to production. All of the tools are there for an FBS football prospect. He'll be a guy I keep a close eye on in the fall.
Offers: N/A
Highlights: